Let's face it. As incredible as remote work can be, it hasn't been a smooth ride for everyone. For many, working away from peers has caused loneliness, lack of motivation, and a bunch of other challenges that no one foresaw.
A sure-fire way to cope with this is to pop fun and excitement into your virtual meet-ups!
But, how do you make remote meet-ups exciting?
We present to you – team quizzes!
Virtual team-building quizzes (which you can create easily using an online quiz maker) work like a charm for boosting employee morale.
So, to help you out, we've compiled 50+ quiz ideas for your quiz sessions, plus some quick tips to ensure a roaring success every time.
But, before we jump into all that, let's ensure you're sold on remote team quizzes for employee engagement.
Why Should You Conduct a Virtual Team Quiz?
Conducting a virtual team quiz offers several benefits to ensure that you have a highly productive, stable, and happy team that will help you achieve your organizational goals.
Helps Employees Unwind

– Team quizzes can be a blast and spark fantastic conversations. They work great for creating a chilled-out vibe in your team-building meet-ups, enabling employees to loosen up and be fully involved in the other activities you've planned for the meet-up.

Better Communication and Teamwork

– Quizzes and interactive games, especially those that group employees into teams, are a sure-fire way of improving communication and teamwork. All you need to do is make sure you create your teams strategically so that employees who could benefit from more interaction with each other end up in the same team.

Reduced Feelings of Isolation

–

According to Gallup

, feeling isolated can decrease an employee's productivity by up to 21%. Team quizzes help you avoid this productivity dip by creating amazing virtual socializing events that your employees will look forward to in order to better connect with their teammates and improve their morale.

Increased Employee Engagement

– While helping employees bond with each other,

virtual team-building quizzes

also help them enhance their connection with their organization. Engaged employees produce

significantly better business outcomes

than their disengaged counterparts.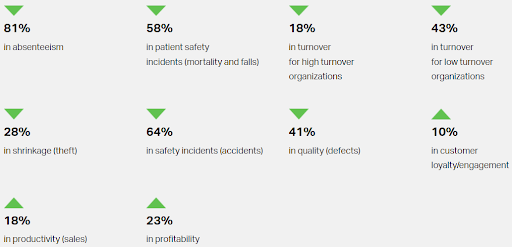 More Employee Longevity

– According to a Career Builder survey, the average cost of losing a good employee is as high as

$29,600

. You can avoid such a costly blow by using fun team

quizzes for employee engagement

. Happy and engaged employees stick around for the long term in their organization and try to give back adequately before they start looking for greener pastures.

Great Way to Combine Fun and Learning

– Apart from casual meet-ups, you can also conduct quiz rounds during your virtual training and learning sessions. Combining learning and enjoyment in this way will help your employees focus better and

get more out of each of these sessions

.

Good for Employees' Mental Health

– Team quizzes let you create excellent virtual events brimming with fun and lively conversations and help employees feel less lonely when working from home. But, engaging in fun activities during virtual meetings can provide other mental health benefits too.

As

this recent study

points out, playful activities in virtual settings can satisfy our

self-expansion

needs and make us feel as if we're present in the same space as our peers.

Makes Meetings Stand Out

– Aside from casual meet-ups and training sessions, it can also be good to conduct team quizzes at the beginning or end of your more serious, agenda-specific meetings. That's because quizzes help make such meetings memorable, enabling participants to more readily remember the information discussed.

Ice Breaker for New Team Members

– Virtual team quizzes can serve as a fantastic ice-breaker for situations where a team has a lot of new members or old members that don't get to interact frequently. This strategy is especially effective if you host quiz rounds based on the employees themselves.
Okay, so now that you understand why hosting virtual team quiz sessions is an excellent idea, let's explore the different quiz ideas you can include as your 'quiz rounds'.
50+ Virtual Team Quiz Ideas
So, we've arrived at our list of quiz ideas that you can use to spice-up your virtual meet-ups. Our list contains all kinds of team quizzes, from amusing ice-breakers to insightful knowledge tests.You'll also find some of the best online quizzes that you can test-drive to visualize ideas.
Pop Culture Quizzes
1. Movie Trivia
An evergreen topic for pub quizzes, movie trivia can be super-engaging for your virtual team quiz sessions too. You can create a mix of questions from various popular movies, have an entire round of questions on a single film, or even create a quiz on film directors. Here are some cool movie quizzes to get you started.
2. TV Shows Trivia
From uneventful weekends to a worldwide pandemic, TV has helped people get through a lot. So, a team quiz on popular TV shows is sure to keep everyone on their feet.
3. Sports Trivia
Team quizzes on sports work exceptionally well when there's a major sporting event, such as the Super Bowl, Major League Baseball, or NBA Finals going on, but they can be a lot of fun at other times too.
Here are some sports quiz titles: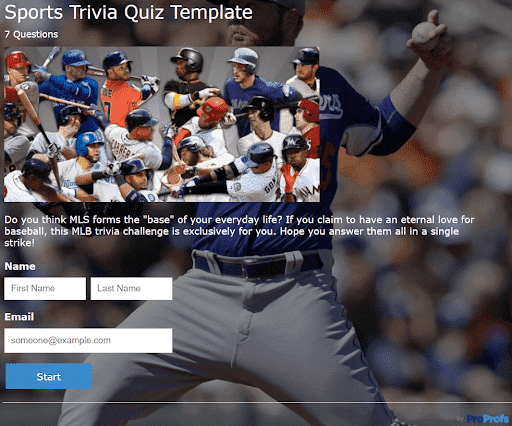 4. Music Trivia
Music isn't far behind movies in the pop culture arena. Check out these music team quizzes that are sure to delight everyone.
5. Know Your Meme
Internet memes have seen raging popularity over the past couple of decades, so much so that there's an oft-referenced encyclopedia website for them. This makes memes a hot topic for your team quizzes for work.
Here's how your meme quiz might look –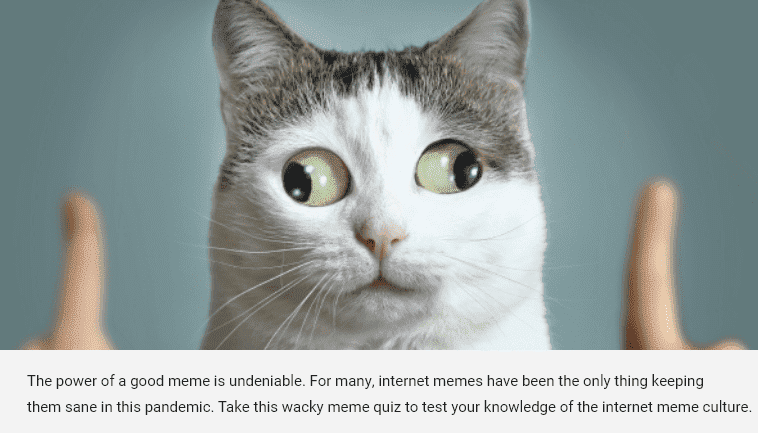 6. Fashion Trivia
A quiz on fashion brands, designers, and the latest trends can be super fun if your team is mostly Gen Z/millennial.
To take it up a notch, you can base your quiz around a particular fashion era (the extravagant 1980s is a particularly great option).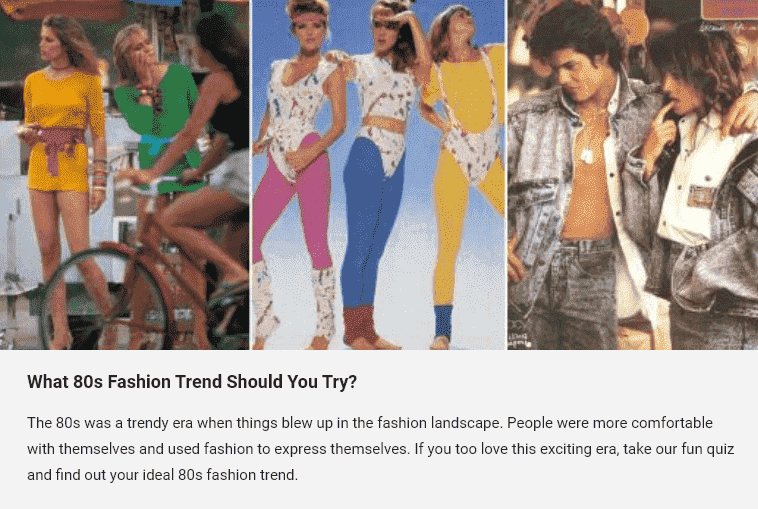 7. Trivia Quiz on Slang
You can have a fun team quiz round on various kinds of slang. Such quizzes let your team members learn more about the modern language of different generations/countries and are sure to evoke a lot of laughter.
8. Celebrity Trivia
Even people who aren't interested in celebrity news are unwittingly exposed to a lot of it, making this virtual trivia idea an excellent topic for your team quizzes.
For instance, check out these quiz titles.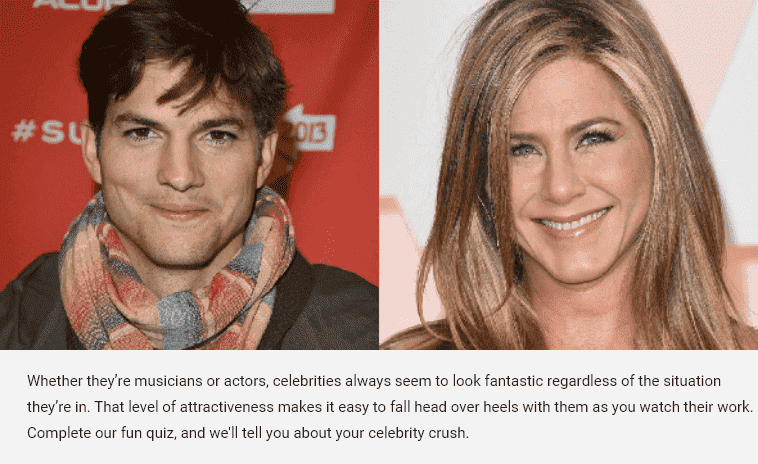 9. Automobile Trivia
This team quiz will give automobile enthusiasts a chance to show off their knowledge. You can have trivia quizzes on popular automobiles, the automobile industry, and the history of automobiles.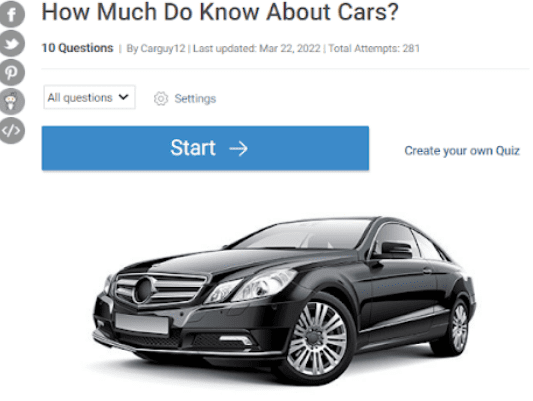 General Knowledge Quizzes
10. History Quiz
You can host a history quiz round to test team members' knowledge of the world's history, their country's history, the world wars, a particular century, historical monuments, and much more.
11. Geography Quiz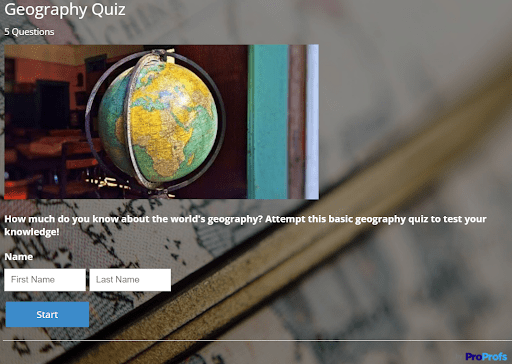 Test team members' knowledge and awareness about the world with questions on countries, continents, oceans, rivers, and mountains.
12. Identify the Slogan
'The happiest place on Earth', 'Shave Time. Shave Money', 'Do what you can't'. So many brands, so many slogans to guess from. Find out how many popular slogans your team members can match to their respective brands.
13. Holiday Trivia Quiz
Team quizzes are perfect for adding to the holiday fun. You can quiz your team members on the history and origin of popular holidays, such as Christmas, Halloween, and Valentine's Day, and regional variations of how people celebrate them.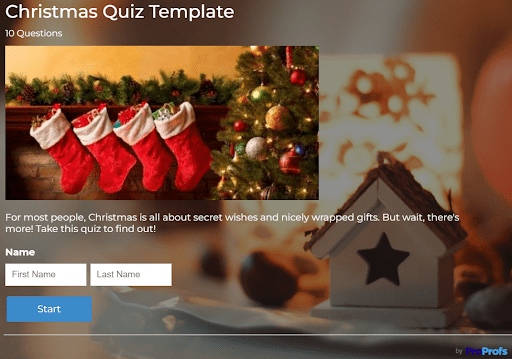 14. Animal Trivia
From cute, furry pets to ferocious predators of the wild, you can base your animal trivia team quiz on all sorts of animals.
15. Nature Trivia
Getting to know more about nature can be an enriching experience for everyone. It also gives you the chance to look at some breathtaking images with your coworkers.
16. Food Trivia
From serious discussions on nutrition value to animated chats on the deliciousness of local fast-food offerings, food will always remain among the hottest topics for conversations.
17. Technology Trivia
There is a big ongoing debate on whether technology is good or bad for the world.
Well, as far as team quiz ideas are concerned, it's simply awesome. You can have fun exploring the origins of daily-use tech, learning about the latest trends, finding out some fun techy facts, and much more.
18. Science Trivia
Some of us were good at science in school, and some weren't. But we all aspire to know more about how the world works, right?
19. Fact or Myth?
As surprising as it may sound, fake news gets spread even faster than real news. So, there are a whole lot of myths out there about anything and everything, making a quiz that separates fact from fiction an excellent idea.
Pro Tip: You can add to the myth-busting fun by mentioning the origin of all the pieces of false information that your quiz will feature
20. Country Quiz
You can have a team quiz round based on your and your teammates' country or your organization's home country. Let's say your company is based in the USA. You could have country quizzes like these: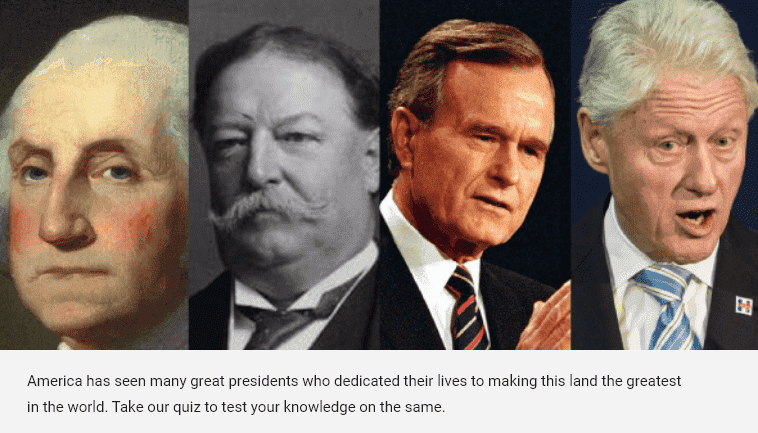 21. Quiz on Cultures of the World
Creating a team quiz on cultures is a great way to test your team members' knowledge and amaze them with fascinating facts and visuals. Check out the quizzes below for fun team trivia questions on different cultures.
22. Quiz on Currencies of the World
Find out how many currencies of the world your team members are aware of or test their knowledge about your country's currency. Here are some working from home fun quizzes on currencies.
23. Social Awareness Quiz
Test your team's knowledge about various social issues, such as women empowerment, overpopulation, poverty, climate change, etc.
24. Language Quiz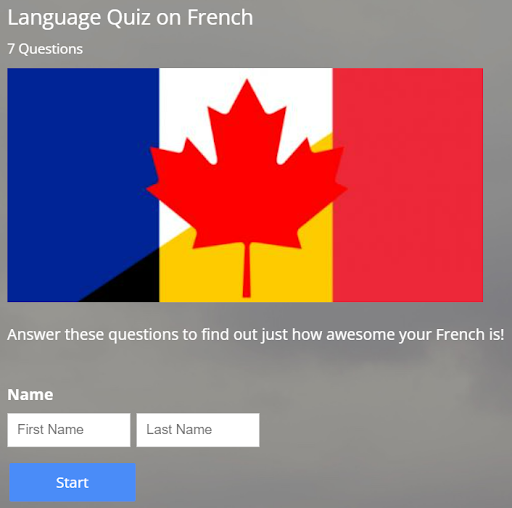 Just like learning about different cultures, it can also be fun to learn about the different languages in the world. For instance, did you know that there are languages worldwide?
25. Social Media Facts Quiz
The social media world is full of cool facts and figures that you can easily base your team quiz on. You can start with questions on the user count of popular platforms and then move on to the more unfamiliar statistics, such as the number of hours of video uploaded to YouTube every minute or the average time spent by Instagram users on the platform.
Apart from quizzes on statistics, you can also create quizzes that test basic general knowledge about social media.
26. Rapid-Fire Quiz
Rapid-fire quizzes are timed quizzes where the quiz taker tries to answer as many questions as possible before the time runs out. These quizzes provide a great way to test participants' recall ability and how they manage their time.
You can conduct this quiz round by dividing the participants into teams and creating a separate set of questions for each team. Each set should ideally have a mix of simple and challenging questions to make things interesting.
Team Quizzes Related to Your Company & Coworkers
27. How Well Do You Know Your Company?
One of the best activities you can do in a remote meeting, this quiz idea can help you:
engage employees

reinforce your company's mission, vision, and values.
But, you must make sure the focus of the activity doesn't get tilted towards the latter objective. Otherwise, the participants may get turned off and lose interest in the entire quiz session.
28. How Well Do You Know Our Colleagues?
If team building is your main aim behind conducting a remote quiz session, this virtual team ice-breaker idea might be your solution. You can ask all the participants to take a survey to get more info on their habits, preferences, working styles, etc.
Watch: How to Create a Survey
Then, you can have a quiz about a different team member every time you host a virtual meet-up. Besides being a fantastic ice-breaker, this team quiz idea is also a great way to make your employees feel valued and connected to the organization.
Tip – This quiz idea can be even more fun if you create this quiz about an employee with an upcoming birthday or work anniversary.
29. How Well Do You Know Our Clients?
Yet another dual-benefit team quiz idea, this one lets you ensure that your team members are well-aware of the common knowledge about their clients. It also lets you provide additional information on the clients, which can help your employees perform their responsibilities better.
30. Trivia Quiz on Influencers in Your Field
Getting your employees more interested in influencers in your field can pay off big time in self-learning. So, it would be a great idea to have a team quiz round that lets you inform your team about relevant influencers' backgrounds and achievements.
For instance, if you're in marketing, you can have your influencer quiz questions on the likes of Neil Patel, Jeff Bullas, and Gary Vaynerchuk. You can end the round by urging your team to follow these influencers on social platforms so that they stay well-updated about the latest trends in your industry.
31. Industry Trends Trivia Quiz
If educating your employees about the latest developments in your industry by getting them interested in influencers seems too long-winded, you can host a quiz round on the industry trends.
Unlike some of the other quiz ideas, this can be a regular and frequent activity in your team meetings so that your employees don't miss a thing.
32. Quiz on Work-Related Statistics
A long session on business numbers can be yawn-inducing. But what if you made a fun guessing game out of it? Instead of simply presenting your performance metrics, such as sales, NPS, etc., to your employees, you can conduct a multiple-choice quiz round on them.
33. Quiz on Work-Related Terminology
A quiz on terminology related to your or your client's field of work can be one of the best fun+learning activities.
For example, let's say you work with a home decor brand. You can create a quiz where you show participants some images of a room and have them guess the decor style from Modern, Contemporary, Bohemian, Minimalist, etc.
34. Most Likely To
Unlike our last few team quiz ideas, this one is purely for fun and sure to be a laugh riot. In this one, you describe a funny, unbelievable, or bizarre activity or scenario and then have the employees tell which of their teammates is most likely to actually do it or go for it.
Those who answer the same as the most popular option get the points for the question. For instance, these could be some of the questions in your Most Likely to Team Quiz:
Most likely to be late for their own wedding

Most likely to become famous

Most likely to fake their death

Most likely to join a cult

Most likely to get lost in their hometown
35. Guess Whose Workspace This Is
Another fun quiz for employees, this one has participants look at an image or video of a home workspace and guess the owner. While serving as a terrific way to shed light on employees' unique personalities, this quiz round also has the potential to draw out a lot of laughs, whether through the results or the images themselves.
36. Guess Whose Facebook Status It Is
In this one, you sift through your employees' Facebook profiles and find some particularly juicy old statuses that you can use for a super-hilarious guessing game.
What makes this team quiz idea even more fun is that the employee in the spotlight may not even remember having posted the status if you go back long enough in their timeline.
Audio/Video Team Quiz Ideas
37. Identify the Video/Audio Clip or Image
Present the quiz takers with a video clip, image, or audio clip and ask them to identify it. For instance, you can let them hear the first few seconds of a song and ask them its name or ask them to identify historical landmarks.
Watch: How to Create a Video Quiz


38. Identify the Logo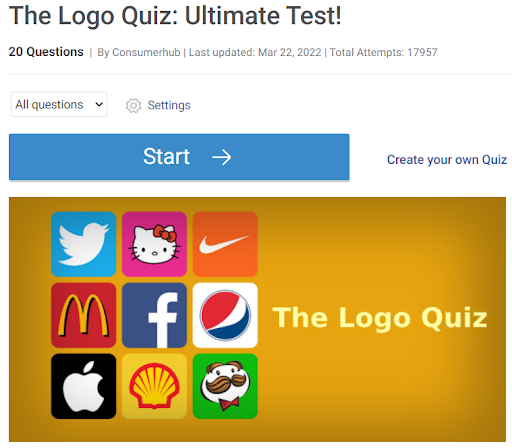 A quiz where you show quiz takers logos of famous brands and ask them to identify them.
39. Picture Zoom
In this unique work quiz for fun, you show quiz-takers a highly zoomed-in picture of an everyday object and then ask them to figure out what it is. Depending on what images you choose and how much you zoom in, this quiz can elicit hilarious answers.
40. Watch the Video Clip & Answer the Questions
This quiz idea is perfect for testing participants' attention to detail. You show them a short video and then ask questions on minor details, such as "What was the name of the pastry shop they walked past?" or "What color headband was the girl wearing?"
41. Viral Video Quiz
Here's how this one works:
Show your team members a viral video (not a super-popular one)

Stop the video somewhere before the end

Ask what happens next in the video?
Those who have seen the viral video can show off their knowledge of the viral phenomenon. The others can have fun guessing.
42. Google Earth Quiz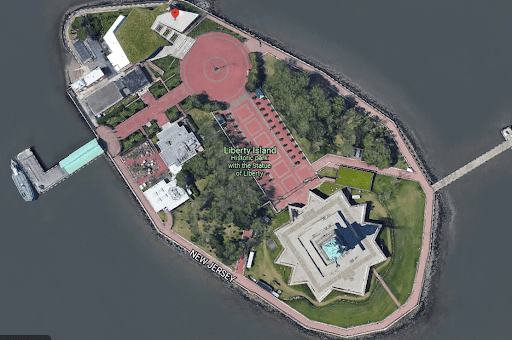 This travel-related quiz idea is a fun way to test your team's awareness of famous places in the world and their observation skills. You need to take screenshots of Google Earth views of some landmarks, edit out the names, and then ask your team to identify the place.
If you have graphic design skills, you can also take this idea up a notch by removing a monument from a screenshot and asking the participants to tell what's missing. For instance, you can remove the Statute of Liberty from the above image and ask participants to identify the location.
Other Team Quiz Ideas
43. Personality Quizzes
A unique brand of quizzing, personality quizzes are extremely popular on social media. Unlike trivia/score-based quizzes, the questions in a personality quiz don't have any correct or incorrect answers and simply analyze a person's personality. So, instead of a score, they provide a personality as the quiz outcome.
But how do these BuzzFeed-style quizzes fit into a virtual meet-up? Well, you can simply share the link to the quiz you've created with your team members, and they can attempt it on their own devices. Once everyone is done, they can have fun sharing and comparing the results.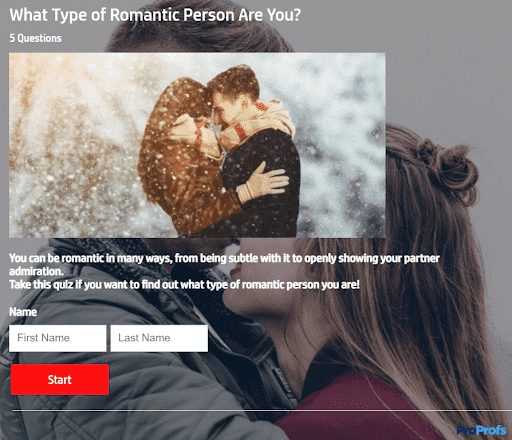 44. Closest Answer Wins!
In this team quiz, you ask questions having numerical answers that quiz takers are unlikely to answer accurately. For instance, this question – How many characters die on-screen in Game of Thrones? Whoever gives the closest answer wins the points for the question.
45. Spelling Bee
A spelling bee is a popular competition where participants have to give the correct spelling of words (usually those with difficult ones). You can have a spelling quiz on general words or those related to your niche. You can also look for commonly misspelled words to test and educate your team members.
46. English Vocabulary Quiz
A simple English vocabulary quiz can be as fun as any other quiz idea if you pick some interesting and unfamiliar words for your quiz. You can have a quiz where participants select the correct meaning of a word, or you can go for a synonyms and antonyms quiz.
Check out: How to Create a Vocabulary Quiz
47. Least Common Answer Wins
In this quiz, you ask a question that can have several correct answers. Whoever gives the least common answer gets the points for the question.
For example, let's say your question is this:
Name a country starting with the letter C.
In this case, someone who answers with "Canada" is much less likely to win as compared to someone who answers with "Cyprus" or "Croatia".
48. Riddles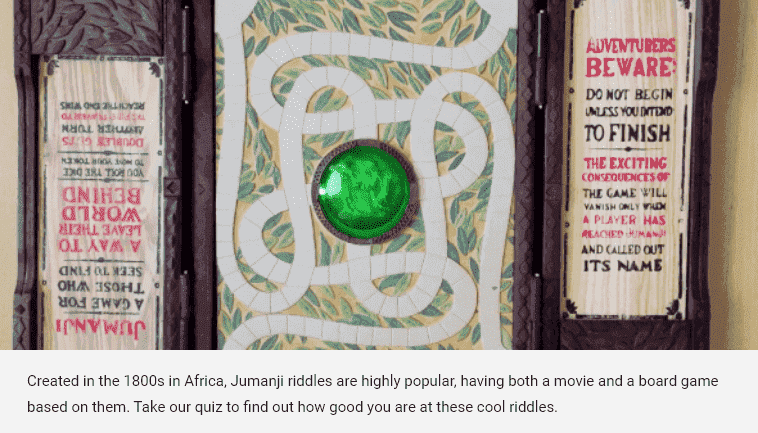 Riddles are amazing for engaging team members during remote meet-ups. They also work great for team building if you divide the participants into teams. Here are some fun ones to get you started.
49. Problem-Solving Quizzes
Problem-solving quizzes featuring math or aptitude problems work great to arouse everyone's competitiveness. To amp up the intensity, you can add in a countdown timer for each question.
Check out: 20 Best IQ Quiz Questions for Your IQ Quiz
50. Quiz on Current Events
A team quiz on current events is a great way to spark lively discussions where team members share their opinions and strengthen their bonds. You also get to inform your employees about important events that may directly or indirectly affect your industry.
51. The Positivity Quiz
While it's crucial to stay informed, we all need a break from negativity. An online group quiz based solely on all the good happenings from the previous month can be a great way to keep your employees' spirits high during challenging times.
52. Desert Island Inventory
Desert Island Inventory technically isn't a quiz, but it's just as fun!
In this fun poll, you ask poll-takers what items they would bring along if they were going to a desert island that they could end up getting stuck in.
Tip – You can create engaging polls that feature beautiful, visual results using online poll software.
Read More: 100 Best Online Quizzes
Tips for Hosting the Perfect Team Quiz
Now that you've looked at our list of team quiz ideas, here are some quick tips on getting the most out of the ones you pick.
Make It Visual –

Add a lot of media to your quiz to make it visually attractive. For instance, using quiz maker software like ProProfs, you can add images and videos to your questions, answer options, or both. You can also add a background image to make your quiz look more appealing.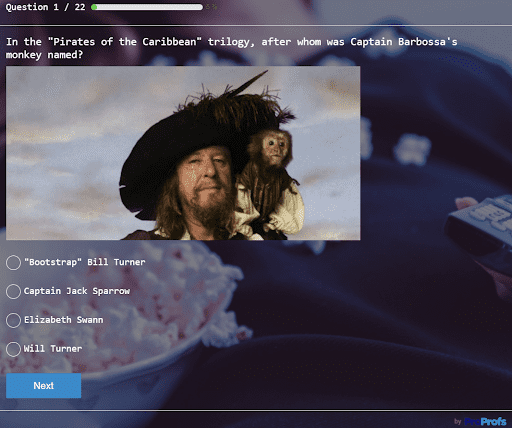 Conduct Multiple Rounds With Different Topics –

If you're super-short on time, having even one quiz round can be great for employee engagement. But, when time isn't a factor,

you should conduct at least three quiz rounds, each with a different topic. You can have 6-10 questions for each quiz round.
Have a Round on Your Employees –

The aim of conducting a virtual team quiz is to engage your employees and create better teams. So, there must be at least one quiz round about the employees in each of your quiz sessions. Have such a quiz mention multiple employees and their office quirks to build personal connections.
Use a Variety of Question Types –

As for quiz topics, you should also mix it up when it comes to question types. You can create various styles of questions for a team quiz, including multiple-choice, checkbox, true/false, matching, and many more.
Watch: Types of Quiz Questions

Related Read: 40 Best True or False Quiz Questions
Group Participants Into Teams –

Creating small sub-teams is an effective way to level up the competition aspect of your team quiz. Your teams could have as few as only a couple of members each, and it would still work great. What will make this even better is if you created the teams in such a way that the people who get to interact less end up in the same team.
Use Different Platforms for Work and Fun –

To host an amazing quiz session, you need to ensure that your team members are fully out of their work mode. An excellent way to do this is to separate your work and fun platforms. For instance, you can use Microsoft Teams for work meetings and host quiz sessions on Zoom.
Read: How to Host a Quiz on Zoom
Choose a Good Quiz Maker –

Once you have a bunch of amazing quiz ideas to start working on your quiz sessions, you need top-notch quiz software to put them into action. Here are some things you should look out for in your online quiz maker:

Ease of quiz creation with intuitive UI and ready-to-use resources

Ability to create a variety of types of questions

Option to add videos, images, and audio

Easy sharing via links, email, embedding on a website, etc.

Plenty of settings for customization
Watch: How to Create a Quiz Using Question Bank & Templates

Gamify Your Quiz Sessions –

You can easily gamify your team quizzes by adding countdown timers and using interactive question types, such as

hotspot

and

order-the-list

. You can also add to the excitement by playing quiz-themed background music in your virtual meet.
Read: How to Create a Quiz Using Hotspot Questions
Work on the Look and Feel of Your Quizzes –

Another way to enhance your participants' quiz experience is to beautify your quizzes by adding a theme. Make sure you choose fonts and colors that fit well with the quiz theme. It would also be good to add your company logo and message to the quiz to create a better sense of belonging among your team members.
Watch: How to Design Beautiful Quizzes
Provide Quiz Certificates – Providing custom-designed certificates to team members at the end of the quiz session is a great way to encourage active participation. With ProProfs, you can upload your certificate designs and automatically award certificates to quiz takers, making the entire process seamless.
How to Create a Virtual Team Quiz
Creating a virtual team quiz online is very easy. Here are the steps you need to take to create a quiz with ProProfs.
Step 1: Choose between scored and personality quiz type
Step 2: Choose a template or make your quiz from scratch
Step 3: Import questions from the quiz library
Step 4: Add images and videos
Step 5: Customize the look and feel
That's it! You're done.
Want to know more and in detail about online quiz creation? Check out our quiz-making guide.
Hosting Your Virtual Team Quiz
You can host your team quiz in two different ways.
Start the quiz on your computer and share the screen with your quiz takers. Participants can share their answers verbally, in the meet chat, or personally to you via Google chat, Whatsapp, etc.

Have everyone attempt the quiz on their computer and then share their results with everyone in the meet chat.
The method you go for would depend a lot on the type of quiz you're conducting. For instance, you'll need to choose the second method if you're hosting a personality quiz round or want to award certificates at the end of a trivia quiz.
Create Your First Team Quiz Today
Virtual meet-ups can be much more than a way to catch up with your coworkers. A thoughtfully designed virtual team quiz session can bring that spark of energy that your employees need to stay engaged and productive.
So, start creating your team-building quizzes today using the ideas and tips we've shared above. Once you've created a fair number of them, you'll also start coming up with your own unique and amazing virtual team quiz ideas.
Whichever ideas you go for, you'll need excellent online quiz software to create beautiful and engaging quizzes quickly. ProProfs Quiz Maker is the simplest and most feature-rich quiz tool out there. With ProProfs, you get several unique features, including 100+ beautiful quiz templates, 100+ settings for customization, and a massive quiz library with over a million questions to import from.
Do you want free Quiz Software?
We have the #1 Online Quiz Maker Software for complete learning & assessment