The new millennium has given a whole new meaning to the assessment tests, and the online assessment tools have proven to be more important than ever.
Even though the traditional paper and pencil assessments haven't really disappeared into the void, the new technology has rendered them obsolete by assisting teachers using the online assessments.
The support for online learning and assessment has been tremendous.
In fact, 80% of the schools in the US have either purchased or are preparing to purchase additional technology for students online. Also, since 2020, 98% of the universities have moved entirely to online teaching.
There is no shadow of a doubt that online assessments are more effective and can easily replace the traditional assessment methods. They have become extremely popular today in marketing, education, and recruitment.
Online assessments have a lot to offer, but with the overcrowded online assessment marketplace, it can be a little difficult to pinpoint which assessment tool will be right for you.
How hard can it be, you say?
Considering factors such as pricing, scalability, and advanced functionality such as remote proctoring, CAT, reporting, user-friendliness, etc. Pretty hard.
But we'll give you the best set of options when it comes to online assessment tools so that you can make an informed decision based on numbers and statistics. So sit tight and follow along.
What Is the Best Assessment Software?
The best assessment software exhibits ease of use. It is feature-rich and ensures a smooth assessment process for learning, training, or recruiting.
Security, cost-effectiveness, user-friendliness, configurable settings, and resourcefulness are attributes displayed by the best assessment software.
There are several online assessment software that trainers, recruiters, instructors, or educators can use for assessing their trainees, candidates, and learners, respectively, but not all of them are the best.
No matter who the user is, the best online assessment offers several features to simplify the entire assessment process. An ideal online assessment tool does everything from creating the assessments to distributing, grading, giving feedback, reporting, and analyzing the results.
It offers an easy-to-use interface for the person creating the assessment as well as the person taking it.
Whether you're a teacher looking to test your students or recruiters looking to hire new employees, go through our specially curated list of online assessments tools to compare their features, pros & cons, and pricing to choose the one that's right for you.
First let's begin by understanding the different ways such tools help you before diving into how you can choose the best tool!
Benefits of Online Assessment Tools
These are the most significant benefits of using an online assessment tool:
1. Effective Student Assessment
Online assessment tools in education make it very easy for teachers to build a knowledge test or a fun knowledge quiz to assess their students' learning.
With features like question library, automated grading, instant feedback, 100+ security configurations that help prevent cheating, and instant reports, online learning & assessment tools reduce the burden of teachers, and they're able to assess their students' knowledge quite effectively and efficiently.
2. Easy Career Assessment
Creating a personality assessment quiz or career self-assessment tests to identify individual personality traits is very easy with online assessment tools.
Most online assessment tools offer career assessment test templates that help assess individuals their strengths, weaknesses, core competencies, etc., and help them find the most suitable career options. Online assessment tools offer insights that they didn't have before taking the assessment.
3. Better Remote Hiring
Online assessment tools can help recruiters and hiring managers in assessing candidates' skills before hiring by letting them create pre-hire skill assessment tests.
Skill assessment tests help recruiters and hiring managers select the best candidates based on the highest scores achieved in the assessment for a particular job role. Some online tools like ProProfs also offer a collection of ready-to-use skills assessments that can be used just as they're or customized according to recruitment needs.
4. Smooth Employee Training & Assessment
Online assessment tools make it easier for businesses to train & assess their current employees for performance evaluations.
Training assessments created with online assessment tools tend to give more accurate results than paper-based tests. They're also automatically graded, so there's no fuss about grading the assessments.
However, since there are hundreds of online assessment tools, you probably wonder how to choose the best online assessment tool? Well, that's not so difficult, you just have to check a few boxes. Hop on to the next section to know which ones.
How to Choose the Best Online Assessment Platform
Even though you may have different considerations when choosing best online assessment tools, choose a tool with the following characteristics:
1. Easy-to-Use
An online assessment tool should be hassle-free and easy to use. If it requires no installation and gets you started in minutes, you can bet it's the best one.
2. Offers an Assessment Library
What helps distinguish the best assessment tool from other tools is its ability to let its users perform assessments effectively and efficiently. For this, such tools often have a library of professionally designed, ready-to-use assessments on hundreds of topics.
3. Allows You to Add Different Types of Questions
Assessments would remain limited if you're not able to address different competencies or learning styles. For that, the online assessment software you choose must allow you to include different types of questions in your assessments.
4. Lets You Customize
An ideal assessment tool lets you brand your assessments as your own. You should be able to add your logo, change the theme of your assessments, change fonts, and more.
5. Multi-Lingual Support
You must choose an assessment tool that offers support for multiple languages so that it becomes easier for learners from different regions and nationalities.
6. Compatible With Mobile Devices
The assessment tool you choose should support mobile-friendly assessments so that the learners can take tests on mobile devices, including laptops and smartphones.
7. Ensures Security
A reliable online assessment platform ensures safety. So check if the assessment tool you choose enables data encryption and password protection to prevent unauthorized access.
8. Produces Analytical Reports
The assessment tool you choose must generate smart reports and statistics to help you analyze individuals' performance. It should be able to offer helpful critical insights to aid smart decision-making.
9. Offers 24×7 Support
A reliable online assessment software is backed up by 24/7 customer support with the shortest turnaround time. So, this is another element to consider.
Now that you know what boxes to tick, it'll be easier for you to pick a good assessment tool.
However, to help you choose the one that best fits your needs, we've compiled a list of the 10 best online assessment tools that are reliable, secure, and feature-rich.
Let's dive in and see how they fare against each other.
Top 10 Best Online Assessment Tools and the Features They Offer
1. ProProfs Online Assessment Software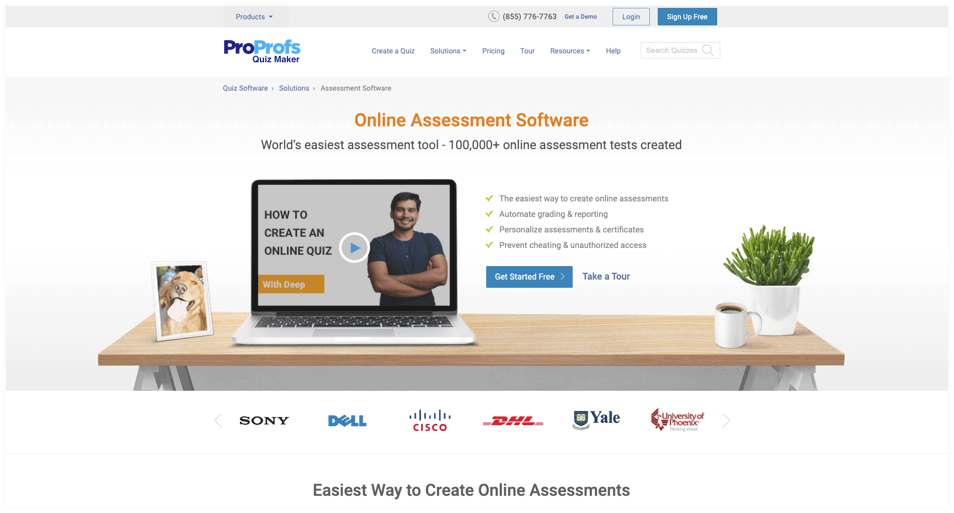 ProProfs Online Assessment Software
is a cloud-based and one of the best online assessment tools that can benefit anyone looking to create online assessments. It is the easiest tool of its kind.
It offers assessment solutions and access to an assessment library, ready-to-use questions, several templates, and more than a hundred settings.
Automated grading and instant feedback are the most helpful features of this tool. You can save hours of your time by automating the grades for your assessments. The reports are generated automatically and in real-time, which can help you evaluate group and individual progress.
Features:
100+ Ready-to-Use Templates
Get 100+ professionally built scored & personality quiz templates to create quizzes in under five minutes.
Explore a collection of more than 100,000 ready-to-use assessments across thousands of topics.
Access a library of 100,000+ ready-to-use questions on different topics. This feature has made it one of the best online exam maker platforms.
Easily automate how you assign grades to correct answers, and save time and effort in the process.
Add your logo to your assessments, add a background image, choose themes, color schemes, etc., of your choice to give your online exams the look and feel you want.
100+ Settings & Configurations
Choose from more than 100 settings for privacy, security, availability, notifications, and to prevent cheating in your assessments.
Protect your assessments with a password, private access, or by disabling download and copying to avoid unauthorized access.
Personalize certificates with your company logo and issue them automatically to exam-takers.
Capture quiz-takers' information such as their name, contact number, email, etc., with a customizable lead form.
ProProfs Quiz Maker integrates seamlessly with several third-party tools, including:
Salesforce

Mailchimp

Campaign Monitor

HubSpot

Vertical Response

Keap
Pros:
It is easy to use

Its users can create groups of similar learners

It makes lead generation easier

It helps save time spent in grading and reporting online tests and exams

It helps scale remote hiring with ready-to-use skill assessments.
Cons:
More template categories would be great

Many features are confined to the enterprise plan
Pricing:
Starts at $0.25/quiz taker/month, no strings attached.
2. Easy LMS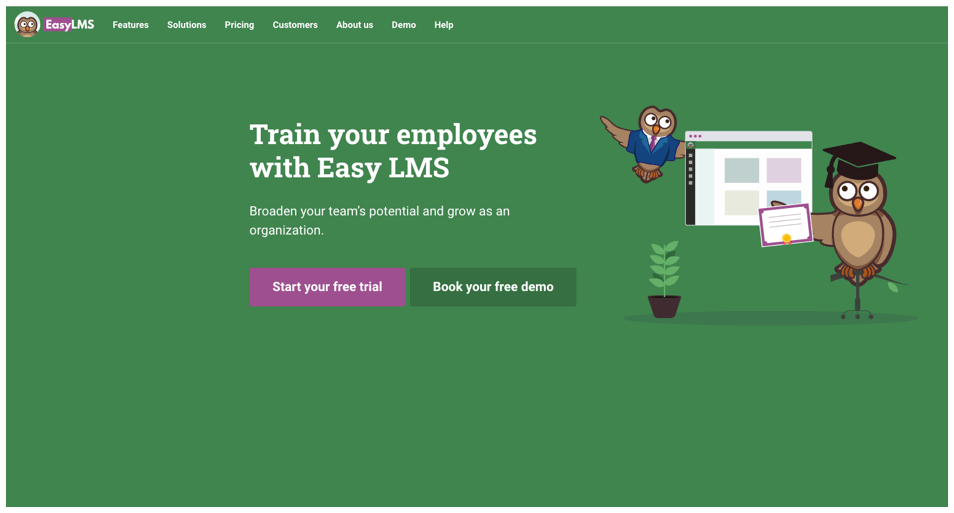 A world-class LMS that comes with built-in assessment tools, Easy
LMS
can help you create exams or deploy quizzes in no time. This online learning and assessment tool offers
exams & quizzes
as a stand-alone feature that works outside of the LMS.
The exam & quiz creator supports different question types and is very easy to use with automatic grading. The notification system constantly updates the user about the latest software development.
The reports and analytics feature lets you identify the knowledge gaps and update your learning materials.
Features:
Combine all the content elements you need: text, video, images, and practice questions to build rich and engaging courses.
Create single axis or multiple axis assessments and get to know your learners better.
Choose from one of 10 available languages for your account dashboard.
Create a custom styling to reflect your brand identity and make it easier for people to recognize you.
Pros:
Well-constructed.

Well conceived for teaching

Flexible pricing
Cons:
The interface is a bit confusing at times

Doesn't support all types of SCORM files
Pricing:
Starts at $50/month
3. Berke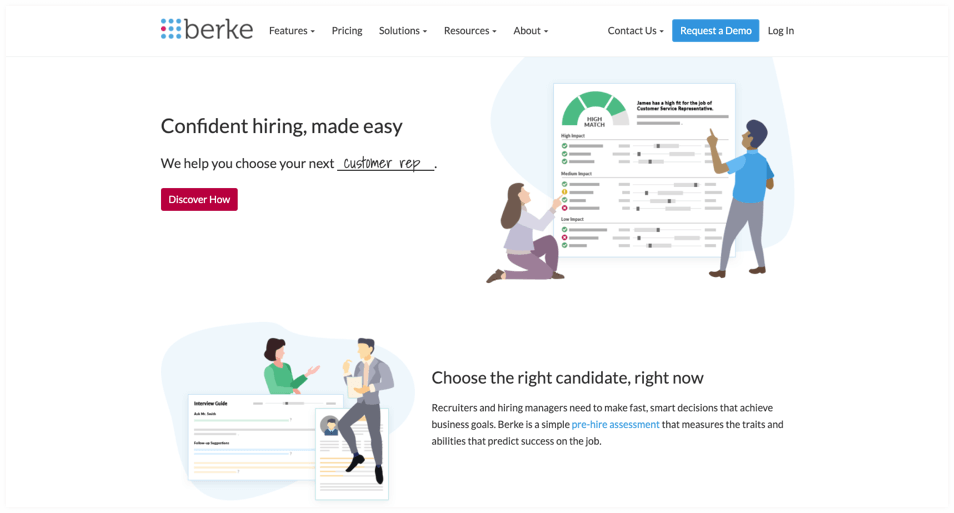 Berke is one of the top online assessment tools among recruiters. It offers customizable tests that help measure the personality and intelligence of the candidates who apply for a job role.
With Berke, recruiters can easily build "hiring profiles." Hiring profiles help recruiters compare each candidate's results against benchmarks by listing desirable behavioral traits and problem-solving abilities.
Features:
Berke is intuitive and built keeping recruiters and hiring managers in mind.
Straight-forward language and graphs in reports illustrate essential candidate qualities.
Compare candidates to job benchmarks customized as per your company.
Ask the right questions with interview guides tailored to each candidate.
Quickly see the fit and mismatches between a person and a job.
Build a baseline to benchmark existing employees and candidates.
Pros:
Mobile-friendly tests

Helps you find the strengths & weaknesses of candidates

Valuable interview questions
Cons:
No integration with ATS (BambooHR)

Results lack accuracy
Pricing:
Available on request
4. ExamSoft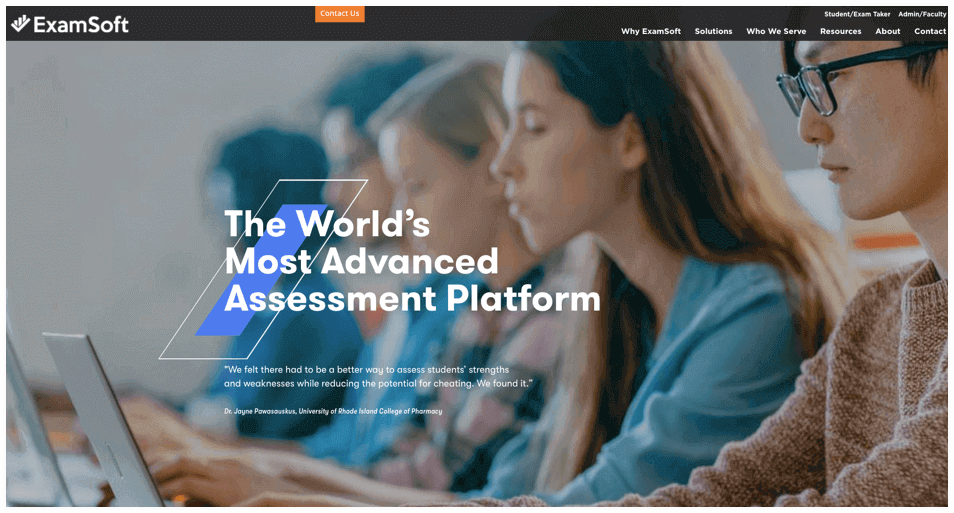 Specifically designed for teachers, ExamSoft Portal is one of the top online assessment tools with various features to help you
streamline course creation, deployment, grading, and certification
.
The tool has all standard features – exam maker, analytics, reports, and a notification system.
It is designed to help you deliver a safe exam environment. To prevent cheating, you can randomize questions in the test and even turn off the WiFi connectivity on students' devices.
Features:
Ready-to-Use Assessment Data
Create assessments with easy-to-collect and easy-to-apply data to improve the course and student performance.
Administer exams securely, achieve better results for your students, and reduce the amount of time your faculty and staff spend in administering tests.
Provide more targeted remediation, identify gaps in the curriculum, and help close the loop on accreditation with the most powerful data and analytics reporting available to educators.
Unparalleled Exam Security
Protect the integrity of your exams and assessment data with the most secure testing platform.
Use category-based data reporting to focus on areas that need the most improvement.
Easily match student performance to the required learning objectives.
Pros:
Easy-to-use and grade exams

Automation of reports helps save time

Downloadable exam reports

Students don't need internet access to take exams
Cons:
Not compatible with iMac

Uploading exams is not easy

The security configurations often disturb the computers on which the tests run

The media attached to the question can only be viewed in a separate window
Pricing:
Available on request
5. Glider.ai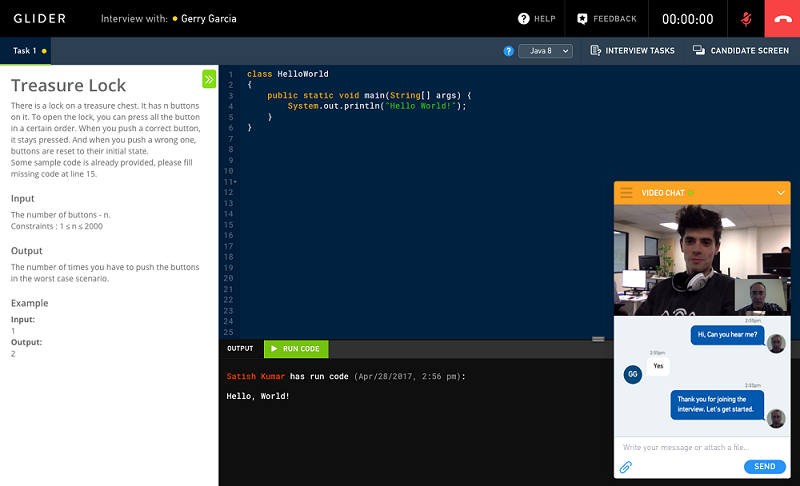 GLIDER.ai is a state-of-the-art online assessment tool that helps you
hire qualified candidates faster and continue training them
.
With Glider, you can easily create interactive assessments, auto-scored coding tasks, and video questions to ensure you hire the right candidate. The platform has 30 question types to choose from and supports videos as well.
It is probably the best pick for recruiters because it is built around the idea of testing coding and programming skills.
Features:
You can use Glider across various job role assessments like technology, marketing, sales, and more.
It can easily meet all of your compliance and integration needs.
Flag candidates using AI with a complete audit trail.
Pros:
Offers fast-paced processes

It is very cost-effective

Automates screening

Eliminates bias

Standardizes the process

Makes room for better hiring
Cons:
Technical difficulties

Less human interaction

Personality bias
Pricing:
Available on request
6. ClassMarker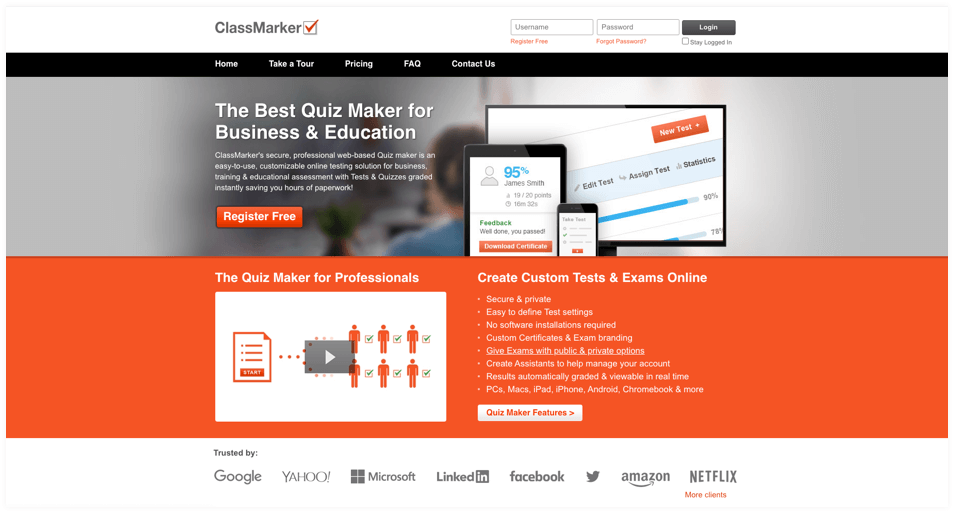 Next, we have a secure, professional web-based online testing solution for
business
and
educational assessment
.
ClassMarker
is yet another online test maker tool that's perfect for these applications.
It has an easy-to-use interface and comes with several options to customize tests. This online exam maker is used globally by enterprises to create the following:
training tests

pre-employment assessments

lead generation

e-learning

modules

practice tests
Features:
Create secure online exams & assessments with advanced quiz settings, such as time limits, public & private test access, randomized questions, and more.
Deliver Your Tests, Your Way
Save individual user details at the beginning of the test or register user groups with individual login credentials.
Create online tests on the web-based software without the need for any software installation.
Personalize by adding your brand's logo and colors to quizzes.
Allow test takers to download their completion certificates, including their names, scores, and feedback.
You can select to charge users who wish to take your online tests, so you can sell quizzes online and receive payments instantly.
Automated Results & Grading
Enable automated grading features to get instant results that are viewable in real-time.
Pros:
No mindless grading

Shows instant feedback

Provides insightful data

Can send a modified version of the test to individual students

Can send individual notes or reminders to students on tests

Students can take the quiz from home
Cons:
Requires you to buy a premium plan for more than 100 learners

Free Text responses can be quirky

Sometimes students forget their passwords

If the internet is not very strong, it can be frustrating
Pricing:
Starts at $39.95/month
7. QuestBase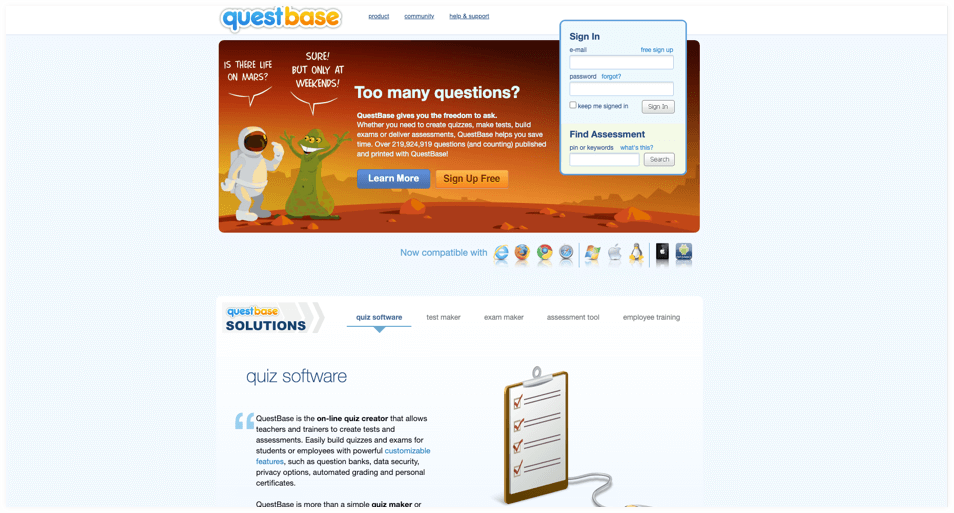 Next on the list is the online test generator named QuestBase. If you're looking for an easy and quick way to publish exams, tests, and quizzes, this is the ultimate choice.
It is an exam, quiz, and proficiency assessment tool widely used by educators, trainers, professionals, nonprofits, and businesses.
Features:
One Solution for All Assessments
QuestBase is the ideal solution for web-based training, distance learning, needs assessments, CBT, course evaluations, sales, product training, online quizzes, product certifications, placement tests, knowledge & academic assessments, and more.
Flexibility in Adding Questions
Add questions manually or import from an external file. You can also use the built-in web editor to build tests easily. Mix different question types, use images and special characters for math equations.
Publish assessments online and share via email, on your website, or print on paper.
You have the option to make your tests either public or keep them private.
Get real-time reports about your test-takers. Analyze all test responses whenever you want. View them, print them, or export them to other programs.
Pros:
The order of the questions can be changed to prevent cheating

You can organize the surveys and questions in multiple folders
Cons:
Not very intuitive

The site doesn't link up to PowerSchool or Google Classroom
Pricing:
Available on request
8. CodeSignal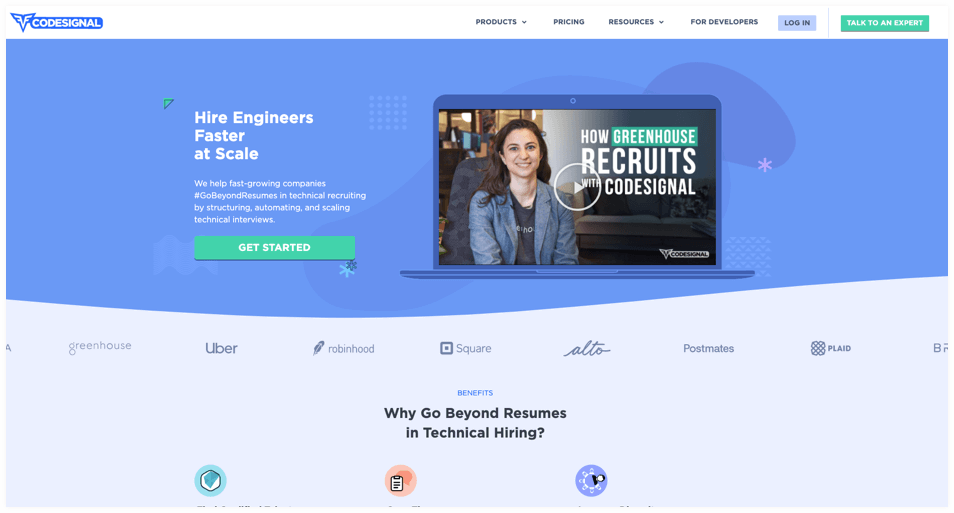 CodeSignal is another assessment tool useful to hiring managers, recruiters, and teachers as it comes with a database full of tests. You can also build and deploy a test of your own.
Hiring managers can increase the interview-to-hire ratio with predictive scoring and thorough skills-based profiles.
Recruiters can increase recommendation-to-hire ratios by assessing skills that candidates will use on the job.
And, educators can improve graduate employability rankings by creating curriculum-specific assessments using this easy-to-use tool.
Features:
Create job-specific tests with easy to hard difficulty levels.
High-Quality Task Library
Choose from a predefined and standardized task library and 40+ programming languages.
Measure overall implementation and problem-solving ability.
Share recorded full keystroke replays of assessments with the entire hiring team.
Share candidate profiles and collect feedback from the hiring team.
Pros:
Offers numerous game modes

Offers a mix of problems that range from easy to challenging

Challenges are well organized into different categories
Cons:
Doesn't allow users to give feedback for answers submitted in the assessments

There are no questions related to image processing

Lacks self-evaluations
Pricing:
Starts at $500/month
9. Nearpod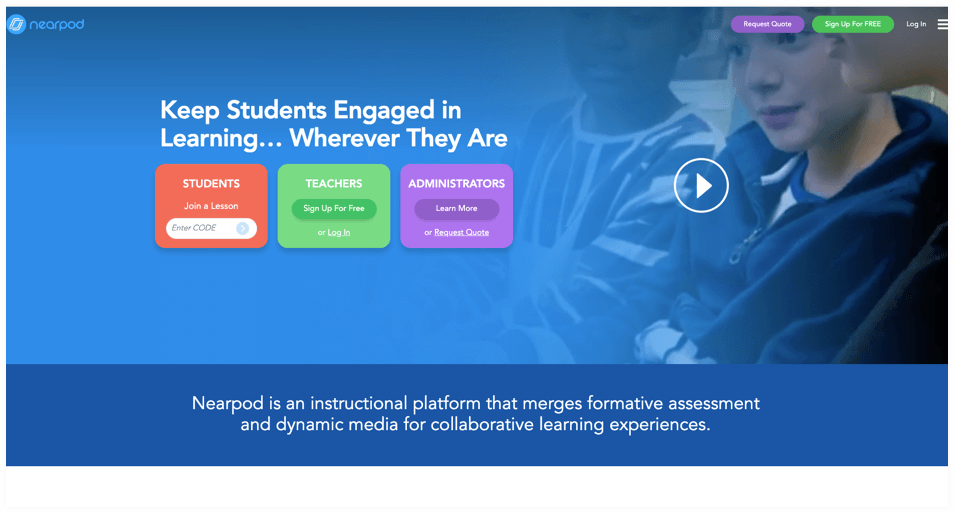 Nearpod is quite popular among educators and ranks as one of the top online assessment tools for teachers. It merges formative assessment and dynamic media for a collaborative learning environment.
Using this tool, you can assess each student individually or review the performance of an entire set of students in a class.
Teachers can use Nearpod to assess students on the go. The software has an automatic grading system that delivers insightful reports.
Features:
Find or create interactive lessons in minutes.
Assign self-paced lessons or assessments to students. Let them access these resources anytime, anywhere.
Synchronize Live Learning
Easily synchronize and control live lessons across all student devices. Seamlessly use your favorite web conferencing platform for distance learning.
Pros:
Useful platform for teachers and students who need to make presentations

It is more engaging than PowerPoint

Offers a better view for all students in class
Cons:
Takes a long time for everyone's answers to drop in

Internet connectivity is often affected while using Nearpod

Slow response time
Pricing:
Available on request
10. Testmoz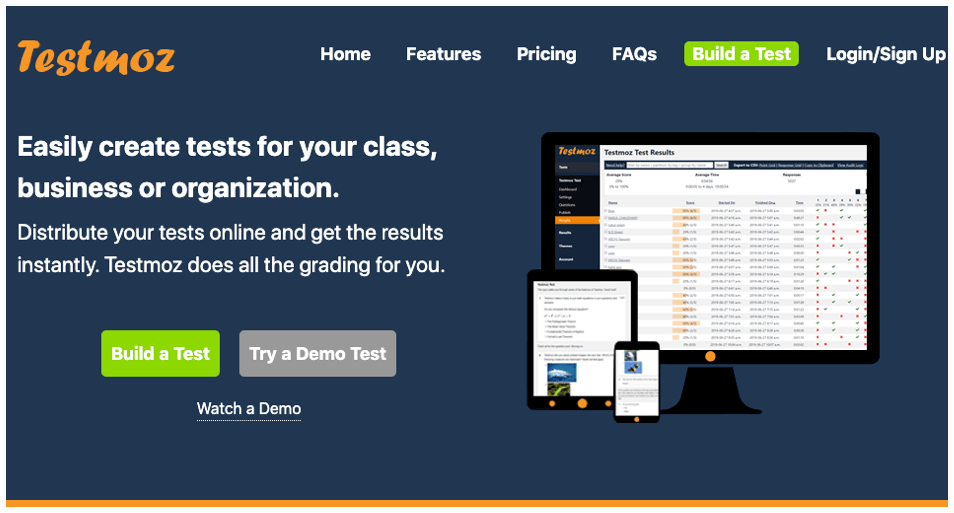 Testmoz is an online assessment builder software that has functions to build and distribute tests online. It is perfect for creating tests easily for your class, business, or organization.
According to them, you can easily customize the tests in a few clicks, insert/edit/rearrange questions on a single page, and mail the test URL to anyone.
Features:
Graded and Ungraded Question Types
Multiple choice (one correct answer), multiple choice (multiple correct answers), true/false, matching, fill-in-the-blank, essay, short answer, and long answer.
Create tests with multiple questions from the same pool.
Find & Insert From Other Tests
Search for questions from other tests, and import them into a new test.
Easily add questions to your tests by either inserting a new one or copying an existing one.
Make your tests more engaging by uploading images into your questions and answers.
If images aren't enough, you can embed a video from YouTube or other supported video sites.
Use the simple ASCI math syntax to add equations to your questions and answers.
Provide files for your test-takers to download during the test.
Optionally explain questions so that test-takers can review them after the test.
Mobile and Desktop Friendly
Testmoz works on phones, tablets, and desktop computers. It's low-bandwidth and fast for test-takers.
Pros:
Instructors can see test takers' scores and responses to questions in reports and also download the reports.

Neither the users nor the test takers have to register

You won't find any ads, including texts, banners, or pop-ups

Prevents unauthorized access
Cons:
Requires high-speed internet connectivity

Students end up spending more screen time

You can easily miss the tests if you don't remember the URLs
Pricing:
Starts at $50 for a year
Are You Ready for the Best Online Assessment Tools?
As you must have seen by now, all the 10 assessment software listed above are different from each other and offer a unique set of features.
But, the decision to choose the best rests in your hands. Keep the end goal in mind, and make sure to take a demo before you make the final call.
Do you want free Quiz Software?
We have the #1 Online Quiz Maker Software for complete learning & assessment