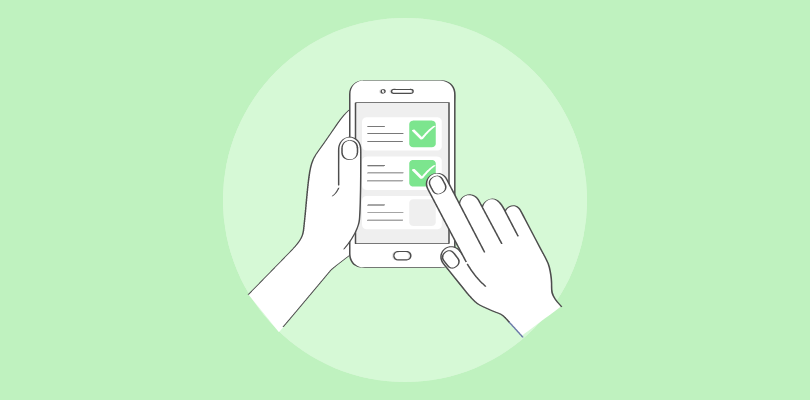 Searching for the best online assessment tool for your needs? I can help you narrow down your choices.
As an e-learning expert and blogger, I enjoy testing and reviewing the top online assessment platforms.
Online assessment tools provide an easy way to measure and improve learning outcomes or hire the right people. They offer many advantages over traditional assessment methods, such as flexibility, efficiency, security, and reliability.
But how do you pick the right one for your goals and budget? There are so many options, each with unique features and benefits.
Don't worry. I've got you covered. In this blog post, I'll share with you 12 online assessment tools that I've found to be outstanding, so you can easily compare and select the best one for your requirements.
Best Online Assessment Tools

Best For

Pricing

ProProfs Quiz Maker

Best for AI-powered quizzes & training assessments

Starts at

$20/month

(billed annually). Special pricing for K-12 teachers: $35/year/teacher.

Mentimeter

Best for conducting live quizzes

Starts at $0 (lacks presentation and reporting tools)

Socrative

Best for annual certifications

Starts at $0 (limited to 5 quizzes)

ASSISTments

Best for data-driven formative assessments

Starts at $0 (limited to teachers only)

Moodle

Best for summative assessments

Starts at AUD 180/year

Mercer Mettl

Best for remote talent assessment

Starts at $249/year

Edulastic

Best for scenario-based assessments

Starts at $0 (Reporting features not available). The premium plan starts at $125/year.

Formative

Best for creating AI-generated questions

Starts at $12/month

Quizlet

Best for self-assessment

Starts at €35.99/year

Assessment Generator

Best for interactive assessments

Starts at $29/month (billed annually)

PowerSchool

Best for K-12 student assessments

Starts from $4.95/month. Free plan available for teachers (limited to 5 active classes)

GoConqr

Best for practice tests

Starts from $0 (limited to one resource creation)

Inspera

Best for proctored exams

Starts at EUR 2,950/year

StoryPulse

Best for offline assessments

Starts from $3.00/month

Nearpod

Best for gamified assessments

Starts at $10.0/ month
Best Online Assessment Tools and Platforms
I have created this list of the best online assessment tools based on my extensive experience and research. I used these tools and gathered feedback from other users to ensure the reliability of this list.
These tools are excellent for conducting and grading online tests and quizzes. Using these tools, you can simplify your assessment process and achieve better outcomes.
1. ProProfs Quiz Maker – Best for AI-Powered Quizzes & Training Assessments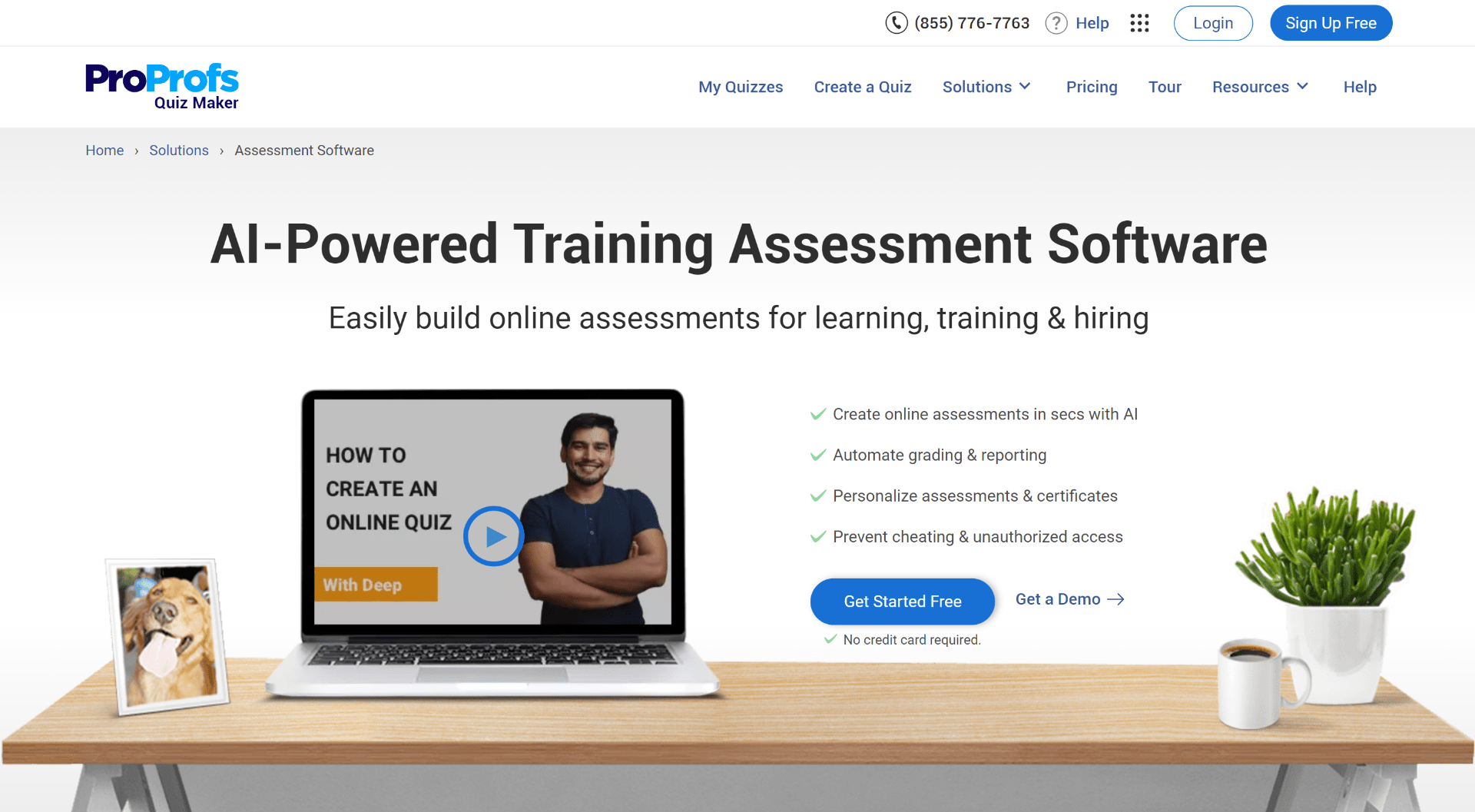 Having extensively used ProProfs Assessment Software, I can say that this tool is one of the best for creating training assessments. The platform boasts a user-friendly interface and requires no installation, ensuring ease of use.
It offers an extensive library of ready-to-use questions, professionally designed templates, and an AI quiz generation feature, enabling the creation of engaging quizzes effortlessly. With ProProfs AI, you can generate quizzes with answer explanations in seconds on any topic.
What's more, ProProfs also offers hundreds of skill assessments for hiring and training designed by subject matter experts.
Automated grading and instant feedback streamline the assessment process, saving valuable time. Personalization options allow branding with custom themes and logos. Robust security settings ensure a reliable and secure assessment.
With ProProfs, trainers can monitor progress, generate reports, and optimize training content for better learning outcomes, making it an indispensable tool for effective training assessment creation.
ProProfs is undeniably a top choice for achieving outstanding assessment results. There are so many customer success stories that prove that. Here's one of them:
What You Will Like:
Advanced proctoring and anti-cheating features to maintain the integrity of assessments.
AI-powered quiz generation feature to create quizzes quickly and easily.
Hundreds of professionally designed, ready-to-use assessments for hiring and training.
Multiple question formats, such as multiple-choice, checkbox, essay, video response, drag-and-drop, hotspot, and more, to support diverse learning needs.
Personalize certificates with your company logo and issue them automatically to assessment-takers.
Customize your assessments with your logo, background image, themes, and colors to match their look and feel with your brand identity.
What You May Not Like:
More education-related templates can be added
The interface can be more visually appealing
Pricing:
Starts at $20/month (billed annually). Special pricing for K-12 teachers: $35/year/teacher.
2. Mentimeter – Best for Conducting Live Quizzes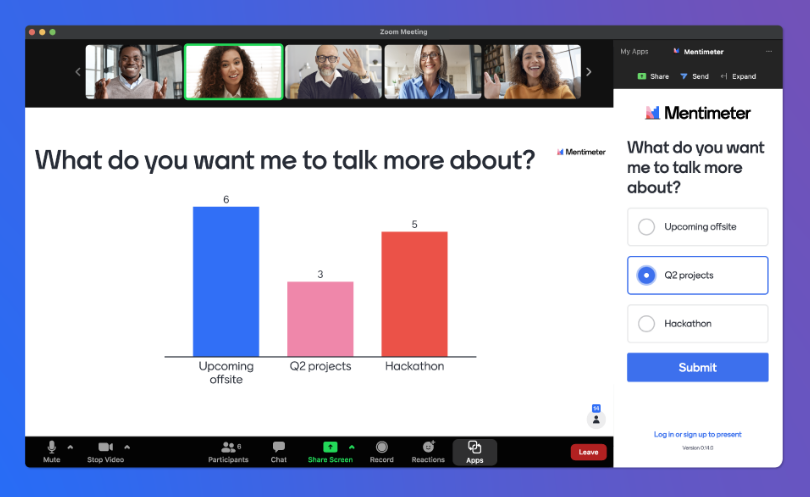 I recently had the opportunity to use Mentimeter, which was a delightful experience. The tool offers various features catering to work and education settings. Whether you want to assess your colleagues' knowledge or engage students in a fun and interactive way, Mentimeter has you covered.
One of the reasons I consider Mentimeter one of the best assessment tools is that it has the option to host live quizzes. By adding elements of competition and interaction, you can energize your audience during presentations.
The tool also offers pre-designed quiz templates tailored for work-related topics. I found the "Company Quiz" and "Team Building Quiz" particularly useful for my office gatherings. It's an excellent way to see who knows their stuff and who might need some brushing up.
What You Will Like:
Provides a selection of education-focused quiz templates to add a touch of fun and interactivity to classroom sessions
Mentimeter boasts various features like live polling, word cloud, Q&A, surveys, and presentations, making it a comprehensive interactive presentation tool
Participants can access the quiz on their smartphones, making it convenient and user-friendly
You can incorporate Quick Slides to include fun anecdotes or additional information in your assessments.
What You May Not Like:
One major downside of using Mentimeter is that the free version restricts users to adding only two question forms
Some users reported difficulties when trying to upload presentations. Despite meeting the specified requirements, the options were grayed out
During team-based activities, using codes to vote can become confusing and cumbersome
Pricing:
Starts at $0 (lacks presentation and reporting tools)
3. Socrative – Best for Annual Certifications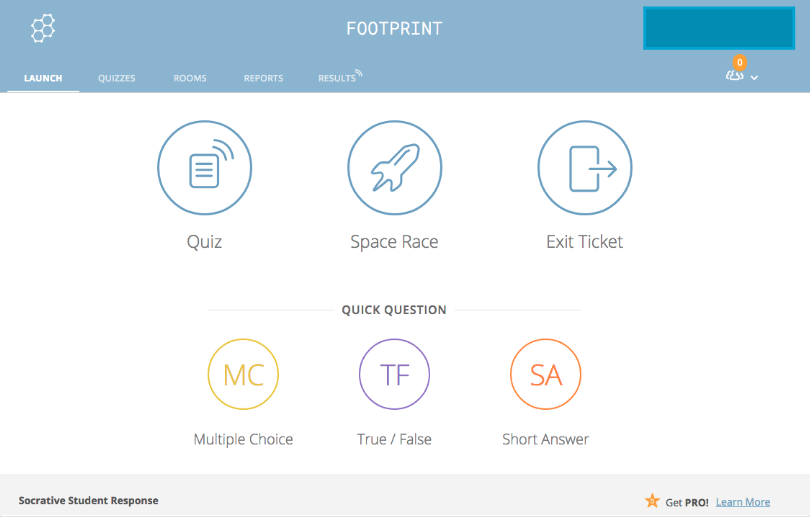 Based on my research, Socrative is a powerful tool that helps businesses in various sectors, including K-12, higher education, and corporate environments, with annual certifications and much more. As one of the best online assessment platforms, Socrative can be used to sample new hires' knowledge, set up annual certification tests, and conduct surveys to gauge learner satisfaction.
Socrative is a valuable tool for employee training and certification in the corporate world. With features like restricted access using unique employee IDs, custom folders to organize content, and staff import via CSV or Excel, the tool simplifies managing corporate projects and learning activities.
In the education field, Socrative helps conduct annual certifications for faculty, staff, and students. It allows for creating quizzes and surveys to assess comprehension and track learning progress, making it easier for institutions to monitor their educational initiatives.
With shareable links for easy login, collaboration, and regular check-ins become effortless, as users can join rooms through email or messenger programs. The tool also features a silent user hand-raise option, encouraging open feedback while protecting anonymity.
What You Will Like:
It allows up to 200 employees to be engaged and involved simultaneously in a single room, making it ideal for training seminars or customer polls.
Corporations can set up to 20 private or public rooms for different projects, giving employees access to content at work or remotely.
Provides real-time response tracking, ensuring that educational institutions can operate more effectively and efficiently
Custom folders to keep your collection of quizzes and reports organized
What You May Not Like:
Users may feel restricted by the lack of diverse question types and limitations in responses, such as the inability to draw or graph answers
Navigating the app can be challenging for some users, with certain features being hard to access and quiz names requiring searching by numbers
Socrative's limitations on student accessibility have drawn criticism, including the need to download an app and enter classroom codes and names each time learners join a class
Pricing:
Starts at $0 (limited to 5 quizzes)
4. ASSISTments – Best for Data-Driven Formative Assessments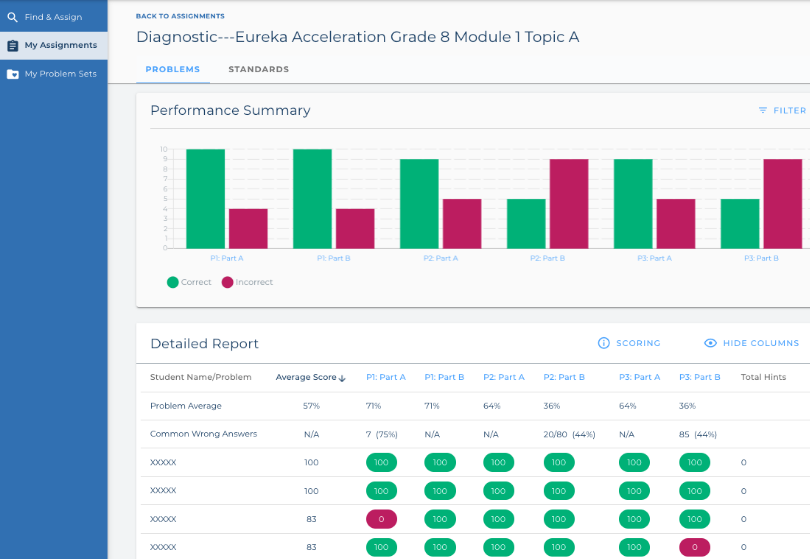 ASSISTments is an innovative tool that supercharges data-driven math instruction, providing formative assessment solutions for teachers, students, tutors, and instructional leaders. As the best tool for data-driven formative assessments, it has transformed how educators gauge student learning and tailor instruction.
Another thing that my peers and I like is that ASSISTments can provide immediate feedback to students, helping them understand their strengths and areas for improvement. This real-time feedback enables teachers to identify learning gaps promptly and address them before they become major obstacles.
The tool's Insights Hub offers a comprehensive dashboard, presenting data visualizations that guide instructional methods and measure progress toward district achievement goals. This data-driven approach helps schools and districts make informed decisions about their curriculum, interventions, and resource allocation, leading to more efficient and impactful teaching practices.
What You Will Like:
Seamless integration with learning management systems streamlines the assessment process, allowing teachers to assign and grade assessments effortlessly
Teachers get instant data to make improvements to their instructions
ASSISTments Tutor focuses on intervention support tools, particularly for high-impact tutoring programs
Data-driven discussions enable students to generalize understanding and also acquire conceptual mastery
What You May Not Like:
Its primary focus is on math-related content. This could be a limitation for educators looking for a more comprehensive tool that covers a broader range of subjects.
For teachers and educators unfamiliar with the platform, there might be a learning curve to utilize all its features fully
The student interface lacks visual appeal. The abundance of text in the interface can be somewhat frustrating to navigate.
Pricing:
Starts at $0 (limited to teachers only)
5. Moodle – Best for Summative Assessments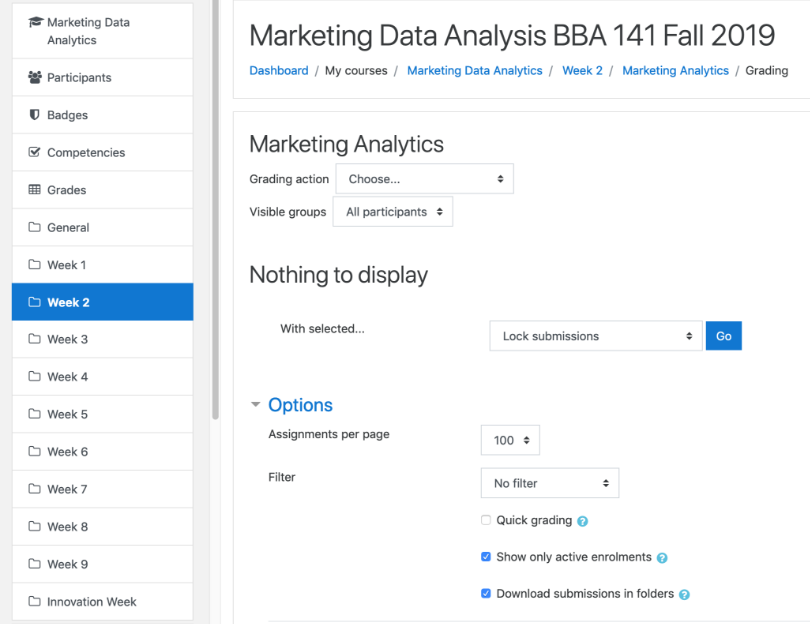 Moodle's assignment tool transformed how I measure my learners' knowledge. It is one of the best online assessment tools for teachers, as it is equally great for formative and summative assessments.
I can set start and end dates and required pass grades for summative assessments, ensuring a more structured evaluation process. The option to re-open the assessment manually for additional attempts gives my students a fair chance to showcase their best work.
The variety of submission types is another aspect I like. From online text submissions to file uploads, I can customize the assessment method based on specific learning goals. The ability to download all submissions at once, grade them offline, and then bulk-upload the assessments with feedback is a huge time-saver.
But what impresses me the most is Moodle's advanced grading options, especially the marking guides and rubrics. These tools allow me to provide detailed feedback to students, making the assessment process more transparent.
What You Will Like:
Intuitive and user-friendly interface that makes it easy for learners to complete assignments
Instructors can create various types of assessments to suit different learning objectives.
Provides a centralized platform for managing assignments, making it easier to create, distribute, and grade assignments
Moodle's advanced grading features streamline the grading process and provide constructive feedback to students.
What You May Not Like:
Some users have reported technical issues, such as server downtime, connectivity problems, or software bugs.
The absence of direct communication can make it harder for students to seek clarifications or discuss assignment-related queries.
Currently, there is no built-in video conferencing functionality available. You need to use external platforms, such as Zoom or Jitsi, to conduct video conferences.
Pricing:
Starts at 180 AUD/year
6. Mercer Mettl – Best for Remote Talent Assessment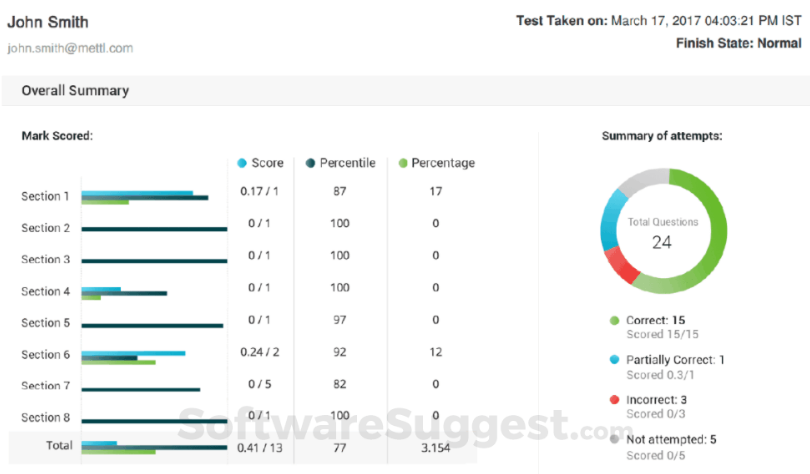 Mercer Mettl is a global leader in talent assessment. It enables academic institutions and corporate organizations to conduct customized online assessments on a secure cloud-based platform with best-in-class proctoring features.
Trusted by over 6000 clients worldwide, the tool offers scientific assessment tools, including talent assessment solutions, coding assessment solutions, hiring solutions, L&D solutions, online examination solutions, and remote proctoring tools.
These tools help organizations build high-performing teams, automate hiring processes, and conduct cheating-free online exams at scale.
As a secure platform for conducting remote online exams, the platform supports various types of exams, including virtual semester exams and large-scale entrance exams, thanks to its scalable examination platform and state-of-the-art proctoring technology.
With over 26 question types, including support for complex mathematical, scientific, and subjective questions, it provides a versatile solution for educators and organizations.
What You Will Like:
Conduct customized online assessments on a secure cloud-based platform.
Suite of built-in proctoring tools, including multi-factor authentication and human-based and AI-based proctoring technologies
The system's impeccable security features, such as GDPR compliance, data encryption, local servers, and annual vulnerability testing, ensure the highest standards of data protection.
The platform provides insightful and easy-to-read data-driven reports, enabling educators to analyze exam performance effectively.
What You May Not Like:
According to some users, technical glitches, such as network interruptions or system crashes, disrupt the exam process.
Learners may face compatibility issues with certain devices, browsers, or operating systems when using the online exam platform
There is a learning curve for those unfamiliar with online assessment tools
Pricing:
Starts at $249/year
7. Edulastic – Best for Curriculum Aligned Custom Assessments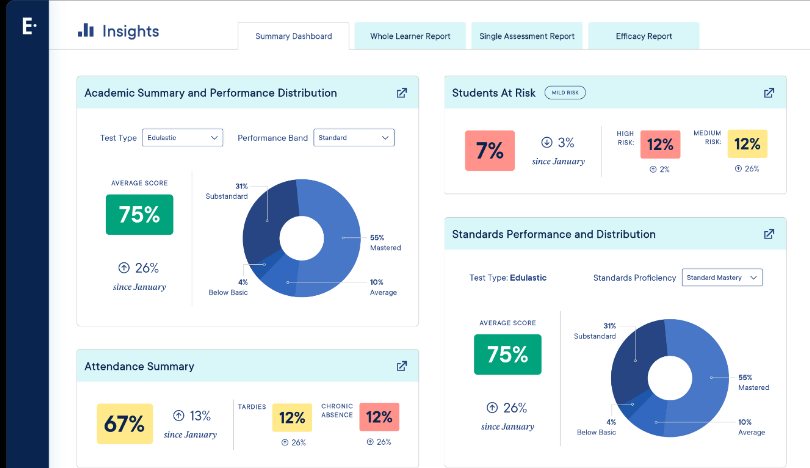 Edulastic offers a comprehensive suite of tools and resources to enhance assessments and instruction. The platform provides a variety of assessment types, from formative to formal.
One notable feature is the "Curriculum-Aligned Custom Assessments," which allows users to deliver assessments tailored to their specific curricular needs quickly.
Edulastic offers a vast item bank with over 20,000 standards-aligned questions curated by a certified team with decades of assessment experience. It includes questions from reputable educational resources like Engage NY and state-released test items, ensuring the quality and relevance of the assessments.
The platform also offers 300+ pre-built assessments that mirror end-of-year, high-stakes exams. These assessments are designed with research-based, evidence-centered design, presenting real-world situations to demonstrate the application of concepts.
They are categorized by Depth of Knowledge (DOK) levels, Bloom's Revised Taxonomy, and mathematical practices, allowing educators to measure student progress accurately.
What You Will Like:
Supports a wide range of question types, including multiple-choice, open-ended, drag-and-drop, and more
Provides instant feedback to students, allowing them to see their results immediately after completing an assessment and improve their understanding
Offers robust data analytics that provides teachers with in-depth insights into individual and class performance
Offers a vast library of pre-made assessments aligned with educational standards, saving teachers time and effort in creating assessments from scratch
What You May Not Like:
Users have reported that the process of linking Edulastic with Google Classroom is not as straightforward as it is with some other products.
Some users have experienced issues where Edulastic generates duplicates of tests or quizzes.
It does not offer a built-in option for awarding extra credit on specific questions, making the grading process less flexible.
Pricing:
Starts at $0 (Reporting features not available). The premium plan starts at $125/year
8. Formative – Best for Creating AI-Generated Questions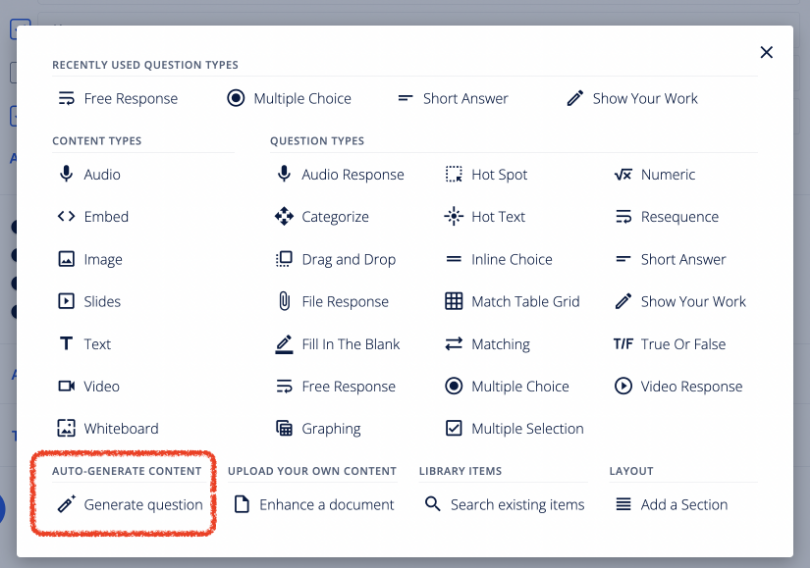 Formative is an innovative educational tool that recently introduced exciting new features. Through conversations with my peers, I have learned that this tool has garnered considerable interest due to its promising features and potential impact on teaching and learning.
Formative is ideal for assessments on various school subjects, including Math, Science, ELA, World Languages, Social Studies, and SEL.
This tool enables educators to instantly generate new items, lessons, assignments, and more. One of the prominent features of Formative is the ability to auto-generate standard-aligned questions with AI.
This saves valuable time for teachers, as they can quickly create assessments that align with educational standards, ensuring their students are evaluated on the necessary learning objectives.
This online assessment tool also offers auto-generated hints for learners. This feature helps students by providing guidance as they work through assignments, promoting a self-directed learning approach, and fostering independent problem-solving skills.
What You Will Like:
It supports various student response types, such as writing, drawing, video, objective questions, and more, ensuring a comprehensive assessment.
Allows teachers to customize feedback options and use rubrics to grade student responses
Provides opportunities for career exposure and resume-building for employees
Integrates with other popular platforms such as Google Classroom, Canvas, Schoology, and Clever, making it easier for teachers and students to access and manage their assignments
What You May Not Like:
The tool has limited customization options. It does not allow much flexibility or creativity in designing or editing the assessments.
Does not have options for group collaboration or family access, which may limit the opportunities for peer learning and parental involvement
Some users have reported that the platform does not work well on Safari, Firefox, or Chromebooks. This may affect the user experience and the accuracy of the assessments.
Pricing:
Starts at $12/month
9. Quizlet – Best for Self-Assessment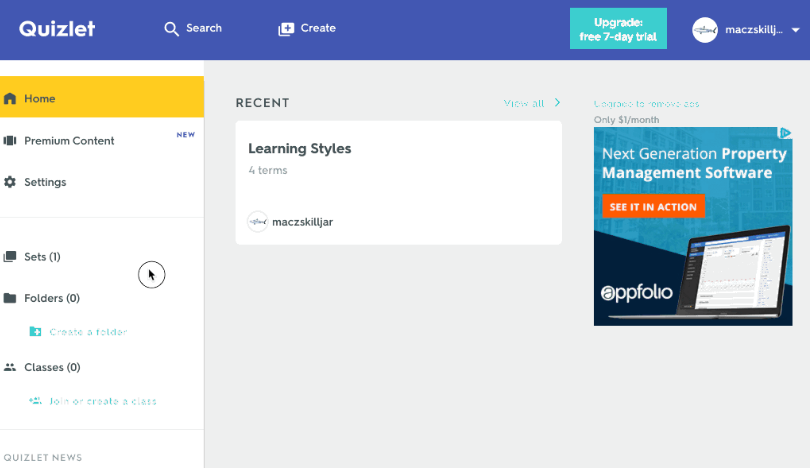 Quizlet is an exceptional tool that offers a comprehensive library of expert solutions, study sets, textbooks, and practice questions. Its Test Mode feature lets students take practice tests for self-assessment and receive instant feedback through auto-grading.
Available on both iOS and Android devices, Test Mode allows users to take tests anywhere, at their convenience. Users can customize their tests, choose from different question formats, and set timers to simulate real exam conditions.
Quizlet supports various question formats, including multiple-choice and true/false, to enhance learning. By challenging users with diverse question types, it promotes a deeper understanding of the material.
The tool's user-friendly interface and engaging features make it a valuable asset for students aiming to improve their exam preparation and academic performance. With a high satisfaction rate among users, Quizlet is an invaluable study companion for learners of all ages.
What You Will Like:
Quizlet offers various learning modalities, accommodating different types of learners. It provides a diverse range of resources to meet individual learning preferences.
It comes with an extensive collection of pre-made study sets.
Learning becomes fun and interactive as the tool incorporates games encouraging students to work in teams.
Quizlet's peer learning approach enhances learning outcomes and builds a strong sense of community among learners.
What You May Not Like:
Quizlet's focus on flashcards and memorization techniques can lead to shallow learning. Sometimes students memorize answers without grasping the underlying concepts.
Learners relying solely on user-generated content might unknowingly learn incorrect facts.
The tool lacks interactive learning features, such as simulations, virtual labs, etc. The passive learning approach may not cater to all learning styles and preferences.
Pricing:
Starts at €35.99/year
10. Assessment Generator – Best for Interactive Assessments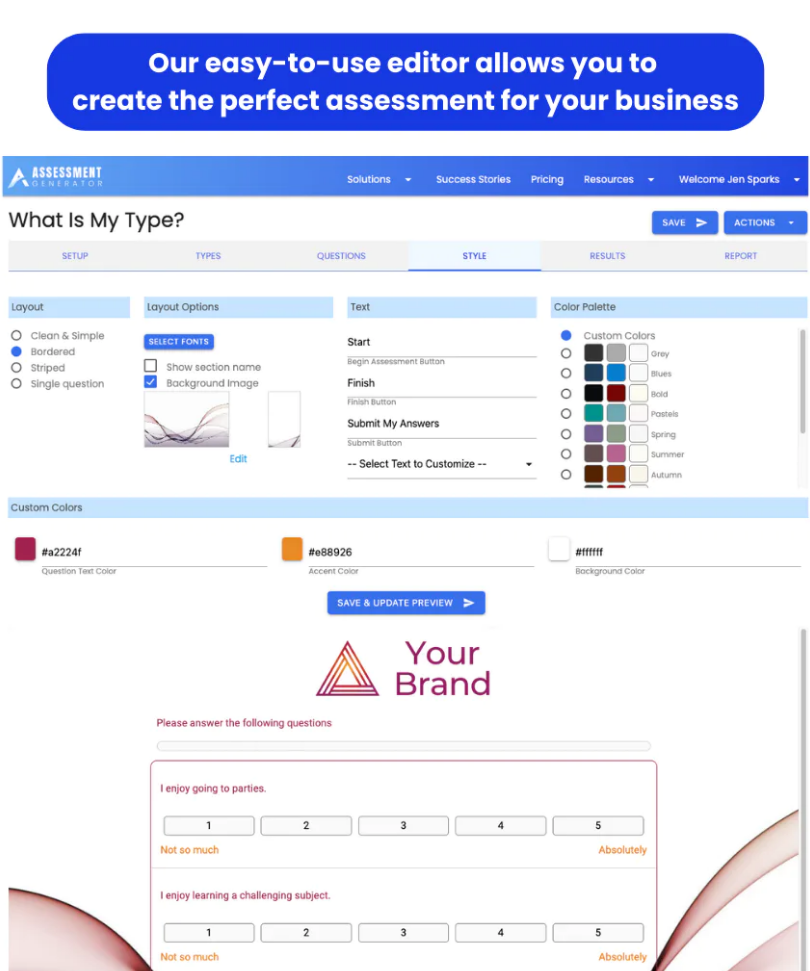 Assessment Generator is a powerful online assessment tool for coaches, consultants, authors, and business owners. This innovative platform allows users to create surveys and interactive online assessments that make a lasting impact on their learners.
At the heart of Assessment Generator is its ability to generate interactive online assessments that provide valuable insights into respondents' preferences and challenges. The automated scoring system ensures quick and accurate results, saving time and enhancing the overall user experience.
One of the key features of this assessment software is the creation of comprehensive PDF reports based on assessment results. These reports highlight the user's expertise and engage the audience with personalized insights, reinforcing the user's position as an industry expert.
For users who may not be tech-savvy, Assessment Generator offers personalized support to transform their written questionnaires into visually appealing and automated online versions.
What You Will Like:
The branding feature allows users to tailor assessments to match your brand, creating consistent touchpoints across all assets.
Users have praised the platform's user-friendly interface for making implementing and managing assessments easy.
The educational resources and personalized support provided by the tool are acknowledged as setting the bar for the industry.
The automated scoring and result generation process saves users valuable time and effort.
What You May Not Like:
Some users have reported confusion with segment titles, particularly in type-based assessments.
Even after setting the font size to a specific value in the setup, it does not consistently apply to all sections.
Currently, the platform has limited formatting and presentation options.
Pricing:

Starts at $29/month (billed annually)
11. Schoology Learning by PowerSchool – Best for K-12 Student Assessments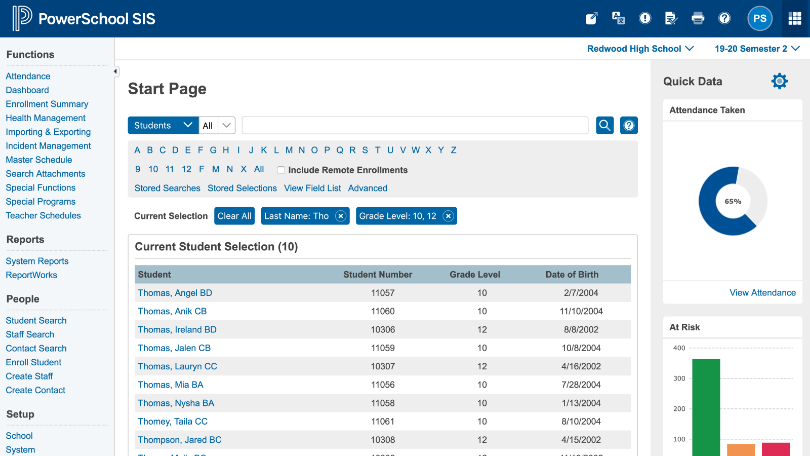 Schoology Learning, a part of PowerSchool Unified Classroom, is a leading K-12 learning management system with over 20 million users and 7 million students globally in over 60,000 schools.
What I like about the tool is that it empowers data-driven teaching and learning by providing a comprehensive platform that includes learning management, assessment, and professional development tools.
The Talent Candidate Assessment feature simplifies the hiring process for educational institutions. It offers data-driven assessments, objective interviewing, and personalized professional development planning to identify the best-fit candidates.
Schoology Learning integrates with PowerSchool Suite and has received multiple awards for its effectiveness. With features like ContentNav and Lesson Planner, it enhances teacher workload and increases parent engagement.
What You Will Like:
Enables personalization for both student learning and instruction, enhancing the overall learning experience
The ability to add/delete student assignments offers flexibility and adaptability in coursework.
Creating assignments for specific student groups allows for targeted learning experiences tailored to individual needs.
Using pre-built rubrics makes maintaining consistency and fairness in assessments easier, benefiting both students and teachers.
What You May Not Like:
The inability to create recurring calendar events can be inconvenient for managing repetitive tasks.
Badges not being visible on the iOS platform limits the accessibility and recognition of achievements for mobile users.
Having both "assigned on" dates and "due dates" for assignments would provide better clarity and organization in managing coursework.
Price:
Starts from $4.95/month. Free plan for teachers (limited to 5 active classes)
12. GoConqr – Best for Practice Tests
From what I heard from my learners, I can tell you that GoConqr (earlier known as ExamTime) could be a game-changer in your learning journey. The platform allows users to create personalized quizzes with diverse question types, including fill-in-the-blanks, multiple-choice, and true or false, fostering engagement and deeper understanding.
Learners receive instant feedback, helping them identify strengths and weaknesses to reinforce learning and boost confidence. One of the significant advantages of this tool is that learners get access to a vast library of global quizzes, enabling them to test themselves against peers worldwide and gain valuable insights into their exam preparation.
The quiz maker provides a realistic test-taking experience by simulating official exam formats and durations, improving final exam performance. Integration with other GoConqr tools, such as Mind Maps and Flashcards, creates a comprehensive learning environment.
What You Will Like:
Users can share quizzes with study groups or embed them in courses and websites to foster collaborative learning.
With progress tracking, learners can monitor their development over time, allowing for adaptive study strategies.
The simple and clean layout facilitates a smooth learning experience
The tool is available as a mobile app, allowing users to access their study materials on the go.
What You May Not Like:
Cannot move nodes/images to the foreground or background when layering
The social features are not very active, and it can be difficult to find other users interested in the same topics.
Some features, such as collaborating on mind maps, are unavailable in the mobile app.
Pricing:
Starts from $0 (limited to one resource creation)
13. Inspera – Best for Proctored Exams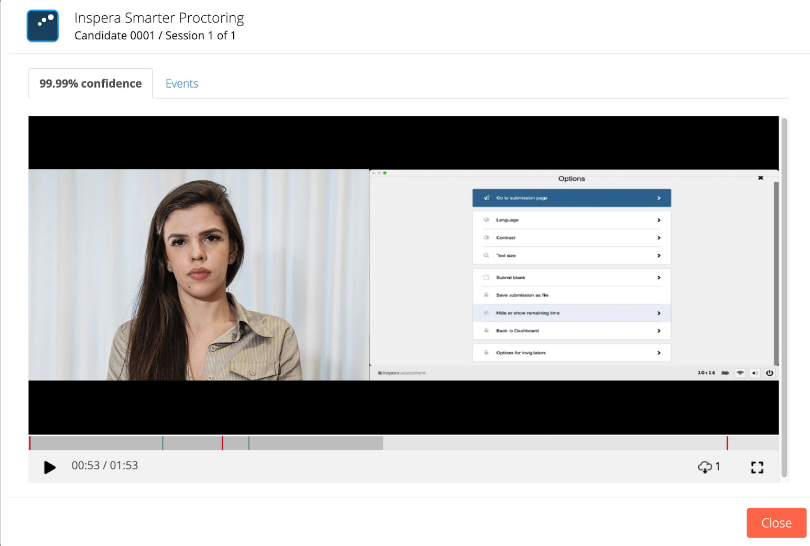 If you've been looking for a tool that ensures integrity in digital assessments and exams, look no further than Inspera. As a cloud-based digital assessment platform, Inspera empowers educators to plan, author, and grade exams and assessments onsite and remotely.
Inspera's smart proctoring is one of the features that has captivated my attention. This feature offers continuous monitoring of individual exams and recording candidate behavior. The online proctoring solution is also cost-effective for organizations, reducing administrative and logistical costs associated with in-person proctoring.
It supports two types of online proctoring: "Record and review proctoring" and "Live proctoring." The former allows proctors to review candidate behavior after the assessment by flagging suspicious activities in recorded sessions.
The latter involves real-time monitoring of candidates during the exam, allowing proctors to intervene if needed and creating a recording for post-exam review.
What You Will Like:
Simplifies assessment management, providing planning, authoring, delivery, proctoring, grading, and feedback under one roof
Allows for a simple and guided check-in process to ensure students' devices are ready for the exam
Ensures exam integrity by automatically verifying the identity of test-takers through webcam pictures
The tool includes advanced proctoring features, such as webcam, screen share, and audio monitoring, and it can be used in fully automated, human-proctored, or combined modes.
What You May Not Like:
Inspera has certain limitations in fully supporting complex STEM exams that require specialized formatting, mathematical notation, or intricate diagramming.
Although Inspera provides basic result analysis, there may be a lack of in-depth functionality to analyze exam results at a granular level.
The lack of a dedicated module to compare and validate similar responses in essay questions could lead to grading discrepancies.
Pricing:
Starts at EUR 2,950/year
14. StoryPulse – Best for Offline Assessments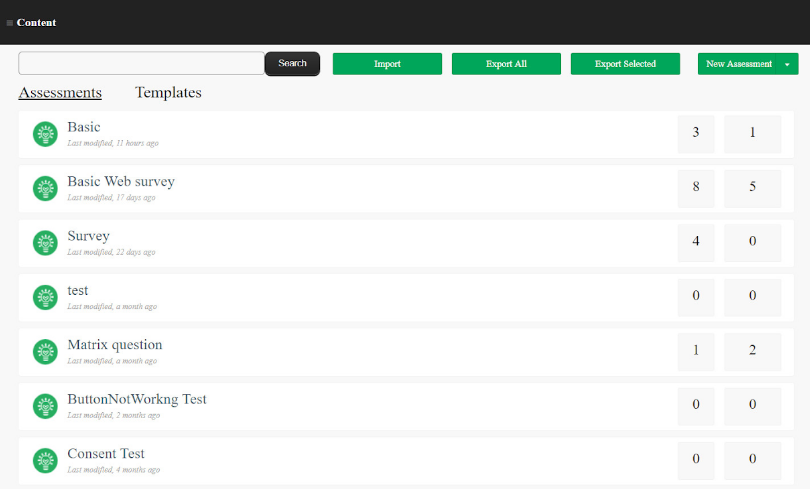 StoryPulse caters to the needs of educators by enabling them to design and deliver courses to learners in both online and offline settings across the web and mobile devices. The primary focus of this tool lies in empowering learners with the right content and assessments to enhance their learning experience.
Educators can effortlessly publish their assessments and set up roles and permissions to ensure only designated users can access the content. Learners, in turn, can benefit from the convenience of using either desktops or mobile devices to take the assessments, online or offline.
StoryPulse incorporates gamification and badging to motivate learners. The tool automatically generates certificates upon successful assessment completion and seamlessly synchronizes them with Salesforce. This synchronization reduces administrative overhead and streamlines the certification process.
What You Will Like:
The assessments are self-paced and can be completed in a short amount of time.
The assessment results are clear and easy to understand, providing specific feedback.
With StoryPulse, educators can conduct learner surveys even offline. This feature ensures that valuable feedback can be collected for continuous improvement.
The software offers customization options that empower educators to tailor the platform to their branding and preferences.
What You May Not Like:
For users unfamiliar with similar educational tools, there may be a learning curve associated with using StoryPulse.
Some users have reported that technical glitches or bugs could disrupt learning.
While the tool seamlessly integrates with Salesforce, it has limitations when integrating with other third-party platforms.
Pricing:
Starts from $3.00/month
15. Nearpod – Best for Gamified Assessments
Nearpod empowers teachers and engages students through various interactive tools and resources. It offers real-time insights into student understanding with interactive lessons, videos, gamification, and activities – all accessible from a single platform.
Teachers can visualize and support student understanding using insights from over 20 formative assessments and dynamic media features. The platform offers multiple teaching methods, including interactive slides, videos, and gamification activities like Time to Climb, Matching Pairs, Draw It, and Drag & Drop.
Teachers can also access a library of ready-to-teach, customizable, and standards-aligned lessons from trusted brands.
Regardless of the learning environment, Nearpod ensures that lessons are flexible and can seamlessly adapt to different device types and availability. The platform also integrates with existing tools like Microsoft's Immersive Reader, PowerPoints, Google Slides, worksheets, and other resources to streamline the learning experience for both teachers and students.
What You Will Like:
Features like lesson creation and delivery options help teachers get dedicated assistance and training to maximize their impact in the classroom.
Teachers and administrators can access a rich library of resources, join communities, and stay connected through the platform's social media channels.
Nearpod lessons are built with trusted brands such as Common Sense, PhET, iCivics, PBS Kids, and Readworks.
You can enhance instructional consistency and foster collaboration by centralizing the sharing of lessons and insights.
What You May Not Like:
Students need consistent internet access to participate in Nearpod presentations since the content is not downloadable.
Only YouTube videos are searchable within the app, which means teachers might face restrictions in accessing and integrating other video content from different platforms or sources.
Currently, it does not have a feature where teachers can assign homework to students. It would be great if they could add this functionality.
Pricing:
Starts at $10.0/ month
Which Is the Best Online Assessment Tool for You?
Choosing the best online assessment tool depends on various factors, such as the goal of the assessment, the features required, the budget, and the user preferences. My pick would be:
Option A: ProProfs Quiz Software
ProProfs Quiz Maker offers a user-friendly interface, customizable assessments, diverse question types, and seamless reporting. It has an excellent AI-powered quiz generation feature that suits various assessment needs, such as secure exams, pre-employment testing, compliance awareness, skill training, and formative assessment. It caters to a wide range of industries, including education, business services, NPOs, government, medical, manufacturing, coaching, and more.
Option B: Mentimeter
Another tool that I would recommend is Mentimeter. The tool excels in real-time audience engagement with live polls, quizzes, and interactive presentations. It's perfect for gathering instant feedback during lectures, workshops, and meetings, enhancing participant interaction.
Option C: Socrative
Based on my positive experience, this is another option for you. This online tool focuses on formative assessment, enabling educators to quickly gauge student understanding through quizzes, exit tickets, and games. It's ideal for teachers seeking immediate insights to adjust their instructional approach.
In my view, ProProfs stands out as the best online assessment tool due to its comprehensive features, ease of use, and versatility, catering to a wide range of assessment requirements effectively.
Learn More About Online Assessment Tools
What are some examples of assessment tools?
Assessment tools are instruments used to measure knowledge, skills, or abilities. Examples include multiple-choice exams, performance tasks, rubrics, self-assessment surveys, portfolios, and peer reviews. They help evaluate learning outcomes and development.
Watch: 15+ Question Types for Online Learning & Assessment
What are the most common assessments that teachers use?
Teachers commonly use assessments such as quizzes, tests, and exams to evaluate students' understanding of the subject matter. Formative assessments, like class discussions and homework, monitor progress during learning.
Teachers also employ performance-based assessments, projects, and presentations to gauge the practical application of knowledge. These diverse tools help educators tailor their teaching and support for student growth. Read this guide to know more.
How do I choose an assessment tool?
To choose an assessment tool, consider the learning objectives, the nature of the content, and the learners' needs. Determine whether a written test, hands-on project, or peer review aligns better with the desired outcomes. Consider the tool's reliability, validity, and fairness. Flexibility, efficiency, and ease of grading are also crucial factors in making an informed decision when choosing an assessment tool.
Watch: How to Choose the Best Assessment Software
Do you want free Quiz Software?
We have the #1 Online Quiz Maker Software for complete learning & assessment