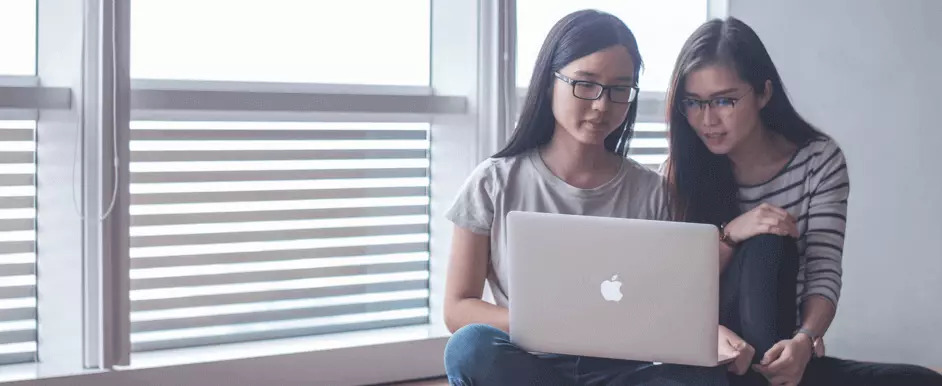 Employees are the backbone of your organization, and their overall performance matters a lot in the long run.
However, keeping track of your employee's performance and achievement can be a tricky and extensive task, but employee assessments can help you do that. Provided that you plan and execute them accurately.
But why do employee assessments even matter in the first place?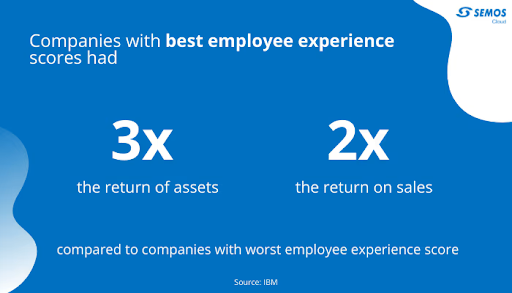 The data from IBM suggests that companies that have the best employee experience score generate almost 3 times the return on assets and almost 2 times the return on sales as compared to the companies with the worst employee experience scores.
Also, employees work better when they know there is an incentive for high performance. This has a positive impact on the overall performance and work culture.
There's no doubt that employee performance plays a vital role in the success of the company, and employee assessments play a major role in providing valuable feedback that can shape up the overall performance.
They can even help improve the efficiency and accuracy of employee performance reviews within the organization.
But before we move ahead, let's go through what employee assessment software is.
What is Employee Assessment Software?
An employee assessment software can be defined as an application program or a suite of applications that help organizations decide if an employee is suitable for an open position or not.
Employee assessment software can conduct tests of various kinds because some assessments gauge a candidates' cultural fit while the others focus more on the skills and critical knowledge.
The tool then compares the answers to the ideal set of scores and ranks candidates accordingly.
While employee assessments for appraisals were seen as a once-a-year activity, more and more organizations are adopting the practice of conducting more frequent employee assessments for continuous feedback.
There are plenty of different types of employee tests in tons of different domains conducted by organizations daily to assess potential and current employees. Some of these assessments are:
All these assessments can be customized to incorporate questions that are specific to the organization and the role of the candidates.
But finding the right candidates for the job is not the only reason why organizations use employee assessment tools. There are plenty of other reasons as well, including:
Regular employee assessments can uncover areas where the employees are lagging behind.

Assessments help employers find out the strengths and weaknesses of employees

To improve employee satisfaction and productivity.

To create a better relationship between the organization and colleagues.

Increase employee retention and loyalty.
Now that we know what employee assessment tools are and how they are used by the organizations, let's move ahead and look at the qualities of the best employee assessment software.
Related Read– If you want to learn more about different types of assessments, have a look at 7 Different Types of Assessments You Should Know About
What Makes an Employee Assessment Software the Best?
Whatever be the type of employee assessment software, ease of use tops the list when it comes to choosing the best. Other important features include:
Availability of employee skill assessment templates so that you don't need to begin from scratch every time

Availability of a huge questions' library to create assessments quickly

Automated grading and feedback system for quicker evaluation and better learning

Advanced analysis for accurate evaluation

Device compatibility for anywhere, anytime evaluation
Hiring the right candidates is half the job done. Then you need to train employees and run regular employee assessments to ensure high productivity, quality, and efficiency that can contribute to the growth of an organization.
Employee assessment is the most crucial process for any business. It requires an advanced yet reliable system that gives a clear picture of employees' performance and productivity.
Also, employee assessments created with employee assessment software promise the accuracy of results.
But, finding the best employee assessment software can be overwhelming. So, we've compared the top ten employee assessment software in terms of their features, functionality, and pricing.
Related Read– To learn more about pre-employment assessments, take a look at What Are Pre-Employment Assessments and Tests?
Quick Comparison of Best Employee Assessment Software
There's a wide range of selection when it comes to the employee assessment tools available in the market, but we've clubbed 10 of the best tools that you can choose from to fulfill your employee assessment needs.
Software
Features
Price
ProProfs Quiz Maker

100 Templates

100,000+ ready-to-use questions

Assessment Library

14 Question Types

Automated Grading

100+ Settings & Configurations

White-Labeling

Security

Completion Certificates

Starts at $20/quiz taker/month

Skillmeter

Easy to Use

Question Types

Flexible Branding

Test Results

Secure

Starts at $55/month

eSkill

Perfect Match

Expert Guidance

Full Support Advanced Simulations

Integration Options

Available on request

ClassMarker

Fully functional testing environment

Automated grading & instant results

Your data private to your account

Unlimited Quizzes & Questions

Question Bank

8+ Question Types

Starts at $39.95/month

Talview

Configuration & Customization

Talview Secure Browser

Exam Watermark

360 Degree Test Environment Check

Support Chatbot

Available on request

Interact

Colors & Styles

Drag & Drop Builder

Show correct answers right away

GDPR-Compliant

Starts at $29/month

15five

Heat Mapping Dashboards

Engagement Question Bank

Best Self Academy

Evidence-based survey templates

Starts at $4/month

Paradiso

360 Degree Feedback

Appraisal

Competency

Available on request

iSpring

Training Management on Autopilot

Comprehensive Reports

Industry-Leading Integrated Authoring Tool

Mobile Learning

Starts at $770/year

Mettl Employee Engagement

Customization

Online Proctoring

Data Security

Analytical Reports

White-Labeling

API Support

Available on request
Now, let's dig a little deeper and see what each of these software tools have to offer:
10 Best Employee Assessment Tools
Here's a more detailed list of 10 of the best employee assessment tools in the market:
1. ProProfs Employee Assessment Software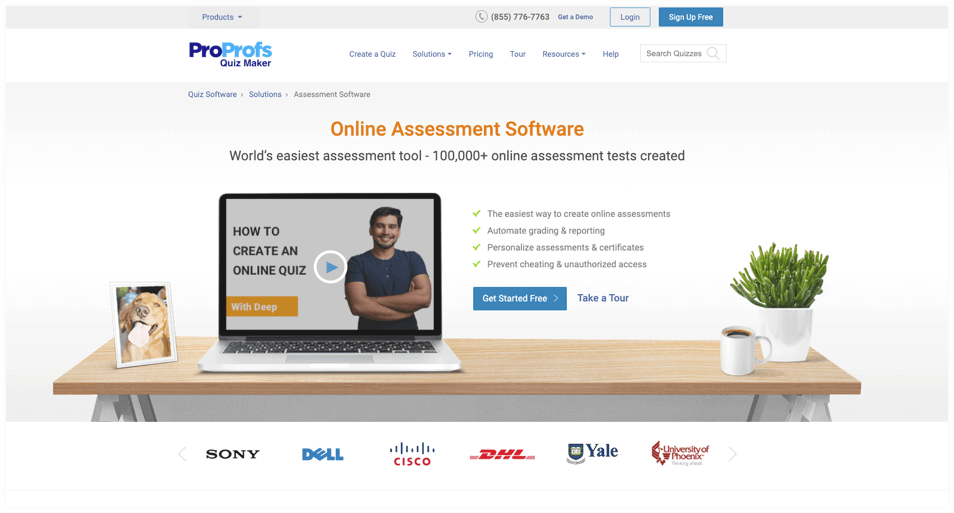 ProProfs is a renowned name in the online employee assessment software industry. It is primarily quiz maker software. With a simple user interface, this software is packed with amazing features that make it the best online employee evaluation software.
Owing to its robust automated grading and reporting features, it is widely used for creating skill assessments, personality assessments, performance review assessments, and employee performance assessments. What's more, its assessment library makes it easy to find and create an assessment on any topic within minutes, making it the best assessment software.
There are many other ways in which businesses are using this tool to meet different needs, such as recruitment, employee engagement, and more.
Features:
✓ Templates:
Create any type of assessment using 100+ professionally built scored & personality quiz templates.
✓ Ready-to-use questions:
Directly import questions in your assessment from a public question library of 100,000+ ready-to-use questions on thousands of topics.
✓ Assessment Library:
Easily create assessments by choosing from a collection of 100,000+ ready-to-use assessments across thousands of topics like marketing, coding, sales, etc.
✓ Automated Grading:
Pre-assign scores and grades to questions and save hours of time and effort.
✓ 100+ Settings & Configurations:
Configure more than 100 settings to prevent cheating in your assessments.
✓ White-Label:
Give your assessments the look and feel of your brand by adding your logo and themes.
✓ Security:
Protect your assessments with a password to avoid unauthorized access.
✓ Completion Certificates:
Customize assessment completion certificates that will be automatically assigned to your employees after the completion of assessments.
Pros:
No installation

Automatic grading

Built-in templates

Presentable reports
Cons:
Too many popups

Some features are only available for premium users
Pricing:
Starts at $0.50/quiz taker/month.
2. Skillmeter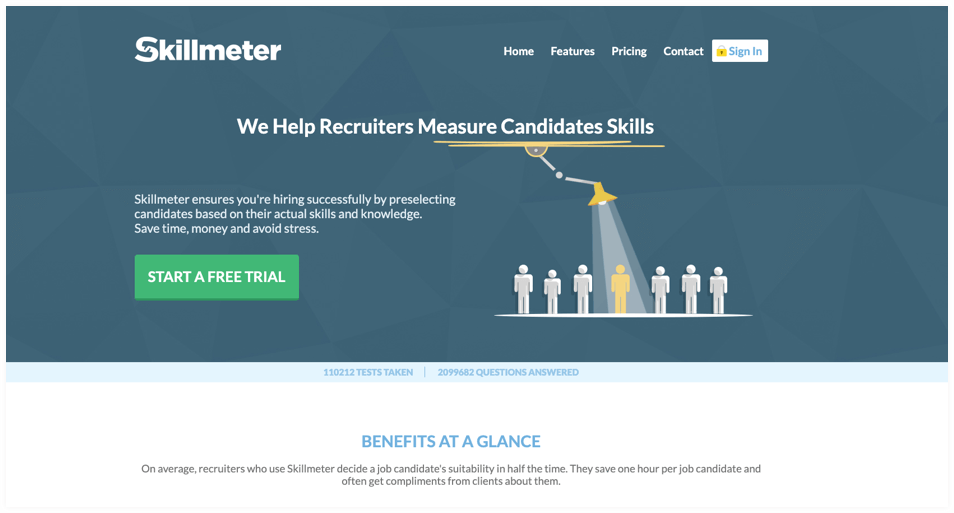 Skillmeter is an online employee skills testing solution that is simple, fast, and intuitive. With this tool, you can produce tests, allot them to your learners, and get back the results right away. The platform's tests can be timed and scored, with fill-in-the-blank or multiple choice answers.
Features:
✓ Easy to Use:
Build your tests in any format — timed, scored, and with automated grading.
✓ Question Types:
Choose from or use a mix of 12 different question types in your assessment.
✓ Flexible Branding:
Personalize your test center with your own logo and sub-domain name to display the company's identity.
✓ Test Results:
Get test results instantly by email and archive for later reference.
✓ Secure:
All information is transmitted over a secure and encrypted connection.
✓ No IT assistance needed:
Cloud-run software. No installation or upgrade is required.
Pros:
Cloud based

Candidate management

Customizable tests

24/7 support
Cons:
Cannot be downloaded on devices

No grading system

Cannot compare candidates
Pricing:
Starts at $55/month.
3. eSkill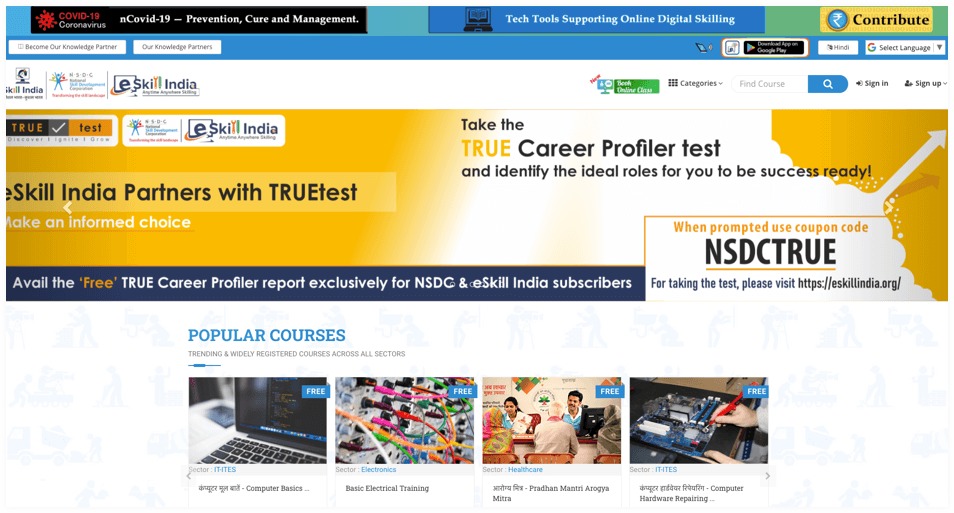 eSkill is one of the big sharks when it comes to the best assessment software tools that help managers and recruiters create pre-hiring testing programs and offers subject-based tests for pre-employment skill assessments. It offers a number of pre-employment tests categorized under modular-based tests, subject-based tests, and job-based tests.
Features:
✓ Perfect Match:
Choose from over 800 standard job-based and subject-based tests. You can also customize relevant tests from thousands of subjects across many job functions.
✓ Expert Guidance:
Build unique job assessments and skills tests as per your needs with the help of a dedicated expert.
✓ Full Support Advanced Simulations:
Ensure your employee assessment tests meet your needs and test-takers get 24/7 support.
✓ Integration Options:
Export employee and test score data into popular HR systems
Pros:
Aptitude testing

Personality testing

Online training

Multiple device support
Cons:
Non-customizable tests

Result platform is difficult to navigate through

Tedious process for larger test size
Pricing:
Available on request
4. ClassMarker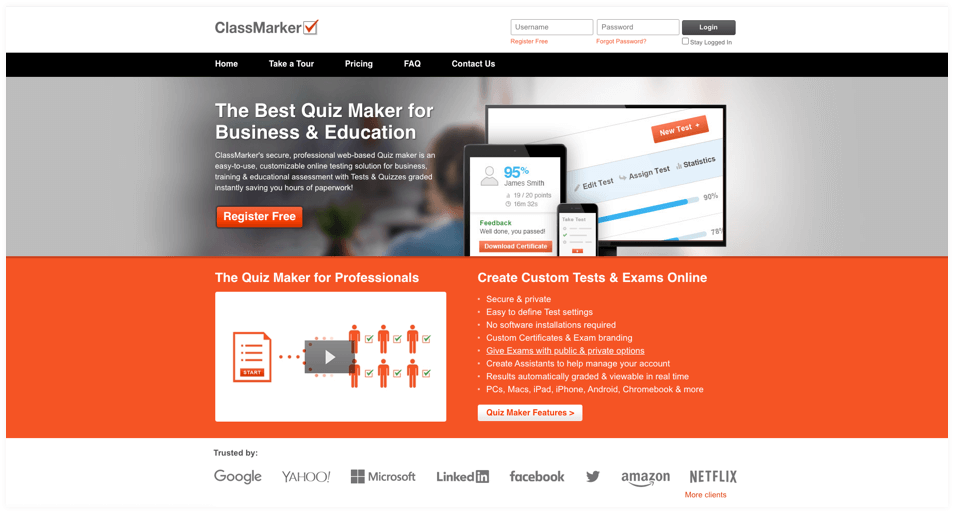 ClassMarker is a custom web-based employee assessment testing platform that allows you to create secure online exams and assessments easily. It has advanced quiz settings, such as time limits, public & private test access, question randomization, instant feedback, option to embed exams in WordPress & Google sites, and more.
It's used globally for business & enterprise training tests and pre-employment assessments.
Features:
✓ Secure & Private:
Create secure online exams & assessments with advanced quiz settings such as time limits, public & private test access, randomized questions, and more.
✓ Deliver Your Tests, Your Way:
Keep your data private to your account; register user groups with individual login credentials.
✓ No Software Installation:
Create online tests on the web-based software.
✓ Branding:
Bring a touch of your branding to your assessments by adding your brand's logo and colors.
✓ Automated Results & Grading:
Enable automated grading features to get instant results that are viewable in real-time.
✓ Custom Certificates:
Allow test takers to download their completion certificates that include fields like their names, scores, and personalized feedback.
Pros:
Built-in reporting and analytics

Customizable branding

Import and export data with ease
Cons:
Poor quality certificate templates

Many premium features available for free with other alternatives

Not ideal for individual customers or freelancers
Pricing
:
Starts at $39.95/month.
5. Talview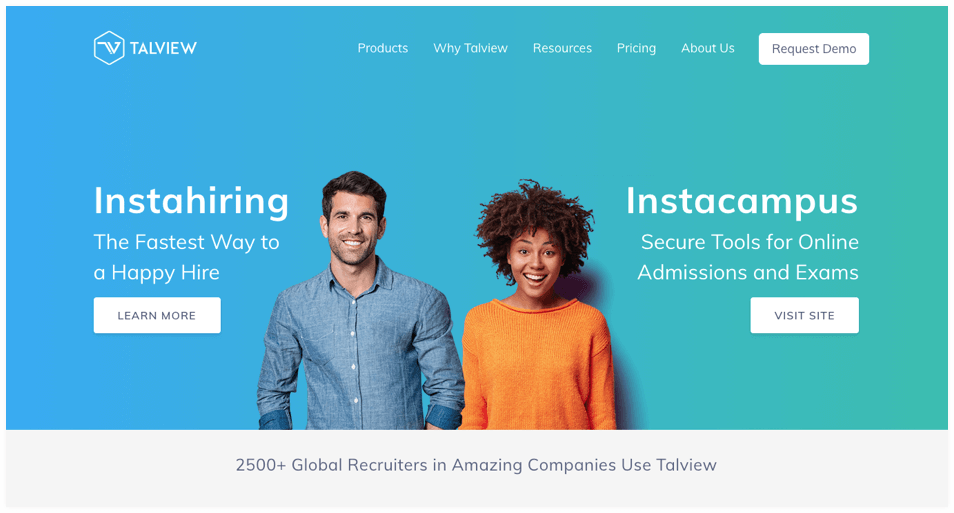 Talview's Artificial Intelligence-powered employee experience platform makes it the fastest way to help you train employees anytime, anywhere. The chatbot, assessment, and remote proctoring solutions use advanced NLP and AI technology to help you administer tests and exams securely making it one of the best online exam software.
Features:
✓ Configuration & Customization:
Choose from a number of assessment formats such as code tests, essay tests, typing, and other skills tests, and much more.
✓ Talview Secure Browser:
Provide a secure test environment. Control access to resources, such as offline assets, system applications, and other websites. Prevent the use of unauthorized resources during an exam.
✓ Exam Watermark:
Add the employee's unique ID to the test page and prevent content theft.
✓ 360 Degree Test Environment Check:
Check and verify earphone accessory, table, roof, worktable, ceiling, and floor with video of the room in which they are attending the exam.
✓ Support Chatbot:
Easily solve quick queries of employees if they face issues while taking an exam on any device.
Pros:
Automated proctoring

Certification and licensing

Question branching

Built-in analytics
Cons:
Non Interactive user interface

Unreliable customer support

Occasional system errors and glitches
Pricing:
Available on request.
6. Interact Quiz Builder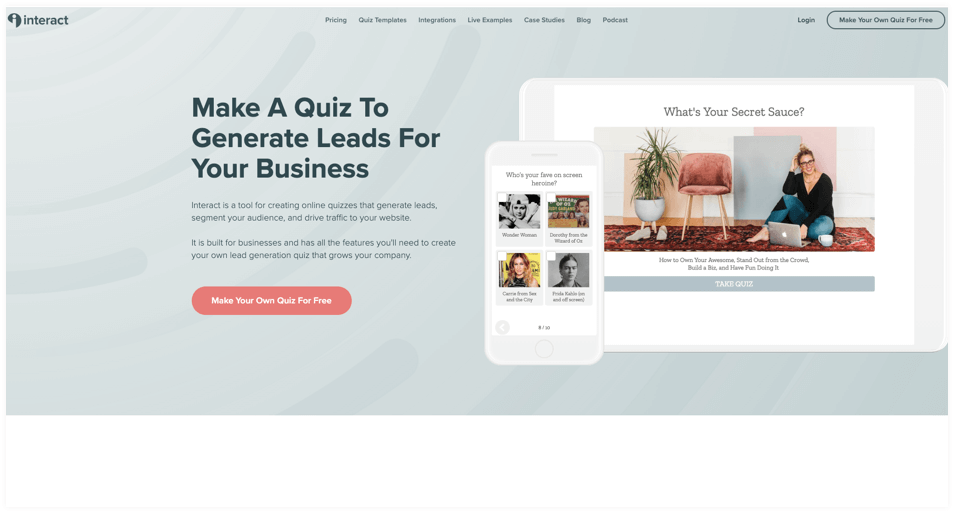 Interact is primarily an online quiz builder and a staff assessment tool that you can use to create online assessments as per your requirements.
However, the question type in assessments of this tool is confined to multiple-choice questions.
Features:
✓ Colors & Styles:
Style your quiz to look like your website using colors, logos, fonts, and images.
✓ Drag & Drop Builder:
Add branching logic to your assessment
✓ Select all that apply:
With 'select-all-that-apply questions' for assessments, you can let employees be flexible with their answer choices.
✓ Show correct answers right away:
Show test takers the correct answer to each question immediately after they answer it.
✓ GDPR-Compliant:
Interact (The Quiz Collective, Inc.) is fully GDPR compliant and registered with Privacy Shield Framework.
Pros:
Easy to use and deploy

Assessment management

Customizable API
Cons:
Usage is very cumbersome

Antiquated GUI

Occasional freezing and crashing issues
Pricing:
Starts at $29/month.
7. 15Five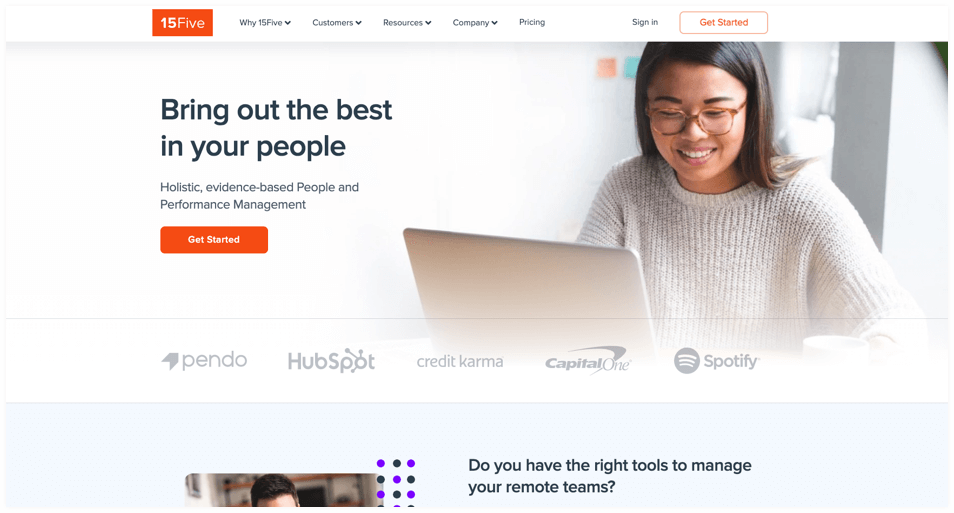 15Five is a unique assessment software that helps create assessments that boost learning to improve employee performance. You can create fully customized assessments with the help of 30 templates and 120 questions to choose from. It helps managers boost employee morale & performance and sustain a high engagement culture.
Features:
✓ Heat mapping dashboards:
Quickly identify high and low areas with detailed reporting insights.
✓ Engagement question bank:
Use more than 120 evidence-based questions to build and customize surveys. Measure what's important to your organization.
✓ Best Self Academy:
Use results from engagement and their best self academy to uplevel your employees' skills.
✓ Evidence-based survey templates:
Use employee engagement survey templates backed by four fields of psychological science to show a detailed view of engagement.
Pros:
Automatic reminders

Performance management plans

Individual deployment plans
Cons:
Does not support compensation management

Restricted customizations

No weighted performance measures
Pricing:
Starts at $4/month
8. Paradiso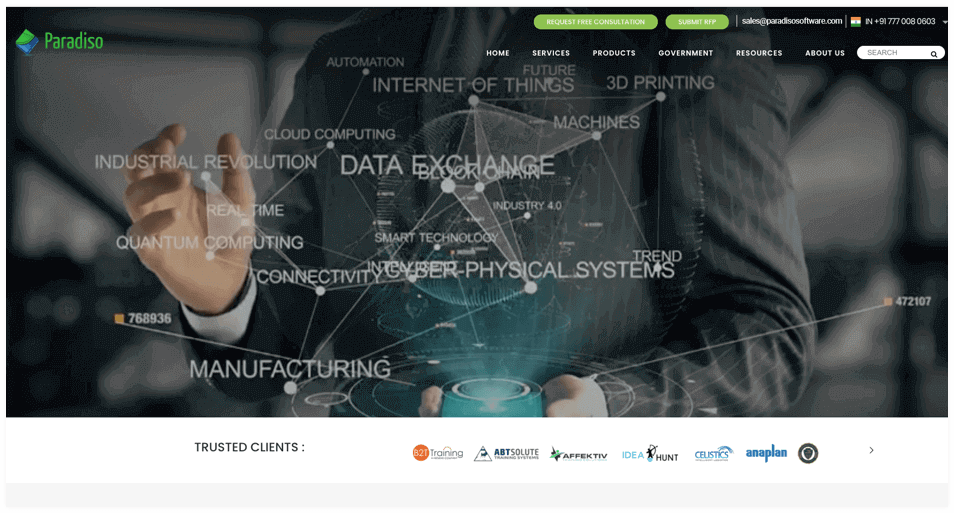 Paradiso is yet another learning management system and staff assessment tool that's used in the learning space. Paradiso offers a perfect performance management solution that includes top HR functions like goal settings, continuous progress review, feedback, and more. It assists HR managers in overall employee performance assessment by tracking individual employee performance, teams, and organization on the whole.
Features:
✓ 360 Degree Feedback:
Gather feedback from employees' subordinates, colleagues, and supervisors and, at the same time, assist with self-evaluation.
✓ Appraisal:
Document and evaluate predefined KPIs for individual employees.
✓ Competency:
Assess & provide feedback on what an employee has accomplished and how the complete work was performed.
Pros:
Supports asynchronous learning

Built-in course authoring

SCORM compliant
Cons:
Does not support Shopify integration

UI feels outdated

Limited number of reports out of the box
Pricing:
Available on request.
9. iSpring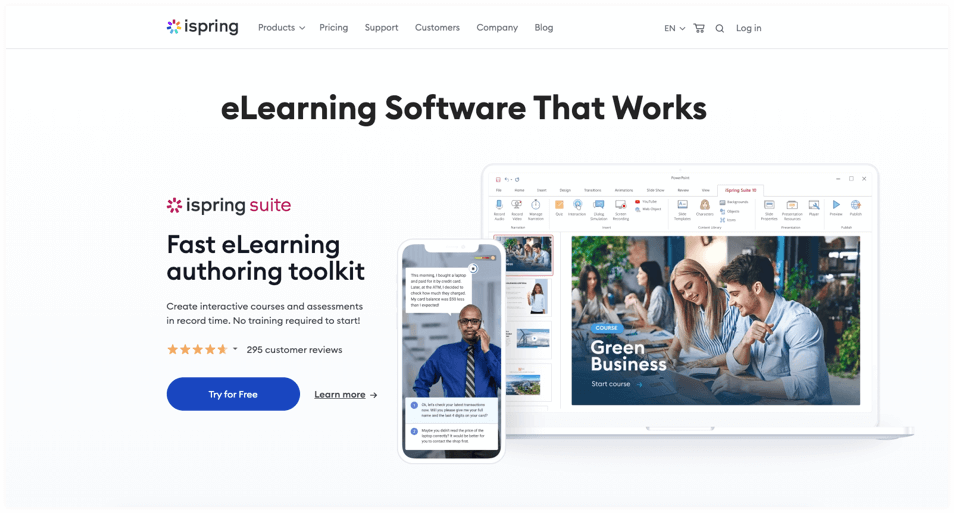 iSpring is an award-winning e-learning software that is also used to create online courses and assessments. It helps create online quizzes and assessments for learning, knowledge checks, and skill practice.
Features:
✓ Training Management on Autopilot:
Easily manage training deadlines, send invites, and reminders with the help of automation.
✓ Comprehensive Reports:
Monitor the learning progress of every team or individual. Stay informed and make decisions faster.
✓ Industry-Leading Integrated Authoring Tool
Develop interactive courses, quizzes, and branching scenarios in record time.
✓ Mobile Learning:
Learners can study when and where they want to and even save courses to their devices to take them offline.
Pros:
Progress tracking

Supports HTML5 output

Perfect tool for integrating with Powerpoint
Cons:
Its usage is limited if you don't use Microsoft Office 365

Regular maintenance updates cost extra

Does not have titling feature within screen capture mode
Pricing:
Starts at $770/year
10. Mettl Employee Engagement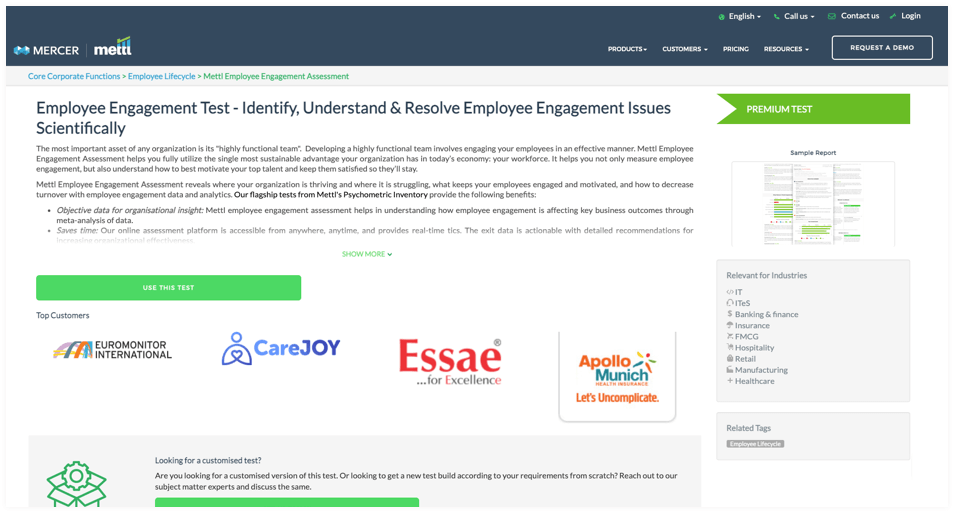 It is an online assessment tool that lets you measure your employees' performance with the help of online tests in various domains. It provides a holistic approach to administering assessments for the evaluation of your employees' knowledge & skills.
Features:
✓ Customization:
Create your own test or pick from a tailor-made test from their test library.
✓ Online Proctoring:
AI-powered anti-cheating solutions to detect malpractices.
✓ Data Security:
Secure everything from an employee's data and question banks to reports and benchmarks in well-encrypted and reputed cloud services.
✓ Analytical Reports:
Make the most of flexible reporting to create custom assessment reports.
✓ White-Labeling:
Brand your assessments with a logo, customize the interface background, and apply your own themes.
✓ API Support:
APIs specifically tailored to all search engines and function seamlessly with all LMSs.
Pros:
Multiple test modules

Candidate filter

Skill-based question bank
Cons:
Complex language

No save and resume option

Does not have an international version
Pricing:
Available on Request
Assess. Review. Engage. Drive Results
We hope that the detailed description of all the software and features helps you pick the online employee evaluation software that fits your needs and requirements.
So take the time to analyze and choose the software that you think can bring you closest to your business goals and suit your budget.
We're here to help if you need us. Give us a call at (855) 776-7763 (Toll-Free), and one of our team members will help you zero in on one.
Do you want free Quiz Software?
We have the #1 Online Quiz Maker Software for complete learning & assessment