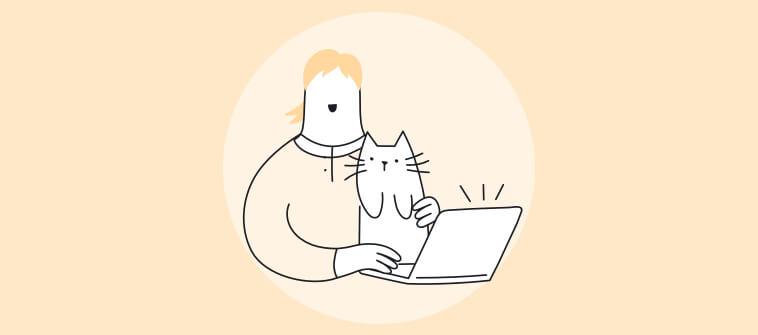 In a survey by the
American Society for Training & Development
, it was found that companies with comprehensive e-learning training programs have 218% higher revenue per employee and 24% higher profit margins.
Let's turn towards the education industry. According to Statista, the e-learning market worldwide is forecast to surpass 243 billion U.S. dollars by 2022.
The figure mentioned above and a few more statistics (given below) can help us understand the inclination of both the education & corporate sector towards using online learning & assessment models.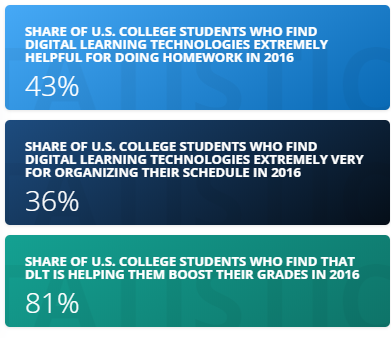 (Source: Statista)
The online mode of knowledge evaluation using cloud-based exam software is easy, scalable, secure, and most importantly, equips you to conduct exams anytime, anywhere.
That's why, in this article, we're going to tell you how to create online exams using online exam software and touch on a few other aspects associated with it like:
The points to remember while creating an online exam

Steps to create an online exam

Benefits of creating an exam online with online exam software
Let's first look at a few points you need to remember while creating an exam online.
Creating An Online Exam: Points to Remember
Sometimes, creating an exam online can pose a few challenges. However, for those of you out there looking for an easier way, you can always use an online exam creator.
But, even while using one, there can be several steps and you may get stuck at any point in the process of creating an online exam.
It is important for you to take full advantage of the tool and have an absolutely hassle-free experience. Here are some of the points to be kept in mind to build the perfect online exam in minutes.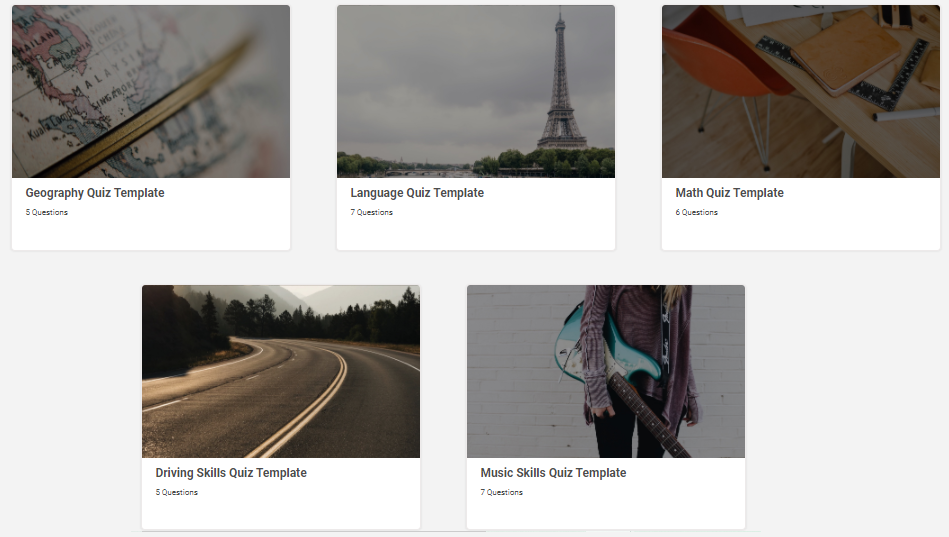 1. Keep Your Learners in Mind
Start with the end in mind!

The end result you seek is for your learners' education and training. When it comes to using some of the best online exam software to create a quiz or exam, it is imperative to know who your learners are.
For instance, if you are creating an exam for students, make sure the questions are focused on the courses learned by them or pertaining to their knowledge. If you're creating a quiz for employees, you can include various job-related questions and aptitude questions in the test.
2. Use Templates
If you're not choosing to create your exam using the templates, you're probably opting for a longer way of creating an exam online.
Some of the best online exam creators in the market have templates that are ready-to-use and professionally designed by experts. So, the chances of anything going wrong at all reduce by a large extent.
How?
It is because the settings are already configured, the notifications are enabled, the questions are already assigned grades, and more. Plus, it takes the bare minimum effort to edit the templates and create your online exam.
That's why if you choose from the scored quiz templates or personality templates, you can create your online exam in minutes.
3. Import Readymade Questions From a Library
The hardest part of creating an exam actually is coming up with good questions. It takes a lot of brainstorming and definitely a lot of time.
A better way to add questions in your online exam when creating it with an online exam creator is to import readymade questions from a question library.
A public question library is a collection of a huge number of ready-to-use questions across different topics. To import those questions into your quiz, all you need to do is:
Go to the question library

Type in your topic in the search bar

Explore from the list of questions that appear

Choose the questions that are most relevant, and

Import them directly into your quiz
Saves a lot of time, doesn't it?
4. Mix up Question Types
For the exam to be effective, it is advised to mix up different question types as it is an excellent way to make the quiz engaging. It can also help you gain a lot of information about a student or candidate applying for a job or giving a normal test.
You can either have multiple correct answers or have only one correct answer to make the test look simple. You can also include true or false questions.
Mixing up these question types while using an online exam platform can make your exam more challenging, but it ensures you get the information you need about a particular learner.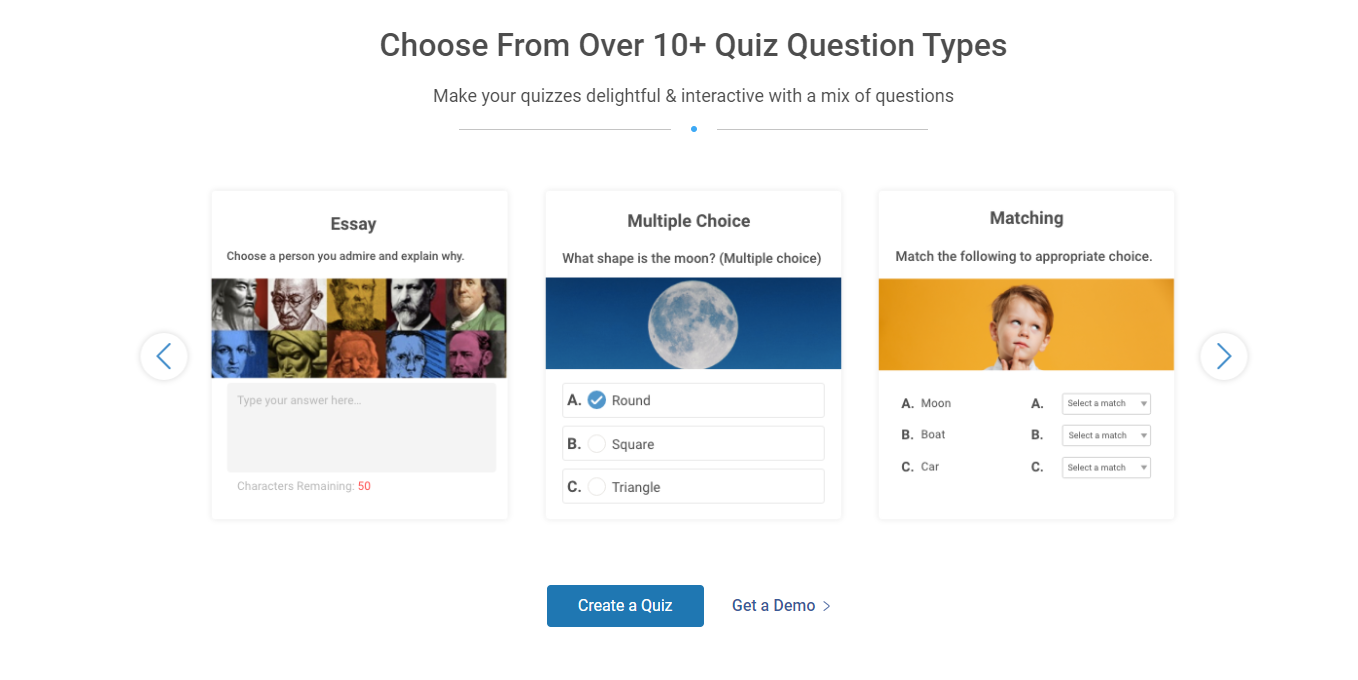 5. Automate Grading and Add Instant Feedback
Since we're talking about saving time, how can I miss the automated grading feature? What's the point of using an online exam creator if you're not automating the grading system?
Automating grading for your online exams is one of the best uses of online exam creators.
While you're adding questions, you can assign grades or scores to their correct answers in advance.
By doing so, you can automate the entire grading process for your exam.
Just like automating grading, you can also save your time that you'd otherwise spend in giving feedback for answers.
For this, add instant feedback for answers while adding questions that'll be instantly displayed after a question is answered. It could be a remark, an explanation for the correct answers, or any other feedback that you'd want to give.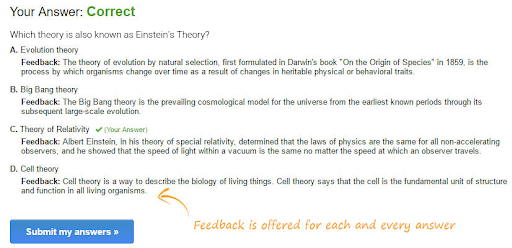 6. Make Your Exam Interesting
Online exams would be boring if not for the amazing multi-media add-ons.
You can either:-
If the online exam maker you're using allows it, try to incorporate more and more images and videos within your questions or answers as you create an online test. This makes your online exam more engaging.
Watch: How to Choose the Best Exam Software

7. Stop Cheating in Its Tracks
Exams, tests, and assessments taken online save students from being under the watchful eye of an invigilator. On the other hand, it also lets many students use unethical means to pass their exams. Don't worry, here's what all you can do to prevent that from happening:
Instead of using a fixed number of items in your assessment, try creating a pool of questions. These questions can be grouped by a number of factors, such as topics, subject matter, difficulty level, and question type.
Having a pool of questions from which you can choose will give an impression that the assessment test uses randomized questions and, thus, cannot be tricked. To make sure that no cheating takes place, you can create a very large number of questions for each group.
One highly effective option is to randomize the order of questions that are to appear in the online exams. The result is that students aren't likely to get the same questions twice or in the same sequence, for that matter.
The strategy is to address the issue of students being able to share answers to the questions of the assessment.
The fact that students get to take an online exam makes it obvious that some of those students are going to use careful means to get through them, mainly using textbooks and notes to find the right answers.
Setting a timer gives the learners a fixed time frame in which they need to complete the examination, consequently not allowing them the time to be able to cheat during the duration of the exam.
By creating an online exam with a completion time, participants do not have the time to go over notes or any other means to get through the online examination. But, that being said, it is necessary that you give the participants sufficient time for those who do know the answers to complete all of the questions.
When conducting an exam online, it is very much possible that the learners will try to look up the answers online. That's actually the first thought that would come to their mind when not knowing the answers.
To prevent them from looking up answers online, you can disable tab switching so that they won't be able to open any other tab while taking an online exam on a device.
Now, isn't this yet another amazing use of an online exam maker software? You can configure settings to prevent cheating on your exam. It also helps ensure compliance in a non-proctored exam setting.
8. Issue Completion Certificates
Another amazing but optional point to remember is customizing a completion certificate for your learners.
With some online quiz makers like ProProfs, you can design a completion certificate with your logo and custom fields like learners' names, their scores, and more. These certificates will be automatically issued to your learners after they finish the exam.
Watch: How to Customize Your Quiz Appearance With Themes

9. Secure Your Exam
After carefully creating your exam, you wouldn't want the wrong people to access it. So, it is important to ensure the safety of your online exam and prevent unauthorized access before sharing it.
To do so, you must protect your exam with a password and create a private link so that only the authorized learners with their unique log-in credentials will be able to access the test.
10. Create and Share Exams Anytime, Anywhere
The best thing about using an online exam creator is the liberty to create and share exams from anyplace, anytime. You could be traveling; you could be at home resting or simply relaxing on a vacation far from your workplace.
Since the online exam creator is cloud-based software, you can create and share an online exam anytime, anywhere.
In the next section, take a look at how you create an online exam with an online exam maker software.
Read More: How to Create a Perfect Online Test- Rules To Follow
Steps to Create an Online Exam using Online Exam Maker
To help you with the process, I've laid down the five quick steps to create exams online using an online exam maker:
The first step that you need to take to create exams online is to explore the templates (you can also create an exam from scratch if you need specific details customized and have some time on your hands). To reach the templates section, click on 'Create a Quiz' on the homepage, which takes you to the templates section.
Since it is an exam, you need to choose the scored templates.
Go to the templates section, and explore scored templates under the many tabs like a business, education, sports, holiday, etc.
Select the template you like and get started. You can preview the template and then even make edits to it to create your own exam.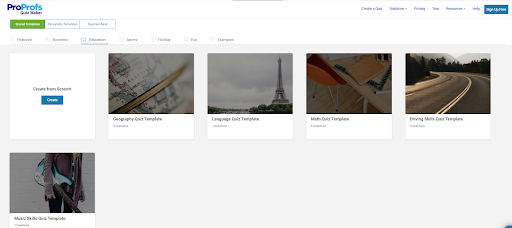 Adding or building questions is probably the most difficult part of creating a quiz or an exam.
You may have brainstormed for hours and still couldn't come up with the perfect questions. To avoid this, go directly to the question library and search for your topic.
Choose the most relevant questions and import them directly into your exam.
For example, if you need to create an online exam about rainforests, just type tropical forest in the search bar and choose questions from the list of questions that appear.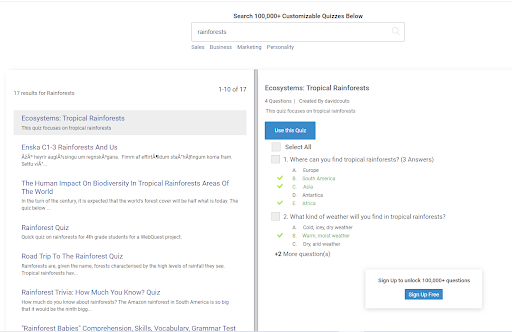 Also, there are various question types that you can play around with. Create a multiple-choice test, hotspot-questions test, descriptive tests, or just throw in a mix of questions to make your exam fun.
To save more of your time, pre-assign grades or scores for correct answers while adding the questions.
This way, when a learner attempts the correct answer, the grade or score will be automatically assigned, and the final scores will keep adding up.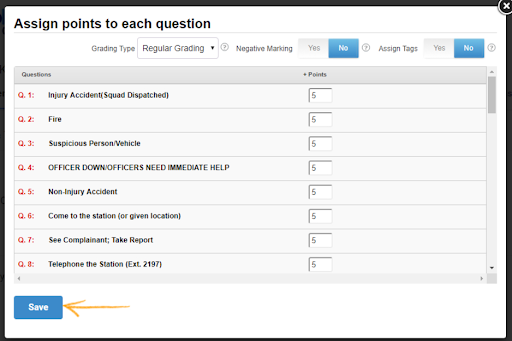 Just like automating grading can save you tons of time, providing instant feedback can save you from manually adding feedback for all the learners.
Once you click on the Feedback icon, you can add three types of feedback:
Single feedback for all answers

Feedback for each answer option

Feedback for every correct and incorrect answer option
Add feedback that will be displayed automatically after the question is attempted. It could be a remark or an explanation for the correct answer.

Check out how adding reference information in the feedback helps Nebraska's Health Department conduct exams where students can learn more with each exam.
With online exam makers, you can customize your exam papers to make them more fun. For example, you can add your own logo, change the background images, themes, etc.
You can include images, videos, and additional documents to make them more engaging.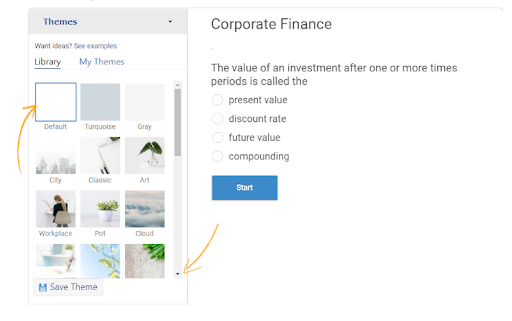 So those were all the steps you need to take to create an exam from scratch. To understand in a better way, watch How to Create Online Tests
After you've customized the completion certificates, you're almost done with creating your exam paper online. But, before you share it with your learners, don't forget to configure the security settings.
Randomize the order of questions and shuffle answer options to reduce the chances of cheating. Also, secure your exam with password protection to prevent it from unauthorized access.

Assign an exam to learners
Once you are done creating an online exam, it's time to assign it to the learners. You can either share the exam with learners via email or assign it to them in an online classroom. You can even embed the exam on your website and set the availability.
Those are all the steps you need to take to create your online exams with an online exam more. In the section that follows, we've shared some of the top benefits of creating online exams with an online exam maker. Let's take a look at them.
Everybody loves getting rewarded! Again, this may not be a necessary step, but issuing completion certificates makes the whole online exam experience a lot more engaging and fun.
You can customize the exam completion certificates the way you want to by adding your logo, colors, and desired fields. The certificates will be automatically issued to your learners after they've completed the exam.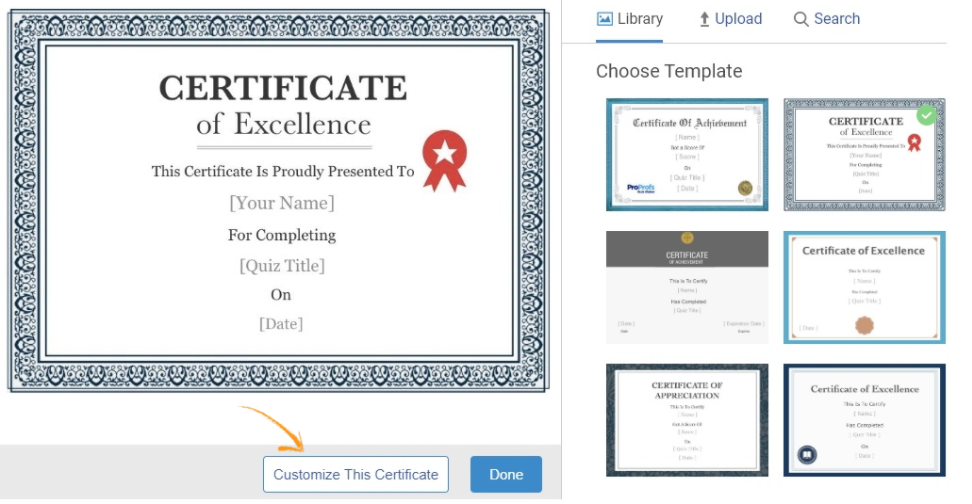 Benefits of Using Online Exam Maker for Building Online Exams
Using an online exam tool can help you gauge your learner's knowledge about a subject. As a teacher or an instructor, it is one of the most effective tools that can help you accomplish this, save your time, and help you learn better as well!
Here are some more benefits that can be unlocked with the help of online exam software:
Watch: How to Choose the Best Test Generator

1. Helps Build Exams in Minutes
Imagine this- you're running short on time, but you have to prepare an online exam to give to your students the next day. Jotting down questions can be hard when you have less time. In such a situation, you can turn to the scored quiz templates that can help you build online exams in minutes.
If you do not wish to use the templates but save time on building one from scratch, you can do that very easily with the help of a question library that offers thousands of ready-to-use questions across thousands of templates.
No matter which way you go, you won't face any difficulty in building the exams.
Read More: How to Create an Assessment Online
2. Helps Save Time
One of the issues most teachers struggle with is the grading of exam papers and feedback for each student.
Wouldn't it be great if that could all happen automatically?
With online exam makers, while adding the questions, you can pre-assign scores to the correct answer option to be automatically graded when attempted and add feedback for correct and incorrect answers.
Adding feedback will display it instantly after the question is answered, thus helping in faster knowledge retention.
In this way, pre-assigning grades and feedback can help save hours of your time.
3. Helps Prevent Cheating
You may have created the perfect online exam, but there are always a few who'll try to cheat on it to get that perfect score. Thankfully, with settings and configurations in online exam software, you can stop cheating in its tracks.
For instance, you can:
Randomize the order of questions, so that no two students get the same set of questions.

Shuffle answer options so no two students can copy the answers.

Disable tab switching so that the answers can't be looked up online while the examination is on.
4. Robust Reporting
When creating online exams with online exam software, it's not only the final scores you access. Owing to its robust reporting feature, you also get a full picture of-
The number of wrong attempts

The number of correct answers

Time spent per question

Time spent to complete the exam
These details can help you assess your students' holistic performance and have an in-depth analysis of the overall exam difficulty level. You can not only view the reports but also download them anytime, anywhere.
5. Help Promote Self-Assessment
Some online exam software like ProProfs let you create online classrooms for your students to create different groups of students and assign them tests, quizzes, and courses.
You can create groups of students based on their scores or different learning abilities. This, in turn, will help students self-assess their performance by letting them compare it within the group and also motivate them to perform better.
---
Interesting Read:- Best Flexiquiz Alternatives
---
Ready to Build One?
Now that you've learned how to put an online quiz maker to build one, what's stopping you? Try it out today.
If you don't already have one, try the ProProfs Online Exam Maker today. Take a tour or register for free; the choice is yours.
Use this guide as a reference the next time you are creating an exam online, and in case of any difficulties, reach our customer support that's available 24×7 on call as well as chat.
Do you want a free Quiz Software?
We have the #1 Online Quiz Maker Software for complete learning and assessment starting at $0