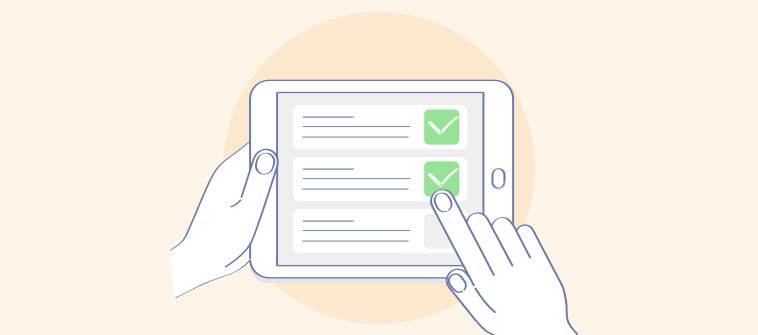 Online learning has taken education and training to the next level, and it's not surprising to see why. Technology has crept up the sleeves of education, and the results have been outstanding.
With the arrival of LMS software, began an era of online learning, followed by online assessments. It is the virtue of being so much more convenient that LMS software like the Training Maker & Exam builder software quickly marked their spot in the sphere of teaching & learning.
In their report called 'Global E-Learning Market Analysis & Trends - Industry Forecast to 2027', Research & Markets said that "The Global E-Learning Market is poised to grow strong during the forecast period 2017 to 2027."
The report further revealed that the e-learning market will grow to $325 Billion by 2025.
In another survey by the American Society for Training & Development, it was found that companies with comprehensive e-learning training programs have 218% higher revenue per employee and 24% higher profit margins.
Let's turn towards the education industry. According to Statista, the e-learning market worldwide is forecast to surpass 243 billion U.S. dollars by 2022.
The above figures are enough to indicate the inclination of both the education & corporate bodies towards the online learning & assessment models.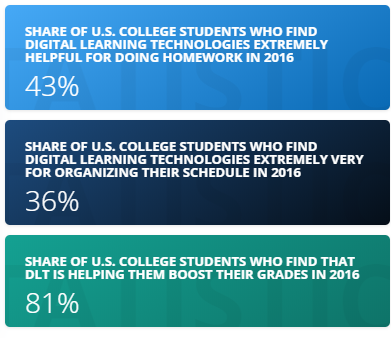 Image source
No wonder then that educators, teachers, trainers, and instructors all over the world have embraced online exam software with open arms. They rely on it to create and share memory tests with students as well as compliance training such as sexual harassment prevention with employees.
While teachers, trainers, and educators can design courses along with quizzes and share with their learners anywhere in the world at any hour of the day. The learners too can fit them around their existing responsibilities and commitments as they can access a new course or quiz from the comfort of their home or office at a time convenient to them.
In this blog, I'll be discussing these benefits and more along with:
the cases in which Quiz Maker proved to be the most useful resource
steps to create an online exam
Watch: How to Choose the Best Exam Software

Learn with the Cases
A survey by the ProProfs Quiz Maker Examination Software revealed that educators and trainers who have been using an online quiz software or test maker or an exam creator software to assess their learners saw a huge difference in the learning outcomes.
1. Nathan Moxley, a course director at Full Sail University, Florida, said that "with the online test maker, the practice tests were easy to build. It allowed me to set all the same parameters of the actual certification test, including a question bank, time limit, and minimum passing grade.
He also added, "since we have begun using the practice tests within ProProfs, we have had a near 100% success rate with students passing the actual certification exam."
2. In another case of ProProfs Quiz Maker, Cole Morris, a security consultant at Cole on Security, LLC, realized that ProProfs Quiz Maker was quite a sophisticated way to conduct assessments post their security course delivery.
The quality of customization of certificates of completion is awe-inspiring. I use ProProfs for the final course assessment and delivery of certificates, Cole says.
3. Here's another case from an IT professional.
Mr. K Lakshmi Shankar, a senior program architect at Zoho Corporation, wanted to create and host quizzes that their attendees could remotely access while they were on the Zoho website.
So, he started using the ProProfs Quiz Maker to create and host quizzes and found it very easy to use.
Laxmi said, "I could create a quiz in 5 minutes and add questions with the help of the question bank. The best part was that the configurations of parameters were all UI based and did not require any coding knowledge.
"We got the auto-generated reports too. Shuffling of questions [and answers] was a nice feature."
What impressed Laxmi was the 'instant results' feature. In his words, "It was a great feature. The attendees were happy as they didn't have to wait for the results. This and most other features are automated, which helped us improve our productivity."
Even though the above three cases of ProProfs Quiz Maker, when used as an online test or exam maker, are enough to highlight the benefits it offers in the cases of assessment, there are a few more advantages of using it for creating online exams.
Let's take a look at them.
Benefits of Using an Online Exam Maker
So here, I've laid down a few of the significant benefits that you can realize by using an online exam creator to create exams online.
Let's go through them one by one:
1. Saves cost- Not to debate, but an online exam creator is hands down a major cost saver. There are no costs incurred at any stage of creating an exam. You simply go to the website, sign-up, choose your plan (or sign-up for a 15-Day free trial), and get started.
Contrast this with paper-based exams, where you may have to spend thousands on procuring paper for exam papers as well as answer sheets.
What's more, it doesn't ask for any examination software installation.
2. Easy to create- Online exam software makes it easy to create exams online. You can create exams in minutes with the help of templates & question bank.
ProProfs has a collection of more than 100 scored quiz templates that you can use to create your online exam. You can either choose from these templates or create your own exam from scratch.
Adding questions is the most difficult part of creating exams but software like ProProfs makes it super easy. It offers a question library with more than 1,00,000 ready-to-use questions on different topics. You can just go to the library and pick from the list of thousands of questions that appear.
You can even throw in a mix of questions like multiple choice questions, fill-in-the-blanks, true/false, hotspot questions, etc.
3. Saves time & effort- The greatest benefit that comes with an online exam software is that it saves tons of your time & effort. Features like automated grading, instant feedback, and system-generated reports can save hours of time.
a. Automated grading- You can pre-assign scores or grades to correct answers while adding questions to cut down your time that you'd otherwise spend in grading them manually.
b. Instant feedback- Provide instant feedback to learners just as they complete answering a question. You can provide instant feedback in the form of a remark or explanation for a correct answer.
c. System-generated reports & analytics- The reports for all the exams created on ProProfs exam software are system-generated. You can get consolidated reports for all learners as well as individual learner reports.
4. Remotely accessible- The online exams, being created on a cloud system, can be accessed anytime, anywhere, and on any device like laptops, mobile phones, or tablets.
5. Security configurations- With ProProfs exam software, you don't have to worry about cheating and unauthorized access. It offers you more than 100 security settings that you can configure to ensure the safety & security of your online exams.
To keep cheating at bay, you can either randomize the questions or even shuffle answer options.
To prevent your exams from unauthorized access, you can take a step further to secure your exams with a password so that only those with unique login credentials can access the exams.
But that's not all!
There are more benefits that you'll realize only when you create exams online on ProProfs exam maker software.
Steps to Create an Online Exam using Online Exam Maker
To help you with the process, I've laid down the steps to create exams online using an online exam maker:
Watch: How to Create Online Tests
I wouldn't start with "go sign-up and choose the plan" because, of course, you know the drill.
The first step that you need to create exams online is to explore the templates. To reach the templates section, click on 'Create a Quiz' on the homepage which takes you to the templates section.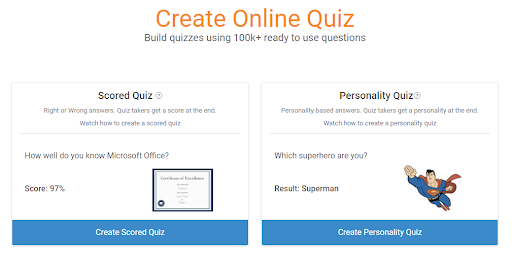 Since it is an exam, you need to choose the scored templates.
Go to the templates section, and explore scored templates under the many tabs like a business, education, sports, holiday, etc.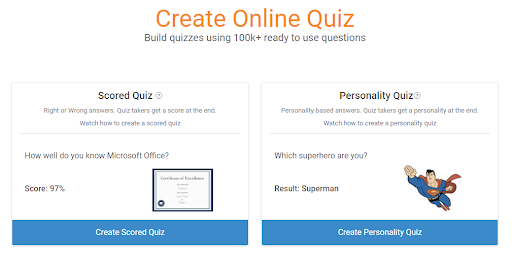 Select the template you like and get started.
You can preview the template and then even make edits to it to create your own exam.
Adding or building questions is probably the most difficult part of creating a quiz or an exam.
You may brainstorm for hours and still not come up with the perfect questions. So, to save you from this trouble, go directly to the question library, and search for your topic.
Choose the most relevant questions and import them directly into your exam.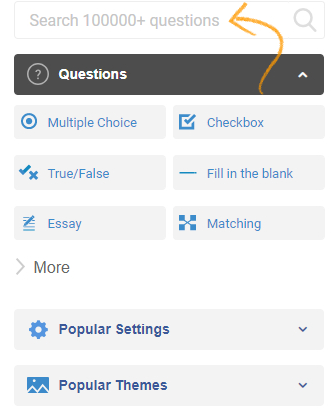 Also, there are more than ten question types that you can play around with.
Create a multiple-choice test, hotspot-questions test, descriptive tests, or just throw in a mix of questions to make your exam fun.
To save more of your time, pre-assign grades or scores for correct answers while adding questions.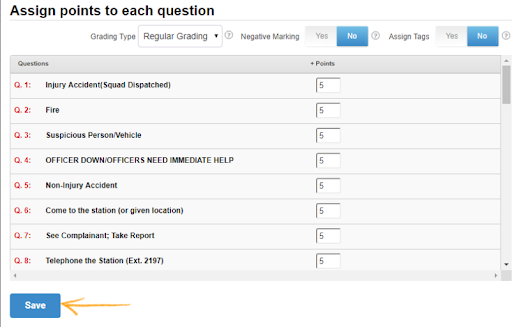 This way, when a learner attempts the correct answer, the grade or score will be automatically assigned, and the final scores will keep adding up.
Just like automating grading can save you tons of time, providing instant feedback can save you from manually adding feedback for all the learners.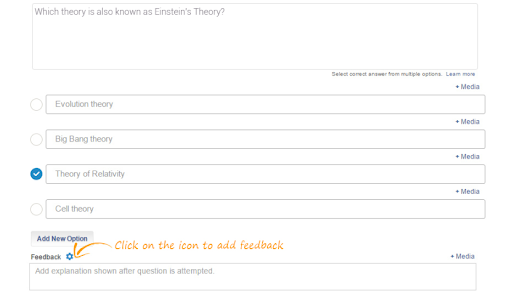 Once you click on the Feedback icon, you can add three types of feedback:
Single feedback for all answers
Feedback for each answer option
Feedback for every correct and incorrect answer option
Add feedback that will be displayed automatically after the question is attempted. It could be a remark or an explanation for the correct answer.
Not a necessary step, but you can customize your exam papers to make them more fun. For example, you can add your own logo, change the background images, themes, etc.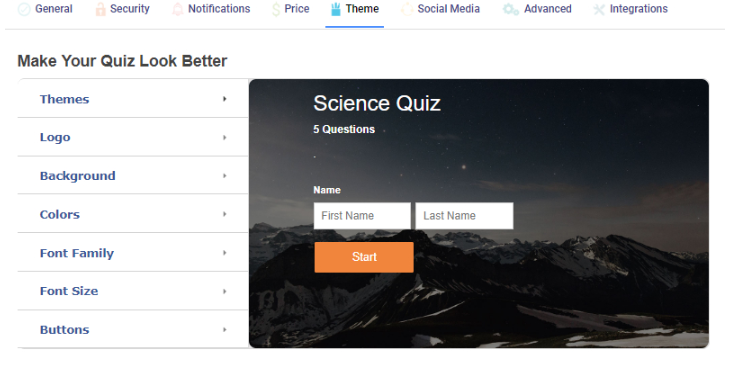 You can include images, videos, and additional documents to make them more engaging.
Everybody loves getting rewarded! Again, this may not be a necessary step, but issuing completion certificates makes the whole online exams experience a lot more engaging.
You can even customize the exam completion certificates the way you want by adding your logo, colors, and desired fields.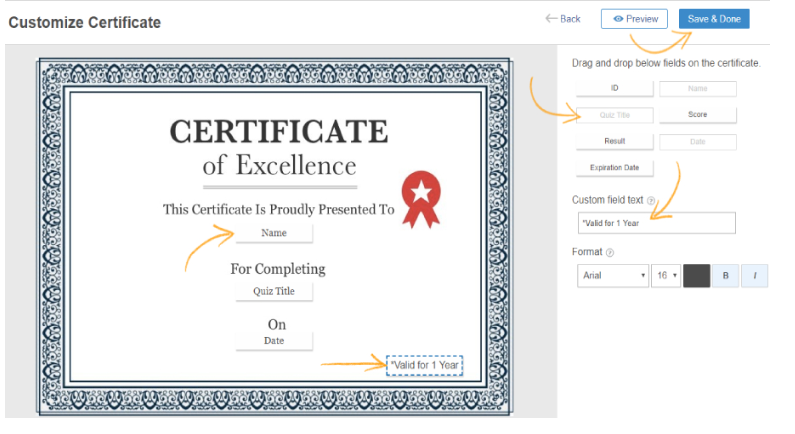 After you've customized the completion certificates, you're almost done with creating your exam paper online. But, before you share it with your learners, don't forget to configure the security settings.

Randomize the order of questions and shuffle answer options to reduce the chances of cheating. Also, secure your exam with password protection to prevent it from unauthorized access.
The last step is sharing the online exam with learners. You can either share the exam with learners via email or assign to them in an online classroom. You can even embed the exam on your website and set the availability.
What's your take away?
Even though the prevalence of LMS software in the sphere of education has compelled educators to use online exam software, many industries still remain untouched with its benefits.
The online exam software is ideal for creating not just online exams but online quizzes, career assessments, employee assessments, and more.
So, go ahead, find the best online quiz maker, create your online exam, and spread the word!
Do you want a free Quiz Software?
We have the #1 Online Quiz Maker Software for complete learning and assessment starting at $0