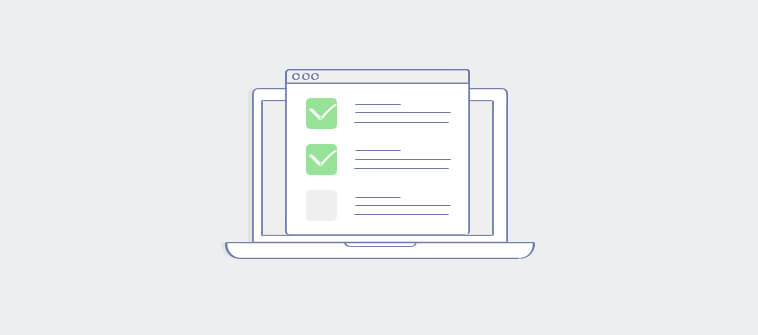 Over the years, online test makers have made themselves a hit among businesses and employers, especially when it comes to hiring the right candidate for any job role.

Employers today put more faith in online assessment platforms than university degrees.

According to The New Economy in one of their articles about the importance of online assessments, it was revealed that-
Unilever had spent the last year using AI to assess candidates while they played online neuroscience games.

And, Ernst and Young was an early adopter of the strengths-based recruitment process, ditching the requirement for an undergraduate degree from its entrance criteria in 2015.
More recently, employers have started favoring strengths-based recruitment tests: multiple-choice questionnaires that try to gauge whether a candidate's personal motivations align with the firm's, and determine whether they are capable of performing the work expected in the role advertised.
And, to be honest, that's one smart way to hire valuable resources while also saving your time and effort.
If what I am saying here doesn't convince you, the cases mentioned below, will. Give them a read.
Case Studies
In another survey performed by the ProProfs Quiz Maker, several employers revealed the benefits they reaped while using the online quiz software for various purposes.
Acer– Acer was able to create a training system that includes online training, assessment, and certification for their new product releases. Read the complete

case study

.

Thermo Fisher

– Thermo Fisher made use of the ProProfs Quiz Maker to provide training/education to its massive sales force spread across the globe. Read the complete

case study

.
A simple tool for everyone, ProProfs Quiz Maker, which is an online quiz generator but also doubles up as an online test maker, has features for everyone.
---
Read: How to Choose the Right Quiz Authoring Software
---
But, What Is an Online Test Maker?
An online test maker is basically a cloud-based tool used to create online tests, online exams, or online assessments.
Quite popular as free exam creators, you can use these computer based testing software tools to
The tool comes bundled with many amazing features like ready-to-use templates, question library, automated grading, instant feedback, auto-generated reports & analytics, and more.
The tests, exams, or assessments created on an online test maker are mostly compatible with mobile devices such as laptops, smartphones, and tablets so they can be accessed with ease.
Watch This Video to Know How to Create Online Tests
Top Reasons to Use Online Test Maker
Now that you know what the tool does, here are ten reasons that tell you exactly why you should use it to create online tests, assessments, or quizzes.
✔ It's easy
Some learning tools require you to download software and also have a pretty steep learning curve. Not true of online test makers. There is no need to download—just log in and start creating.
Any person with any level of skills or knowledge can use this tool without any hassle. You can even register for free and take a trial to understand forehand. Once you're done creating, you can easily share your tests via email, on social media, or embed them on your website.
✔ You can use the templates to create tests quickly
With ProProfs online test maker, you are not confined to creating just one type of test, rather you can create any type of test you want — i.e., a scored test or a personality test.
---
Read: 10 Best Online Quiz Maker Software
---
Just go to the templates section and pick a template you like. Then, you can start editing the templates to create your online tests.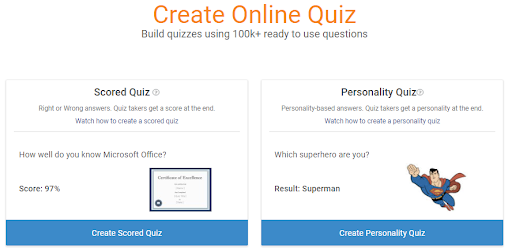 There are over 100+ professionally designed templates that you can use to create your online tests. You can even create your own test from scratch.
Watch: How to Use Quiz Templates to Create Your Own Quiz
✔ You don't have to worry about coming up with the right questions
Thinking of a question is probably one of the most difficult parts of creating an online test. But, with a question library, you don't need to worry anymore. You can directly import questions from the question library that has a collection of 100,000+ ready-to-use questions on thousands of topics.
✔ You can easily remix and reuse questions
Want to create an online test using questions from various assessment exams? No problem. With an online test maker, you can pick questions from an existing test or an excel sheet, making it easy to remix and reuse your work.
✔ You can create any type of test
The most amazing thing about using an online test maker is that it allows you to create any type of test you want.
The tool makes it possible by offering more than 10 question types like multiple-choice, fill-in-the-blanks, true/false, hotspot questions, essay-type questions, and more.
You can either throw-in a mix of questions or choose just one question type to create a particular type of test.
---
Read: How to Create a Multiple-Choice Questions Test
---
✔ You can save time on grading
The automated grading feature of online test makers saves your time and ensures accuracy of the test results. The software can grade all types of objective questions (e.g., multiple-choice, fill-in-the-blank, short answer), leaving only the essays and other subjective questions for you.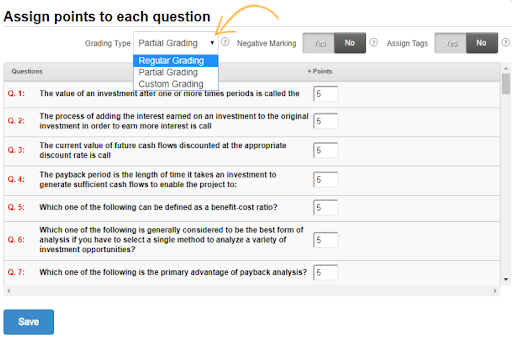 ✔ You can provide instant feedback
A wealth of recent research has found that one of the key factors that make online learning effective is the ability to provide learners with instant feedback on their work.
When you use the automatic grading option, you can also select the method by which learners receive feedback; for example, feedback can be given immediately upon completion of each question, after finishing the whole test, or later.
This provides learners with the opportunity to immediately review what they got wrong and correct their understanding of the training material.
✔ The assessments can be accessed anytime, anywhere
An online test maker provides learners with maximum flexibility for where, when, and how they take the tests. For online and hybrid courses, you can create quizzes and exams that can be taken on a computer, a tablet, or a smartphone, running any operating system.
For in-person courses, you can print the assessments to be taken on paper.
✔ Online test makers provide cheating controls
Often concerned about academic integrity? By using an online test creator, you can implement a variety of controls to prevent cheating, including instituting time limits, randomizing the order of questions and answers, and even randomizing entire tests by presenting different items from the question bank to each learner.
✔ Analytics can help you improve future assessments
Online assessment creators collect a large amount of data that can be used to generate detailed reports. For example, you can analyze the results of individual learners to track their training progress.
You can also assess the performance statistics for each item on your quizzes and tests, which will help you identify and improve quiz items that might be confusing to learners.
Saving Time at Each Step Will Make You More Efficient
Developing and grading assessments or tests on paper is time-consuming and exhausting. Of course, you don't need to have a separate online testing platform. With a free online test maker, you can make an online test and share with whoever you want anytime, anywhere.
It'll help you become more efficient so you can spend more time working on your business strategies and hire better candidates without having to conduct several rounds of interviews.
Many online testing tools are free, at least for a trial period, so why not give one a try?
Do you want free Quiz Software?
We have the #1 Online Quiz Maker Software for complete learning & assessment