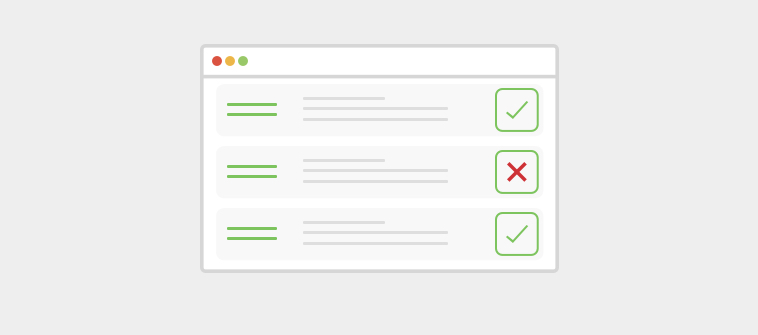 It's not much of an exaggeration to say that online exam software have revolutionized how teachers create exams and analyze the results.
Especially after the turmoil caused by the COVID-19 pandemic, online exam builders have become the lifeline of assessment continuity for teachers.
They no longer need to grade each exam manually and then painstakingly record the results in grade books. Nor do they need to set up complicated spreadsheets to properly track each student's progress and final grades.
Everything from writing online exams, distributing them to learners, to grading them and assessing the results can be taken care of by the software.
Even though there's already much awareness about how such software helps teachers, we're here to tell you how easily you can create an online exam using an online exam tool.
We'll guide you through all the steps you need to take to create an online exam and share some of the best practices for creating online exams.
But, before we do that, let's recount what is online exam software and some of its most important features and benefits, so that you find it easy to get started.
What is Online Exam Software?
It is a cloud-based tool that lets you create online exams and share them with your learners via email. You can use it to create online exams with the help of ready-to-use questions, automate the grading and feedback process and configure settings to prevent cheating.
The software automatically generates insightful exam reports that you can access to assess learners' retention and identify knowledge gaps.
Key Features of Online Exam Software
Here are some common features shared by the best online exam software available on the market:
1. Templates
Templates make the process of creating online exams a lot easier and faster. Most software tools offer professionally designed templates on several topics to help instructors launch online exams, tests, or online quizzes within minutes.

What's more, you can edit these templates according to your needs or preferences. For instance, you can modify, change, or delete questions. You can also change the image or delete it, modify the title, etc.
2. Ready-to-Use Questions
What's the most difficult and time-consuming part of building online exams?
You got it right – it is thinking of questions!
Coming up with the right questions requires a lot of brainstorming and can take several hours.
But thanks to ready-to-use questions, you can now save hours of your time and effort. Most exam tools these days offer a repository of ready-to-use questions called the question library or question bank.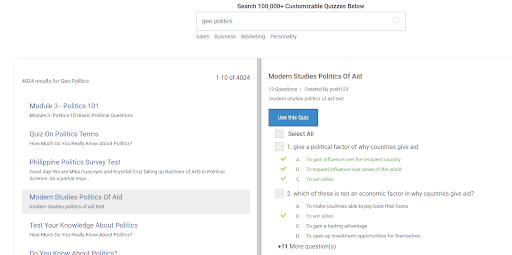 While creating exams, you can pick questions from the question bank and add them to your quiz.
3. Automated Grading
The automated grading feature allows you to assign scores to questions while adding them to the exams and automate the grading process. So, when a learner attempts the question and answers it correctly, the system automatically recognizes the correct answer and assigns it a score.
Similarly, if you enable negative scoring for incorrect answers, the system assigns a negative score to the incorrect answer.
This way, the scores keep adding up, and the system automatically calculates the final score.
Watch: How to Automate Grading of Quizzes?

4. Instant Feedback
Just like automated grading, instant feedback is another feature that helps save time. Feedback is crucial for improving learning.
While adding questions and answers to the online exam, you can add feedback for correct or incorrect answers that'll be displayed instantly to the learners after they attempt the question.
5. Security Settings
Since online exams are non-invigilated, it is likely for learners to cheat on the exams. They could look up answers on the internet, confirm the correct answers with their peers, or copy answers.
So, to prevent such unhealthy practices, most software solutions let the instructors randomize the order of questions, shuffle answer options, and disable tab switching. These measures help instructors keep cheating at bay.
6. AI-Enabled Reports & Statistics
Just like grading the exam papers, preparing reports manually is also time-consuming and tiring. But, for the exams created with an online exam system, the reports and statistics are produced automatically.
These reports are detailed and summarize your learners' activities and their performance in the exam. You can download these reports to view later and draw insights for improving teaching practices.
Watch: How to Review Quiz Reports & Statistics
Now, let's learn how teachers benefit from using such software in our next section.
---
Interesting Read: How to Choose the Right Online Exam Software
---
What Are the Benefits of Using Online Exam Software?
We reached out to many educators to find out how they benefited from online exams or online tests created with online exam builders.
This practice helped us narrow down the benefits to three ways:
✅ It is Easy to Use
There are more educational technologies and apps out there these days than what most instructors are aware of. For many instructors, this barrage of technologies can be pretty exhausting. They each have their learning curve, which can occasionally be steep.
But creating online exams and tests using an online exam maker is easy from the start. You don't have to download the software or know how to code in HTML (or any other language for that matter!).
Because the tools are designed to be intuitive for the user, nothing more than a basic familiarity with computers is required to create attractive and high-quality assessments.
It's easy, and it's effective—what more could you ask for?
Paul Sassya, section head of eServices and Communications at the Institute of Banking Studies, used the online test tool to create different types of tests to cater to a wide range of learners.
Here's what he said about his experience:
"We have created over 100 tests so far with over 2,500 attempts and are super happy with the simplicity and automation the tool offers. We could create effective and attractive tests that are very useful to our institute".
✅ It Saves Time
An online exam maker can save you time every step of the way.
First, it's

simple to use a wide variety of questions

, which can then be stored in a question bank and used or reused as necessary. So, rather than writing a new exam for each assessment during a course, you can create exams instantly by selecting appropriate questions from your existing question bank.
And the

availability of templates

means that you can customize your exams to look however you'd like, without having to spend hours fiddling with fonts or being an expert in graphic design.
The time savings don't stop there, however. The

automatic grading feature

means you no longer need to spend your precious after-school time grading, checking, and rechecking exams and providing feedback to each student — it can all be done within the software system.
You can even use the system to create and deliver digital completion certificates to learners who score a passing grade.
Carl Powell, the director of Environmental Health and Safety at Ringling College of Art & Design, was fed up with grading quizzes manually and found the exercise time-consuming and tiring. That's when he adopted software with the ability to automatically grade the quizzes.
Here's what he said about his experience:
"The tool saves me a lot of time every week. The automated grading and scoring features are extremely easy to use. I was surprised to find that I could transfer my training presentations, set up quizzes, and get access to the database quickly. Everything is automated, and we love that!"
✅ It Ensures Security
With online exams, security can be a major concern. There are two security aspects to consider: first, the security of the exam itself (to prevent cheating), and second, the security of the data collected by the system (for confidentiality).
Online examination systems have several features to help prevent cheating. For instance, you can:
Create multiple versions of a test
Randomize the order of the questions
Shuffle the answers, and more, all with a few simple clicks
Enable password-protection to avoid unauthorized access
So, when you use an online examination system, you can be confident that both your assessments and the data they generate are safe.
Brad Stacy, a teacher at Franklin County High School, adopted a tool to configure settings to prevent cheating in online evaluations.
Here's what he said about his experience:
"The tool allows us to easily make our evaluations or choose from its question bank. We can make sure each student gets a different test by randomizing questions and answers, and the program does all the grading for you."
✅ It Produces Analytical Reports
The whole point of conducting examinations is to assess retention, identify knowledge gaps, and identify the problem areas.
The question is – how do you achieve that?
Of course, it requires a detailed analysis of individual scores, the questions added to the exams, and learners' responses to those questions.
Sounds a little too exhausting, doesn't it?
Now imagine all of these handed over to you by software ready to go. How do you feel now? Less burdened? Sigh!
The software produces individual and group reports for every exam that you create with it. The reports include scores of your learners, number of correct and incorrect responses, time spent in completing the exam, etc.
Further, you also get access to statistics that the software generates automatically.
With such insightful reports and statistics, analyzing the results becomes easy.
Karla Stevenson, a teacher at Sequoia Middle School, started using online software to effectively and efficiently assess her students' knowledge.
Here's what she said about her experience:
"I can review specific data from the reports and stats generated with every quiz I give. I especially like the format of the electronic quizzes for students. It provides immediate, detailed reports and stats for my students."
Now that you've learned the top benefits, it's time to look at the steps to build an online exam with online examination software. Let's get to it!
Here's a detailed guide for you to understand how to create an online exam .
However, we recommend following a few best practices to ensure you have a delightful experience that benefits both you and your learners alike.
Find them in the next section.
10 Best Practices for Creating Online Exams
You've learned how to create online exams. But, with these practices, you'll learn how to nail them:
#1 Give Clear Instructions
Provide clear instruction to your learners before they begin exams. Stay transparent about what is expected out of the questions added to the exam.
Ensure your learners have all the information they need to know, such as the time allotted for each question, the kind of question types they will encounter, scoring schemes, etc. Giving helpful instructions to learners before exams helps avoid common errors.
#2 Use Question Banks
Don't get fixated on bringing out your creative side by creating questions yourself. Instead, save your valuable time. Try to use the question bank and add some ready-to-use questions that are well-researched and well-framed.
#3 Be Mindful of the Question Types
Think of the situation where you had to write pages and pages again? Do not pass the conventional test load on to your learners. It has been found that answering multiple-choice questions has positive outcomes on learning. Therefore, consider using question types that are focused on boosting learning.
#4 Allot Time for Question Completion
Giving just enough time helps keep the integrity of the exam. For example, limiting the time for an open note exam allows students time for quick references but not enough to find the answers to things they didn't know.
When estimating time per question, we recommend you have someone read through the exam on the screen to give you a sense of how much time a student will need and read the question and then add how much time you think they should take to answer the question.
#5 Configure Availability
Select a range of dates during which the exam will be available to your learners. This will help provide a testing window. Learners won't be able to attempt the exam before or after these dates.
#6 Use Simple Language
The first step to making the students feel confident is adding some familiar questions in exams. Learners feel demoralized when they fail to understand the questions correctly. Right?
Ensure that you play a safe game with the choice of words or language used. Don't make it complex or confusing for your learners, and try to provide them with various assumptions to derive from the questions.
#7 Don't Make it Too Hard
Many people feel confused when it comes to choosing harder questions that can make a question paper better. Knowing the learning background of the students, create online exams that can provide a quicker response. Don't try to jump through hoops, as your end goal is testing not the students but their knowledge retention.
#8 Make it Analytical
Students have varied learning capacities. While some are conceptual learners, some are analytical and learn from judging the accuracy of a situation they encounter and examining its details. Only using questions that are based on a concept won't help all your learners.
Consider adding analytical questions that can provide a valid result report for the test-makers to understand the smooth roads and pain points in the learning process.
#9 Measure Value
If you endeavor to deliver profound knowledge to your learners, create exams that are application-based. Provide real-life problem statements and make the answer more transparent.
Learners have to apply what they have learned and produce it on the assessment. It will contribute to measuring the value of your tests better.
#10 Offer Wrong Answers
"Wrong is the new correct." If you are a teacher or an education specialist, offer significant wrong answers to your multiple-choice questions to practice situational analysis. Students may jump out to debug the errors in the material given. This, in turn, can provide an opportunity to expand their knowledge.
When you create an exam online, follow the above practices for the test attendees to be more logical.
Assessment styles may differ from one another, but the idea behind every assessment is just the same. Notice that you are allowing the learners to learn and be distinctive through the exams.
Here we are at the end of our article. We hope that we were able to make the process of creating online exams look easy!
Do you want free Quiz Software?
We have the #1 Online Quiz Maker Software for complete learning & assessment