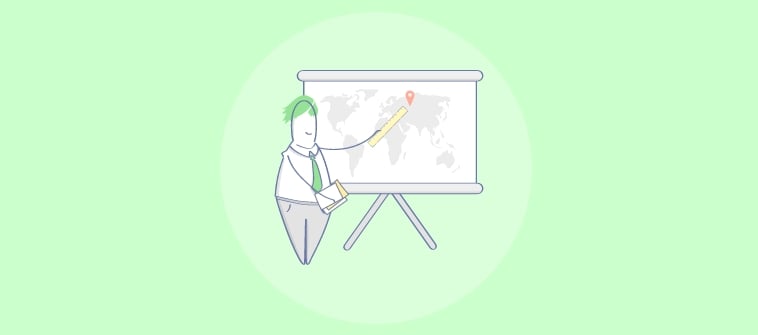 The COVID-19 pandemic changed the dynamics of many industries. Most notably, the field of education was impacted in more ways than one.
With schools closed, teachers struggled with finding ways to keep the learning going. But, thanks to technology, there were several tools that teachers could use to enhance learning and run assessments to ensure knowledge retention.
With the help of such tools, they were able to stay connected with their students and provide top-of-the-line learning experiences.
To help them on this journey and even further, here's our list of the 20 top tools for teachers in 2023 to explore, compare and choose the right tool. It includes a brief overview of the tools, along with their features and starting price. But, let's first quickly understand what you should look for in an educational tool.
What is the Best Tool for Teachers?
There are several online teaching software that teachers can deploy for remote teaching. These offer useful features, including templates for online courses & quizzes, online classrooms, question banks, instant reports, mobile-friendliness, and localization. These features in online teaching software ensure that you implement an online learning & training process rapidly to face any challenge in remote learning successfully
Best 21 Tools for Teachers and the Features They Offer
ProProfs Quiz Maker
15+ question types
Powerful security & anti-cheating configurations
Dedicated exam-making settings
1 million+ ready-to-use questions
Automated grading
Custom certificates
Start at $35/teacher/year
Kahoot
Supports multiple question types
Video conferencing
Question bank
100+ ready-to-play games
Starts at $17/host/month
ExamBuilder
4 exam templates
Six question types
Real-time delivery of certificates
Excellent reporting and analytics
Starts at $115/month
1. ProProfs Quiz Maker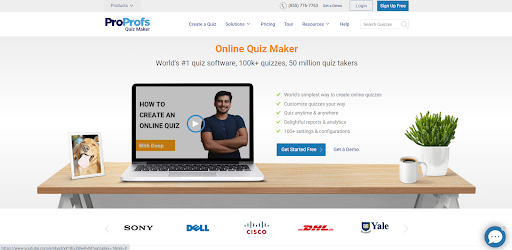 ProProfs Quiz Maker is one of the most popular and secure teaching tools available today. It's the best quiz maker software out there and offers a variety of online teaching solutions to teachers. As a teacher, you can create online quizzes, tests, and secure exams for your students and assign them via virtual classrooms.
A feature-rich test generator/exam maker software, it's equipped with 100+ settings, including automated grading, smart security settings, and powerful anti-cheating functionalities, such as randomizing questions & answers, question pooling, disabling tab switching, and more.
ProProfs lets you create more than 15 types of questions for your exams, including multiple-choice, fill-in-the-blanks, order list, and video response questions. Plus, it gives you access to over 1 million questions that you can modify and include in your exams and tests.
Features:
15+ Question Types –

Create over 15 types of questions with branching logic.

Powerful Security Settings –

Use 100+ settings to make exams secure & private and prevent cheating.

100+ Ready-to-Use Templates –

Choose from 100+ professionally built

quiz templates

to

create quizzes

in under five minutes.

1 million+ ready-to-use questions – Easily create a quiz, test, or exam from scratch using a pool of 1 million+ ready-to-use questions on different topics.
Automated Grading

–

Pre-assign scores to correct answers while adding questions for automatic grading.

Instant Feedback –

Add feedback for correct & incorrect answers that'll be displayed instantly after a question is answered.

Completion Certificates –

Quickly create custom certificates using templates and automatically issue them to quiz takers.

Multi-Language Support –

Create quizzes in English, Spanish, and 70+ other languages.
Pros:
Highly intuitive UI

100+ settings for quiz configuration

Massive question bank

Customizable quiz templates
Cons:
More templates can be added
Pricing: Free and paid plans. Paid plans start at $35/instructor/month (billed annually) for K12
Watch: Steps to Use Online Quiz Maker for Teachers
2. ProProfs Virtual Classroom Software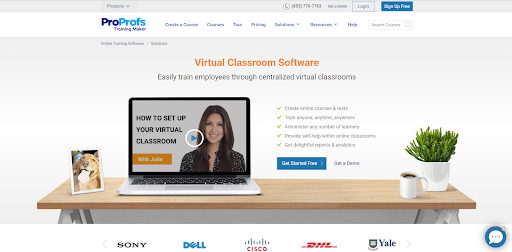 ProProfs Virtual Classroom Software is counted among the most comprehensive online teaching software for teachers. It's the perfect example of an educational technology tool that makes remote teaching seamless. ProProfs' virtual classrooms do a great job mimicking and even improving physical classrooms.
It's full of resources for teachers, such as hundreds of premade courses on various topics, an in-built quiz tool, and the online classroom functionality.
Teachers can use this tool to create their own courses and assessments, make flashcards, collect feedback, and more. Its AI-enabled analytics can help track learner performance, monitor progress, and gauge course completion rates.
The courses created on this top software for teachers are completely mobile-responsive, making it ideal to use at any time, anywhere.
Features:
Course Builder –

Easily build a virtual classroom and start

training

or teaching by creating

online training courses

, tests, and

exams

.

White Label Courses –

Customize your courses with your brand logo, custom designs, and beautiful themes

User Administration –

Easily administer learners anywhere in the world by

creating classrooms

and groups.

Self-Help –

Enable a self-help or self-service system within the virtual classroom so that learners can easily find the information they want.

Reports & Analytics –

Access delightful learner reports and statistics. Use AI-generated insights to improve participation, engagement, and course quality continually.
Pros:
User-friendly

All-in-one learning solution

Professionally-designed courses

Best online platform for

teacher

collaboration
Cons:
Needs more educational templates
Pricing: Starts at $25/month, billed annually
3. Zoom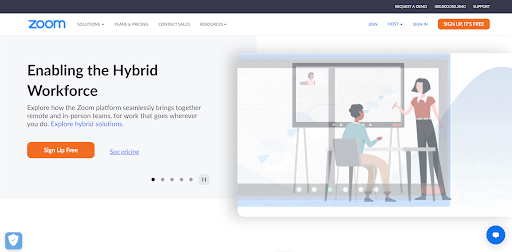 Zoom is an online platform that lets multiple people connect through video conferencing. This digital tool for teachers helps you improve students' learning outcomes with secure video communication services for hybrid classrooms, tests, and more.
Zoom also lets you conduct synchronous online class sessions, where everyone joins a Zoom meeting at a scheduled time. This feature is especially useful for creating engagement when students are remote. Zoom can be used on laptops, desktops, tablets, smartphones, and even desk phones, giving students many ways to access the class session.
Features:
Virtual Background –

Look like you're taking classes from anywhere with the help of Zoom's virtual background.

Calendar Integration –

Set up your Zoom classes easily and quickly by integrating your existing calendar with the Zoom scheduler extension.

Waiting Room –

Admit one person into your class or everyone at once by enabling the waiting room feature.

Multi-Share –

Enable dual monitor sharing in your Zoom classes for seamless collaboration.

Personal Meeting Room –

Create a personal classroom with a personal meeting ID for convenience.
Pros:
Simple and easy-to-use

Rarely lags

Single click joining
Cons:
Invitation emails and reminders could be better

High data consumption

Paid plans are expensive
Pricing: Free and paid plans. Paid plans start at $149.90/year/license.
4. Kahoot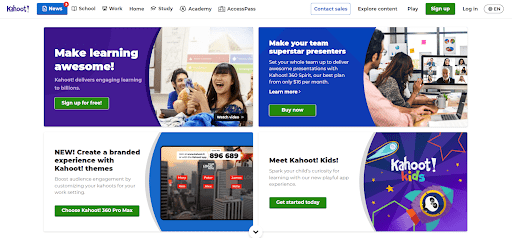 Kahoot is a game-based learning platform that teachers can use to create game-based quizzes and tests for their students. This interactive software for teachers is easy to use and lets you create and share quizzes to enhance student learning, making it one of the best online teaching software.
It's one of the most popular eLearning tools and is widely used by teachers all across the world. The quizzes created on this tool are mobile-responsive and you can access these via a web browser or the Kahoot app.
Features:
Kahoot offers a variety of features that have been clubbed together in the following groups:
Creator Features –

Create a quiz in minutes by choosing from templates, importing questions from a spreadsheet, and more.

Gameplay Features –

Host games on video conferencing, get students to play individually or in teams, adjust timer options, and more.

Reports & Analytics –

Download reports in spreadsheets, access reports with visual insights, assign personalized learning, and more.

Sharing & Organization –

Share games with other Kahoot users, use team space as game banks, and more.
Pros:
Great for adding fun to learning

Easy integration with Google Classroom

Pleasant background music for quizzes
Cons:
Changing languages can get tedious

Needs more question types
Pricing: Starts at $17 per host per month.
5. Trello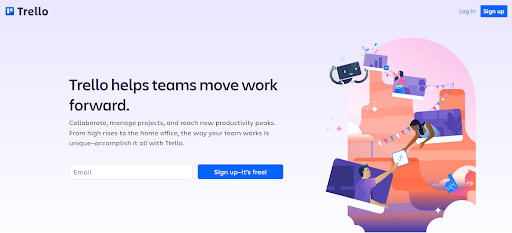 Trello is a collaboration tool that lets its users organize projects on virtual boards. The users can organize their tasks on virtual boards into different categories like what's being worked on, who's working on what, and where something is in a process.
What makes Trello one of the best tools for teachers is that it's basically a visual representation of a whiteboard filled with sticky notes. Teachers can use this platform to plan courses, collaborate with faculty, and organize their classrooms.
Features:
Toggle on the Trello Chrome Extension –

Save yourself plenty of time by clicking and toggling between browsers and platforms.

Keyboard Shortcuts –

Save valuable clicking time by using keyboard shortcuts.

Card Covers –

Make your collaboration colorful and add visuals using the Trello card covers.

Team Directory –

Use the team directory board to give each member their own card cover.

Advanced Checklists –

Map out cluttered tasks on the visual board using the advanced checklists.
Pros:
Excellent for collaboration

Fast UI

Great mobile app support
Cons:
Mild learning curve

Notification panel could be improved.
Pricing: Free and paid plans. Paid plans start at $5/user/month.
6. Beaconstac
Beaconstac QR Code generator is the ultimate tool for educators and teachers. With this powerful solution, teachers can simplify their teaching strategies and engage students proactively. They can create custom QR Codes in a breeze, linking to essential resources, interactive quizzes, and multimedia content. The QR Code maker also enables them to seamlessly integrate the created QR Codes into classroom materials for different use cases, including attendance tracking, event announcements and voting, in libraries, etc., transforming the learning experiences and promoting active participation.
Key Features:
1. Customization: Easily add branding elements to QR Codes, making them visually appealing and recognizable.
2. Dynamic QR Codes: Update linked content on the fly, ensuring up-to-date resources for students.
3. Scan analytics: Gain valuable insights into student engagement and track the effectiveness of the deployed QR Code-based teaching strategies.
4. Password protection: Secure sensitive content with password-protected QR Codes, ensuring access only to authorized individuals.
5. Multi-user collaboration: Collaborate with fellow educators and share QR Code campaigns effortlessly.
Pros:
Free QR Codes are available
User-friendly interface
Bulk QR Code creation capabilities
Data-driven teaching
In-built analytics
Advanced customization
Cons:
The customization options are only available in the paid plan.
7. Mentimeter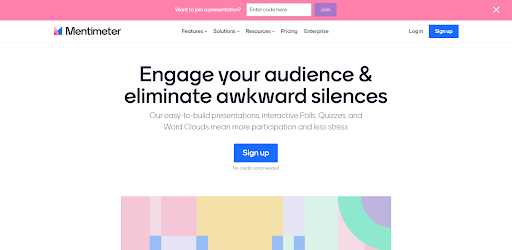 Mentimeter is online presentation software. It's primarily used to create fun, interactive presentations but has many other useful features too. With its live polling functionality, teachers can test their students and gather feedback.
They can use word clouds, ask open-ended questions to their students, initiate conversations, and let ideas flow in the classroom.
Features:
Presentation builder –

Build beautiful interactive presentations in the presentation builder.

Mobile-responsive –

Collect polls, data, and opinions from participants using smart devices.

Word Cloud –

Create your own word clouds in real-time.

Export data –

Get insights on participants with trends and data export.

Translate –

Easily translate data into your audience's language.

Mentimote

– Control presentations with your smartphone.
Pros:
Simple and clean UI

Visually pleasing presentations

Great for student engagement
Cons:
Pricing: Free and paid plans. Paid plans start at $6/month.
8. WeTransfer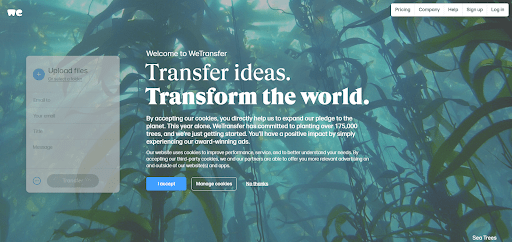 If your work involves sharing lots of big files with your students across the internet space, WeTransfer will be perfect for you. One of the best tech tools for teachers, it lets users send files up to 2GB straight to the recipient's email without a sign-up. This unique feature has helped this online tool gain millions of users across the globe.
Features:
Track Downloads –

Track how many times your files have been downloaded.

Manage Transfers –

Easily delete your transfers in case of a mishap. Resending and forwarding a file is pretty easy too.

Control Access –

Protect your files with a password and customize expiration dates.

Custom Domain –

Get your domain in your own name by customizing the URL.
Pros:
Drag & drop files

Quickly transfer huge amount of data

Get notified when the receiver downloads the files
Cons:
Files expire after a certain duration of time
Pricing: Free and paid plans. Paid plans start at $10/month
9. Edmodo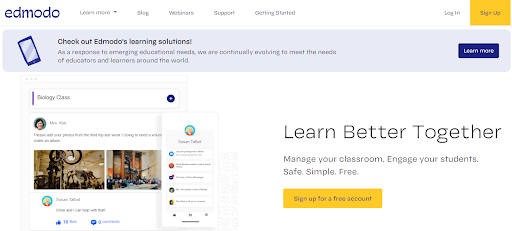 Unlike many other tools for teachers, this unique all-in-one online software offers communication, collaboration, and a coaching platform under the same roof. Edmodo lets teachers create quizzes, assignments, & tests and share them with their students online.
It also lets you administer learning at a community level with LMS, collaboration, Zoom, and video conferencing tools.
Features:
Multimedia –

Send multimedia messages between parties

Mass Messaging –

Send messages to multiple people at the same time

Push Notifications –

Send push notifications to users who have received a message

Analytics –

Access AI compiled data on students' usage, performance, or other key metrics
Pros:
Easy to collaborate with other teachers

Separate account for parents of learners

Badges for student motivation
Cons:
The look and feel can be improved

More features can be added
Pricing: Available on request
10. Google Classroom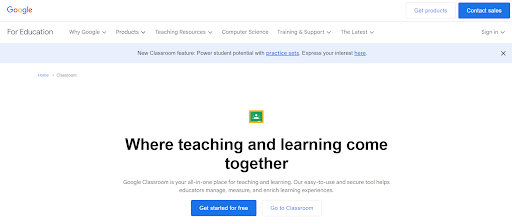 Google Classroom comes as a tool packed with many amazing products that facilitate a free flow of education between teachers and students and qualify as the best tech for teachers. It helps educators by easily letting them manage their courses, assess their students' progress, and more.
The tool offers seven different teaching resources for teachers to simplify their teaching and learning process while helping students move forward in the curriculum. The G suite for education helps teachers empower learning by giving them more time to focus on students with the help of easy-to-use tools.
Features:
Collaborative –

Co-edit Google documents with your students anywhere, at any time.

Communicative –

Establish communications with your students via email, chat, and video meetings.

Manageable –

Easily create classes, share assignments, and assign quizzes to your students.

Organizable

– Keep track of your tasks by building to-do lists, creating reminders, and scheduling meetings.

Scalable –

Easily administer students and manage devices & your data so that it stays safe.
Pros:
Add a large group of students easily

Easy teacher and student interactions

Integration with Google Meet & other Google tools
Cons:
Mobile app can lag a bit

Significant learning curve
Pricing: Free and paid plans. The pricing for paid plans is available on request.
11. Dropbox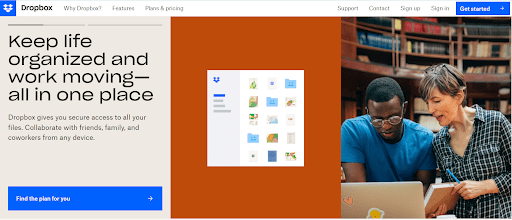 Imagine having access to a cloud storage service that lets you save any amount of files online that you can sync with your devices and retrieve at any time, anywhere.
Well, that's what Dropbox lets you do. You can use this technology tool for classrooms to share your files and folders with anyone. You need not send attachments as Dropbox offers a free plan that includes 2 GB of storage. This feature, along with some other cool ones listed below, earns Dropbox a spot on our list of best tools for teachers.
Features:
Flexible Storage Plans –

Choose a plan that suits your team's storage needs.

File and Version Recovery –

Recover and restore deleted files whenever you need them.

Team Folder Manager –

Get complete visibility and control of your team folders.

Link Permissions –

Protect your files with a password, disable downloads, and set expiration dates for your files.

Smart Sync –

Access every file in Dropbox right from the desktop.

Admin Console –

Easily monitor team activity and audit external sharing activity using the insights dashboard.

Dropbox Transfer –

Easily deliver final files up to 100 GB to collaborate with clients.

Third-party app Integrations –

Integrate with over 300,000 connected apps.
Pros:
Great free plan

Easy to use

Integration with Office 365 and Google Workspace

Save space on hard drive with Smart Sync
Cons:
Somewhat limited in both storage and collaboration options
Pricing: Starts at $9.99/month
12. Paymo
Paymo is a project management software that works great for educational purposes and is available for free to schools, colleges, and universities. This online platform offers excellent collaboration capabilities for student-teacher, peer-to-peer, and cross-teacher collaboration.
Using this tool, teachers can organize classwork, plan all kinds of projects, set deadlines, and supervise the number of hours students are logged in. They can also easily chat with the students through comments or discussion boards.
Features:
Task management –

Switch between kanban boards, to-do lists, spreadsheets, and task calendar view.

Project management –

Gantt charts, timelines, custom workflows, and more to keep projects on track.

Time tracking –

Monitor your learners with time tracking apps, timesheets, reports, and more.

Collaboration –

Collaborate seamlessly with real-time discussions in dedicated comments and discussion areas.

Multi-language support –

Support for 22 languages
Pros:
Very easy to learn and use

Good for student management

Free for schools, colleges, and universities
Cons:
Mobile version isn't very intuitive
Pricing: Free and paid plans. Paid plans start at $4.95/user/month. Free for schools, colleges, & universities.
13. Socrative

Socrative is a unique tech tool for teaching that is designed to make classroom learning more fun and enhance student engagement. You can launch a variety of quizzes using this tool and follow student responses in real time. It's also great for formative assessment since it lets you collect end-of-class feedback.
Socrative also lets you create polls, quick questions, the "space race" quiz game, and many other activities. Students have the option to ask questions anonymously with "Silent user hand raise" feature.
Features:
Quizzes –

Create quizzes with automated grading & immediate feedback

Space Race –

Team-based gamified quiz for student engagement

Learning activities –

Multiple fun activities to enhance learning

Virtual rooms –

Virtual classrooms to help with student management

Formative assessment –

Ask students to submit exit tickets to gauge teaching effectiveness
Pros:
Easy to create quizzes and tests

Simple interface suitable for young students
Cons:
Not good for math questions

Infrequent updates
Pricing: Free and paid plans. Paid plans start at $89.99/year
14. Padlet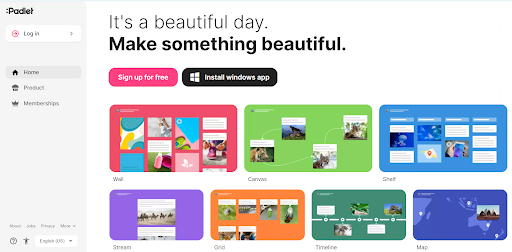 Padlet is a digital pinboard tool that lets you post virtually every type of content for your teaching. You can post documents, images, videos, music, and many other types of files. You can upload these files from your computer or embed content from the web. Padlet supports YouTube, Instagram, Twitter, Vimeo, and over 400 other apps.
Teachers can use Padlet as a Q & A platform for their students or as a place to store all the learning material that they find online. One of the big reasons why this tool has landed on our list of best tools for teachers is that it's available in as many as 42 languages!
Features:
Post various file types –

Post documents, images, videos, music, and files from Illustrator, Photoshop, Autocad, etc.

Collaboration –

Invite anyone to contribute

with read-only, writing, moderator, or admin access.

Apps for mobile devices –

App version available for iOS, Android, and Kindle devices

Visual appeal –

Showcase your curated content with attachment previews, colorful wallpapers, themes, & beautiful typography.

Privacy & security –

Choose from 5 modes

—

public, secret, password-protected, totally private, and organization-wide.
Pros:
Easy to use for teachers and students

Great for easily sharing ideas & learning resources

Highly visual and engaging style
Cons:
Lacks some advanced features available in other similar tools
Pricing: Free and paid plans. Paid plans start at ₹99/month.
15. Flipgrid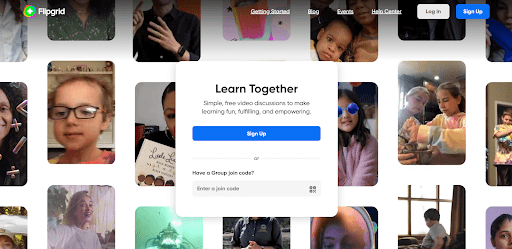 Flipgrid is a simple and delightful video discussion platform by Microsoft. This technology tool for teachers has been designed to leverage the power of social learning to make education fun and empowering. Teachers can use this tool to create learner groups and add topics to spark discussions about what they're teaching.
As a teacher, you also have the option to add a video to your profile instead of sharing it through a group or discussion topic. You can also explore topics created by other teachers by accessing the "Discovery Library".
Features:
Shorts –

Feature videos on your profile page for students to learn from.

Discovery Library:

Find topics submitted by other teachers and share them with your groups.

Mixtape:

Create a compilation of videos from across topics and groups and share it with anyone.

Bitmoji:

Add Bitmoji to your profile through Snapchat.

Integrations:

Integrations with Microsoft Teams, Canvas, & Google Classroom
Pros:
Excellent tool for student engagement

Can be embedded in a website or LMS
Cons:
Setting it up the first time can be a bit challenging
Pricing: Free
16. Canva for Education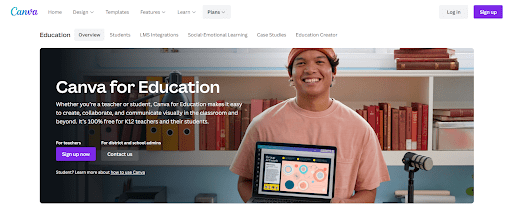 Canva for Education is an amazing free software for teachers in K12. With this tool, you get a number of premium Canva features, such as millions of images, graphics, fonts, videos, templates, and animations.
Apart from this, you also get a dedicated and safe classroom environment where teachers can create assignments and students can share their work with them for review.
Canva integrates easily with Google Classroom rostering, Clever, and Google sign-in. This online tool for teachers also enhances students' experience as they can access Canva's professionally designed infographics and posters to create highly visual presentations.
Features:
Classroom Space –

Invite students to a safe classroom environment where you can manage lessons, projects, & activities.

Ready-to-Use Templates –

Access thousands of customizable educational templates that cover all subjects and grades.

Pro Canva Features –

Create learning materials & activities using millions of premium images, premium videos & animations, and much more.

Visual Assignments –

Create visual and engaging assignments and share them with Microsoft Teams, Google Classroom, or from within Canva.

Student Collaboration –

Share group learning activities with students who can share real-time feedback with each other through live comments.
Pros:
Safe and controlled classroom environment

Create highly detailed posters, infographics, documents, etc.

Great for adding fun and creativity to learning
Cons:
Not as easy to use on the computer as on touch devices
Pricing: Free for K12 teachers
17. QRCode Monkey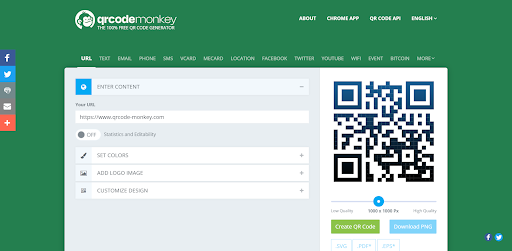 QRCode Monkey is a free teacher technology tool that lets you quickly and easily create custom and dynamic QR codes. As surprising as it may sound, QR codes work great for gamifying educational courses. You can link files, webpages, videos, etc., to a QR code and share them with your students so that they get access to their learning material in a unique and fun way.
There are also many other ways to creatively include QR codes into your learning material and activities. For instance, you can create a QR code scavenger hunt by linking instructions for hidden items to your QR codes. Such an activity can be amazing for student engagement.
Features:
Dynamic QR Codes –

Edit and modify your QR codes at any time.

Scan Statistics –

Keep track of QR code scans with insightful statistics.

Bulk Creation –

Create and edit several QR codes quickly.

Customize Design –

Customize the shape and color of the QR code and add a logo to it.
Pros:
Easy to use

Unlimited QR code scans

Excellent options for customization
Cons:
Pricing: Free
18. Audacity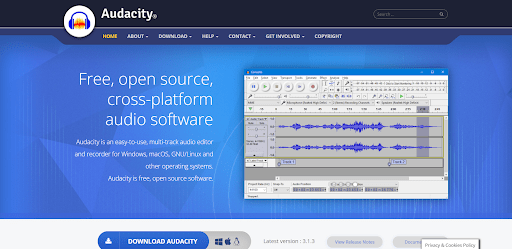 If you like using podcasts as part of your teaching process, then you must give Audacity a try. This free tech tool for teachers lets you easily record, edit, and mix audio without the need for any complex studio/editing skills.
You can use the podcasts you create to provide important instructions and learning material to your students. On the other hand, your students can use the tool for interviewing you, their peers, or parents to enhance their learning.
Features:
Audio Recording –

Record audio through a microphone or mixer

to create podcasts for students

Export/Import –

Import sound files and edit/combine them. Export the new audio in multiple formats.

Easy editing –

Edit audio easily with simple cut, copy, paste & delete functions.

Effects –

Use a wide variety of effects to

modify/customize your recorded audio
Pros:
Simple and user-friendly

High-quality recording

Lots of editing options

Large user community you can seek help from
Cons:
Not available for mobile devices

Can lag a bit when editing
Pricing: Free
19. Wheel Decide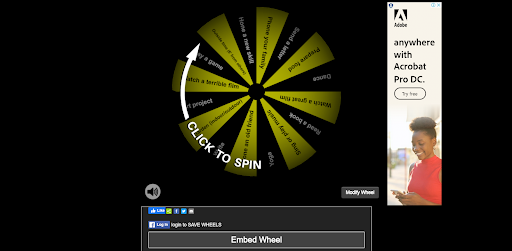 Like QRCode Monkey, Wheel Decide is also a simple yet effective tool for gamifying learning. It lets you create and embed digital roulette wheels that you can use for a variety of classroom activities.
For instance, you can use Wheel Decide to pick a student to answer a question or perform an activity. Another great idea is to use it to select games for indoor recess. Apart from letting you create your own wheels, Wheel Decide also offers many ready-made wheels that you can modify to suit your activity.
Features:
Decision making –

Create digital spinner wheels with up to 100 choices for classroom decision making.

Ready-made wheels –

Choose from and modify ready-made wheels

on a variety of topics.

Advanced options –

Advanced options include

removing choices after landing on them, adjusting the duration of the spin, and more.

Customization –

Customize wheel color, title text color, and wheel diameter.
Pros:
Add up to 100 choices

Easy to embed

Lots of ready-made wheels
Cons:
Too many ads

You have to log in via Facebook to save your wheels
Pricing: Free
20. Online-Stopwatch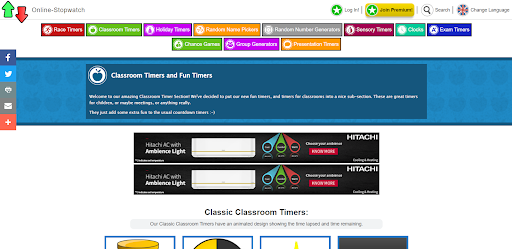 The name of this next tool may have you wondering what it's doing on the list of best tools for teachers in 2023. But, rest assured that Online-Stopwatch isn't just a simple stopwatch app.
It's a super-fun online productivity tool ideal for elementary and middle school students. It features colorful timers on a variety of themes, such as sports, sci-fi, firecrackers, space, animals, party, etc. The timers offered in this tool are perfect for students who have a hard time 'getting in the zone'.
Besides themed timers, Online-Stopwatch also offers formal exam timers, random name and number pickers, chance games, and many other things to make learning engaging and effective.
Features:
Themed Timers –

Fun and colorful classroom timers in many styles and on a variety of themes.

Random Name Pickers –

A collection of game-like name pickers

Chance Games –

Roll the dice, magic 8 ball, flip a coin, and many other chance games

Group Generators –

Animated group generators to create teams for learning activities
Pros:
Amazing collection of themed timers

Some of the

best apps for teachers
Cons:
Not available as a computer app
Pricing: Free and paid plans. Paid plans start at $12/year
21. Smiling Mind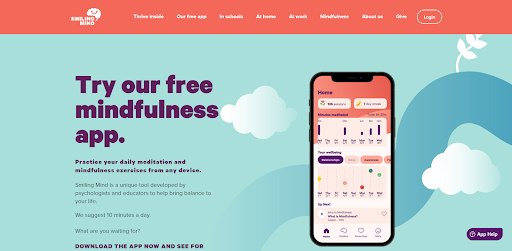 Smiling Mind is a free app that helps teachers create an atmosphere of mindfulness in their classrooms through effective meditation exercises. Using this app in the classroom is a great way to boost concentration, reduce stress, improve classroom behavior and promote overall student well-being.
In addition to excellent mindfulness-related content, this top app for teachers also offers a dashboard to track progress and the option to bookmark favorite exercises. Smiling Mind is compatible with Google Home.
Features:
Mindfulness Exercises –

Hundreds of meditation and mindfulness exercises

Classroom Programs –

Dedicated programs for classrooms with multi-language support

Google Home –

You can run the app through voice commands with Google Home

Mobile Apps –

Mobile apps available for iOS and Android
Pros:
Dedicated programs for all aspects of student well-being

Compatibility with Google Home
Cons:
Some of the exercises can seem repetitive
Pricing: Free
Are You Ready To Choose?
So, these were the best software for teachers in 2023. Now it's up to you to choose the tools that you find best. After all, what makes a tool best is how convenient it makes things for you and how it increases the efficiency and accuracy of your tasks.
For the best teaching and learning experiences, we suggest that you use ProProfs Quiz Maker and Virtual Classroom Software in combination with some simple tools, such as Flipgrid Online-Stopwatch, and Smiling Mind.
Do you want free Quiz Software?
We have the #1 Online Quiz Maker Software for complete learning & assessment