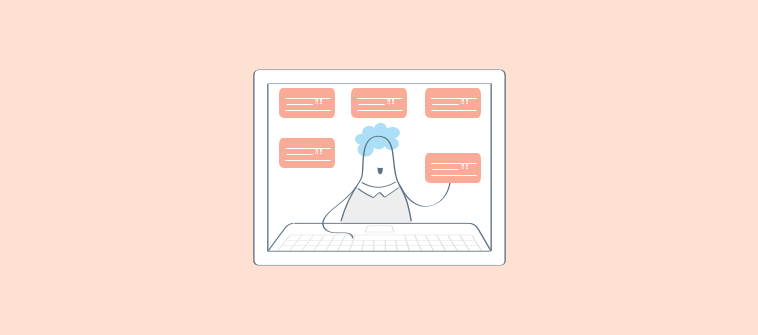 John Mitchell, the Chairman of the Department of Science at the Lincoln High School in Harrison in CountyWest Virginia was facing a problem. He had 125 classroom students and over 700 21st century students from around the world. Teaching them was not an easy task using conventional methods.

He needed a mechanism for these students to visit his science website and take tests. After much digging, John finally realized that using a software for online teaching was the best bet to make his job easier and could save him hours of hard work that he would otherwise spend in designing tests, distributing them and then grading them. Using a software for online teaching, he was able to automate the process which earlier used to take him over 5 hours to complete. Not only this, the software helped him to tackle other challenges that teachers usually face in their line of work.
Well, lucky for John!
We know how hard being a teacher is. Whether it is elementary education or higher education, teaching has challenges at every step of the way.
So What Are the Challenges That Really Bug Teachers?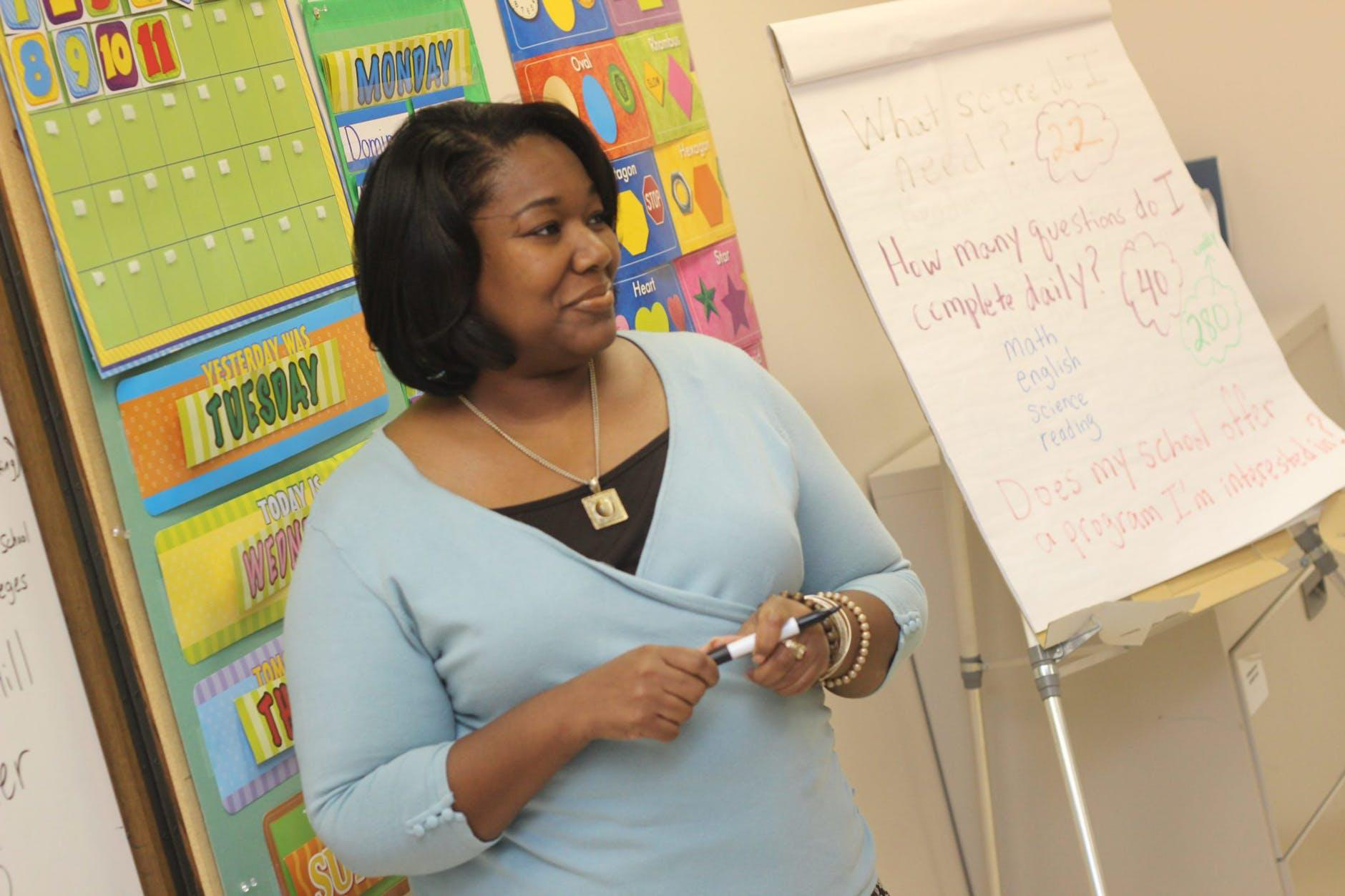 I am not even sure where to begin with. Sometimes, it is the students' lack of interest, excessive paperwork, and other times, it is too much time investment in planning, etc. that stifles the teachers.
Working against these challenges can be meticulous, time-consuming & mind-boggling.
Teaching is not just a single role to play. Perhaps, it is a web of many tasks overlapping with each other:
Giving instructions
Assessing student's knowledge
Analyzing the results of assessments
Measuring & comparing- teaching & learning effectiveness
Working on improving instructions
The above tasks are where the teachers face the most challenges. Each task opens the door to new challenges, the implications of which further affect another task.
For Example, ineffective assessment leads to an ineffective work-up on the instructions.
How an Online Teaching Tool Can Help
#1 Challenge: Giving Instructions
The problems faced by a teacher in terms of instructing come forth in the form of:
Lack of engagement
Less knowledge retention
Solution: For better student engagement and knowledge retention, a teacher must have the right tools for online teaching which make the students avoid skipping classes, make learning fun, cover all topics, gamify learning and more.
Watch: How to Use Online Quiz Maker for Teachers

What an Online Software Can Do?
Using a quiz software, engaging quizzes can be created to make learning fun. For students to perform their best in assessments, it is mandatory to keep them motivated. Creating fun quizzes will have them looking forward to the quizzes which is a great way of assessing students.
---
Read More:- How to Make a Fun Quiz That Your Audience Will Love
---
For Example, while adding questions in a quiz using an exam builder software, teachers can add images or videos within questions or answer options. This will not only help students remember the correct answer but also, make the learning process interesting.
We remember the things we see better than the things that we read. Ain't it? Creating weekly quizzes with loads of images is a great way to help students retain the instructions they've received.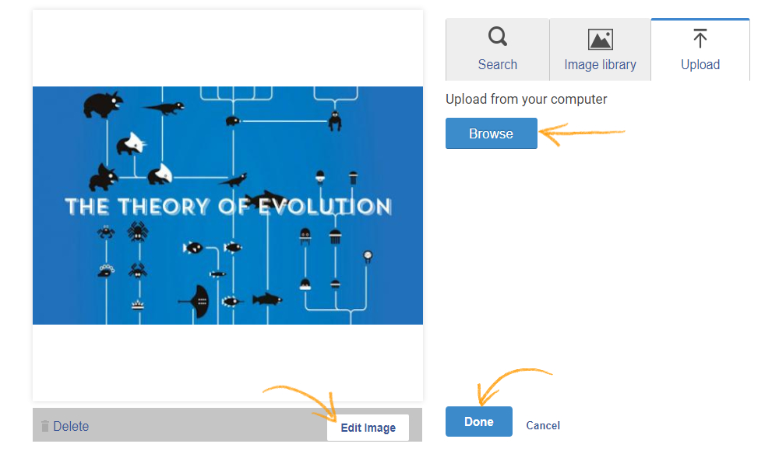 Resonating an image with the things we want to remember is a powerful technique to combat our natural declines in memory, better even than repeatedly writing them down or listing characteristics and descriptors.
Various studies have shown that people tend to remember a piece of information better and longer if they resonate with an image.
#2 Challenge: Assessing Students' Knowledge
The next big task for a teacher is to assess the students' knowledge gaps. Ask any teacher today and they will tell you that this task takes up most of their time where they have to devote many hours outside of their working hours only to:
Design test papers and distribute them on a weekly/monthly/quarterly basis
Make the assessments fun
Find an invigilator to prevent cheating
Solution: Preparing tests or assessments is probably the most painstaking task for teachers. It takes hours and sometimes days to come up with a design or structure to a online test or assessment.
However, using an online assessment software to create quizzes can save loads of teachers' time & efforts and they'll be able to create tests or assessments within minutes.
Watch This Video To Know How to Create an Online Quiz in Under 5 Mins

What an Online Software Can Do?
a) Help in Creating Tests Easily: With the help of ready-to use templates & questions on different topics, teachers can create an online test or assessment using an online test maker in just five minutes.
Watch This Video To Know How to Use Quiz Templates to Make Your Own Quiz

ProProfs has the largest collection of over 100,000 ready-to-use assessments and a question bank containing 100,000 questions on different topics. Teachers can simply look up the template for any topic that they want to create the tests about and edit to create the test.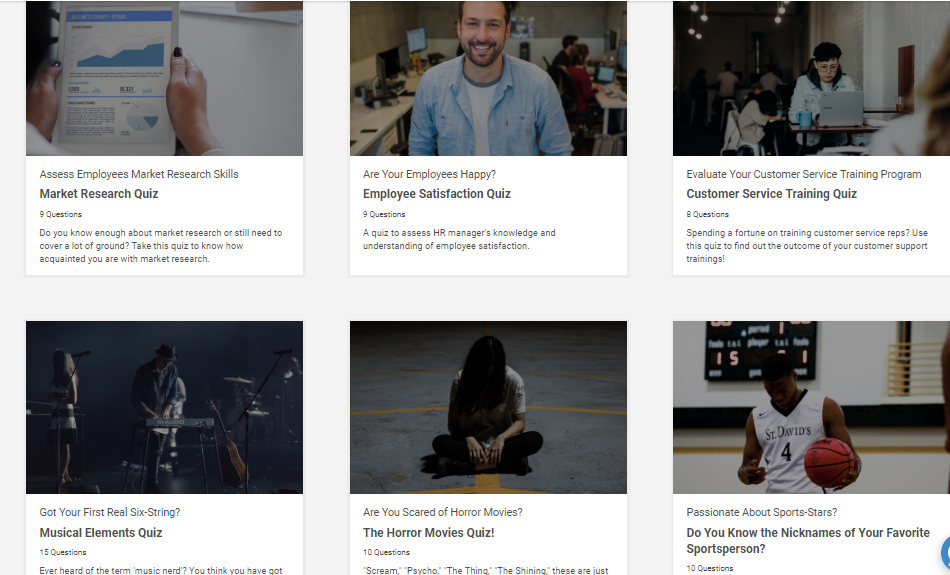 b) Easily Assign Tests to Students: The tests or assessments created with an online test software can be directly shared with students on their email id's just as they're created. This saves teachers' time that they'd otherwise spend in distributing test papers manually.
Watch This Video To Know How Share Quizzes with Learners

c) Make Assessments Fun With Various Customizations: With a tool like ProProfs online teaching software, teachers can create interesting quizzes that will make the entire process of knowledge transfer fun and interesting by:
Using images & videos to make the quizzes interesting,
Adding hints to the questions for the correct answers, or explanations for correct answers
Allowing performance comparison on leaderboard.
Giving customized quiz certificates to the learners once they've completed the quiz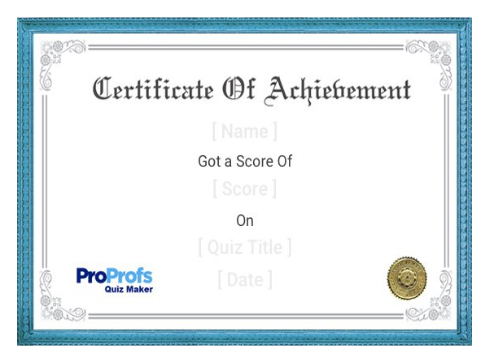 d) Prevent Cheating with Security Controls: When a test is conducted online, teachers don't even need to have the tests invigilated physically. All it takes is configure the security settings and the rest is taken care of. Teachers can do this by randomizing questions, shuffling answer options, creating private links.

#3 Challenge: Analyzing the Results of Assessments
Learn to Analyze and Understand Quiz Statistics

Grading each answer and providing feedback is probably the most time-consuming task for teachers.
They need to provide comments on the strengths and weaknesses of each learner and ensure that learning takes place. The most common problem areas in assessment include:
Heaps of tests papers to grade
Writing feedback for each test paper
Making sure the test papers don't leak
Solution: A test or assessment built through an Online Assessment Software will allow the teachers to create dynamic feedback depending on the answer given to a specific question.
When results are automatically and instantly calculated and communicated to both instructor and student, teachers can review results in real-time for meaningful analysis.
What an Online Software Can Do?
Teachers can save hours of grading & writing individual feedback by assigning automated scores and grades for correct answers while creating the tests or quizzes.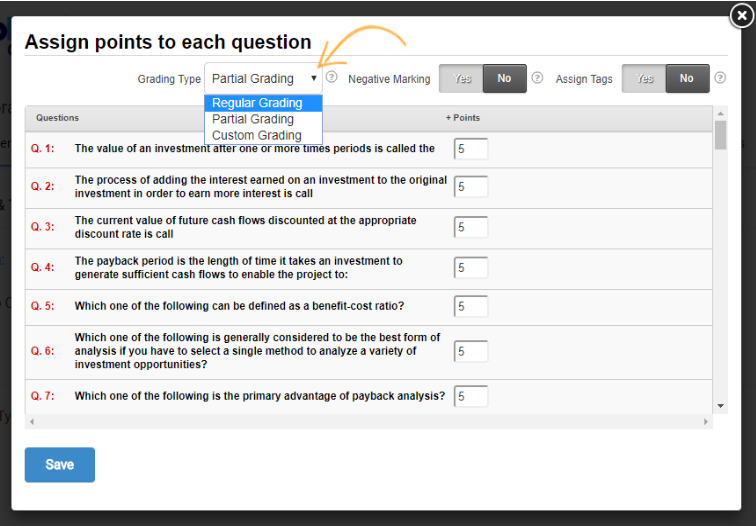 Automating scores & grades can save the teachers from grading each test or quiz individually. Same can be done for feedback. Teachers can create prompt feedback that'll reach the students as soon as they complete answering a question.
---
Read More:- How to Add Feedback to Answers
---
#4 Challenge: Measuring & Comparing- Teaching & Learning Effectiveness
Apart from spending too much time in creating assessments, teachers also spend a lot of their time preparing reports & statistics. Apart from preparing individual reports, teachers also have to:
Compare scores with previous papers
Analyze results
Solution: By automating reports & stats for online tests & stats in an online assessment software, teachers can very easily monitor learner progress and analyze results.
This way, it becomes easier to review detailed individual learner reports including the date the test was taken, how long it took learners to complete it, their scores, a link to their scored reports with our online test creator.
Watch This Video To Know How to Analyze Quiz Results Reports

What an Online Software Can Do?
View stats such as number of questions answered correctly, the average percentage score, the minimum score needed to pass, question difficulty level, etc. Using our online test creator, teachers can even download these reports in SCD, MS-Excel or text formats.

#5 Challenge: Working on Improving Instructions
Every student is different. Each has a different speed of learning and grasping the instruction. Applying a fixed curriculum to students with vastly different needs isn't a solution to improve teaching effectiveness.
For Example, in a geography test, student A might score 10 on 10 while student B might score 5 on 10. This clearly points out the difference in their learning capacity and knowledge retention.
Applying a fixed curriculum to students with vastly different needs of learning creates a problem. Adapting lessons to students and tailoring instructions to their needs takes time is possible if the students scoring the same band of scores are grouped together and assigned the same set of instructions.
So broadly the problems are:
Grouping students based on different scores
Assigning reframed instructions to students
Solution: One of the solutions to tackle these challenges is adopting a software for online teaching or quiz software to tackle the challenges related to assessing students & measuring learning effectiveness.
Online quizzes are a great tool to enhance learning and teaching and they are loved by both teachers & students. Also, in today's technology-driven world where students are more inclined towards web run tools, implementing quizzes can be a great way to improve classroom effectiveness.
And, the availability of software for online teaching only makes creating quizzes quicker & easier.
They'd also help ensure that students understand what you're teaching and when they don't understand where your teaching has missed the mark.
What an Online Software Can Do?
With ProProfs online classroom, teachers can create online classrooms wherein they can create different groups of students and assign them quizzes & courses in a centralized manner. Once logged in they can see all the quizzes or courses you need them to take.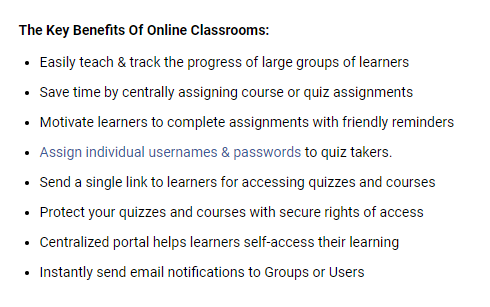 They can also see what they have completed in the past including accessing their past scores, certificates, etc.
---
Interesting Read:- 10 Best Online Assessment Tools
---
Software for Online Teaching Is the Way to Go…
Teaching might be a joy but its no less than a headache too. With teachers playing the role of mentors, educators, friends, examiners, etc., teaching is indeed a challenging role. These challenges arise from many directions- students, administrators, and parents.
But at the end of the day, it is the teacher who needs to find a solution and take these challenges head-on while sticking to their roles & responsibilities. Adopting a quiz maker is perhaps the best way out. It can easily save hours of effort & tons of time, automate most of the tasks, and leave little to no room for cheating.
All you need to do is simply run a search on the web and you'll be surprised to find a number of online teaching tools in the name of easy test maker, computer-based assessment software, test generator software for teachers, online teaching software for teachers, etc. Pick the one that suits your requirements, and get started.
Do you want a free Quiz Software?
We have the #1 Online Quiz Maker Software for complete learning and assessment starting at $0