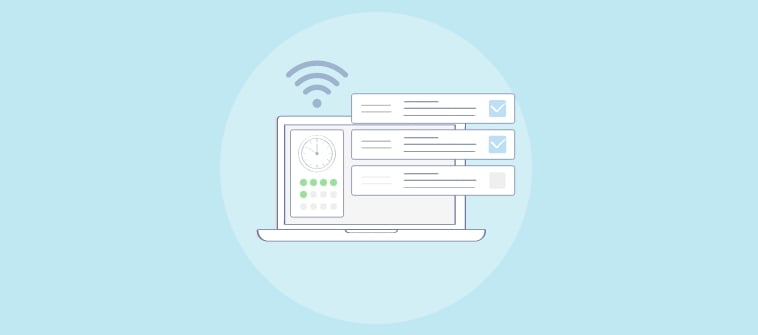 Being a recruiter is not a walk in the park. From spending hours on finding the suitable profiles to sealing the deal with the "Chosen Ones," it still doesn't always guarantee that the hired candidates will deliver.
Although 72.8% of recruiters think discovering quality candidates isn't an easy feat, it can relatively become easier with online testing assessments.
So, if you are tired of watching one candidate leave after another, your struggle ends here.
Yes! Just take a deep breath and read along to discover how you can leverage online testing assessments to filter out the most competent candidates for the interview.
In the coming sections, you'll uncover how online testing assessments help optimize the recruitment process and how you can do that.
So, let's begin.
Prerequisites for Choosing Recruitment Tests
Before you make a test online, keep a few things in mind to design online assessments that successfully filter quality candidates for you:
The first and foremost thing is to identify what kind of test is suitable for the job role you are recruiting for. Suppose you are hiring for a Digital Marketing Manager. In that case, you can choose online tests like personality, leadership, and domain knowledge.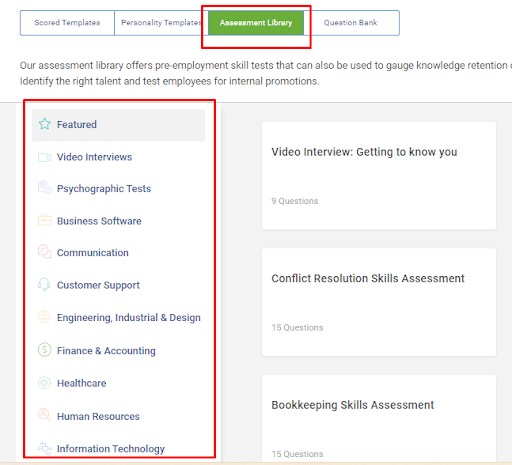 These tests will measure the qualities needed for a digital manager, such as leadership skills, knowledge about online marketing, and details of their personality.
Analyzing your recruitment needs will ensure your online exams for hiring are competent enough to evaluate the candidates the right way.
Identify the Goals of the Test
After selecting the online test to conduct for a specific job role, it's time to get deeper into the details – what online exam test questions should you ask?
Depending on the test you choose, your questions should get you the exact answers and information you need from the candidates, i.e., their ability to perform, skills, and knowledge for a smooth interview process.
For this, an online testing tool will be handy as these offer a helpful question library and assessment templates.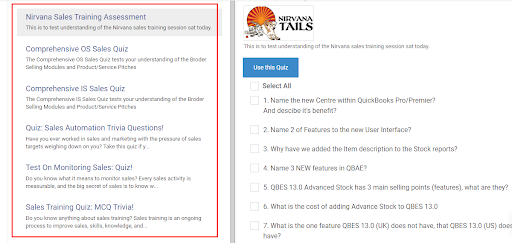 Keep It Simple but Insightful
People sure enjoy complex language or jargon in fancy books, but with quizzes or assessment tests, simple language works the best. See how easy it is to understand the question in the image below: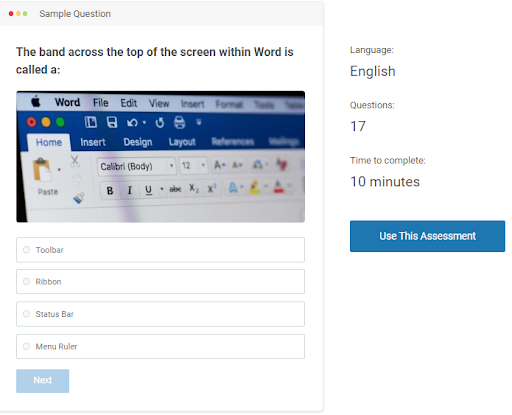 The aim of online tests for jobs is to convey the message to the candidates so they understand what they are asked and give proper answers.
If the candidates are confused about the questions or misinterpret, the answers they'll give will be a hit-or-miss. As a result, you may end up losing a competent candidate.
Educate Candidates on the Assessment Process
Before starting the online test for recruitment, you need to familiarize the candidates with the purpose and rules of the assessment. This prepares them and eliminates any mistakes they could make out of confusion.
Offer Your Feedback to the Candidates
Offering feedback after assessing online tests has benefits for both candidates and recruiters.
Candidates learn about their shortcomings and areas of improvement.

Recruiters can maintain a complete record of all candidates for why or why they weren't hired. So, if the same candidate profile comes in the future, they will have the previous performance records.
How Online Tests Improve the Recruitment Hiring Process
Pre-hire testing has many benefits for organizations besides helping them choose the most suitable candidates. Let's see how the employment tests in the selection process are better than a recruiting process without online tests.
In a traditional hiring process, recruiters have to manually assess a candidate's performance and analyze their skills and suitability for the desired position. It's a time and resource-consuming process.
There is too much back and forth, from interviewing each candidate face-to-face to shortlisting a few.
Now let's picture a less-hectic and demanding recruiting process using online interview tests for jobs.
You can easily share your online test with the applicants using a link.
The online test assessment will have relevant questions evaluating multiple aspects of the candidate to find their suitability for the next interview round.
You can set different criteria for deciding which applicants will appear in the face-to-face interviews, such as a minimum required score.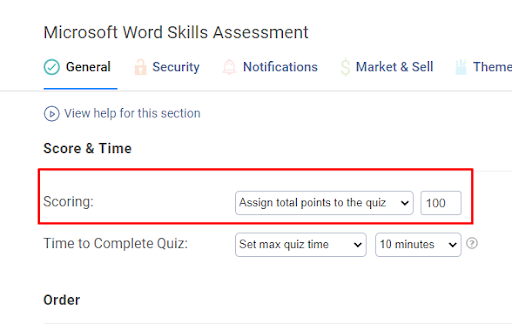 Your online test platform will automatically filter the candidates with a score equal to or exceeding the minimum requirement.
CASE STUDY: JOHN BAKER SALES
John Baker Sales offers paint booths and services such as paint booth equipment, automotive sprays, Mattei compressors, etc.
For the longest time, they struggled to add 'smart' people to their team even though they invested many hours into interviewing any candidate that came their way.
Unsuccessful, they turned to a hiring assessment tool, i.e. the ProProfs Quiz Maker to create a preliminary recruitment test for their hiring process.
They would send the link to interested candidates, ruling out unsuitable candidates before the face-to-face interview. And that's how John Baker Sales optimized their recruitment process.
Widen Your Candidate Pool
The traditional recruitment process requires candidates to physically appear for the interviews, limiting your capacity as a recruiter to shortlist candidates from different locations. You have to favor the ones that can make it to the interview.
But with professional online testing, your ideal candidates are just a test link away. The bigger the pool, more are the chances of finding the perfect fit for a job position.
You can send your assessment link for them to take and even conduct a video interview.
This way, you can recruit talent from remote regions and create a diverse and inclusive workplace.
Besides, you can reach out to more candidates since you can conduct online tests with multiple applicants simultaneously.
Watch: How to Create a Video Interview Question
Let You Ask the Right Questions for a Fair Assessment
Simply creating a quiz for candidates is not your primary goal; it's to correctly gauge a candidate's capabilities and suitability to join your organization.
For this, you need to ask the right questions to know their weak points, strengths, level of skills, domain knowledge, and more.
So, how can you ensure that you're asking insightful questions?
Well, you can always go for online test maker with a rich question library and variety of question types.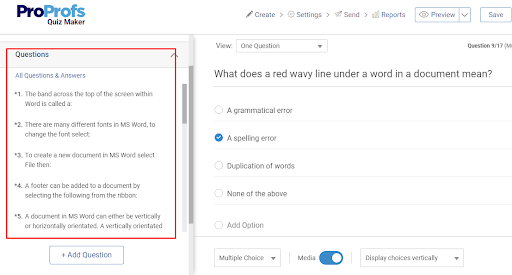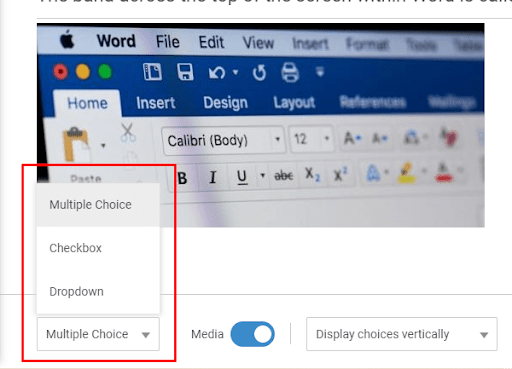 You save time figuring out what to ask and avoid asking fluff questions.
Another option is online quiz templates that you can instantly use to create customized assessment tests.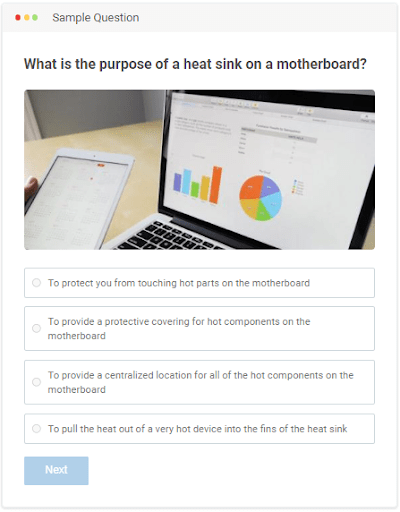 You can add/remove questions as per your requirements and edit the answer options. You can even use images as answers.
Watch: How To Create A Quiz Using Question Bank & Templates

Avoid Human Error in Assessment
Recruitment requires a lot of human involvement, right from shortlisting resume profiles and assessing tests to interviewing the final applicants.
With that you get a higher risk of human bias or error. But not with online tests!
Since the testing is digital, candidates get automated scores on their tests without the involvement of recruiters in the first few stages of the process.
It gives candidates a fair chance for the job and makes it easier for recruiters to shortlist potential candidates.
Provide Detailed Reports for Faster Analysis
With a broader pool of candidates comes the need for faster analysis. Without the automation of online tests, it's a challenge for recruiters to analyze each candidate's test and avoid a bad hire that costs companies thousands of dollars averaging at a whopping $15,000, according to a survey by CareerBuilder.
Online tests come with a detailed reports dashboard for recruitment managers to examine the scores of all candidates and choose their pick. It reduces the burden on managers and expedites the recruiting process.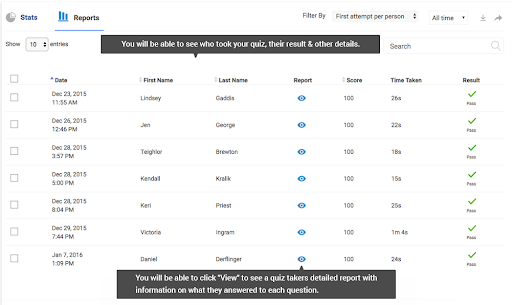 Better Assessment of Candidates Using Tailored Quizzes
Every job role demands a different skill set, so the candidates you consider should fulfill them. Online assessment tests make finding the right fit easier.
You can create customized online tests gauging skills for particular KRAs (Key Responsibility Areas). For example, suppose you are hiring for an iOS developer.
In that case, you can create a test focusing on the programming skills and domain knowledge such as compatible programming languages for iOS, etc.
Doing this helps you zero in on the most capable applicants that have what it takes for the job role.
Enhance Candidate Experience
As a recruiter, DON'T underestimate the importance of good candidate experience. Applicants closely notice their experience with a company during their hiring process, which is foundational to their decision to join your company.
If their experience is unpleasant, they will look for a job elsewhere, no matter the interview results. Recruiting process is a cornerstone of their first impression of your organization.
So, how you test and interview them will influence if they accept your job offer. Traditional recruitment processes are tedious, time-consuming, and often frustrating for applicants.
Using online testing to transform your hiring and recruiting process will help you improve candidates' experience by offering them a fair chance for the opportunity.
Proctoring & Security During Remote Hiring
Since digitization has made it possible for companies to look for talent beyond locations, ensuring a fair interviewing process has become a challenge.
You can conduct assessment tests online, but what about ensuring the candidates answer without cheating or taking help from the internet?
In the traditional hiring process, you, as a recruiter, could invigilate the applicants.
Something which isn't possible for online tests.
That's where proctored online tests come in. With the right online test software, you can create assessment tests that allow you to control the completion time, tab switching between the test, disable printing or downloading of the test, and more.
Bonus Point:
Assess and Train Employees
Besides transforming your recruitment process, you can leverage these quizzes to assess your existing employees' skill levels.
Based on the scores, you can set up training courses using tools like Training Maker to educate and enhance your personnel's skills.
CASE STUDY: ACCESS TO COUNSELING
A division of Generations Community Services, LLC, Access to Counseling is an outpatient mental health agency.
Since the agency was growing, it needed a streamlined system to train new employees, track progress, and keep the training records.
By creating quizzes using ProProfs Quiz Maker, the agency could successfully organize the data in one place.
Watch : How to Create an Online Quiz in Under 5 Mins
Types of Online Tests Conducted Before Hiring Candidates
With everything else out of the way, it's time to look at the types of tests in the selection process. Here are some crucial and popular pre-employment tests you can conduct to choose the best employees for your business.
1. Aptitude Test
Aptitude tests measure the practical knowledge of candidates and how well they can apply theoretical knowledge to real-life situations.
This test works as a threshold and lays the foundation for other tests in the assessment.
It can have logical, reasoning, and situational questions. Here are a few examples:
Example 1:

Example 2: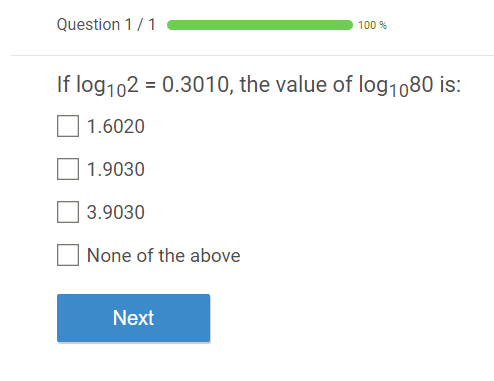 Example 3:
2. Personality/Psychometric Test
As the name suggests, personality tests check the kind of personality candidates have and if they will fit with the existing employees and company culture.
These tests gauge the thought process of the candidates, how they would react in certain work-related situations, and predict their behavior.
Pro Tip: It's best to keep these tests time-bound so you can capture the real-time reactions of the candidates in their answers.
Watch: How to Create a Personality Quiz
With this test, you can understand if the candidate will be able to take the work pressure and thrive on it or not.
You can gain deep insights into the candidates' temperament, principles, and morals if you ask the right questions in your personality tests.
Here are a few examples of personality test questions:
Example 1: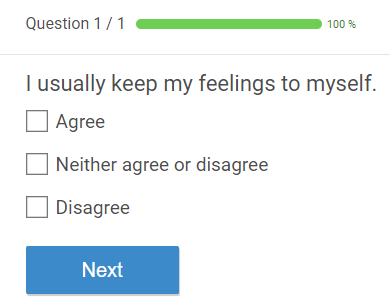 Example 2:
Example 3: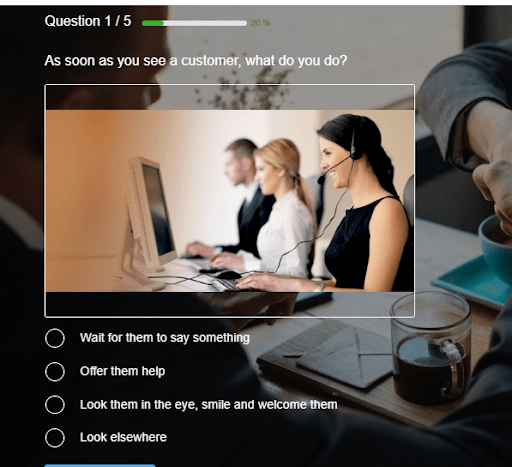 3. Domain Knowledge Test/New Skill Acquisition Test
The domain/skill acquisition test focuses on one area of expertise of the candidates and measures their knowledge of the domain.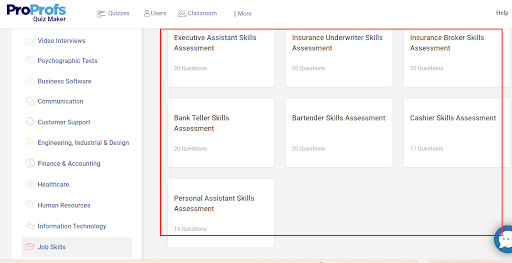 For example, suppose you are hiring for a Digital Marketing Manager position. In that case, you can use a skill acquisition test with questions that probe their knowledge on aspects like Search Engine Optimization (SEO), Google Analytics, etc.
You can also create skill tests to examine applicants' understanding of the tools you use in day-to-day processes.
With this test, you will know which candidates have more skills that match the level of KRAs of your job role.
4. Entrepreneurship Ability Test
To help your company succeed, you don't require employees who obey the rules and set processes only, but those who can take charge, find creative avenues for business processes, promote teamwork, and more.
With the entrepreneurship ability test, you can check skills like:
Business management skills

Communication skills

Teamwork and leadership skills

Problem-solving and analysis skills

Organizational and time-management skills, etc.
5. Coding Test
The coding or programming test is designed to analyze the coding skills of the applicants and how comfortable they are with computer languages, and their practical applications for different projects.
You can create online coding tests and questions with pre-existing code asking candidates to spot the error, create a new code for specific functionality, debug it, etc.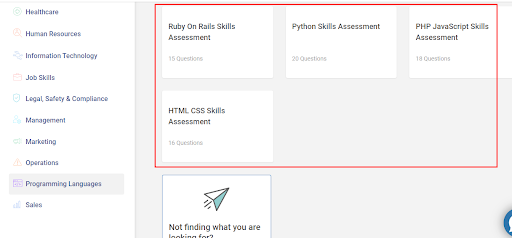 Although you may think this test only applies to developers, you can also use it to check the programming skills required for other jobs.
For example, recruiting a Digital Manager can evaluate the coding skills required to work with a CMS like WordPress.
Here's an example of a programming assessment test: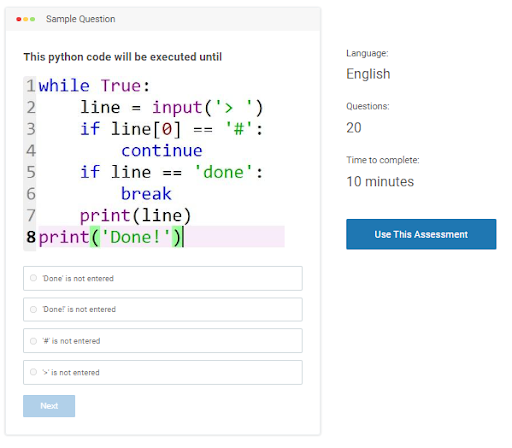 6. Video Interviews
In case you are remote hiring, video interviews offer an excellent opportunity for recruiters to interact with the candidates and evaluate their personality, communication skills, confidence, and a lot more.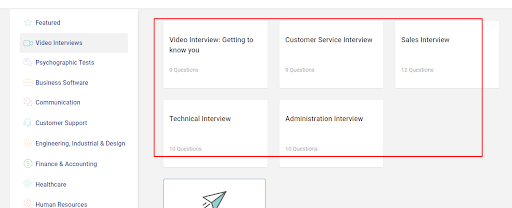 It's even better if you conduct online test quizzes along with a video interview. This way, you can assess candidates' capability on both communication and practical skills fronts.
Watch: How to Create a Video Quiz

You can display questions in the interview, and the applicants can record their responses through a video. The interviewers can re-evaluate the recorded footage of responses for careful analysis.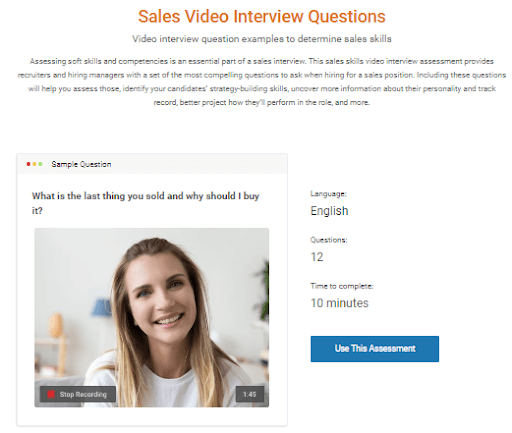 7. Leadership Skill Test
Hiring for a managerial position is not a walk in the park. Although Jim and Toby made catastrophic mistakes while hiring their manager like Vickers and R.California (something we thoroughly enjoy in the show "The Office"), you don't have to.
An online leadership skills test is a surefire way of assessing a candidate's qualities to manage and lead a team successfully. Here are some crucial qualities and skills you can assess through the quizzes:
Clarity of vision and goals

Ability to manage and organize workload

Communication skills with the team

Ability to perform conflict resolution
Here's an example of what a leadership skills quiz look like: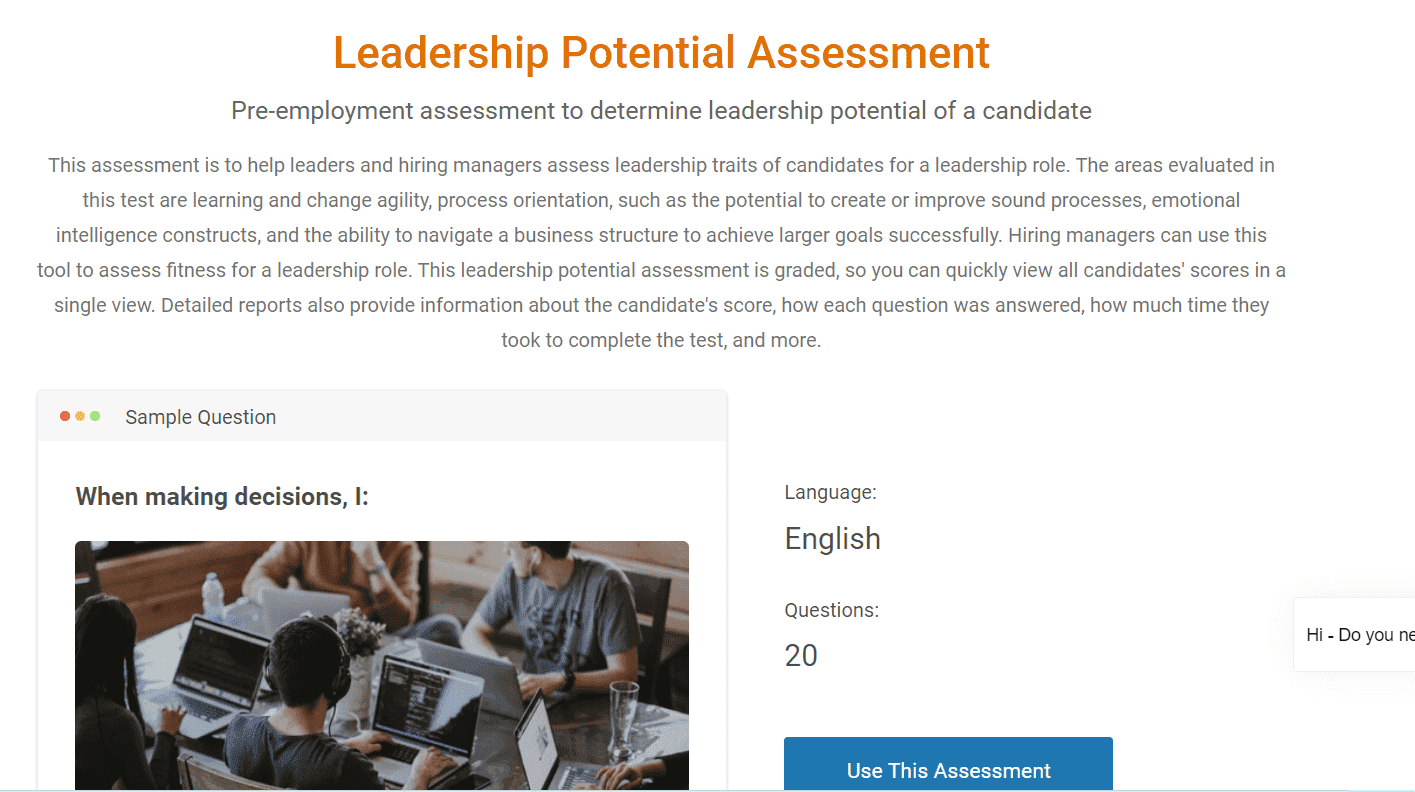 8. Remote Work Readiness Assessment
As organizations embrace the hybrid-working or remote model, the hiring process is going through an overhaul.
Recruitment through online assessments enables interviewers to hire beyond borders while successfully evaluating all the candidates on different fronts.
The test focuses solely on assessing how a candidate will perform in a remote setting. Here are some of the sample questions you can ask in your remote work readiness quiz:
Example 1: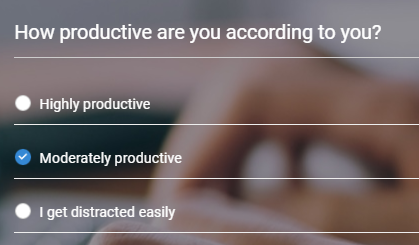 Example 2:

Example 3:

9. Language Proficiency Test
The language proficiency tests are excellent pre-employment tests to measure applicants' proficiency, grammar skills, pronunciation, fluency, and comprehension.
These help analyze how effectively the candidates can communicate. The test becomes even more crucial for customer-centric job roles where employees directly communicate with the customers.
For example, if you are hiring for a customer support executive role, the communication skills become prominent compared to domain knowledge or skills with tools.
You can ask questions like:
Example 1: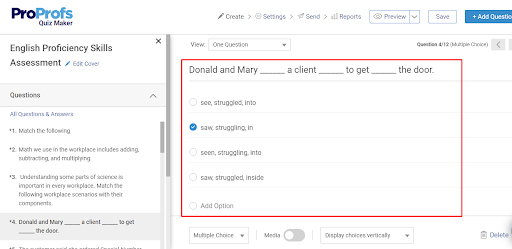 Example 2: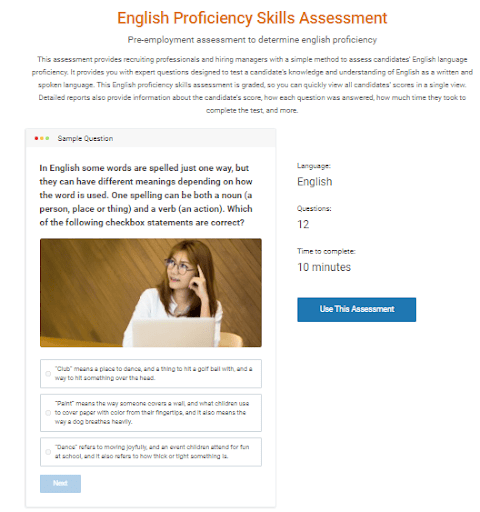 10. Voice-based Interviews
Similar to video interviews, voice-based interviews are also excellent for remote hiring. You can ask questions, and the candidates will record their voice responses which you can later assess.
For example, this test can also help you discover applicants' communication skills, knowledge, and temperament.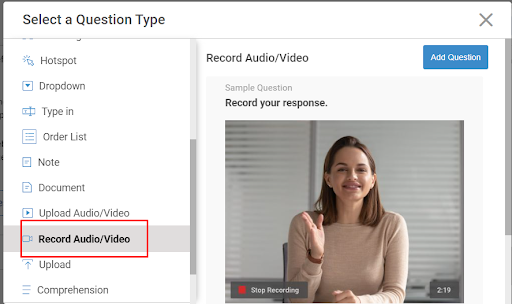 What to Look for in an Online Testing Tool?
The market is saturated with online testing software, making it harder for recruiting managers like you to choose a pick.
But that doesn't mean you have to tediously check every tool Google suggests to find the one that caters to your requirements. If you know what to look for, you'll be able to eliminate fluff tools and zero in on your best choices.
Here are some parameters you can keep in mind while making a selection:
It should offer a large bank of

appropriate questions

to assess skills, knowledge, and ability for jobs with different KRAs.

A tool should offer

viewable templates of different quizzes so that you know what questions they include and how much editing you will have to do to customize them.

You should be able to create exciting and intuitive assessment tests such as

quizzes with images or videos as answer options

.

The assessment reports from different candidates should be scannable

and easy to understand for the recruiting managers.

It should let you create assessment quizzes in

different languages

for diversity if you have offices in different countries.

The online testing software should offer the security of candidate data.
Watch: How to Choose the Best Quiz Software

Transform Recruitment Using Online Tests
With that clear, you can start creating interactive and intuitive tests for your business.
Online tests allow you to understand candidates' shortcomings, strengths, vision, personality, etc., and assess their suitability for specific roles.
For example, personality tests will tell you how a candidate will behave in different situations. Whereas scoring tests focusing on different areas will gauge the level of skills/knowledge candidates can bring to the table.
Such detailed insights eliminate the risk of selecting unsuitable employees so you can create your dream team. All you need to do is get the right tool that will let you do all of this effectively.
Do you want free Quiz Software?
We have the #1 Online Quiz Maker Software for complete learning & assessment