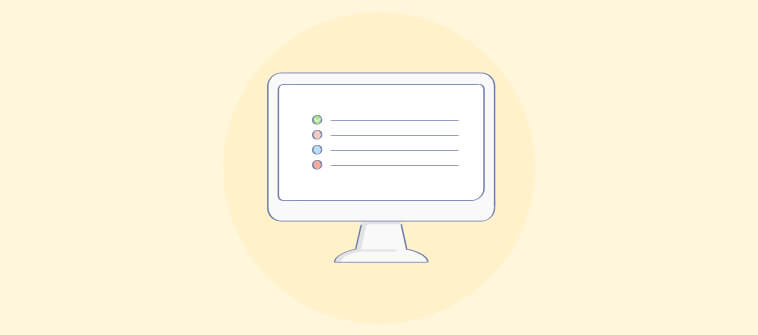 Online quizzes are a rage these days. No, we're not just talking about Buzzfeed quizzes. They sure are one of the most popular categories of quizzes known to the online audience but there are a lot more types of quizzes than you need to know about.
These quizzes are available in different formats and can have multiple sets of questions, various scoring patterns, and are useful for different purposes.
The types of quiz to be used depends on the audience, the topic that you have and even the platform where you are going to embed or share the quiz.
After reading this article, you'll become well-versed with different types of quizzes so that you can use the best type of online quiz to meet your requirements.
Let's begin by understanding the two broad types of quizzes.
What Are the Different Types of Quizzes?
Quizzes can be broadly categorized into two categories depending on the type of results they give: scores and an outcome.
Quizzes that lead the quiz taker to a final score are commonly referred to as scored quizzes, and those that lead the quiz taker to an outcome based on answer options chosen by them are called personality quizzes. Let's now look at what each type of quiz is all about.
If you're an avid scroller on Facebook, you may have come across quizzes, such as:
"Take this quiz, and we'll tell you what fruit you are"
"Do you know which Hogwarts house you belong to?"
"This quiz will reveal the age at which you'll find your soulmate"
Such quizzes that give out a notion of letting you discover new information about yourself are the typical personality quizzes.
You can check out a few personality quiz templates here.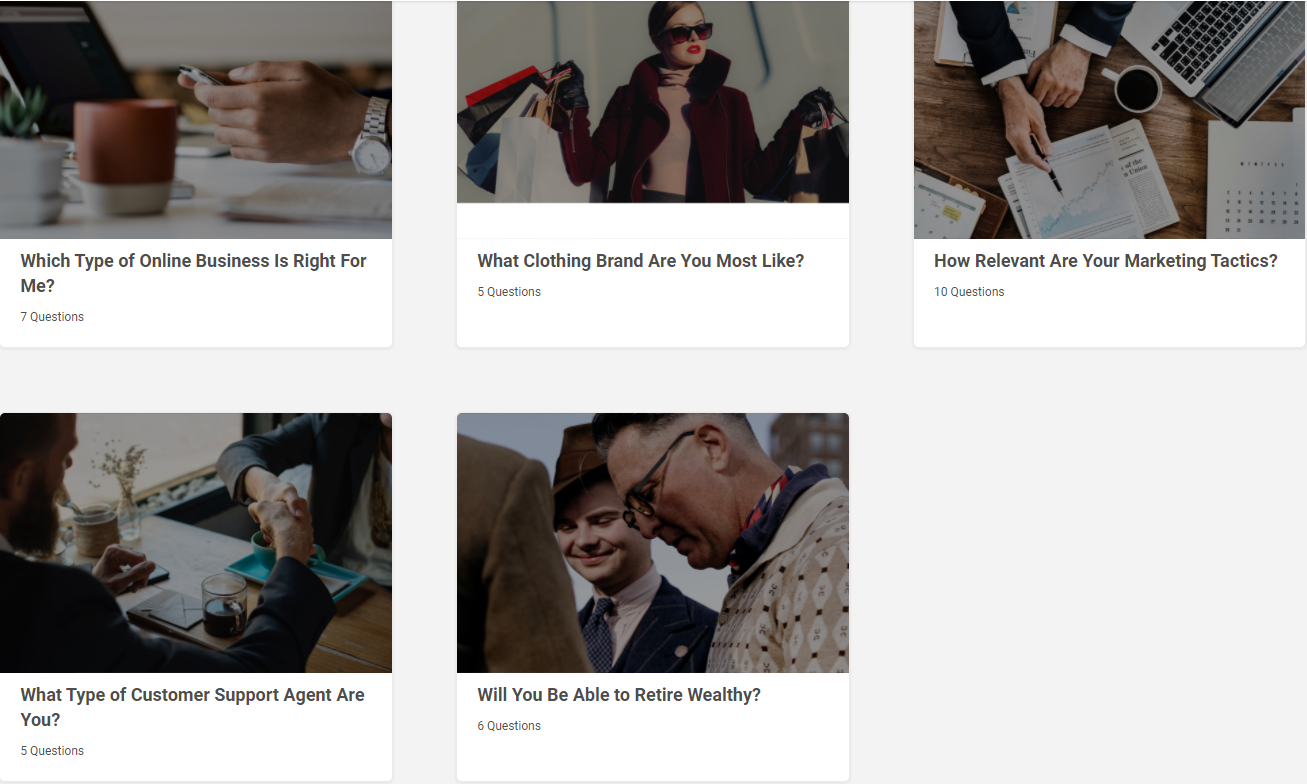 Features of a personality quiz
Each question has multiple answer choices

Every answer choice correlates to one or more of the quiz personalities

The answer options for each question are each tied to a personality

At the end of the quiz, the personality with the most number of related options chosen ends up being the outcome.
The fact that the quiz takers learn something new about themselves makes personality quizzes the most popular and shared type of content on social media.
They're highly engaging and can be used for a variety of purposes. For instance, you can use personality quizzes for lead generation, increasing website traffic, promoting affiliate products, and more.
The possibilities are endless.
Watch: How to Create a Personality Quiz

2. Scored Quizzes
Scored quizzes are another very popular type of quiz. The name, though, is suggestive enough to describe what the quiz is all about.
Features of a scored quiz:
Each question is awarded specific points in a scored quiz

The scores keep adding up as the quiz taker progresses through the quiz

At the end of the quiz, the sum of the points is revealed as the final result that's used to decide whether the quiz taker has passed or failed.
Scored quizzes can be used in many forms, but mostly, they're used to test knowledge on various topics.
Scored quizzes are flexible in terms of the type of questions to be used and grading to be assigned. For instance, you can use either one type of question throughout the quiz or use a mix of different question types.
You can assign three different types of grading to your quiz questions and even enable negative marking, and provide instant feedback for incorrect answers, thereby creating a learning opportunity for your quiz takers.
Now let's move to the section where you'll learn how to create online quizzes.
How to Create Online Quizzes?
Many types of online quiz maker software these days provide professionally designed quiz templates on various topics that can be used to create scored quizzes within minutes.
Therefore, templates are the quickest and easiest way to create online quizzes. However, they do not let the user get much creativity. This is why you can also use the online quiz maker software to create quizzes from scratch using a public question library of 100+ ready-to-use questions.
Once you've added questions, you can automate the grading process like this: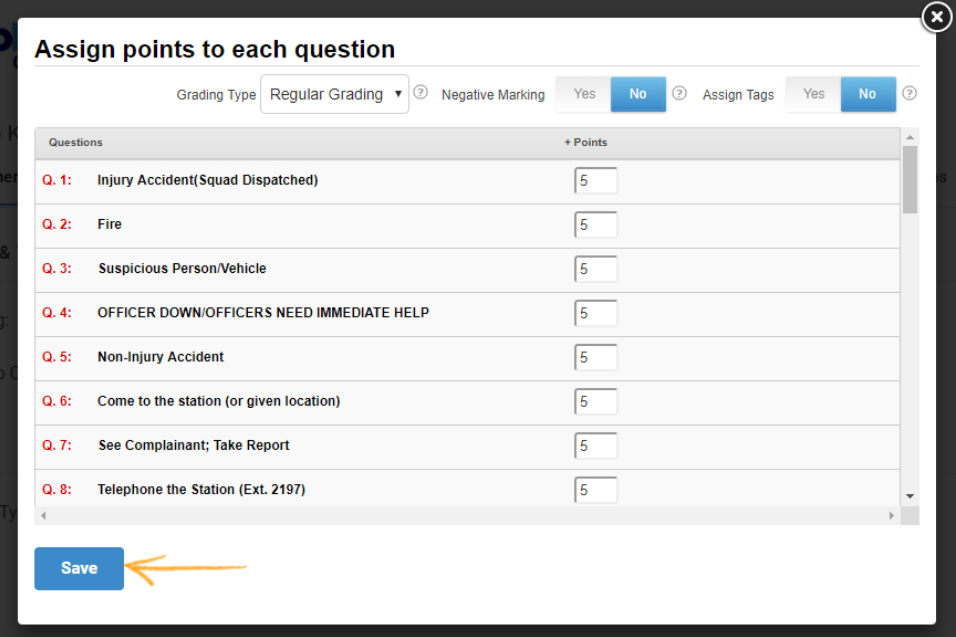 And, in the case of personality quizzes, correlate answers with personalities.
Then, you can customize quiz results to be displayed at the end of the quiz. Here's how you can do that.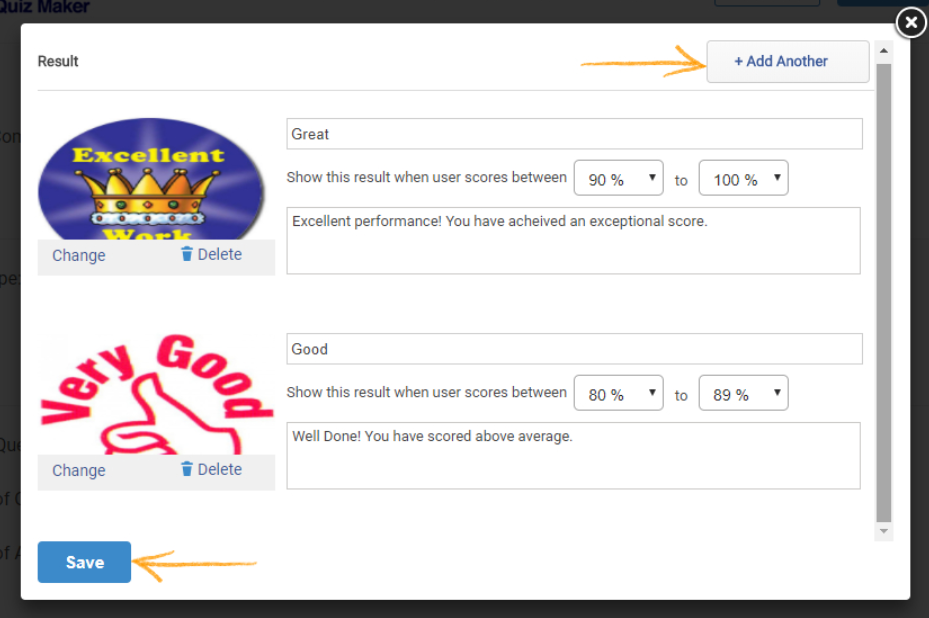 You can also customize the entire look & feel of the quiz by adding your logo, applying themes, changing fonts, and more.
That's all it takes to create an online quiz using an online quiz maker software.
Something to remember before sharing your quiz- Configure a few settings to ensure compliance and prevent your quiz from unauthorized access. You can:
Randomize the order of questions

Shuffle answer options

Disable tab switching

Enable password-protection
Configuring the first three settings will make sure no one cheats on the quiz, and the last one will ensure that only those with the unique login credentials are able to access the quiz.
Watch: How to Create a Quiz Online

Now, since you've learned how to create a quiz, you must also learn about the popular quiz formats used to create different types of quizzes.
---
Interesting Read: 25 Most Popular Quiz Categories and Quizzes
---
Most Popular Quiz Formats
The multiple-choice question format tops the list as it is the most widely used format for both personality as well as scored quizzes.
In a scored quiz, a multiple-choice format presents one question with at least four answer options, out of which only one is correct. All the answer choices, including the correct one, are visible to learners, so the rest of the answer options can be made up, making it easier for learners.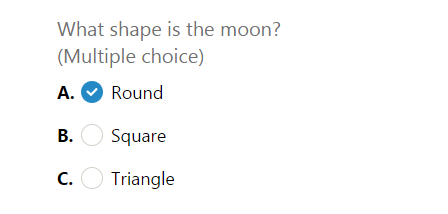 However, in the case of a personality quiz, there is no such concept of right or wrong answers. The answer options are correlated to different quiz outcomes.
Tip: With multiple-choice questions, it is also possible to present questions and answers with images and videos.
You can place a video and then add your question as shown in the images below: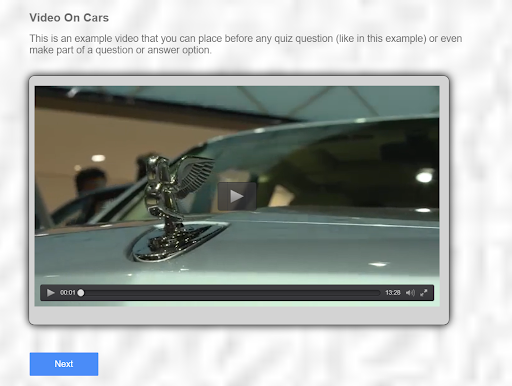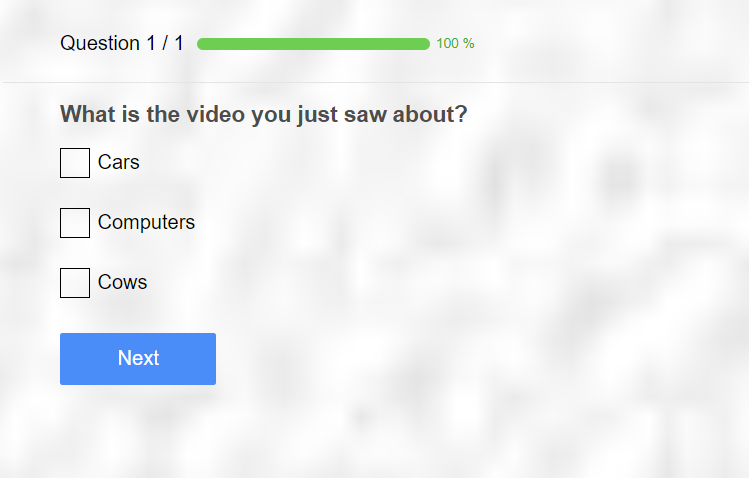 Matching is another engaging format used in online quizzes. Matching questions can cover a lot of content and can be presented with images too.
Matching questions can be framed in different ways—for instance, word to image, image to word, word to phrases, or more.
Tip: You can even add extra matches to make it harder!
A true or false quiz format is amongst the simplest and often seen in scored quizzes. It simply presents a statement to which the quiz takers have to respond with either 'true' or 'false' depending upon what they know about the information in that statement. For example: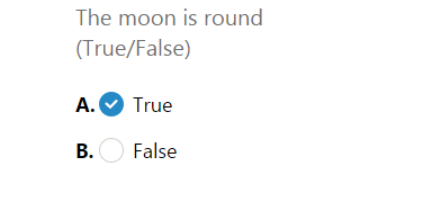 Quite similar to the multiple-choice question format, multiple-response questions present more than one answer choice. The only difference is that unlike a multiple-choice question, in a multiple-response question, there can be more than one correct answer.
Tip: This is the ideal question type when there are more than one correct answers so that quiz-takers can select as many answers as they want.
Here is an example of the same: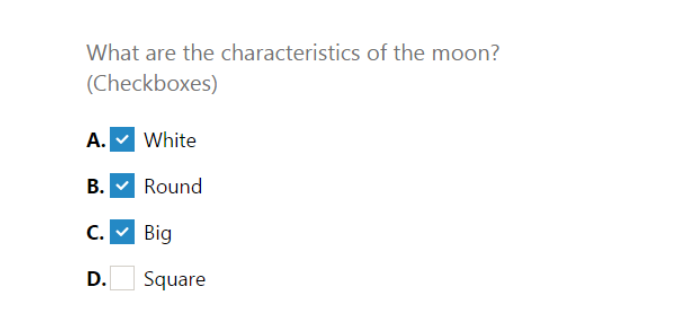 This format is suitable when you require open-ended answers from the quiz-takers or when you need them to fill in the missing information.
A fill-in-the-blank question format simply puts a blank space in the middle of a statement that has to be filled in by the quiz-taker. Or, the quiz takers can type in their answers in a blank box.

With a manual grading system, the answers can be compared with the choice of answers provided with the question, and if a match is found, the question is automatically graded.
'Hotspot Questions' are image-based (visual) questions that can be used to make quizzes interesting and fun. In a hotspot question, quiz-takers are asked to select a particular area on the image as their answer. You can, of course, adjust the size of the correct area while adding the question.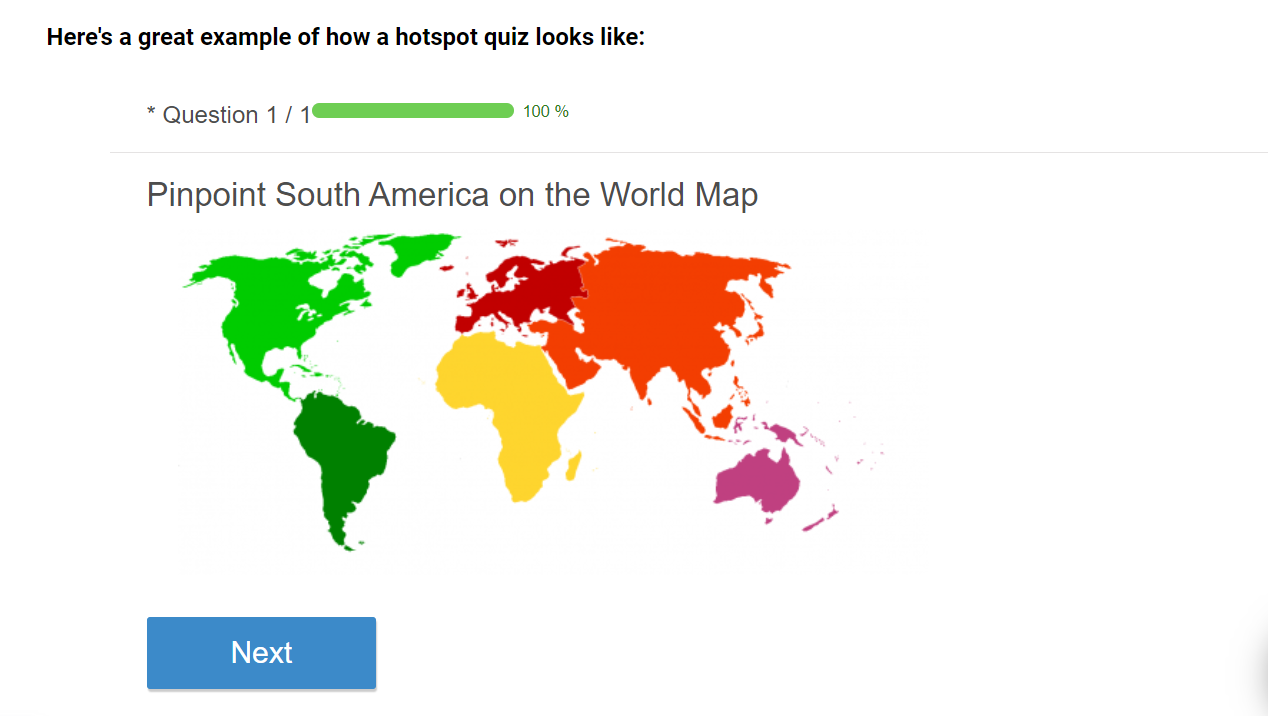 Tip: Hotspot format is great for improving knowledge retention, and they also allow students to demonstrate their knowledge via visual identification and retention.
---
Learn How to Create a Quiz Using Hotspot Questions
---
In a dropdown question, again the quiz takers are presented with more than one answer option. Unlike the multiple-choice or multiple-response question, the answer options are hidden in a dropdown list that opens when clicked. Quiz takers can choose from the list and submit their answers.

The essay type quiz format follows a free-response model. Mostly used in scored quizzes, the essay format is suitable when you need to get detailed, lengthy, and descriptive answers.
The question is followed by a box (as shown in the image below) where the quiz takers write their answers.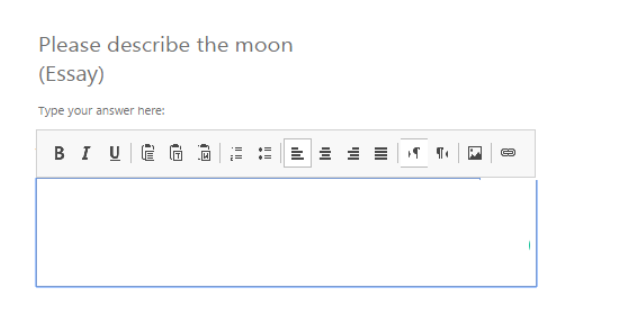 You can, though, set the word-limit and the time to answer each question.
Tip: With this format, you can assess how well the learners have understood a topic by writing an essay about it.
Last but not least, there is the 'record video' question format. It is one of the most engaging types as it doesn't require the quiz takers to type in their answers. They can respond to the question with a video. They can record a video in real-time or use a previously stored video.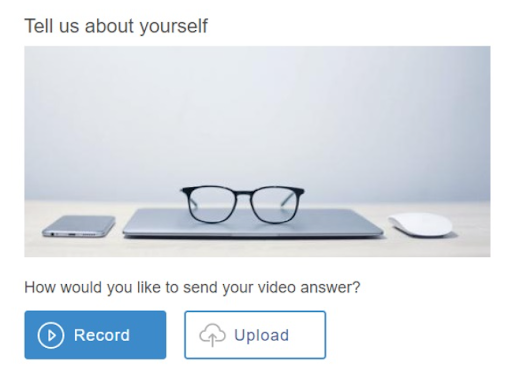 Tip: This question type can be used to create the most engaging quizzes for different purposes. For instance:
Recruiters

can use it in the assessments as a medium for their candidates to introduce themselves.

Teachers

can use it to let their students present their ideas & projects.

Brands

can prompt their customers to record responses
This is how a 'record video' question would appear in a quiz.
It is advisable to use different formats or question types to make your quiz more engaging.
Now that you've learned about the different quiz formats, let's look at the different kinds of quizzes that can be created using an online quiz maker.
Watch: 10 Types of Quiz Questions for Online Learning

What are the Different Kinds of Quizzes Created With Online Quiz Makers?
There are many different ways in which quizzes can be created based on the requirement and needs. Let's take a quick look at all of them:
One of the most popular kinds of quizzes created using online quiz makers are Assessment quizzes or simply called online assessments.
Assessments can be created using both the personality quiz template as well as the scored quiz template; it entirely depends on the requirement.
For instance, when there is a need to filter candidates for a particular job profile, you can create a scored pre-hire skill assessment to test their knowledge about one particular skill related to the job profile.
Then, you can easily filter candidates based on the scores achieved by them.
If you wish to run a personality assessment during a hiring process, you can create a personality test and assign them to your candidates via email. You can get the reports in real-time or even download the reports to view later.
In both cases, you can either create your assessment from scratch or go with a ready-to-use assessment. Some online quiz software like ProProfs online quiz maker let you choose from 100+ ready-to-use assessments from their assessment library.

There, you can find an assessment on thousands of topics.
Great, isn't it?
The next most common kind of quizzes that are created with online quiz makers are knowledge quizzes. They're also known as knowledge tests, knowledge retention tests, or knowledge assessment.
Knowledge quizzes are basically scored quizzes used to test learners' knowledge about a particular topic or subject taught to them. Anyone who trains, teaches, or instructs a group of people can create knowledge quizzes to test the level of their learners' knowledge retention.
For instance, teachers can create quizzes after teaching a topic to their students; corporate trainers can create assessments at the time of employee onboarding & training, online instructors can give a test to see how much their learners have learned.
Online test generators and exam makers can also be used to create knowledge quizzes.
Also, if you wish to issue completion certificates to your quiz takers after they complete the test, you can very easily do so. Some online quiz makers like ProProfs let you customize a completion certificate and automatically issue it to your quiz takers once they've completed the quiz to reward quiz takers.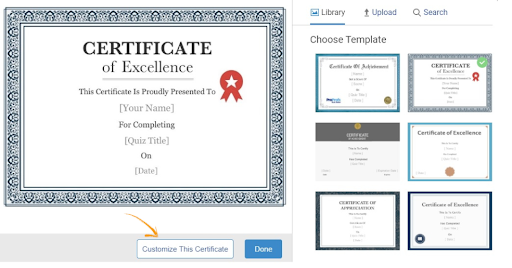 Watch: How to Customize a Quiz Certificate in ProProfs.com

Lead quizzes are factual and informative pieces of content and are shared most on social media. Everybody loves taking quizzes as they get to learn something about themselves. With a good online quiz maker, you can create an online quiz in almost no time at all.
All you have to do is customize a lead generation form and put it in your quiz to capture your quiz takers' information like their names, addresses, email addresses, and more.
A typical lead generation form created with an online quiz maker would look like this:
Lead quizzes make it better to get qualified leads. What's more? You can integrate your lead quiz with top marketing automation tools and make the whole process 10x better.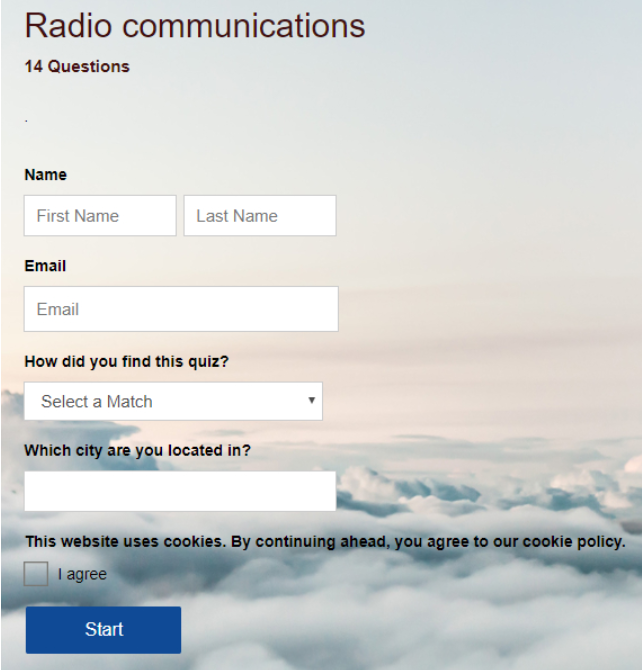 Watch: How to Generate Leads With Lead Quizzes & Grow Your Business 10x
Lastly, you can create quizzes for just having some fun. Create a trivia, create quizzes for Facebook, or test your friends' knowledge and compare results. The best part is, you can create these quizzes on ProProfs Fun Quiz Maker and share them with anyone you want. And, since these quizzes are fully mobile-responsive, they can be taken anytime, anywhere.
For more fun, create upbeat quiz results add social share buttons on your quiz results page like this:

Here are The 100 Best Trivia Questions with Answers that you can explore for your quiz.
Which Type Would You Choose?
That was a round of different types and kinds of online quizzes that can be created using an online quiz software.
To create a quiz that is engaging, easy-to-build, and helps you achieve your goal, all you need to have is a good quiz software.
Here is a list of the 10 best quiz maker software of 2020 that you can go through and choose the one that you find the most suitable for your needs.
You can also check out the ProProfs online quiz software and see how easily it lets you build online quizzes in minutes. It is easy-to-use and doesn't require any installation.
Do you want a free Quiz Software?
We have the #1 Online Quiz Maker Software for complete learning and assessment starting at $0