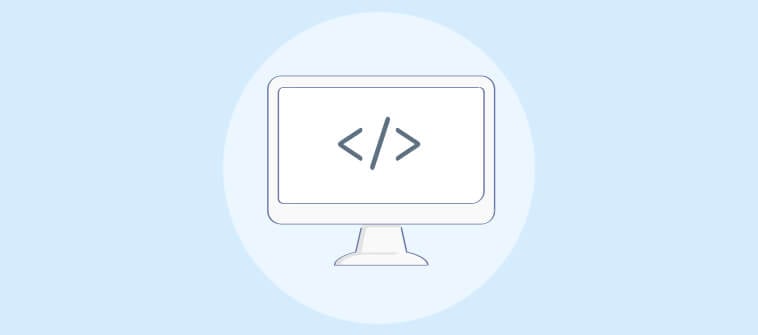 The answer to the question – How to create an online quiz in WordPress is simple: Using a quiz plugin.
But first, what would a quiz for your WordPress blog help you achieve?
Quizzes can do more than just entertain your readers; they can help increase your blog's engagement and grow conversions.
You read that right!
Whether you have a small home-run store or a full-fledged eCommerce website, lead generation and growing your business remains your top priority.
And online quizzes being one of the most popular pieces of content, can help you do that quite easily.
The typical conversion rate of a WordPress blog is just 1-3%, while the average lead capture rate of a quiz is around 32%.
If you are not using this method of lead generation, you are probably missing a huge growth opportunity.
With an online quiz software, engaging quizzes can be created in minutes and shared with your audiences.
In this tutorial, we're going to explain how you can create a quiz and easily embed it in your WordPress blog.
Introduction to the WordPress Quiz Maker
There are various types of online quiz maker software that offer plugins using which you can create a quiz for your WordPress blog or website. You can make use of their features like templates, question library, and white-labeling to create an online quiz or test within minutes.
Let's look at some of the features of ProProfs WordPress quiz maker:
100+ Ready-to-Use Templates:

Choose from 100+ professionally built

quiz templates

– both scored & personality to

create quizzes in under five minutes.
Question Bank: Easily create a quiz, test, or exam from scratch using a pool of 100,000+ ready-to-use questions on different topics.
Automated Grading:

Pre-assign scores to correct answers while adding questions so they can be automatically graded.

Instant Feedback:

Add feedback for correct & incorrect answers that'll be displayed instantly after a question is answered.

White-Label Quizzes:

Give your quizzes a look & feel you want by adding your logo, background, color schemes, and more.

Completion Certificates:

Create customized certificates having your logo and issue them to quiz takers automatically.

Lead Forms:

Gather quiz takers' information like their names, addresses, emails, and more.

10+ Integrations:

Integrate your lead quizzes with 10+ major marketing automation & CRM tools to simplify your email marketing process.
With these features, you can easily create a quiz for your WordPress blog or website. All you need to do is install the quiz plugin. The steps to create the quiz remain the same.
Let's now look at all the steps to create a quiz in WordPress.
---
Read More: How to Create a Vocabulary Quiz
---
How to Create a Quiz in WordPress?
The process for creating quizzes in WordPress is divided into two parts:
Creating a quiz using an online quiz software
Start by deciding what type of quiz you want to create.
Depending on what your requirement is, you can either create a scored quiz or personality quiz.
A scored quiz will help you assess knowledge, whereas personality quizzes will help you attract an audience like the Buzzfeed style viral quizzes.
Deciding the type of quiz you want to create will take you to the next step, which is – creating a quiz.
You can either:
Go through the wide collection of quiz templates to create your quiz within minutes, or

Create your own quiz from scratch
Let's check out how to create a quiz using templates, to begin with.
---
Read More: 10 Best Quiz Plugins for WordPress
---
Steps to Create a Quiz Using Templates:
Step 1- Go to your quiz dashboard and click on 'Create a Quiz.' You'll reach the feature templates section, where you can explore all the quiz templates.
Step 2. On the next page, you'll have two options- Scored quiz templates and Personality quiz templates.
Choose the type of quiz you want to create.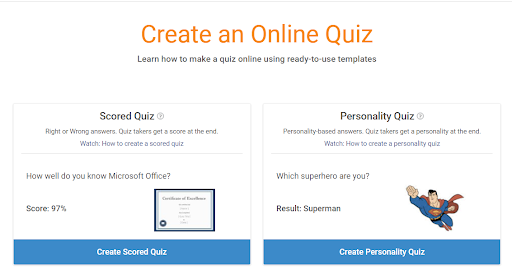 Step-3. After choosing the type of quiz you want, you'll land on the templates page with different quiz templates organized under different categories. Explore the templates and then preview the one you like to see how your quiz will appear by clicking on 'Use this Template.'

Step-4. Now you'll be taken to the template editor, where you can change/add/modify quiz questions, edit the quiz description, edit quiz title, and add the logo of your brand.
Watch: How To Create A Quiz Using Question Bank & Templates

Now, let's learn how to make a quiz from scratch.
Steps to Create a Quiz from Scratch:
The first two steps to create a quiz from scratch remain the same as creating a quiz using templates. However, the course changes from the third step. Let's take a look at the steps you need to follow after step 2.
Step- 3. Instead of exploring the templates, click on Create from Scratch. The quiz editor window will open in which you can start building your quiz.
Step-4. Click on Untitled quiz to add a title and description to your quiz.
If you like, you can also upload an image with the quiz description or add one from the image library or Google Images.
Step-5. In the next window that appears, from the left, select the question type. There are over ten different question types to choose from, including multiple-choice, fill-in-the-blank, checkboxes, true-false, and more.
You can either create new questions or import questions from the question library of 1,00,000+ ready-to-use questions on thousands of topics.
Now comes the best part!
To import questions from the library, simply type your quiz topic in the search box appearing above the question-types window. A list of ready-to-use questions will appear from which you can choose the questions you want to import.
To select a question, click on 'Add questions.' The question will be added to the quiz, after which you'll be taken to the previous window.
Step-6. Once you've added your questions and their answers, you need to set up scoring for your quiz.
If you're creating a scoring quiz, you can pre-assign scores to the correct answers.
You can choose from three different types of grading and also enable negative grading for incorrect answers.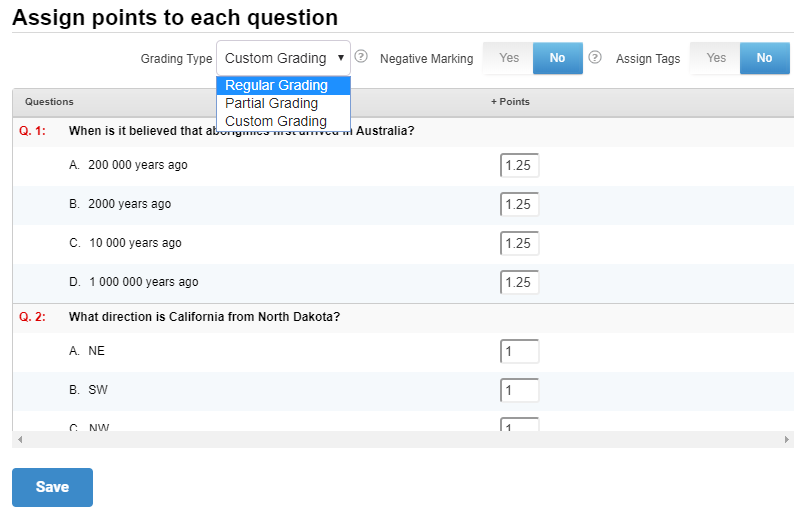 Automating the grading process will help save a lot of your time & efforts, especially if you use the fastest WordPress hosting.
But, if you're creating a personality quiz, you don't need to assign scores to the answers.
Scoring in a personality quiz works differently than it does in a scored quiz. In a personality quiz, instead of allocating points to the right or wrong answers, you need to allocate points based on the answer option selected.
When you're creating a personality quiz, you'll need to allocate points to each result type associated with a question. Here's an image to show how it is done.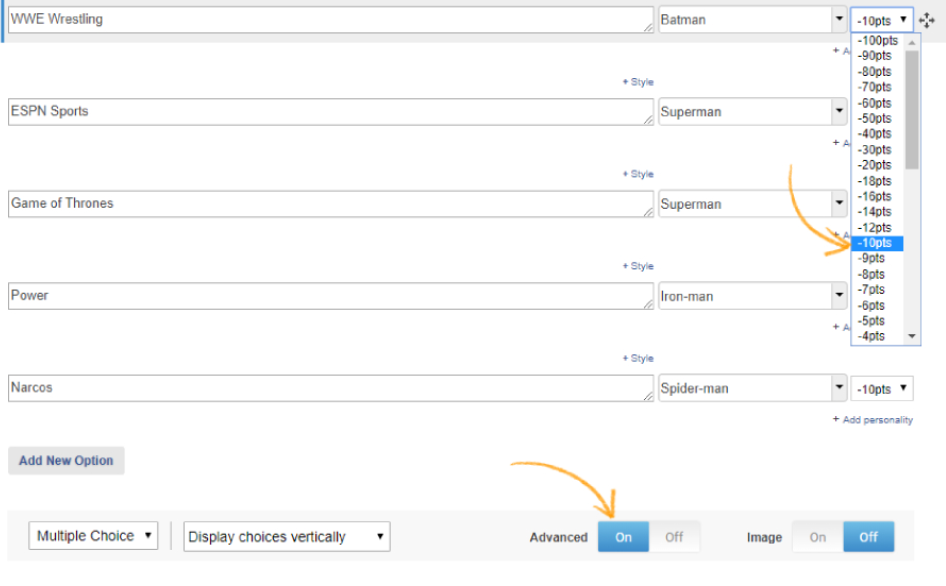 At the end of the quiz, the personality or group of personalities with the most points would be selected as the final result.
Watch: How to Create a Personality Quiz

Step-7. Just like automating the grading process, assigning feedback for correct answers can also save you hours of time & tons of effort.
To add feedback, simply place the cursor on the question that you want to add the feedback to. Then, click 'Edit Question' as shown in the image below: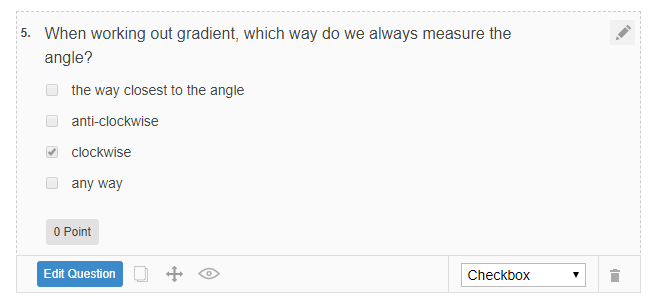 Then, click on 'Advanced' to choose the type of feedback you want to add.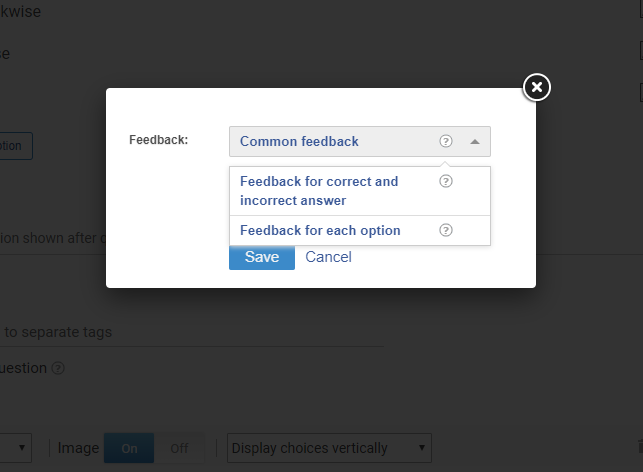 Click 'Save' after writing your feedback.
Step-8. Add multimedia to your questions or answers to make your quiz more appealing and interesting.
Play around with the look & feel of your quiz with your themes and branding your quiz by adding your own logo. You can even add your own colors, background images, and more to give your quiz a unique personality.
Additionally, you can customize a quiz completion certificate that'll be issued to your learners after they've completed the quiz.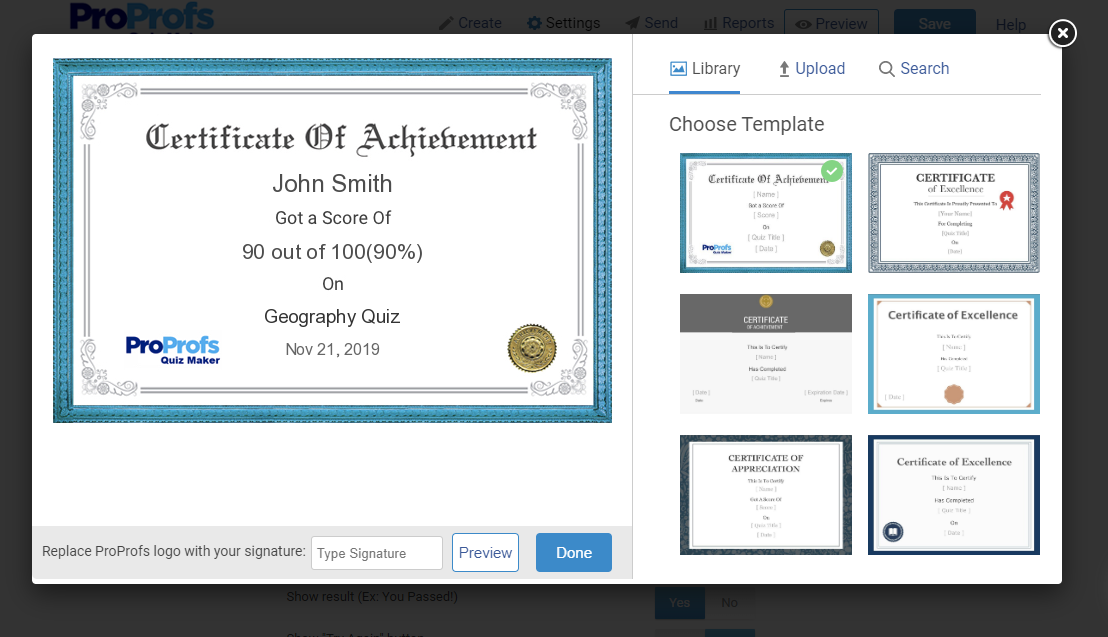 You can customize the quiz completion certificate with your logo & signature and also add fields of your choice.
These completion certificates will be automatically issued to your audience once they've completed the quiz.
Watch: How to Customize a Quiz Certificate in ProProfs.com

Step-9. Customize quiz results after you've completed designing your quiz. You can either go with a simple result type like Pass or Fail, letter grading, good or excellent or create customized results.

Here's a tip- Create quirky, positive, and upbeat quiz results that your audience will love to share.
Step-10. In the last step, configure important quiz settings like limiting the time for answering questions, randomizing the order of questions, shuffling answer options, disabling tab switching, and timing your quiz.
These settings will help prevent the possibility of quiz takers cheating on the quiz.
Also, configure security settings to prevent your quiz from unauthorized access, as shown in the image below.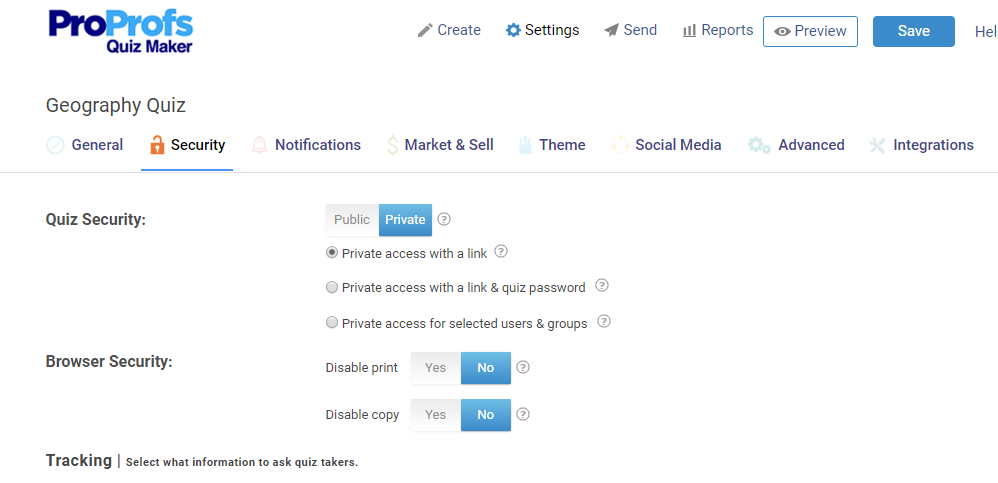 Follow these steps, and your quiz will be ready in no time.
Now comes the second part, which is- embedding the quiz in WordPress.
---
Read More: How to Create a Quiz Using Hotspot Questions
---
How to Embed the Quiz in WordPress
Once your quiz is ready, embedding it into your WordPress blog is easy.
Here's how your quiz will appear in WordPress: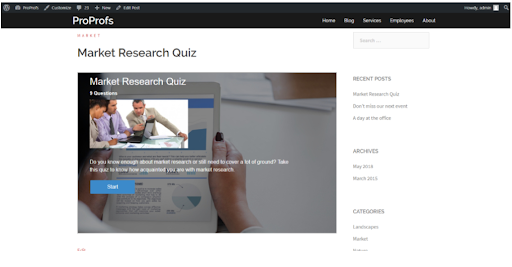 Here are all the steps you need to take to embed the quiz that you created in WordPress:
Step 1: Log on to your WordPress Account
Step 2: Click on Plugins and then on 'Add New'
Step 3: Search for the plugin and install it.
Step 4: Activate the plugin.
Step 5: Now, get the URL of the quiz you want to embed from your quiz dashboard.
Step 6: Then, paste the embed code provided in the HTML editor. You can also adjust the height and width according to your preference.
Watch this video to have a better understanding of the whole process:
And that's it!
For best results, connect ProProfs with your favorite marketing automation tool, such as MailChimp, Salesforce, etc., and grow your mailing lists effortlessly.
---
Interesting Read:- Top Typeform Alternatives that You Need to Know About!
---
Unlock Benefits with WordPress Quizzes
Creating a quiz in WordPress may seem like a daunting task, but it really isn't. Just like you read above, it only takes a few steps and helps you unlock several benefits like-
Capture leads:

According to LeadQuizzes, the lead capture rate of an average quiz is

33.6%.

Reduce bounce rate:

By keeping users on your site for a longer period of time.

Spark engagement:

Giving your readers something to do for fun apart from just reading the content.

Test audience:

By

helping you assess the amount of knowledge your readers have about your brand.

Capitalize results:

You can use quiz results to affiliate products and influence your readers into becoming your customers.

Generate traffic:

Quiz results get a lot of

social media shares

, so they are perfect for bringing in more traffic.
Quizzes being the most engaging forms of interactive content are rapidly becoming popular, and businesses of all types & sizes are taking advantage of quizzes. Especially on platforms like WordPress and Blogger, quizzes work best as people just don't want to sit back and read/watch the content but be a part of it.
Quizzes, let them do just that by letting them participate and then share the results. This, in turn, contributes to the engagement of the blogs. So what are you waiting for? It's time you create one for your blog and unlock the benefits right away.
Do you want free Quiz Software?
We have the #1 Online Quiz Maker Software for complete learning & assessment