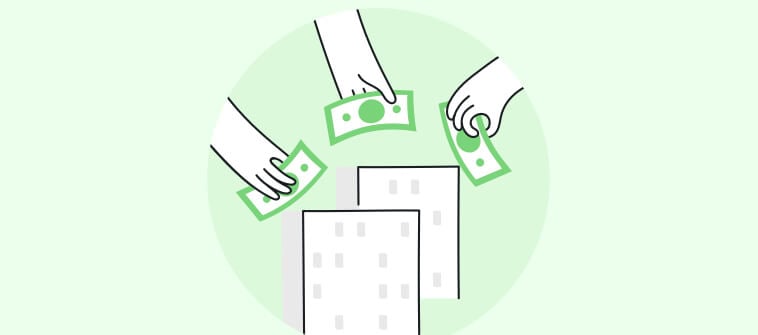 If you're an avid scroller on Facebook, then the chances of you taking a BuzzFeed quiz on Facebook are higher than the Eiffel Tower.
But have you ever wondered why there are so many of them?
Why are people always taking and sharing those quizzes?
What makes them perfect as lead generation content for businesses, and how can you create one?
If you're looking for answers, you've come to the right place.
Given the undeniable popularity of BuzzFeed-style quizzes, they should be a crucial part of your marketing strategy.
In order to gain the benefits of this craze, first you must know the BuzzFeed style, what makes their quizzes so popular, and how you can build BuzzFeed quizzes and then optimize them to benefit your business. In this article we will cover:
Let's begin.
What's the Buzz About BuzzFeed Quizzes?
Did you know that the BuzzFeed quiz What City Should You Actually Live In? has been taken by 22 million people (and counting) so far?
Well, now, you do!
After entering and ruling the digital landscape with listicles and gifs, BuzzFeed became the big shark of the digital age when it introduced quizzes. With their striking appearances and share-worthy results, BuzzFeed quizzes became an instant hit among the masses.
Types of BuzzFeed Quizzes
BuzzFeed shares three types of fun quizzes. These are:
Personality Quizzes

Trivia Quizzes

Polls
Let's take a quick look at each of these.
1. Personality Quizzes
BuzzFeed's personality quizzes make up a big chunk of their viral content. These quizzes feature attractive quiz covers and exciting visuals and provide a personality-based outcome as the quiz result. This outcome is based on the answers that you give in the quiz.
People love knowing new stuff about themselves, and the best BuzzFeed personality quizzes do exactly that. They let people introspect, know their real selves, and touch upon their inherent human desires.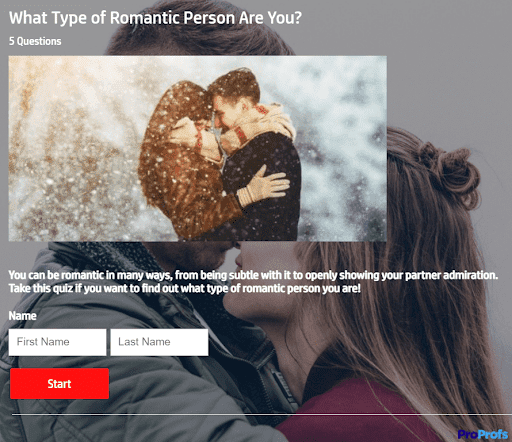 2. Trivia Quizzes
Trivia quizzes check the quiz taker's knowledge of a particular topic. The topic could be anything from pop culture to general knowledge & science.
Unlike personality quizzes, trivia quizzes provide a score or grade as the quiz result. Quiz takers can share and compare their scores with family and friends to decide who gets the bragging rights, making these quizzes very popular among those looking for a fun challenge.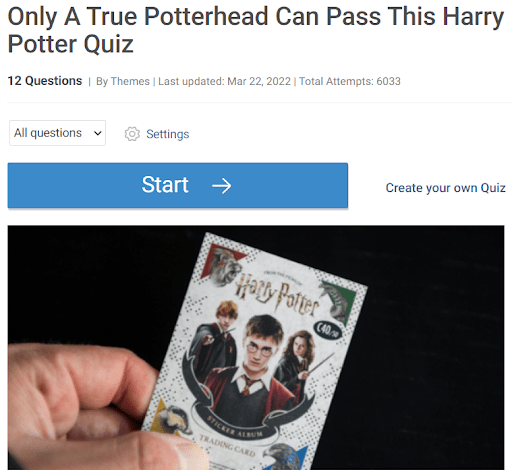 3. Polls
BuzzFeed's poll quizzes consist of a series of questions that ask for your opinion. You see results for each poll question as soon as you make your pick.
People with strong opinions about popular topics love these fun polls as they give them a chance to find out the internet's thoughts on stuff they are passionate about. The topic for a BuzzFeed poll could be anything under the sun.
For instance, you could create a BuzzFeed-style poll on movie & TV show characters, popular music, top celebrities, colors, etc.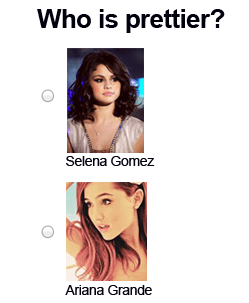 Why Are BuzzFeed Quizzes So Popular?
BuzzFeed quizzes combine the fun factor with a straightforward simplicity that makes taking these quizzes easy. Here's a list of other reasons why people love taking & sharing BuzzFeed quizzes:
With exciting visuals, creative question styles, and quirky language, BuzzFeed quizzes are engaging enough to keep the audience hooked.
The quiz results are share-worthy
The real fun in taking a BuzzFeed quiz lies in its final result. Even if the quiz-takers end up getting a result they do not desire; they can't stop themselves from sharing it. The quiz results are upbeat and crafted to leave quiz takers feeling good about themselves.
You can share BuzzFeed quizzes at the click of a button. If someone takes a quiz on the web or any random website, they can share the quiz on their social media feed and let their friends take it to double the fun.
Along with these reasons, there's one more reason why BuzzFeed quizzes are so popular, but you've got to move to the next section to learn more.
Read: A Guide to Creating the Perfect Personality Quiz
How Can BuzzFeed-Style Quizzes Help Businesses?
Have you ever come across a blog post that had 22 million hits?
No? Neither have I.
But, you know what I've seen touching that number? A BuzzFeed quiz!
The Which City Should You Actually Live In? quiz created and shared on BuzzFeed has been played 22 million times and shared by 2.9 million people globally. This means a significant fraction of 22 million people were probably directed to different products or websites and maybe even turned into customers by a particular brand.
These are estimates of course, but hey, quizzes do serve a purpose.
Quizzes can be one of the most important growth tools for a business. Here's how:
People love taking quizzes, especially those that reveal something about themselves, i.e., personality quizzes. Even more so, they love sharing positive quiz results with their friends. Sharing quizzes on social media automatically widens your brand's reach, making room for more prospects.
Given the popularity of BuzzFeed-type quizzes, they are a good resource to generate leads efficiently. With a well-crafted lead-capture form and integration with the right CRM tools, the lead generation process can be made simpler and faster.
Increased Website Traffic
Doing a simple thing such as adding a powerful CTA to your quiz results page or offering an incentive can increase website traffic.
If you wish to direct your audience to your products, quizzes can be the right tool. Creating and sharing a quiz can be the perfect way to customize your affiliate recommendations and increase sales!
Now that you've learned how amazing fun BuzzFeed quizzes can be, the only thing that remains is learning how to make one! Quickly move to the next section, where you'll find all the steps you need to start taking advantage of BuzzFeed quizzes.
How to Make a BuzzFeed Quiz?
We've discussed three types of BuzzFeed quizzes above, but for now, we're going to focus on the most popular one – personality quizzes. First, you need to have an up and running social media handle like a Facebook page and an online quiz maker to create your BuzzFeed-style quiz.
Making a BuzzFeed Quiz is an easy-peasy 5-step process:
Step 1 – Click 'Create a quiz' in the dashboard of your quiz tool.
Step 2 – Choose a 'personality' quiz.
Step 3 – Choose a template or make a quiz from scratch.
Step 4 – Add questions, answer options, images, and videos.
Step 5 – Configure quiz settings.
This is simply a quick tutorial on quiz creation. If you're looking for more detailed guidance on creating quizzes, check out our Ultimate Quiz Guide.
10 Things to Keep in Mind When Creating a BuzzFeed Style Quiz
Now that you have an idea of how to create a BuzzFeed quiz let's look at some things you need to consider before working on your first quiz.
1. Use Quiz Templates to Make Your Quizzes in Minutes
Honestly, quiz templates are the fastest and easiest way to create quizzes. All you need to do is visit the templates section and pick the one closest to your strategy.
Even if you're unsure of the topic you want for your quiz, you can visit the templates library of a quiz maker and explore all the categories, such as business, entertainment, and pop culture. And you never know; you might find just the right quiz for yourself. Each category has a collection of different quiz templates you can use as-is or customize to your liking.
You may want to explore the entertainment and lifestyle categories for a BuzzFeed-style quiz, as most of the top BuzzFeed quizzes are built around these.
Here's a snapshot of some of the lifestyle quiz templates ProProfs Quiz Maker offers.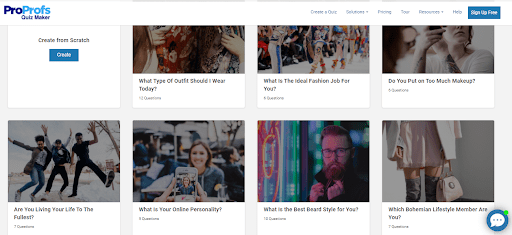 Create your quiz with ProProfs
2. Create From Scratch to Explore Your Creativity
While it is easy to pick a quiz template, edit it as per your requirement and share it with your audience in no time, it might not be enough to let you show your real creativity.
On the other hand, creating a quiz from scratch lets you be as creative as you want. You can choose your own topic and quiz theme, build your own questions, mix different types of questions, configure the settings, and much more.
3. Choose an Intriguing Quiz Topic
Before you sit down to create a quiz, you must have a clear idea of what it will be about, i.e., the topic of your quiz. But, before you choose one, you need to do one thing.
You need to analyze your audience, i.e. the people who will take your quiz.
The best benefit of creating a BuzzFeed-style quiz is realized when it's shared on Facebook. So, ultimately, it becomes essential to analyze your audience and tailor your quiz according to their preferences.
Google Analytics has a lot of data about your audience if you know how to find it. Similarly, Facebook insights can quickly determine the demographic of your most active users and determine the topics they share in common.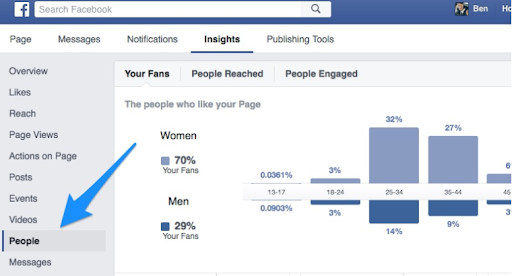 Once you've analyzed your target audience, you can decide on your quiz topic. Here are a couple of tips to keep in mind when exploring BuzzFeed quiz ideas.
Choose a topic your audience will strongly relate to (a TV show, movie, news, or trend)
Choose the topics your audience resonates with the most for your BuzzFeed type quizzes.
For instance, if you see a lot of shoppers, you might want to create a quiz around the latest shopping trends, or if you see a lot of them sharing a penchant for a genre of music, movies, or books, that could be it.
If I were to create one for building engagement, I'd create a quiz about food trends since many of my friends on Facebook share a common love for trying new cuisines.
Tapping into fandom is what works best when creating a BuzzFeed-style quiz. People often identify as dog lovers, foodies, or crazy about a particular show, such as Friends or Game of Thrones. When you create a quiz around their fandom, they get excited and love to play and share the quiz.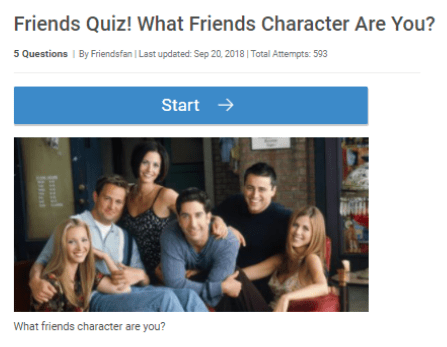 Check out:
25 Most Popular Quiz Categories
4. Build an Interesting Title That Makes People Stop Scrolling!
When creating a BuzzFeed-style quiz title, we recommend you take a tour of the most popular BuzzFeed-style quizzes.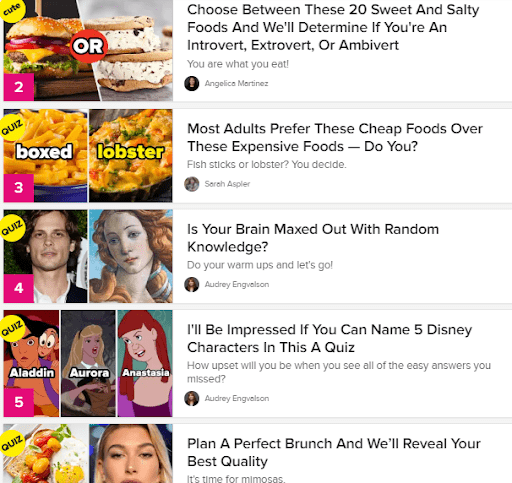 You'll find that BuzzFeed quiz titles aren't standard and boring. They're exciting and challenge you to learn something about yourself that you don't already know.
Do you see how they do that? Simple — they create a quiz about "you."
[Notice the pronouns 'you,' 'your,' and 'you're' in the titles and the subtext.]
Let's analyze a few BuzzFeed titles:
The "test your knowledge" titles


Such "infuriating hard quiz" type titles trigger YOU into finding out if you're a real fan and not just another binge watcher!
The "Which (blank) are you?" titles

Such quiz titles work so well probably because human beings, by nature, are curious about themselves.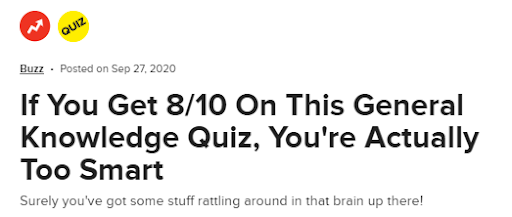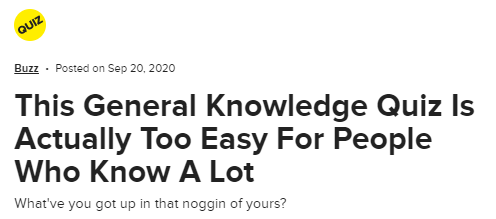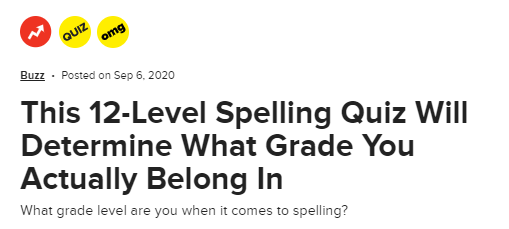 Take out the word "actually" from these titles and see what remains. Nothing exciting, right?
Now the main difference between titles with the word "actually" and those without is how the quiz is presented. The former is a challenge, whereas the latter is simply a quiz.
Creating BuzzFeed-style quiz titles is not rocket science, but it isn't a guessing-game either. Craft your titles carefully and ALWAYS do some research.
5. Begin With the End in Mind — Create Share-Worthy Quiz Outcomes
Currently, about 96 percent of users who start BuzzFeed sponsor quizzes finish them!
A simple reason behind this is that they are intrigued to know something about themselves that's unknown to them.
It's also quite clear that the quizzes are created so that the quiz-takers immerse themselves in the whole quizzing process to reach the outcome.
Here's a list of such quizzes:




You can see that each quiz promises to deliver new information at the end. This is why quiz results are of the utmost importance and should be the part around which you must create your quiz.
Also, building results first makes it easy to create answers that fit your results instead of trying to do it the other way around!
For instance, if you're building a quiz called "What Kind of Shopper Are You," the most common outcomes could be – Impulsive, Bargain, or Practical.
Once you know the outcomes, it'll be easier to build questions and add answers tied to a particular outcome.
After you've created your outcomes, you can work on the quiz results page.
You'll need to create a separate result page for each outcome. And mind you; the results HAVE to be upbeat.
Have you ever come across a BuzzFeed quiz result that is mean? No, right?
Returning to our example, attach an image, incorporate a few shopping traits, and give a brief description of the personality with an upbeat spin on the characteristics that might not be considered positive otherwise.
The outcome 'Impulsive' might appear derogatory to some, but it wouldn't appear as such with a positive description attached to it.
Here's how you can write the result for the outcome – The Impulsive Shopper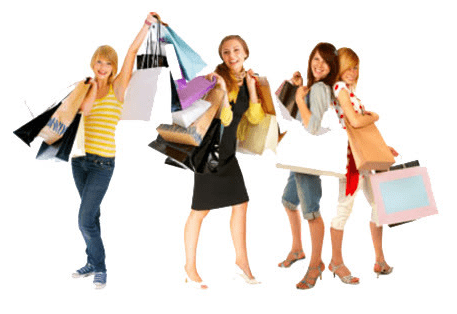 Once you've finalized the outcomes and created the results page, it is time to create the questions.
6. Make It About the Quiz Takers
People love it if you talk directly to them, and most BuzzFeed quizzes are based on that premise.
They make generous use of 'you' in questions, which tends to make it seem like a one-to-one conversation. It becomes a personal experience whether people take the personality-type quiz, trivia, or assessments.
7. MCQs Work Best for BuzzFeed Personality Quizzes
We recommend using more multiple-choice questions in your personality quizzes, as doing so makes it easier to add image-based answer options that'll help increase the "BuzzFeediness" of your quiz.
For example, for the 'What Kind of Shopper Are You' quiz, you can use the following questions and answer options:
Question – Pick your favorite shopper character from the movies.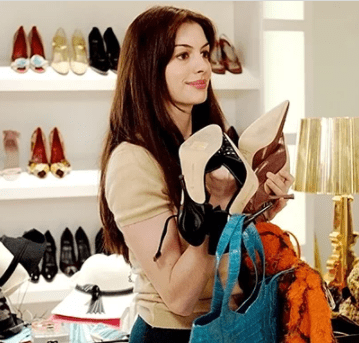 The above question has three renowned shopper characters from three Hollywood movies.
Clueless

Confessions of a Shopaholic

The Devil Wears Prada
There's no way a person taking a quiz to find out what kind of shopper they are wouldn't have watched these movies!
Similarly, you can create audio and video-based questions and answers for your quiz.
Read: How to Create the Most Engaging Quiz Questions
Remember that you'll need to add as many answer options in your multiple-choice personality questions as possible quiz outcomes.
Let's continue with the same example – "What Kind of Shopper Are You?"
Since the quiz has three possible outcomes, you'll need to create questions with three answer options each.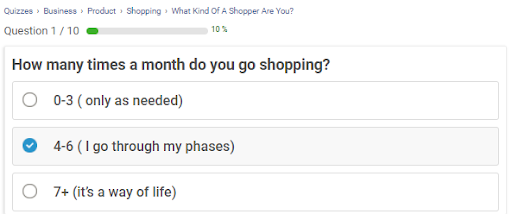 After adding your answer options, you'll need to match each answer option with one particular outcome.
Using our BuzzFeed style Quiz Maker, you can also allocate points to each result type associated with a question, as shown in the image below: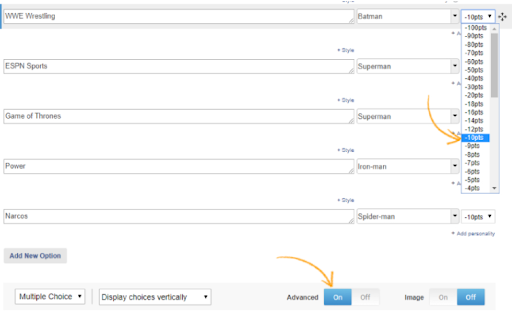 The personality with the most points would then be selected as the final result.
8. Make the Quiz Stand Out Visually in Every Way
Your quiz's look and feel is just as crucial as its text-based elements. Follow these tips to make your quiz super-appealing:
As stated above, adding images, videos, or audio files to your questions can raise your quiz's engagement a notch higher.
Here are some other examples of such questions from different BuzzFeed quizzes.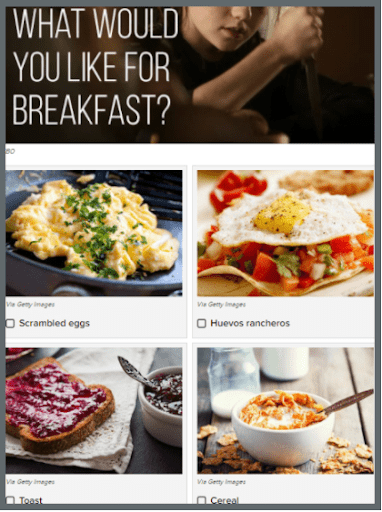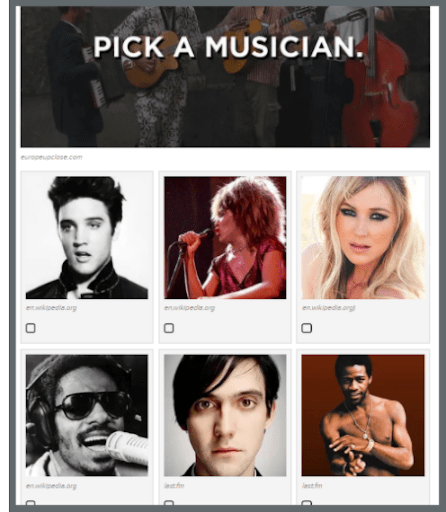 Imagine if these images were replaced with just text. They would be half as interesting as they are now.
Images perform better than text. It takes 0.25 seconds to process them! So don't forget how important the role of images is in an interactive medium such as a quiz.
Apart from making the quiz questions engaging with images, you can also make changes to your quiz's overall appearance and style.
Visuals are a crucial element of BuzzFeed quizzes and help them stand out!
Do a close observation of some of the most engaging BuzzFeed quizzes, and you'll find that BuzzFeed has carefully woven nostalgia into their quizzes with the help of strong visuals.
Take the "Which Friends character are you?" quiz, for example.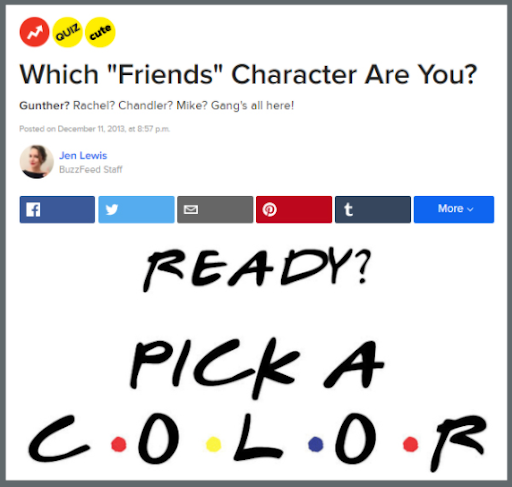 In the quiz cover, BuzzFeed used the actual color palette and typeface used on the show giving it a true F.R.I.E.N.D.S. look and feel.
Customizations, such as these help give quizzes a unique personality and enable them to instantly form a connection with the audience.
Many online quiz makers, such as ProProfs Quiz Maker, let you customize your quiz appearance with the white-labeling feature. With this feature, you can: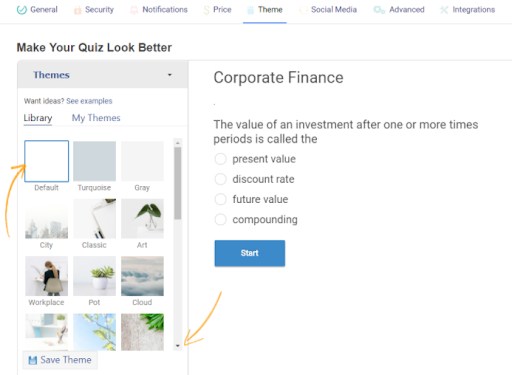 Change the fonts and background images –

Choose fonts and images that resonate with your quiz's theme.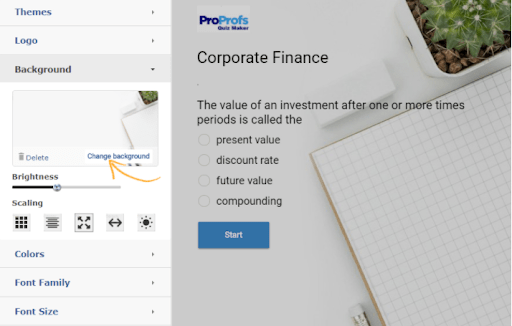 Design a Killer Quiz Cover
Pay special attention to your quiz cover, as it is the first thing that your audience will see after the title. Ensure that the quiz cover image is attractive, resonates with the title, and gives a clear idea of the quiz.
9. Keep It Short and Simple
A BuzzFeed quiz should be fun, so you don't want to make it too long or complicated. We recommend asking questions in a simple, concise, and clear language. Also, restrict the number of questions between six and ten. Having a short quiz also boosts its completion rates as quiz takers don't need to put in too much of their time.
10. Create the Right Buzz for Business Growth
The real benefit of a highly popular BuzzFeed-style quiz is realized when you use it for the growth of your business.
How?
Well, the popularity of BuzzFeed-style quizzes can be used to achieve various business goals such as lead generation, better branding, increased website traffic, and more.
Here's what you can do:
You can create a customizable lead form with an online quiz maker software, such as ProProfs Quiz Maker. You can place it within your quiz to capture your quiz takers' information, such as their names, contact details, email addresses, and more.
You can use this information to extend offers to your audience.
Here's how a lead form created in ProProfs Quiz Maker looks: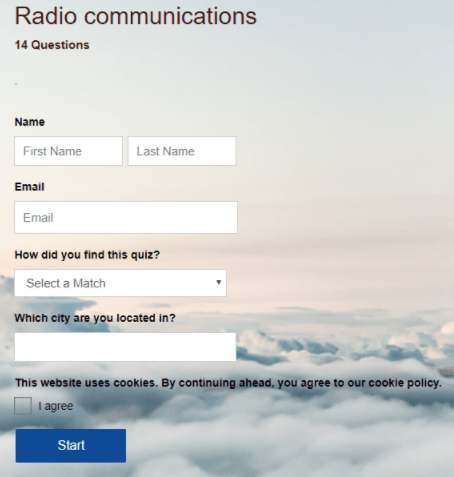 You can also configure the fields you want in your lead form like this:

You can even add more questions about the quiz like this: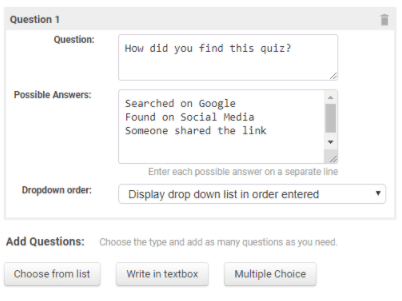 As mentioned above, quiz results drive popularity, and BuzzFeed-style quizzes are a natural fit for social sharing. If you show positive results to your audience, chances are they'll share the quiz with their friends, which will widen your reach.
To encourage social sharing, you can even add a custom message in the end, such as:
"Share it with your friends and ask them to find out…………"
Creating positive results and encouraging people to share them can help your quiz go viral.
Always, ALWAYS add CTA or call to action buttons on your results page for your quiz takers. The most common CTA is adding buttons to enable social sharing, as mentioned above.
Most online quiz makers, such as ProProfs, let you configure settings to do so. Here's an example of how you can enable social sharing buttons in ProProfs Quiz Maker:

And once you've enabled the social sharing buttons, here's how they'll appear on the results page:

You can even add more CTAs, such as 'Take the quiz again' or direct your audience to another quiz like:

Integrate your quiz with marketing automation tools
Quizzes only work best at the top of the marketing funnel. So, to turn the leads captured with quizzes into customers, you've got to nurture them and move them through your sales funnel.
One of the easiest ways to do this is by integrating your lead quizzes with marketing automation tools, such as MailChimp, Salesforce, Constant Contact, and more.
Integrating the two will help segregate the leads into different mailing lists based on their quiz results and responses. This will help you streamline your email marketing process and nurture your leads.
With all these things in place, you're sure to come up with a quiz with as much buzz as a BuzzFeed quiz!
Ready to Create the Buzz?
So now you know the magic recipe for creating a BuzzFeed-style quiz. I hope it helps you out, and you can create a mind-blowing BuzzFeed quiz by following our tips.
To get started, check out the list of top 10 online quiz makers that you can choose from to create your BuzzFeed-style quiz or simply create one with ProProfs. ProProfs offers you 100+ quiz templates, 15+ question types and a library of 1 million ready-to-use questions so that you can create super-engaging quizzes effortlessly.
If you're stuck at any point in the process, feel free to reach out to our customer support team anytime.
Do you want free Quiz Software?
We have the #1 Online Quiz Maker Software for complete learning & assessment