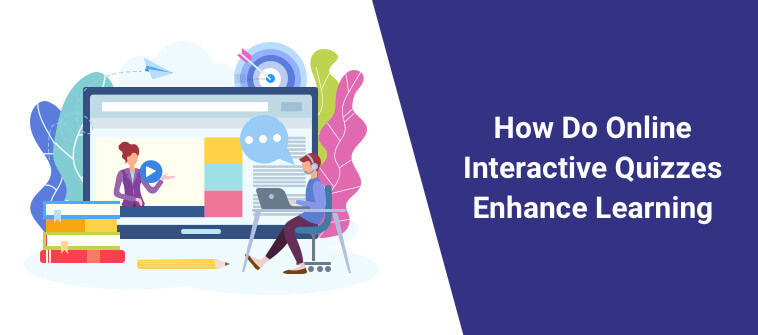 In case you're wondering if a simple quiz can really enhance learning as a whole, the short answer is yes. To know the detailed answer to completely understand why it's possible, read on.
You may already know that repetitive reading is pretty commonly used as a method for knowledge retention.
But is retention the only aspect of learning?
Nope!
Comprehension, problem-solving, creative thinking, reasoning, and several other aspects make learning a success.
Also, simply re-reading the same thing repeatedly and expecting better retention may appear like a good enough learning practice but honestly, who's got the time to read something a thousand times?
My memory and knowledge retention is a case in point.
For example, I do not remember the accurate definition of the term that I had been taught in an online course I took last week but, I do remember the answer to the question that got me first prize in a science quiz in 9th grade.
I also clearly remember the answer to the question that made someone a millionaire on the show 'Who Wants To Be a Millionaire' years ago.
Do you see what's common there? It's that in both instances, the questions were from 'quizzes.' It's as if I took mental snapshots of the things I learned years ago that are still fresh in my memory to this date.
That's how online interactive quizzes work. They make learning productive.
Don't take my word for it. Look at a few findings.
Research on the Impact of Online Quizzes on Learning
#
Study of daily testing in online classes
In their research study on Boosting College Performance while Reducing Achievement Gaps, professors of the University of Texas observed that 'giving brief online quizzes at every class meeting in an introductory psychology class boosted student performance.'
Prof. Syed Muhful Aziz, of the University of South Australia, undertook a project on Enhancing Student Learning in an Engineering Course. His findings revealed that "online quizzes provide students with supplementary self-paced interactive learning resources.
"Students can attempt the quizzes repeatedly until they have a clear understanding of the underlying concepts," it said.
"Students appreciate the flexibility and action-oriented learning style of online quizzes." This, he says, enables students to learn anytime and anywhere.
The above findings shatter the common assumption that traditional learning methods are the only way to master a topic or lesson.
Online quizzes offer an alternative way to rote learning techniques that often turn out to be counterproductive.
To know about the benefits of such quizzes in detail, let's have a look at how to make an interactive quiz and use it to enhance overall learning for your learners.
Read More: 4 Major Interactive Quiz Hacks for Bloggers
How to Enhance Learning with Interactive Online Quizzes
First off, you need a good interactive quiz maker, and I mean a really good one that could make your task of creating, sharing, and grading online quizzes much easier.
In case you're having trouble choosing a good quiz generator, watch this video that'll help you make a better decision
Watch How to Choose the Best Quiz Software

Also, here's a list of the 10 Best Online Quiz Maker Software that you can refer to.
Now let's begin.
1. Evaluate Existing Knowledge Levels
Assessing learners' knowledge at the end of the lesson isn't enough to enhance learning. You also need to assess what they already know so that it is easier to
identify the knowledge gaps and

find out what they have retained during or at the end of the lesson.
This practice helps establish a baseline of what your learners need to learn, and you can customize your curriculum accordingly.
What You Can Do
Create a mini quiz with maximum five questions related to your topic. Assign it to your learners and analyze the quiz report.
If a majority of your learners possess misconceptions or a weak understanding of a topic that you viewed as a critical prerequisite, you may decide to provide an extensive session on it.

If most learners have higher levels of knowledge in a topic that you were planning to cover, you may decide to drop it and replace it with another one that they have not yet learned. Or, you may adjust the level of complexity or time you spend on it.
2. Evaluate Knowledge Retention After a Lesson
According to a research, the average person forgets about 70% of what they hear or read almost immediately after taking it in.
Just teaching a course or lesson won't tell you how much was understood and retained by your learners, but quizzing will.
Traditional tests may usually require reproducing essay-like answers to check knowledge retained from a lesson.
Online quizzes can be designed to create a rich experience for learners by framing questions in different formats to challenge the learners' ability to reason, comprehend, and think creatively to arrive at the answers.
The quick format, instant feedback, and easy personalization of such quizzes to suit any type of learning style make them the perfect choice to check how much a learner finally understands after a lesson or course gets over.

An interactive online quiz

motivates learners to actively stay involved

in the process and engage in the course material by looking at a piece of information in the form of visuals, audio, text, or a variety of forms of questions.

Unlike traditional tests that can be high stakes and lengthy, such

quizzes can be presented as soon as a bite-sized lesson is over

to build knowledge retention over the long term.
Read More: How to Make a Fun Quiz That Your Audience Will Love
What You Can Do
Create a quiz based on the lesson that you've just taught and assign it to your learners. Make sure to for the following
Whenever a student attempts a question and gets the correct answer, the scores or grades assigned to that question can instantly appear. This instant score or grade will keep the quiz moving faster and won't kill students' curiosity.
Watch This Video to Know How to Automate Quiz Scoring & Grading

Add feedback for correct or incorrect answers

to create an instant knowledge bridge between the question and what they've learned. Only marking an answer correct or incorrect is not sufficient.
For every correct answer, you can give feedback like:
"You got that right" or "Seems like you've prepared well."
For every wrong answer, you can attach a link within your feedback. For example, in a geography quiz, if a student gets the answer wrong about a particular topic, you can frame your feedback like this:
"Oops! That's a wrong pick. Revise the topic "Biodiversity" and attempt again."
Here's an example of how instant feedback for an incorrect answer in an online quiz looks like: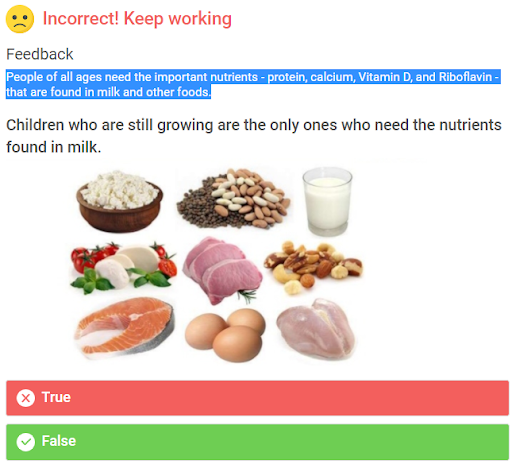 Just as the quiz-taker attempted an incorrect answer, the feedback (text in blue) was displayed, which explains why the chosen answer was incorrect.
Customize the quiz results

. No matter what your topic, difficulty level, or learner interest, create interactive online quizzes exactly in the form that will appeal to them
3. Address Different Learning Styles
Every student is different, and everyone has different learning capabilities. Some learn through visuals; some are good at responding to audio questions, while some are good at writing lengthy essay type answers.
The instructional method that proves most effective for students with one learning style may not be the most effective method for students with a different learning style.
The goal is to make learning challenging, not difficult.
What You Can Do
Given that everyone learns differently, you can:
Here's an example of an image-based quiz being used to improve language skills: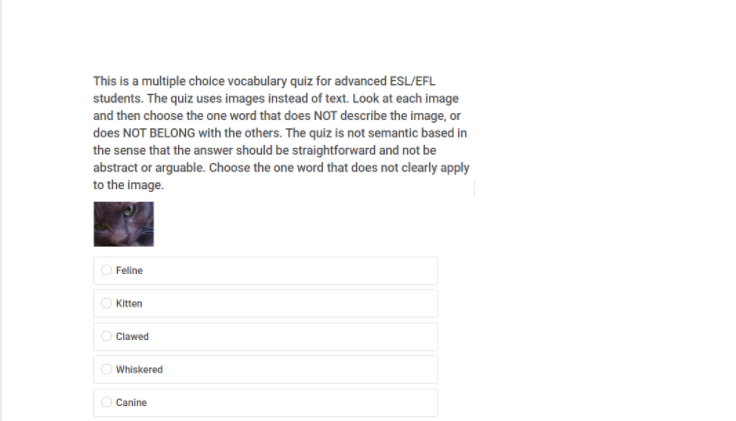 Once you've applied these measures and conducted the quiz, you can then analyze the reports to see how learners responded to each type of question and make necessary adjustments to the teaching process.
4. Create a Feedback Loop for Learners
Quizzes that provide instant feedback on learners' responses, including links to lessons or topics that they need to revise, help create a learning loop.
Remember- the whole idea of quizzing is not assessing but making more room for learning. So, adding feedback for incorrect answers makes something disappointing into a learning opportunity.
Prof. Gosling from the University of Texas, in his research, said that- "students may have had poorer college preparation, they could benefit even more from the constant feedback the quizzes provided."
Instant feedback triggers instant knowledge evaluation, ensuring that there's no wastage of time. As soon as the learners are updated with their results, they can run a self-analysis to determine which areas they struggle with and go back to revising topics that they're weak at.
Here's how you can add instant feedback:
1- For every correct answer, you can add feedback like:
"You got that right" or "Seems like you've prepared well."
2- For every incorrect answer, you can explain why it was incorrect, and also tell the correct answer like:
"Oops! That's a wrong pick. [Explanation for the correct answer]. Revise the "xyz" topic and attempt again."
Here's how instant feedback for an incorrect answer looks like:
Just as the quiz-taker attempted an incorrect answer, the feedback (text in blue) was displayed, explaining why the chosen answer was incorrect.
5. Gauge Individual Student Learning Ability
When quizzes are created using quiz maker software, all the reports are auto-generated, and the results are stored on a cloud-based system. These reports provide additional insights like:
⇒ Time spent on each question
⇒ Number of right and wrong answers
⇒ Total time taken to complete the quiz
⇒ Number of right and wrong answers
This data can help you gauge individual learning ability. You can compare with previous data to see if the learners have made any progress. Furthermore, you can use this data to enable self-assessment among learners.
Watch: 10 Types of Quiz Questions for Online Learning

What You Can Do
Create learner groups and re-assign quizzes.
Not all online quiz-makers have this feature, but it's handy nonetheless. You can create different groups of learners in an online classroom by analyzing quiz reports and then assign them quizzes and courses.
For instance, you can create a group of students with the highest number of incorrect answers or a group of learners with incorrect answers only from a certain part of the topic.
You can then create quizzes for each group with questions that they previously got wrong, thus making the course/lesson adaptive to learners. Those are the questions they've already answered once, so they have to learn from their mistakes.
Repeat this process until the grades start to improve as it'll make the retention last longer.
Interesting Read : Best iSpring Alternative that you need to Know about
Transform the Way Learning Takes Place
With a good online quiz maker and the tips shared above, you can create quizzes tailored to different learning styles and make learning 10x easier.
All you need to do is create an interactive quiz and assign it to your learners. Go for an excellent online quiz maker software, and you'll find numerous quiz examples and quiz templates, such as multiple choice quiz templates, trivia game formats, and more.
Just decide on a quiz layout, create the best online quiz design, and let the interactions flow.
To get started, you can check out the list of interactive quizzes created on ProProfs. Also, check out the ProProfs Quiz Maker and build your first interactive quiz today!
Do you want a free Quiz Software?
We have the #1 Online Quiz Maker Software for complete learning and assessment starting at $0