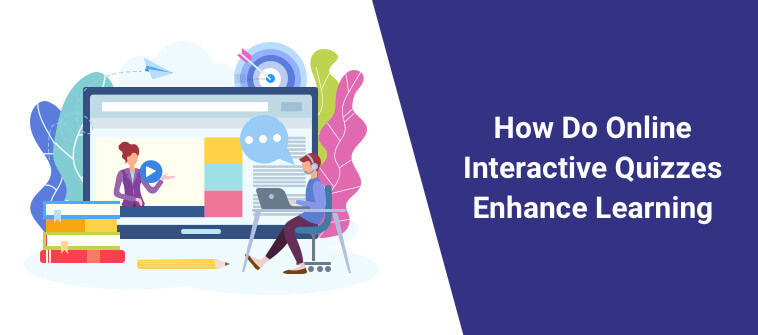 Delivering impactful learning isn't easy, right?
There are several aspects you must succeed in to take learners on a smooth journey from where they are to where they must be. These can include understanding and engaging learners to ensuring knowledge comprehension and retention.
With interactive quizzes, you can pull off this mean feat!
How?
Here's a quick example.
As hard as I may try, I can't remember the definition of a term I came across in an online course I took last week. But I still remember the answer to the question that prevented me from getting the first prize in a science quiz in 9th grade.
I also clearly remember the answer to the question that made someone a millionaire on the show 'Who Wants To Be a Millionaire' years ago.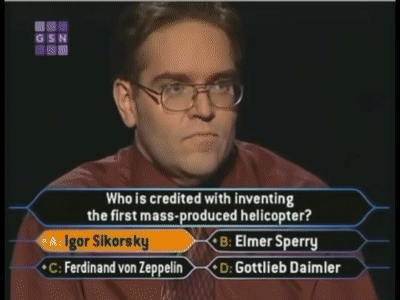 Do you see what's common about the information that's still fresh in my memory?
It's that in both instances, the information was from a quiz. Frankly, it feels as if I've taken mental snapshots of those questions and their answers.
Since retention was the main benefit, creating and sharing online quizzes with your learners is something that you'll need to ace to see those student grades improve.
In this context, let's understand the impact of quizzes on learning, ways by which interactive quizzes can enhance learning, and the steps to create an effective quiz that can make learning effective for your learners.
Let's dive in.
Research on the Impact of Online Quizzes on Learning
Many findings support the notion that online quizzes play an impactful role in learning. Let's take a look.
1. Study of Daily Testing in Online Classes
In their research study titled "Daily Online Testing in Large Classes," the professors at the University of Texas observed that "giving brief online quizzes at every class meeting in an introductory psychology class boosted student performance.''
2. Research on Online Quizzes to Enhance Student Learning
Prof. Syed Muhful Aziz of the University of South Australia undertook a project titled "Online Quizzes for Enhancing Student Learning in a First Year Engineering Course". His findings revealed that "online quizzes provide students with supplementary self-paced interactive learning resources."
"Students can attempt the quizzes repeatedly until they have a clear understanding of the underlying concepts," it said.
"Students appreciate the flexibility and action-oriented learning style of online quizzes." This, he says, enables students to learn anytime and anywhere.
3. The Effects of Tests on Learning and Forgetting
In a research study titled "The Effects of Tests on Learning and Forgetting" conducted at the University of California, it was observed that testing had more impact and enhanced their overall recall than restudying and promoted long-term retention.
4. The Forward Effect of Testing
Bernhard Pastotter and Karl Heinz T. Bauml of Regensburg University (Dept. of Experimental Psychology) conducted research where it examined the benefits of recall testing. Recall testing played a key role in long-term retention than the retrieval practice of studying the same materials.
The research found out how recall testing ensures that the information is more likely to be remembered in the future and can further enhance the learning of presented new information.
The above findings shatter the common assumption that traditional learning methods are the only way to master a topic or lesson.
Online quizzes offer an alternative way to rote learning techniques that can even turn out to be counterproductive.
To know about the benefits of such quizzes in detail, scroll to the next section.
How to Enhance Learning With Interactive Online Quizzes
First, you need an excellent interactive quiz tool to make your task of creating, sharing, and grading online quizzes much easier.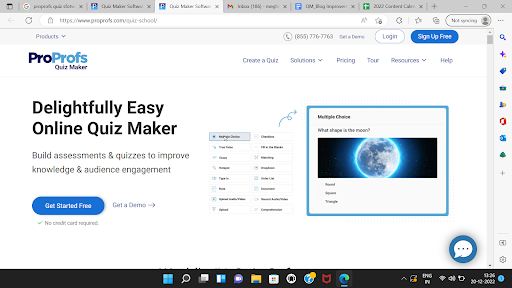 Here's how it can help you:
1. Evaluate Existing Knowledge Levels
You must assess what learners already know to identify the knowledge gaps you must address. For instance, if you want to provide training to your employees, then interactive quizzes in the form of pre-training assessments can help you.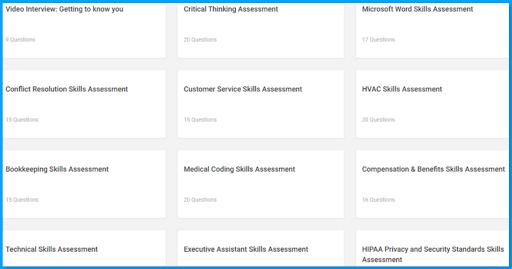 Establishing a baseline of what your learners need to learn lets you customize your learning material to deliver a personalized and targeted learning module.
What You Can Do
Create a short quiz with 10-15 questions related to your topic. Assign it to your learners and analyze the quiz report.
If most of your learners have a weak understanding of a topic you viewed as a critical prerequisite, you may provide an extensive session on it.

If most learners have higher levels of knowledge in a topic you were planning to cover, you may decide to drop it and replace it with another one they have not learned yet. Or, adjust the level of complexity or time you spend on it.
2. Engage Learners to Boost Comprehension & Retention
You may already know that repetitive reading is a common method for knowledge retention.
Simply reading the same thing repeatedly and expecting better retention may appear like a good enough learning practice but honestly, who's got the time to read something a thousand times?
This is where online quizzes can help. When created with engaging questions, it can translate into better engagement and boost retention.
ProProfs Personality Quiz Maker
What can you do?
Add different types of quizzes like true and false, MCQs, essay types, matching, hotspots, and more.

Keep your questions short and to the point.

Create fun interactive quizzes and make them engaging by adding audio, visuals, and texts.

Provide feedback for every answer or based on scores. Also add images and videos to your feedback for more engagement.
Watch: Question Types for Online Learning & Assessment
3. Track & Analyze Learning Progress
According to research, the average person forgets about 70% of what they hear or read immediately after taking it in.
Just teaching a course or lesson won't tell you how much was understood and retained by your learners, but quizzing will.
Traditional tests may require reproducing essay-like answers to check knowledge retained from a lesson.
Online quizzes can create a rich experience for learners by framing questions in different formats to challenge the learners' ability to reason, comprehend, and think creatively to arrive at the answers.
The quick format, instant feedback, and easy personalization of such quizzes to suit any learning style make them the perfect choice to check how much a learner finally understands after a lesson or course gets over.

An interactive online quiz

motivates learners to actively stay involved

in the process and engage in the course material by looking at a piece of information in the form of visuals, audio, or text.

Unlike traditional tests that can be high stakes and lengthy, such

interactive quizzes can be presented as soon as a bite-sized lesson is over

to build knowledge retention over the long term.
What You Can Do
Create a quiz based on the lesson you've just taught and assign it to your learners. Make sure to do the following:
Automate the grading process for quick score analysis
Whenever a learner attempts a question, the scores or grades assigned to that question can instantly appear. This instant score or grade will keep the quiz moving faster and won't kill students' curiosity.
Watch: How to Automate Quiz Scoring & Grading
Create an instant knowledge bridge between the question and what they've learned. Only marking an answer correct or incorrect is not sufficient.
For every correct answer, you can give feedback like:
"You got that right" or "Seems like you've prepared well."
For every wrong answer, you can attach a link to your feedback. For example, in a marketing quiz, if a student gets the answer wrong about a particular topic, you can frame your feedback like this:
"Oops! That's a wrong pick. Revise the topic "Brand Management" and attempt again."
Here's an example of what instant feedback for an incorrect answer in an online quiz looks like: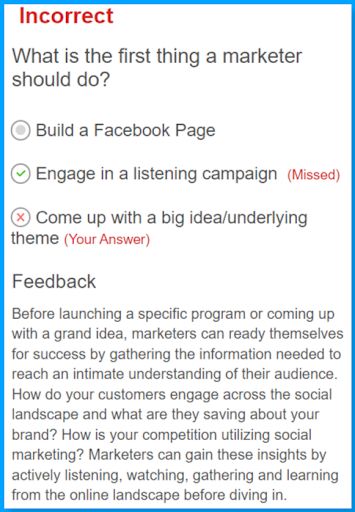 Just as the quiz-taker attempted an incorrect answer, the feedback was displayed, which explains why the chosen answer was incorrect.
No matter your topic, difficulty level, or learner interest, you can create interactive online quizzes exactly in the form that will appeal to them.
4. Create a Feedback Loop
Interactive quizzes that provide feedback on learners' responses can help create a learning loop.
Adding feedback for incorrect answers makes something disappointing into a learning opportunity. Plus, it improves the learning experience by making it more interactive.
Prof. Gosling from the University of Texas touches upon this in his research. He believes that students with poorer college preparation could benefit from constant feedback.
Feedback triggers instant knowledge evaluation, ensuring no waste of time. Once you update learners with their results, they can run a self-analysis to find out which areas they struggle with and go back to revising topics they're weak in.
What You Can Do
Add explanations for correct/incorrect answers

Include links to courses and other online resources in your feedback

Provide manual, personalized feedback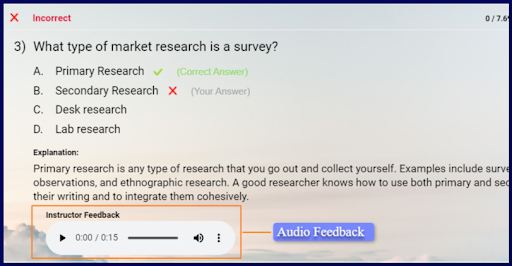 5. Gauge Individual Learning Ability
When you create interactive quizzes online using quiz maker software, all the reports are auto-generated, and the results are stored on a cloud-based system. These reports provide additional insights like:
⇒ Time spent on each question
⇒ Number of right and wrong answers
⇒ Total time taken to complete the quiz
This data can help you gauge individual learning ability. You can compare with previous data to see if the learners have progressed. You can also use this data to help learners self-assess.
What You Can Do
Create learner groups and re-assign quizzes.
Not all online quiz-makers have this feature, but it's quite handy. You can create different groups of learners in an online classroom by analyzing quiz reports and assigning them quizzes and courses.
For example, you can create a group of learners with the highest number of incorrect answers or a group with incorrect answers only from a certain part of the topic.
You can create quizzes for each group with questions they previously got wrong, making the course/lesson adaptive to learners. Those are the questions they've already answered once, so they must learn from their mistakes.
Repeat this process until the grades improve. This will make the retention last longer.
Watch: How to Set up Your Virtual Classroom
6. Address Different Learning Styles
Every student is different, and everyone has different learning capabilities. Some learn through visuals; some are good at responding to audio questions, while some are good at writing lengthy essay-type answers.
The instructional method that proves most effective for learners with one learning style may not be the most effective for learners with different learning styles.
The goal is to make learning challenging, not difficult.
What You Can Do
Given that everyone learns differently, you can:
Here's an example of an image-based quiz being used to improve language skills:
Once you've applied these measures and conducted the quiz, you can analyze the reports to see how learners responded to each type of question and make necessary adjustments to the teaching process.
Related Read: How to Create a Learning Style Quiz
In case you're having trouble choosing a good quiz generator, watch this video that'll help you make a better decision:
Watch: How to Choose the Best Quiz Software
Also, here's a list of the best online quiz maker software you can refer to.
Steps to Create an Interactive Quiz
In this section, you'll get an overview of the steps you must follow to create an engaging quiz for learning.
Watch: How to Create an Online Quiz in Under 5 Minutes
Step 1: Create From Scratch or Use a Readymade Template
There are two ways to create an interactive quiz. You can create your quiz from scratch or customize a pre-designed template to suit your requirements.
Starting with a readymade template can be amazing if you're on a tight schedule and want your quiz ready to be deployed in minutes.
For example, if you're using ProProfs Quiz Maker to create your interactive quiz, you can pick:
a professionally-designed scored quiz template

a

training assessment

from the assessment library

a ready-to-use quiz from the question bank

Preview the quizzes related to your topic and click the "Use This…" button once you've landed on one you like. If you'd rather build your quiz from the ground up, click "Create From Scratch".
Either way, you'll reach the quiz editor. You can start by setting up your quiz's cover screen. Click "Edit Cover" to add/change your quiz's title, cover image, and description.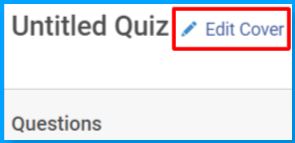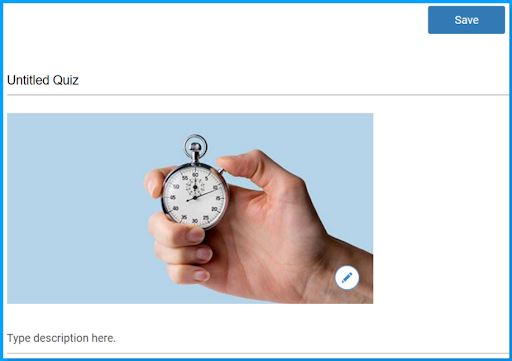 Step 2: Add Questions or Import From a Question Library
You can add, modify, or delete questions. To add new questions, click "Add Question".

Select a question type from the overlay and write the question statement and answer options. Repeat till you've added enough questions to your interactive quiz.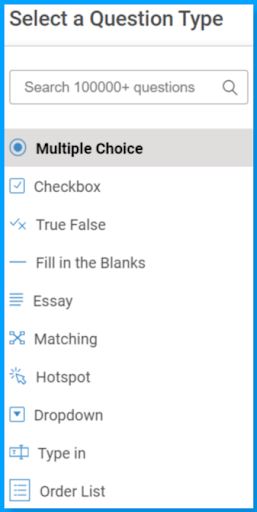 Alternatively, you can browse through the question bank using the search bar on top and import questions. You can import questions from multiple quizzes in a single go!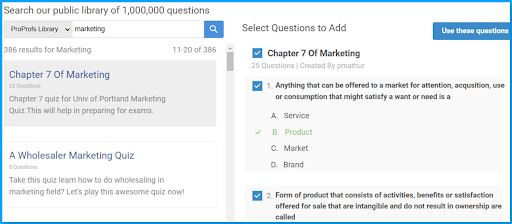 Pro Tip: Make sure you have a good mix of closed and open-ended question types in your quiz to make it highly engaging. Also, try including scenario-based questions and highly interactive question types, such as hotspot, video-response, order-the-list, drag-and-drop, etc.
You can also present a video and ask a series of questions based on it.
Watch: How to Create a Video Quiz
Step 3: Add Images & Feedback
Another way to make your quizzes engaging is by adding images/videos to your quiz questions/answer options. Click the image icon next to a question statement or answer option to add media from Google, YouTube, etc., or upload your own.

Also, as mentioned before, providing instant feedback in your interactive quizzes can work wonders in enhancing interactivity and learning. For example, check out the image-based feedback in this question: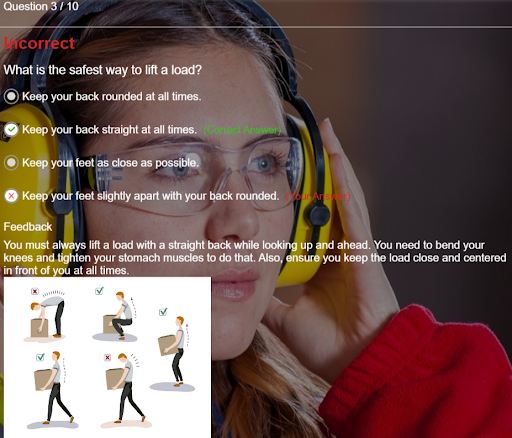 As you can see, you can provide:
A common feedback

Different feedback for correct & incorrect answering

Separate feedback for each answer option.

The best interactive quiz makers let you automatically grade your quizzes and make the results instantly available to learners. To automate grading, you'll need to assign scores to questions and answer options. Go to the quiz's settings, locate "Score & Time" in the 'General' tab, and select how you want to grade your quiz.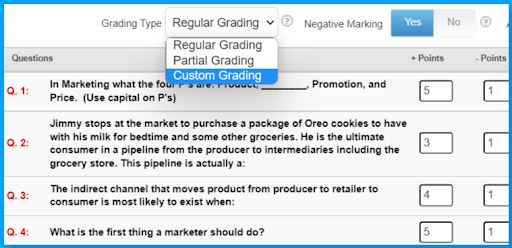 Watch: How to Automate Grading in Online Quizzes
Once you've set up your quiz's scoring, you can customize the results screen. You can present different messages to quiz takers based on their total scores and also automatically award them with a custom certificate.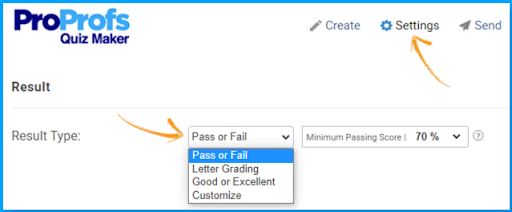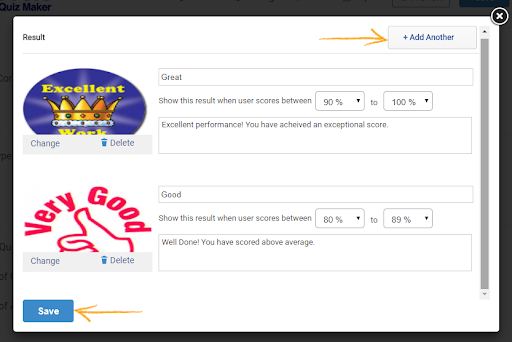 Awarding great-looking certificates can be an especially great way to motivate learners toward self-learning and engage them with your learning programs.
Watch: How to Create Custom Certificates With Your Own Logo and Branding
Step 5: Enable Security and Anti-Cheating Settings
By now, you've already designed an interactive and engaging quiz tailored for learning. But your efforts may not provide the intended results if learners decide to cheat. Fortunately, you can discourage cheating by configuring some settings.
For example, you can enable proctoring to monitor test takers via screen sharing and webcam video recording.

The proctoring log in the quiz report will let you check if the quiz taker has used any unfair means to answer questions.

Other anti-cheating settings include:
Disabling tab/browser switching

Randomizing question and answer option order

Using question pooling to present a different question set to each learner

Making your tests password-protected and granting access via individualized logins or single sign-on
Watch: How to Configure Your Quiz Settings
And that's it. Your quiz is ready to be deployed to support and enhance your teaching or training initiatives.
Transform the Way Learning Takes Place with Interactive Quizzes
With a good online quiz maker and the tips shared above, you can create quizzes tailored to different learning styles and make learning 10x easier.
Just create an interactive quiz and assign it to your learners. Go for excellent online quiz maker software, and you'll find numerous quiz examples and quiz templates, such as multiple-choice quiz templates, trivia game formats, and more.
Just decide on a quiz layout, create the best online quiz design, and let the interactions flow.
To get started, you can check out the list of interactive quizzes created on ProProfs. Also, check out the ProProfs Quiz Maker and build your first interactive quiz today!
Do you want free Quiz Software?
We have the #1 Online Quiz Maker Software for complete learning & assessment