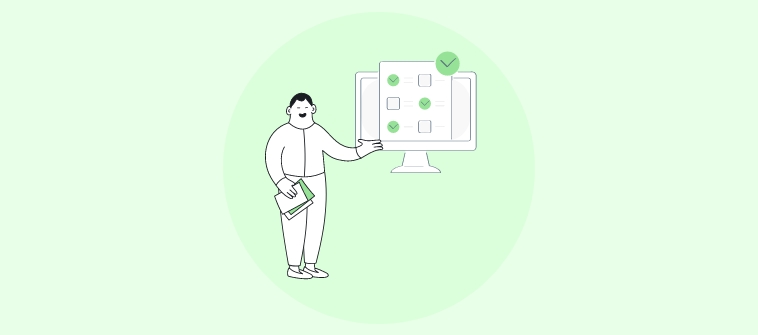 With businesses seeking alternative strategies for brand awareness and consideration, online quizzes have emerged as a powerful marketing medium.
Quizzes are undoubtedly contributing majorly to many brand success stories today. However, quiz marketing only works if you come up with a quiz idea that is right for your business and then implement it for maximum impact.
In this blog post, I will share 10 of the best quiz types for brand growth and some examples of each. As you read further, you'll also discover solid strategies for researching your own creative quiz ideas and executing them successfully for your marketing purposes.
Let's dive in.
Top 10 Quiz Examples & Ideas to Up Your Marketing Game
In this section, you'll find different examples or types of quizzes that can be used in various ways to take a leap forward for your business marketing needs. You'll also find fun quiz ideas that your audience will love no matter what your business is.
1. Personality Quizzes
Personality quizzes reveal a side of someone's personality as the outcome. These typically consist of amusing and somewhat eccentric questions, making them very popular on social media.
Why They're Great
Personality quizzes operate on the concept of

self-serving bias

. People love sharing them because the result is seldom negative, no matter the options they choose.

They are amazing for sending

personalized follow-ups and product recommendations.

Different types of personality quizzes let you find out quiz takers' preferences, pain points, insecurities, and more.

Enable you to survey and segment quiz takers

Great for boosting traffic to your website or app

Help lower advertising costs
Example
Personality Quiz Title Ideas
Watch: How to Create a Personality Quiz
2. Trivia/Knowledge Quizzes
Trivia or knowledge quizzes simply test the quiz taker's knowledge on a particular topic. The topic could be something that is trending, your brand and products, or even something completely random that your target audience can be interested to know about.
Why They're Great
Trivia quizzes work because they give people a chance to explore their curiosity and competitiveness.

From a marketing standpoint, they provide an engaging way to

gauge and enhance your audience's knowledge level

about your business.

Great for raising brand awareness and driving impressions.

Provide

valuable data and insights

to help you in content marketing.
Example
Trivia/Knowledge Test Quiz Title Ideas
How Well Do You Know Your NBA History?
3. True/False Quizzes
Like trivia quizzes, true/false quizzes also test the quiz taker's knowledge, the difference being that questions in this quiz style come in a simple true or false multiple choice type. They make for faster quizzing since the answer options are restricted to just two.
Why They're Great
Simple and easy to create

True/false quizzes offer high quiz participation and completion rates owing to their simplicity.

Perfect for brand awareness campaigns

They are a particularly useful

quiz idea for lead capturing

. With higher participation rates, such quizzes can have more people sharing their details in the attached lead forms.
Example
True/False Quiz Title Ideas
True/False Quiz – Planets in The Universe
4. BuzzFeed-Style Quizzes
As the name suggests, BuzzFeed-style quizzes aim to replicate the wildly entertaining and addictive style of personality quizzes put out by BuzzFeed. BuzzFeed quizzes differ somewhat from regular personality quizzes in that they tend to be on the sillier side and focus more on pop culture, making them highly engaging content with the potential to go viral with audiences.
Why They're Great
BuzzFeed-style quizzes are highly shareable and tons of fun.

Allow you to leverage popular trends

You get to include media related to pop culture in your quiz.

Especially great quiz idea for driving viral traffic

Can quickly

grow your email lists
Example
BuzzFeed Style Quiz Title Ideas
Which Celebrity Would Be a Perfect Road Trip Partner for You?

Which Billionaire Are You Most Like?

Who Should You Draft on Your Fantasy Baseball Team?
Also read: How to make a BuzzFeed-Style Quiz
5. Problem-Solving Quizzes
Problem-solving quizzes challenge quiz takers to solve complex problems by thinking outside the box. Quiz ideas can include riddles, aptitude questions, or mathematics and engineering-based problems.
Why They're Great
Problem-solving quizzes can create a deeper level of engagement and investment than other types of quizzes.

Particularly effective when marketing to an academic audience
Example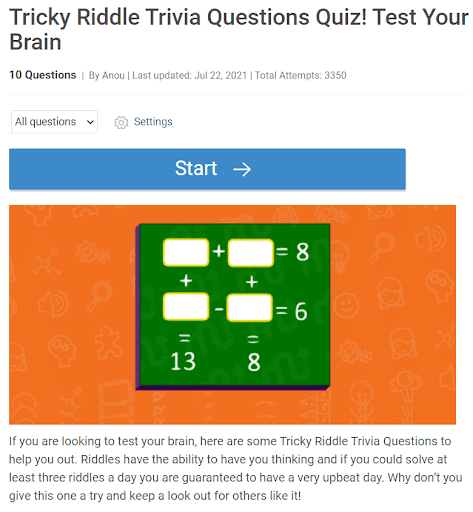 Problem Solving Quiz Title Ideas
Can You Think Outside the Box? Find Out with These Brain Teasers
6. Surveys
Quizzes can serve as excellent survey tools. You can ask your audience important questions related to their needs and preferences. The outcome of such quizzes can be personalized recommendations based on the options selected by the quiz takers.
Why They're Great
Survey quizzes can be a powerful addition to your relationship marketing strategy

. They allow you to send targeted messages to your customers.

They are inexpensive tools for market research.

These can also be used to check customer feedback
Example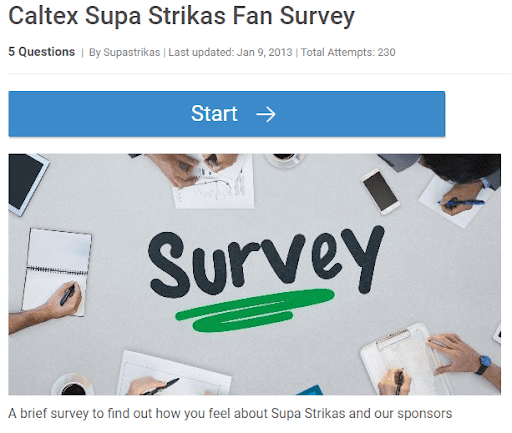 Survey Title Ideas
Fashion Survey For Women

What Should be Your Next Vacation Destination?

Take This Survey to Get More SEO Traffic
7. Diagnostic Quizzes
A diagnostic quiz features questions that help the quiz taker find out the biggest problem in a particular area of their life. Aside from providing this "diagnosis", the quiz also offers a solution to the problem as the quiz outcome.
While not incredibly popular on social media, this quiz idea works great if the quizzes are mailed to your target audience or embedded in your blog and landing pages.
Why They're Great
Diagnostic quizzes help your audience in figuring out or gaining better insights into a problem. Great for demand generation and creating a sense of urgency with buyers.

They create a positive impression of your brand by providing a solution to said problem

They give you a way to survey your audience and segment them for

custom email marketing campaigns.

By diagnosing a particular problem, these can also help you provide product or service recommendations
Example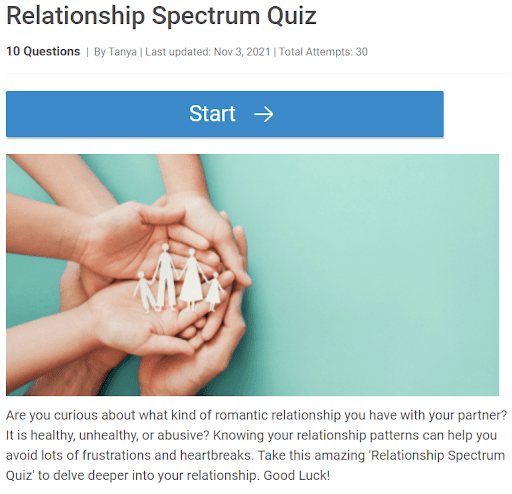 Diagnostic Quiz Title Ideas
What is Your #1 Health Challenge?

Spot the Gap in Your Marketing Strategy

Why is Your Website Not Getting Traffic?
8. Countdown Quizzes
A countdown quiz is a trivia/knowledge quiz that must be completed within a specified time. This quiz idea ups the challenge aspect by testing both the knowledge and recall speed of the quiz takers.
Tip – When creating countdown quizzes, make sure that you don't allocate too little or too much time. You should aim to create a quiz that your audience will find difficult but doable.
Why They're Great
Countdown Quizzes add the element of excitement for extra engagement

They are based on an already popular format of quiz shows like "Who Wants to Be a Millionaire?"

You can offer a giveaway, such as a free ebook, as a prize for winning at the quiz

Quiz winners get bragging rights of not only successful completion but doing so in a record time which they can showcase while sharing the results!
Example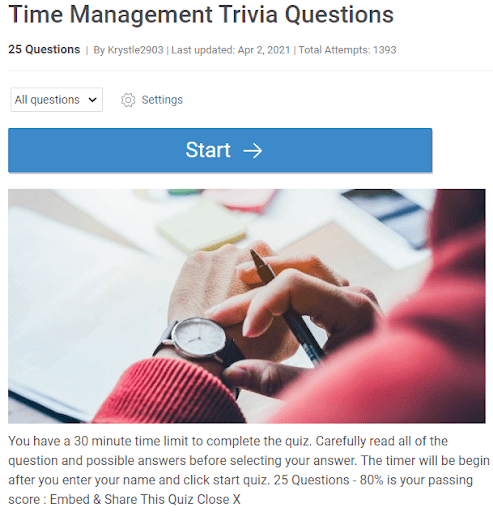 Countdown Quiz Title Ideas
Name 10 Martin Scorsese Movies in Under a Minute

Multiplication Madness – Answer 20 Multiplication Questions in 20 Seconds

Lightning Quiz on Lightning
An assessment quiz consists of questions that test your audience's understanding of a particular topic. Multiple-choice, true/false, and fill-in-the-blanks are the preferred question types in such quizzes.
Placed at the end of a blog post or long-form informational video, an assessment quiz can also be used to test your audience's comprehension of the concepts you've just explained.
Why They're Great
Assessment quizzes help you find out your audience's understanding of your products/services.

They are excellent for benchmarking progress and segmenting your audience by knowledge level.
Example
Assessment Quiz Title Ideas
Cloud Computing Test

How Much Do You Know About Instagram Ads?

Are You a Blockchain Expert?

Are You Prepared to Start a Career in Blog Writing?
10. Seasonal Quizzes
Halloween, Christmas, and other holiday-themed quizzes are supremely popular on social media and elsewhere. People love to test their knowledge about these days of celebration, especially when they're just around the corner.
Why They're Great
Seasonal quizzes target popular topical events for high participation rates

They can be paired with holiday giveaways

They help you make a personal connection with your audience

In terms of online marketing, these can boost your website traffic by a great degree if done right
Example
Seasonal Quiz Title Ideas
Explore more seasonal quizzes.
Tip – When creating a seasonal quiz, make sure you customize it with a beautiful, lively background image and theme.
Watch: How to Customize Your Quiz Appearance With Themes

How to Find Amazing Quiz Ideas: 4 Strategies
We've learned about 10 different types of quizzes that are popular among marketers and their audiences, along with some examples for each.
But wait. That's just the tip of the iceberg!
To win at quiz marketing, you must come up with some awesome quiz topics of your own too.
Here are 4 research strategies you can use to find out good quiz ideas that will work for you.
1. Google Online Quizzes
One of the best ways to find subjects for your quizzes is to simply google for quizzes related to your business. When you find a quiz that you like, try to make it into your own by putting a unique spin on it.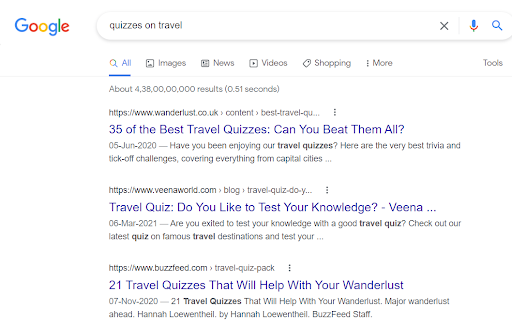 Pro Tip – You can also look for quizzes that feature a winning idea but haven't been properly implemented for marketing success.
2. Research Social Platforms
Social media platforms, such as Facebook, Reddit, and Quora can be a goldmine for finding fun ideas for engaging quizzes, if you know how to look.
Explore Facebook groups, subreddits, and Quora topics related to your niche. Base your quizzes around the most commonly discussed topics among your target audience. Aim to make them useful by providing solutions for pain points and satisfying curiosities.
Pro Tip – Try to incorporate your audience's words in your quizzes for a personalized touch
3. Look Up Popular Blogs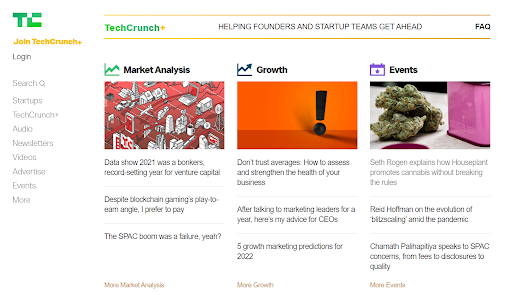 Ideas for engaging quizzes can also be found in blogs run by influencers. Here's how to go about it.
Find blogs in your niche that you like and make a list of them.

Model quizzes around the most popular posts in these blogs.

Try to turn blog categories into topics for creating more general quizzes.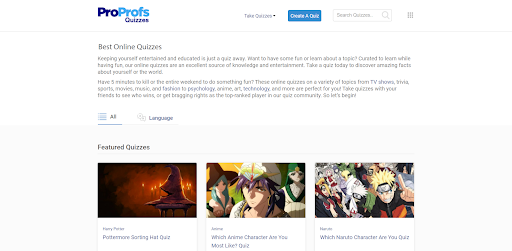 ProProfs hosts a huge public library of excellent quizzes. Created by quiz hobbyists, marketing experts and business professionals from around the world, these quizzes can offer you plenty of excellent quiz ideas. You can also check out our question bank that features even more quizzes and 100,000+ ready-to-use questions.
Bonus Strategy – Competitor Analysis
Apart from the 4 strategies discussed above, you can also take a look at how your competitors use quizzes in pursuit of their business goals. Competitor analysis can be very useful for creating marketing quizzes.
How to Use Quizzes for Marketing
So, you've found the perfect quiz idea for your business. Before you jump in to create an online quiz, the next step would be to figure out how you're going to include it in your marketing strategy. Well, that depends on your exact goals.
Here's what you need to do for these common marketing use cases for online quizzes.
Brand Awareness
Quizzes provide a non-pushy way to make people aware of your brand and what it is all about. If you manage to post a viral quiz, you'll create a positive buzz around your brand, which is great for enhancing your brand recognition and recall.
In a similar way, you can also create awareness about new or old concepts related to your business. You can do this through the questions themselves or by attaching a blog link with your quiz.
Product Recommendation
With the boom in online shopping in recent years, people often find themselves overwhelmed with the choices they have. Product recommendation campaigns have greatly benefited from this.
Quizzes can be used to recommend products by adding an endorsement to the quiz outcome. However, for the endorsement to work, it must strictly be based on the options selected by the quiz taker. This personalization strategy is especially useful for growing e-commerce sales.
Read More: Product Recommendation Quizzes.
New Product Launch
Quizzes aren't just useful for marketing your existing products. They also work great for launching new ones. Through quizzes, you can create interest surrounding your latest offering before you even launch it in the market.
Tip – An excellent strategy would be to create an assessment-style quiz with questions related to concepts relevant to your new product. Then, you can advertise the product in the results section.
Market Research
As mentioned before, quizzes make for excellent survey tools. You'll be surprised by how much you can learn about your audience's needs and preferences from a single quiz and how readily they provide this information when they are asked for it in the form of stimulating quiz questions.
The valuable insights that you get from market research quizzes allow you to modify existing products and tailor new ones to suit your audience.
Social Media Marketing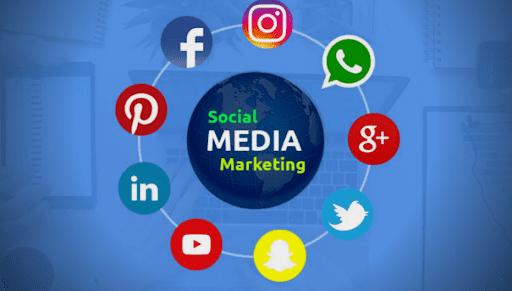 Source
These days, quizzes are all the rage on social media, so much so that any social media marketing campaign would feel incomplete without some interesting quizzes. Quizzes on Facebook, Instagram, Snapchat, and other social platforms work wonderfully at every stage of the marketing funnel.
To make the most out of social media quizzes, you need to know how to make a quiz fun. Social media users expect their quizzes to not only challenge them but also amuse and excite them. Here's an article that can help you with making fun quizzes.
Also, check out these tutorials on quiz making for social media:
Lead Generation and Nurturing
Online quizzes make it very easy to capture leads by incorporating a lead form. This lead form is generally placed either at the beginning before the first question or just before the results at the end of the quiz. The form can also be paired with a giveaway.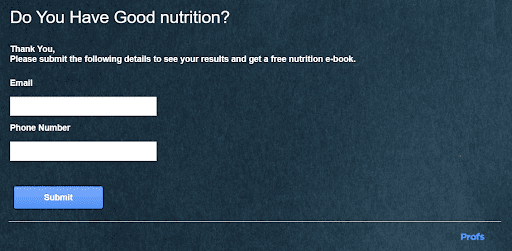 Want to quickly grow your mailing lists?
The best quiz maker software also let you easily follow up with the leads you've gained through efficient integrations with marketing automation tools.
Read more – How to Use Online Quizzes for Your Marketing Strategy
Case Study
Now that you know all about finding and implementing successful quiz ideas, I'm going to share with you an intriguing quiz marketing case study.
This case study illustrates just how amazing a unique business idea quiz can be for growing your sales numbers.
Jay Heinrichs, the author of the New York Times bestseller, Thank You for Arguing, decided to use online quizzes to complement his books on rhetoric and persuasion. (He figured that he could make his book feel more like courses in this way.)
Jay used ProProfs Quiz Maker to design these "persuasion quizzes". While envisaged as merely a marketing tool, the quizzes ended up being widely used by educators to integrate the book in their courses.
This simple quiz idea took his book's sales from a respectable 20,000 to an impressive 400,000 in a short span of time. Inspired by this success, Jay began using quizzes for his subsequent books as well.
You can read the full case study here.
Put Your Quiz Making Ideas Into Action!
Quizzes can serve as inexpensive marketing tools for gathering valuable insights and information. Taking inspiration from what you've learned in this blog post, you can brainstorm powerful quiz ideas and create the best online quizzes to take your brand engagement to the next level.
But, to elevate your business with quiz marketing, you also need top-notch quiz making software that can bring your ideas to life. ProProfs Quiz Maker offers a simple, easy-to-use interface, with 100+ settings to customize your quizzes as much as you want, along with 100+ beautiful themes to make them look memorable.
Do you want free Quiz Software?
We have the #1 Online Quiz Maker Software for complete learning & assessment