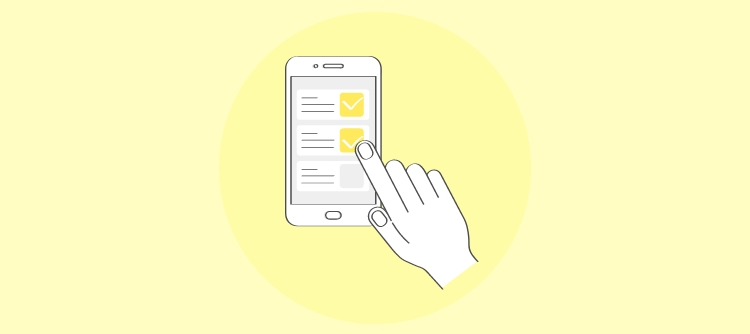 You've heard about quizzes, you've heard about personality quizzes, but have you heard about Snapchat quizzes?
On October 5, 2021, all of Facebook's apps, including Instagram, WhatsApp, and Messenger, went down for more than five hours.
When I couldn't find any other way to keep myself entertained during those hours, I turned to Snapchat!
And at that moment, I wondered- why am I not using it enough, unlike its 319 million users?
The staggering number of Snapchat users includes some of my best friends too, who are always using it for the quirky filters, sharing pictures, and basically having fun.
As always, my keen interest in quizzes led me to think that I could just create Snapchat quizzes using a Snapchat quiz maker and share them to quiz my friends.
So, I did some research and found out how to make a Snapchat quiz.
And today, I am going to share with you all about Snapchat quizzes – what kind you can create, how to create, and some of the best practices for the same.
Let's get started by understanding first of all what Snapchat does.
What is Snapchat?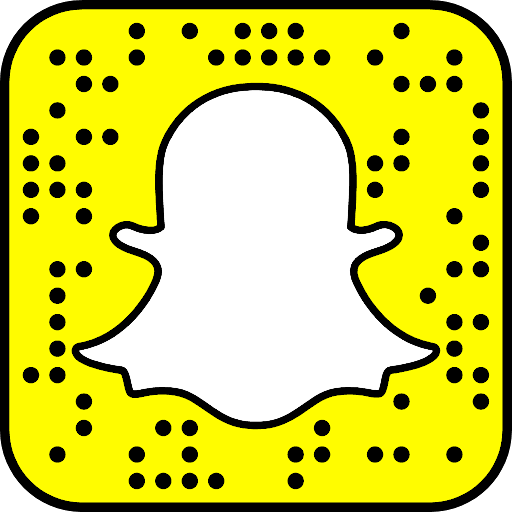 Snapchat is a social media messaging app that lets you share pictures and videos (called snaps) with other Snapchat users you choose to add as your friends. It's like Instagram but without a newsfeed.
You can send pictures & videos to your friends and add them to your stories as well.
However, the snaps you send to your friends disappear once they've been viewed by the receiver and from your stories, 24 hours after you post them.
How Can Brands Leverage Snapchat
What started as a messaging app is now a $90.9 billion company with 108 million users in the United States.
Snapchat has been developing as a fully-fledged special network, allowing more room for brands to experiment and succeed with their marketing efforts.
Consider the following statistics:
Snapchatters use their app over 20 times per day and spend an average of 30 minutes on the app creating over

3.5 billion Snaps

daily.
Even though Snapchat appeals most to the younger generations, you can't afford to ignore this platform.
Here's why:
1. Millennials Are Reaching Their Prime Purchasing Stage
It is estimated that by 2020, Millennial spending will grow to $1.4 trillion annually, representing 30% of total retail sales.
And, since more marketers turn to Instagram Stories for marketing their products, there is less competition on Snapchat. This presents an opportunity to expand your Snapchat strategy to see a better ROI.
2. Authentic Content Is the Key to Driving Conversions
The key to brand success on any platform is providing authentic content.
By leaning into Snapchat's ability to create the "fear of missing out" in its users, you can capture audiences' attention and connect with your consumers.
Still not convinced you can make an impact on Snapchat? The next section can help!
Best Snapchat Marketing Campaign Examples
I did some research and found out some stories of how some popular brands have made the right marketing moves using Snapchat.
Sharing them here so you can get inspired:
1. Amazon
There's Black Friday, and then there's the Black Friday sale.
Every year Amazon announces kickass deals on products during their Black Friday sale.
In 2016, Amazon killed it by launching its Snapchat account with exclusive promotional codes for amazing deals, like $60 wireless Bluetooth speakers for only $1.
It's not just the Black Friday sale move; Amazon also uses Snapchat as a means for creating unique experiences for their followers that are hidden from public view and social media, a concept known as inclusive exclusivity.
Check it out here:

2. Netflix
Netflix offered an immersive experience for Stranger Things on their Snapchat handle.
Before airing the second season of Stranger Things, Netflix launched one of its most innovative campaigns on Snapchat.
With the then recently launched 3D world lens, Netflix created a virtual portal to transport their fans into Joyce Byers' Upside Down living room.
The lens allowed fans to enter the living room and tap on different parts of the room like the couch, wallpaper, and colored lights.
Check it out here:

While this campaign was live on Netflix's story for just one day, it was a hit with the fans of the show.
This campaign dropped a hint about the types of immersive experiences that are possible on Snapchat.
3. Dunkin Donuts
Snapchat lenses provide creative opportunities for brands to showcase their personality and offer their fans a fun visual experience that's worth sharing.
Dunkin' Donuts grabbed this opportunity and turned innumerable fans into donuts (with the lens, of course).
They launched a donut filter to turn their fans into sprinkle-eating donuts for National Donut Day.
This campaign helped Dunkin' Donuts gain ten times more Snapchat followers on National Donut Day than their average monthly followers.
To date, Dunkin Donuts' story remains the highest Snapchat story for the brand viewed.
4. Harvard Business Review
When Harvard Business Review began publishing on Snapchat Discover, they went for a blend of web content and quizzes on complex topics like finances, technology, academics, climate change, etc.
They usually use a mix of snap-based stories, a few swipe-up stories, and interactive elements like quizzes to engage with their followers.
Here's how they used Snapchat discover to publish a story adapted from a long piece on thought leadership: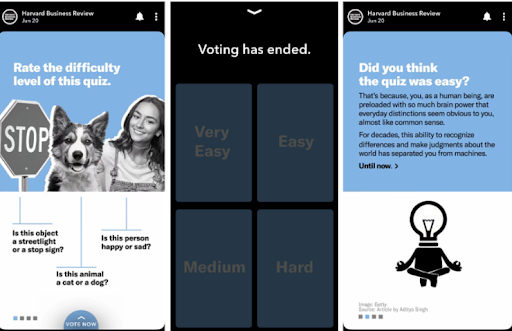 The example of HBR is a great starting point for someone looking to leverage Snapchat quizzes. The following section explores ways in which you can use Snapchat quizzes for marketing.
How to Use Quizzes for Snapchat Marketing
Whether you're a brand, a blogger, or an influencer who has a millennial and Gen Z audience to cater to, Snapchat quizzes can be a great addition to your marketing strategy. Here's what all you can do with a Snapchat quiz:
1. Engage & Grow Your Audience
Just like Instagram gives you the option to interact with your followers with the Ask Me Anything (AMA) tool, Snapchat provides you enough room to interact with your followers by letting you share quizzes.
Snapchat gives your followers free access to ask whatever they'd like to know about your business. They can learn a ton about your brand and receive what feels like inside information in exchange.
Build a quiz with the most frequently asked questions about your brand and share it on your Snapchat story. Then, ask your followers if you missed any questions they'd like you to add to the quiz. This is a great way to interact with your audience and make them a part of your community.

While we are on the subject of creating social media quizzes, here are quick tutorials for you on How to create Instagram quizzes and for Facebook:

Watch: How to Create a Viral Facebook Quiz Easily

2. Gather Feedback
As a brand, you must be aware of the power of genuine feedback. Learning what people have to say about your brand or a product through Snapchat quizzes can be a fantastic way to grow your brand.
Create online quiz with informational videos about your product or brand, its journey, manufacturing process, etc. Then, have your customers record audio/video to learn what they have to say about your product or brand.
Try to ask more specific questions. The more specific you are, the more likely users will be to engage. For instance, you can ask:
Do you have any suggestions for us?

Do you have any ideas on how to make the product better?

Would you like us to remove any element from our manufacturing process?
Allow your quiz takers to submit their responses by recording a video so it's easier for them to explain their ideas in detail.
3. Generate New Content Ideas
When people ask questions, it means there's a need for information. This sounds obvious, but in some cases, you can use the data gathered by quizzes to turn them into more long-form content, including YouTube videos, blog posts, help articles and other educational resources.
Pro Tip: Make sure that the subject is relevant to your buyer persona
4. Recommend Products
Looking for a non-pushy way to recommend products to customers? Quizzes are one of the best options, especially if you're running an eCommerce business.
You may run fantastic ads for your diverse range of products, advertise them on any platform, but your customers are still going to find it difficult to find the right product for themselves. Here's where you can help them reduce the choice overload with a product recommendation quiz.
Create a product recommendation quiz and share it on your Snapchat story to recommend the right products to your customers based on their quiz answers.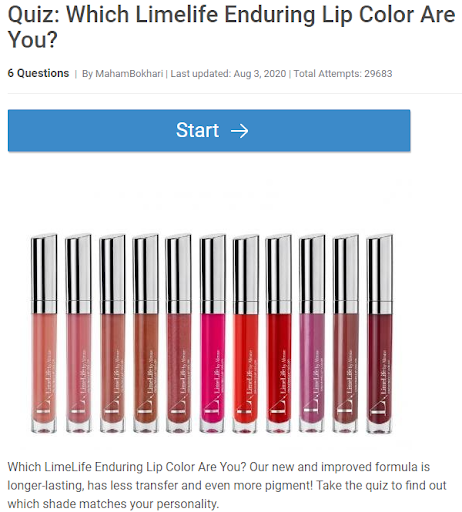 Additionally, you can use the quiz results' space to divert quiz takers to your website and use an opt-in form to gather their mailing addresses.
Now that you know how to use quizzes for leveraging the marketing potential of Snapchat, let's discover the different types of quizzes you can create for Snapchat.
What Kind of Snapchat Quizzes Can You Create?
Literally, any type!
Yes, just because it is a messaging app doesn't confine the possibilities of creating different types of quizzes. However, to give you an idea, I've clubbed the types under:
Fun Personality Quizzes
Scored Quizzes
Game Style Quizzes
You may be familiar with these types of quizzes, and the chances are that you've taken one of these quizzes at least once. When creating quizzes for Snapchat, you can use these types too.
Let us help you understand these better:
#1 Fun Personality Quizzes
As humans, we all like to get information about ourselves that sounds flattering. This is called the 'self-serving bias' and it's because of this phenomenon that personality quizzes are so popular.
A personality quiz categorizes you into different personality types and gives you an outcome based on your answers. It helps you discover facts about yourself that you had no idea about.
For example:
#2 Scored Quizzes
Scored quizzes may not be as popular as personality quizzes, but they are fun too.
Scored quizzes let you assess your knowledge about any topic, concept, or phenomenon. They are interesting, especially because they give a definite score as a result.
What makes this useful?
Well, a higher score activates the rewarding stimuli in our brain, which in turn, releases the dopamine responsible for making you feel happy. That's the reason why readers keep coming back to these quizzes and get addicted!
For example:
#3 Game Style Quizzes
Another most popular type of quiz is the Game Style Quiz. This is very similar to playing a game and finding out the results.
Such quizzes challenge you to assess your knowledge and awareness about any tangible or intangible thing. For instance, your friendship, your relationship, social media, an object, etc.
For instance, you can share the True Love Test Meter quiz on your story: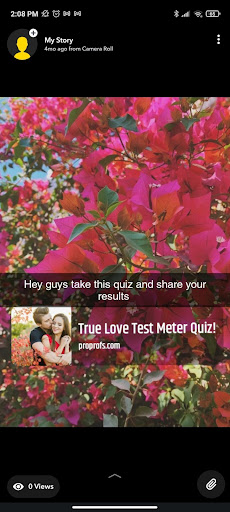 Then ask your followers to take the quiz and share their results with you:
Here are some more examples of interesting game style quizzes:
Now that you've learned about the quiz types that can be created, let's move on to learn more about Snapchat quizzes.
How to Make a Quiz on Snapchat
Follow these steps to create a quiz for Snapchat in minutes:
Step-1: Create a Quiz Using Online Quiz Software

Since Snapchat doesn't let you embed a quiz natively on its app, you just need a snapchat quiz maker to create a quiz. There are several online quiz makers that you can use to easily create a quiz.
For instance, the ProProfs Quiz Maker lets you build online quizzes without any software installation. You can either create your own quiz or choose a quiz template:
1- Creating a Quiz With Templates:
Here's what you need to do to create a quiz with templates:
Step-1: Choose a topic
Step-2: Choose a quiz template
Step-3: Edit the quiz template to create your quiz
2- Creating a Quiz From Scratch
Here's how you can create a quiz from scratch:
Step-1: Choose a quiz topic
Step-2: Click on create a quiz
Step-3: Add questions
Step-4: Create results page
Watch: How to Create a Quiz Online

Pro Tip: Choose a quiz template to launch your quiz in minutes or create from scratch if you want to personalize the quiz at every level.
Step-2: Share the Quiz
Now since you can't embed the quiz on Snapchat or share it as a post, you need to copy the link and share the quiz link on Snapchat.
To copy the quiz link, you need to:
Go to your quiz dashboard and select the quiz you want to share.

Click on the 'share icon," which looks like a paper-plane as shown in the image below:

Then, from the window that appears, click on the

'Link'

option and copy the quiz link as shown below:

You can share it with your friends on Snapchat.
There are two ways to share a quiz on Snapchat:
#1 Send as Snap to Your Friends: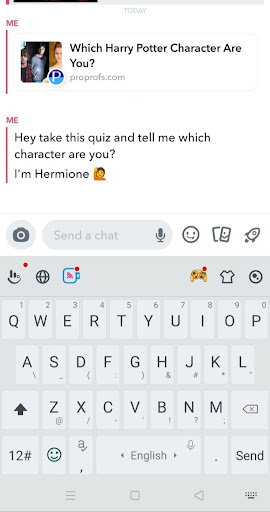 On Snapchat, you can share the quiz link with your friends via chat.
Follow these steps to send your quiz link as Snap to your friends:
Open the Snapchat app
Tap the 'Chat icon' or swipe right on the camera screen to access the Chat screen
Tap a friend's name
Paste the quiz link in the chat window
Hit 'Send'
#2 Attach the Quiz Link on Your Snapchat Story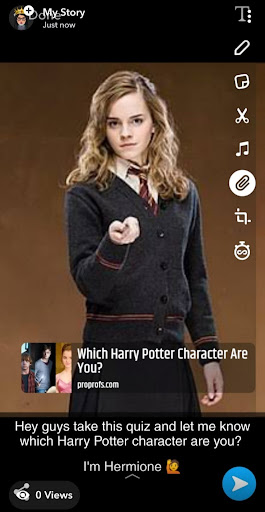 Unlike the chat option, sharing your quiz link on your story will not disappear after being seen.
In fact, that's the best part about sharing a quiz link on your Snapchat story – that anyone who views your story can take the quiz by simply clicking on the link.
It is a less invasive way to ask your friends to take the quiz than direct messaging.
By default, your Snapchat story will be visible to all your friends for 24 hours unless you change the privacy settings.
To share the quiz on your Snapchat Story, follow these steps:
Take a picture snap or a video snap.

Once you capture a snap, click the attachment icon to add your quiz link.

You can change the text style, add stickers, emojis, and more.

Click Send and choose My Story to create a story.
Pro tip: You can share the link on a new snap or even reuse an old snap to add this quiz link!
Now that you know the steps to make a quiz for Snapchat, it's time to discover the best ways to do it in the next section.
Best Practices to Create a Snapchat Quiz
Like any other quiz, there are some practices that you should follow if you want to nail Snapchat quizzes. Let's look at such practices:
1. Create Interesting Title
Remember this one thing about Snapchat – whatever you share on it disappears after a while. So, try to create an interesting title for your quiz – one that'll make your friends take the quiz the moment they see it.
For example, try titles that arouse curiosity like Who Is Your Celebrity Lookalike and share them on your Snapchat story.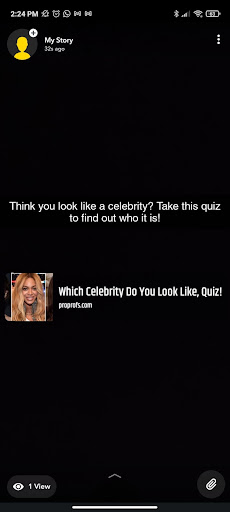 Here are some more examples of interesting quiz titles that you can take inspiration from:
2. Add Fun Questions
Whether you create your own quiz questions or import them from a question bank, remember the whole point of creating a Snapchat quiz is to have fun. So, while you're adding questions to your quiz, be mindful of their fun and engagement quotient.
You don't want your quiz-takers to feel like they've been baited into taking a boring quiz with an interesting title. Do you?
So, pay close attention to your quiz questions and ensure that they're fun and engaging before adding them to your quiz.
Here are a few things you can do to make your quiz questions engaging:
Snapchat is a visual medium so go wild with images
3. Create Interesting Quiz Outcomes
Whether it is a scored quiz or a personality quiz, outcomes are the real takeaway from quizzes, which is why you need to be extra careful when creating quiz outcomes.
Ensure that your quiz result page is as interesting and quirky as the questions so that the quiz takers feel happy to share their results on their Snap Story.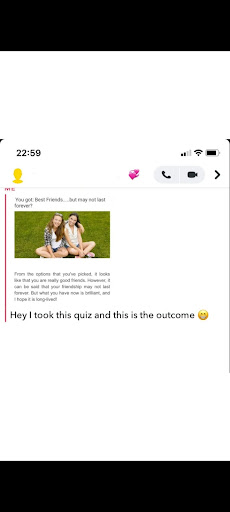 ProTip: To make your quiz outcomes more impactful, add a Call To Action (CTA) at the bottom of your results page like:
Add to cart
Visit our website
Learn more
Retake the quiz
Share your quiz results
Read more
Sign up today!

4. Create Seamless Opt-in Forms
If you're a brand creating a Snapchat quiz to grow your mailing lists, create a seamless opt-in form and add it to your quiz.
If your opt-in form isn't great, you may have a hard time getting quiz takers' information like their email addresses and contact numbers.
Pro Tip: Offer an incentive on your opt-in form to gather more email addresses like this: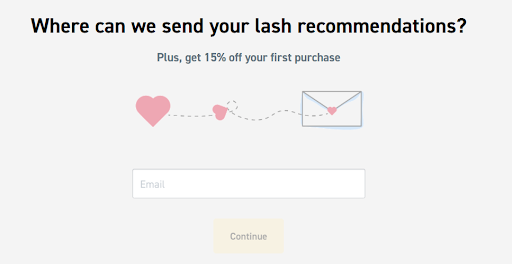 5. Integrate With Marketing Automation Tools
When choosing a software for building quizzes, look for the one that integrates well with a CRM software like Big Contacts, or an email marketing tool like Mailchimp, Hubspot, Constant Contact, etc.
Integrating your quiz with one of these tools will help you grow your mailing lists, streamline your email marketing process, and ultimately help you generate leads for your business.
✅Bonus Tip: Tag Your Friends
Tag your friends in your story to challenge them to take the quiz and share its results on their Snapchat story. Brands and bloggers can do the same to get more attraction. Take a quiz and tag brands, fellow bloggers or influencers to gain more traction and attract more followers.
Feeling Inspired? Make a Snapchat Quiz Today!
I created a Snapchat quiz with ProProfs and shared it with my friends, who loved it! They even went on to share their results on their snap stories. It's surely a fun and engaging way to keep connected with your friends.
I hope you enjoyed reading this blog and learned the overall benefits and ways of using a Snapchat quiz.
Did you get any ideas? Well then, go ahead, brainstorm, and create your first Snapchat quiz today!
Do you want free Quiz Software?
We have the #1 Online Quiz Maker Software for complete learning & assessment