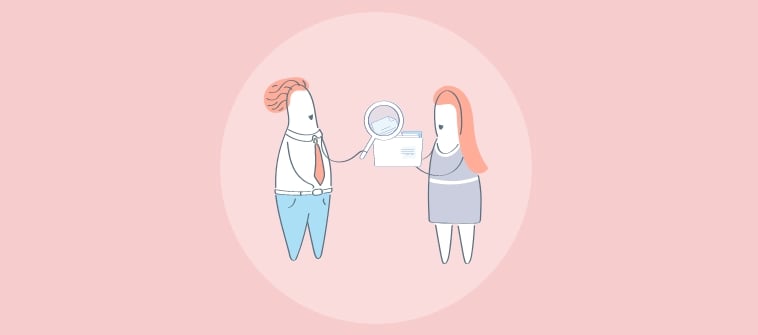 From wasted money, time, and effort to uncomfortable "letting go" conversations, bad hiring can open a whole can of worms – which makes it surprising that almost three in four employers admit to having made this mistake.
One of the most common reasons why many companies hire the wrong people is that they simply don't have an effective candidate assessment process. So, we've put together this list of the 20 best recruitment assessment tools to help you hire right.
But, before we unveil our list, let's make sure we're on the same page regarding what is a recruitment assessment tool and why your hiring team needs an excellent one.
What Is a Recruitment Assessment Tool?
Recruitment assessment tools are online software tools that help recruiters and employers analyze job candidates' skills, personality, and cognitive abilities and make highly informed hiring decisions to ensure both role-specific and cultural fit. These tools let you create and administer your pre-hire tests and compare the applicants' performance in a centralized and streamlined way.
What to Look for When Selecting a Recruitment Assessment Tool
Selecting a recruitment assessment tool for your organization is crucial since an inefficient or unsuitable tool can end up harming your recruitment process instead of helping it. Here are all the things that you should keep an eye out for when comparing your options.
Suitability to Your Needs –

Your

recruitment assessment tool should fit nicely into your hiring and onboarding system. It needs to enhance your screening process and complement the interviews.

Pre-Built Tests –

You'll need a wide variety of

recruitment assessment tests

. So, tools that offer pre-built, professionally-designed hiring tests should be among your top contenders.

Customization Settings –

The more test settings you have at your disposal, the more you can tailor the tests to your specific needs. For instance, you may need to

set different time limits

for each question.

Automated Scoring –

An automated scoring mechanism for skill tests can save hours of your time that you can devote to improving the hiring process in other ways.

Question Types –

Top recruiting assessment tools

offer a wide variety of question types, including video interviews and comprehension-based questions. They also let you add videos, images, documents, audio, and links to your questions.

Security Settings –

The

best recruiting assessment software

offer robust security settings to prevent cheating and unauthorized access and ensure your tests' credibility. For example, you should be able to randomize the question order for different test-takers and prevent printing and copying of the test content.

Reporting –

The

best recruiting assessment tools

provide insightful and easily digestible reports & analytics that help you quickly identify suitable candidates from the applicant pool.

Appealing UI –

Your hiring tests will be one of the first things the candidate will see of your company. So, they need to offer a pleasant and seamless user experience.

Cost-Effectiveness –

The recruitment assessment tools you choose should offer a good value for money in terms of the features & benefits and fit into your recruitment budget.
Watch: How to Choose the Best Assessment Software
Benefits of Recruitment Assessment Tools
Implementing recruitment assessment software in your organization improves business outcomes in many ways. Here are the positive changes you can expect by creating a hiring process powered by candidate assessment tools.
Engaged and Productive Workforce –

Employees who fit well into their roles and company culture can stay

well-engaged

with their job and organization, enabling them to be highly productive and contribute adequately toward business objectives.

High Employee Retention –

By ensuring a good fit,

hiring assessment tools

reduce employee turnover, saving you a lot of money in hiring and training costs.

Saved Time and Effort –

With

online recruitment assessment tools

you can conduct

pre-employment tests

and analyze results in a streamlined way. These take much less time and effort to administer compared to pen-and-paper-based assessments.

Unbiased Candidate Assessment –

Being data-driven, online recruitment assessments are not affected by unconscious bias, enabling you to

screen and select

the most deserving candidates.

Better Workplace Communication –

Apart from assessing competency,

employment assessment

tests help identify candidates' communication styles and preferences, so managers can lead them better.
Now that you understand why hiring assessment tools are a must for an effective recruitment process, let's jump into our list of the 20 best recruitment tools, starting with a quick feature comparison.
Feature & Price Comparison of the Best Recruitment Assessment Tools
[table "64" could not be loaded /]
Top 20 Recruitment Assessment Tools for 2023
1. ProProfs Assessment Software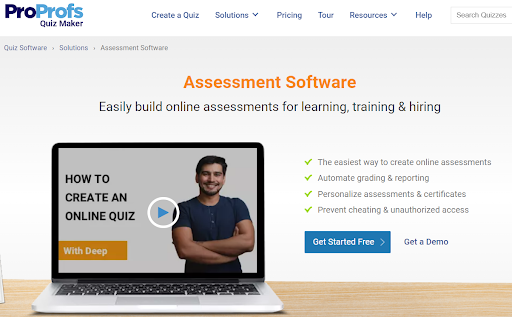 Explore Assessment LibraryGet a Demo
ProProfs is the most comprehensive recruitment assessment tool out there. It lets you easily create score or personality-based tests on any topic and comes bundled with 100+ best pre-employment assessment tests that you can use as-is or modify to suit your needs. Once candidates submit their tests, you can analyze and compare them using detailed, AI-powered reporting and analytics.
ProProfs' online assessment platform offers 15+ question types, including multiple-choice, video response, comprehension, and checkbox. Its video questions, which let candidates respond by recording or uploading a video, are handy for remote hiring.
ProProfs is equipped with 100+ smart settings for security, cheating prevention, and customization and also lets you brand/white-label your assessments. Tests get auto-scored as per your point assignment, which you can manage using flexible grading configurations, such as partial & custom grading, negative marking, and more. What's more, you can also import questions from ProProfs' quiz library, which contains over 1 million ready-to-use questions.
Key Features
100+ professionally-designed skill, personality, and cognitive assessment tests

Customizable hiring test templates and one million+ ready-to-use questions

15+ question types with branching logic

Add images, videos, documents & links to questions

Automated grading with flexible point assignment

Prevent cheating by shuffling questions & answers, disabling tab switching, and much more

Create question banks to randomly pool questions from

Set time limits (overall or for individual questions)

White-label your tests with your logo, colors, fonts, graphics, etc.

Downloadable, AI-powered reports with statistics

Integrates with HR software like BambooHR
Pros
+ Massive resources library with assessment tests, test templates, and ready questions
+ Intuitive and user-friendly tool
+ Performance tracking in real time
+ 70+ language support including English, Spanish and more
Cons
– More templates can be added
Pricing
Free and paid plans. Paid plans start at $20/month (billed annually)
Watch: How to Create an Assessment Online
2. Applied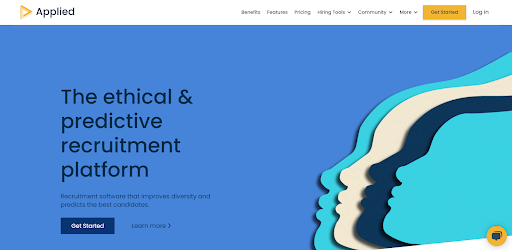 Applied is a recruitment assessment tool that focuses equally on making hiring assessments more ethical and efficient. This software has dedicated functionalities to ensure that unconscious bias doesn't come into play during the hiring process and that you create a diverse and highly-productive workforce.
With this unique tool, you can receive anonymized candidate applications and have candidates randomized to steer clear of ordering effects. You can also group candidates into batches to help with comparative assessment and collect scores from multiple evaluators to take advantage of the "wisdom of the crowd".
Key Features
Anonymous candidate applications to avoid bias

Randomization of candidate responses to ensure fairness

Job description tool to remove gendered language in job descriptions

Diversity, Equity, and Inclusion-focused live reports

Library of ready-to-use questions with scoring guides

Dashboard for centralized candidate management

Automated feedback for candidates

Automated interview scheduling

Job board integrations
Pros
+ Great for anti-bias, diversity-focused hiring
+ Mobile friendly
+ Multiple evaluators
Cons
– Needs more features to help with large volume applications
– The replacement words suggestions functionality needs improvement
Pricing
Available on request
3. Codility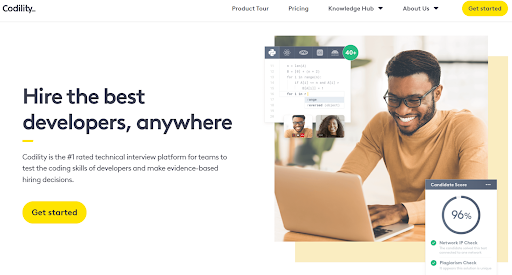 Codility is one of the best online assessment tools for hiring developers. You can use this specialized software to assess job candidates' coding and soft skills. The recruitment suite includes:
A comprehensive test editor

Pre-built code tests

A scoring system

Reporting & analytics
You can also hold remote technical interviews with the screened candidates.
You can integrate Codility with many other tools you use for recruitment using its API. In this way, the tool lets you streamline the entire recruitment process. Plus, it also includes anti-bias and candidate anonymization functionalities.
Apart from hiring tests and video interviews, you can also use this recruitment assessment tool to create gamified coding challenges to attract and assess top talent at scale.
Key Features
Create role-specific coding skills and soft skills assessments

Host remote or on-site technical interviews with CodeLive

Shared canvas to ask system design questions

See how candidates code in real-time with a shared code editor

Integrate CodeLive with your applicant tracking system (ATS) and communication tools

Attract top talent at events with gamified coding challenges

40+ languages and technologies for hiring front-end & back-end developers, DevOps engineers, cloud engineers, and data scientists

Skills library with unique coding tasks

Anti-plagiarism toolkit
Pros
+ User-friendly tools
+ Streamlined test assignment with ATS integrations
Cons
– Reports can be more explanatory
– More new niche technologies can be added to the library
Pricing
Available on request
4. SHL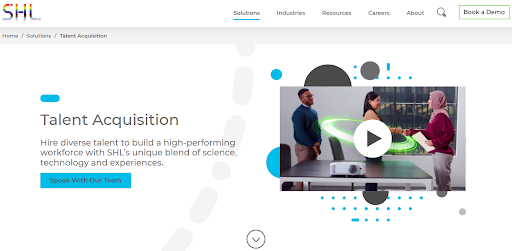 Saville and Holdsworth Ltd. (SHL) is well-known for its Occupational Personality Questionnaires (OPQ32) personality assessments that they launched in 1984. Today, the company offers a comprehensive talent acquisition and management platform that enables you to hire and groom the best talent for your organization.
On the talent acquisition front, SHL's recruitment assessment tool lets you conduct assessments for testing job-specific skills, soft skills, and personality and host video interviews at scale. Like Codility, it also offers dedicated products for hiring developers, such as coding skill tests & simulations and whiteboard & IDE (Integrated Development Environment) for live coding interviews.
Key Features
Pre-built skills, personality, and cognitive assessments

Add your branding to assessments

Scoring system with red/amber/green job match indicator

Provide instant, personalized video feedback to candidates

Showcase your Employee Value Proposition (EVP) messages and job/work culture previews

Conduct video interviews using SHL's question bank or ask your own questions

Interactive dashboard for real-time monitoring of your hiring program

Integrations with 80+ top applicant tracking systems

Talent management tools
Pros
+ Wide variety of ready-to-use assessments
+ HR technology integrations
Cons
– User experience for candidates can be improved
– A great option for high-volume hiring
Pricing
Available on request
5. Athena Assessment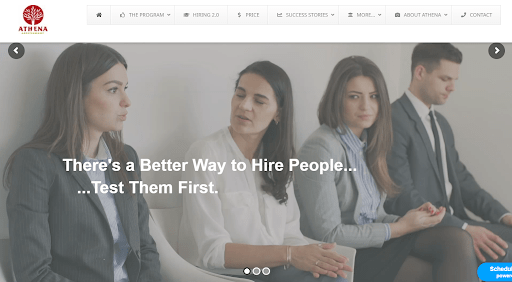 One of the simplest online recruitment tools, the Athena Quotient (AQ) Assessment is designed on the premise that judgment is the most important attribute needed in an employee for optimal productivity. This unique test presents the candidate with a set of phrases, and the candidate has to arrange these phrases from best to worst.
Most candidates can complete this untimed assessment in less than 30 minutes. Athena offers a variety of detailed reports to aid in your hiring process. You can have these reports customized with your organization's logo and colors.
Key Features
Unique pre-built assessment to measure judgment

Assess strengths and weaknesses in 30 criteria

Identify stress levels and triggers that affect judgment

Get detailed reports to analyze job fit

Customize the look and feel of your reports

Well-explained instructions for taking the assessment
Pros
+ Easy to administer to candidates
+ User-friendly interface
+ Detailed and insightful reports
Cons
– The reporting can seem overly complex to some recruiters
– Does not measure job-related skills or other personality traits
– You can't create your own assessments
Pricing
Subscription starts at

$500/month

Per assessment" pricing starts at $125 for a single assessment
6. iMocha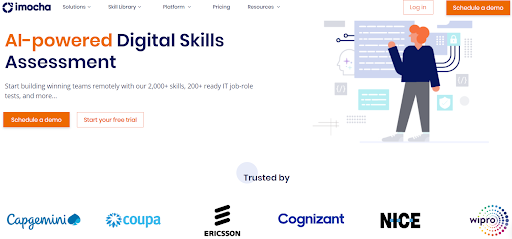 iMocha offers over 2,500 skill tests covering various topics, including IT skills, coding, cognitive aptitude, industrial skills, retail, engineering, and more. This recruitment testing software also lets you create custom assessments by adding your own questions, either one by one or in bulk. You can also use this platform to conduct live video and coding interviews.
iMocha offers excellent security and anti-cheating features, including live video & AI-based proctoring, question randomization, window lock, IP access restriction, single sign-on, and more. The recruitment assessment tool also supports many integrations, including Applicant Tracking Systems, to make the recruitment process quick and efficient.
Key Features
2,500+ skill tests, including 500+ tests for IT skills, 20+ for coding languages, 20+ for domain skills, and 20+ for cognitive abilities

Create custom assessments

Live video interviews for assessing coding, communication, and analytical skills

Get custom assessments created by subject-matter experts in 48 hours

Real-time, AI-enabled audio, video, and image proctoring

AI-powered reporting and analytics with an intuitive dashboard

Live coding interview functionality

Security & compliance features, including single sign-on and IP access restrictions

Advanced employer branding

Applicant Tracking System integrations
Pros
+ User-friendly platform
+ Great collection of ready-to-use tests
+ Highly customizable assessments
Cons
– Collaboration can be challenging
– The reporting can be more detailed
Pricing
Available on request
7. HackerRank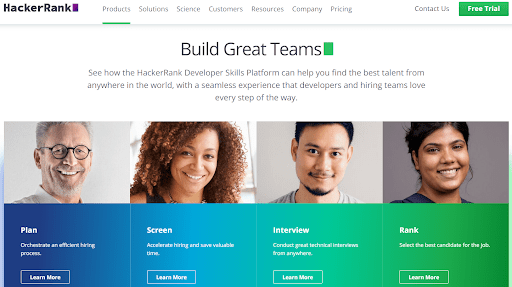 HackerRank is a top recruitment assessment tool for hiring software developers and engineers. It lets you create coding assessments for over 35 programming languages and is equipped with a virtual whiteboard and a customizable IDE environment. You also get a platform for conducting technical interviews via audio, video, and live chat.
HackerRank is especially suited for candidate screening as it lets you create insightful, role-specific technical challenges at scale. What's more, the tool automatically reviews candidates' performance and ranks them so you can easily identify top performers.
Another great feature of this tool is that it helps with improving diversity and inclusion in your hiring by anonymizing candidates and letting you provide additional time accommodations to candidates with special needs.
Key Features
Create coding skill tests

Conduct real-time technical interviews with live chat, audio, and video

Content library with coding, HTML/CSS/JS, multiple-choice, diagram, subjective, and database questions

Add-on to assess role-specific skills by assigning real-world projects

Benchmarking add-on to rank candidate scores against your candidate pool

ATS integrations to assign assessments, view results, and manage interview invites

Add-on that lets you review candidates' code review comments
Pros
+ Beautiful UI
+ Great pool of ready-to-use coding questions
+ Excellent coding challenges for every skill level
Cons
– The code review system can be slow at times
– The interview functionality doesn't always run smoothly
Pricing
Starts at $25/month (billed annually)
8. TestDome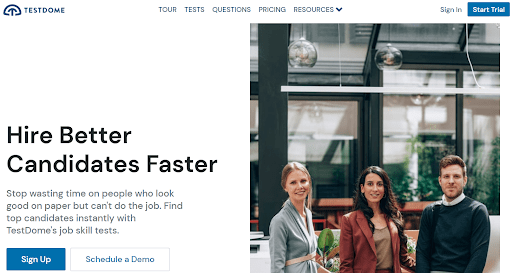 TestDome is another recruitment assessment tool that lets you assess candidates' skills using pre-made or custom assessments. It offers you 160+ ready-to-use hiring tests that you can use as-is or customize to your needs.
You can create a custom employment assessment test by adding your own questions or using the tool's question bank, which contains over 1000 expertly-designed questions. TestDome prides itself on its premium question collection that tests real-world competencies and even offers a money-back guarantee if anyone can find the answers to its premium questions online.
Tests created with this tool get automatically scored, saving time and effort. You can also set and adjust a cut-off score and automate pass/fail grouping.
Key Features
Access 160+ pre-built hiring tests on programming, customer, service, accounting, project management, soft skills, and more

Customize any test by adding questions from TestDome's library or by adding your own custom questions

1000+ questions designed to analyze real-world problem solving

Anti-cheating features, such as webcam monitoring, duplicate email detection, and disabling copy & paste

ATS Integrations with Greenhouse, SmartRecruiters, and more

Detailed reporting with a skill-wise breakdown

View candidates' progress minute-by-minute for coding tests

Automated scoring and pass/fail grouping

Give immediate feedback to candidates on their score
Pros
+ Easy candidate management
+ You can track candidate progress in real-time
+ Recruiters can collaborate and share roles
Cons
– The UI could be faster
– Needs more options to customize notifications
– Not enough questions on certain topics
Pricing
Starts at $100
9. Skillsarena

Skillsarena lets you conduct hiring assessments to test job-specific skills, psychometric traits, and soft skills. You can choose your assessment tests from the tool's test library or create your own custom test. The library contains skill tests on various topics, such as accounting & finance, English, Math, industrial skills, health & safety, Microsoft Office, and more.
What makes Skillsarena one of the best recruitment tools is that the company's team works with you to create a bespoke test. You can also opt for their consultancy services to create highly-effective situational judgment tests tailored to your organization's unique needs.
Key Features
Get tailored situational judgment tests drafted by Skillsarena consultants

Pre-built skill tests to assess technical and soft skills

Psychometric assessments that provide in-depth personality profiles of applicants

Create your own hiring assessment tests

Unlimited administrators in the premium version

On-demand expert consultant for premium users
Pros
+ You can get bespoke assessments created by experts
+ Good variety of ready-made hard and soft skill tests
Cons
– No monthly or annual subscription plans are available
Pricing
Free and paid plans. Paid plans start at £425.
10. Criteria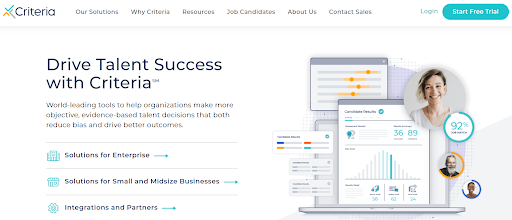 If you're looking for a recruitment assessment tool that offers a good number of highly-reliable, pre-built tests, then Criteria should be on your shortlist. This tool provides recruitment skill tests for as many as 1,100 positions. What's more, Criteria has a scientific advisory board that oversees these assessments' development and even collaborates with leading academic and research institutions in pursuit of its test validation efforts.
Criteria's platform provides performance reporting in real-time complete with analytics to compare candidates on important metrics. It integrates with several top ATSs and Human Resources Information Systems (HRISs) to speed up the hiring process.
Key Features
Pre-built hiring tests for assessing skills, cognitive aptitude, personality, emotional intelligence, and more

Game-based assessments provide candidates with an immersive experience

Design situational judgment tests

Conduct video interviews using pre-filmed standard questions or by asking your own questions

Add your logo and branding to your assessments

Anonymize candidates to remove unconscious bias

Integrations with a wide range of ATSs and HRISs

Candidates can take Criteria assessments on any device

Real-time reporting with analytics
Pros
+ Simple and clean interface
+ Easy to assign assessments to candidates
+ A good number of integrations
Cons
– Needs more customization options
– Reporting can be more user-friendly
Pricing
Available on request
11. Mettl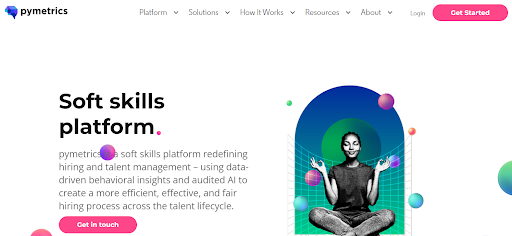 Mettl offers one of the most secure platforms for conducting assessments with its top-notch proctoring facilities. This includes live proctoring, AI-powered automatic proctoring, and record-and-review style proctoring. The tool also has excellent data security standards, further ensuring the credibility of your talent assessments.
Like other recruitment assessment tools, Mettl lets you choose between creating your own tests or choosing from its test library. While it covers various niches, the test library is particularly useful if you're hiring for engineering and software development roles.
Mettl also offers other assessment solutions besides skill and psychometric tests, such as coding simulators, an online hackathon platform, and an English language skill evaluator tool.
Key Features
Ready-made tests to assess candidates' skills, behavior, and cognition

Create your own hiring tests

100,000+ pre-built questions for quick test creation

Live proctoring, record-and-review proctoring, and AI-based automatic proctoring

Insightful reports with interactive graphs and charts

AI-powered spoken English evaluation tool

Library of coding simulators that includes simulators for front-end, back-end, database, data science, and more

Conduct online hackathons to engage with campus talent

Support for 26+ international languages
Pros
+ Excellent proctoring capabilities
+ One of the best assessment tools for hiring developers
+ Real-time dashboard to monitor hiring pipeline
Cons
– UI could be faster
– You need to download reports to view a detailed analysis of candidate performance
Pricing
Available on request
12. Plum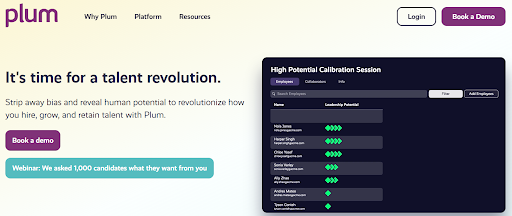 Plum features a simple yet highly effective method of assessing candidates' job fit. Here's how this recruitment assessment tool works:
Hiring teams take a short survey to find the behavioral needs for the role they are hiring for.

Job applicants take a test to assess their personality and cognitive abilities and receive a personalized talent profile.

The talent profile is compared to the role requirements to decide if the candidate makes a good fit.
You can add multiple team members to your Plum assessment process and define roles & permissions for each. To help with candidate analysis, you can easily print or download Plum profiles.
Key Features
Conduct personality and cognitive ability hiring tests

Add multiple collaborators to improve and de-bias hiring

Create detailed job-fit criteria using a 6-minute survey for the hiring team

Download and print talent profile reports

Get notifications for new candidates
Pros
+ Special profiles for candidate analysis
+ Insightful questions
+ Great for a DEI hiring strategy
Cons
– Interpreting talent profiles can be challenging at first
– Mild learning curve
Pricing
Available on request
13. HR Avatar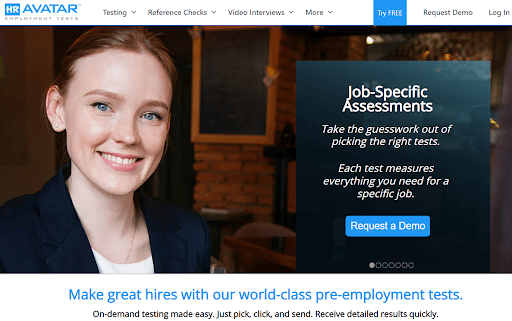 HR Avatar provides an engaging assessment experience for candidates by combining text-based questions with simulations featuring fun 2D animations. This human resource assessment tool offers over 200 pre-made tests to assess role-specific skills and also lets you create custom tests.
With its excellent remote proctoring functionalities, you can conduct effective, cheating-free tests using this platform.
HR Avatar also has a unique automated reference check feature. This feature lets you ask the candidate for contact information of their past supervisors and co-workers and then send quick surveys to them to get information about the candidate's background.
Key Features
200+ pre-made job-specific tests

Create custom tests to suit your needs

Live video interviewing with real-time scoring

Remote test proctoring functionalities, such as image capturing, suspicious activity monitoring, live video proctoring, and more

Ask candidates to provide contact info for past supervisors/co-workers and send them short, 5-minute surveys for reference check

Create workplace simulations featuring 2D-character animation

Advanced reporting capabilities
Pros
+ User-friendly platform
+ Fun animated simulations
+ Easy to understand assessment results
Cons
– More pre-built tests can be added
Pricing
Starts at $45
14. Pymetrics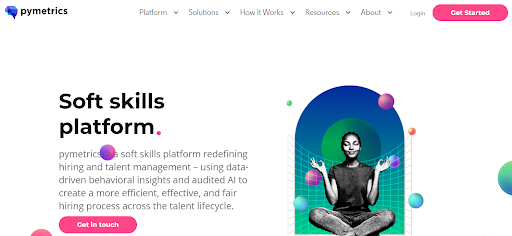 Envisioned by an academic neuroscientist, Pymetrics is a recruitment assessment tool that tests candidates' soft skills and emotional traits. The AI-driven assessment provided by this platform uses a benchmarking algorithm to rank applicants against the company's top performers.
The unique thing about this tool is that it uses games instead of questions to assess strengths and weaknesses. This makes for a highly engaging experience for the candidates. You can also conduct video interviews for screened candidates and share the recorded responses with all stakeholders in your hiring process. Pymetrics also offers ATS integrations and candidate anonymization.
Key Features
Access gamified soft

skill assessments

Conduct video interviews

Get tailored interview questions for a structured evaluation process

Share videos between recruiters and hiring managers for better internal collaboration

A platform for existing employees to explore internal job opportunities

ATS and other integrations to streamline talent evaluation

Anonymize candidates to remove bias
Pros
+ Simple and intuitive tool
+ You get to provide a fun experience to candidates
Cons
– Reporting can be improved
Pricing
Available on request
15. Predictive Index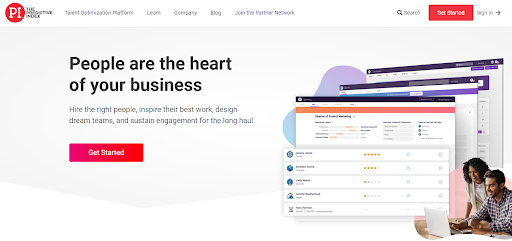 With over 65 years of experience in behavioral science under its belt, Predictive Index offers one of the best behavioral assessment platforms that you can use to enhance your recruitment process. The PI Behavioral Assessment analyzes four key personality traits – dominance, extraversion, patience, and formality.
Besides its popular behavioral assessment, this recruitment assessment tool also offers a 50-problem cognitive assessment and the PI Job Assessment. PI Job Assessment is a unique recruitment tool that lets you X-ray the role you're hiring for to identify the traits you should be looking for in your candidates.
To complement its assessments, PI also offers a pre-employment testing tool that lets you further streamline your hiring with custom interview questions, candidate sorting functionality, and more.
Key Features
PI Behavioral Assessment: A quick assessment to analyze the personality traits of candidates

PI Cognitive Assessment: A 12-minute timed assessment with 50 problems to assess cognitive aptitude

PI Job Assessment: Identify top behavioral and cognitive traits required for success in a particular job role

PI Hire: A multi-feature pre-employment testing tool

Ask custom interview questions to analyze gaps between candidates' traits and job requirements

Sort candidates based on top job-performance predictors

Deliver an excellent candidate experience to seal the deal

Detailed reports

Integrations with top applicant tracking systems
Pros
+ Access one of the best pre-employment personality tests
+ Lets you provide an excellent candidate experience
Cons
– The reporting can be more streamlined, with all of the data available in one place
Pricing
Available on request
16. eSkill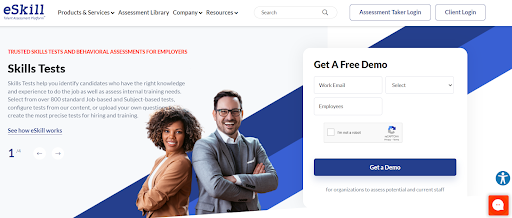 A popular recruitment assessment tool, eSkill features a comprehensive test library spanning over 500 subjects and covering various job roles, including sales, HR, administration, accounting, IT, and more. You can also create custom assessments by including questions from the test library or drafting and adding your own.
eSkill also lets you add several simulations to your assessments, such as multitasking and Microsoft Office. The tool lets you remote-proctor your tests and add time limits to ensure that you get credible and accurate insights from your assessments. It also has impressive features for conducting interviews and managing feedback.
Key Features
Access test library with 800 job- and subject-based tests

Create your own hiring tests by choosing questions from the library or adding your own

Add video response questions to assessments

Get expert guidance to create tailored assessments

Customize the look of your tests by adding your company logo

Include various simulations in assessments

Online proctoring to discourage cheating

Set time limits to accurately analyze skill level

Integrate with popular ATSs and

learning management systems (LMSs)
Pros
+ Simple and easy-to-use interface
+ Excellent collection of skill, behavioral, and cognitive assessments
+ Great multitasking simulator
Cons
– Mobile compatibility can be improved
– Reporting can be enhanced to meet enterprise-level needs
Pricing
Starts at $100/month (billed annually)
17. ThriveMap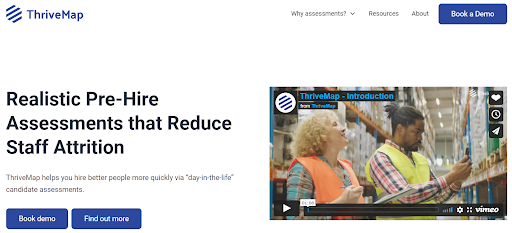 ThriveMap aims to create a uniquely effective hiring process for medium and large organizations with their "day-in-the-life" candidate assessments. Apart from analyzing job applicants against the company's hiring criteria, the assessments created with this recruitment assessment tool also provide a digital tour of the company's work culture.
In this way, ThriveMap assessments help reduce employee turnover stemming from "expectation vs. reality" gaps, making it one of the best hiring tools. The platform provides auto-generated and insightful reports and is equipped with a leaderboard for candidate comparison. You can also choose from several assessment optimization tools that are available as separate add-ons.
Key Features
Create candidate assessments with scoring based on your hiring criteria

Automated scoring

Add realistic job previews to candidate assessments

Get assessments in any language for a small additional charge

Candidate leaderboards

Real-time reporting

ATS integration

Candidate anonymization to remove bias
Pros
+ Visually-appealing UI
+ Easy to navigate through
+ Offers meaningful insights into job fit
Cons
– Limited functionalities
Pricing
Per feature pricing model. Starts at $15
18. HighMatch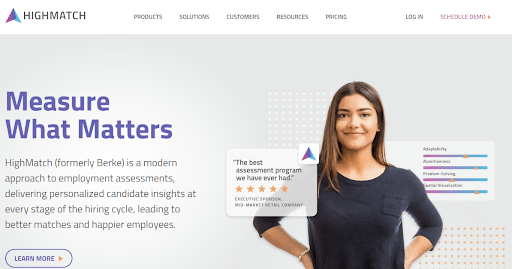 HighMatch lets you conduct timed screening assessments featuring straightforward multiple-choice questions. You can choose your assessments from HighMatch's test library or create a personalized assessment by working with their assessment creators.
This recruitment assessment tool also offers pre-built assessments to test hard skills, soft skills, personality, and cognitive skills. The hard skill tests are categorized by industry and role, making it easy to get started.
HighMatch also has an excellent reporting mechanism. You can create a hiring profile that highlights the important traits you're looking for and view each candidate's comparison with it. The platform also provides personalized interview questions based on a candidate's assessment performance.
Key Features
Test library with skill, personality, and cognitive tests

Create custom assessments in partnership with HighMatch's services team

Create a custom hiring profile for each role and analyze candidates against it

In-depth reports with scores and descriptions to analyze job fit

Get personalized interview questions based on a candidate's assessment score

Integrations with most leading ATSs

Candidates can take assessments on mobile devices
Pros
+ Excellent collection of skill tests categorized by industry and job role
+ Insightful Job Fit reports
Cons
– Assessments feature only multiple-choice questions
Pricing
Available on request
19. The English Quiz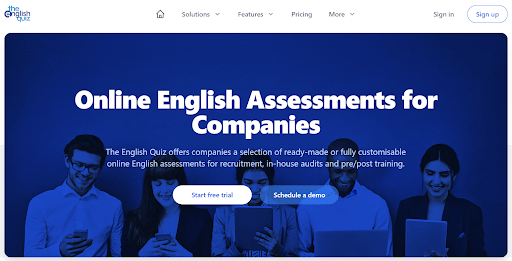 As the name suggests, the English Quiz is a platform for English language assessments. This recruitment assessment tool offers a collection of 20 ready-to-use and customizable assessments to test candidates' speaking, listening, reading, writing, grammar, oral expression, and comprehension skills.
The English Quiz also offers excellent reporting and analytics capabilities. Candidate performance reports feature CEFR (Common European Framework of Reference) levels, a standardized grading scale for language exams widely used across Europe.
This feature-packed tool also offers automated proctoring to prevent cheating and lets you brand your tests to reflect your corporate identity.
Key Features
Choose from 20 ready-to-use English language assessments

Create custom assessments by customizing pre-made tests

Seamless administration, reporting, and collaboration with the user dashboard

Get assessment results based on standards set by the Common European Framework of Reference for Languages (CEFR)

Tests get evaluated by professional evaluators who are native speakers and language experts

Add your branding to your tests, dashboard, and correspondence

ID verification, automated proctoring, and secure browser settings to prevent cheating

Get assessment results within 24 hours

Candidates can take assessments at any time and on any device

ATS and LMS integrations
Pros
+ Great collection of pre-built assessments
+ Good anti-cheating settings
+ Insightful reporting
Cons
– UI can be improved
Pricing
Starts at €220/pack
20. Self Management Group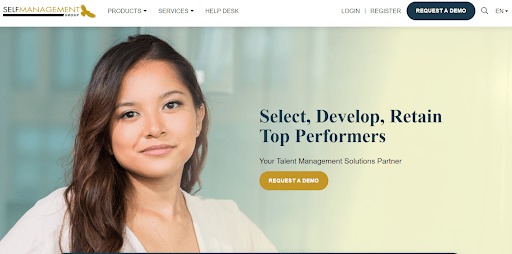 After making a name as the go-to recruitment assessment tool for hiring salespeople, Self Management Group (SMG) expanded its offerings to cater to hiring needs for all kinds of job roles. Today, it offers screening tools, simulations, and its trademarked POP (Predictor of Potential) personality assessments to help you screen candidates and hire top talent.
SMG's assessments are based on over 40 years of research on employee productivity factors and are available in 40+ languages. The assessments come with an AI Chatbot service for asking post-assessment questions from candidates, helping enhance the candidate experience.
Key Features
Predictor of Potential (POP) personality assessments for various job roles

Assessments are available in 40+ languages

AI chatbot to enhance the post-assessment candidate experience

Screening tools to process large volumes of applications

"A day in the life" job try-out simulation

Simulation to assess hard skills

Reports and analytics
Pros
+ Easy to use
+ Good analytics
+ Great personality assessments
Cons
– Mobile version needs improvement
– Mild learning curve
Pricing
Available on request
Create the Best Teams With the Best Assessment Software
So, that was our list of top 20 recruiting tools of 2023. These online platforms are great for making your hiring process more objective and streamlined. Whichever tool(s) you go for, ensure that you create an assessment process that isn't overly focused on testing job-specific, technical skills.
Assessing candidates' cognitive aptitude, personality, and soft skills, such as communication and time management, is just as necessary. ProProfs makes this easy by providing a comprehensive and feature-rich assessment platform with 100+ professionally-designed hiring assessments and over 1 million ready-to-use questions.
Do you want free Quiz Software?
We have the #1 Online Quiz Maker Software for complete learning & assessment