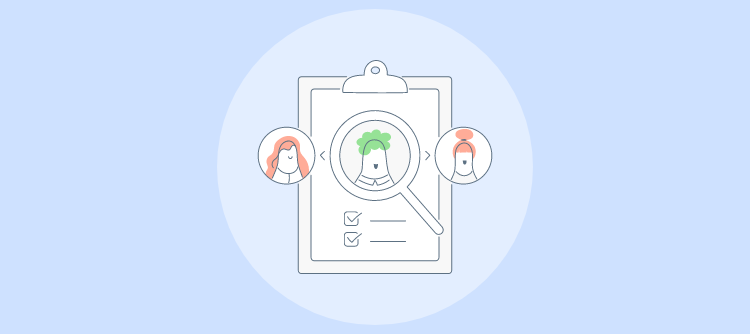 When the former American automobile giant Oldsmobile met an ill fate because it ignored the need for innovation, it was a nod to the need for effective team assessment.
Those in charge of innovation at Oldsmobile turned a blind eye to fuel efficiency, made no amendments to design, and ultimately failed to innovate.
It paints before us a picture of a potential team that failed to thrive because it lacked thoughtful leadership and guidance from a forward-thinking perspective.
For businesses to excel in the long run, they need to foster a climate of high-performance teamwork and lead their teams to the forefront of growth.
What's essential to stay afloat is getting to the bottom of the issues and coming up with workable solutions through proper assessment and course correction.
So how can you set yourselves up to assess teams effectively? Simple- you need to perform a structured team assessment to analyze, identify, and get to the bottom of issues.
This article goes over everything you need to know about such assessments- what they are, how they can benefit your company and lead to growth, and how you can create one.
Let's start with the basics to understand what such assessments entail.
What is Team Assessment?
A team assessment is a tool that helps team managers and employers identify & address issues arising within their teams. This is to ensure cohesiveness and improve areas that are the key indicators of a productive team.
It is essential in transforming the landscape of teamwork. It is the perfect starting place for anyone looking to overcome the dysfunctions in a team and realize its true potential.
Here are five types of assessments that we have found immensely helpful:
Read: What Is a Personality Assessment?
In the next section, you'll learn all the possible events when you can use such assessments.
When to Conduct Team Assessment
Contrary to the notion that team assessments should be conducted after things go haywire within a team, they add more value to team productivity when conducted at equal intervals.
While the former is a perfectly sound reason, you can reap more benefits by assessing your team in certain situations such as:
1. When You Need to Strengthen a Team That is Having Problems
Conflict of interest or difference in opinion is inevitable within teams. There can be instances where you feel it is getting out of hand and impacting the overall team productivity.
When you face any issue like this, know that it's the right time to conduct an assessment to get individual feedback and diagnose the issue before you set out to strengthen the team.
Here's a ready-to-use Conflict Resolution Skill Assessment offered by ProProfs Quiz Maker Software: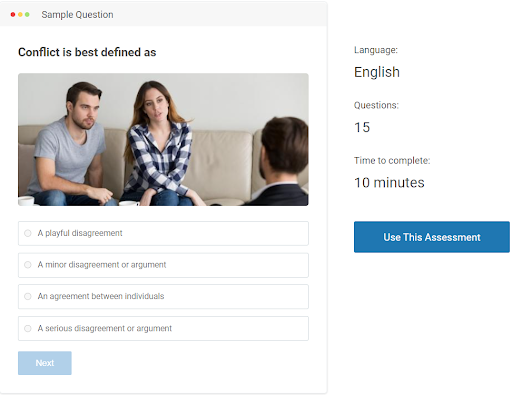 2. When You Need to Get a New Team Started Right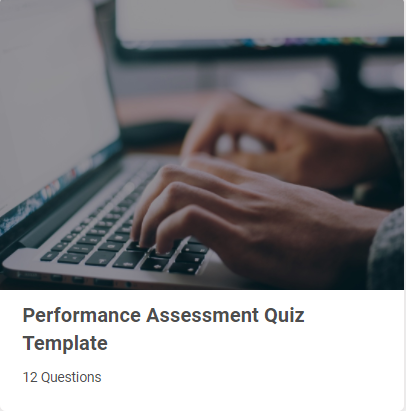 The need to expand a team is one of the indicators of your company's growth. While you decide to add more members to the existing teams, it is imperative to test what's working best with the existing members with an assessment. You can then apply the knowledge you gain from that assessment to the new members.
Here's a Workplace Communication Skills Assessment that'll help you assess how well the team members can communicate with each other: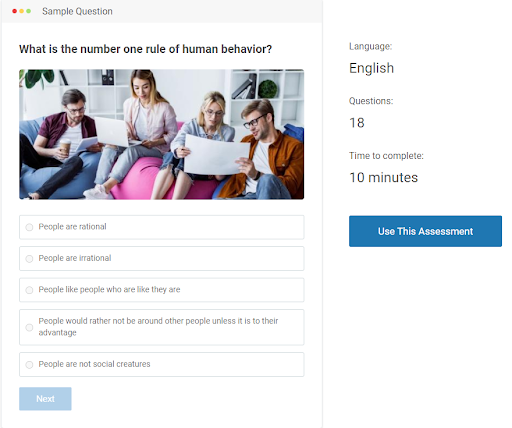 3. When You Need to Bond Teams in Situations Such as Remote Working Environments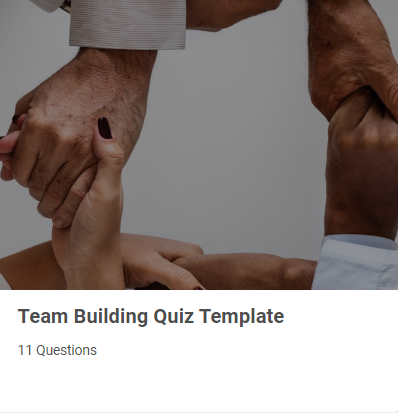 If you're planning to embrace the ongoing trend of switching from 'working from office' to 'working from home,' you may want to consider an assessment.
Even though the switch may lead to more flexibility and productivity, it may also lead to miscommunication and disconnect within the teams. Use an assessment to identify any such disconnect within your team and find ways to make your team feel more connected and engaged.
Here's a Time Management Skills Assessment that'll help you assess how well your team members are managing their time and planning their tasks while working remotely: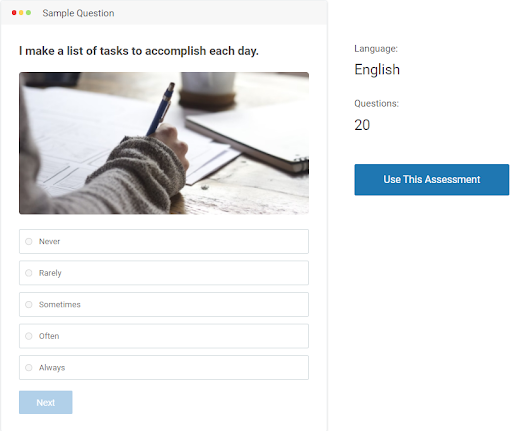 4. When You're Making a Major Strategic Shift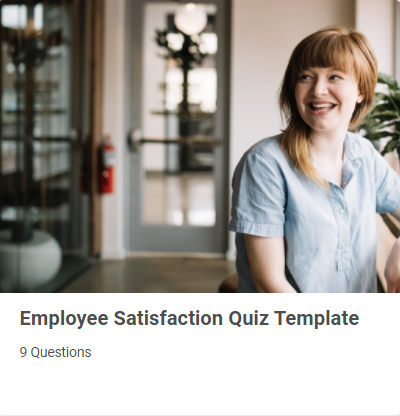 Businesses constantly go through changes and try to keep up with such changes and evolve.
While some team members can easily adapt to such changes, for some, it can be challenging. Online assessments can help you make the transition smoother for those team members by helping you learn what troubles they're facing. You can then come up with the right plan of action.
For more ready-to-use assessment types and use cases, check out this table below:
Assessment
When to Use
Change Management Skills Assessment

When you need to learn if your employees have the desired skills and abilities to keep up with the

transition of your company's goals, processes, or technologies

.

Critical Thinking Assessment

When

making a major strategic shift

or campaign towards a big goal, you need to assess your employees' critical thinking abilities.

Abstract Reasoning Assessment

When you need to

start a new project

and need people who can assimilate complex situations, recognize patterns, solve them, and exhibit creativity.

Leadership Potential Assessment

When you have to

choose a leader on a temporary or permanent basis

, e.g., for projects or team leaders during succession planning.

Employee Personality Assessment

When you need to

get a new team started,

and want to assess the team members' personalities to assign the right roles accordingly.

Communication Skills Assessment

When you need to

bond teams in situations such as remote work

and startups, or if you simply need to understand the communication knowledge level of team members to make sure they are on the same level.

Workplace Communication Skills Assessment

When you need to

assess if your employees are comfortable sharing ideas

, collaborating with each other, and building trust.

Time Management Skills Assessment

When you need to assess how your

team members manage their time and plan their tasks

while working remotely or otherwise.

Management Skills Assessment

When you need an assessment

as part of ongoing team development

to baseline your team members' performances and compare them regularly.
See how online assessments can help you in different ways? But, there are more ways!
We've condensed these into three major benefits of using a team-building assessment. Discover them in our next section.
Related: How to Create a Skill Assessment Test for Hiring: A Complete Guide
Benefits of Team Assessment for Team Development
Let's look at how assessing your team can help you as an employer or a team manager:
1. Enhanced Vision
An efficient team manager invests their time and effort into exploring and understanding the overall purpose and vision of the team. From this vision, you can develop a set of goals and objectives that'll help your team stay focused and on track.
Assessment requires participation, which is a key factor in articulating a vision. Of course, you can brief your team members about the vision, but they may or may not find it worth working meticulously for.
However, if you encourage participation and have them see how their contribution adds value to the overall vision, you can form the basis of a high-performing team.
It's the team's vision that pushes it towards its goals.
2. Understanding and Collaboration Among Team Members
A team's synergy distinguishes effective teams from ineffective ones. When team members play
to their strengths and compensate for each other's weaknesses, it often results in good teamwork.
But, that does not mean you don't need to help your team members improve their weak areas.
Being especially proficient in one skill certainly doesn't mean there's no need to improve the others, even if the team members already excel at those skills.
Every member of your team is different from another and possesses a distinct blend of knowledge and experience.
Conducting a team assessment will allow you to identify the areas of improvement, thinking, and communication skills and will help you leverage your team members' knowledge and experience for the overall team benefit.
3. Conflict Management
Conflict is an inevitable consequence of working with people with different mindsets or behaviors. In a place where different minds exist, there also exists a gamut of opinions, values, and ideas.
A confluence of different perspectives often leads to a high-performing team. However, differences in these perspectives can often be the breeding ground for conflicts that impact the overall team effectiveness.
So, it is only wise to address behavior patterns and understand individual responses to different situations that could be the potential causes of conflicts.
Using an assessment for assessing team behavior will help you:
Avoid making assumptions about your team members

Reassure the team that the interaction is confidential

Remain impartial
The assessment will help you learn more about your team members' different styles and ways of thinking and working and help you form the basics of your conflict management strategy.
Now that you've learned about the benefits, it's time to tell you about the steps you need to take to conduct an online team assessment successfully.
Read: What Is a Personality Assessment?
Steps to Conduct Team Assessment
The following steps will tell how to conduct an online team assessment right from building one to how you can follow up to create a strong learning and development loop.
Step-1: Build an Assessment
The first step in the process is creating an online assessment or test either with a team assessment tool or a test generator that helps you assess:
Your team's efficiency

Your team members' strengths and weaknesses

Your team members' opinions

Your team's ability to collaborate

Their ideas & views

The areas in which your team needs training
When you're creating an assessment, you need to build a multiple-choice assessment to be able to give your team members an array of choices they'd act upon.
Here are some team assessment questions that you can use:
On a scale of 1 to 10, how would you rate the effectiveness of the team?

Do you understand the responsibilities associated with your role?

Do you understand others' roles and how you can help them succeed in them?

Do you feel overpowered when trying to contribute to brainstorming sessions?

Do you feel like your ideas are valued by other team members and supervisors?

How do you think you can help your team members achieve their goals?
Remember to include questions that focus on both your team processes and on the individual team members. You need to create a picture of your team's dynamics and pave the way for your team to revisit its purpose.
Here's a video guide to help you learn how to create an online assessment.


Step-2: Analyze Assessment Responses
Once you've conducted the assessment, analyze your team's responses to all the questions. If you're using the right team assessment software for conducting assessments, the tool will probably generate the reports.
For instance, with ProProfs online assessment software, you get a consolidated report of all your participants' responses, the time they took to complete the assessment, and more.
What's more, you can even look at the statistics for assessments provided by the software.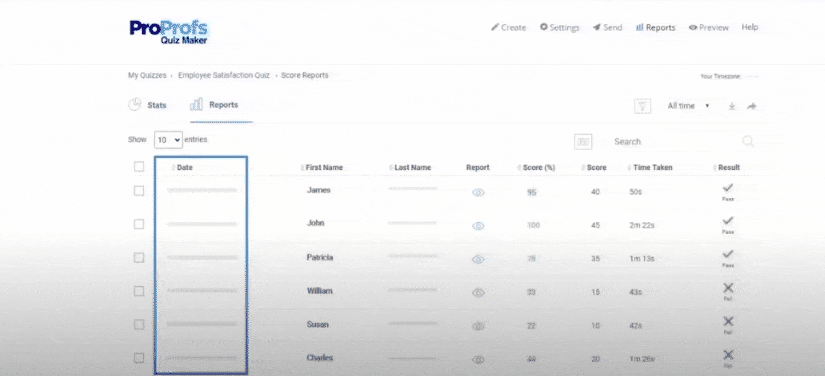 Step-3: Club Team Members in Groups
In the above step, we told you about analyzing the results of the assessments. After you've run a thorough analysis, start grouping participants with similar responses.
By similar responses, we mean the participants who come across as highly dissatisfied or those with a potential need for improvement.
Grouping team members will help you take the next necessary step specific to solve their problems.
Here's a glimpse of online groups created with ProProfs online assessment software.

Step-4: Hold Debriefing Sessions
After you've scaled the responses of participants and grouped them, hold a meeting with different groups. In the meeting, discuss their responses and advise a course of action to move forward.
You can even consult with a professional coach who can help you and your team discover, discuss, and plan the next steps for problem-solving.
Once the good ideas come forward, discuss goals and actionable steps to set concrete targets for the team. Ensure that the steps help team members strengthen their commitment, creating more room for meaningful performance improvements.
Step-5: Follow up With Another Assessment
Set goals for your team or team members and follow up with another assessment to see how they're progressing.
Compare the reports of the new assessment with the previous assessment to draw an analytical conclusion. Base your next plan of action on any scalable progress your team members have made.
However complicated it may seem, team assessment is essentially a team activity in itself.
Identifying issues arising within teams, collaborating with team members to resolve those issues, and then devising a plan of action to achieve the goals sounds like a team activity, doesn't it?
However, an online assessment software instead of a traditional assessment technique can be your weapon of choice.
And since we've already discussed how to conduct team assessments, now's the time to have a look at a tool that makes conducting team assessments a breeze- the ProProfs online assessment software.
You can also check the list of Best Online Assessment Tools and explore more tools.
Unlock Your Team's Power & Potential
The key to high-performing teams is to assess your teams effectively and identify the root causes that disrupt the performance of your teams.
Online team assessment is easy, and it offers one of the fastest ways to build a more cohesive team.
It does, however, require the right measures and approach.
With questions that help assess team members' behaviors and views and AI-generated reports, online assessments provide you with practical and useful data that you can model to address the most critical issues and strengthen the overall team framework.
Do you want free Quiz Software?
We have the #1 Online Quiz Maker Software for complete learning & assessment