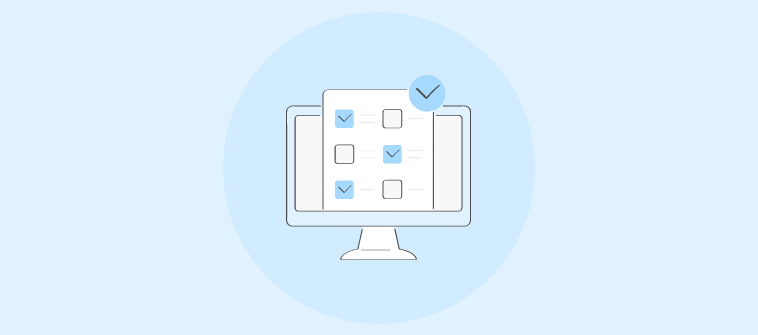 Whether working in an office or remotely, conflict is a natural and inevitable part of one's professional life. Such conflict can be with team members, higher-ups, or even customers.
Interestingly many consider workplace conflict a time-wasting and productivity-draining exercise.
It doesn't have to be so.
Employees can develop conflict management skills to devise quicker conflict resolutions every time, turn disagreements into learning opportunities, and drive innovation focused on achieving business goals.
But how can you create effective training programs to teach employees these crucial skills?
We have the answer.
A conflict management style quiz gets you off to a great start when training your employees on conflict management skills. By conducting a conflict-style assessment, you can:
quickly determine your employees' preferred way of dealing with workplace disagreements

tailor your

conflict management skill training

better equip leaders to communicate with and manage their team members effectively

clear the way for deliberation on challenging issues

improve the personal, team, and organizational dynamics
In this blog, you'll learn how to create a conflict-style quiz and the tips you can use to get the maximum benefit out of them.
But before that, we'll lay some groundwork by learning more about conflict management style quizzes.
Let's start.
What Is a Conflict Management Style Quiz?
A conflict management style quiz consists of questions that can help you find out anyone's preferred style of resolving or managing conflict and analyze how they use different conflict modes in various organizational settings.
The results from these quizzes help the quiz takers and the people around them develop better ways of dealing with conflicts involving them.
Efficient conflict management powered by a conflict-style quiz saves time & money, increases productivity, and fosters innovation. It also saves you from business risks posed by disgruntled employees.
Here's how your conflict management style quiz can look.
Who Needs to Create a Conflict Style Assessment?
Creating conflict management style quizzes can benefit all kinds of organizations and professionals. Here's how.
Businesses
Businesses can use a conflict handling style quiz to ensure quick conflict resolutions and unhindered productivity. Taking a conflict management style quiz enables employees to find their conflict style and learn strategies that can help them communicate effectively in situations of disagreement.
Similarly, team leaders who are aware of their team members' conflict styles, as well as their own, can manage and motivate them more effectively.
Conflict styles assessment can also be especially helpful for assessing your customer support staff, who may be facing conflict with your customers every day.
Professional/Personal Development Coaches
Practitioners in the coaching industry, such as career coaches, executive coaches, business coaches, life coaches, etc., can benefit from conflict management style quizzes in two ways:
Ask their clients to take a conflict-style quiz to help them develop better conflict resolution skills

Share conflict-style quizzes on social media or their website to engage with target audiences and

generate leads
Therapists & Marriage/Family Counselors
Like personal development coaches, therapists & counselors can also use a conflict management style quiz to help their clients. For example, marriage counselors can use relationship conflict-style quizzes to offer relationship advice and help couples turn fights into healthy arguments.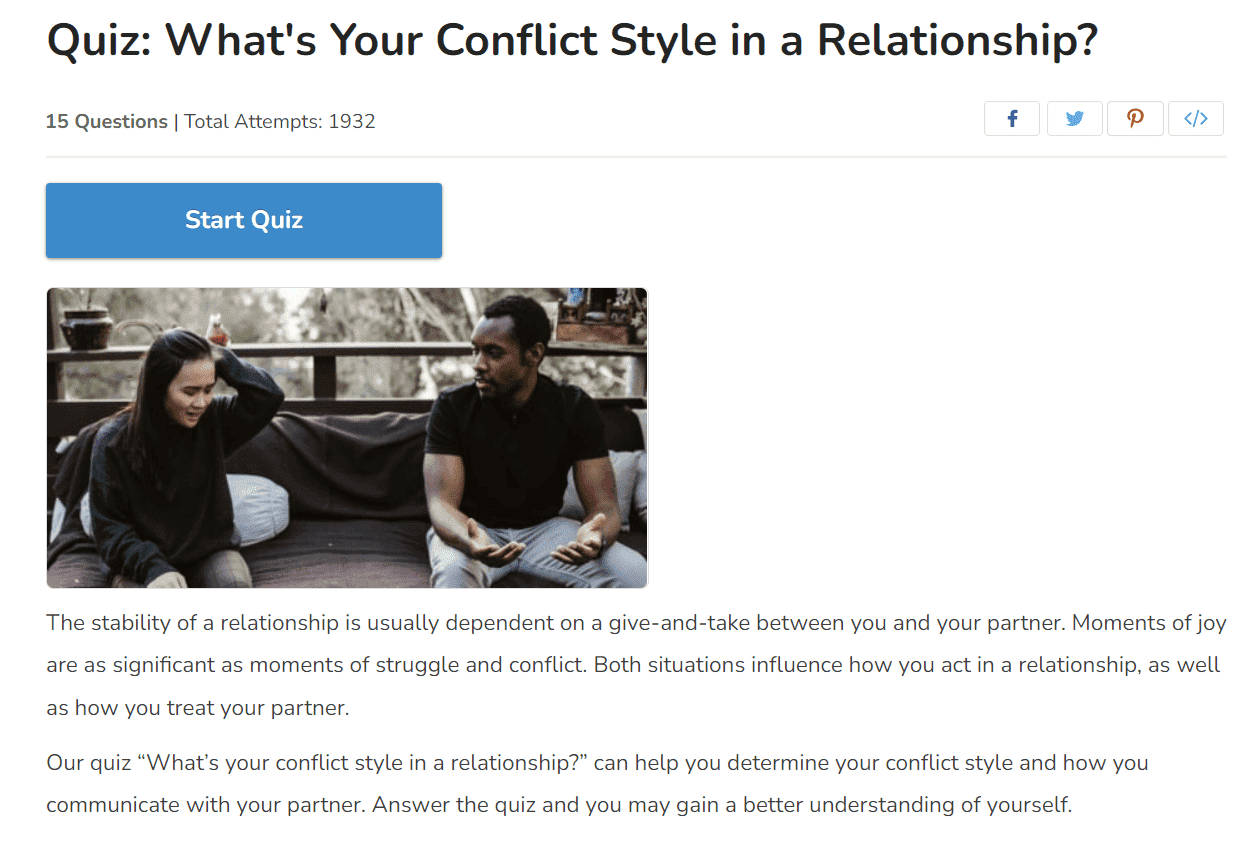 Colleges & Universities
Conflict resolution is a critical skill for working professionals across all industries. So, it only makes sense that one learns these skills before entering their professional life. Colleges & universities can conduct conflict management style assessments as part of their conflict management programs to make them more engaging and effective.
What Are the Different Conflict Management Styles?
Before you start creating your conflict-type quiz, you must familiarize yourself with the different conflict styles that you can use to diffuse tense situations at work or otherwise.
According to the popular "Thomas-Kilmann model", you can manage conflicts in these five ways: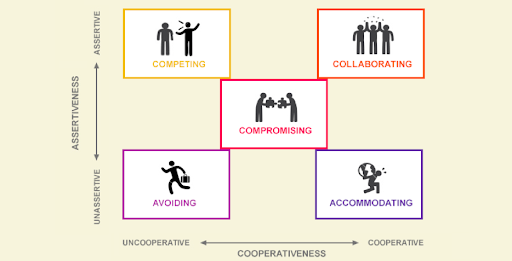 Source: MSP Guide
These five styles differ from each other in the degree of cooperativeness and assertiveness.
For example, the competing style is highly assertive but scores low on cooperativeness, whereas the accommodating style is the exact opposite.
Each conflict management style has its advantages and disadvantages and all of them play an important role in effective conflict management.
Let's take a look at the five conflict styles.
1. Competing
Assertiveness –

High

Cooperativeness –

Low
In this conflict style, the individual focuses solely on their concerns, neglecting the other person's need for an adequately satisfactory resolution. Viewing the conflict as a competition, this person may use everything in their power to defend and impose their position on the other party, even if doing so damages the relationship.
For example, let's say a manager wishes to have half-hour-long daily meetings with their team, but most team members consider doing so a roadblock to productivity. If this manager uses their authority to mandate participation in the meeting without even explaining why such meetings are important, they would be considered to have a competing conflict management style.

Pros:
It can be great for standing up for one's rights or preventing a harmful decision from being made

A good option for dealing with non-negotiable financial situations and emergencies

Quick conflict resolution
Cons:
High possibility of the other person becoming resentful

The power-oriented approach may deviate the individual from their goals
2. Accommodating
Assertiveness –

Low

Cooperativeness –

High
The polar opposite of the competing conflict style, this people-pleasing approach sees the individual push aside their own needs to make room for the other party's viewpoint. The accommodating individual may not necessarily be comfortable with the resolution and may even start harboring bitterness toward the other person.
For example, let's say two team members, John and Mark, are given a joint task by their manager to be completed by the end of the week. John suggests they work on this task on Tuesday since he has a light schedule that day. Mark accepts this suggestion even though he had high-priority deliverables planned for Tuesday. He now has to work overtime to compensate for this accommodation.
Pros:
Good for avoiding conflict on trivial matters to save time

It can help maintain and improve relationships
Cons:
It can breed resentment in the accommodator, especially if they use this conflict mode frequently
3. Avoiding
Assertiveness –

Low

Cooperativeness –

Low
People with the avoiding conflict style prefer to postpone conflicts or diplomatically sidestep them. As a result, they neither pursue their concerns nor that of the other person, and the conflict gets postponed. Such individuals may withdraw from the conflict multiple times or even indefinitely in the false hope that it somehow gets resolved automatically.
Let's take the previous example. Mark responds to John's suggestion of working on the task tomorrow by simply stating that he has a busy week ahead and will let John know when he has the bandwidth. To avoid conflict, Mark never gives John an update. As a result, they fail to allocate a time frame for the task, and the task gets delayed.
Pros:
Good for postponing less important conflicts to a better time so one can focus on high-priority issues

Helps avoid trivial conflicts
Cons:
Delaying an important conflict can lead to a bigger conflict along with other issues in the future
4. Collaborating
Assertiveness –

High

Cooperativeness –

High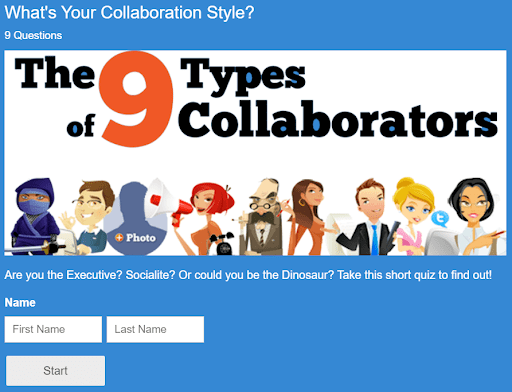 Collaboration involves putting in the time and effort to find an excellent solution to the conflict that would completely satisfy all involved. The conflicting parties work together to identify underlying needs by digging deep into the issue and come up with a creative solution. Collaboration is one of the prerequisites for a positive work environment and helps foster productivity and growth.
With a collaborative mindset, John and Mark, in our ongoing example, would try to find a way to ensure that they both have a smooth week ahead. They could divide the task into subtasks that they could work on separately at a time that suits them and also divide the workload in proportion to their available bandwidths for the week.
Pros:
Everyone involved gets a say

The conflict gets solved in a way that satisfies everyone

Fosters new ideas and innovation

Strengthens relationships
Cons:
Collaborative conflict resolutions aren't quick, making them unsuitable for time-sensitive situations

Collaboration requires a lot of effort and only works if everyone is on board
5. Compromising
Assertiveness – Moderate
Cooperativeness – Moderate
A hybrid of all the other conflict styles, this one tries to find a quick resolution that is equally satisfactory for both parties. It lies midway between competing & accommodating in terms of cooperativeness/assertiveness. It also lies midway between avoiding & collaborative in terms of how deeply it tackles the issue. The solution found isn't "ideal" or "the best", but it is acceptable to everyone.
Compromising is a necessary tool when multiple people work on a project together and have to adhere to strict deadlines. It's also handy when dealing with customer grievances, which you must resolve immediately to avoid escalating the matter.
Pros:
Provides a fast, middle-ground solution to complex, stressful problems
Cons:
Doesn't fully address the issue, leaving room for the conflict to crop up again
So that was a quick rundown of the different conflict management styles that one can have. Now let's look at how you can use this knowledge to create a personality quiz that you can use to find out someone's conflict style.
---
Also Read: Alternative to Classmarker for Online Assessment
---
How to Build a Conflict Style Test With Online Quiz Maker Software
Creating an online conflict management style quiz is pretty straightforward with an excellent quiz making tool. Here's the process in four easy steps.
Step 1 – Create or import questions & answer options.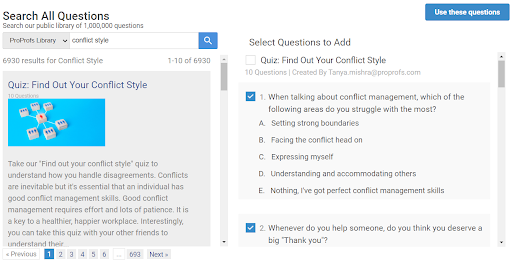 Step 2 – Design the results screen for each conflict style.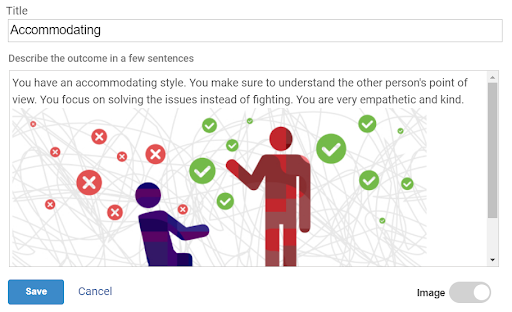 Step 3 – Map answer options with conflict styles.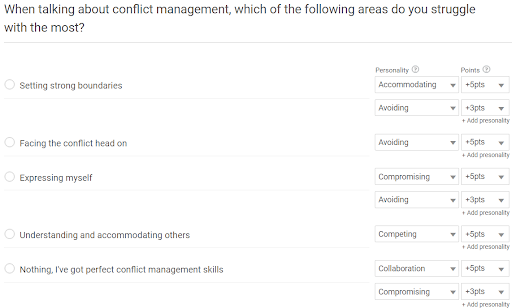 Step 4 – Share anytime, anywhere.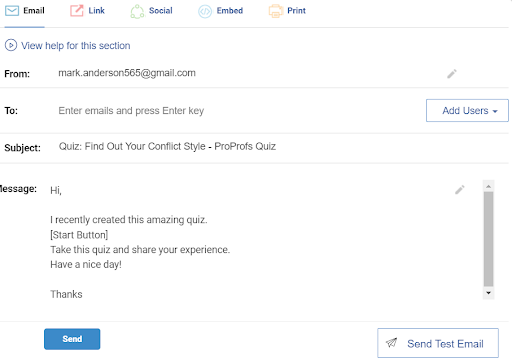 Watch: How to Create a Personality Quiz
Check out our quiz-making guide if you wish to learn more about creating conflict-style tests and other conflict management tests.
Best Tips to Create Effective Conflict-Style Quizzes
Now that you know how to build a conflict management style quiz online let's look at some tips on ensuring that your quiz is engaging, helpful, and inspiring for the quiz takers.
Ask interesting questions
When conducting a conflict style assessment, you'd want your quiz takers to answer as accurately as possible without skipping the assessment. An excellent way to ensure that is to ask interesting questions that'll keep the quiz takers engaged.
Also, ensure that the questions you ask don't deviate from the topic. Otherwise, the quiz takers won't take your assessment seriously. In short, you need to create questions that entice the quiz takers to know their conflict style. This brings us to our second tip.
Include situational questions
Situational questions are fun and easy to answer and help reinforce the importance of conflict management skills. They also help you ask questions more assertively, encouraging quiz takers to answer honestly.
You can include multiple-choice questions in situational format such as these in your conflict management quizzes:
Your friends are arguing over where to eat. What do you do?

Try to find a place that everyone will like, even if it takes some time to do so

Suggest a place that no one else is suggesting so that you don't have to take sides

Convince everyone to go for the place you prefer at the risk of the argument becoming heated

Quickly think of a place that will be at least somewhat satisfactory for everyone

Support the friend who's arguing most vigorously to avoid upsetting them
You've noticed that a coworker isn't as committed to the company as the rest of the team. What do you do?

I don't do anything since the situation doesn't concern me

I feel bad for unfairly judging my colleague

I confront and scold them

I let my boss know

I try to find out how everyone can be more engaged at work and present my suggestions in the next team meeting
Use media in questions & answer options
Adding images and videos to your questions and/or answer options is another great way to make your conflict management style quiz more engaging. Doing so can be especially helpful if you're creating situational questions where images can help quiz takers visualize the situations you present.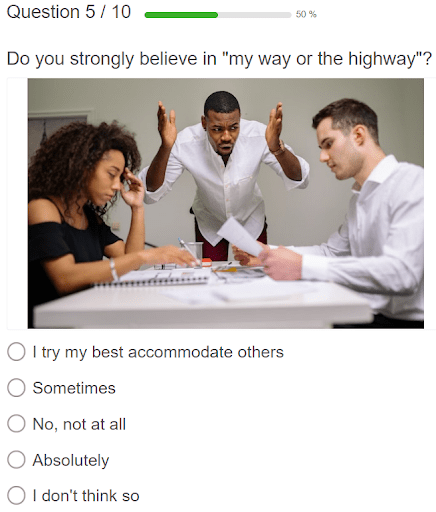 Instead of merely revealing the conflict style, you can use the results screen to offer conflict management advice and other critical conflict management-related knowledge. You can even add a link or two to provide detailed information about conflict management styles and best practices.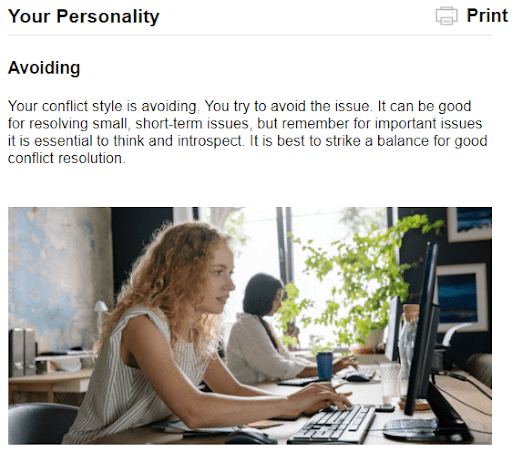 When creating a conflict management style quiz, choosing a good quiz platform is as important as drafting good quiz content. Here are the features you should look for in your online quiz maker.
Simple and intuitive interface

A resources library with customizable

quiz templates

, quiz questions, and

pre-built assessments

A variety of question types, such as multiple-choice, checkbox, true/false, video-response, etc.

Branding and customization features

Advanced scoring options for

personality quizzes

Options for adding media & links to questions, answers, quiz description & results.

Easy sharing options, such as sharing via a link, email, embedding on a website, etc.

Mobile responsiveness

Support for multiple languages
Watch: How to Choose the Best Quiz Software
Bonus tips for lead generation :

If you're in the coaching profession, you can use these additional tips to

generate leads

using

quiz marketing

.

Include a lead form:

You can't

capture leads without a lead form. Add a custom lead form at the beginning or just before the results as per your

marketing strategy

.

Create a killer title screen:

Add an eye-catching title, cover image and a compelling quiz description.

Create shareable results –

Add images and social sharing buttons to the results to make them share-worthy.

Feature CTAs in Results –

The results section is a great place to add a link to a landing page accompanied by a strong call to action.

Integrate with marketing tools –

Integrate your

conflict resolution style quiz

with your favorite marketing tool to seamlessly automate lead segmentation and nurturing.
Watch: How to Create Lead Quizzes
Other Assessments You Can Use for Conflict Management
So now you know all about creating conflict management style assessments. But before we bring this blog post to an end, let's quickly look at some other assessments that you can use to create a culture of productive conflict in your organization.
Conflict Resolution Skills Assessment
The Conflict Resolution Skills Assessment assesses a person's general understanding of conflict resolution and management. Businesses can use this assessment as part of their workplace conflict resolution training to refresh and reinforce knowledge of key concepts.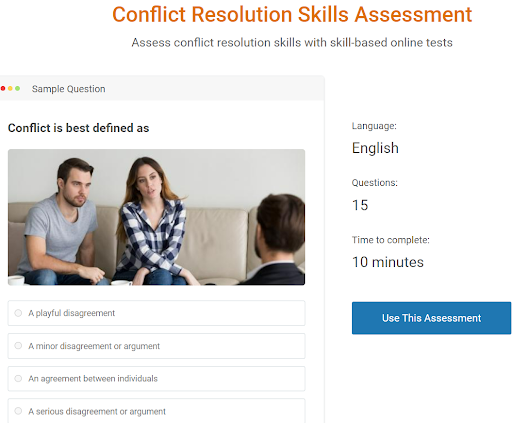 Workplace Communication Skills Assessment
Effective communication is at the heart of every productive conflict outcome, regardless of the conflicting parties' conflict styles. So, it's crucial to include communication skills training in your conflict management program.
Tip: When creating your communication skills assessment, make sure you don't just focus on the speaking part of communication. Active listening skills are just as crucial since they enable one to respond appropriately and accurately.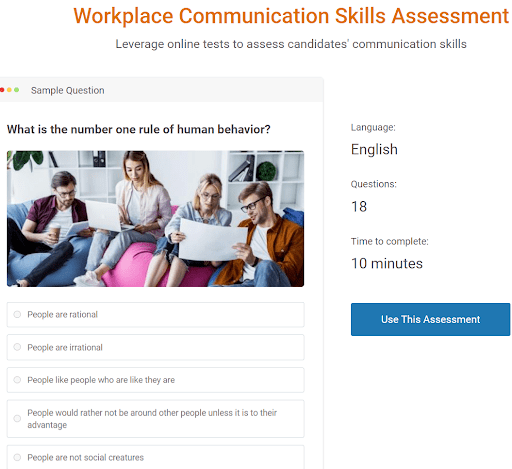 Email Etiquette Assessment
From using words with negative connotations to drafting an all-caps message, there are many ways one can accidentally trigger an unproductive conflict over email.
Businesses can avoid such situations by conducting an email etiquette assessment to ensure that their customer service representatives and other employees are well-versed in writing professional and empathetic emails.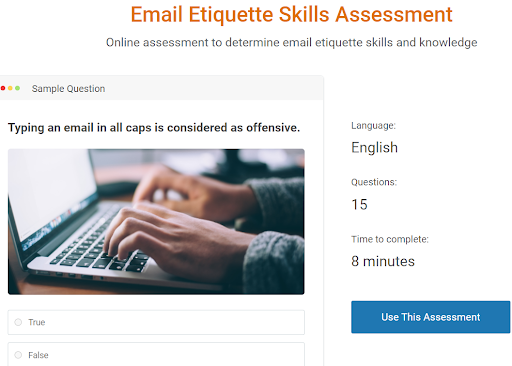 Negotiation Skills Assessment
Negotiation is closely related to conflict resolution. On the one hand, negotiating parties may need conflict resolution when negotiations hit a roadblock due to an argument.
On the other hand, negotiation might be the ideal conflict resolution method for certain conflicts, such as those arising out of timeline-related or budgetary concerns. Either way, a negotiation skills course or assessment makes an excellent addition to a conflict management training program.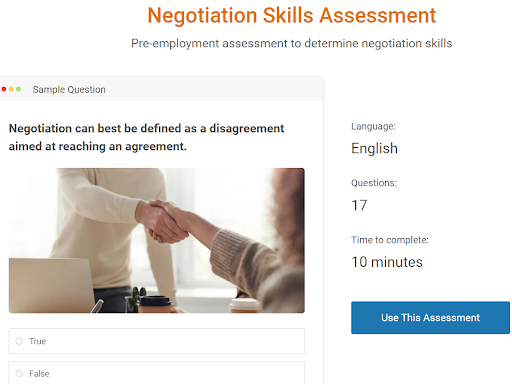 Employee Personality Assessment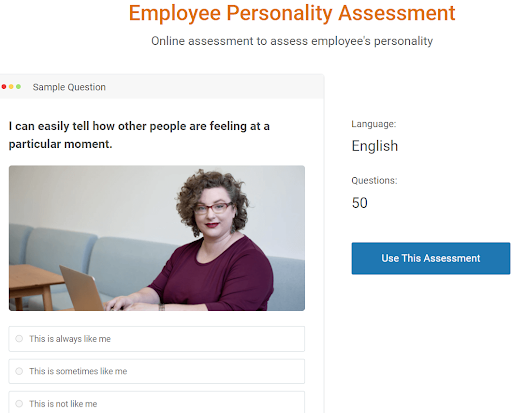 An personality assessment can be an excellent tool for managers looking to enhance their leadership by better understanding their subordinates.
You can conduct this assessment pre or post-hire as per your preference. But, the best time to use this assessment is during your recruitment process. That's because doing so also lets you avoid onboarding employees who can't fit into your work culture and may create unnecessary conflicts due to their frustrations.
Manage Conflicts the Right Way
So there you have it. Now you're ready to create your conflict management style quiz. Conflict style assessments are an excellent tool to teach communication and collaboration skills and can help boost productivity in almost any industry. Considering that conflict styles play a crucial role in innovation-driving organizational dynamics, you need nothing short of the best when it comes to your conflict style assessment tool.
Intuitive and feature-packed, ProProfs provides a seamless way to conduct effective personality assessment at scale. You can get started quickly with premade conflict management questions and access over 100 settings & configurations. Our smart quiz settings include advanced mapping & scoring options for creating personality assessments, such as conflict management style quiz, leadership style test, communication style test, etc.
Do you want free Quiz Software?
We have the #1 Online Quiz Maker Software for complete learning & assessment