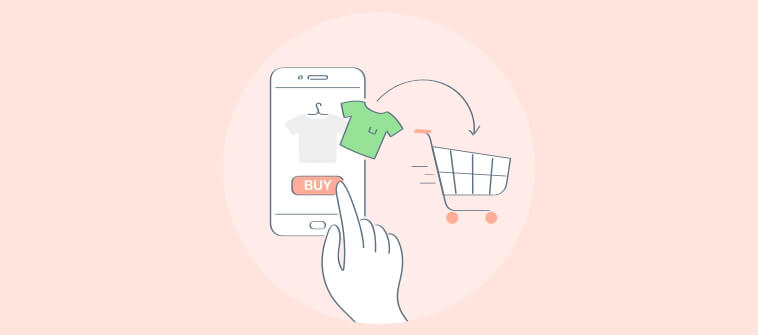 Collecting data. Converting leads. Driving engagement — who would have thought that eCommerce Quizzes can come in handy for all of this and much more?
This marketing miracle has certainly been a savior for many, as the competition among brands online is getting tougher with every passing minute. We've certainly come a long way from simpler times.
Remember how before the expansion of eCommerce, all the customers simply walked into stores and found a friendly salesperson who helped them find what they wanted?
The salesperson would ask customers some simple questions like:
What are you looking for?

What's your budget?

Do you have any special preferences?

Are you open to experimenting with something new?
When they had answered those questions, the salesperson would come up with a recommendation and offer it to the customer. Pretty simple, right?
Unfortunately, when you're running an eCommerce business, you can't have a salesperson ask customers questions and then recommend a product based on their answers.
But you can have an eCommerce quiz!
What's an E-Commerce Quiz?
An eCommerce quiz is a set of interactive questions about customers' likes, dislikes, preferences, and needs. eCommerce quizzes are designed to collect customer data which businesses use to personalize the shopping experience and educate customers.
They are a great way to engage customers. e-Commerce quizzes are especially useful for first-time customers as these help them make decisions.
eCommerce quizzes can also be used for lead generation as they can collect information about the visitors. You can take it up a notch and integrate the quizzes with an email marketing automation tool to streamline lead management.
Different Types of E-Commerce Quizzes
E-Commerce online tests and quizzes come in many shapes and sizes. Each one caters to different purposes and business needs.
Product Recommendation Quiz
Product recommendation quiz is an eCommerce quiz for sales that helps businesses recommend suitable products to customers to boost sales.
This type of eCommerce quiz cuts down the decision-making process extensively for customers to expedite the purchase process. Customers don't have to stay confused for hours to pick the best products.
Product recommendation quizzes are a great entry point if you want to introduce personalization in your customer experience.
Here's an e-Commerce quiz example:
Sephora has a plethora of products on its website, which can potentially overwhelm customers who are new to skincare and such products. So, Sephora shares a simple yet extensive quiz with them to compress the product options to a few suitable choices.
Educational e-Commerce Quiz
As the name suggests, educational e-Commerce quizzes are specifically designed to help educate customers on the multiple use cases of a single or a set of products.
Here's an eCommerce quiz example:
Marea offers only a single product, multivitamins, marketed toward female customers. Since the brand only has a single product, it uses a quiz to enlighten customers about various symptoms and how its products help with each one.
You can find the 'Symptom Quiz' on their website and take the quiz to understand the product better.
Collection Recommendation Quiz
Similar to product recommendation quizzes, this eCommerce online test also delves into customers' personal choices and concerns to recommend products.
But, instead of showing many options for different concerns, the collection recommendation quiz recommends a product line that customers can use for optimum results.
Virtual Consultation e-Commerce Quiz
Virtual consultation eCommerce Quiz for sales is helpful when you want to recommend a specific product to customers based on the data they provide. These quizzes compensate for the lack of hands-on experience with products that brick-and-mortar stores offer.
Since customers can't touch, feel, or try out the products in real life, virtual consultation quizzes consider the customers' personal details to recommend a suitable product.
Many clothing e-Commerce stores and beauty brands use these quizzes. For example, Fenty Beauty, a beauty brand, offers virtual consultation quizzes to help customers find custom shades for foundations, concealers, and similar products.
Also, here's an example straight from ProProfs Quiz Maker's library created for the Younique Touch brand:
Why Use an Ecommerce Quiz?
You can't sell to a prospective customer without actually knowing what they want to buy, right?
As Fred Soller, Sales VP at Hybris Software, says:
"As a salesperson, I wouldn't present – or even speak – to a potential customer without knowing something about them. Where is their business located? What do they do? What are their goals and objectives? How long have they worked there? Are there any common interests?"
What Fred is referring to here is 'the need to know your customers, and trying to understand how your product or service can benefit them before you offer it to them.'
And, to know your customers, you need to ask them questions.
Enter — the eCommerce quiz!
Every question in the eCommerce quiz helps narrow down products to match customers with the best recommendations depending on their answers.
In simple terms, "you can use eCommerce quizzes to personalize your customers' experience by asking the right questions."
Personalization is the backbone of sales. And as listed in eCommerce Trends to Watch For In 2021– "Personalization will go beyond making a purchase to making a bond."
In fact, 59% of customers' shopping decisions are influenced by personalization, while 91% are more likely to shop with brands that provide them with personalized offers and recommendations.
Unlike any other form of digital content, a quiz lets you have a two-way conversation with your customers, the same way you'd have in an offline store. The interactive experience it offers is the key factor that drives sales.
But that's not all that you need to know.
Top Benefits of Using eCommerce Quizzes
There are different ways in which quizzes can add value to your business. From helping you know your customers to gathering valuable data that aids your marketing campaigns, ecommerce quizzes in a sales funnel can be very useful.
With an eCommerce quiz, you can:
Recommend products to your customers

Grow email lists

Generate leads

Gather data for your next strategy

Create buyer profiles
Now let's elaborate on each use case to understand the benefits of using eCommerce online tests and quizzes.
1. Recommend Product(s):
Let's go back to what we said a while ago in this article: You're better positioned to recommend a product to your customers when you get to know them.
Asking questions through a quiz on eCommerce instills a sense of interaction. The quiz participants feel you're really trying to know them to recommend the most suitable product rather than simply throwing your bestseller at them.
A great example of this practice is the Lash Quiz created by Doe Lashes: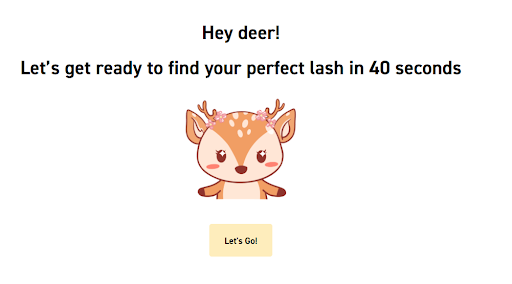 Doe Lashes is a brand that specializes in false lashes. They created the Lash Quiz to recommend the perfect falsies to their customers based on their quiz responses.
The quiz starts with the question- Which best describes your eye shape?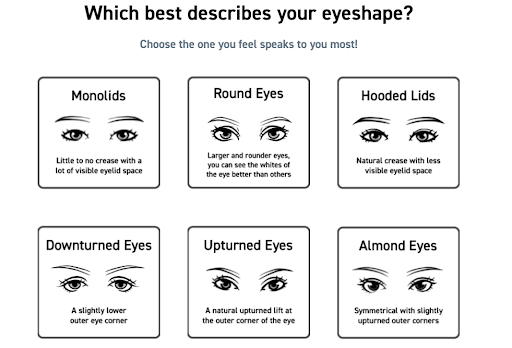 It continues to ask questions about participants' eyes and their preferences.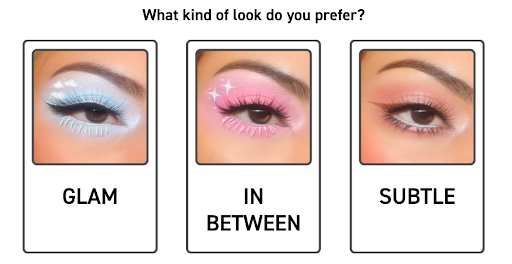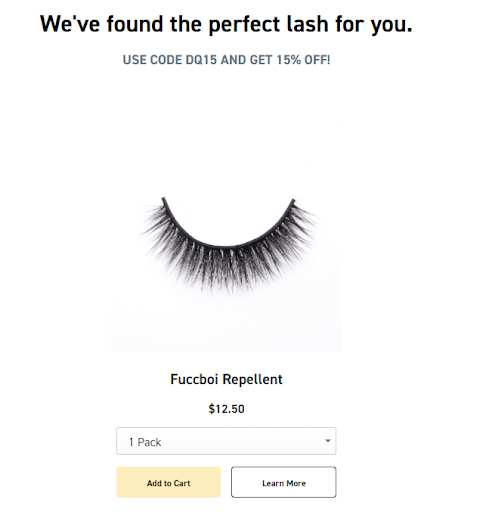 It only takes about 40 seconds to answer the quiz, after which it recommends the perfect lash for the participants. `
But, there'll be many new customers discovering your brand for the first time who'll probably not know about the range of products you offer. You'll need to educate them about your brand or products and give them an enriching customer onboarding experience.
But you'll need to distinguish the new customers from the old ones. A quiz can help you do just that!
Let's look at some inspiring eCommerce quiz examples.
A great example of onboarding customers with a quiz is this quiz created by Spongelle.
As soon as you land on their website, you'll be greeted with the following pop-up: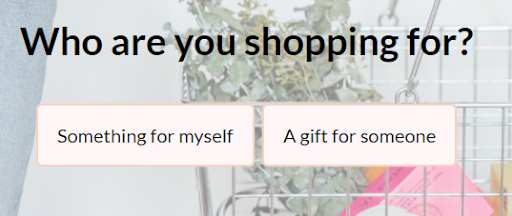 Click on 'Something for myself', and another question pops up:

Can there be a smarter way to learn if a visitor is a new customer or a returning customer?
Well, click on New Customer and what follows is a series of questions asking you about the product that you're looking for, your preferences, your ideal skincare routine, etc.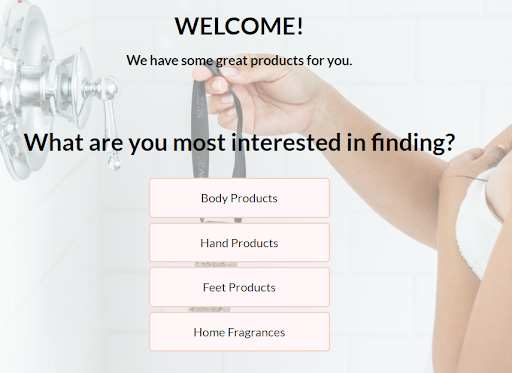 About five questions later, they recommend a product based on your answers.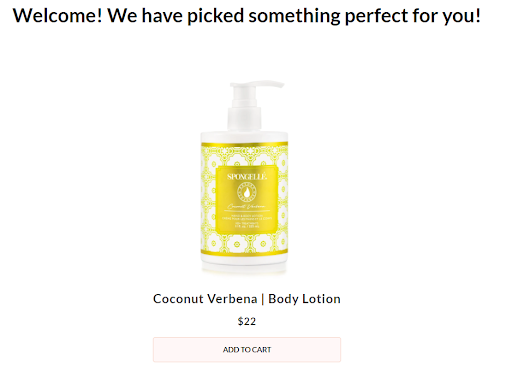 It'd have been great if they were also offering a discount to enhance the first purchase experience (Just saying)!
Another example of a brand that's using eCommerce online tests and quizzes to onboard customers is the Tenzo Matcha Quiz created by Tenzo Tea.
The first question of this quiz asks its participants about their Matcha knowledge level.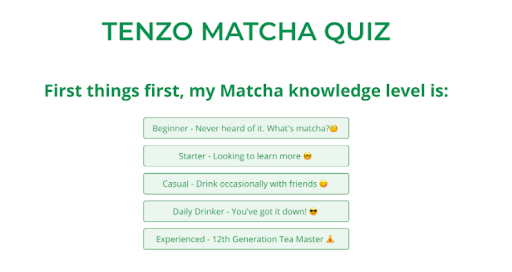 If the customer is new to Matcha, they'll probably select Beginner.
The quiz further asks participants about their primary health priorities, the drinks that make them feel best, and their lifestyle.
All these questions help the folks at Tenzo understand how the quiz participant is planning to use their Matcha.
Every outcome is tailored to the participant's experience level. So, every person who takes the quiz walks away with a product recommendation that suits their experience level.
In our case- The beginner level.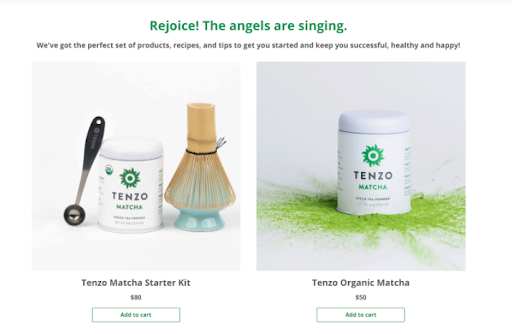 Doe Lashes also does a great job of onboarding customers with a quiz. Here's how- After getting their participants' email addresses, they instantly send the customers a personalized email welcoming them to their community.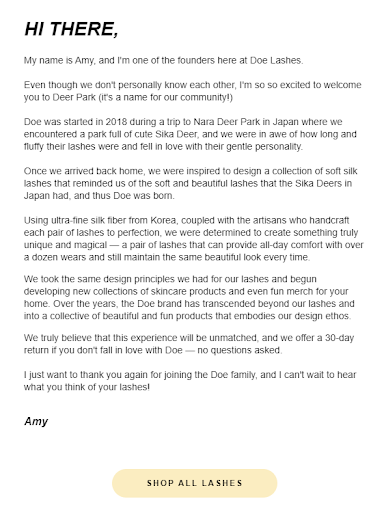 Pretty humble and welcoming, right?
2. Generate Leads
In most cases, customers are willing to share their contact information because the quiz teaches them something about themselves, and they look forward to learning even more.
This relationship between you and the quiz participants makes room for effective lead generation.
You can create a great quiz on eCommerce and use it to generate leads, just like WGSN did.
A great example of this case is the quiz "What's Your Customer Type" created by Worth Global Style Network (WGSN), an analytics company that works for fashion brands like Puma & Tommy Hilfiger.
WGSN created this quiz and shared it on their social media handle.
Each quiz outcome described a distinct customer type along with a CTA to "Get in Touch and learn more."
The quiz helped WGSN drive 1500 visits back to their website from Twitter and Facebook in just one week, resulting in 300 new leads.
Another great example of lead generation through eCommerce quizzes is the "You've Been Framed" quiz.
Zenni Opticals created this quiz to help their customers find the perfect frame with questions like: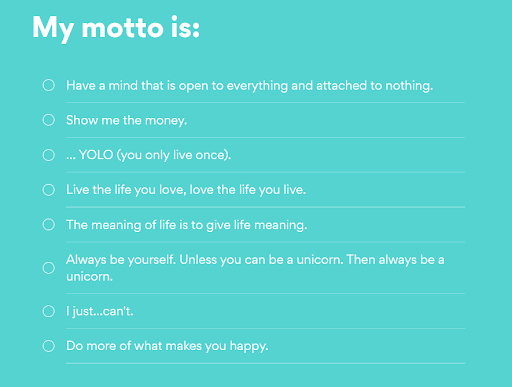 At the end of the quiz, the customers learn about the perfect frame for their faces.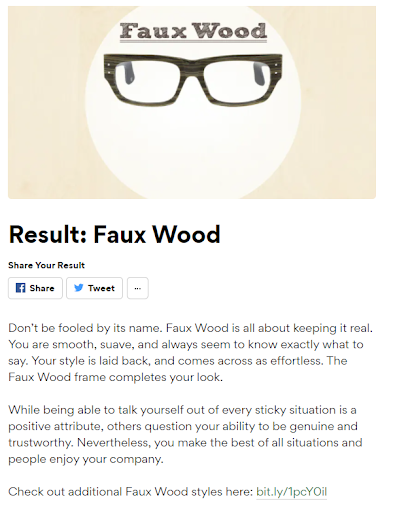 According to reports, this quiz helped Zenni Opticals generate over $1 million in revenue and 29,410 lead conversions with a 9,655% ROI in 6 months.
3. Grow Email Lists
A very simple reason why quizzes are great for opt-in is that they offer participants an attractive, interactive experience.
While taking the quiz, participants are already engaged with your brand, which opens a window for you to ask them for an email or phone number. In most cases, participants are willing to share their emails to view their results.
For example, the Lash Quiz by Doe Lashes asks the participants for their email addresses to send their quiz results to their email.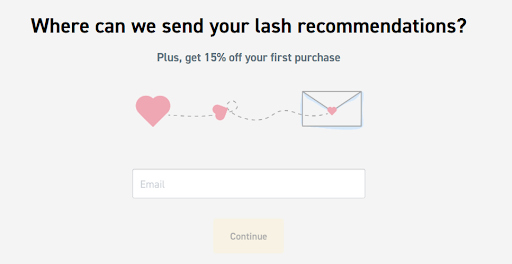 The moment participants give in their email addresses, they receive a product recommendation.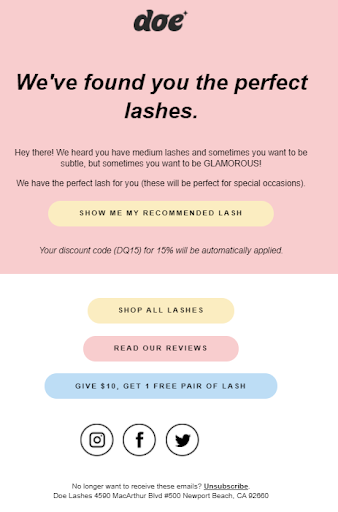 When customers receive a personalized email recommendation with a DISCOUNT CODE, you bet they aren't going to regret giving their email address. You can easily automate this process using email automation using tools like MailChimp.
Watch: How to Integrate Mailchimp With Quiz Maker
4. Gather Data for Your Next Strategy
From what their spirit animal is to what they spread on their toast in the morning- quizzes can tell you all about your customers.
When a customer takes your quiz, you don't just get access to their email address. With every quiz question that they answer, you get to know them a little better. For instance, their likes and dislikes, spending habits, work, and more.
Quizzes can help you collect data that you can use to retarget them via email, SMS, Facebook Messenger, and paid ads channels.
A great example of this case is BeautyBio's Virtual Consultation Experience.
With this quiz, Beauty Bio gathers valuable data about their customers' age, skin type, etc. by asking them questions like: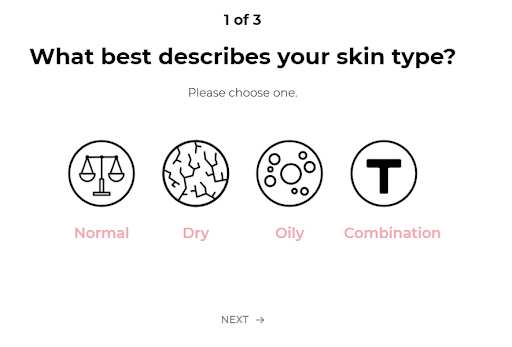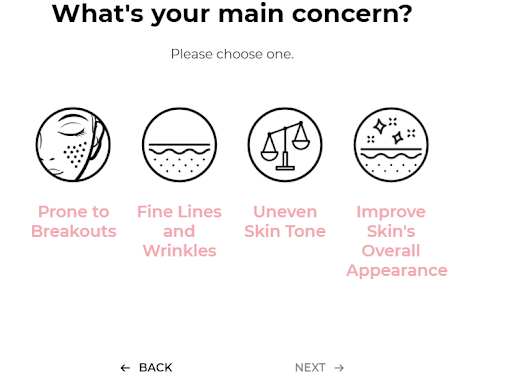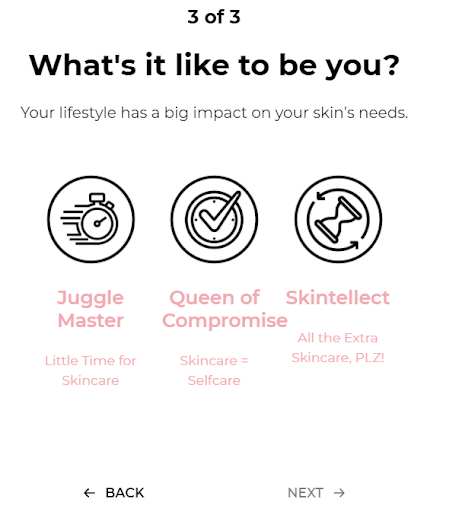 Isn't that so effortless? While the customers are engaging, the brand is pooling information on them.
You can use the same technique for gathering customer data via quiz and use that data to design your next marketing campaign, which can be as personalized as it gets.
For instance, you can show quiz participants targeted ads based on their quiz answers. By doing so, you can keep the quiz takers constantly engaged long-term with your brand via ads, email, Facebook Messenger, or SMS campaigns.
You can even repurpose the data you've gathered and turn it into a new form of content to drive engagement, just like Beardbrand did. They used the data from their most popular quiz and converted it into a wildly popular YouTube video.
5. Create Buyer Profiles
If you've not crafted any buyer profiles for your brand yet, a quiz can be a good tool to start with. Based on the data you collect with your quiz, you can segment quiz takers into different categories.
For example, take the quiz we just shared above. All the quiz takers who choose 'Fine Lines & Wrinkles' as their main concern can be put under a single buyer profile.
With enough data, you can start building data-driven buyer profiles of your customers to better understand what personalization is likely to appeal to them.
It'll give you more accurate options for targeting your customer base with targeted marketing and personalized messaging.
Knorr is a great example of a brand that used a quiz to create personalized buyer profiles.
Knorr has created a flavor profiler quiz called 'Love at First Taste', which involves a set of questions relating to the quiz-takers' food and flavor preferences. It assigns a 'flavor profile' to the participants, followed by a load of related recommended products.
There is a detailed case study on how the quiz was able to bond the brand with millennials who love food.
Also, here's how the outcome i.e., a buyer persona developed using quiz data or even survey data using survey feedback software may look like: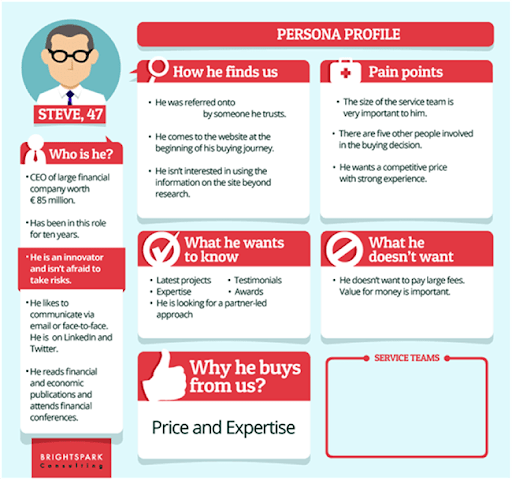 Now that you're aware of the benefits of using eCommerce quizzes, don't you want to learn how you can build one?
If your answer is 'Hell yes!', quickly hop on to the next section.
6. Social Engagement
Besides boosting engagement on your website, e-Commerce quizzes are a powerful tool to engage new audiences on social media platforms. You can share links to the quizzes on your social media and bring more traffic and leads to your website.
How to Create eCommerce Quizzes
You've learned and looked at examples of how quizzes can help you drive eCommerce sales. Now we're going to tell you how you can build one.
The first thing for you to note is that the type of quiz you'll create for ecommerce marketing and sales will have outcomes or personalities where you can pitch your products instead of scores.
You must've noticed that all the quizzes we shared as examples were personality quizzes.
Personality quizzes, in particular, get a lot of attention because they're designed to be fun and simple.
Plus, they are always about 'you'.
Your purpose in designing this quiz is to drive your products' sales which is why you need a quiz that lets each of your products shine.
So now, let's learn how to make a personality quiz.
It's super easy to create a personality quiz for eCommerce using an online quiz maker. You can create it in two ways:
Using pre-built templates or quizzes

Creating the quiz from scratch
In the first method, you need to choose a template or ready-to-use quiz from the tool's quiz library and edit it as per your requirements.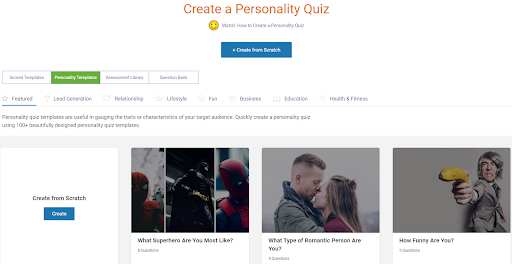 The template method helps you make a personality quiz in a few minutes. But if you'd want to be more creative, you can create your personality quiz from scratch.
Here's the process in five quick steps.
Step 1 – Create questions from scratch or import them from the question library.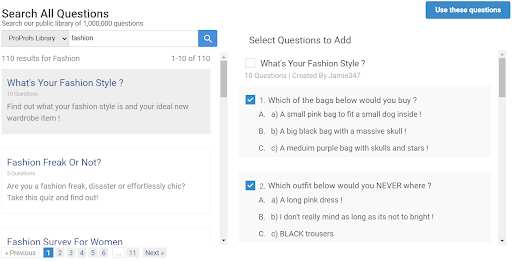 Step 2 – Set up different personality-based results.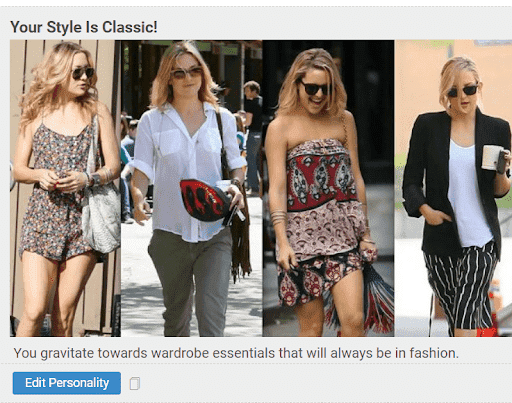 Step 3 – Match answer options with personalities.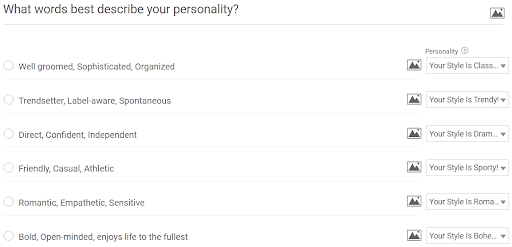 Step 4 – Work on the look and feel.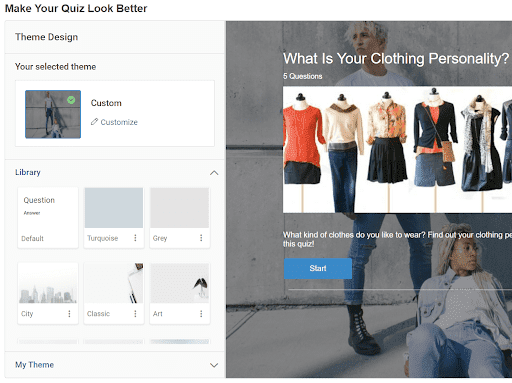 Step 5 – Share the quiz via a link, email, etc., or embed it on your website.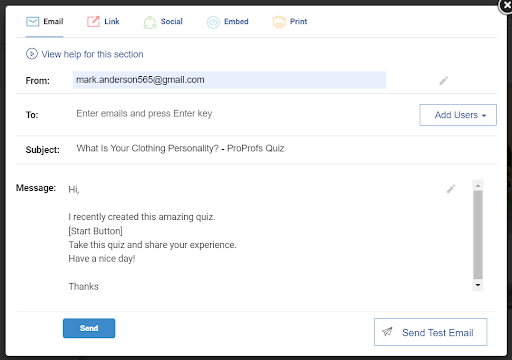 Want to know more about the process? Here's our guide to creating personality quizzes that you can go through.
Also, here's a video guide for a quick look:
Best Practices for Creating Ecommerce Quizzes
We closely observed the quizzes we shared as examples in our previous section and took notes of the elements that made them successful. We summed up our observations in the following points to help you learn how to create eCommerce quizzes in the best way possible.
eCommerce quizzes are short & fun

The questions are engaging

They are visually appealing

Customers often spread them organically
Start with Quiz Outcomes
Start building your quiz outcomes by sorting out the products you want to base your quiz outcomes on:
For instance, if you're a vegan ice cream seller, you could have – coconut ice cream, almond ice cream, banana ice cream, orange ice cream, and avocado ice cream.

Similarly, if you're a skincare brand, you could create a quiz to help your customers find the right skincare product. Your outcomes could be Foaming Face Wash, Sunscreens, Salicylic acid serum, Hyaluronic acid, and micro essence.
Why do we suggest building outcomes before quiz questions?
Because it'll help you map out the answers to the quiz results correctly. And, of course, having a reliable tool like ProProfs Quiz Maker helps to design score, personality, and e-Commerce quizzes in real time.
Create Interesting Quiz Results
Once you've sorted your products, you can start working on your eCommerce quiz results pages.
For instance, if you have five products, you'll have to come up with five unique quiz results for each of your products.
When creating your eCommerce quiz results, be mindful of the following elements:
A unique description of the outcome

Discount codes

Call To Action

Social share buttons
Outcome Description- You may or may not want to add descriptions for the quiz outcomes. But we recommend you do so as it'll help the quiz participants understand their quiz outcomes.
See how the folks at Zenni Opticals have created unique descriptions for different quiz outcomes: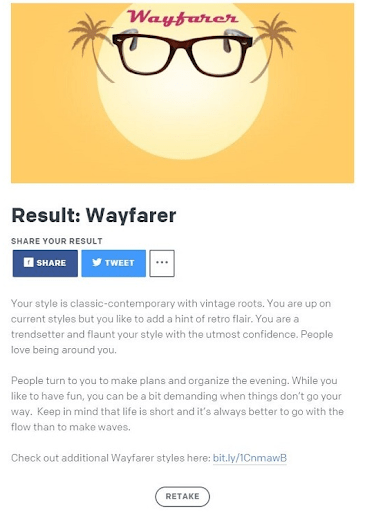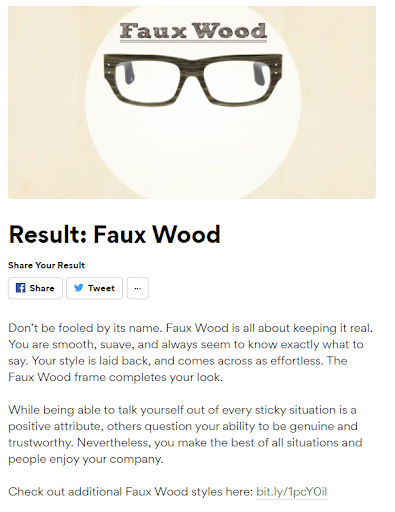 Include a unique description before you give the product recommendation.
Discount Codes- If you're planning to offer a discount code or any other reward to your customers, a quiz results page is the place to announce it.
Look at the following examples to get an idea about how you can announce discount codes: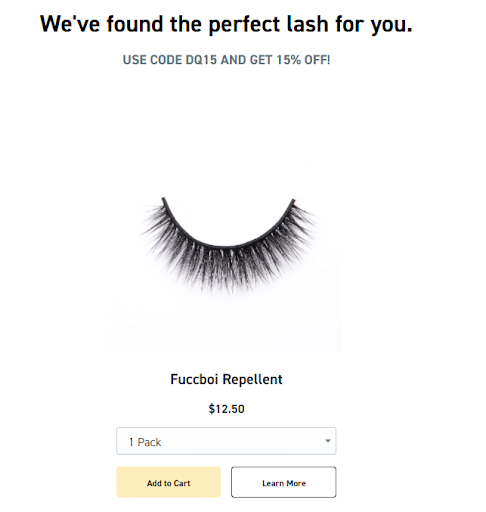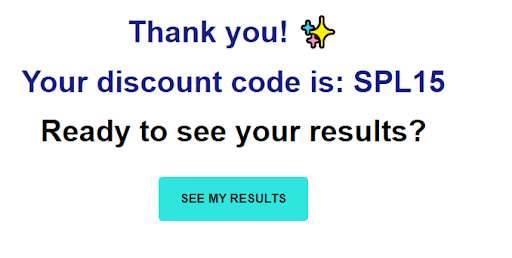 Call To Action (CTA)- Add the Call to Action to buy the product right below the product that you're recommending.
Then link the Buy button to the product page on your eCommerce website, so your quiz-takers are all ready to buy that product.
You can also use the following CTAs:
Add to Cart

Wishlist

Learn More

Retake the Quiz
We really liked this quiz results page from INH Hair's Ponytail Quiz.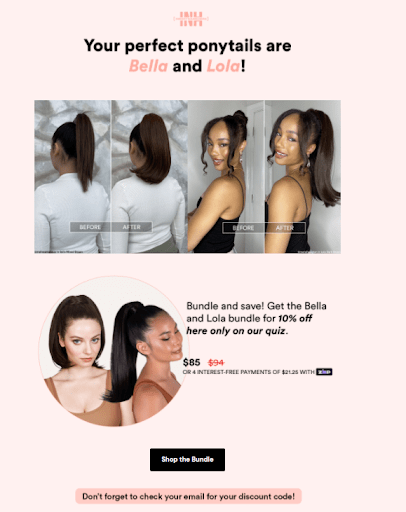 Social Share Buttons- Don't forget to add social share buttons on your quiz results page because if you miss this, you'll probably lose the chance of your quiz going viral.

Before you finalize your quiz result page, ensure that the outcome, the recommended product, and the description — all tie together.
Add Engaging Questions
When creating an eCommerce quiz, it's very important to create questions that are engaging & fun.
After reviewing the questions from the examples of quizzes we shared, here's what we can recommend:
Instead of using questions related to your product or your customer's preferences, use a blend of different questions.
Add questions related to your customers' personalities, questions about their interests, and questions related to your products. Having a wide range of questions in the quiz makes it more interesting for the participants.
Use a mix of image-based and text questions. Since you're creating a personality quiz, you've little to no choice when it comes to choosing the question type — you have to use multiple-choice questions since you need to know your customers and their preferences.
But you can always combine text with images, GIFs, and videos to create fun and engaging questions. Add at least one image to your questions or add image-based answer choices.
Here are some great examples of engaging questions we picked from the INH Hair's Ponytail Quiz.
Look at how they've created three different types of questions for their quiz:
1- Text-only question: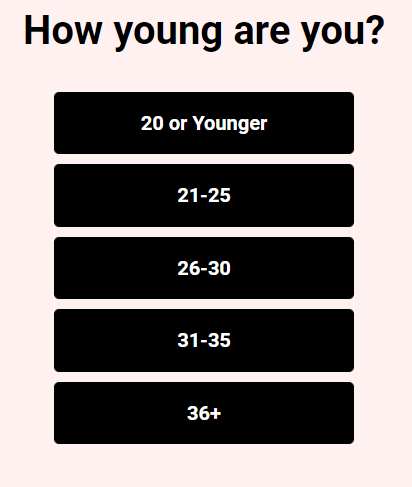 2- Question with image-based answer options: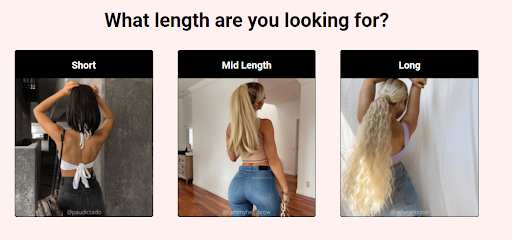 3- Question with GIF-based answer options:

Keep in mind the suggestions we gave you, and try making some engaging questions as INH did.
Style Your Quiz
When you're done with the 'creation' part of the quiz, then comes the styling part. Yes! You've got to make it look good!
Styling doesn't really mean you deck up your quiz with whatever you can. It simply means that your quiz should go with your brand's personality.
You can play around with the colors and fonts or add quirky background images to make your quiz look good.
We suggest sticking to your brand's theme and choosing your brand's colors and fonts for your quiz so that there's consistency from your quiz to your store to your social media.
Clarify the Intent
By 'clarify the intent,' we mean that you give your quiz a catchy title and an image that connects with the intent of your quiz.
You can also add a funny, quirky, clear description to make four things clear to your quiz participants:
What is the quiz about?

What is the type of outcome they'll get?

Are the participants going to take away a discount or offer?

How much time will the quiz take to complete, or how many questions does it have?
Let's understand this with examples of quizzes we shared in our previous section:
The Lash Quiz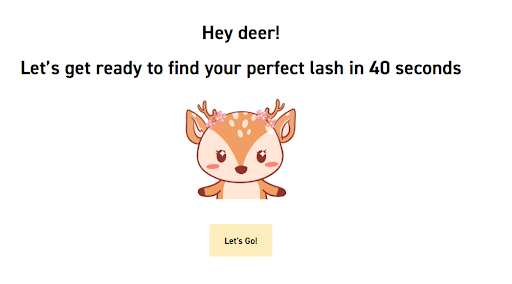 While the title Lash Quiz may sound a little confusing, notice how they start the quiz with a pun in their cover image by greeting quiz participants as "Hey deer." They've also made it clear that the quiz is only going to take 40 seconds to help you find the perfect lash.
Here's one more example:
The Skin Analysis Quiz by Derma Essentia: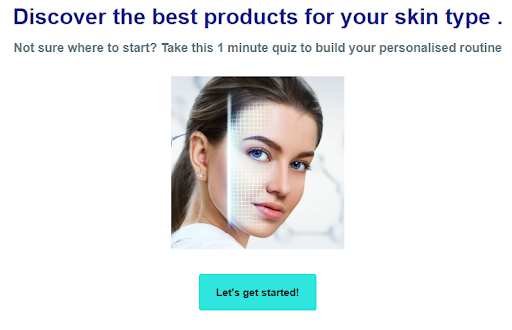 Derma Essentia established that they're going to help the customers discover the best products for their skin type if they take this 1-minute quiz.
Customize the Opt-in Form
As we mentioned earlier, one of the main benefits of eCommerce is that it helps grow your mailing list.
You need to keep connecting with your customers, follow up with them, let them know about any new deals, and share news about your brand to ensure a long-term engagement with them.
But, for that, you'd need their email addresses, won't you?
That's why you need an opt-in form to humbly ask for your quiz takers' email addresses. It's not all that difficult to customize the opt-in for your new quiz, and it's definitely worth the effort.
Here are our two cents about customizing the opt-in forms:
Don't ask for too much information

: Of course, you'll be tempted to ask for more than the participants' email addresses but avoid doing that. Asking for their names and contact numbers is still alright, but anything more than that can seriously botch up your opt-in forms and irritate the participants.
Allow the participants to skip your form:

This is very important. It doesn't matter whether you place your opt-in form before or after the quiz results; you must allow your participants to skip the opt-in form. Letting them skip the form is a more humble move than not allowing them to.
Offer an incentive:

Simply because offering an incentive on the opt-in form is

one of the best strategies

to increase the likelihood of customers sharing their email.
Here are some examples of well-designed opt-in forms: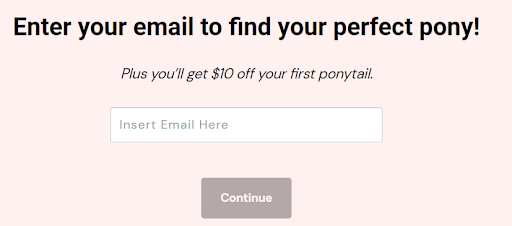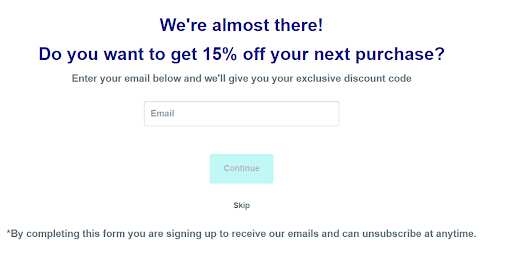 And that's all you've got to do. Once your quiz is ready, add it to your website or Shopify, or share it on social media. You can refer to our detailed guide on how to create a quiz or, better yet, watch the whole process unfold in the video below:
Watch: How to Create Customer Acquisition Quizzes That Convert
Now that you've learned how to use quizzes to drive sales, we can't wait to see how you build a quiz and use it to grow your business.
Ready to Build Your eCommerce Quiz?
No matter which niche you're in, if you're running an eCommerce business, you can create eCommerce quizzes and use them to drive sales, grow engagement, and generate leads.
What's more, many types of quizzes on eCommerce can be created, including gift finders, personality matching, customer onboarding, and post-purchase surveys. But make sure the quiz you create is interesting and engaging for the customers so they complete it and share it with their friends, making it a viral hit.
Do you want free Quiz Software?
We have the #1 Online Quiz Maker Software for complete learning & assessment