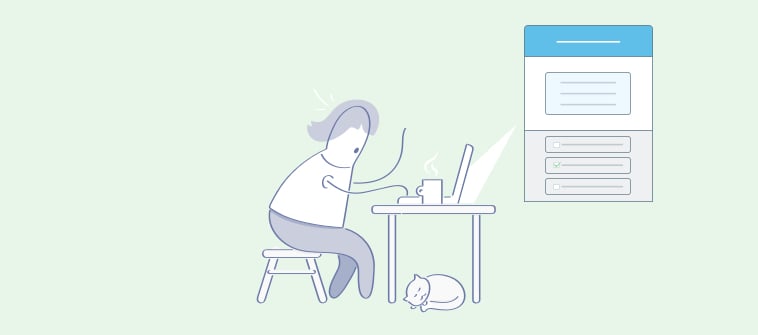 The year 2020 so far has been quite shaky, but with almost the entire world, including academic institutions on lockdown, you'd think that would impact learning in a big way.

Well, the good news is, it doesn't have to be this way.
The coronavirus pandemic has caused most states to close schools, and students all over the world aren't attending classes like usual. Instead, many school districts are meeting the challenges head-on by getting their courses online so that students can continue their education without interruption.
According to USA Today, some areas are better at this than others, as "districts and states vary wildly in their ability to deliver educational services at a time of social isolation."
Schools and teachers are doing all they can. Even so, more responsibility for students' education has suddenly fallen upon parents, many of whom feel forced to become quasi-home schoolers whether they like it or not.
Educators, on the other hand, are worried about the smooth transitioning of instructions and regular assessments.
This is the time when educators, teachers, and trainers can make use of an online quiz maker software to make online quizzes and deliver quizzes online to their learners.
Why online quizzes? Well, quizzes are more engaging than assessments, tests, or exams. And to be true, quizzes sound more fun than any other form of assessment.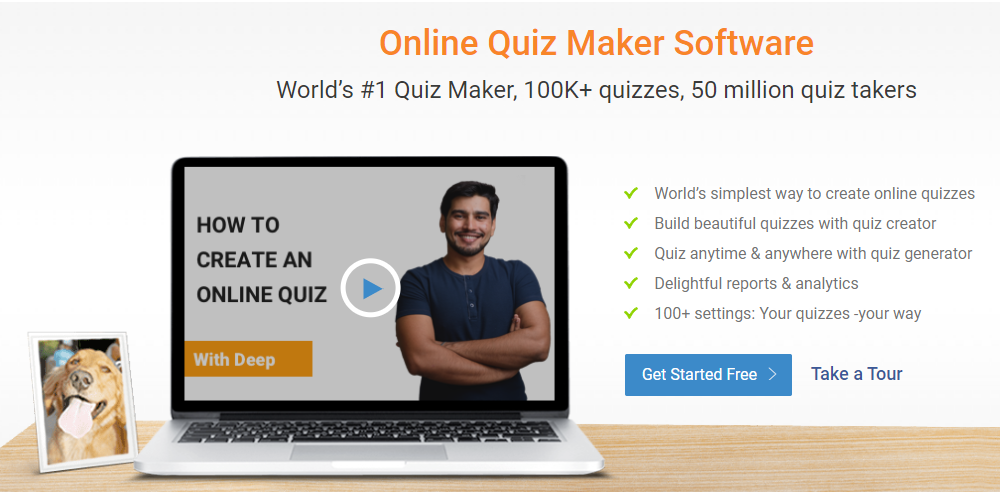 This article will walk you through some ways in which you keep the learning going with online quizzes while schools are closed due to the coronavirus.
Online quizzes are an integral part of eLearning that offers instant feedback to the students and at the same time, provide them feedback on improvement areas. Due to several benefits that online quizzing offers, it's a good time to leverage online quiz platforms to enhance students' engagement and course content knowledge by creating online quizzes and tests.
Watch: How to Create a Quiz Online (with ProProfs)
Benefits of Using Online Quizzes for Learning During COVID-19
✓Access Anytime, Anywhere- Flexible Access
This is the first most reason why using online quizzes is great for learning in times of lockdown. Quizzes you share with your students can be accessed anytime, anywhere.
Online quizzing adds flexibility in students' busy schedules. Students can take tests at their own comfort and irrespective of the time slots. This way, students feel free to assess their performance and can focus more on upgrading their subject-specific skills.
✓Automated Grading – Enhance Grading Accuracy
Worried about how you would grade so many quizzes? Well, you don't have to. The software does it for you. All you have to do is, assign grades to the correct answers while adding the questions. So, when students attempt a question, it will be automatically graded.
However, online quizzes are designed using advanced algorithms that eliminate human grading errors entirely as the results are generated programmatically. That's the reason students prefer taking online quizzes, which increases grading accuracy.
Watch: How to Automate Grading of Quizzes

✓Give Instant Feedback
Getting feedback from the teacher is probably the most time-consuming task. However, in online quizzes, just like grades, you can even automate the task of giving feedback to students.
With online quizzes, students can get instant feedback right after they've answered a question. This could be an explanation for the correct answer or a link to the relevant course material.
Helpful feedback makes it easy for students to understand why their answer was incorrect, helping them to clear their doubts and subject-specific concepts. This helps them to prepare for the exam.
✓Online Classrooms
With an online quiz tool, you can easily create online classrooms. In an online classroom, you create learner groups and centrally assign them courses and quizzes. This helps the students to pick quizzes whenever they want and discuss their scores with fellow learners in their group.
Watch: How to Use Online Quiz Maker for Teachers

---
Read More:- How Do Interactive Quizzes Enhance Learning & Assessment?
---
✓Integrate with Training Maker
You can create courses in an online training software and embed relevant quizzes in it. Assign these courses to your learners and track all your learners' activities. Get details like- who took the course, who took the quiz, how many questions did they get right or wrong, and more.
✓Promote Self-Assessment With Instant Results
Although colleges and schools organize annual examinations and unit tests, students do not get real-time results due to which stress levels eventually increase. Taking online quizzes is a smart decision.
With the help of automated grading, students will not only be able to self-assess their progress and performance but also get real-time results for the same, thereby reducing their stress.
✓Create Shareable Results- Motivate to Perform Better
Despite using online quizzes for learning, students can get strayed away from all the learning and assessment activities. In such a case, you can create positive, motivating quiz results.
Make these results shareable so that when students get them, they can share it on their social media handles and boast about them.
It's not really a necessary step to take, but adding a little motivating element is always good, right?
✓Leaderboard-Allow Comparison for a Competitive Spirit
A Leaderboard is a place where learners can compare their scores with their peers. By allowing them to compare scores on a leaderboard, you can instigate a sense of competition among the learners so that they try to outperform each other in every test or quiz that follows, thus making learning engaging.
✓Issue Certificates- Appreciate the Effort
Imagine being presented with a token of appreciation for your effort- doesn't it just lift up your spirits and let you perform better? That's how certificates work. You can easily issue quiz completion certificates to your learners after they've completed the quiz.
Quiz completion certificates are completely customizable, and you can add any field of your choice.
A typical quiz certificate looks something like this: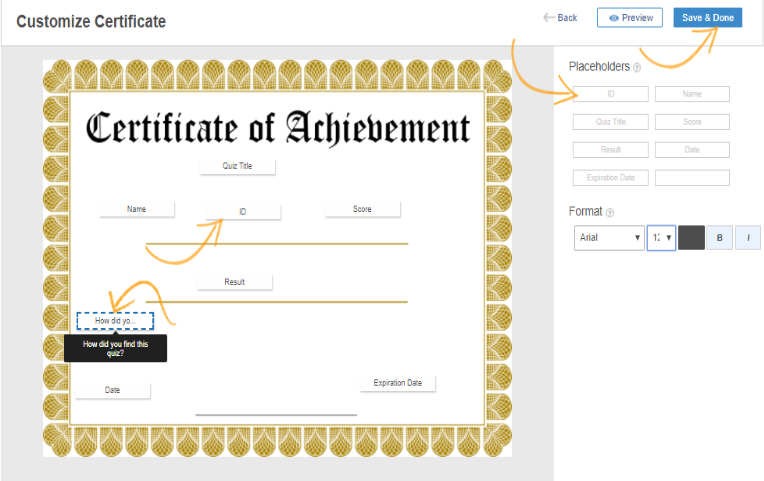 You can customize or add fields as per your liking.
✓Create Fun Online Quizzes and Tests- Make Learning Interactive
The best part of learning through online quizzes is that it saves a lot of time. The content provided in the training material is usually short, crisp, and engaging, which makes complex subjects easy to understand for students.
More often, training courses are followed by fun online quizzes whose answers are readily available. This way, students can save their time and invest it in doing something productive.
✓Configure Security Settings- Prevent Cheating & Unauthorized Access
Just because you've opted for an online mode of learning, doesn't mean you have to be bothered about learners cheating when you make a quiz online. You can configure settings like question randomization and shuffle answer options to rule out the possibility of cheating.
Just like that, you can even protect your quiz with a password to avoid unauthorized access. It'll make sure that only learners with authorized credentials can access the quiz.
Watch: How to Configure ProProfs Quiz Settings

Turn challenges into opportunities
Online quizzes are effective for growth and learning. Quizzes not only save a lot of your time but also provide learners instant feedback about their improvement areas. Learners this way can prepare themselves before the topic is being discussed in the class.
They can confidently participate in debates, small group activities, and role play as their concepts are clear. However, to gain such benefits, it's important to choose a reliable and free online quiz software that is easy to use and, at the same time, enhances the learning process.
Do you want free Quiz Software?
We have the #1 Online Quiz Maker Software for complete learning & assessment