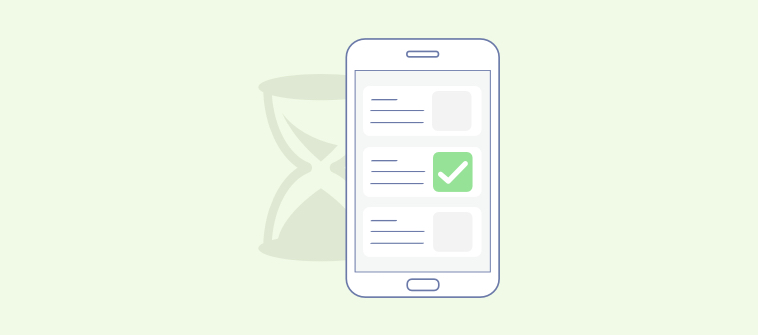 Imagine this- the time for mid-term exams is approaching, and you've yet to prepare a question paper for your students. But you're in a time crunch!
So what do you do?
Do you have any last-minute revision techniques for students that can help provide a boost for revision and help them prepare a strategy for exams?
If you do not have any, then don't worry! You've come to the right place.
In this blog, we've covered the most popular last-minute revision strategies that you can use to help boost your students' retention.
We'll also walk you through the benefits of using quizzes to give your students a last-minute revision and share stories of how educators like you use online quizzes for students to improve student learning.
Let's begin by looking at some popular revision strategies that you can share with your students.
Popular Revision Strategies for Students
No matter what subject or curriculum you are teaching, some revision strategies never get old with time and remain just as effective. Here are some of those strategies:
1. Prioritize
The last few weeks before exams begin can just whizz by if there's no strategy in place. To avoid that, instruct your students to overview their syllabus and prepare a list of all the topics they need to cover.
Advise your students to highlight each list with traffic light colors as it will help them quickly sort the areas they need to prioritize than the rest. Use green for the topics they're confident in, the topics that need more revision with orange, and red for topics they need to cover from scratch with red.
Once they have the list, tell your students to tick each topic off as they cover it. It's really important to stay organized when juggling tasks, and checking off a list is also good for morale. By the time they've worked to the end of their list, they should be feeling reassured about each topic and confident before taking the exam.
2. Test Frequently
The right technology makes all the difference between learning something and remembering it for a longer period.
Our memory is affected by how deeply we process the to-be-remembered information. Simply reading over notes isn't the right way to revise. It is shallow or superficial processing and often results in weak memory.
A far better last-minute revision strategy is to test repeatedly. Give your students timed practice tests or short quizzes enabled with instant feedback.
Quizzes or tests help your students remember the correct answers the next time they attempt the same questions and give students a chance to prepare for the actual exam. They get a rough idea of:
The type of questions they'll be asked

How much time they're supposed to allocate to each section

Any areas they need to go back over for memorization
3. Discuss with Friends
Remember the group projects and fun group studying sessions you had as kids? Of course, there was less studying and more fun.
Encouraging students to collaborate and have topic-wise discussions can be very helpful. Advise ways in which they can study together and have topic-wise discussions to understand different points of view.
One person should make a point – with evidence – and the other can either agree and add more evidence or disagree and explain why. Suggest students to support their arguments with facts, scientific research, or quotations.
This way, you can help your students to:
Develop critical thinking skills
Practice constructing a logical argument
These are all essential skills for gaining extra marks on exams.
4. Take Breaks
We know that during the days leading up to your exams, the revision will be a priority for your students.
However, it's important to ensure that your students do not overdo it, as it can cause exhaustion, stress, and overload their brains. The muscles inside and around the eyes tire within 30 to 50 minutes, and the entire visual system starts to feel fatigued after this time. This means they'll remember less and find it harder to make sense of the study material.
Suggest taking regular 15-minute breaks every 50 minutes. Also, recommend activities that they can do during the break to relax their brain.
5. Tailor Revision to Your Interests
It's easier to get lost during revision, easier when you don't like the medium of revision. Often while revising, students get distracted and lose concentration quickly.
To help keep students on track:
Suggest ways to revise that would keep them interested.

For instance, suggest watching YouTube videos of teachers answering questions, listening to podcasts, frequent testing, shorter spaced-out revision sessions, and grasping information in different ways throughout the study time.

Recommend using study applications like online quizzes, learning apps, online courses, and more.
Now, let's look at how an online quiz maker for teachers can help you incorporate all the strategies shared above to give your students a last-minute revision.
How Quiz Makers Help to Give Last-Minute Revision
There are different ways in which an online quiz maker helps create online quizzes for students letting you incorporate all the strategies shared above to give your students a last-minute revision. It does so by letting you:
1. Divide Students Into Groups for Collaboration
In the section above, we discovered how encouraging students to discuss and collaborate with fellow students can help them remember information.
Well, with an online quiz maker, it is easier to apply this strategy. You can easily create different groups of students in online classrooms and assign them courses or quizzes to discuss their answers and compare scores for better performance.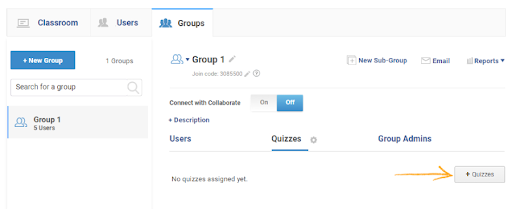 2. Improve Students' Time Management Skills
Improving your students' time-management skills is one of the top tips for revision to ensure they retain all the syllabus. Even if they know all the correct answers but have poor time management skills, they won't do well on the exams.
With an online quiz maker, you can create quizzes or tests with a specific time window for answering questions. And with the frequent testing strategy, you'll be able to improve your students' time management skills. They would learn exactly what time to spend on each question to complete the exam in time.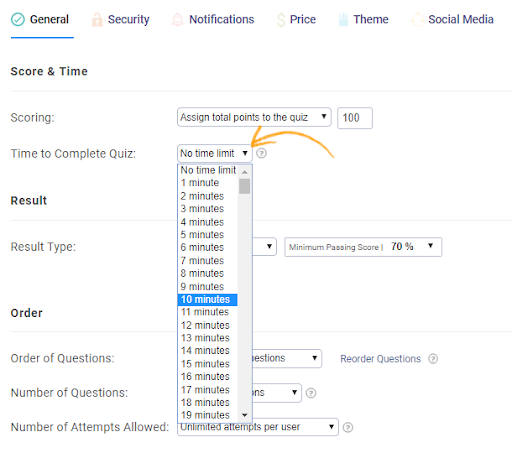 Learn more about How to Create a Timed Quiz here.
3. Create an Interactive Medium of Learning
While textbook reading can get boring, and at times, exhausting, quizzes can provide an interactive learning medium. Like you read in one of the above strategies, suggesting different ways of learning can help keep the students engaged and make learning interesting.
With a quiz maker, you can create quizzes and upload audio or video files to help them learn new information. You can even create image-based questions or embed videos from YouTube in such online quizzes for students.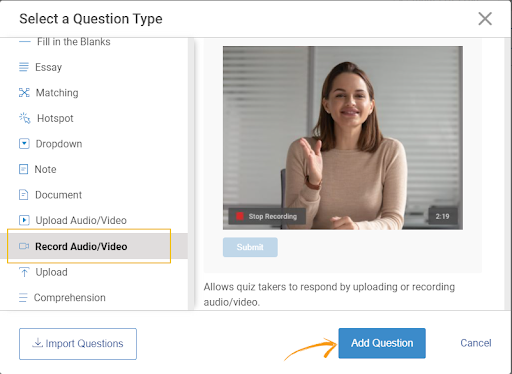 4. Create a Feedback Loop
Feedback is the backbone of learning. Telling students the correct answer and stating reasons why it is correct is essential to strengthen your students' memory and help them remember the correct information for longer periods.
Creating a quiz with an online quiz maker allows you to provide instant feedback to students after they attempt a question. This way, it enables you to create a feedback loop every time your students attempt a quiz.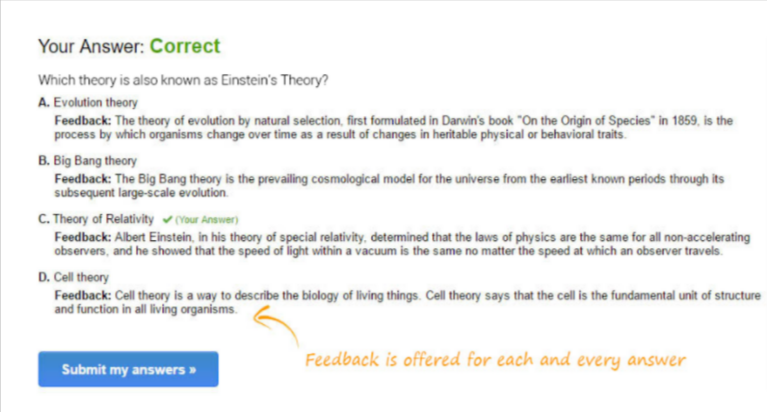 5. Identify Areas That Need Improvement
With detailed reports of online quizzes for students that the software produces automatically, you can analyze your students' progress and determine the areas of improvement. Different types of reports that you can view using such quiz maker for students are:
Recent Activity Reports of Your Users

Advanced Progress Reports

Time Taken per Quiz and Question Reports

Grade Book Reports
Watch: How to Share Quiz or Course Reports With Your Learners

6. Gamify Learning
Everyone loves games, and pulling in the gaming element in your revision strategy can help you effectively evaluate students' performances. One way you can do this is by using game-based quizzes.
Just like a game, when a player gets a one-up or points when they complete a new level, you can gamify the quizzing experience by rewarding your students when they complete a quiz.
In such online quizzes for students, you can issue badges with customized results, praise students for their performance, or issue completion certificates to keep them motivated for a longer time.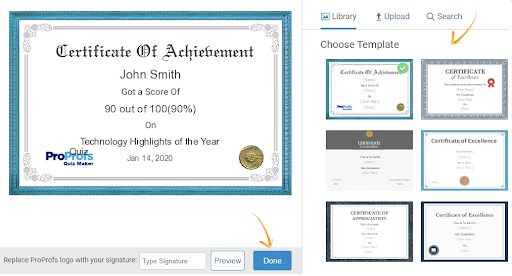 7. Use Different Question Types
Creating a quiz with different question types is a great way to test your learners' knowledge, and at the same time, explore different learning styles. Adding these to online quizzes for students can also help you address different cognitive abilities such as knowledge, comprehension, application, analysis, etc.
For example, you can use a hotspot question to assess your students' observation skills, a video question to help them practice their orator skills, and an essay question to present their views and ideas in detail.
Now let's look at what educators who used a quiz maker as a part of their teaching process have to stay about it.
Revisions with Quizzes: What Educators Say
Educators all across the globe have been using online quiz makers, and they've had great experiences. Let's take a look at some of them:
1. Professor Daniel Stein, the director of tech initiatives at Touro College, adopted a robust quiz maker for students to conduct various assessments.
He created T3-Tests that enabled his students to take an exam like a study aid. Those tests acted as a learning resource with links to definitions, teaching videos, and more.
2. Deborah Smith, an instructor of integrated anatomy & physiology at Shiatsu School of Vermont, created quizzes and assigned them to students to provide them immediate feedback and results. According to her, using the quizzes for teaching in a positive way impacted her students' final grades.
3. An educator at the McKeel Academy, Charlene Campbel, created online quizzes for students and used them as a mechanism to test her students and give immediate feedback. With quizzes, she could provide instant grading and feedback for tests, which saved a lot of her time.
You can discover more about how teachers have benefitted by using quizzes as a part of their teaching process and get inspired.
As you can see now, you can use a simple quiz to test your students' knowledge with various engaging ways to help them prepare better not just for an exam but retain the information they're taught for a longer time. All you need to do is prepare well and use a good quiz maker for students that'll help you build any type of online quiz for students.
Do you want free Quiz Software?
We have the #1 Online Quiz Maker Software for complete learning & assessment