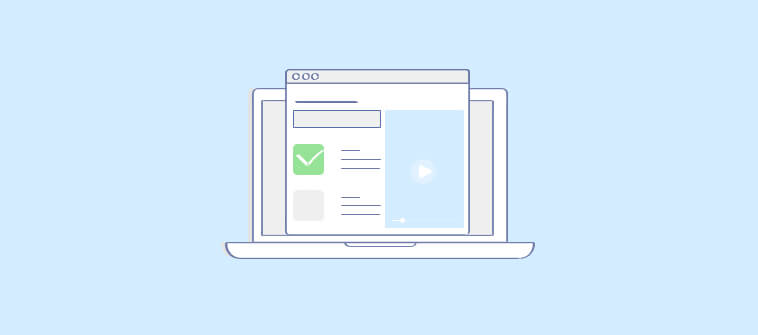 Gladiolus.
This was the word that made 11-year-old Frank Neuhauser the winner of the first-ever Scripps National Spelling Bee held in 1925.
Imagine teaching someone vocabulary at that time!
These days creating a vocabulary quiz is a great way to make the language learning process easy and fun. It is a great way of introducing new words to students and helping them remember it.
However, there's no need to spend hours researching and putting together a test. You can simply do so by using a vocabulary quiz maker. Today, there may be a hundred vocabulary apps out there, but there's nothing like an interesting quiz that can teach you a lot more than just the meaning of a word.
Let's begin by learning the steps to creating a vocabulary quiz and then move towards highlighting the benefits of using a vocabulary quiz.
How to Create a Vocabulary Quiz
With an ideal vocabulary quiz maker, you can create your vocabulary quiz as quickly as in minutes.
However, the process becomes a whole lot easier if you can use a quiz template. Just a few edits and you're good-to-go.
Since the steps may vary a bit from one tool to another, let's consider the example of ProProfs Quiz Maker.
With ProProfs Quiz Maker, it is possible to create a quiz in two ways:
With Templates

From Scratch
Anyone can create a compelling vocab quiz using ProProfs Quiz Maker – just take a look as some of the most popular user-contributed quizzes below:
These are user-contributed quizzes and can be found on our website.
Now, let's learn how to create a vocabulary quiz using both ways:
1- Create Your Quiz Easily Using Templates
The simplest and quickest way to get your quiz ready is by creating it with the templates. At ProProfs, we offer 100+ professionally designed scored quiz and personality quiz templates using which you can create your quiz within minutes. Below you'll find the steps to create your quiz using templates.
Step 1: On your dashboard, click on Create a Quiz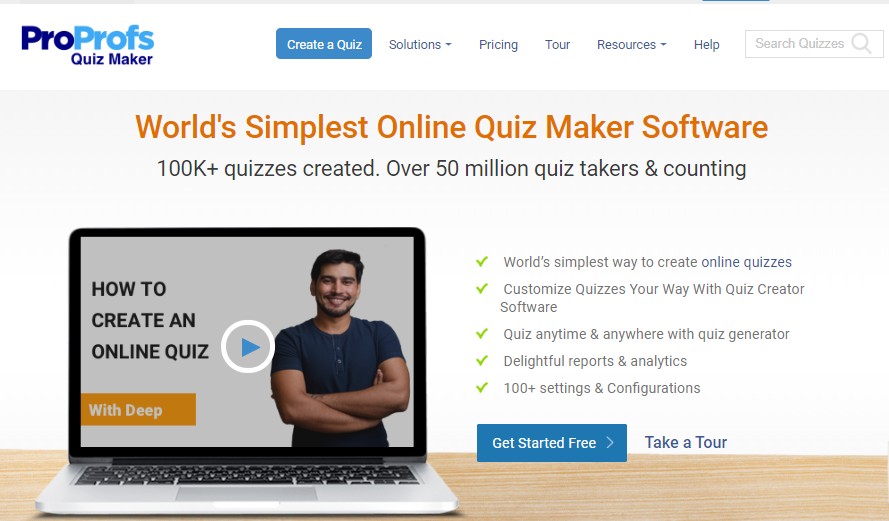 Step 2: In the next window, choose between a scored quiz or a personality quiz. Let us choose a scored quiz.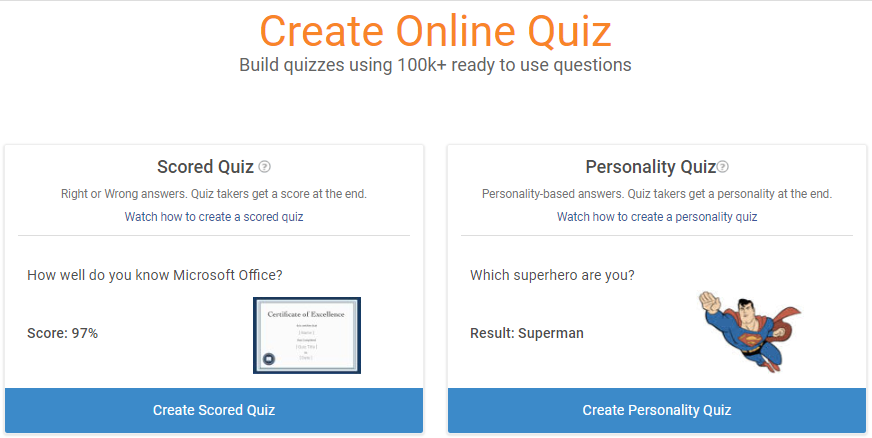 Step 3: In the search box, type in the quiz category that you want the templates for, and press 'Enter'

Step 4: From the next window that appears, select the quiz template you want to use by clicking on 'Use this Quiz'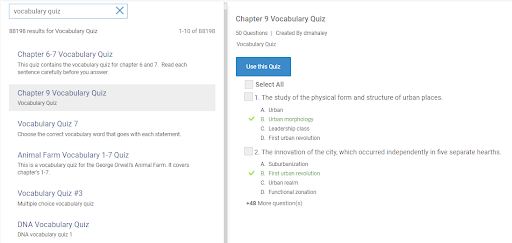 That's all you have to do.
See? It's that easy, and it only takes a few minutes.
2- Create a Quiz from Scratch
Creating a quiz with templates is quick, but creating a quiz from scratch is fun and just as easy. Here are all the steps to create a quiz from scratch:
Step 1: Click on 'Create a Quiz' on your quiz dashboard.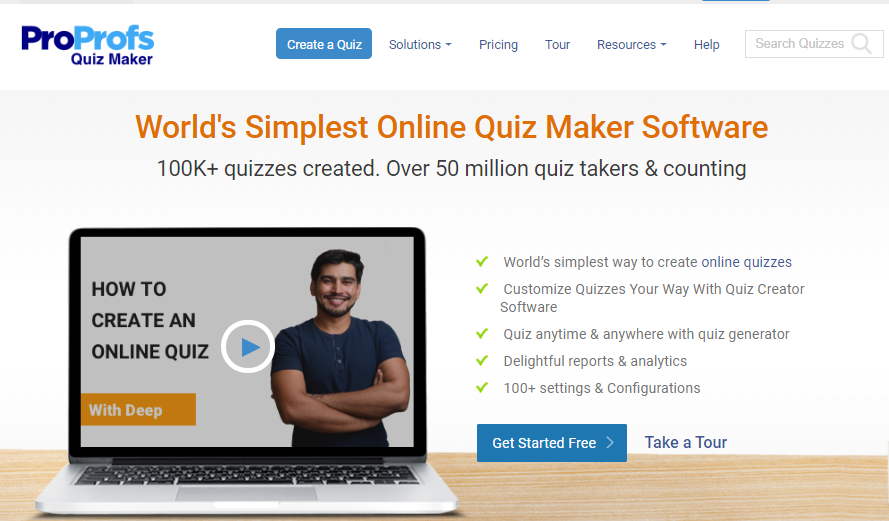 Step 2: Choose between a Scored quiz or Personality quiz.

Step 3: In the next window, click on 'Create from Scratch'

Step 4: You'll then be taken to the quiz editor window where you can start building your quiz.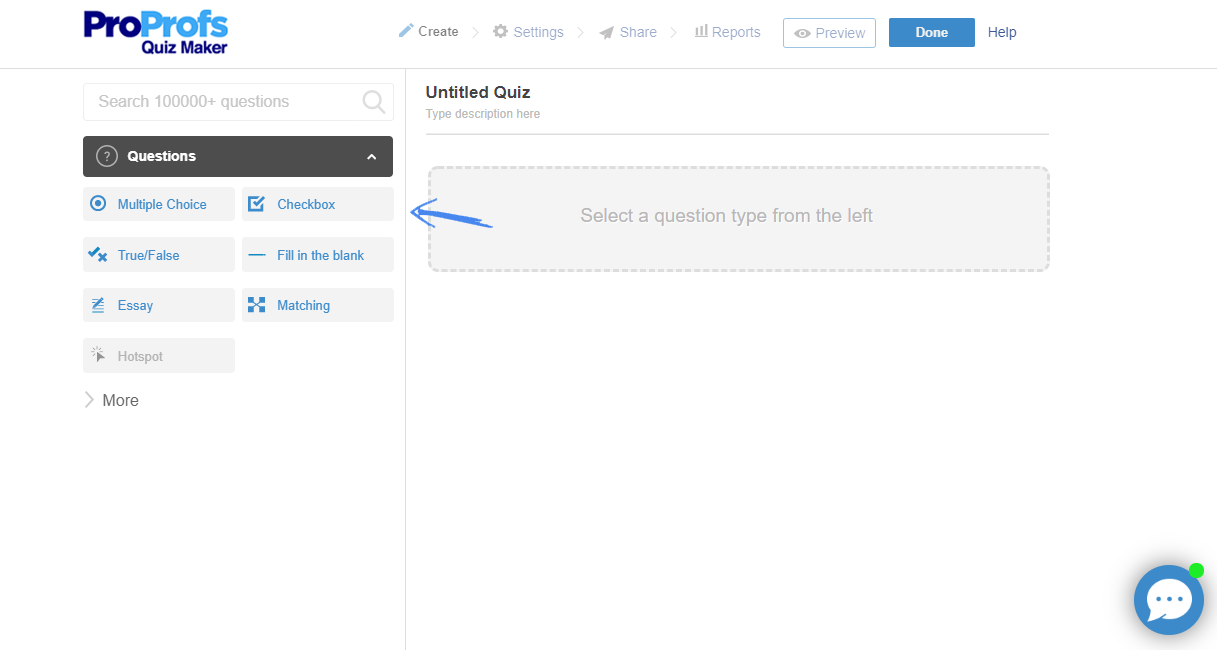 Step 5: Add Title & Description
The most important thing in the process of creating a vocabulary quiz is giving it a title and description.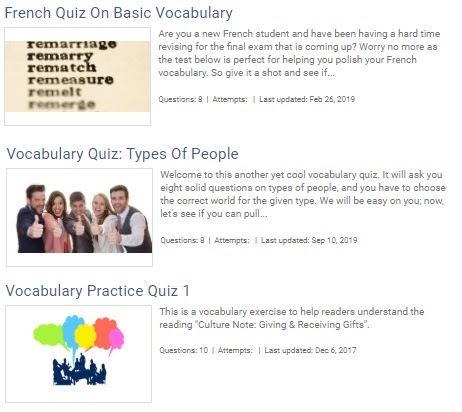 In ProProfs, you can add a title and description to your quiz in the quiz editor, as shown in the image below.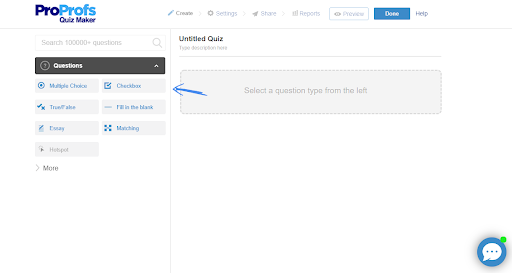 Watch: How to Create a Quiz Online
Step 6: Add Questions
Next is another most important step that is adding questions. You can either create your quiz with a single type of question or create a mix of questions to make it interesting and fun.
For example, ProProfs offers more than ten different question types to choose from, including multiple-choice, fill-in-the-blank, checkboxes, true-false, and more.
---
Read More:- How to Create a Quiz with an Online Quiz Generator
---
Each type of question can be used to make your quiz more and more interesting.
Let's see how.
Fill-in-the-blanks- Use this question type to present a sentence with one or more missing words and ask the quiz takers to fill-in-the most suitable type of word. You may or may not choose to provide choices.

Multiple Choice Questions- This is probably the most used type of question in quizzes and most useful because you can present four answer options, out of which one is correct. You could also include more than one correct answer or one-odd option as the answer. The choice is yours.
Here's an example of a multiple choice quiz with image clues-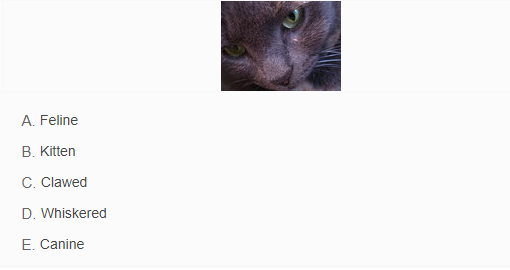 In the above question, all the options have a connection with animals of the cat family except the last option Canine, which refers to dogs, thus being the odd one out and the correct answer option.
Create a Cloze Test- A better way to use both multiple-choice question type and fill-in-the-blanks question type is by creating a cloze test.
A cloze test consists of a portion of language with certain items, words, or signs removed, where the participant is asked to replace the missing language item. It is probably the best way to test your learners' vocabulary.
Learn how to create a cloze test using ProProfs Quiz Maker


Matching Questions- Using this question type, you can present words in one column and their answers in another column. You can create questions like:

Here's a ProProfs Quiz on Matching Words that you can refer to:
Open-ended questions- Ask a question and let your quiz-takers answer it in their own words. It could be a definition or usage of a word in any sentence.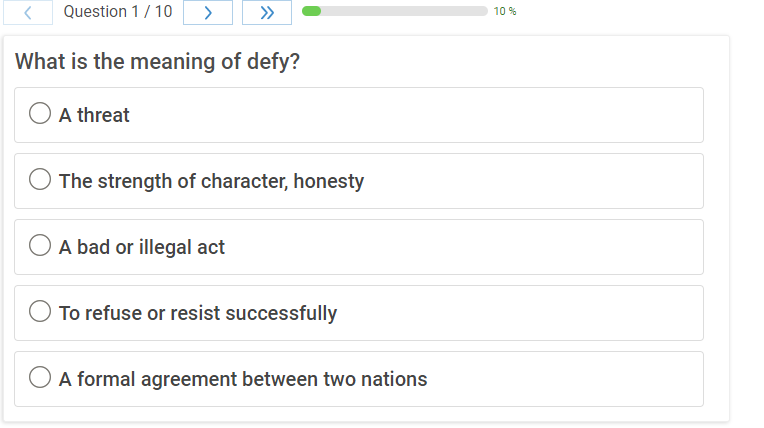 Create Audio/Video questions: Using ProProfs, you can add audio/video tracks to your quiz questions. This could be done to improve pronunciation or as an accent reduction exercise.
Here are the examples of an audio question and a video question created using the ProProfs Quiz Maker.
Reading Comprehension- Another best way to test reading and vocab skills is by creating a reading comprehension test. It generally includes a reading paragraph followed by a few questions.
Here are the three most popular vocabulary RC quizzes on ProProfs that you can refer to understand better:
1. Basic Vocabulary and Reading Skills Quiz
3. Vocabulary and Comprehension Quiz
This way, you can use different question types in your quiz. It is fun and keeps your learners' interests up.
You can also add images to your questions or answer options and create identification questions.
For the various question types discussed in this step, you can either create new questions or import questions from our question library of 100,000+ ready-to-use questions on thousands of topics.
Step 7: Automate Grading & Scoring
This will help you save hours of your time as the questions will be automatically graded when attempted, and you won't have to do the grading manually.
Not all quiz makers have this feature, but if the one that you're using does, don't refrain from pre-assigning scores to correct answers while adding the quiz questions.
You can choose from several automated grading options, as shown in the image below: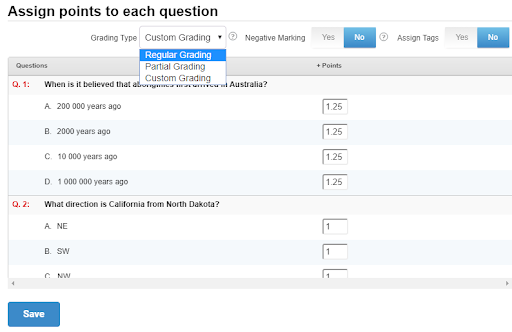 Step 8: Add Instant Feedback
Not all quiz makers offer this feature, but if you're using a tool like the ProProfs Quiz Maker, you can most certainly display instant feedback when a question is answered to help your learners identify knowledge gaps and improve their learning.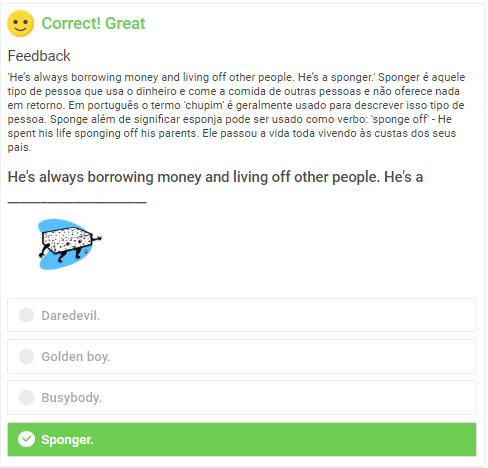 Step 9: Customize Your Quiz' Appearance
You can play around with the appearance of your quiz. Add a background image. Add a touch of your branding by adding your logo and themes.
Here's a quick video on customizing and branding your quiz:
With ProProfs, you can even customize and issue a quiz completion certificate to your learners that will be automatically issued once your learners complete the quiz.
Here's how it looks: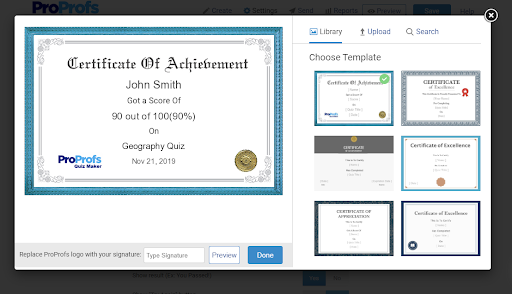 Step 10: Configure Settings
Before finishing off the process, it is important to configure a few settings like question randomization, answer shuffling, and to disable tab switching to prevent cheating on your quiz.
You can even add a password to your quiz to avoid unauthorized access.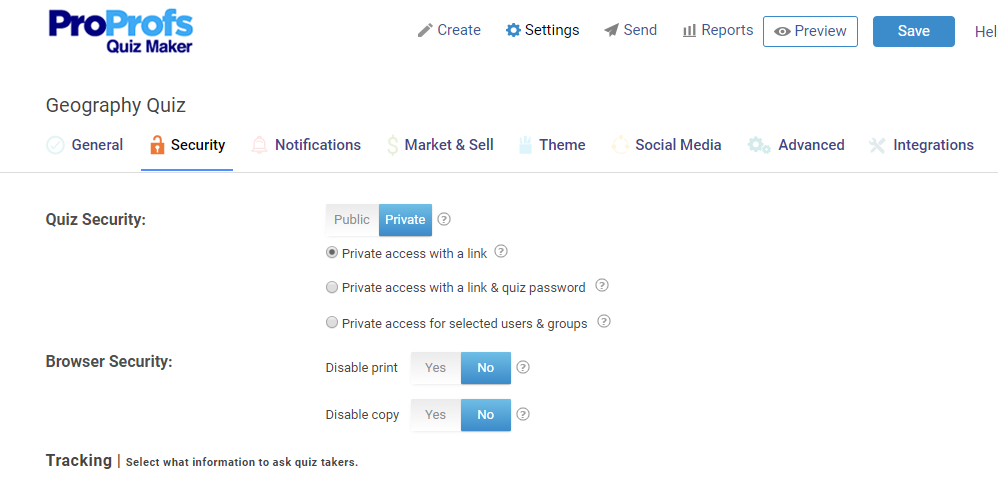 So, those were all the steps you were required to create a vocabulary quiz. What remains now is sharing the quiz with learners.
Just like creating the quiz, sharing it is super easy too. You may share it via email, place it on your social media handle, or simply embed it on your website.
Just a few steps, and your vocabulary quiz is all set to be taken by many.
There is an abundance of quizzes that have been created using the ProProfs Quiz Maker. You can find them on our website.
Just go to the Quiz Maker home page and type in the type of quiz you're looking for in the search box that appears on the top right corner of the screen.

Now let's have a look at how to get the best out of a quiz maker tool and the benefits you get.
Benefits of Using a Vocabulary Quiz Maker
Boost Recall Ability
A strong recall ability is the key to learn something and then remember it for a longer time. And vocabulary quizzes can be really helpful in strengthening your ability to recall.
Many quizzes display instant feedback. There are various tools that allow this, including ProProfs Quiz Maker.
In this feedback, you can include extra information, such as using the word in a sentence, its synonyms, its pronunciation, and more, which will help them to remember the word better. You can even provide links to a Thesaurus.
Doesn't matter whether they got the answer right or wrong!
By quizzing themselves on words, learners can discover the words that they need to study further. Also, with real-time results, they can assess their own progress and spend time on words that need to be studied more.
Improves Understanding With Gamified Content
Admit it- a quiz sounds more fun than a test does. A recent study found that using gamified-content helps students understand the concept in a better way. It even claimed that they enjoyed learning through quizzes.
Therefore, vocabulary quizzes are a better option to introduce a new set of words to your students in the most engaging way because they can easily be shared on social media to earn likes.
Some quiz makers also reward quiz-takers with quiz completion certificates that make the entire exercise of taking the quiz more interesting and fun.
---
Read More:- 25 Most Popular Quiz Categories and Quizzes
---
Enhances Problem-Solving Skills
As many online quizzes provide a quick result and even quicker feedback, they are a great resource to enhance problem-solving skills.
Learners can take quizzes and analyze their results immediately, which, in turn, helps to improve your ability to think logically.
Arouses Interest
A quiz is just a test with several interesting features. Many quizzes that offer features like automated grading, instant feedback, and real-time results, arouse interest among learners.
The learners are then encouraged to build a healthy sense of competition and self-assess their skills through quizzes.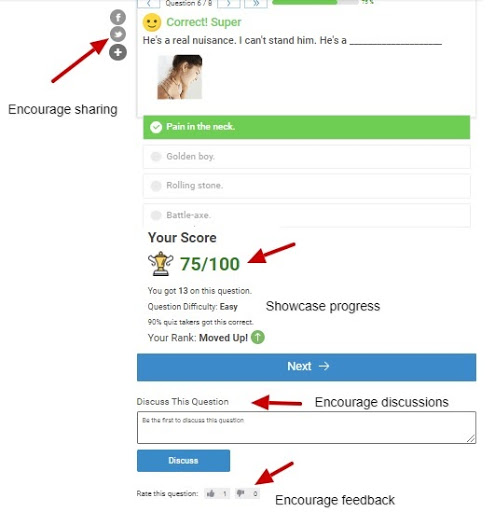 So let's say you have to teach them the meaning of Gladiolus, and encourage them to find out its plural version by reading the feedback that says – it's Gladioli or Gladioluses.
---
Read More:- 10 Best Quiz Maker Software
---
Now that you are well aware of the benefits, it's time to take a test drive by looking at different examples of such quizzes to know how you can easily create them. Hop on to the next section to find out.
20 Best Vocabulary Quiz Examples
Here are some of the best vocabulary quizzes that you can find online:
A 10-question quiz based on short paragraphs in which the quiz takers have to read the entire paragraph to find out the correct meaning of certain words to improve their reading and vocabulary at the same time.
Language: English
A brief 8 multiple-choice-question quiz for French students to polish their French vocabulary and practice for their exams at the same time.
Language: French
A 12 question GPA quiz that is a mix of both multiple-choice and fill-in-the-blank questions for learning high school vocabulary. It scores the quiz takers on a scale of 0 to 4 that's representative of the GPA scoreline.
Language: English
A detailed 25 question quiz that consists of only multiple-choice questions and aims at measuring the vocabulary of the quiz takers by asking them to choose the correct meaning of complicated words.
Language: English
A general vocabulary quiz that includes 12 questions with pictures, and the quiz takers have to fill in the correct answer based on what's going on in the picture.
Language: English
As the name suggests, it is a 12 question vocabulary quiz for the quiz takers where they have to guess the word based on the alphabet hints given in the question in a slightly puzzling format. It tests the overall comprehension and memory skills of the quiz takers.
Language: English
Another detailed 20-question quiz, it includes multiple-choice questions where the quiz takers have to select the correct word for the given definition. It is a great quiz for expanding your vocabulary.
Language: English
A vocabulary quiz that consists of 16 multiple choices and fill-in-the-blank questions and is designed to test quiz takers' grammar and vocabulary by helping them build sentences with structure and format.
Language: English
Another very detailed quiz that has 23 multiple choices and fill-in-the-blank questions that aim to enhance the quiz taker's vocabulary, reading, and comprehension.
Language: English
As the name suggests, it is a vocabulary quiz in which the quiz takers will have to guess the correct word based on the definition and the picture that is attached to every question.
Language: English
A very highly intuitive and engaging vocabulary quiz that aims at increasing the vocabulary of students through questions that are made engaging and informative using pictures.
Language: English
Another highly competitive yet brief vocabulary quiz is created for the purpose of increasing the vocabulary of quiz takers for their GRE (Graduate Record Exam) exams and also measuring their aptitude in multiple areas.
Language: English
A vocabulary quiz that consists of 15 questions and also expects the quiz takers to be aware of the difference between romance and horror and tests their vocabulary pertaining to different novels and books.
Language: English
A relatively brief English vocabulary diction trivia quiz that only has 5 questions and aims at spicing up the writing and speaking skills of the quiz takers. Quiz takers also get a good understanding of the formal and informal words by taking this quiz.
Language: English
Another quiz that extends from the Gateway standard vocabulary test is the Gateway B2 trivia test. It serves as a valuable tool for developing communication skills and knowledge of the quiz takers.
Language: English
The intermediate vocabulary grammar quiz has 25 fill-in-the-blank and multiple-choice questions, and it aims at perfecting the knowledge of the English language. It primarily makes use of figures of speech to establish the understanding of vocabulary.
Language: English
Another extremely useful vocabulary quiz that offers 10 questions to test the vocabulary of students who will be sitting for their ACT exams.
Language: English
A relatively brief vocabulary quiz with only 8 multiple choice questions that aim to test the Spanish vocabulary of quiz takers by posing interesting questions.
Language: Spanish
A very interesting vocabulary quiz that comprises 8 multiple choice questions and only tests the vocabulary of quiz takers pertaining to the letter 'C.'
Language: English
Another very promising vocabulary quiz that includes 12 questions and also claims to be the hardest vocabulary quiz. The quiz takers are required to define the words that are given in the question accurately to test their level of vocabulary.
Language: English
A Crucial Leg-Up
Vocabulary quizzes provide a crucial leg up, helping learners get familiar with new vocabulary and really learn new words through recognition and use. And, with a vocabulary quiz maker as comprehensive as ProProfs, the overall experience becomes quite delightful too. You can create a quiz in minutes or access a ready-to-use quiz from its vast library of pre-made quizzes. The possibilities are endless!
Do you want a free Quiz Software?
We have the #1 Online Quiz Maker Software for complete learning and assessment starting at $0