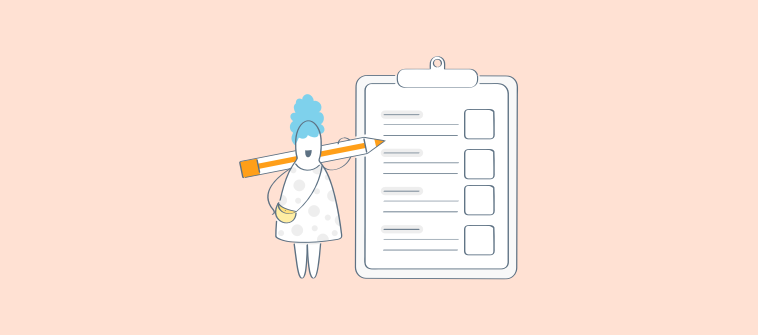 Do you want to develop your marketing strategy to offer a customized experience?
Do you want to test the consumer response/expectation before a product launch?
Do you want to know how to improve an existing product or do better than the big brands out there?
Do you want to improve brand loyalty by engaging your customers more often?
Do you want to deal with customer grievances in a better way by educating them firsthand?
So many questions and you must be thinking about the many ways you need to invest in your marketing strategy. But the solution to all of this is actually quite simple – A quiz! So save all your moolah and thank us later for this Eureka moment. But a quiz is just for fun, you'd say. Don't believe us? Well, here are some quick stats to prove the point –
According to a research by Ion Interactive, 93% of marketers agree that interactive content is effective in educating its buyers.
And, did you know that the most read story on the New York Times website in 2013 was actually a quiz?
Want to know how big and small brands are using quizzes as part of their marketing strategy? After reading this blog, you'll know for sure.
Why Use a Marketing Quiz?
A marketing quiz is simply more attention-grabbing than any other marketing tool.
But is that all?
Quizzes aren't just games or fun. They're so much more.
A quiz is a magnet that pulls the audience closer.
People usually tend to ignore marketing gimmicks like flyers, newsletters, ads, etc. but they love taking quizzes. They may also ignore social media ads, email marketing automation, or SMS campaigns but they cannot resist a quiz.
As a marketing tool, quizzes serve a two-fold purpose:
They help you reach out to new niche audiences

They collect data to help you gain insights about customer preferences
So, including quizzes like lead generation quizzes, social media quizzes, entrepreneurial quizzes, fun facebook quizzes, fun internet quizzes, email quizzes, best quizzes to take online, facebook quiz, quizzes just for fun, etc. in your marketing strategy can be the smartest thing to do.
To create a quiz, you can simply go for a quiz making software, an online quiz generator or quiz websites and start making quizzes.
Watch: How to Create an Online Quiz in Under 5 Mins

How to Use Quizzes in Your Marketing Strategy
Here are the ways in which you can use quizzes as an excellent marketing tool.
1. Build customer centric quizzes
2. Create an engaging pattern
3. Craft quiz results worth sharing
4. Design effective lead capture
5. Distribute & promote on social media0
6. Nurture the leads you've generated
Now, let us dig deep.
1. Build Customer Centric Quizzes
Customers tend to trust a brand more when they realize the brand cares about their opinions & considers their expectations or pain points.
One way to develop such a trust is building interactive quizzes. It could be a customer satisfaction quiz or a customer retention quiz.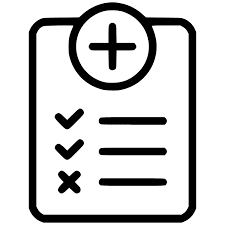 Both of these quizzes give the customers a medium or a platform to express their thoughts, expectations, or complaints with the brand or product.
Watch: How to Create Custom Quizzes with Your Own Logo and Branding

Let us look at how you can use such quizzes as a part of your marketing strategy.
Customer Satisfaction Quiz
"How do you know what aspects of your business need to be improved and in which way?"
The best person to answer this question is your customer.
---
Read More: Best Classmarker Alternatives
---
Satisfied or not, all customers have opinions that they want to express.
Mostly, receiving feedback is hard. Customers do not prefer to give written feedback unless they're very disappointed or frustrated with the product.
In other cases, they are not engaged enough – they are merely satisfied with the brand's service, not delighted.
But give them a quick quiz and they will easily attempt it as a fun activity while giving valuable feedback.
Customer Retention Quiz
When it comes to marketing, most companies adopt the mainstream approach. But that's not enough. This is where quizzes can be used effectively to retain your audience i.e. customers.
Unlike other free marketing tools, quizzes are not formal. But, they don't work like typical ads and don't perform any direct promotion. On the contrary, quizzes provide an opportunity for marketing through association.
This subtle approach makes marketing quizzes a very effective retargeting technique.
For example, your inactive customers will take a quiz to find out something new and fun about their personality, and your brand logo will casually pop up under the second question, reminding them to visit your website.
2. Create an Engaging Pattern
While creating a quiz as a part of your marketing strategy, remember that the purpose of your quiz is to form a connection with your audience but in a relaxed manner.
---
Read More:- How to Make a Fun Quiz That Your Audience Will Love
---
To make sure that your marketing quiz is engaging enough, do check the following:
Keep a Catchy Title
Did you know 80% of readers decide whether something's worth checking out or not based on its title?
Come up with a title that is catchy enough to attract quiz takers and make them share it as well
Here are a Few Examples:
Use a Soft & Simple Tone
The informal tone that you set with your questions will play in your favor.
Keep this in mind while drafting each question, which will improve your opt-in rate later on with how comfortable your audience is with your brand.
Insert Images
Using images turns your quiz into more of a trivia game.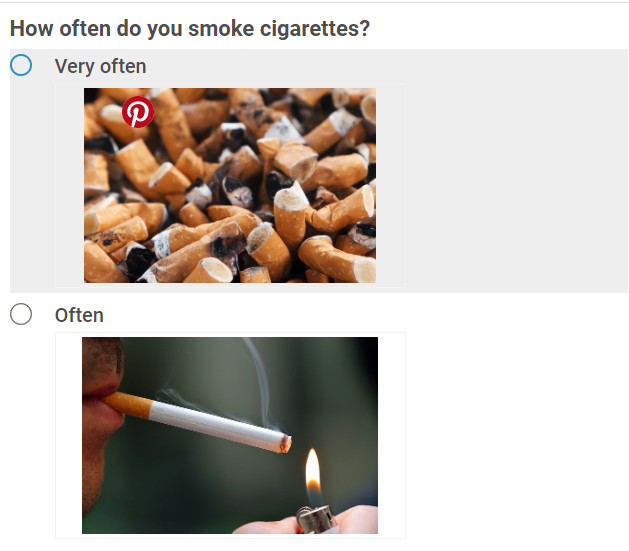 Keep it Short
Don't clog your quiz with too many questions. Stick to 6 to 8 questions, so that it only takes about 2-3 minutes to complete. The quicker the quiz, the better.
Attach an Image to Resul
t
Give your quizzes visibility by attaching an image to the results as well. Why? Because it's usually the first thing that grabs attention on social media.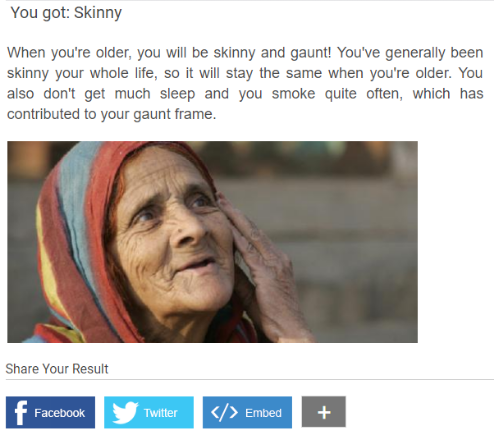 Include CTA
Don't forget to include a call-to-action at the end. It can be a link to your landing page, or a link to other products that your brand offers, or a link to articles published by you.
3. Craft Quiz Results Worth Sharing
Enhance your brand reach by crafting results that are more likely to be shared. First off, decide the topic of your marketing quiz and quickly craft the result after this. Make your own personality quizzes or create the best quiz but do not forget to make quizzes using a trusted quiz creation software only.
Working backward helps in creating the right questions later, and also makes the quiz worth sharing.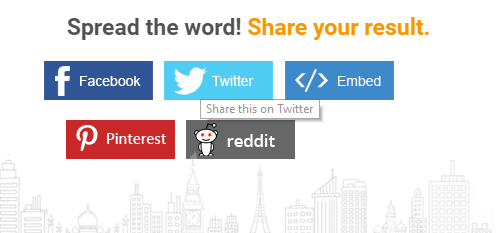 Secondly, create results that talk about your audiences' personalities, their challenges, their association with your brand to genuinely strike a chord.
Thirdly, make the results exciting and positive, because you want people to share them and get you more qualified leads.
4. Design Effective Lead Capture
Have a built-in form to capture data like name, email, contact number of the quiz takers which can generate an excellent lead database for you. Make sure to add it as a prompt before you reveal the results of the lead quizzes!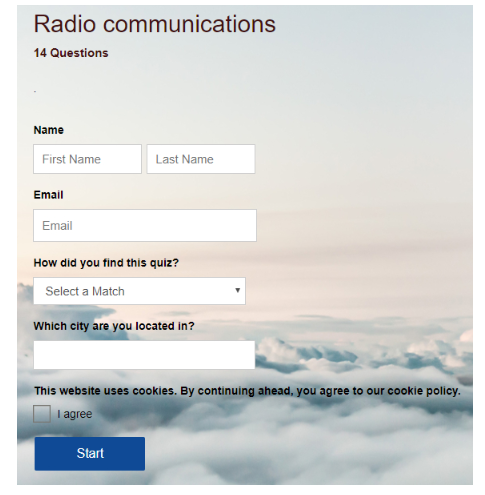 By complementing the marketing quiz with a lead capture form before the results, you can prompt your audience with a notification that usually requests an email address to proceed.
---
Read More:- Best Practices for Creating Lead Generation Quizzes Revealed in Expert Round-Up
---
Here are a few guidelines that you must follow to create an effective lead capture form:
Incentivize Your Lead Capture Form
To get your audience to opt-in, and allow you to distribute other types of content.
Stay Honest to Your Strategy
Let your quiz-takers know that you'll be emailing them some content related to the quiz they just took, be it a one-time email or a weekly follow-up.
Avoid Cramming Your Lead Form
Do not go overboard with the amount of information that you request. An email address and quiz takers' names are usually the bare minimum. Keep it simple yet effective.
5. Share & Promote Your Quiz on Social Media
In the end, the goal of a marketing quiz is to fetch quality leads. So, when your quiz is up and running, you should promote it on social media because that's where all the leads are!
Watch: How to Share Your Quiz With Learners

These days, social media platforms such as Facebook and Twitter make up for the largest representation of online content, so target these two as the main sources of generating social traffic.
While sharing results on Facebook and Twitter:
Use captivating images while sharing your marketing quiz (Refer to image given below)

Use an attention-grabbing headline (Refer to image given below)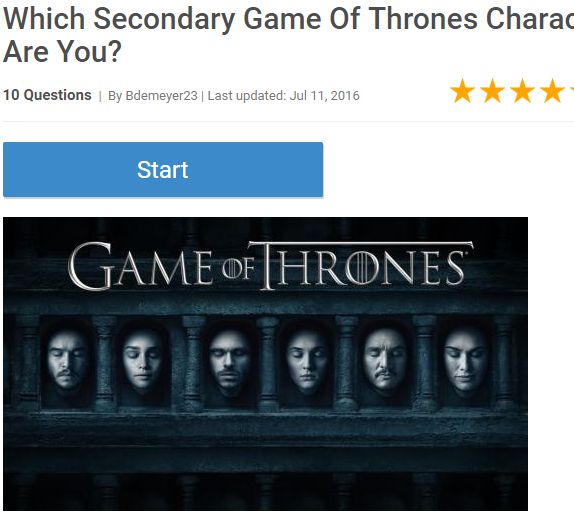 Share quiz with a caption including a shortened link to your website to track results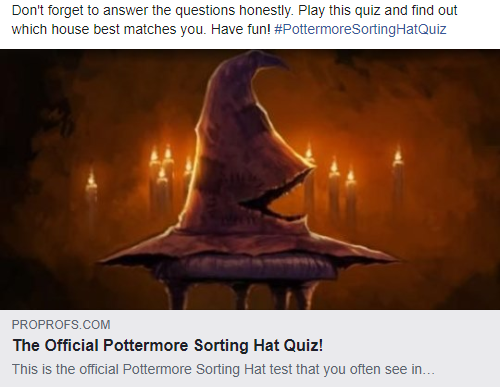 You can also share your quiz with your subscribers through newsletters. Doing so will help in keeping up the engagement. They might as well share your quiz on their social media handles, thus helping raise brand awareness.
6. Nurture the Leads You Generate
Once you've generated leads for your business through a marketing quiz, don't be in a hurry to convert them to your customers. Give them time to get to know your brand.
A good follow-up process will keep them interested through a series of automated marketing emails. This is how: Let's break it down into a four-step follow-up sequence:
Thank Your Audience For Taking The Quiz
It reminds them that they opted in and asserts the name of your brand. This way, you won't look like a spammer.
Increase Interest Through Curiosity
Send your audience a list of other possible results that they could have gotten through your marketing quiz. It piques interest and encourages them to retake the quiz to see if they can get a different result.
Build Trust Through Experiences
Send out another email that highlights a customer case study or testimonial. Customer stories are perfect for building up trust, mainly if you target people based on the result they got.
Close The Talk
Give your audience a reason to buy into your brand. Close the deal with incentives like coupons or discounts.
So what are you waiting for? Use quizzes to create a powerful marketing strategy in the easiest way possible to give your brand the push that it needs.
Whether it is generating leads, retaining customers or promoting your brand, marketing quizzes can make all of these complex tasks simple for you. And that too at a fraction of your marketing budget.
Do you want free Quiz Software?
We have the #1 Online Quiz Maker Software for complete learning & assessment