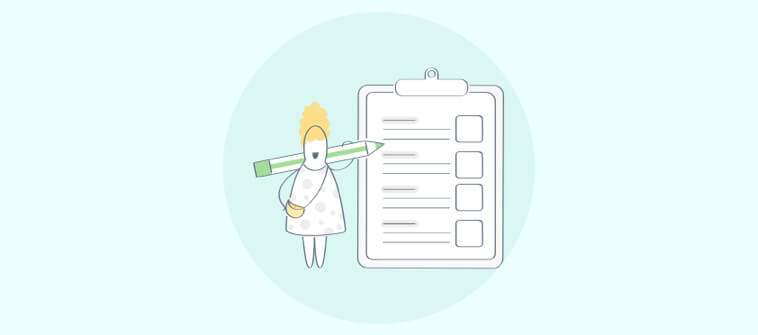 After BuzzFeed's success with fun quizzes like Pretend To Be A Celeb And We'll Reveal Who Your Celeb Best Friend Is, We'll Guess Your Secret Talent Based On Your Ice Cream Preferences, and more, many brands started including fun quizzes as a part of their marketing strategy, but not all of them were able to ace the race.
One reason is that these quizzes were not able to keep the participant hooked for hours.
Today, the web is crammed with quizzes of all sorts but are all of them fun enough to keep audiences hooked?
Sadly, no.
Many of the quizzes like- 'what do you like to do for fun' quiz and 'fun quizzes to take when bored' available on fun quiz websites claim to be fun online quizzes, but they really aren't. In simple words, they're boring. So what goes wrong?
What Ruins a Quiz?
Once you begin building a quiz, one of the first questions that come to mind is "how to make this fun so people actually take it?"
This is surprisingly way more difficult than you'd think.
---
Read More:- How to Create a Quiz
---
Often times, the entire structure of a quiz is so mundane, the participant doesn't continue taking it after the first five questions. Here's why:
The title of the quiz doesn't arouse curiosity
Lack of interesting and personalized results does not prompt the audience to share it
Picking the right set of questions to make a quiz fun can be pretty challenging. But, including a mix of different types of questions like 'guess the celebrity/place/movie in the image,' 'identify the audio clip,' true or false, etc. will help keep the participant on edge!
Watch This Video To Know How to Create an Online Quiz in Under 5 Mins

How to Make a Quiz Fun?
This blog will educate you on how to make fun quizzes with the help of various tips & tricks that you can follow without having to go crazy trying to figure out what an online fun quiz looks like.
Since a quiz is created for different purposes, there are different tips that can be followed to make fun quizzes.
For instance, a teacher creating a quiz for her students must focus on making it engaging and more visual to keep up the students' interest while a marketer creating a quiz for a social media audience must focus on asking audience-centric questions.
Watch This Video To Know How to Create an Engaging Quiz | Step by Step Guide

How to Make a Fun Quiz for Students?
Teachers often create fun quizzes for students. They act as an engaging tool to assess students' knowledge on a particular topic.
It's vital to ensure that students have a positive outlook on taking tests or exams and fun quizzes help achieve just that.
It is important for teachers to incorporate as much fun into the quizzes as possible. That helps reduce the stress involved in taking an important exam and helps students relax and perform to their best ability.
Using the tips given below can really help you create an entertaining quiz with a fun quiz maker that will help students attain the best possible score while having fun completing it.
✓ Make Your Quizzes Visually Fantastic:
The most important thing about a quiz that marks its success is how it appears to the participants. So, it is important that you make it visually appealing by using interesting backgrounds, fonts, and themes.
Watch This Video To Know How to Customize Quizzes With Your Own Logo & Branding

For example, if your quiz is about superheroes, try changing the background to a picture with any superhero in action. This will certainly pique the participants' interest and they'll be eager to perform their best.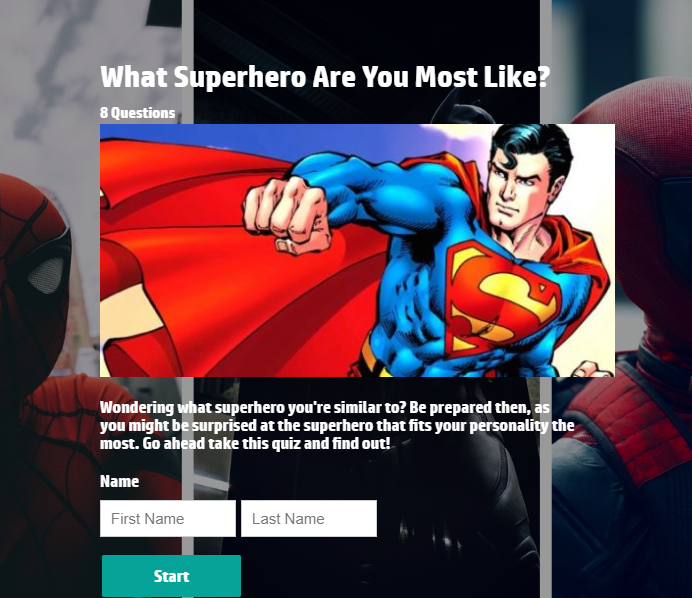 ✓ Include Different Question Types:
Including different types of questions is a good idea to keep up the content diversity in your quiz. Include different types of questions like fill-in-the-blanks, true/false, multiple-choice, matching, etc. Doing this helps keep the monotony at bay and the students are constantly glued to answering the questions.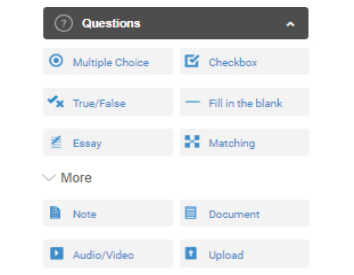 ✓ Include Multimedia
Individual learning styles differ. Some respond well to theory while some of them remember the lesson better if they're able to associate it with an image or a video.
As you create your quiz, include questions that reach every type of student.
Make sure to incorporate at least one image within the questions in your quiz. Those visual and auditory components will help you appeal to multiple learners.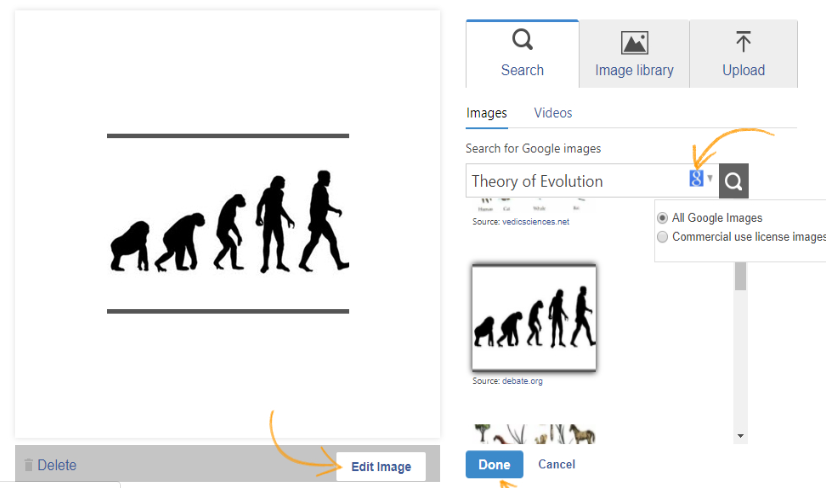 ✓ Provide Instant Feedback with Explanations
Providing instant feedback for every question that the students answer to can be a good way to keep them interested in the quiz. You can even provide explanations for the answers to teach them something extra or educate about the correct answer.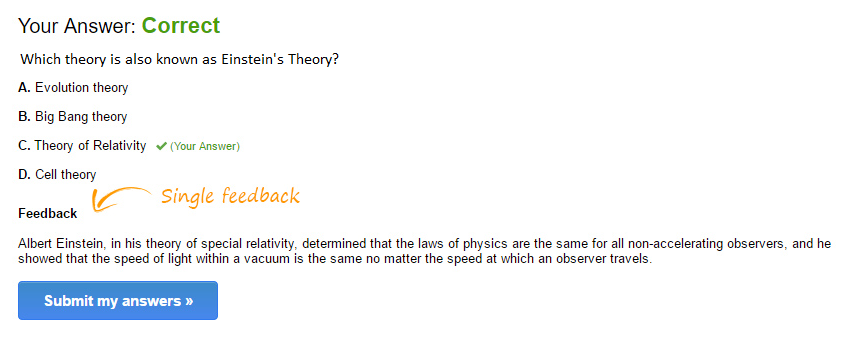 Also, adding comical explanations to the correct answers within your quiz can help it look less test-like and more game-like.
Here's a Tip: Try adding pop culture references within your explanations. It will certainly help the students connect to the answer in real life. A fun quote or a sassy, jazzy line will do it. But, remember to not go over the board.
Here's an example: When a participant fails to answer even basic questions, bring on the sarcasm: "What is this? A center for ants?"
✓ Award Completion Certificates:
Teachers can get more and more students to take their quiz using this tactic.
Sometimes, the results are just not enough. Students expect a word from the teachers after they've spent their time and effort in answering a quiz. They want to know that the teachers care about them and appreciate their efforts.
So, awarding students a completion certificate at the end of a quiz is just the right thing to do.
It instills a sense of achievement in them, and they tend to perform better when they're looking forward to receiving appreciation in the form of certificates.
You can create a certificate on your own or customize the existing ones if there's a template available.
---
Read More:- Customize Quiz Certificate
---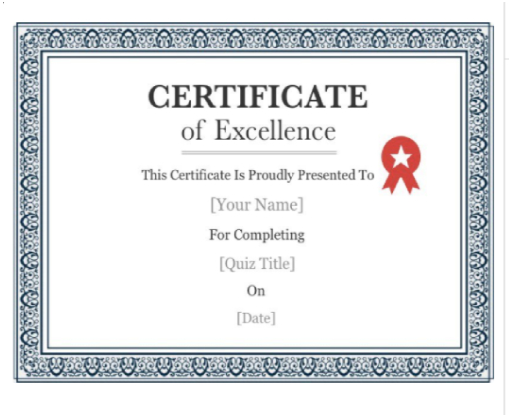 ✓ Create Shareable Results
Create results that quiz takers can easily share on social media or within an online classroom to boast about their performance and prompt others to take it up as well.
✓ Allow 'Anytime, Anywhere' Access
Students these days spend more time on their phones than on laptops or computers. So, it is important for teachers to create quizzes that are easier to run on not just laptops but mobile phones and tablets.
For this, you can share the quiz link with students on their emails or place the quiz on your website. This flexible distribution allows the students to take the quiz on any device whenever they like.
How to Make a Fun Quiz for Social Media
Businesses can use these fun quiz games online as a great tool for lead generation via social media. Fun online quizzes can be your ticket to a higher brand reach and a wider band of audience.
So, it is important that you make sure your quiz is interesting enough to be taken and shared by as many people as possible.
---
Read More:- How to Create a Facebook Personality Quiz
---
✓ Customize Your Quiz:
Customize your quiz with your own brand's logo, color schemes, and themes to give your quizzes a unique personality and branding.
✓ Create Interesting Titles:
People love taking quizzes that talk about them. Especially the ones that help them answer the most existential question- ''who am I"?
The titles should be interesting enough to make people so curious that they can't resist attempting the quiz. Create titles that talk about revealing quiz participants' personalities or telling them something they don't already know.
The simplest personality quiz title template would be "What <topic> character are you?" This format works for almost every movie, game or book character.
For Example, the titles mentioned below compel the viewer to take the quiz:
There is one common aspect in all three of the above quiz titles. They evoke curiosity. That is what the goal should be. These titles question the user without making them aware of it. Questions that ask through doubt are also equally engaging.
✓ Create Perfect Questions:
Well, there's no such thing as perfect fun quiz questions, but you can choose the questions that would make your quiz super interesting. Check off the following tips before creating your quiz:
⇒ Make the Quiz Interactive– Keep the tone of your quiz interactive. It will help the quiz establish a connection with the audience if they feel they're talking to a person.
⇒ Use Lots of Images – Let's admit it – visuals matter. We all answer a question with an image attached to it before a question with no image. It is simple. Questions with images are more attention-grabbing and make us curious.
Remember to use images in your quiz. Use them within your questions, or within answer options, the choice is yours to make!
⇒ Keep the Quiz Short- If you don't want participants leaving off the quiz after answering ten questions, avoid adding more. Remember- it is a quiz and people take it for fun!
It is better not to cram up the quiz with a lot of questions since that will make the participant lose interest in it.
Try to keep the length of the quiz to 10-12 questions only.
✓ Create Shareable Results:
Create custom results that are easily shareable on social media. Results should talk about the performance of the person who took that quiz so that they feel an urge to share it with their friends on social media. This is one way to increase the brand's reach and push the quiz to as many people as possible.
---
Read More:- How To View, Download, And Share Reports & Stats
---
✓ Include a Lead Capture Form
Attach a lead generation form to increase your mailing list. This form includes visitor information that you can use to grow your mailing list. But, only ask for the necessary information that you'll use. Most lead captures ask for a first name, last name, and an email address.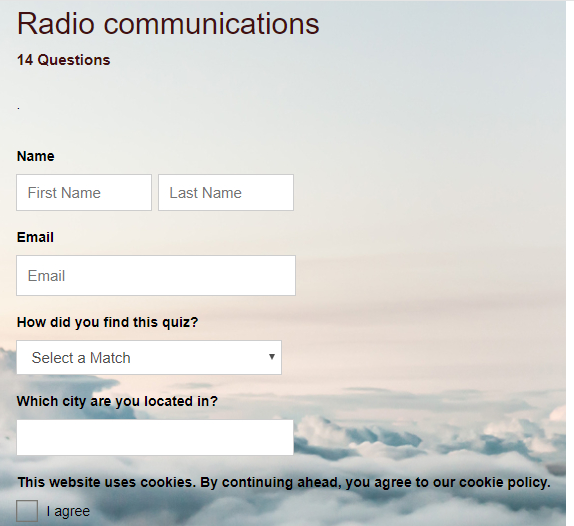 ✓ Promise Value to Your Audience:
Provide something more than just their results. Include incentives like a free ebook, a free giveaway, or even personalized emails with marketing advice. And, be honest about your marketing strategy. Make sure you let your audience know what you'll be doing with their information, especially if you'll be contacting them anytime soon.
---
Read More:- How To Embed Quizzes Using A WordPress Quiz Plugin
---
Quizzes are a great tool for performance evaluation, customer retention, brand awareness, and more. There's a myriad of opportunities that a simple fun quiz can create for you. Following the tips mentioned above will enable you to create the best fun quizzes. You can even create great fun quiz games that you can share via your social media handle.
However, for your own pleasure, you can take fun quizzes online, find fun quizzes for Facebook, or create your own fun test and quizzes.
So go ahead and use these tips to create a fun quiz today. Use a great fun quiz creator like ProProfs Quiz Maker for this and share it with your audience. Don't forget to analyze the results to see how effective your quiz is!
Do you want a free Quiz Software?
We have the #1 Online Quiz Maker Software for complete learning and assessment starting at $0