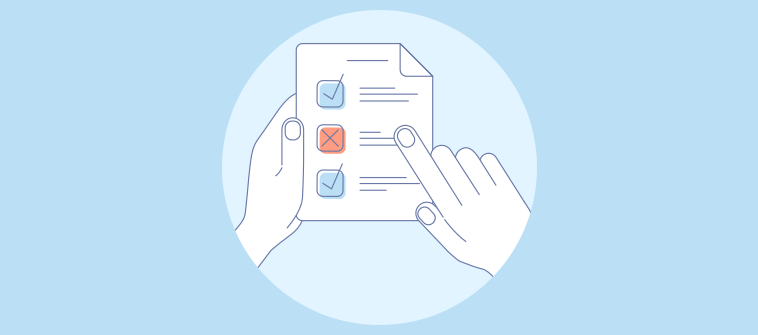 Did you know that 81% of students believe that digital learning technology, like quizzes, increases their focus and enables them to score better grades?
As everything turned digital with the onset of new technologies, the education industry also started adapting to the digital age.
Students across the globe have shown that instead of only reading through books, using digital technology, like quizzes and gamification, enables them to stay interested, learn, and score better grades.
In this article, we are going to look at how educational quizzes are a useful tool to reinforce learning and improve knowledge retention.
We'll also cover a few other aspects like how to create educational quizzes, tips to increase their effectiveness, and more.
What are Educational Quizzes?
A fun way to learn is how we like to describe educational quizzes. They are a simple yet effective way to check your learners' knowledge. Like any other form of a quiz, an educational quiz has a set of questions based on a particular topic and the quiz results.
The applications of an educational quiz range from knowledge retention and learner engagement to even last-minute revisions.
Here are some examples of educational quizzes published on ProProfs quizzes:

Other Interesting Education Quizzes:
In our next section, let's look at how you can create educational quizzes like the ones shared above.
How to Design an Educational Quiz
Like you'd create any other quiz, you can create an educational quiz in just a few steps. To do this, start with the end in mind i.e. decide what your purpose of building this quiz is. It will help you add the right questions to your quiz.
For instance, if you want to check knowledge, you can simply add multiple-choice questions, but if you also want to have an in-depth understanding of your learners' knowledge, you can add essay-type questions.
Step-1: Choose a Template or Create from Scratch
The easiest and quickest way to launch a quiz is to pick a template, modify, add, or delete questions, and then share it with your learners. However, if you wish to be creative, you can create a quiz from scratch.
To pick a template on your quiz dashboard, click on Create a Quiz, preview and choose a template and click on Create Scored Quiz.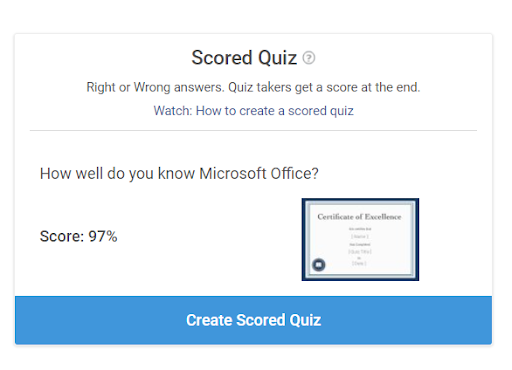 Watch: How to Use Quiz Templates to Make Your Own Quiz

To create a quiz from scratch, click on +Create from scratch and start building your quiz.
Step-2: Add Questions
On the left side of your quiz interface, locate the +New Question button. Click it to view the question types.

When adding questions to your quiz, be mindful of using the question types that'll help you in achieving your goal.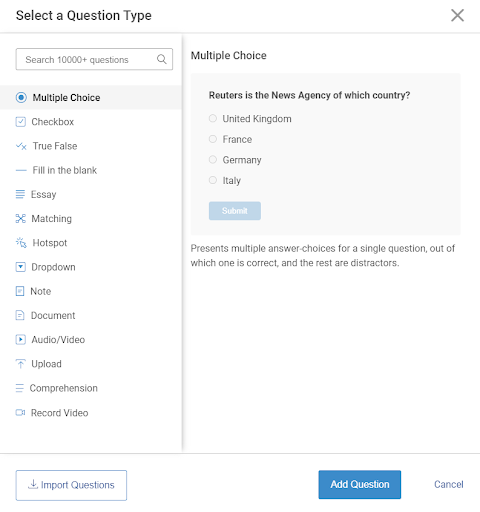 You can either create your own questions, choose from the public questions library that offers
100,000+ ready-to-use questions, or import questions from your previous quizzes.
To search questions, simply type your quiz topic in the search bar located at the top left corner of the questions window and then choose from the search results that appear.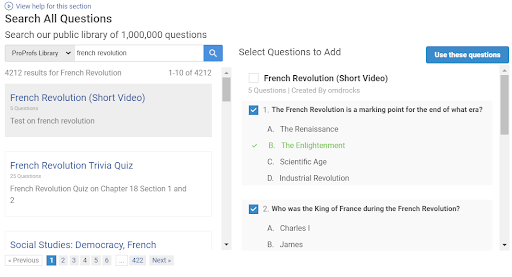 Select the questions that you would like to add, then click on Use these questions.
Step-3: Set Up Scoring & Feedback
After you've added questions to your quiz, assign scores to their correct answers and automate the grading process. Automated grading will help you save a lot of time and effort that you'd otherwise spend in grading each question manually.
To assign scores, locate Popular Settings on the left side of your quiz interface.
Open the drop-down menu and assign scores to your questions.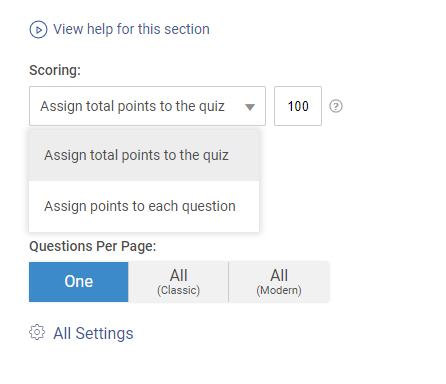 To add instant feedback, click on Advanced at the bottom of your question.

In the space provided for feedback, type the feedback that you'd like to give to your quiz participants for that question.
Step-4: Create Results
The last step in the process of quiz creation is to create the results page. You can either show the standard Pass or Fail results, give letter grading, give remarks, or customize the results page.
Click on Results located on the left of your quiz interface, and choose a result type from the drop-down menu.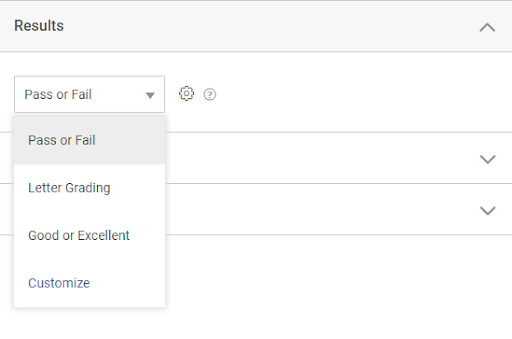 If you choose to customize the results page, you can create customized results in the following window where you can add an image, give a title to the quiz result, add a description, and more.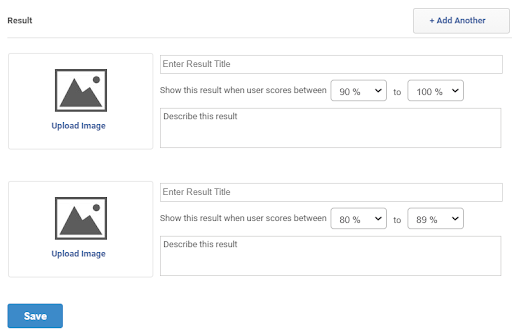 Once you're done customizing, click on Save, and you're done.
That brings us to the next section, where you'll learn how you can take your quiz-creation game a step further.
How to Make Effective Educational Quizzes
How effective your quiz turns out to be has got nothing to do with following the right steps to build one. Instead, it involves certain tips & tricks like bringing variety to your quiz with different question types & visuals, using ready-made resources so you can save time, creating a learning loop for your students with feedback, and more.
Here are some tips that you can make use of:
Use Different Question Types
It's great to include a bunch of multiple-choice questions to test your learners' knowledge, but an even better idea is to use a mix of different question types.
Using a mix of different question types can help address different cognitive abilities.
"Teachers should be able to use one of the taxonomies of thinking skills described in the literature in order to pose a variety of questions corresponding to various levels of cognition."
According to Bloom's taxonomy, there are six different cognitive abilities:
Knowledge

Comprehension

Application

Analysis

Synthesis

Evaluation
When you use different questions that focus on critical thinking, identification, and summary memorization, you can help address and boost the different cognitive abilities of your learners.
Examples:
✔ A hotspot quiz question is perfect when you have to test a learner's visual proficiency and observation skills.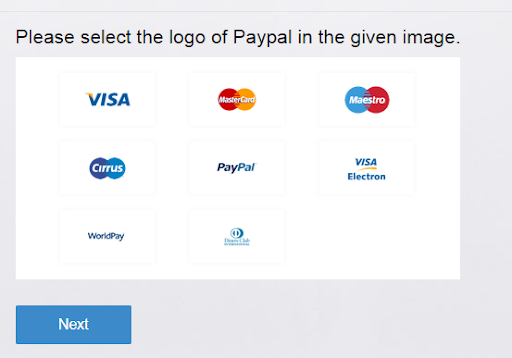 ✔ A video question that requires learners to present their answers by recording a video of themselves is perfect for assessing their oratory and presentation skills: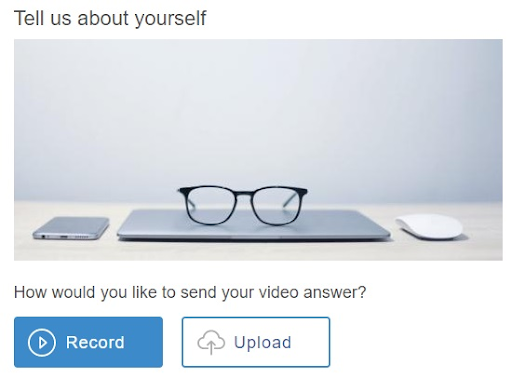 ✔ An essay type question would be perfect if you want to understand a learner's comprehension skills: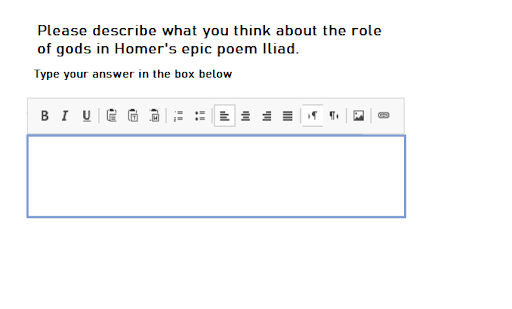 Add Questions from a Question Library
When adding questions to your quiz, you can import questions from the question library. For example, the ProProfs question library is a collection of 1,00,000+ ready-to-use questions chosen by experts. Adding questions from such question libraries brings several advantages.
For instance, it saves you from dealing with the most time-consuming task: thinking of questions to ask in a quiz. You can simply search for your topic and choose from a long list of well-researched questions.
It is important to create mindful questions that make sense to the learners and help you offer maximum learning. Adding questions from a question library will help you do just that.
Additionally, it'll help you to:
✔ Add well-framed questions that don't sound vague
✔ Choose from different versions of questions to select the apt one that's not lengthy
Set Up Branching Scenarios
Applying branching logic to quizzes offers a way to create a personalized learning path for each learner. With branching logic, you can decide which question appears next based on an answer given for the previous question.
Here's an example:
Q. Which of these is a more popular video content platform?
A. YouTube
B. Instagram
The right answer to the above question is 'A,' and if the learner selects 'A,' you can choose to submit the quiz.
However, if the learner answers' B', the next question could further narrow down the difference between the two platforms by highlighting specific benefits only YouTube has, such as 'high flow of income based on the number and minutes of views.
The two answers lead the quiz taker to different paths, and that's what branching is all about.
It provides an opportunity for the learners to select the correct answer and improve their scores. However, the intent is to see if they continue to give incorrect answers until the quiz ends and score poorly or if they eventually get it right and score decently.
However, you can only do this with multiple-choice, true/false, and drop-down questions where only one answer option is correct, and the others are wrong.
Like we said earlier, educational quizzes are about making learning fun. You can make a fun educational quiz in various ways. One of the ways involves providing instant feedback to learners for every answer.
Add explanations for answers that add to the current knowledge of your learners. Even if they give a wrong answer, you can provide feedback that'll help turn the mistake into a learning opportunity.
The whole point is to create a learning loop. With instant feedback for incorrect answers, learners don't have to wait for the entire result to see where they made mistakes. They can instantly go back to studying to improve their learning.
Configure Security Settings
The good thing about creating educational quizzes with online quiz software is configuring the settings to ensure security. Often with online quizzes, there are speculations that it's easier to cheat. Thankfully, it's a myth and actually there are several ways you can prevent cheating by configuring a few settings.
For instance, you can:
Randomize the order of questions:

So that no two learners get the same set of questions. This would work in an administered setting. However, in an unadministered setting, there is a possibility that the learners can discuss answers.

Disable tab switching:

So that learners can't look up answers on the web.
You can also protect the quizzes with a unique password to avoid unauthorized access.
Here's an infographic that explains how you can create efficient quizzes

How Education Quizzes Can Reinforce Remote Learning
With learners being in different places, teachers or instructors have to find creative ways to impart learning while keeping things fun.
Educational quizzes happen to be a great workaround in such a situation because:
They Enable Self-Assessment
In addition to enabling learning, educational quizzes let students self-assess their performance and improve their learning.
With instant feedback and instant results produced with automated grading, they no longer have to wait for their teachers' or instructors' remarks. They can assess their weak areas, compare their results with peers, and start working on the areas where they need improvement.
Unlike offline tests or quizzes that can't be graded instantly and reassigned, online educational quizzes can be reassigned to learners in an online classroom where they can take the quiz again and improve their scores.
Reassigning quizzes helps boost learners' ability to recall and enhances memory retention.
They Can Be Shared Anytime, Anywhere
With online educational quizzes, teachers no longer need to gather all their students into one room to complete and check each test manually. They can share them with their students anytime, anywhere.
The students can take the mobile-friendly quizzes on any device in the time assigned for completing the quiz. The reports for those quizzes will be sent to the teachers in real-time, which they can also download to view later.
To reap the maximum benefits, it is important to use the right tool. Even though there are many online tools that you can use to create educational quizzes, looking for the right one can take a lot of your time and effort.
Check out this video below to learn the must-have features of an educational quiz software to choose the best one:
Watch: How to Choose the Best Quiz Software

They Make Room for Collaborative Learning
Collaborative learning happens when learners come together as a team and exchange ideas to solve a problem. Quizzes being one of the most fun ways to learn, can make room for collaborative learning when assigned in a group.
Most quiz makers allow users to create learner groups in an online classroom, where they can share quizzes with groups of learners so they can complete those quizzes, compare scores, and assess their performance.
When working in groups, learners tend to perform better and help other group members do their best.
They Allow for Gamification
Educational quizzes are a good way to bring game-based elements into learning.
Gamified quizzes helped teachers effectively evaluate learning performances and have students looking up to quizzes as a fun learning activity.
According to Science Direct, "Finding ways to apply games or game concepts in the classroom can be a promising and innovative tool for educators to engage their students in creative learning skills and attractive competition."

Just like in a game, when a player completes a level, they're rewarded with a medal or a badge and a free pass to the next level, incentivizing quiz outcomes can be very rewarding to the learners.
Issuing badges with customized results, praising learners for their performance, or completion certificates can help boost the learners and keep them motivated for a longer time.
Watch: How to Create Custom Certificates

In the next section you can understand how ProProfs Educational Assessment Software is an apt choice to create educational quizzes.
Why Choose ProProfs to Create Educational Quizzes
ProProfs is a cloud-based learning solution, and it doesn't require any kind of software installation.
It offers all the features that teachers would need to ensure a smooth transfer of learning: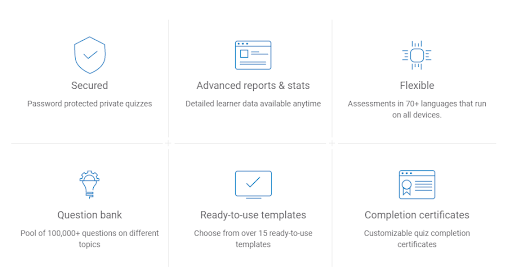 Here are some more reasons why you should use it to build educational quizzes:
ProProfs is the world's easiest quiz builder software offering the easiest quiz creation process by giving you access to more than 100 professionally designed default quiz templates that you can use to create educational quizzes.
ProProfs offers a collection of 100,000+ ready-to-use questions that you can use to tackle the most difficult part of creating a quiz, which is, thinking of questions to add. You can simply look up the topic and choose from a list of questions that appear.
To make your quizzes engaging and address different learning styles, ProProfs offers 10+ question types, including hotspot, video, drop-down, etc., that you can choose from.
With ProProfs, you can give your quizzes the look and feel of your choice. You can add a logo, change the theme, add a background image, and choose fonts of your choice.
Quizzes created with ProProfs automatically generate intuitive reports and analytics that you can view in real-time or download to view later.
100+ Settings & Configurations
With ProProfs, you can ensure the security & privacy of your quiz by configuring more than 100 smart settings, including question randomization, tab switching, password-protection, question pooling, notifications, reminders, and more.
Case Studies
Discover how teachers and educators across the world are using ProProfs to make learning impactful:
✔ Charlene Campbel, an educator at the McKeel Academy, started building quizzes with ProProfs when she needed a mechanism to test her students and struggled to give immediate feedback.
Creating quizzes with ProProfs helped her with instant grading and feedback for tests that she earlier found very time-consuming. She loves getting immediate results and setting a date and time for a test or quiz to open and close.
✔ Professor Daniel Stein, director of tech initiatives at Touro College, discovered ProProfs when he looked for a robust quiz-making solution that allowed for various assessments.
With ProProfs, he was able to create T3-Tests. T3 asks students to take an exam like a study aid with links to definitions, teaching videos, and more enabled with the 'Instant Feedback' feature of ProProfs Quiz Maker.
✔ Deborah Smith, an integrated anatomy & physiology instructor at Shiatsu School of Vermont, used ProProfs to assign students online quizzes that give immediate feedback and results.
According to her, quizzes built with ProProfs gave her students immediate feedback and detailed quiz reports to teachers. She feels that using the quizzes for studying also impacted their students' final grades.
Here, you can catch up on more success stories of how teachers and educators have benefited from ProProfs Quiz Maker.
Start Creating Educational Quizzes Today!
Education is an evolving process, and knowledge retention remains one of its crucial elements.
So there is a possibility that we'll experience more shifts in the educational paradigm like we saw when the COVID pandemic hit the world. Most schools and teachers were seen adopting online tools to facilitate learning from home across the globe.
Educational quizzes let learners have fun as they learn, whether they are learning from home or in the classroom.
Teachers can use the outcomes of educational quizzes to shape their curriculum in a way that aligns with their teaching goals.
The idea is to make learning fun and get insights that'd help them bring out the best in their students.
Do you want free Quiz Software?
We have the #1 Online Quiz Maker Software for complete learning & assessment