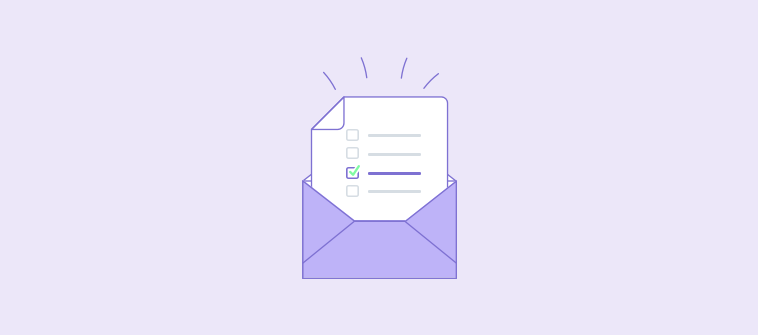 Have you ever heard the proverb, "The money's in the list?" It's quite popular in the world of internet marketing.
We're talking about email lists! (You probably figured that from the title).
But, how do you build that list and generate money from it?
Well, since email lists are long-term business assets rather than a method to make a quick buck, you need to have a marketing tactic that's attention-grabbing and engaging.
The interactive nature of quizzes engages prospects and collects insightful data that helps qualify leads and improve conversion rates.
This is why we are here to discuss how you can build email lists using quizzes.
We're going to tell you how to grow email lists, why you should use quizzes to build email lists, and the many benefits that come along with using quizzes.
What is an Email List?
By definition, an email list is the names and email addresses of the people who agreed to receive updates and promotions by your brand via email.
Thankfully, you don't have to look for creative ways to build your email lists.
We're here to help you learn how you can grow email lists using quizzes. But why quizzes? Move to the next section to know.
Why Use Quizzes to Build Email Lists?
Online quizzes are powerful tools for lead generation.
According to ActiveCampaign, "adding a lead form to a quiz can average up to 55% opt-in rates. That's jaw-droppingly good and 25X better than other online lead forms like pop ups (1.95% average)."
Here's an infographic that shows how quizzes are powerful lead magnets.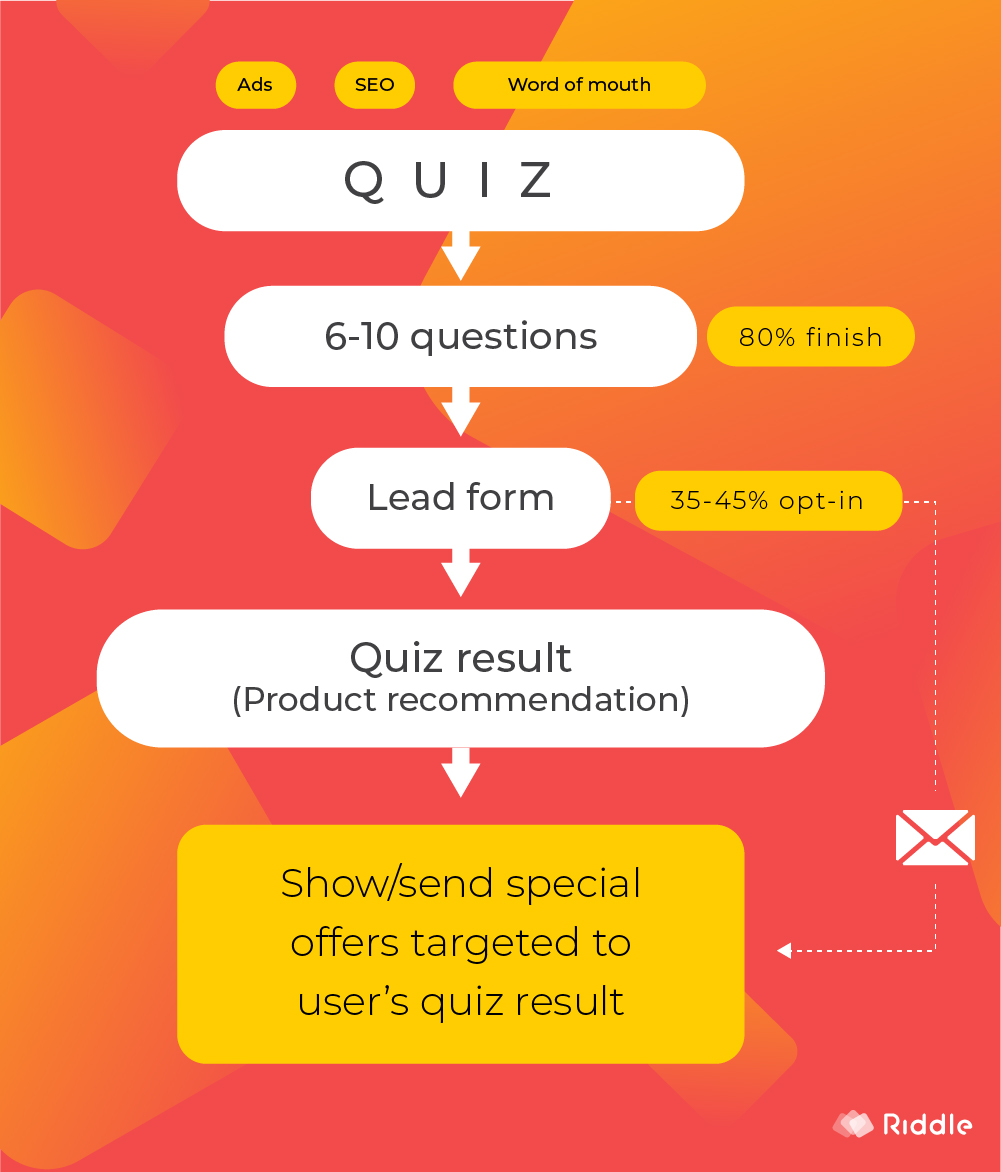 That's not all. The benefits go beyond conversion rates, making quizzes the right tool for building email lists. Let's take a look at them:
1. Quizzes Offer an Interactive Experience
While the clutter of all forms of digital content is mounting day by day, only a few manage to actually engage audiences.
Audiences are tired of sitting back and having content tossed at them. They want to be part of the conversion – it's all about connection. You need to offer content that they find engaging. Quizzes, especially personality quizzes created around the idea of 'you,' offer you that window.
By asking your participants questions about their personality, lifestyle, and what they like or dislike, you can get to know your audience and bond with them.
2. They Make Room for Organic Opt-In
Many "list-building tactics" promise gazillions of opt-ins with little effort.
You could build huge lists with them, but how relevant are they? It's better to have a few subscribers who are genuinely interested in your brand than thousands of those who aren't.
When you create a quiz that provides positive, interactive experiences to your quiz takers, it unlocks an opportunity for you to capture their email.
Not by trick, mind you. But with a simple opt-in or lead form.
If your quiz is engaging, fun, interactive, and offers your quiz takers interesting, share-worthy results, they are more likely to complete it and give you their email addresses.
If they do not wish to engage with you in the future, they'll skip the opt-in. Isn't that simple?
3. People Love Quizzes
At the top of your head, do you know how many times an average quiz gets shared?
It's 1,900 – and that's not a wild guess!
When quizzes give fun and satisfactory results, participants tend to share them more. That's why quizzes have a huge potential of going viral. More shares often result in more leads.
For instance, the viral "Which cake are you?" quiz got 20,000 attempts.
Let us share a real-life example to help you understand the points I've shared above better.
Zenni Opticals created the "You've Been Framed" quiz to help their audience find the perfect frame according to their personality.
They created an engaging quiz with interesting questions that helped participants explore their personalities.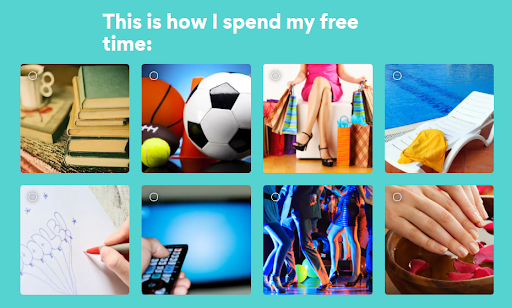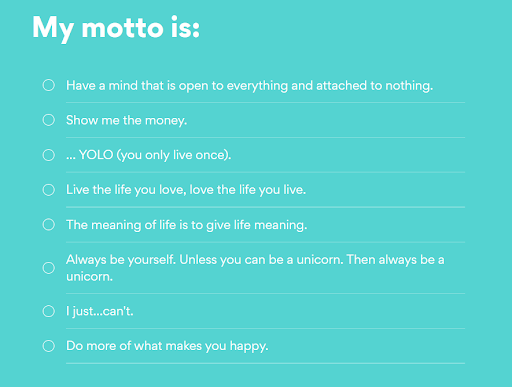 Did you see how the questions are about the participants? Asking questions about their preferences, motto, and face shape indicate that the brand is trying to learn more about their participants before suggesting a product.
This immediately shifts your marketing tactics from a passive mode to a very active mode.
How?
Well, just displaying the products hoping customers will end up purchasing what catches their fancy has low chances of giving you the desired results as opposed to letting them choose some options to get product recommendations that match exactly what they were looking for!

Needless to say, the chances of lead conversion are way more when you personalize like this.
After the participants have answered all the questions, the quiz displays an opt-in form asking the participants to sign-up for the newsletter.
Notice that the participants also have the option to skip the form.
From what we read in the reports, Zenni Opticals generated over $1 million in revenue and 29,410 lead conversions with a 9,655% ROI in 6 months with the help of this quiz.
Feeling inspired? Move to our next section to learn how you can build email lists using quizzes.
How to Use Quizzes to Grow Your Email Lists
You know your business and your audience, then what's stopping you from building a quiz?
All you have to do is make an engaging quiz and set it up for marketing.
But, don't worry. If you don't know how to do that; keep reading the steps we've mentioned below, and you'll learn in no time.
Step-1: Choose a Quiz Type
There are so many types of quizzes that you can create for building email lists:
1- Personality Quizzes
Personality quizzes are the most popular type of quizzes.
According to INSIDER, "personality quizzes allow people to satisfy their curiosity about themselves and about other people by providing them with what they believe to be accurate information about their tendencies or behaviors and the causes of those behaviors."
They give an outcome based on participants' answers, which makes them more relevant to the audience.
For example:
2- Knowledge Assessment Quizzes
The name alone makes it very clear what these types of quizzes are about. Knowledge assessment quizzes simply challenge or urge the audience to assess how much they know about a certain topic. It could be their favorite show, their favorite movie, a subject they're drawn to, etc.
For example:
3- Scored Quizzes
Scored quizzes aren't as popular as personality quizzes, but they can be fun too.
With scored quizzes, you can help your audience assess their knowledge. Or, you can simply create a quiz for your audience to have some fun but also help them learn a little more about their own knowledge. Scored quizzes are interesting, especially because they give a definite score as a result.
For example:
When you start building a quiz, keep your target audience in mind and select a quiz type that they'll enjoy the most.
Also, here's a list of 25 top quiz categories that you can explore to choose topics for your quizzes.
Watch: How to Create a Quiz Online?

Step- 2: Build an Engaging Quiz
What do we exactly mean when we say 'build an engaging quiz'?
We mean that the quizzes you create should:
✔ Be relevant
✔ Be evergreen
✔ Have engaging questions
✔ Be visually appealing
✔ Give Interesting results
Let's elaborate on these points to help you understand better:
1- Your Quiz Should Be Relevant
No matter which type of quiz you choose to create, it should be relevant to your target audience. To build email lists using quizzes, ensure that the content of your quiz resonates with their needs. That way, people who come across your quiz but find it irrelevant can skip it, thus saving you from irrelevant leads.
For example, if you run a lifestyle blog, build quizzes around topics, such as travel, fashion, home trends, etc.
If you run a restaurant, build quizzes around exotic foods, food trends, types of food, and more. You get the hint.
Case Study: Airbnb's Trip Matcher Quiz
Airbnb created a quiz called Trip Matcher to help seasoned travelers find their next travel destination.
The premise behind Airbnb's quiz is to promote its travel and experiences vertical. The quiz helps the participants find out what kind of traveler they are before offering them the perfect travel destination.
It does so by asking them various travel-related questions. Here's an example of one such question: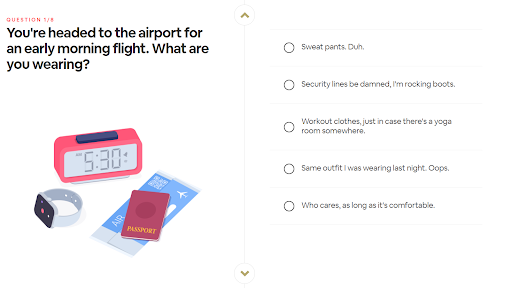 After a series of asking personality-based questions, the participants find out what kind of traveler they are.
Then, based on the personality, Airbnb offers a perfect city for them to travel to, based on the kind of traveler they are.
Meanwhile, the quiz also encourages participants to explore various aspects of the city. It often helps in leading the participants down a funnel and eventually to a booking.
2- Your Quiz Should Be Evergreen
The best thing about quizzes is that these are evergreen unless you choose a trending topic that would become outdated after a while. When choosing a topic to build email lists using quizzes, you need to remember three things:
Avoid any reference to trendy or viral things, as it's likely people will forget them in a few months.

Stay away from seasonal content unless it's highly relevant to your quiz.

Creating a quiz that's relevant to your brand and makes sense to your target audience can help you update your email list regularly.
Ensure that even if your quiz is shared two years later, it feels natural, current, and relevant.
3- Your Quiz Should Have Engaging Questions
If you want to tap into the true potential of online quizzes, you need to write engaging quiz questions.
Engaging questions is crucial for the success of your quiz. You can choose an interesting topic that'll help you to encourage your audience to take the quiz, but if the questions aren't engaging enough, chances are they won't complete the quiz.
So, here's what you should do:
Create questions about your audiences- ask them about their personality, likes, dislikes, lifestyle, etc.

Blend text and images to create interesting questions.

Use a relaxed, fun, and entertaining tone that matches your audience's profile and style.

The wording and tone of questions should be closer to two friends having a conversation.

Keep your questions short.
Here are some examples of engaging quiz questions from different online quizzes that sum up the points we listed above: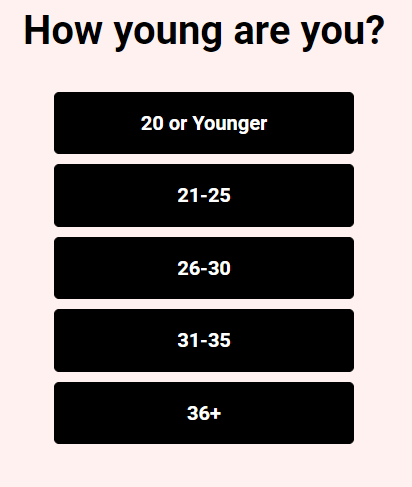 Notice how these questions have used a blend of text and images that make the questions look appealing.
Another thing to notice is the use of the word 'you' in every question- how it makes it look like the questions are especially framed for the participants that only they can answer.
4- Your Quiz Should Be Visually Appealing
The volume of digital content is increasing while the average attention span is decreasing, which is why the quiz you build has to grab your audience's attention.
No matter where you place your quiz – on your website, in your blogs, or social media – it must have a special appeal.
Here's what you should do:
Give your quiz an eye-catching title:

one that persuades your audiences to open and attempt the quiz.
Write an interesting quiz description:

While you create a catchy title, you must also write a description that provokes your audiences' curiosity.





Or, you can simply mention what the quiz has in it for the participants- a discovery, a product that suits their personality, an offer, a lesson, a revelation, it could be anything!
Try to add an image that goes with the title of the quiz.
Here's an example of a quiz created by the Sebago Brewing Company that's done it well: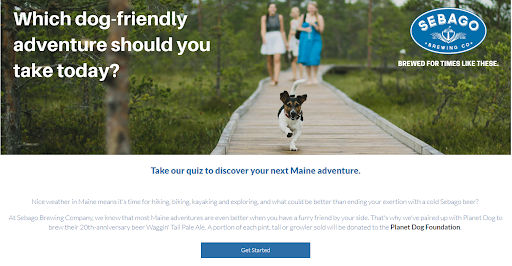 The title is a question that persuades the audience to take the quiz and find the answer. An intriguing quiz description that talks about the quiz as well as the brand. And a cover image that totally suits the quiz topic.
5- Your Quiz Should Give Interesting Results
Results are the key take-away from any quiz, whether it's a personality quiz that gives an outcome, an assessment quiz that gives a detailed description of the participants' results, or a scored quiz that only displays the final scores earned in the quiz.
Your result page must be as interesting as your questions so that the quiz participants are delighted enough to share your quiz and make it go viral.
To ensure your quiz result pages are interesting enough, remember to include the following elements:
The final quiz outcome:

In one or two words

An interesting image:

One that goes with the outcome

A description:

Explain why the participant got a certain outcome

Call To Action (CTA):

Learn More, Retake the Quiz, Buy Now (in case of eCommerce quiz)

Social share buttons:

To enable quiz takers to share quiz results with their friends on social media.
Let's look at an example to understand how to include these elements.
Let's revisit Airbnb's Trip Matcher quiz to check out one of the result pages: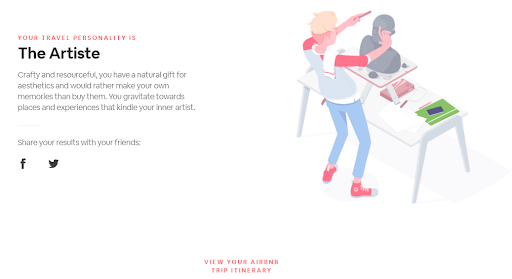 Notice how effortlessly they've incorporated all the elements we mentioned above:
✔ The final quiz outcome: The Artiste (travel personality)
✔ A well-crafted description of the outcome: "Crafty and resourceful, you have a natural gift for aesthetics and would rather make your own memories than buy them. You gravitate towards places and experiences that kindle your inner artist."
✔ An image that suits the quiz outcome: The Artiste
✔ CTAs: 1) Share your results with your friends 2) View Your Airbnb Trip Itinerary
✔ Social share buttons: Facebook, Twitter
Step-3: Customize the Opt-in Form
Now comes the step where you'll create an opt-in form or a lead form for your quiz participants to fill in their email. And to be honest, it's very easy to create.
Many online quiz makers let you customize your lead form to enable users to add fields to get the information you want from the participants.
But, the real trick of designing a great lead form lies in its content.
Don't just ask your quiz participants to give you their email addresses, instead:
Offer an Incentive:

Give your subscribers an incentive for participating.
For example, you could give them a unique promotional code that they can use to get a discount on your products or services.
Send Quiz Results by Email:

This is not mandatory but can work for you.
According to Stacy Caprio, the founder of Growth Marketing, "One way to leverage quizzes to gain email sign-ups is to send the quiz results to an email address. This tactic makes the user more likely to give you their actual email so they can view their quiz results."
Allow Skipping the Opt-in:

Opt-in form is a medium to get your quiz participants' email addresses, but only if they want to. Always remember to add the

'Skip'

button on your lead forms so that people who aren't genuinely interested in your brand can skip it and view their results.
Step-4: Integrate Quizzes With a Marketing Automation Tool
You may or may not want to do this, but we recommend integrating your quizzes with a marketing automation tool. It's fairly easy and can speed up your email list-building process by 10x.
When participants take your quiz and fill in the opt-in form, you'll have to move their emails to a mailing list.
Integrating your quizzes with marketing automation or customer relationship management (CRM) tools will help you automate the entire task. The emails you capture through the quiz will be automatically pushed to the mailing lists.
Many quiz maker software like ProProfs offer powerful integrations with marketing automation & CRM tools like BigContacts, Mailchimp, HubSpot, Campaign Monitor, ActiveCampaign, etc.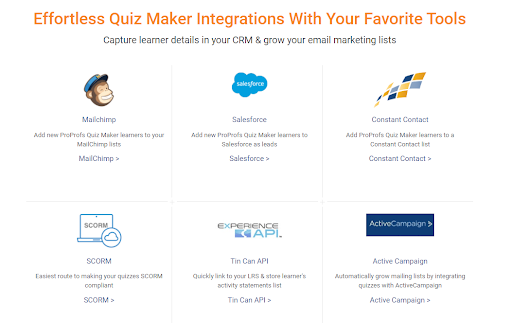 By integrating your quizzes with automation tools, you can grow your email lists faster and trigger follow-on email campaigns for those who take your quiz.

For example, a tool like BigContacts offers a Marketing module with added intelligence where you can create campaigns to automatically adjust on the basis of whether a person clicks on a certain email link, or enters a new sales cycle stage.
Watch: How to Integrate ActiveCampaign with ProProfs Quiz Maker
Even though quizzes ace the race when it comes to leads and conversions, here's another amazing lead generation tool that we think you should check out:
Exit Popup Software – Picreel
Picreel is an exit intent pop software that provides an engaging popup interface to help capture your website visitors' contact information. Often when a visitor lands on your website, they leave without making a purchase or signing up for a service you offer.
With Picreel, you can even persuade them to purchase by offering them a discount coupon on the popup. Not just that, you can capture your visitors' contact information like their name, email address, contact number, etc. The information you capture with the popup will help you mail the visitors about offers and discounts in the future.
Build Email Lists Effectively
As long as you ask the right questions and make them engaging, your lead generation quizzes are going to deliver exceptional results.
Follow the steps shared in this article to build email lists using quizzes and your subscriber list will start growing organically – bringing you relevant prospects and not just random email addresses.
Here's a list of the best quiz maker software that you can choose from to build your online quiz.
Do you want free Quiz Software?
We have the #1 Online Quiz Maker Software for complete learning & assessment