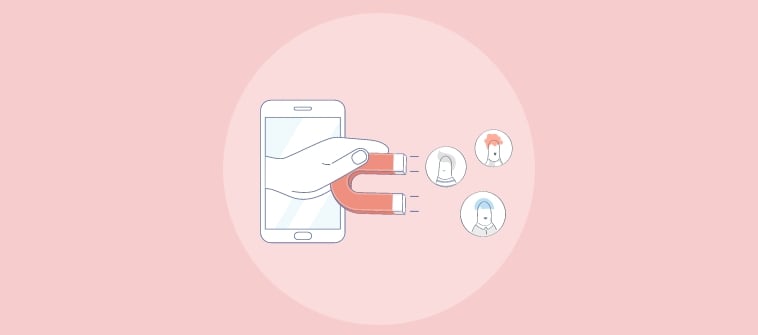 It's easy to see why marketers consider lead generation their top priority these days. Lead gen campaigns not only provide an amazingly effective way to boost sales but also help save on advertising costs.
But, as you may already know, lead generation is also one of the biggest marketing challenges. Getting your hands on details of high potential prospects can, at times, seem as difficult as anything else in the business landscape.
So, to help you out, we've compiled a list of the most effective online lead generation tools of 2023. Our list features a variety of tool types, so you can create a comprehensive and high-converting lead management system.
Before we jump into the list, let's quickly understand some basic things about lead generation tools, starting with what they are.
What is a Lead Generation Tool?
A lead generation tool is any software that makes it easier to get high potential leads for your business. Powered by automation, lead generation software can drastically reduce the amount of manual outreach and follow-ups, saving a ton of time, effort, and money.
Lead tools can vary a lot in how they help in improving your lead management, but most target your website and social media visitors and try to convert them into qualified leads.
What Makes a Good Lead Generation Tool?
A good lead generation tool helps you achieve your marketing goals in the most cost and time-efficient way. Here's what you need to look out for in your lead software.
Intuitive Interface –

Your lead generation software is supposed to make things simpler for you. So, a complicated, non-user-friendly UI is simply a deal-killer. Your lead tool should have a minimal learning curve and not require much coding on your part.
Useful Features –

The tool should be feature-rich to cater to a variety of requirements.
Integrations –

The lead generation tool you choose should be able to integrate with the marketing tools that you are already using.
Analytics –

The

best lead generation services

offer

powerful reporting and analytics that make it very easy to sculpt your lead campaigns for maximum convertibility.
Benefits/Suitability –

The tool you choose should suit your unique needs and help you achieve your goals

.
Cost-Effectiveness –

It should offer good value for money and fit your marketing budget

.
Types of Online Lead Generation Tools
Depending upon where they are implemented and how they can boost your lead management, lead generation tools are classified into the following categories.
On-Page and Conversion Rate Optimization (CRO) Lead Generation Tools – These tools aim to convert your website visitors into leads through quizzes, surveys, forms, social proofs, etc. They may also include functionalities to maximize your conversion rate.
Outbound Lead Generation Tools – These tools make it easy to reach out to your target audience via outbound channels, such as emails, calls, and SMS.
Live Chat and Chatbot Tools – These tools let you instantly connect and engage with visitors by adding live chat and/or chatbots to your website or app. They also help in providing customer support and collecting valuable information.
Lead Prospecting Tools – These tools automatically find email addresses and other lead information from social networks, their own database, or other sources according to your search criteria.
Social Media Lead Generation Tools – These tools let you harness the power of social engagement to boost your lead capture rate.
CRM and Lead Management Tools – These technically aren't lead generation tools. Still, they help a great deal in ensuring that you have a streamlined lead management system by automating important workflows.
Advertising Tools – These tools help generate leads through paid online advertising for brand promotion.
What are the Benefits of Using Lead Generation Tools?
Using lead generation software will help you increase your sales and revenue by boosting your marketing efforts in a variety of ways.
1.Boost Lead Generation
Using lead generation tools gets you more leads in two ways. First, they can help you attract more visitors to your website. Second, they are an effective and efficient way to increase your lead capture rate.
2. Better Leads
Simply getting more leads isn't enough. You also need to make sure your leads are red-hot. In fact, having more leads can end up increasing your work if most of your leads are low-to-medium potential.
Many lead generation programs include lead scoring functionality which lets you have a detailed analysis of your leads and find out which potential customers are likely to buy from you and which ones aren't worth the effort.
3. Customer Insights for Refined Marketing
Lead generation tools don't just help you gain better-qualified leads. They also provide a lot of insightful data on your target audience that you can use to tailor your marketing strategies for maximum conversion.
4. Saved Time and Effort
By streamlining and refining your marketing, lead generation software saves you a lot of time and effort. With these tools at your disposal, you spend less time researching new leads and are also able to steer clear of chasing after cold leads. This leaves you with more time to follow up on the promising ones.
Okay, so now that we've got some basic stuff about lead tools out of the way, let's dive into our list of 25 best lead generation tools, starting with a quick feature comparison.
Feature & Price Comparison of the Top Lead Generation Tools of 2023
Tool
Features
Pricing
ProProfs Quiz Maker
Intuitive UI with 100+ configurations
Add customizable lead forms at the start or end of quizzes
Add images and share buttons to quiz results
Add images and videos to questions and answer options
Integrate with Mailchimp, Salesforce, and other popular tools
Free and paid plans. Paid plans start at $20/month (billed annually)
Qualaroo
Doesn't require any coding to implement
Pre-designed templates for quick lead survey creation
Add lead forms to the start or end of website surveys
Present lead forms as a standalone popup
Advanced user targeting
Starts at $80/100k tracked pageviews/month (billed annually)
Woorise
Beautiful and fast design
Create refer-a-friend campaigns
Send personalized Email Notifications
Create campaigns in any language
Starts at $23/month
Unbounce
Drag-and-drop builder & 100+ templates for landing pages
Templates for e-books, e-courses, and webinars
Popups and sticky bars
Lead forms with one-click editing
AI-powered conversion-boosting technology
Starts at $90USD/month
Proof Pulse
Add social proof by installing javascript in the page header
Beautiful analytics to test performance
A/B testing functionality
Integration with Zapier
Settings for campaign customization
Starts at $29/1k unique visitors/month
Picreel
100+ ready-to-use and customizable templates
Popups, forms, slide-ins, nano bars, and more to capture leads
Personalization options for popups
Advanced trigger options
A/B testing functionality
Starts at $14/month (billed annually)
Sumo
Add popups, lead forms, floating bars, etc. to your website
Integrations with Mailchimp and Zapier
Intuitive UI
Dashboard to monitor all the bundled tools
A/B testing functionality and analytics
Free plan and paid plan at $39/month (billed annually)
ProProfs Survey Maker
Create a variety of surveys and forms
100+ survey templates
Add images and videos to surveys
Add scoring & branching to survey questions
Customize surveys with your brand logo and colors
Free and paid plans. Paid plans start at $5/100 responses/month (billed annually)
TypeForm
Create forms, quizzes, surveys, polls, and chatbots
Pre-made templates, custom themes, and layouts
Multiple question types
Conditional logic
Integrations with Mailchimp, Slack, HubSpot, and more
Free and paid plans. Paid plans start at $25/month (billed annually)
Hotjar
Heatmaps to visualize user behavior
Screen recordings of user activity on your site
Advanced feedback functionalities
Targeted on-site surveys
Works great on mobile and tablet
Free and paid plans. Paid plans start at $31/month
Hello Bar
Add a variety of popups to your website
Add CTAs, lead forms, and prompts to popups
Hundreds of themes for customizing popups
Visual editor and design assistant for styling
Target visitors by location, ad/campaign, and date & time
Free and paid plans. Paid plans start at $29/month
Pardot
Create landing pages with templates and visual editor
Quickly build forms with a drag-and-drop builder
Post to multiple social platforms in a single step
Automate lead nurturing
Qualify leads by scoring prospect interactions
Starts at $1,250/month (billed annually)
Mailchimp
Drag-and-drop builder and pre-built templates for designing emails
Social media posting and retargeting ad campaigns
Automatic follow-up emails
Automated behavioral targeting
Add forms to your website
Free and paid plans. Paid plans start at $10/month
Overloop
Tools for finding email addresses and verifying them
Chrome extension to extract email addresses from websites
Set up cold email drip campaigns
Add forms and live chat to your website
Drag and drop deals in visual sales pipelines
Starts at €39/month
Constant Contact
Customizable design templates for emails
Drag-and-drop email editing
Intuitive page editor for creating landing pages
List building tools
Real-time reporting
Starts at $9.99/month (Price based on number of contacts)
ProProfs Chat
Install live chat widgets to your website
Reply quickly with canned responses
Automatic and advanced chat routing
Pre-chat forms with Survey Maker integration
Build chatbots with templates
Starts at $10/operator/month (billed annually)
Intercom
Live chat, chatbots, in-product messaging, outbound emails, and more
Advanced routing rules for chatbots to streamline workflows
Streamlined scheduling of meetings
Centralized management of all conversation channels
Integrations with Salesforce, Marketo, Shopify, and other marketing tools
Starts at $74/month (billed annually)
Drift
Multifunctional conversational chatbots
Live chat to connect with prospects at the moment of intent
Find company profile of anonymous visitors
Advanced analytics that reveals many key customer insights
Integrates well with CRM and ABM tools
Available on request
Hunter
Find email addresses of a company
Find email addresses of professionals
Verify the deliverability of email addresses
Cold email campaigning
Integrations with Salesforce, HubSpot, and Zapier
Free and paid plans. Paid plans start at $49/month
AeroLeads
Comes as an easy-to-install Chrome plugin
Find email addresses from social business profiles
Capture up to 15 data points, including name, job title, location, and company emails
Integrations with CRM tools, such as Salesforce, Mailchimp, and more
Export data to CSV
Starts at $49/month
LinkedIn Sales Navigator
Advanced lead/company search
Customized lead recommendations by target industry, account, and business
Organize your leads and accounts into 'notes' and 'tags'
Save leads into your CRM with the same organization
Detailed overview of leads with relevant insights, such as job changes
Send InMail messages to new prospects on Linkedin
Starts at $79.99/month (billed annually)
Discover.ly
Extract social media information from Gmail, Facebook, Twitter, and LinkedIn
Available as an easy-to-set-up Chrome extension
Integrates with CRMs
Pricing available on request
Quora
Easy to use platform with a huge user base
Build awareness and credibility by answering questions
Ask questions to create lead generation opportunities
Questions are properly categorized into topics
Easily add links to your answers
Free
BigContacts
Import contacts using spreadsheet, email, forms, or webhooks
Organize contacts by activity, opportunity, or last interaction
Automate email drips for marketing and sales
Get 360-degree view of all activities
Automated tasks and reminders
$ 5/user/month (billed annually)
HubSpot Marketing Hub
Visual builder to create landing pages and forms
Email drip campaigns for automated lead nurturing
Live chat and chatbots
Automatic lead scoring
Blogging, SEO, and ad tracking & management
Free and paid plans. Paid plans start at $45/month (billed annually)
Zapier
3,000+ integrations
Built-in actions to send emails, convert data, filter tasks, and more
Automate several tasks with a single trigger
Build intelligent workflows based on branching logic
Automate lead qualification workflows and lead alerts
Free and paid plans. Paid plans start at $19.99 USD (billed annually)
Salesforce
Manage leads, workflows, customers, sales teams, and more
Design personalized email campaigns
Create one-to-one customer journeys
Customer data platform to unify, segment, activate, and analyze data
Personalize SMS, push notifications, and chat messaging
Separate pricing for each feature
Google Ads
Well-timed ads on the biggest search engine in the world
Pay-per-click (PPC) pricing model, where you set your monthly budget caps and bidding rules
Set advanced targeting rules
Powerful, real-time analytics to track ad performance
Intuitive dashboard
Pay-per-click pricing model
25+ Best Lead Generation Tools for 2023
On-Page and CRO Lead Generation Tools
1. ProProfs Quiz Maker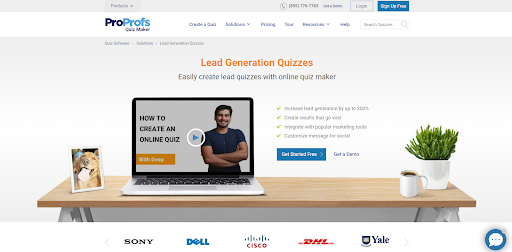 ProProfs Quiz Maker offers a highly-effective yet underrated way to generate leads. A feature-rich online tool, it lets you create fun and engaging lead magnet quizzes with highly shareable results.
You can add a customizable lead form, either at the beginning of the quiz or at the end, and capture quiz takers' names, email addresses, and other useful information. You can also integrate your quizzes with popular email marketing tools to automate the follow-ups.
Key Features
Intuitive UI with 100+ configurations to easily create engaging lead quizzes

Add customizable lead forms at the start of the quiz or just before the results

Add images and share buttons to quiz results to boost shareability

Add images and videos to questions and answer options

Get insightful quiz reports to refine your lead generation strategy

Embed quizzes on your website or share them on social media

Brand your quizzes by adding your logo and colors

100+ themes to beautify your quizzes

Quiz library with 100+ quiz templates and over 1 million modifiable questions for quick quiz creation

Integrate with Mailchimp, Salesforce, HubSpot, and other popular marketing tools
Pros
Cons
More templates can be added
Pricing
Free and paid plans. Paid plans start at $20/month (billed annually)
2. Qualaroo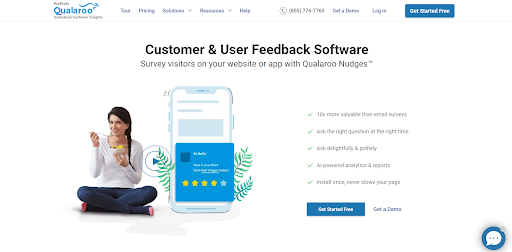 Apart from being one of the best website user feedback and survey tools, Qualaroo is also great for generating leads from your website. It lets you present a customizable lead form to your website visitors in two different ways—as a standalone popup or as a screen in your feedback survey.
Qualaroo's pre-built templates make it seamless to create your lead popups, while its AI-powered reporting lets you collect invaluable insights on user experience and conversion rate optimization. You can integrate the lead forms with Salesforce, HubSpot, and Mailchimp to further streamline your lead management.
Key Features
Easy tool that doesn't require any coding to implement

Pre-designed templates for quick lead survey creation

Add lead forms to the start or end of your website surveys

Present lead forms as a standalone popup

Advanced user targeting

Non-intrusive popups for customer pulse-check and gathering behavioral insights

Sentiment analysis powered by IBM Watson

Integrations with popular marketing tools, such as Salesforce, HubSpot, and Mailchimp

Integrations with other popular tools, such as Tableau, Intercom, Zapier, and Slack
Pros
Easy to use. No coding required to set it up.

NPS surveys with in-depth tracking functionalities

AI-powered sentiment analysis
Cons
Reporting UI needs more export options and filters.
Pricing
Starts at $80/100k tracked pageviews/month (billed annually)
3. Woorise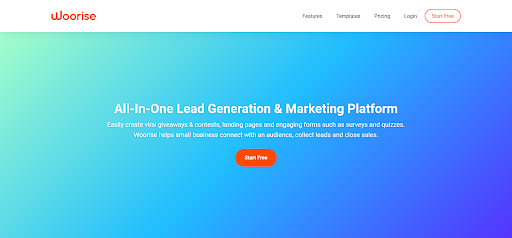 Woorise is an all-in-one lead generation and marketing platform that allows you to create a wide range of interactive campaigns such as landing pages, forms, surveys, quizzes, viral giveaways & contests, accept payments and more to collect leads and engage your audience.
Features include a modern landing page and form builder, 40+ field types and thousands of social actions, 100+ interactive templates, conditional logic, real-time email notifications, multi-language support and built-in analytics.
Woorise also integrates with popular marketing platforms such as Mailchimp, Hubspot, ActiveCampaign, Facebook, Google Analytics, Bitly, Zapier, PayPal, Stripe and many more allowing you to automatically send your new leads to the tools you already use.
Key Features
Beautiful and fast design with a powerful drag & drop landing page and form builder

100+ customizable templates for interactive campaigns and landing pages

Embed your campaigns on every website or platform

Create refer-a-friend campaigns

Create campaigns in any language

Workspaces to manage all your brands or clients from a single account

Export your data in a CSV file

Geo Targeting to make your campaign available to specific countries

Conditional Logic
Pros
Easy to use lead generation tool with drag and drop functionality

Allows you to create multiple types of campaigns

Lots of integrations
Cons
Advanced features are not available on Free plan
Pricing
Free and paid plans. Paid plans start at $23/month (billed annually)
4. Unbounce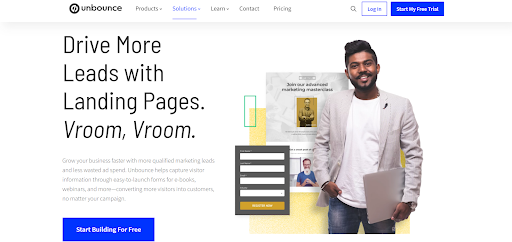 Unbounce is the cream of the crop when it comes to landing page builders. Featuring a drag-and-drop builder, 100% customizable templates, and the AI-powered Conversion Intelligence technology, it lets you seamlessly create high-converting landing pages.
Unbounce also lets you add popups and sticky bars that launch on a variety of user actions. Throw in the fact that it supports tonnes of integrations and you have a powerful lead generation medium.
Key Features
Drag-and-drop builder and 100+ customizable templates for landing pages

Templates for e-books, e-courses, and webinars

Popups and sticky bars

Lead forms with one-click editing

AI-powered conversion-boosting technology

Smart Copy

tool for quick content creation

A/B testing functionality with real-time data dashboard

Integrations with Marketo, HubSpot, Zapier, and many other marketing tools
Pros
Easy to use lead generation tool with drag and drop functionality

A highly flexible website analytics engine

A/B testing functionality
Cons
Low and mid-tier plans lack many essential features

The backend dashboard could be more organized
Pricing
Starts at $90USD/month
5. Proof Pulse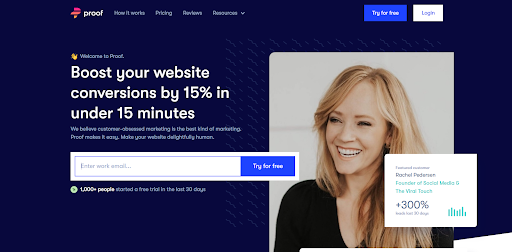 Proof Pulse offers social proof, A/B testing functionality, and personalization functionalities to supercharge your website conversion rate. Using this lead generation tool, you can add social proof messaging to your website in three styles—
the number of people who have recently been active on your site

the number of people who are presently viewing either a page on your site or your whole site

a live feed of people who have recently taken action, such as requesting a product demo or buying a product plan
Proof also provides visual analytics that reveals the impact of implementing social proof on your lead capture rate and sales.
Key Features
Add social proof by installing a lightweight javascript in the page header

Beautiful analytics to test performance

A/B testing functionality

Integration with Zapier to send conversion events

Settings for campaign customization
Pros
Great for building trust and credibility, engaging website visitors, and creating urgency

Easy onboarding process

Quick loading

Advanced plan limit alerts
Cons
No email marketing features

No mobile site/app
Pricing
Starts at $29/1k unique visitors/month
6. Picreel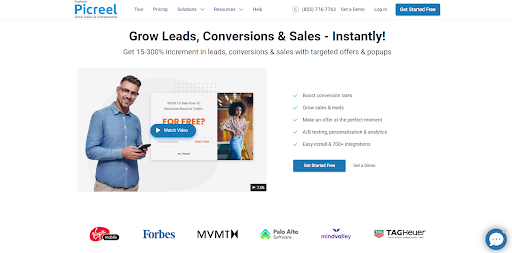 An exit-intent lead generation tool, Picreel lets you create great-looking popups and forms to enhance your website engagement. The intuitive software features an easy-to-use popup editor along with 100+ delightful templates, so you can quickly create high-converting popup marketing campaigns.
Picreel is equipped with a variety of trigger options and targeting rules as well as advanced analytics and A/B testing functionality to ensure that you maximize your website's lead generation potential. The tool offers integrations with a whopping 700+ marketing platforms and CRM tools and also comes with a comprehensive knowledge base.
Key Features
100+ ready-to-use and customizable templates

Popups, forms, slide-ins, nano bars, and more to capture leads

Personalization options for popups

Advanced trigger options

A/B testing functionality

Robust analytics and real-time reporting

Target specific pages or visitors

Integrations with 700+ marketing and sales tools
Pros
Highly customizable popups with the option to customize using HTML and CSS

In-depth targeting options

Easy to set up
Cons
There is a bit of a learning curve for UI navigation
Pricing
Starts at $14/month (billed annually)
7. Sumo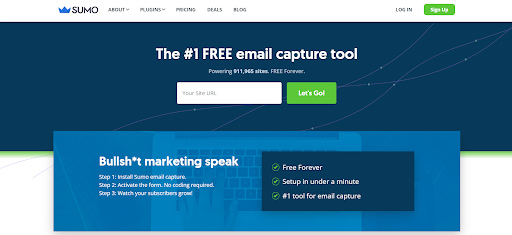 Sumo is an email capture tool that lets you create popup forms, smart bars, surveys, and welcome mats (full-screen popups) to improve customer engagement. The tool has a user-friendly interface and can be set up quite easily.
Sumo also lets you implement share button panels as well as prompt visitors to take action, such as filling in forms or subscribing to newsletters. While marketed as one of the best free lead generation tools, it also offers a paid plan with more advanced features.
Key Features
Add lightbox popups, inline embedded lead forms, floating bars, full-screen "welcome mat" popups, and share buttons to your website

Integrations with Mailchimp and Zapier for lead management

Intuitive UI

Dashboard to monitor all the bundled tools

A/B testing and analytics
Pros
Variety of popups

Easy to use

Fast and responsive
Cons
Difficult to integrate with smaller email platforms

The premium plan is a bit pricey
Pricing
Free plan and paid plan at $39/month (billed annually)
8. ProProfs Survey Maker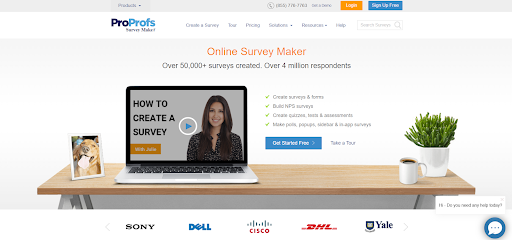 ProProfs Survey Maker is a fast and intuitive tool for creating lead-magnet surveys and forms. Using this tool, you can create beautiful and engaging email and web surveys, Net Promoter Score surveys, in-app surveys, web forms, popup surveys, and sidebar forms.
Aside from boosting your lead generation, this tool also helps in decreasing website abandonment and bounce rates. It offers 100+ professionally-designed templates along with a collection of visually appealing, customizable themes to kickstart your survey marketing activities.
You can also connect your surveys with Salesforce, Zendesk, and other third-party CRMs and analyze your survey responses with Google Analytics, making ProProfs Survey Maker one of the best lead generation websites.
Key Features
Create email and web surveys, Net Promoter Score surveys, in-app surveys, web forms, popup surveys, and sidebar forms

100+ survey templates

Add images and videos to surveys

Add scoring & branching to survey questions

Customize surveys with your brand logo and colors

Comprehensive reporting & analytics

Easily integrates with many popular sales & CRM tools
Pros
Perfect for creating beautiful and immersive surveys

Sidebar form functionality is a great way to add non-intrusive feedback or lead form to any webpage
Cons
Templates need to be more customizable
Pricing
Free and paid plans. Paid plans start at $5/100 responses/month (billed annually)
9. TypeForm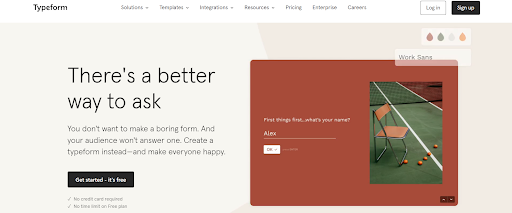 The special thing about TypeForm as a lead generation tool is that it is highly focused on user experience. You can use this software to easily create beautiful forms, surveys, quizzes, and polls that you can tailor for lead capture. It also offers pre-built templates, custom layouts, and themes to help you create engaging content.
The tool supports conditional logic, which helps a great deal in personalizing the experience for your respondents. With this functionality, you can redirect users to specific follow-up questions based on their responses. Also included is a no-code chatbot service that is great for conversational marketing.
Key Features
Create forms, quizzes, surveys, polls, and chatbots

Pre-made templates, custom themes, and layouts

Multiple question types

Conditional logic to give respondents a personalized experience

Integrations with Mailchimp, Slack, HubSpot, Zapier, and more
Pros
Great collection of beautiful templates, which also includes lead form templates

Excellent onboarding process

Lots of integrations
Cons
Reporting can be improved by including filters and more customization options

Free version is very limited, no trial available for premium versions
Pricing
Free and paid plans. Paid plans start at $25/month (billed annually)
10. Hotjar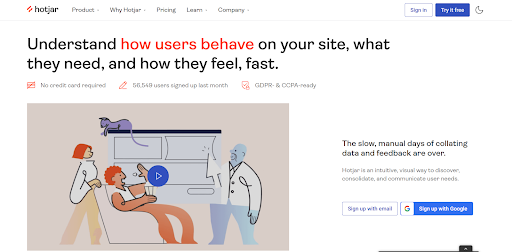 Hotjar provides an excellent lead generation solution via customer experience analytics and conversion optimization research. Form analytics, on-site polls, heat maps, surveys, and session replays are some of the helpful lead generation features included in this tool.
The on-site polls in this lead generation tool are especially useful since they can be used to collect email addresses in addition to insightful feedback that can help you refine your marketing strategies.
Key Features
Heatmaps to visualize user behavior

Screen recordings for playback of the time spent by users on your site

Advanced feedback functionalities

Targeted on-site surveys

Works great on mobile and tablet versions of your website

Integrations with CRM tools
Pros
Affordable pricing

Heatmaps and screen recording functionalities are highly insightful

Unique and advanced feedback functionalities
Cons
Implementing Hotjar may slightly affect your website's speed
Pricing
Free and paid plans. Paid plans start at $31/month
11. Hello Bar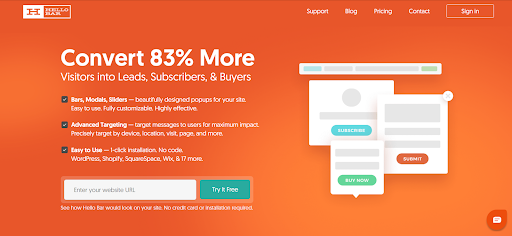 Hello Bar is a simple yet super-effective tool for popup marketing and lead generation. It lets you add a variety of attractive popups to your website, including header/footer bars, modals, floating alerts, sliders, and page takeovers. You can customize your popups using hundreds of pre-built themes and a visual editor.
This highly-intuitive lead generation tool even has a design assistant that auto-detects your website's design and matches the popups to it. Other notable features include advanced targeting rules, custom reports, and A/B testing functionality.
Key Features
Add a variety of popups to your website, including header/footer bars

Add CTAs, lead forms, and prompts to your popups

Hundreds of themes for customizing your popups

Visual editor and design assistant for easy styling

Target visitors by location, ad/campaign, and date & time

Custom reports with analytics for tracking and optimizing

Integrations with Zapier and email platforms
Pros
Easy to use

Many unobtrusive popup options

Advanced audience targeting to target the right people
Cons
Can include more visitor engagement elements, such as surveys

Doesn't integrate with email marketing and CRM tools
Pricing
Free and paid plans. Paid plans start at $29/month
12. Pardot

Pardot is a B2B marketing automation tool by Salesforce. It has excellent lead generation, lead management, and email marketing capabilities backed by ROI reporting. It lets you create landing pages and web forms, manage social posting and profiling, nurture and qualify leads, automate tasks, build email drip campaigns, and much more.
While it is undoubtedly an amazing lead generation tool, it is also very expensive. There is no free plan and the paid plans start at $1,250/month. In other words, it isn't suitable for very small businesses.
Key Features
Create landing pages with templates and a visual editor

Quickly build forms with a drag-and-drop builder

Post to multiple social platforms in a single step

Automate lead nurturing

Qualify leads by scoring prospect interactions and with objective grading

AI-powered lead scoring with

Pardot Einstein

Automate lead assignment

Display targeted offers on your webpages

Intuitive email builder with responsive templates and custom design capabilities

Automatic segmentation for effective targeting via email campaigns

A/B testing functionality
Pros
Wide variety of lead generation functionalities

Highly customizable automation

Strong drip campaign features

Seamlessly connects with Salesforce CRM
Cons
Expensive plans

Limited reporting capabilities
Pricing
Starts at $1,250/month (billed annually)
Outbound Lead Generation Tools
13. Mailchimp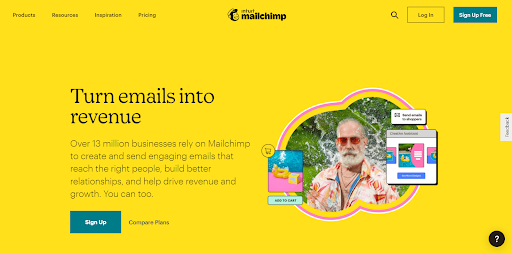 One of the most popular and reputed email marketing software out there, Mailchimp has been in the game since 2001. Aside from email marketing functionalities, it also offers survey forms, social ads, a landing page builder, and A/B testing functionality, making it a comprehensive marketing solution.
Designing engaging emails is very easy with Mailchimp's drag-and-drop builder and customizable pre-built templates. You can even import your own email templates and use the inbuilt HTML/CSS editor to customize them. Mailchimp also has one of the best campaign analytics among outreach lead generation tools.
Key Features
Drag-and-drop builder and pre-built templates for designing emails

Social media posting and retargeting ad campaigns

Automatic follow-up emails to guide the visitors from filling-in signup forms to making the purchase

Automated behavioral targeting

Add customizable forms to the sidebar and footer of any webpage

Popup forms based on customer interactions

In-built CRM to merge contacts from various channels

250+ integrations, including Salesforce, LiveChat, and Zapier
Pros
One of the best email marketing tools

The free plan supports up to 2000 contacts

Powerful campaign analytics
Cons
Inbuilt templates are useful but pretty basic and require much customization

Mobile app version mostly limited compared to the web version
Pricing
Free and paid plans. Paid plans start at $10/mont
14. Overloop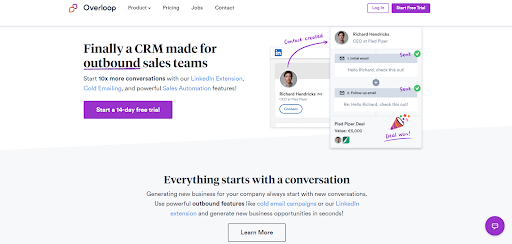 Formerly known as Prospect.io, Overloop is a CRM with effective email marketing functionalities that make it top lead generation software. With this tool, you can easily find business email addresses, verify them, and set up personalized cold email drip campaigns. The tool also provides real-time reports to track audience engagement, important metrics, and overall growth.
Overloop also lets you add live chats and forms to your website to engage and capture leads. It supports integrations with Zapier, Mailchimp, and many other tools. There is a 14-day free trial available for testing out the features.
Key Features
Tools for finding email addresses and verifying them

Chrome extension to extract email addresses from websites, professional networks, and social platforms

Set up cold email drip campaigns

Add forms and live chat to your website

Drag and drop deals in visual sales pipelines

Native apps for iOS and Android for on-the-go lead management

Integrations with Zapier, Mailchimp, Slack, Campaign Monitor, and more
Pros
Ideal for cold email campaigning

Combines inbound and outbound lead generation tools
Cons
UI and UX has scope for improvement
Pricing
Starts at €39/month
15. Constant Contact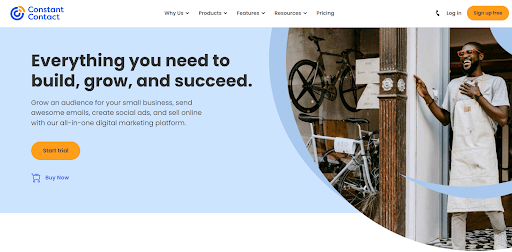 A highly popular and trusted email marketing and lead generation platform, Constant Contact has been in business for more than 25 years. This powerful tool has a lightweight and super easy-to-use interface and offers a variety of lead management features bundled together.
You can easily create beautiful, mobile-optimized emails using drag-and-drop editing and hundreds of customizable design templates. You can also use this lead generation tool to create landing pages and surveys and manage your social media marketing.
Key Features
Customizable design templates for emails

Drag-and-drop email editing

Intuitive page editor for creating shoppable landing pages

List building tools

Real-time reporting

Social media marketing functionalities

Surveys for instant feedback

Email marketing automation

Create websites and online stores

Integrations with Shopify, WordPress, Salesforce, Vimeo, and more
Pros
Many lead generation tools on one platform

Ideal for email marketing
Cons
Email templates are not as customizable as in Mailchimp
Pricing
Starts at $9.99/month (Price based on number of contacts)
Live Chat and Chatbot Tools
16. ProProfs Chat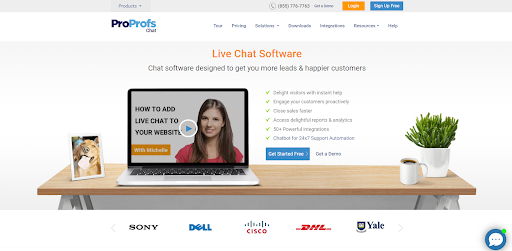 ProProfs Chat is an easy-to-use live chat tool packed with a number of website engagement and lead generation functionalities.
You can provide instant help to visitors by viewing what they are typing, anticipating the questions, and then answering quickly with canned responses. You can also proactively engage them by setting chat invitation popups, automating greetings, providing product tours, and adding announcements for upcoming products and features.
ProProfs Chat even lets you build delightful chatbots that help in engaging visitors, qualifying leads, booking appointments, and automating support. You can design your chatbots in minutes using ready-to-use templates.
Key Features
Install beautiful live chat widgets to your website

Reply quickly with canned responses

Automatic and advanced chat routing

Pre-chat forms with Survey Maker integration

Build chatbot with templates

Track visitor behavior through pages browsed and time spent

Post-chat survey and operator rating functionality

In-depth reporting and analytics, with a supervisor dashboard

Integrations with Salesforce, Microsoft Dynamics 365, WordPress and more
Pros
Lots of features for visitor engagement

Chat invitation popups are great for capturing leads through deals and discounts

Lots of integrations
Cons
Needs more customization options
Pricing
Starts at $10/operator/month (billed annually)
17. Intercom
Intercom is an amazing lead generation tool for engaging website visitors. It lets you generate qualified leads using live chat, custom chatbots, product tours, a shared inbox, and a visual campaign builder.
With Intercom, you can send targeted messages 24/7 and easily ask important qualifying questions from potential leads. You can also analyze the on-site or in-app behavior of your visitors and add message triggers for onboarding, retention, and support.
Key Features
Live chat, chatbots, in-product messaging, outbound emails, help center, and communication-based apps to boost visitor engagement

Advanced routing rules for chatbots to streamline workflows

Streamlined scheduling of meetings between prospects and relevant teams

Centralized management of all conversation channels

Integrations with Salesforce, Marketo, Shopify, and other marketing tools to automate workflows and sync data

Data integrations, such as with Clearbit Reveal to target top leads
Pros
Easy to set up

Excellent for engaging leads and existing customers

Insightful reports
Cons
Many essential features are only available in higher-tiered plans

Needs more layouts for the help center functionality
Pricing
Starts at $74/month (billed annually)
18. Drift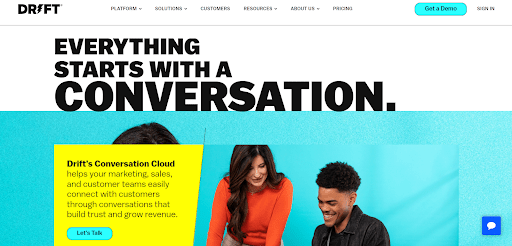 Drift is a popular conversational marketing and lead generation tool that has Live Chat and AI Chatbot as its key offerings. The chatbot tools provide a great way to collect lead info, qualify said leads, and book appointments. They also automatically transfer the chat to an agent if the situation necessitates it (for instance, if the visitor specifically requests for it).
The tool also automatically generates a company profile for anonymous website visitors, which includes information, such as the company's name, location, funding, employee count, industry, and more. On the analytics front, Drift has functionalities that reveal what type of conversations generate the most leads, which is great for conversion rate optimization.
Key Features
Conversational chatbots to engage website visitors, capture lead information, qualify leads, and book appointments

Live chat to connect with prospects at the moment of intent

Drift Intel

furnishes company profiles of anonymous visitors

Advanced analytics that reveals many key customer insights

Integrates with CRM and ABM tools for workflow automation and information exchange
Pros
User-friendly interface on frontend and backend

Mobile app to connect with visitors on-the-go

Streamlined and flexible chat routing
Cons
Searching through old conversations can get a bit tedious

There can be more integrations
Pricing
Available on request
Lead Prospecting Tools
19. Hunter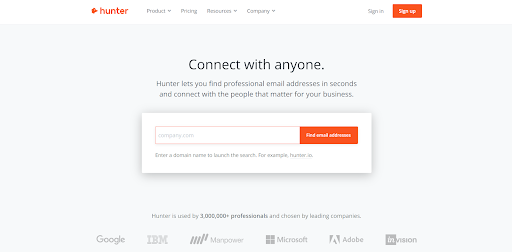 One of the simpler lead generation tools on the list, Hunter lets you quickly find professional email addresses that you can target to grow your business. It lets you look up email addresses in two ways—by searching with a person's name or with the domain name of a website.
Hunter's Domain Search is a powerful feature that uses the web to furnish the names and email addresses of all the people working in a company. The unique tool lets you verify the deliverability of the email addresses you find and is also equipped with a campaign builder for cold-email campaigns.
Key Features
Find email addresses of a company with

Domain Search

Look up the email addresses of professionals with

Email Finder

Verify the deliverability of any email address with

Email Verifier

Cold email campaigning

Integrations with Salesforce, HubSpot, and Zapier

Dashboard for performance tracking

Supports a chrome extension to extract email addresses from the website you are browsing
Pros
Simple and straightforward to use

You can collect email addresses from multiple domains at once

Automatic email verification
Cons
Email verification functionality can be improved, especially for bulk emails
Pricing
Free and paid plans. Paid plans start at $49/month
20. AeroLeads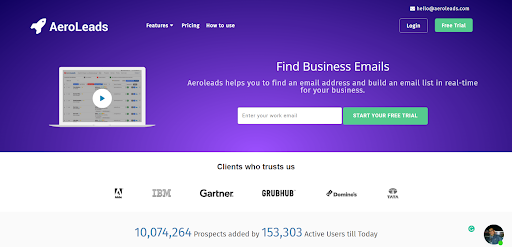 AeroLeads lets you easily collect business emails and other contact information of potential customers. The email prospecting tool uses social sites, such as Linkedin, AngelList, CrunchBase, Xing, etc. to extract email addresses, company name and URL, job title, location, and more.
You can smoothly transfer the lead data you fetch to your favorite tools with CRM integrations and also verify the email addresses that you capture. There is also an option to import all your verified email addresses into Gmail for sending bulk emails.
Key Features
Comes as an easy-to-install Chrome plugin

Find email addresses and other relevant information from social business profiles

Capture up to 15 data points, including full name, job title, location, and generic company email addresses

Integrations with CRM tools, such as Salesforce, Mailchimp, HubSpot, and Zapier for streamlined lead management

Export data to CSV
Pros
Easy to implement

Dedicated support
Cons
UI can be more user-friendly
Pricing
Starts at $49/month
21. LinkedIn Sales Navigator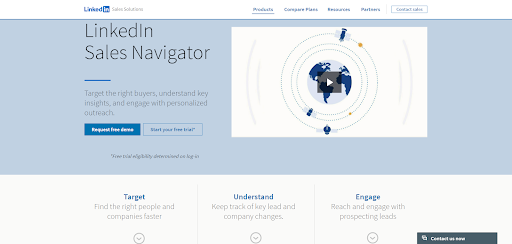 LinkedIn Sales Navigator is an excellent B2B lead generation tool. It leverages Linkedin's professional network of over 800 million to boost your marketing and sales efforts. Using this tool, you can easily find relevant, high-potential leads and prospects using advanced targeting filters, such as industry, seniority, and geography.
You can save all the leads you capture from LinkedIn directly to your CRM to automate the follow-ups. You can also organize your leads by tags and retain this organization in the CRM to maintain data continuity across the platforms.
Key Features
Advanced lead/company search to quickly find the right people for your business

Customized lead recommendations as per target industry, account, and business

Organize your leads and accounts into 'notes' and 'tags'

Save leads into your CRM with the same organization

Detailed overview of leads that includes all relevant insights, such as job changes

Send InMail messages to new prospects you find on Linkedin
Pros
Triggers in saved searches for real-time notifications

Provides detailed information about prospects

InMail makes it very easy to reach out to prospects
Cons
InMail credits per month need to be increased

Target database is limited to LinkedIn members
Pricing
Starts at $79.99/month (billed annually)
Social Media Lead Generation Tools
22. Discover.ly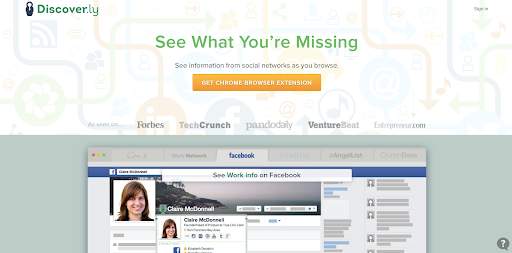 Discover.ly is a Chrome browser extension that lets you find additional information on any social media profile that you are viewing. While minimal in functionality, it serves as a great complement to many other lead generation tools on our list.
Discover.ly works with Gmail, Facebook, Twitter, and LinkedIn. You can integrate it with CRM tools to export your leads and start your marketing campaign.
Key Features
Extract social media information from Gmail, Facebook, Twitter, and LinkedIn

Available as an easy-to-set-up Chrome extension

Integrates with CRMs
Pros
Great for finding email addresses and other important information

Very easy to use
Cons
No dashboard or reporting functionality
Pricing
Pricing available on request
23. Quora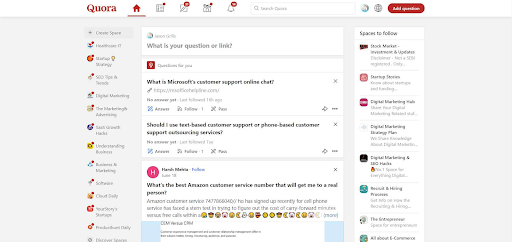 Quora is a highly popular Q&A platform with a massive user base. But, it's also one of the best lead generation sites.
How?
It's quite simple. Quora users ask questions on a wide variety of topics which are answered by other users, often in a well-detailed, mini-article style. All of this is the perfect setup for creating lead generation opportunities for your business.
You can easily market your brand by finding questions relevant to your business and answering them in a way that showcases your expertise. In case you can't find any good question to answer, you can simply ask it yourself and have someone on your team answer it.
Key Features
Easy to use platform with a huge user base

Build awareness and credibility by answering questions

Ask questions to create lead generation opportunities

Questions are properly categorized into topics

Easily add links to your answers

Paid advertising available
Pros
Great for building credibility through insightful answers that collect upvotes

Simple and free tool
Cons
Your lead generation efforts are limited to engagement created through questions and answers

Quora doesn't allow explicitly promotional answers
Pricing
Free

A minimum daily budget of $5 for Quora Business ads
CRM and Lead Management Tools
24. BigContacts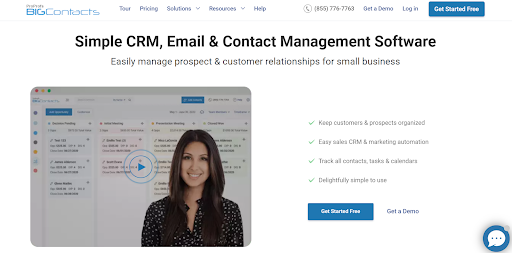 BigContacts is an amazing option as a CRM and email marketing platform for small and medium-sized businesses. It provides all the lead generation tools that you'd expect from a CRM without any of the added complexity.
Its intuitive activity dashboard is one of its best features, which makes it easy to manage your prospects and customers, visualize sales pipelines, and get insights into the pulse of your business.
You can also use BigContacts to create powerful and automated drip email campaigns. It offers a drag-and-drop editor along with a collection of pre-built templates for quick email creation. Once you've created your email campaign, you can configure it according to key events, funnel stage, customer behavior, etc. to optimize it for best results.
Key Features
Import contacts using spreadsheet, email, forms, or webhooks

Organize contacts by activity, opportunity, or last interaction for better contact management

Automate email drips for marketing and sales

Get 360-degree view of all activities

Automated tasks and reminders

In-depth custom reports to track campaign progress

Pre-built templates and a drag-and-drop editor for designing emails

Integrations with Zendesk, Mailchimp, HubSpot, Google Contacts, and more
Pros
Intuitive and easy to use software

Perfect for small and medium-sized businesses

Excellent bulk action and collaboration features
Cons
The mobile app needs improvement
Pricing
$ 5/user/month (billed annually)
25. HubSpot Marketing Hub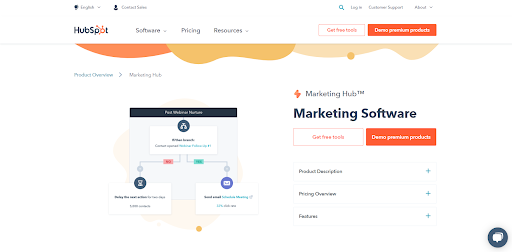 HubSpot is reputed for its high quality across a variety of marketing and sales tools and is consistently ranked among the top 10 lead generation websites.
Designed as an all-in-one marketing solution, HubSpot Marketing Hub has a number of features that make it one of the best lead management software. This includes forms, a landing page builder, popups, live chat, chatbot, and more, all of which can be integrated with the HubSpot CRM or any other CRM or email tool.
You can also use HubSpot to create targeted drip email campaigns with performance tracking. Performance tracking of email campaigns makes it easy to schedule effective follow-ups.
Key Features
Visual builder to create landing pages and forms

Email drip campaigns for automated lead nurturing

Live chat and chatbots

Automatic lead scoring

Blogging, SEO, ad tracking & management, and social media management functionalities

Visual editor and advanced segmentation for managing workflows

Centralized database for lead management and tracking

Account-based marketing to streamline cross-team collaboration

Custom reporting and built-in marketing analytics

Integrates with Salesforce and numerous other tools
Pros
Provides a comprehensive set of marketing and lead generation tools

Courses for using Marketing Hub are available in HubSpot Academy

Built-in performance analytics provides granular data visibility

A/B testing functionality for optimizing web pages and campaigns
Cons
Big learning curve

Higher plans have a steep pricing
Pricing
Free and paid plans. Paid plans start at $45/month (billed annually)
26. Zapier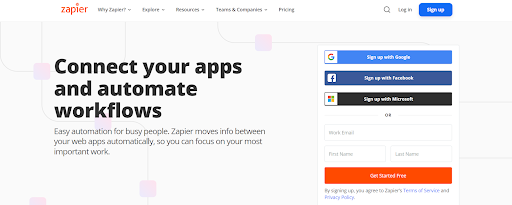 Zapier
is a highly resourceful tool. It lets you connect all your web apps and automate workflows and information exchange between them. The tool supports over 3000 apps, so it's a good chance that the tools you use have made the list.
With Zapier, you can automate many routine lead management tasks. For instance, you can add leads to a Mailchimp subscriber list whenever someone subscribes to your newsletter on Facebook, automatically add new leads to a spreadsheet or database, send automated messages to new leads for lead qualification, and set lead alerts for the sales team.
Key Features
3,000+ integrations

Built-in actions to send emails, convert data, filter tasks, and more

Automate several tasks with a single trigger

Build intelligent workflows based on branching logic

Automate lead qualification workflows and lead alerts

Share content across social media
Pros
Trusted and efficient automation software

There's no need to write any code. Zapier's visual interaction tool makes everything easy.
Cons
Pricing depends a lot on the number of tasks, which can make for some hefty bills.
Pricing
Free and paid plans. Paid plans start at $19.99 USD (billed annually)
27. Salesforce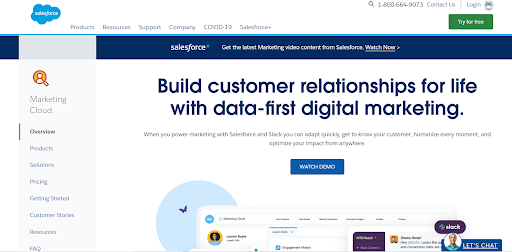 Salesforce is a huge name in the marketing world. You've probably heard of it or even worked on it at some point. As one of the most dominant players in the CRM market, this platform is highly effective when it comes to lead management.
It lets you design personalized emails, build customer journeys, manage your social media marketing, streamline lead nurturing, and automate workflows. You can also use this sales lead tool to track all your sales activities, key contacts, social insights, and interactions.
Key Features
Manage leads, workflows, customers, sales teams, and more

Design personalized email campaigns

Create one-to-one customer journeys across different channels and departments

Customer data platform to unify, segment, activate, and analyze your data

Personalize SMS, push notifications, and chat messaging with Mobile Studio

Social studio for posting content on social platforms, social media listening, and boosting customer engagement

Advertising Studio for one-to-one advertising using CRM data

Google Analytics 360 for refined marketing insights

Customizable reports and dashboards
Pros
One of the most trusted CRM and lead management software out there

Advanced tracking and reporting capabilities

Powerful CRM, marketing, and support features under one roof
Cons
Setup and configuration aren't very easy

The tool can be expensive if you plan to use a lot of add-ons
Pricing
Separate pricing for each feature
Advertising Tools
28. Google Ads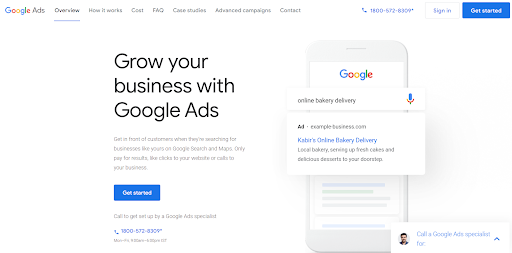 Google Ads lets you take advantage of the world's biggest search engine along with the power of advertising to generate leads for your business. All you need to do is design your campaigns, and Google Ads will take care of the rest. You can also set trigger options and target specific audiences based on their browsing behavior, searches, and search history.
Google Ads has an insightful dashboard that makes it seamless to manage your ad campaigns and provides powerful, real-time analytics to track performance and progress.
Key Features
Well-timed ads on the biggest search engine in the world

Pay-per-click (PPC) pricing model, where you set your monthly budget caps and bidding rules

Set advanced targeting rules

Powerful, real-time analytics to track ad performance

Intuitive dashboard
Pros
Reach out to potential customers at the exact moment when they are looking up products or services similar to yours

Detailed reporting with all the important performance metrics

PPC pricing model
Cons
PPC competition can get very high

You need to go through a learning curve in order to maximize your lead generation potential with Google Ads
Pricing
Pay-per-click pricing model
29. ContactOut
ContactOut lets you find and manage candidates based on their name, industry, and professional and academic backgrounds in a single dashboard. Its strongest suit is its wealth of contact information, which includes triple-verified email addresses. It integrates with major CRMs, such as Zapier and Salesforce, and recruitment platforms, such as Greenhouse and Lever, enabling a smooth transition of recruitment data from acquisition and enrichment to management.
Key Features
Convert any list of LinkedIn URLs, email addresses, or company domain names into a full contact list with 20+ fields.

Directly go to your LinkedIn profile for email and phone conversations using Chrome extensions. Access contact information for candidates and prospects; save and manage leads for outreach.

Create lead lists in seconds. Search, filter, and export lists of professionals in 20+ fields.

Maintain your ATS with the most recent data for all recruitment candidates. Get full candidate details delivered directly to your ATS with a single click from LinkedIn.

Save time by using electronic mail merge to send personalized email sequences to hundreds of leads with the click of a button.
Pros
Easy to use

Accurate contact details

Fast contact retrieval
Cons
Limited integrations

LinkedIn-dependent

Some data may be outdated
Pricing
There are free and paid options. Paid plans start at $29/month.
Time to Pick!
So, there you have it. These are the most impactful lead generation tools for 2023. We'll leave it up to you to decide which ones will work best for your business. But, we'll offer a bit of parting advice.
While there are many tools in this list that you may find comprehensive enough for your needs, the best strategy would be to implement multiple ones in your lead campaign and leverage all the lead generation opportunities out there.
For instance, you can let ProProfs Quiz Maker and Qualaroo take care of your inbound lead generation while using Discover.ly for email hunting and Mailchimp for outbound marketing. Whatever tools you choose for your lead generation system, ensure that you make an informed decision based on your needs.
Do you want free Quiz Software?
We have the #1 Online Quiz Maker Software for complete learning & assessment