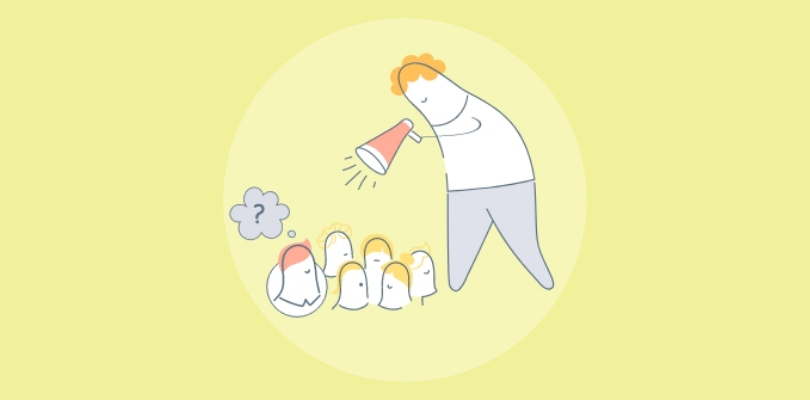 If you are not keeping your audience engaged, they are already looking for your alternatives.
Over the past decade, I've been a part of the ever-evolving world of SaaS tools for audience engagement. I witnessed how these technologies rewrote the rules of connecting businesses with their target audiences.
In this blog, I'll share my personal experiences with the 10 best audience engagement tools that have enhanced interaction and data collection and improved user experiences.
Here's a quick look at these tools:
| Tools | Best For | Price |
| --- | --- | --- |
| ProProfs Quiz Maker | AI-powered personality and scored quizzes | Free plan available. Paid plan starts at $20/month. Billed annually. |
| ProProfs Poll Maker | Online polls and market research | Free plan available. Paid plan starts at $4.97/month. Billed annually. |
| Slido | Audience interaction | Starts at $12.5/month. Billed annually. |
| Mentimeter | Interactive presentations | Starts at $11.99/month. Billed annually. |
| Angage | Event management | Distinct plans for in-person, virtual and hybrid events. Starts at €8 for up to 150 participants. |
| LoQuiz | Location-based games | Free trial for 14 days. Paid plan starts at €9/month. |
| CrowdPurr | Customized games | Starts at $49.99/month for up to 100 participants. |
| Glisser | Virtual and hybrid meetings | Starts at €1199/month. Billed annually. |
| Vevox | Live polls | Starts at $6.75/month. Billed annually. |
| Quizizz | Interactive quizzes | Limited free plan. Paid starts at $19/month. Billed annually. |
List of the Best Audience Engagement Tools
This list is based on feedback from my industry peers, reviews in top software comparison sites, and customer testimonials, apart from my first-hand experiences.
1. ProProfs Quiz Maker – Best for AI-Powered Personality and Scored Quizzes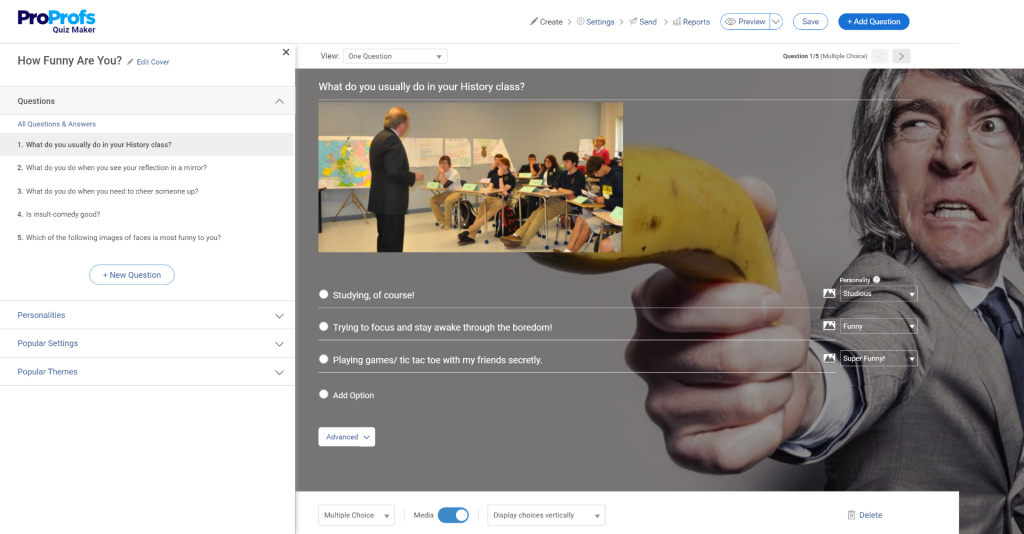 ProProfs Quiz Maker is a versatile audience engagement tool that allows you to create various types of quizzes, including personality quizzes and scored quizzes, to assess your audience in a fun way.
It offers a wide range of question types, such as multiple-choice, true/false, and matching questions, to suit your quiz requirements.
You can create fully customized quizzes with a collection of 100+ professionally designed quiz templates, 100,000+ ready-to-use questions, and 15+ question types.
This audience engagement solution is characterized by a mobile-responsive UI and robust reporting & analytics.
You can create personality quizzes with branching logic to tailor them based on the respondent's previous answers. This allows for personalized outcomes and recommendations.
You can also save time, improve the quality of questions you ask, and add variety by creating online quizzes using AI.
Interesting, right? There's more.
ProProfs Quiz Maker lets you customize questions in terms of point values, allowing assessment of respondents' knowledge or skills. Post this, it displays the top scorers on a leaderboard, fostering engagement and healthy competition.
You can also add interactive audio/video questions and white-label your quizzes for branding requirements.
Read: How to Create a Video Quiz for Business or Education
What You Will Like:
Allows social sharing, encouraging engagement and interaction.
Embed personality/scored quizzes directly on your website or blog to drive traffic.
Integrates seamlessly with various learning management systems (LMS) and third-party marketing platforms.
Create quizzes in seconds with an AI quiz generator.
Customizable certificates for achieving a certain score to motivate the quiz-takers.
What You May Not Like:
Involves a learning curve for those who are less tech-savvy.
Regular security updates may need frequent adaptations.
Price: Free plan available. Paid plan starts at $20/month. Billed annually.
Watch: How to Create an Assessment Online
2. ProProfs Poll Maker – Best for Online Polls and Market Research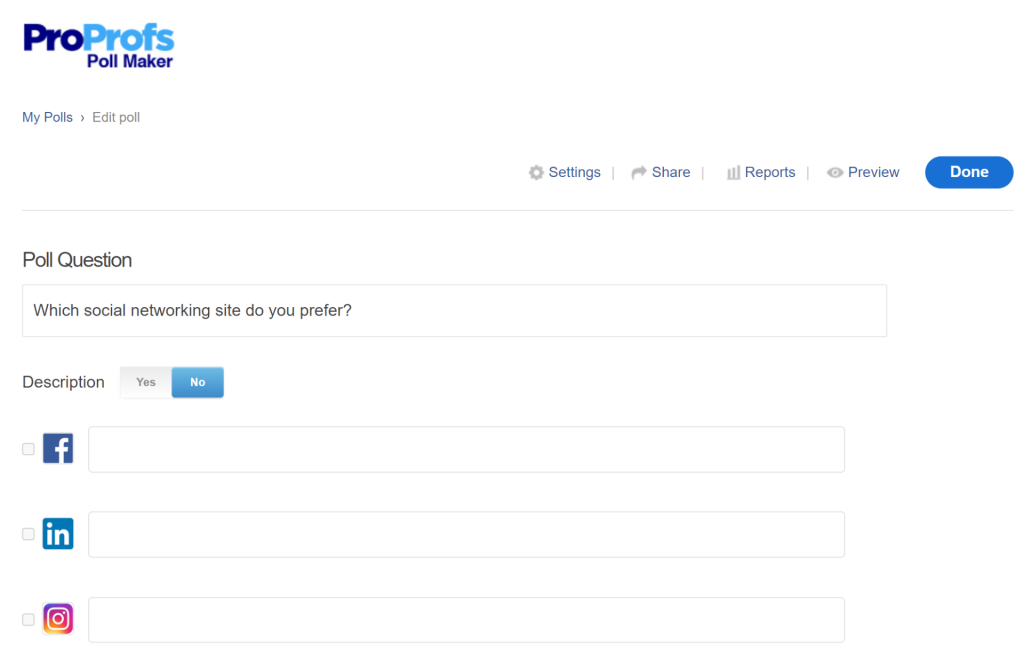 The next one on my list of tools for audience engagement is ProProfs Poll Maker.
Let me tell you that it is a bit different from ProProfs Quiz Maker.
ProProfs Poll Maker allows you to create branded web polls, including multiple-choice, single-choice, open-ended, Likert scale, and ranking polls.
You can customize your polls to match your brand and audience by adding your logo, colors, and fonts. You can also add images, videos, and GIFs to make your polls more engaging.
This way, you can generate audience engagement, apart from gathering different types of feedback from them.
And did you know that you can use these polls for market research?
For instance, you can use ProProfs Poll Maker to create a poll on social media to ask your followers what new products they want to see. In other words, you can collect data based on your target market's demographics, interests, and needs.
What You Will Like:
Open response polls where respondents can write their own answers.
Mobile-responsive polls to ensure poll accessibility on various devices, including smartphones and tablets.
View real-time poll results after you submit your responses.
Advanced features such as skip logic, question branching, and scoring mechanisms.
Shuffle answers, block repeat voting, and set poll expiry dates to avoid bias and cheating.
What You May Not Like:
Poll outcomes may not hold a long-term value.
Repeated use of similar polls may lead to audience fatigue.
Price: Free plan available. Paid plan starts at $4.97/month. Billed annually.
Watch: How to Create Polls
3. Slido – Best for Audience Interaction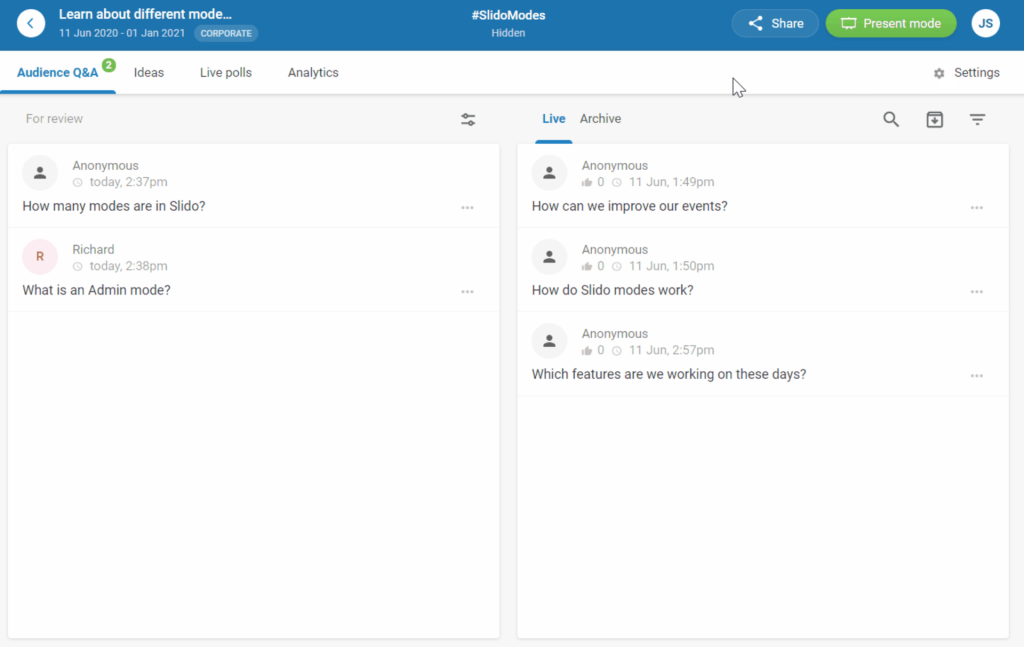 If you are looking for audience interaction tools, you may consider Slido.
Its "live features" and the ability to establish two-way communication with a target audience caught my attention.
Slido has a live Q&A support feature that allows the audience to ask questions from any device and vote for the ones they like the most.
The presenter can see the most popular questions and address them during the session. This way, the audience can participate in a discussion and get their queries answered in real-time.
It also has a live polls feature.
In this, you can ask the audience their opinion and display the results in real-time. You can also choose from five different types of polls: multiple choice, word cloud, rating, open text, and ranking.
But how do you measure the outcomes of your activities?
With Slido, it's easy.
It provides metrics and insights into audience engagement, helping presenters and organizers measure the effectiveness of their engagement strategies.
What You Will Like:
Robust moderation tools to filter and manage questions and interactions.
Seamless integration with presentation software like PowerPoint and Google Slides.
Quick data on poll responses, question submissions, and other interactions.
Easy customization of the platform to match the branding and event themes.
Word clouds support, to visualize popular words and phrases submitted by the audience.
What You May Not Like:
The free version lacks moderation, branding, and analytics features.
Subjected to technical glitches and issues, especially with internet connectivity.
Price: Starts at $12.5/month. Billed annually.
4. Mentimeter – Best for Interactive Presentations
Mentimeter is a popular audience engagement platform that allows you to create interactive presentations that engage your audience and collect real-time feedback.
You can use different slides to pose questions, gather feedback, and instantly connect with your audience.
But how does it facilitate interactive presentations?
Well, one of the highlights of this tool is the vibrant word cloud feature.
With this, you can visualize your audience's ideas, opinions, or feelings. You can also customize the word cloud's colors, fonts, and shapes.
Besides, the live and instant polling feature can also assist in interactive presentations.
For instance, you can ask your audience any question and see the results instantly on your screen.
Pick from different types of polls, such as multiple choice, rating scale, open-ended, or image choice, and use the 100-point prioritization method or the BCG Matrix to help your audience prioritize or evaluate different options.
What You Will Like:
Fun timers, countdowns, leaderboards, and sound effects to make engaging quizzes.
Easy-to-create surveys with different types of questions, such as Likert scale, matrix, ranking, and open-ended.
Real-time visualizations of poll responses and audience input.
Interactive slides to add polls, word clouds, quizzes, etc., to traditional presentation slides.
Collaborative presentations to create and deliver presentations with a team.
What You May Not Like:
Limited features with the free plan. You can only create two presentations, which expire after two days.
Expensive paid plan, especially for small businesses and individuals with limited requirements.
Price: Starts at $11.99/month. Billed annually.
5. Angage – Best for Event Management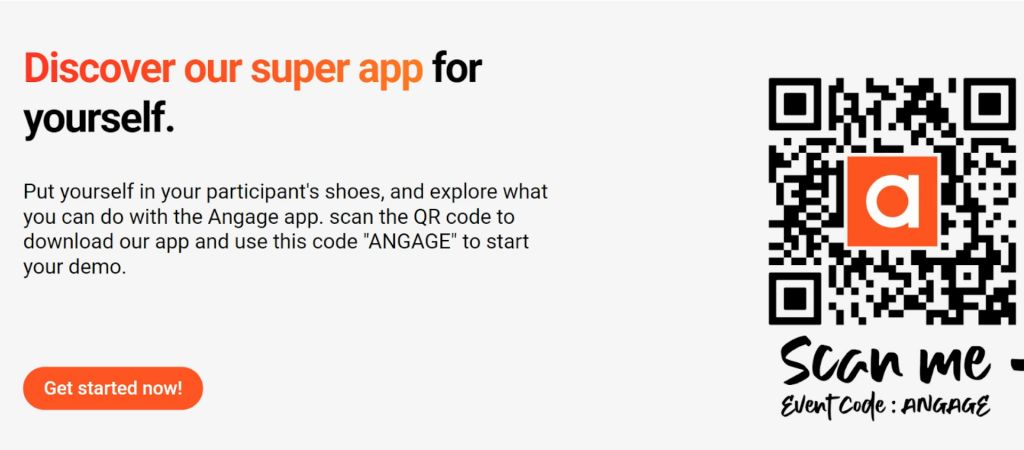 When discussing audience engagement tools with smart event management features, Angage should make it to your list.
It allows event organizers and managers to create a customized event website, manage ticketing and registrations, and check-in attendees using QR codes or NFC tags.
Angage also has an interactive mobile app that can be used by attendees to access event information, agenda, speakers, sponsors, exhibitors, and more.
The app also enables attendees to participate in live polls, surveys, Q&A sessions, quizzes, games, and networking activities.
What I like about this tool is its voting system.
Angage offers various voting systems that can be used to collect the audience's feedback, opinions, and preferences.
The voting systems include wireless keypads, SMS voting, web voting, and app voting.
Sounds cool, right?
The tool also allows the event organizers to broadcast their content to remote attendees using audio conferencing. This feature can help the attendees to listen to the event using their own devices and headphones.
What You Will Like:
Real-time data and insights on audience behavior, engagement level, satisfaction rate, and feedback.
Engaging gamification features, such as leaderboards, badges, and challenges.
Networking collaboration tools with features such as direct messaging, group chats, and 1-to-1 video calls.
Create and manage the event agenda by adding speakers, sessions, and breaks.
Social media integration to share content from the event on Twitter, Facebook, etc.
What You May Not Like:
Not enough features for live interactive activities, such as breakout rooms.
Difficult to use, especially if you are unfamiliar with other audience engagement tools.
Price: Distinct plans for in-person, virtual, and hybrid events. Starts at €8 for up to 150 participants.
6. LoQuiz – Best for Location-Based Games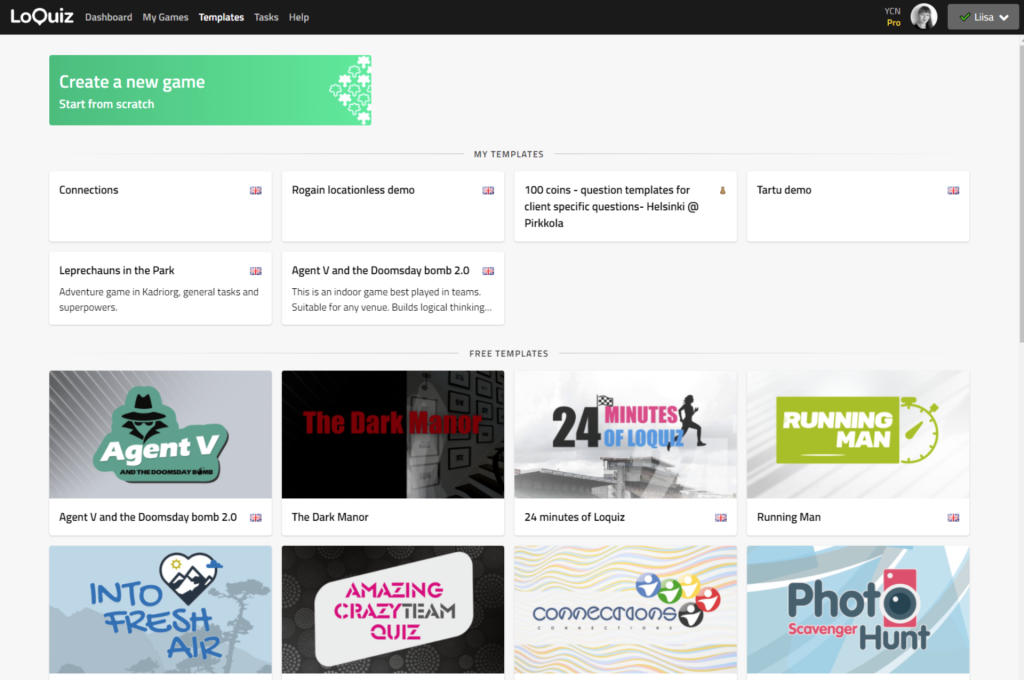 Talk about gamified engagement and LoQuiz raises its hand as one of the most interesting audience engagement solutions.
It allows you to create real-life outdoor and indoor games, such as city, audio, and self-guided tours for tourism, team-building scavenger hunts, and educational games.
In fact, it uses GPS and geolocation technology to create games and quizzes that are tied to specific physical locations. Players must be at the designated location to participate.
I tried it out with one of my friends, and it was quite interesting.
The platform provides interactive maps that guide players to the correct locations and display relevant information and clues.
Besides, you can customize the content, including questions, challenges, and clues, to suit the theme and objectives of the game.
I would consider it engaging for the audience since it has rich content with audio effects and sounds, images, video, and superpower tasks that can enhance the gameplay and immersion.
What You Will Like:
Different game types, such as indoor and outdoor games, scavenger hunts, quizzes, treasure hunts, etc.
Add media, timers, scores, location, clues, hints, comments, and other attributes to your tasks.
Invite users and collaborators to your account and assign them different rights.
Play the games online or offline using the LoQuiz app
QR codes to unlock clues or challenges at specific locations.
What You May Not Like:
It is incompatible with some devices or browsers.
Expensive and restrictive for users with limited playing needs.
Price: Free trial for 14 days. Paid plan starts at €9/month.
7. CrowdPurr – Best for Customized Games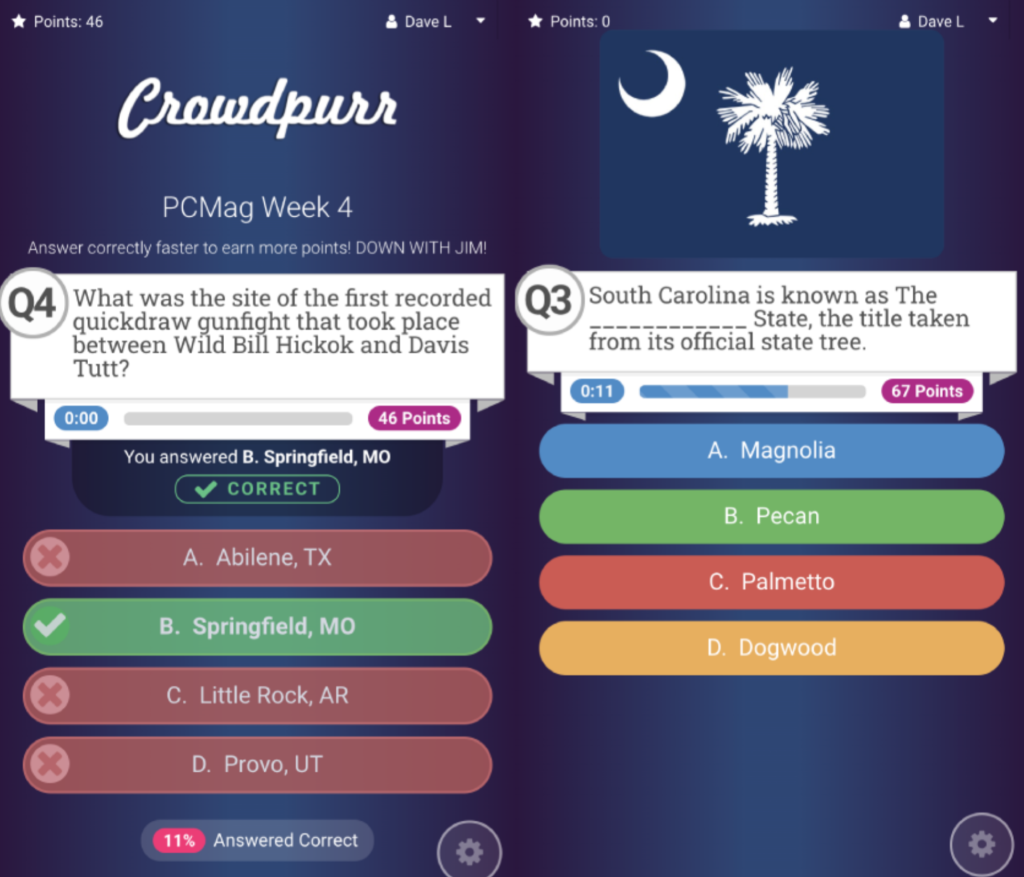 I would consider CrowdPurr as one of the best audience engagement tools, and there are several reasons for it.
It is a platform that allows you to create interactive and engaging polls, quizzes, trivia, and social media walls.
But the best thing about this platform is its ability to customize the games with your own questions, answer options, images, and GIFs. You can also choose from over 1,000 original trivia games in the CrowdPurr library.
Besides, you can challenge your audience with different types of questions, such as multiple choice, drag-and-drop order, and open-ended.
Wish to gather audience response?
You can collect feedback and data from your audience through their responses and lead capture fields. Also, display the results and rankings of your games in real time on a presentation view or a live stream.
In a nutshell, you can tailor the content to suit your event theme, audience interests, and learning objectives.
What You Will Like:
Create and conduct live polls and surveys to engage your audience.
Interactive word clouds in real-time based on audience input for brainstorming sessions.
Challenges and puzzles that participants can solve individually or in teams.
Easy audience segmentation into different groups for targeted engagement activities.
In-person and virtual events, allowing remote participants to engage in the activities.
What You May Not Like:
Default colors used on the platform are not intuitive and can be misleading.
Experiences technical glitches and delays during games.
Price: Starts at $49.99/month for up to 100 participants.
8. Glisser – Best for Virtual and Hybrid Meetings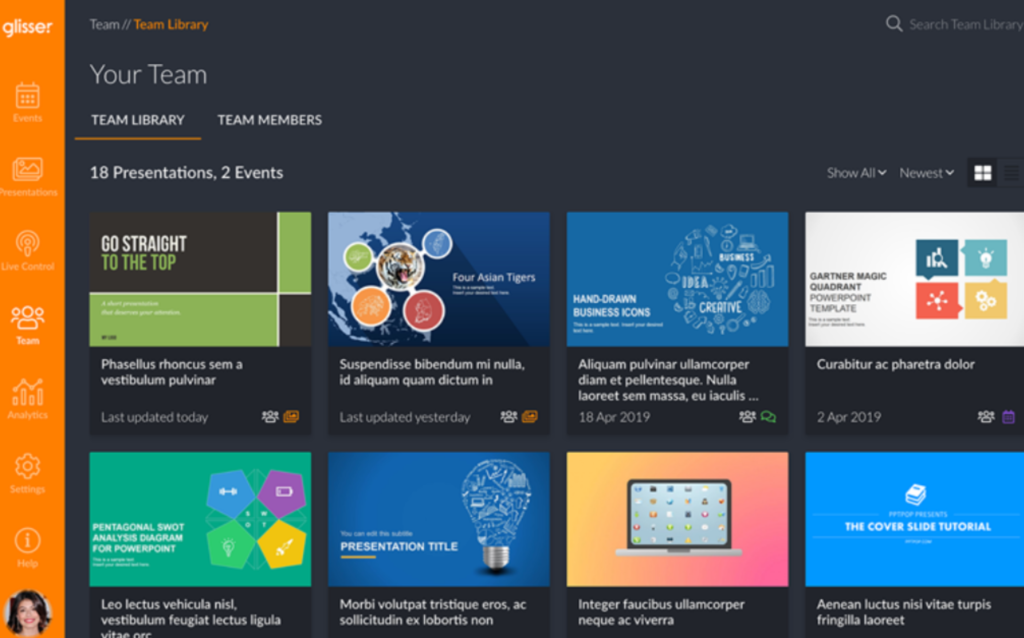 Do meetings sound boring?
Not anymore with Glisser – the audience interaction tool that allows you to hold virtual and hybrid meetings, making them more interesting for the group members.
It allows presenters to create and run interactive polls and quizzes during their meetings. This is a great way to get feedback from the audience, assess their understanding of the material, and generate excitement and engagement.
Glisser also includes a chat feature that allows audience members to communicate with each other and with the presenter during the meeting. This encourages collaboration and discussion.
The tool integrates with platforms such as Twitter and LinkedIn. This allows presenters to share their content with a wider audience and generate buzz around their meetings.
Even the ecosystem of integrations with partners, such as Salesforce, HubSpot, Eventbrite, Slack, etc., can make your meetings more fruitful.
What You Will Like:
Live digital engagement with polls, quizzes, Q&A, feedback, and gamification.
Embed virtual events inside your own website easily.
Monetization features for events, such as sponsored sessions, virtual booths, banner ads, and lead generation.
Upvote and downvote features for questions to identify the most popular question.
Share slides, documents, videos, and other content directly through the platform.
What You May Not Like:
Extremely expensive for small businesses and enterprises.
Limited customization options for presentations.
Price: Starts at €1,199/month. Billed annually.
9. Vevox – Best for Live Polls
Vevox is a polling and Q&A platform you can use to engage your audience in online, in-person and hybrid meetings, and classes.
If you are looking to create live polls, this tool can help you run them in seconds to gauge the views of your audience.
You can choose from multiple poll types, such as multiple choice, word cloud, open text, star rating, numeric, ranking, XY plot, LaTeX, pin-on image and image polling.
Besides, you can show the live poll results on Present View through integrations or PowerPoint to increase participation and engagement. The look and feel of your live polls can be customized to suit your brand or theme.
And I love that Vevox is already using AI.
You can use Vevox's AI question generator to create new polls in seconds. Besides, you can also use Vevox's PowerPoint polling to run powerful PowerPoint polls seamlessly.
What You Will Like:
Respond to polls anonymously, encouraging more honest and candid feedback.
Quizzes and assessments to gauge the audience's knowledge and understanding of a topic.
Queue up questions and polls in advance for a seamless transition between activities.
Supports both in-person and virtual events.
Poll data and participant response export feature for analysis or reporting.
What You May Not Like:
Does not have a free plan for users.
Does not support video or audio polls.
Price: Starts at $6.75/month. Billed annually.
10. Quizizz – Best for Interactive Quizzes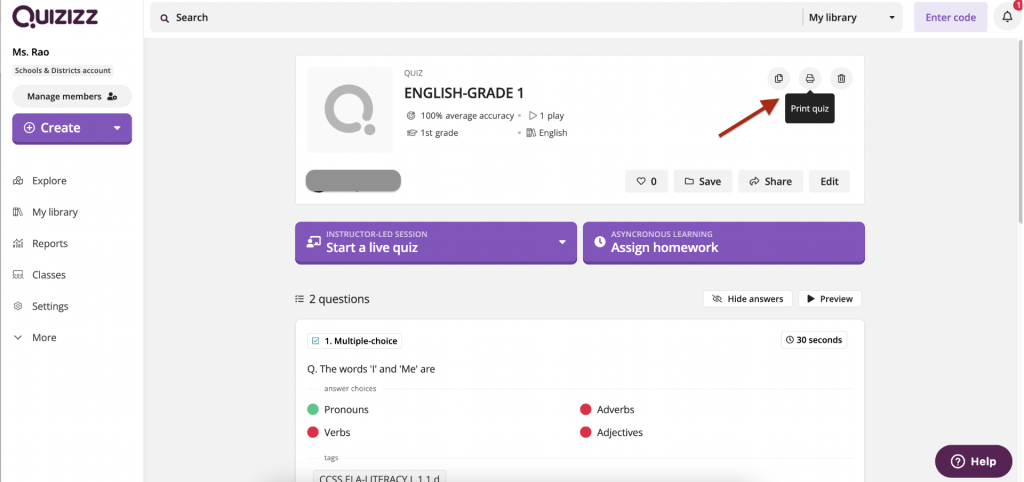 Did you like Vevox's AI question generator?
Well, AI does much more for audience engagement with Quizizz, where you can create AI-powered quizzes for your audience.
You can create interactive and engaging quizzes and lessons in just a few minutes, using a variety of question types, media, and gamification elements.
Besides, you can upload your docs or PDFs, copy-paste text, or add links to public websites. Next, the Quizizz AI will generate brand-new quizzes that are aligned with your content needs.
One of the things that I really like about this audience engagement solution is that it uses AI algorithms to adapt questions based on the performance of individual participants.
It adjusts the difficulty level of questions to match the skill level of each learner, ensuring a personalized learning experience.
You can also incorporate gamification elements, such as leaderboards, points, and timers, to encourage active participation and competition among peers.
What You Will Like:
Supports live and asynchronous modes to engage with your audience anywhere, anytime, and on any device.
Team modes where participants work in collaboration to answer questions and achieve a common goal.
Supports features like screen sharing and remote monitoring.
AI-powered recommendations for additional resources based on the participant's performance.
Immediate feedback after each question, allowing participants to learn from their mistakes.
What You May Not Like:
There is a limit on the number of questions in a quiz or presentation.
Many of the great features are locked behind a premium plan.
Price: Limited free plan. Paid starts at $19/month. Billed annually.
Ready to Pick the Best Audience Engagement Tool?
So many excellent tools, right?
Which one to pick?
After a detailed review of all these tools for audience engagement, I have narrowed down the list to three, which I think could be the most engaging options:
ProProfs Quiz Maker
ProProfs Quiz Maker is a secure and versatile tool for engaging your audience with a variety of quizzes, including personality and scored quizzes. It offers diverse question types and a vast library of templates and questions for customization.
It features a mobile-responsive UI and AI-driven analytics. You can create personalized personality quizzes with branching logic and customize point values for assessing knowledge.
The platform fosters healthy competition with leaderboards, supports multimedia questions, integrations, and allows white-labeling for branding. It's a comprehensive solution for interactive and engaging quizzes.
LoQuiz
LoQuiz is a captivating audience engagement solution that turns real-life environments into interactive games.
It's versatile, and offers city tours, scavenger hunts, and other educational games. The use of GPS and geolocation tech ties the experience to specific locations. You get interactive maps that guide participants, and customization options make it adaptable for various themes.
With rich content like audio effects, images, and video, you also get an engaging and immersive experience, perfect for entertaining and educating your audience in a unique way.
Glisser
Glisser can be your ticket to captivating virtual and hybrid meetings. With it, presenters can spice up meetings with interactive polls and quizzes, fostering engagement and feedback.
The chat feature promotes audience interaction and collaboration. Plus, its integrations with Twitter and LinkedIn expand your reach to generate buzz.
Even the partner integrations, such as Salesforce, HubSpot, Eventbrite, and Slack, add depth and productivity to your meetings. No doubt, it's the antidote to mundane meetings!
Different tools with distinct engagement modes – which one do you find the best?
I would go for ProProfs Quiz Maker for its entertaining quizzes that help in engaging the audience and also allow marketing practices through quizzes. The platform has lots of engaging question types, and it also uses AI to create quizzes quickly and easily along with gamification features.
Learn More About Audience Engagement Tools
What are audience engagement tools?
Audience engagement tools are digital solutions designed to facilitate meaningful interactions between businesses and their target audience. These tools encompass a wide range of software applications and platforms that help organizations connect, communicate, and build relationships with their customers or followers. They include social media management tools, email marketing platforms, live chat systems, surveys and feedback software, webinars, and analytics tools.
Watch: How Estudios Boosted Student Success & Satisfaction by 50% with ProProfs
How do you engage an audience?
To engage an audience effectively, you can create relatable content and employ interactive tools like polls and quizzes. You can also use social media for real-time interaction, host live events, and gather feedback through surveys. Besides, you must listen to audience feedback and adapt to their changing needs and preferences, fostering a lasting connection over time.
Which tool is best for gathering audience responses quickly?
When seeking quick audience responses, prioritize a tool that offers real-time interactivity and ease of use. Look for features such as instant polling, live Q&A, or interactive quizzes. Besides, the tool should align with your audience's familiarity and accessibility, ultimately facilitating swift engagement and feedback collection in your specific context.
Do you want free Quiz Software?
We have the #1 Online Quiz Maker Software for complete learning & assessment