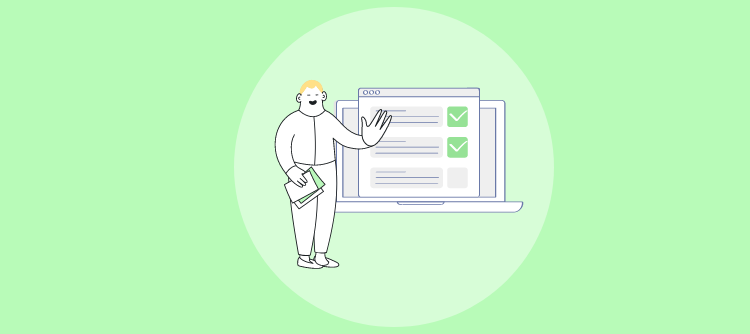 You can't buy engagement; you have to build engagement ~ Tara-Nicholle Nelson, Business Coach
Building audience engagement requires effort, but it's like a secret sauce that makes your target audience want more. So the efforts are totally worth it.
To put this into perspective, companies that focus on higher audience engagement have:
25% increase in customer loyalty
over 10% increase in net profit
Not only this, they are also able to achieve a 55% higher share of wallet.
As important and significant audience engagement may sound, achieving it has gotten quite simple, courtesy of tons of online tools that engage the audience on a continuous basis.
Some of the best audience engagement tools out there offer quizzes, polls, surveys, conferences, and many other features to boost audience engagement.
With many options, it can get difficult to zero in on the one that's best for you, but don't worry.
This is why we have prepared a well-researched list of 15 of the top audience engagement tools making it super simple for you to compare their features, pros & cons, and pricing to choose the right tool.
So sit back and follow along.
What is an Audience Engagement Tool?
Simply put, an audience engagement tool is a platform that lets marketers interact and engage with the audience through different channels and tools like quizzes, polls, surveys, Q&A sessions, and more in real-time.
These audience engagement tactics can be used during both face-to-face and online interactions where participants can give their inputs and respond to questions in real-time.
Audience engagement platforms offer a simple way of facilitating interaction between the speakers and audience to ensure engagement. These platforms also enable speakers and participants to keep the dialogue open while participating in the conversation.
Here are some of the places where tools for audience engagement can be used:
Conferences

Events

Training sessions

Educational institutions

Social media
Now let's take a quick look at some of the best audience engagement tools through a feature comparison table.
Related Read– Want to learn more about customer engagement? Have a look at Omnichannel Customer Engagement 101: Every Business Owner Should Know
Feature Comparison Table
Here are 15 of the best audience engagement tools with features and pricing.
Tool
Features
Price
ProProfs Quiz Maker
100+ built-in quiz templates
100,000+ questions
Add images, videos and more
100+ themes & backgrounds
Enable collaboration
Easy embedding
Powerful integrations
Starts at $20/month
ProProfs Poll Maker
Built-in poll templates
Wide range of customizations
Add videos, images, and graphics
Easy embedding
Targeting options
Automatic reports and statistics
Prevent duplication
Starts at $4.97/month
Mentimeter
Poll builder
Supports smart devices
13+ question types
Trends and data exports
Content slides
Free stock images integration
Starts at $11.99/month
Glisser
Monetization options
Real-time translations
Virtual booths
Measurable video interstitials
Attendee-2-attendee connectivity
Seamless integrations
Available on request
BuzzMaster
Online events
Event experience canvas
Hybrid events
Tailor-made podcasts
Cloud-based interactive presentations
Send selfies
Available on request
Slido
Tons of customizations
SSO authentication
Live polls
Q&A sessions
Interactive quizzes
Slido analytics
Starts at $8/month
Engagenow
Create polls
Ask questions from their mobile phones
Rate presentations
Start discussions
Moderate discussions
Second screen
Starts at $29/month
Cvent
Mobile phone session interactions
Custom event app
Rules, session fees, and maximum capacity
Create polls
Push notifications
Gamification
Available on request
MeetingPulse
Multiple polls
Live sentiment analytics
Live quizzes
Create schedules
Run raffles
Automatic reports
Starts at $10/month
Catchbox
Activate events
Hands-free presenter mic
Integrates with leading audio/video solutions
Robust radio
Temporary switch off
Customize branding
Starts at $450/box
Angage
Instantaneous calls
Manage ticketing
Customized applications
Integrate charts
80 different modules
RGPD standards
Available on request
LoQuiz
Create tours
Build games
Personalize tours
Sophisticated quizzes
Deliver information
Team building events
Starts at $55/month
Captello
Lead retrieval forms
Tailored forms
Personalize communication
QR codes
Unlimited users
Compatible with all OS
Available on request
Snapbar
Stickers and visuals
Capture leads
Custom text
Single dashboard
Edit content
Monitor usage
Available on request
Crowd Mics
Post comment
Conduct polls
On-screen instructions
Notify attendees
Publish results
Gauge engagement
Available on request
With the features and pricing compared, let's now move ahead and take a detailed look at all the audience engagement tools.
Best Audience Engagement Tools
Now, let's have a look at 15 of the best audience engagement platforms: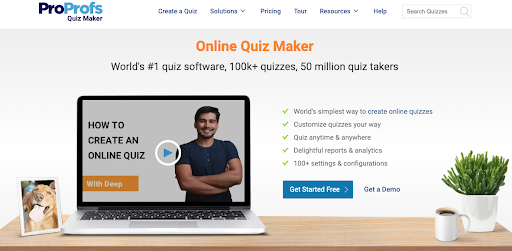 ProProfs Quiz Maker is one of the most popular cloud-based tools specializing as a quiz maker and an online audience engagement tool for businesses across the world.
Users can create both "personality" and "scored" quizzes with ease and share these with the audience through different channels including social media platforms to create and boost audience engagement.
You can use it to easily build interactive quizzes to not only engage your customers and prospects but generate qualified leads in the process too.
For example, you can create and share product recommendation quizzes on your websites for a high level of audience engagement and conversions.
Features:
Create quizzes within minutes using 100+ built-in quiz templates

Always ask the right questions from a library of over 100,000+ questions

Add videos and other information into quizzes to teach and engage your audience

10+ question types with branching

Create customizable certificates to reward the quiz takers

Share quizzes on different platforms and enable collaboration

Easily embed quizzes on targeted websites to gain maximum exposure

Integrate with powerful online marketing automation tools to grow mailing lists
Pros:
Intuitive and customizable UI

Easy to set up and deploy

Multiple language support

Automatic analysis and reporting
Cons:
Needs more industry-related templates
Price: Starts at $20/month
Watch: How to Create Online Quizzes Easily With ProProfs Quiz Maker
Get Started With ProProfs Quiz Maker For Free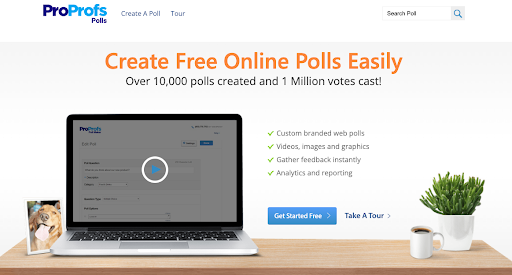 ProProfs Poll Maker is one of the most popular tools for audience engagement that lets marketers and business owners create polls and take inputs from the audience.
With ProProfs Poll Maker, anyone can create different kinds of polls which are completely customizable. Such polls can be built according to your brand or target audience to grab their attention and boost engagement at the same time.
Also, once the respondents take up the poll, you will be instantly notified, and you can gauge their level of engagement and satisfaction with the help of automated reports and statistics.
Features:
Create polls instantly using tons of built-in poll templates

Give your polls an identity by customizing and branding them

Add videos, images, and graphics for better visualization and increased engagement

Easily embed polls on websites or share them on social media

Target specific users and measure customer satisfaction

Easily analyze results through automatic reports and statistics

Prevent duplicate voting and make polls private
Pros:
Multiple question types

Post on blogs

Supports photographic answers
Cons:
Lacks administrative controls
Price: Starts at $4.97/month
Watch: Difference Between Quiz, Survey, Scored Survey and Polls
3. Mentimeter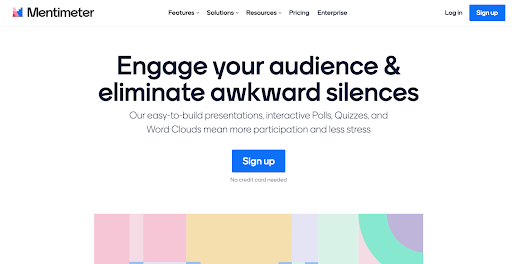 Mentimeter is a highly interactive mobile voting application that shows results live through real-time charts and graphs. It offers tons of polls and quizzes that are ideal for live, virtual, and hybrid events. It can easily handle over 30,000+ votes per minute, and it works for gatherings and events of all sizes. Users can also host interactive workshops and training sessions for increased engagement.
Features:
Build beautiful polls within minutes with the help of a poll builder

Collect data, input, and opinions from your audience through smart devices

Get all the insights of your target audience through trends and data exports

Ask any type of question with the help of 13+ question types

Easily build presentations with the help of content slides

Integrate with free stock images to make your polls even more interactive
Pros:
Easy to understand and use

Customizable polls

Follow up sessions based on answers
Cons:
Challenging for less tech-savvy users

Needs more designs in the free version
Price: Starts at $11.99/month
4. Glisser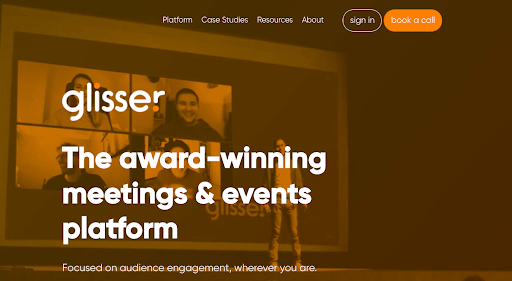 Glisser is a hugely popular and award-winning events and meeting platform that lets presenters share slides to the audiences' mobile devices during presentations. The audience members also get to interact with those presentations, and they can easily like, comment, or even share those presentations on their social media.
With Glisser, the audience members can also download the presentations, making things more convenient.
Features:
Customize the look and feel promotions and monetization options

Wide range of video streaming options, including real-time translations

Capture sales qualified leads with virtual booths

Video interstitials can be highly targeted and are also measurable

Get audience-driven connections through attendee-2-attendee connectivity

Integrates seamlessly with registration and CRM platforms
Pros:
Automatically records all meetings

Chat during conferences in real-time

Easy analysis of session data
Cons:
Does not have a planning calendar

Participants don't get any notifications
Price: Available on request
5. BuzzMaster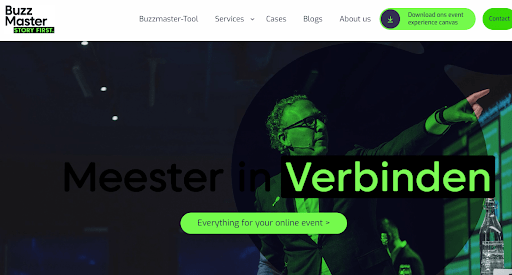 BuzzMaster is a popular Dutch audience engagement platform that has a slightly different value proposition where it lets real people to moderate the responses of the audience in real-time. These people are known as "BuzzMasters," and they are experienced journalists or event managers who go through all the responses of the audience and find your visitors' best stories.
BuzzMaster works great for conferences and debates where you can easily stimulate conversations.
Features:
Develop the foundation of every event with event experience canvas

Stay in touch with your audience through online events

Organize hybrid events to immerse your visitors in a valuable experience

Inspire your visitors through tailor-made podcasts

Use your audience as experts through cloud-based interactive presentations

Participants can send selfies with their questions to provide an identity
Pros:
Conduct SWOT analysis with participants

Create timelines

Use maps and images to get answers
Cons:
Needs more flexibility with scheduling presentations
Price: Available on request
6. Slido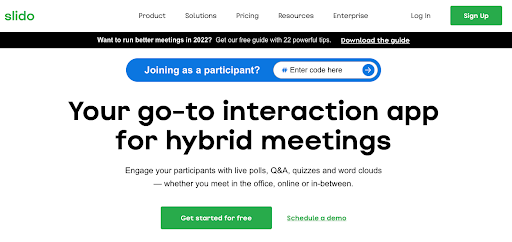 Slido is a flexible audience engagement platform that stimulates your attendees to think and participate in a more creative manner through Q&A and polls. It integrates seamlessly with other virtual events platforms and opens up a two-way communication street between the audience and your organization.
Slido also offers fun and interactive quizzes that you can use to easily gauge the understanding of the audience.
Features:
Customize Slido to match your own brand identity

Get additional security for your meetings with a passcode or SSO authentication

Use live polls to turn one-way communication into n interactive conversation

Conduct audience Q&A to let your participants ask questions

Make your meetings fun and interactive with quizzes

Get automatic insights through Slido analytics
Pros:
Intuitive and easy to use

Supports over 5+ polling options

Integrates with Office 365
Cons:
Complicated integration process

Needs more reporting metrics
Price: Starts at $8/month
7. Engagenow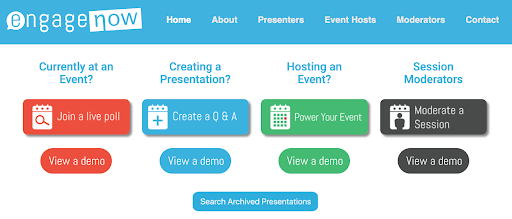 Engagenow is another great option on the list of best audience engagement tools as it offers live Q&A, polls, quizzes, conferences, and events to empower the audience to interact with the organizers. Engagenow can also be used to open up conversations during an event or crowdsource questions to spark debate and also engage the audience members. It's perfect for events like debates and panel discussions.
Features:
Create polls and bring the speaker and listener together

Let audience members ask questions from an audience response software via mobile phones

Rate presentations and moderate discussions

Open a chat about the events and start discussions

Moderate discussions and create a buzz around important events

Engage and empower your viewers with a second screen
Pros:
Business calculators and assessments

Capture and show live results

Easy moderation
Cons:
Price: Starts at $29/month
8. Cvent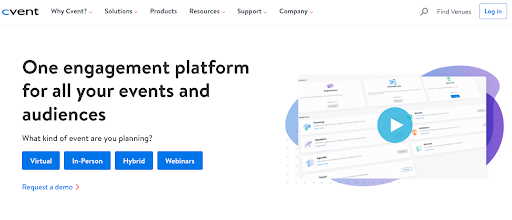 Cvent (formerly known as QuickMobile) is one of the best online engagement tools that lets the audience vote through polls and feedback or answer multiple-choice questions right from their mobile phones. Presenters can also create polls instantly and schedule questions ahead of time to create an extremely interactive session. Presenters can also easily tailor their presentations based on their audiences' responses.
Features:
Extend event engagement with mobile phone session interactions

Build your event app based on your event's need

Apply rules, session fees, and maximum capacity for events

Send push notifications and keep your attendees informed

Use polls and surveys to get feedback during or after your event

Implement gamification and create challenges for your attendees to earn points
Pros:
AI-powered recommendations

Easy lead generation

100+ metrics for accurate measurement
Cons:
Cannot override the WYSIWYG

Complicated website editor
Price: Available on request
9. MeetingPulse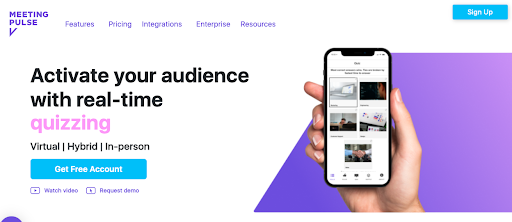 MeetingPulse is an online audience engagement platform that aims at creating amazing experiences for your audience through interactive presentations. It is a great tool as it provides tons of leeway for planning and brainstorming for your event.
What's more, users get an event concierge to provide assistance during the events and to ensure that everything runs smoothly. You can also add, store and analyze the results at the end of every event.
Features:
Run multiple polls to get feedback from the audience

Deploy live sentiment analytics to understand how your audience feels

Measure knowledge and understanding with the help of live quizzes

Create schedules so that your attendees know when to be present

Run raffles to boost audience engagement

Automatically create reports at the end of meetings
Pros:
Takes only minutes to set up

Works on all browsers

Extremely scalable
Cons:
Cannot customize individual meetings

No custom emojis
Price: Starts at $10/month
10. Catchbox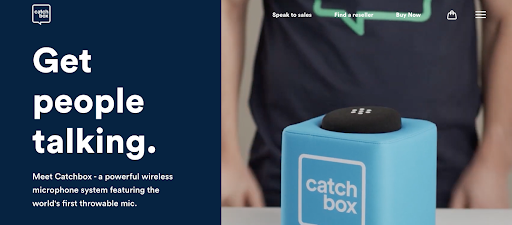 Unlike every other tool in this list, Catchbox is not an application, but instead, it is a real, full-fledged microphone inside a box. However, it's not like any other microphone out there.
It is a throwable wireless microphone that can be chucked at the audience, and it acts as an audience response system. It saves the organizers from making their way through the crowd and engages the audience by letting them participate completely differently.
Features:
Activate your events and inspire the audience to participate

Take charge of the room with the hands-free presenter mic

Connect two Catchboxes and maximize the engagement

Robust radio with uninterrupted digital signals

Switches off temporarily during transitions to avoid capturing noise

Add logo and branding to your Catchbox for unique identification
Pros:
Integrates with other audio/video devices

Safe and durable
Cons:
Doesn't work with older audio/video systems

Not suitable for small events without amplified sound
Price: Starts at $450/box
11. Angage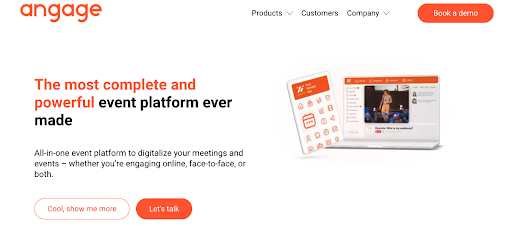 Angage is another one of many virtual engagement tools that does things differently because instead of letting the audience vote from their mobile phone, it equips them with voting keypads. This makes the overall process much simpler, even for the less tech-savvy audience. The audience can select numbers or letters on the keypad, and the responses can then be displayed in real-time.
Features:
Simple and instantaneous conference calls to connect anywhere and anytime

Manage ticketing and registration

Q&A module to enale audience to ask questions, vote on favorite questions and more

Integrate your charts and graphics within minutes

Customize icons and functions from a selection of over 80 different modules

Share content in real time and comment – from any device, anywhere.

Good for face-to-face, online and hybrid mode events
Pros:
Easy to use

Variety of voting options

Securely digitized voting sessions
Cons:
Limited question types available
Price: Available on request
12. LoQuiz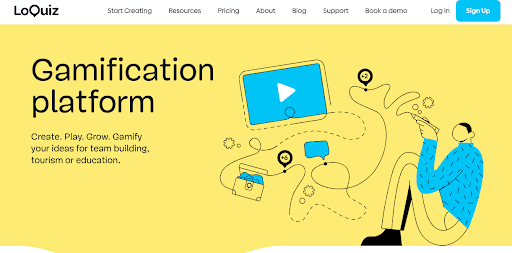 LoQuiz is a unique audience engagement tool because it creates real-life games, similar to scavenger hunts, to make gatherings and events more remarkable and engaging. The tool lets you create bespoke treasure hunt games that the participants can play using the photos and clues built into the application.
The application uses GPS for outdoor games, and the outcome of the games is based on how participants perform, so every game is different.
Features:
Create self-guided, audio, walking, and bicycle tours for tourism

Build games seamlessly with the help of popular game templates

Personalize your tours by adding different customizations and branding

Create sophisticated quizzes and scavenger hunts for a range of events

Onboard employees by delivering information and details through games

Entertain teams through on-site and remote team building events
Pros:
Simple skip logic

Strategy tweaking

Works on tablets
Cons:
Only accessible through the app

Requires special permissions in some places to play
Price: Starts at $55/month
Related Read– If you are looking for some of the best employee engagement tools, take a look at Best Employee Engagement Software & Tools
13. Captello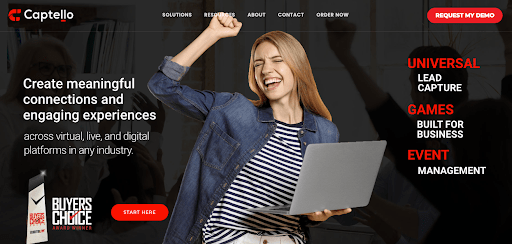 Captello is one of the most popular lead capture and audience interaction tools that aims to give event marketing personnel greater control over participant engagement, gathering, distributing qualifying, and tracking leads.
Users get tons of customizable game templates that they can use to attract and engage with the audience that will eventually help their business connect with people on a deeper level.
Features:
Capture and qualify leads instantly through lead retrieval forms

Foster engagement through tailored forms by delivering follow-ups

Personalize communication by connecting with prospects through text or emails

Create brand-centric QR codes with personalized designs

Have an unlimited number of users on one device for maximum input

Compatible with all operating systems and integrates with all the popular tools
Pros:
Easy report creation

Supports all lead capture methods

Real-time functionality
Cons:
API integration is a little buggy
Price: Available on request
14. Snapbar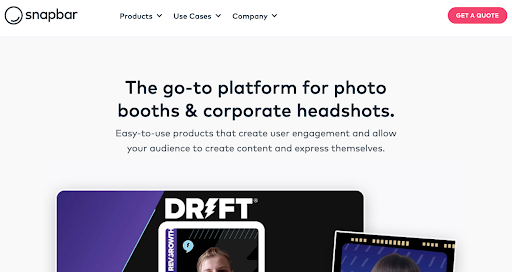 Snapbar is a brand and a virtual engagement platform that creates photo and video products that lets organizations engage and connect with the audience they want to. Snapbar was designed for in-person, virtual, and hybrid events, and their product lineup includes photo booths, virtual headshot solutions, marketing campaign sites, and selfie stations installed around the world.
Features:
Customize photos with event-specific stickers and visuals

Capture leads by letting your audience create content

Lets people express themselves with custom texts

Manage all your events from a single dashboard

Manage and edit the content after it has been created

Monitor usage and keep track of all the content that has been created
Pros:
Does not require an app

Supports language translation

White label everything
Cons:
Might generate unqualified leads
Price: Available on request
15. Crowd Mics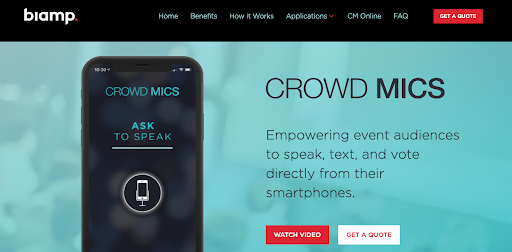 As the name suggests, Crowd Mics turns audiences' phones into microphones. Audience interaction tools like these are especially useful in events that require a lot of moving around and in cases where the best solution is a wireless microphone. The Crowd Mics application pairs with an ATOM box that plugs into the event venue's sound system, and the moderator can then use the interface to control who speaks.
Features:
Ask questions or post comments through texts

Gauge audiences' opinions through polls

Guide audience with on-screen instructions

Notify attendees when it's their turn to talk

Publish poll results in real-time

Review results and measure participation and engagement
Pros:
Easy to set up and connects right away

No geographical boundaries
Cons:
Relies heavily on the internet
Price: Available on request
Boost Audience Engagement Effortlessly
Sustained audience engagement is particularly important when it comes to running a successful business.
There are tons of new avenues to explore, and with the right online engagement tools you can reach a wider user base, interact and engage with them on a much larger scale. Make sure you choose a user-friendly tool that offers customization options for a variety of audiences and event types along with awesome customer service.
Now the floor is yours, take your favorite audience engagement tool for a spin and make a difference.
Do you want free Quiz Software?
We have the #1 Online Quiz Maker Software for complete learning & assessment