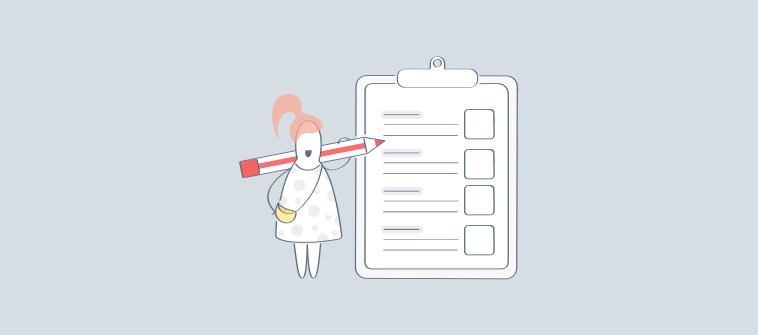 It wasn't too long ago that marketers realized the value of including quizzes as a part of their marketing strategy, and quizzes soon became a tool for lead generation.
These days, most brands are considering online quizzes to engage prospects, gather their data, and look into their tastes & preferences. And why wouldn't they? Quizzes are easy to create, share, and people love taking quizzes!
Also, 81% of marketers think interactive content is one of the best ways to grab audiences' attention.
Interactive marketing tools like quizzes are increasingly more effective than traditional ways of engaging audiences.
When created carefully with the most engaging questions, marketing quizzes can translate into better audience engagement and faster lead generation.
And, we're here to help you achieve that by discussing how you can build engaging questions for an effective marketing quiz.
Why Should You Use Marketing Quizzes?
We know saying "everyone is doing it" isn't reason enough, but really, everyone is doing it!
From Airbnb to Knorr, Hyundai, and Disney, many big brands are using quizzes as a part of their marketing strategy for various reasons.
Even platforms like Instagram and Amazon are conducting quizzes every day to facilitate audience interaction.
Amazon hosts daily quizzes on its website to offer prizes to its visitors.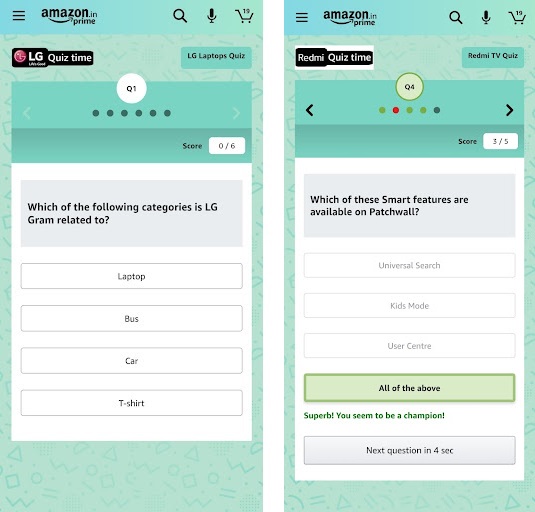 Instagram keeps posting random quiz questions on their stories to test its followers' knowledge about popular shows and even gives results.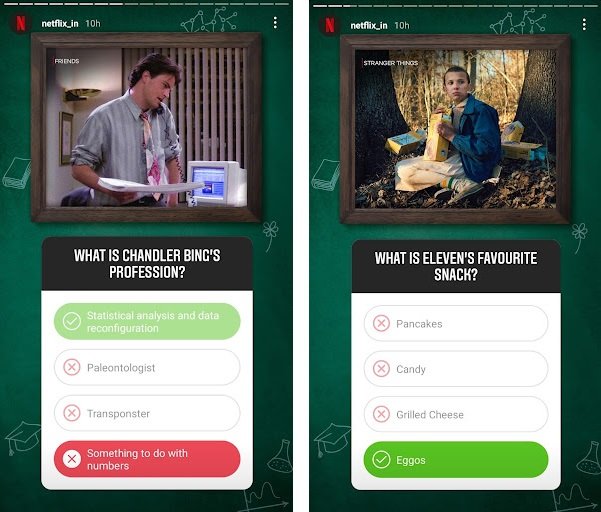 We couldn't help but participate and guess what? We got an A+!
There have been cases wherein the quizzes shared by brands went so viral that quiz-takers ended up visiting the creator's websites.
One such case is that of Food52. On July 7, 2014, a food blog shared a quiz called "Which cake are you?" on Facebook.
The quiz result showed each participant's "cake personality" along with a link to check out its recipe. In just three days, the quiz was a hit with more than 20,000 attempts.
Food52's is not the only success story.
The "You've Been Framed" quiz generated over $1 million in revenue and 29,410 lead conversions with a 9,655% ROI in 6 months.
In both of the above cases, the participants who took those quizzes stayed glued to the quizzes until the very end. This brings us to the following conclusions:
People love a well-designed quiz.

Quizzes can be shared.

They help widen reach.

Quizzes are an excellent way to generate leads.
Well, that's a lot of reasons for you to use quizzes in your marketing strategy.
Here's another thing you must pay heed to: Every aspect of the quizzes that we talked about was so gripping that it could carry the customer until the end.
One of these fundamental aspects is engaging quiz questions, which are seldom talked about. But we're here to talk about them!
We'll discuss why it is important to create engaging quiz questions and tell you how to create those.
But, before we do that, we want you to take a look at different types of quizzes that you can use as a part of your content marketing strategy:
Knowledge Quiz

Personality Test

Educational Quiz

Video Quiz

What Happens Next Quiz

Video Quiz

Shopping Quiz
You can use these quizzes to simply engage your audience, educate them about your brand, or even generate leads. See which type of quiz best fits your marketing strategy and start creating one. You can thank us later!
Why Is It Important to Create Engaging Quiz Questions?
Although many factors contribute to the success of a quiz (which have been talked about a zillion times), very little attention has been given to its questions that play an essential role in carrying the participants to the end.
The first thing you need to take care of when deciding how to write a quiz should be the quality of the questions. And the reasons are:
Participants won't reach the end of the quiz if the questions are annoying or escape their interest.
The questions are the right spot to create a conversation with quiz takers and build rapport.
Unlike other forms of content like blogs and videos, where you address a broad audience all at once, quiz questions and answers provide a one-to-one medium to communicate with your audience.
That's why knowing how to write perfect quiz questions is critical to constructing engaging marketing quizzes.
Your real goal should be for the participant to invite others to take the quiz.
Anyone can create quiz questions, but coming up with engaging questions that make people complete your quiz takes a lot of trial and error, practice, and skills.
And that brings us to our next section.
Top 5 Tips to Write Engaging Quiz Questions
These are our top five tips for creating engaging quiz questions that'll save your quiz from being ignored.
1- Mind the Length
There's one thing in common shared by the majority of high-performing quizzes. The questions are reasonably short. This is, in fact, one of the fundamental factors to consider when you are wondering how to write engaging quiz questions.
Take a look at this example from ProProfs' 'How Much Do You Know About Nutrition?' quiz. The question is summed up in 10 words, and all of the answer options have just a single word.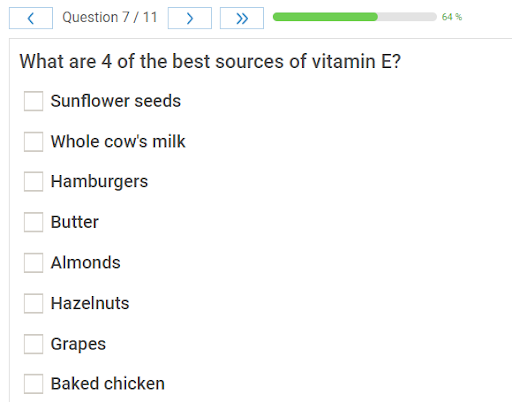 Short questions only take a matter of seconds to go over.
Whether it's a quiz with personality quiz questions or trivia quiz questions, the questions shouldn't require too much thought to answer, so the question itself should be just a simple sentence.
Here's a Tip: Instead of a typical quiz question, create a statement with answers such as Rarely, Sometimes, Never, Always, Frequently, etc.
---
Read More:- A Guide To Creating the Perfect Personality Quiz
---
2- Keep These Simple
How would you feel if you had to reread a question one or several times before you could understand what to ask? Not very exciting, right?
So, never try to outsmart your quiz takers by making questions unclear. If you try to trick your quiz takers with questions too smart (read: too tricky/complicated), you'll end up losing the game.
The quiz takers may spend too much time racking their brains instead of having to enjoy the quiz and may drop out of the quiz even before it ends.
Great quiz questions should be neither too difficult nor too easy. You don't want your quiz takers to get irritated trying to understand the questions and leave the quiz incomplete.
Here's What You Can Do To Keep The Questions Simple:
Keep the language easy and tone interactive (for human touch): Simple language is the key to perfect quiz questions. Also, do not make it too detailed and wordy.
Spare your words: Whether you call it verbosity or wordiness, these are the same. Don't use overly complicated terms that your audience won't be able to understand.
Avoid:
Jargon or fancy vocabulary.

Ambiguous terms and complex sentences.

Slang and cultural references.

A negative question like "Which of the following is not"
Take a look at this example from ProProfs Health Quiz.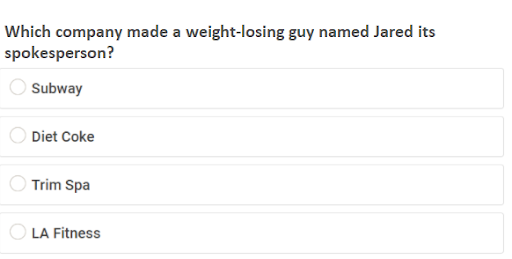 The language is simple and easy to understand. All of the questions in this quiz contain common, everyday terms.
Remember – The goal of a quiz is to make the participants complete your quiz, not for them to think how smart you are.
Use tools like Microsoft Word's readability statistics, an online readability score tool, or even the Hemingway App to ensure your quiz questions and answers are easy to read.
---
Read More:- How to Create a Lead Generation Quiz
---
3- Use Images & Videos
'A picture is worth a thousand words.'
This statement stands true even in the case of quizzes. Images can make a massive difference to your quizzes.
Also, did you know that 65% of people are visual learners, and over 90% of information coming to the brain is visual?
Luckily, some quiz makers allow you to insert images and videos in questions and answer options.
Here's how including images & videos in a question can help:
Writing lengthy or wordy questions can be avoided since an image or video alone can convey the data or scenario.
Including images in the answers help the quiz taker remember the correct answer for a longer time.
Images also bring humor to your quiz questions and answers or make the participants' experience more fun.
Check out this quiz, for examples, which asks quiz takers to identify historical landmarks based on the image displayed with each question:
There are many types of quiz software that allow using images and videos within questions & answer options to make the quizzes interesting. Do look up one of such software tools.
---
Read: How to Create Interactive Video Quizzes
---
4- Do Not Deviate From the Topic
This one is a no-brainer, but keep your questions close to the topic.
Asking takers about the favorite food of a F.R.I.E.N.D.S character in a quiz titled 'Which Cuisine You'll Love' is not only bizarre, it's also deceiving the quiz taker. Make sure you ask them only what they've come to answer in your quiz.
For example, in a quiz titled "What Type of Tree Are You?", asking about clouds and nature is the perfect way to understand what kind of tree someone is.
If it were a quiz about what you should be making for breakfast, you wouldn't want to ask this question.
Having your quiz reviewed by a person will help because they can tell if any of the quiz questions are just totally off-topic.
5- Pay Heed to the Number of Questions
One of the essential factors that can make or break your quiz is the number of questions.
Too many questions may bore the participant, and they might give up the quiz even before completing it.
On the other hand, having too few problems may make the participants feel the quiz is too superficial to answer. Look at the popular fun quiz questions, and you will surely see this pattern.
The average quiz taker won't have more than a couple of minutes to complete a quiz. So, the ideal number of quiz questions falls somewhere between 7-10.
After all, you're trading the number of leads for quality.
Here's a Tip: You can tell your quiz takers how many questions there are in advance.
For example, Pick Seven Junk Foods, And We'll Tell You What % Trash You Are, one of the best performing Buzzfeed quizzes of all time, lets its participants know that there are seven questions.
And this quiz which tells you which celebrity do you look like clearly states at the very beginning that there are just 10 questions to answer.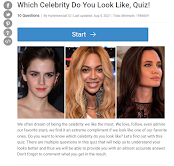 To make sure all your questions are perfect for the quiz you've created, start by brainstorming questions and then eliminate those that aren't fun, are too difficult, or don't correlate well with the outcomes.
Bonus Tip
To make sure that your quiz only has engaging questions, you can use quiz software to create a quiz.
Using quiz software will make writing quiz questions a breeze since it already has a pool of ready-to-use questions on thousands of topics.
You can find funny quiz questions, history quiz questions, geography quiz questions, Facebook quiz questions, etc., that you can directly import to your quiz.
So, next time when you sit down to write a quiz, follow these tips, and you'll surely end up with a popular quiz that'll be perfect for your marketing needs.
And, once you're done, don't forget to pat yourself on the back for being a perfect quiz writer.
Watch: How to Create Quiz Online
Now that we have told you all about creating engaging marketing quiz questions, let's look at some other elements of a high-performing marketing quiz.
Elements of a High Performing Marketing Quiz
While questions are one of the most important elements responsible for the success of a marketing quiz, some other elements contribute to its performance. Let's take a good look at those elements:
1. Relevance
Make sure the topic you choose for your quiz is relevant to your target audience. By tailoring your quiz according to your audience, you can create more opportunities for lead generation. Find out what your target audience wants and give them exactly that through your quiz.
Choosing a topic that is the cornerstone of the problems and solutions of your target audience is also something you should bear in mind. Such a quiz will always be relevant to your target audience, no matter what date or time.
For example a beauty blogger's audience will be definitely interested in the following topics:
For a pet shop business, the following topics can be interesting for its audience:
2. A Sense of Curiosity
Curiosity is a "deep-seated and fundamental human emotion." In fact, you can very well use the concept of curiosity gap to create online quizzes. Create quiz titles that are irresistible and even more curious quiz descriptions. The titles and quiz descriptions should be the influential factors for your audience.
Take a look at these quiz topics for instance. They all raise questions with a premise that you'll either get to know something about yourself or get to test your knowledge about other things, spiking your curiosity about getting it right or learning something new.
What Anime Character Do I Look Like Quiz

Which TikToker Are You Quiz

What Do You Know About Rare And Exquisite Animals?

How Much Do You Know About Nutrition?

Which Harry Potter Hogwarts House Do You Belong To?
3. A Visual Appeal
It is easier to get people to take your quiz than to keep them hooked to your quiz. Of course, you can create engaging questions that will keep the quiz takers hooked to the quiz, but a visual appeal adds more to their overall experience.
For that, you can use images and videos to make the quiz interesting. Also, play with the color schemes, themes, and fonts to make your quiz visually appealing.
4. Short With Creative Results
A short and engaging quiz with a maximum of 10 questions that give positive results is most likely to be shared by those who take it. If you give the quiz takers a negative or adverse outcome, they might not share it around.
On the other hand, if you create upbeat results, the quiz will most likely be shared by your audience, leading to more prospects for you.
Check out this example of a creatively framed quiz result from a quiz titled How Good Is Your Vocabulary.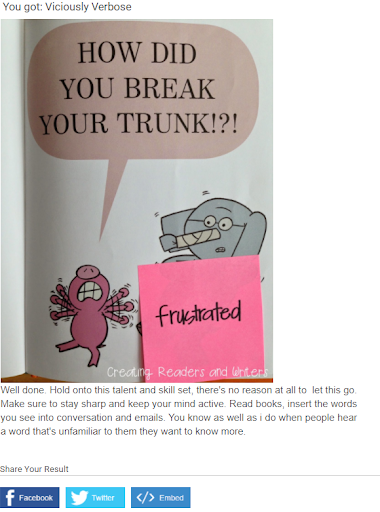 5. Option to Share
A quiz is supposed to be doing great when attempted in large numbers and shared. But for that to happen, it is important that the quiz is shareable and has numerous social share buttons throughout the quiz.
In this way, it's easier for quiz takers to share the quiz with their family, friends, and colleagues. Sharing options increase your chances of going viral.
---
Read: How to Use Quizzes in Your Marketing Strategy
---
These elements are what make or break the success of a quiz.
But that's not all we're leaving you with.
In the next section, we've shared some quiz questions that you can use in your marketing quiz or take inspiration from.
10 Examples of Marketing Quiz Questions to Engage Prospects
When we say marketing quiz questions, we mean a quiz with questions that'll help draw your audience.
The questions shared below will give you great ideas for building quizzes for your next interactive marketing campaign.
Also, we've segregated the questions into different categories to help you understand their applications. Hope it helps!
Questions That Arouse Curiosity
Like we said before (element no. 3), curiosity is a "deep-seated and fundamental human emotion," which makes it a powerful tool of marketing psychology.
Ask questions that make your audience curious to know more about themselves and lead them to a new aspect of self-discovery.
Here are two examples of such quizzes:
1- Which Superpower Do You Have?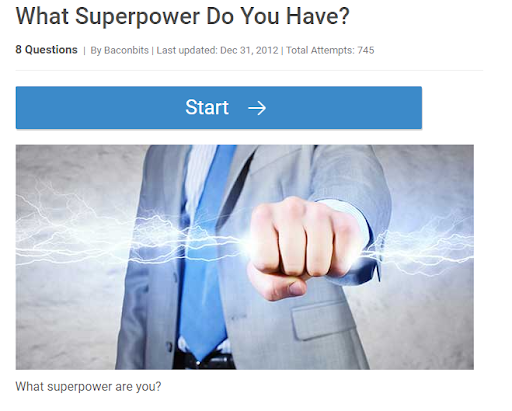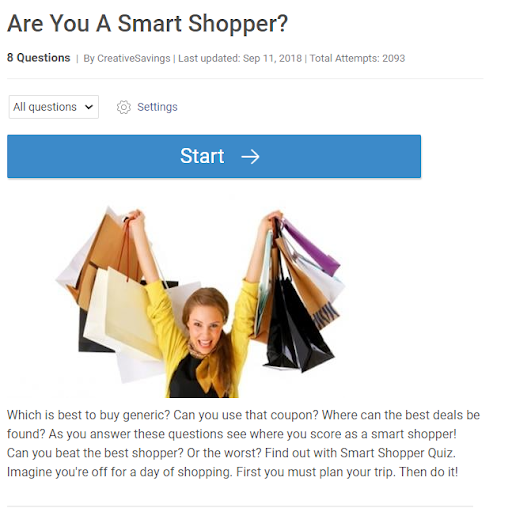 Questions That Instil a Desire
Quizzes help engage the audience when they can connect with their innate desires.
For example, if you run a fashion house, you can ask your audience which fictional fashionista is their role model. Or, if you're a travel company, you spark your audience's interest by asking them to find out their next travel destination.
Here is an example of a desire-based quiz question:
3- What Kind of Vacation Do You Need?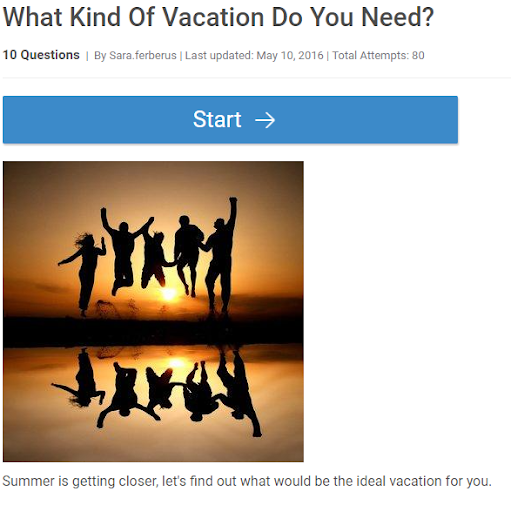 Questions That Challenge
There is something intriguing about questions that challenge us to assess our knowledge about any particular topic and see whether we've got our facts right.
If we don't, no one has to know. But, if you do get them right, you can share your results and let the world know!
This concept applies to your audience too. Create questions that'll challenge your quiz takers to test their knowledge and encourage them to share their results.
Here are two examples of challenging quizzes:
4- How Much Do You Know About WW1?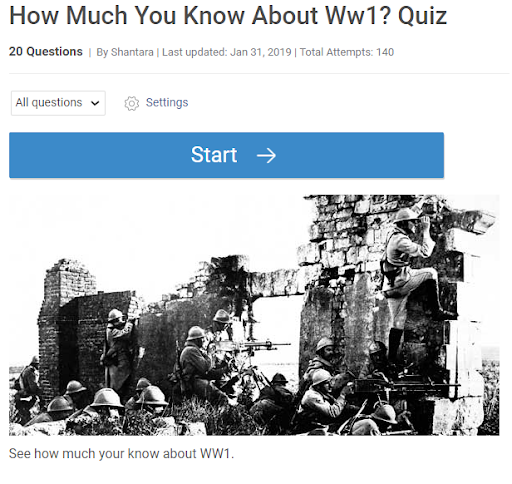 5- The Office Quiz For True Fans!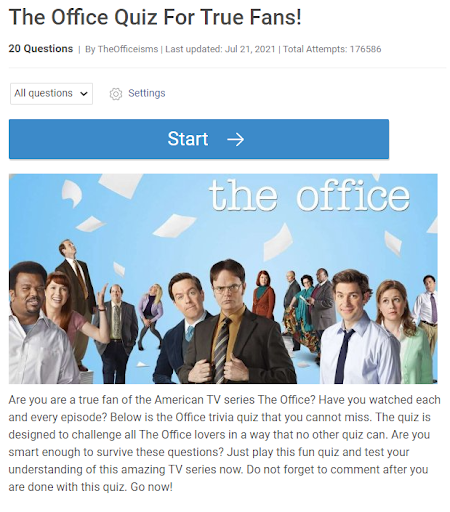 Questions That Compare
Comparing ourselves to others is a natural human tendency. We do it all the time, whether it is our looks, success, wealth, knowledge, etc. All of these are good things. It isn't inherently bad. Comparison often leads us to self-awareness.
In the same way, creating questions based on comparison can help your audience know what they want and where they want to be and get valuable feedback on how they measure up.
Here are two examples of questions that are based on the concept of comparison:
6- What Kind Of Person Are You?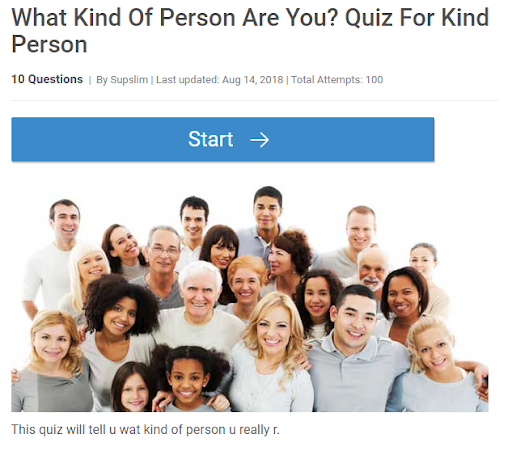 7- Are You An Extrovert, Introvert, Or an Ambivert?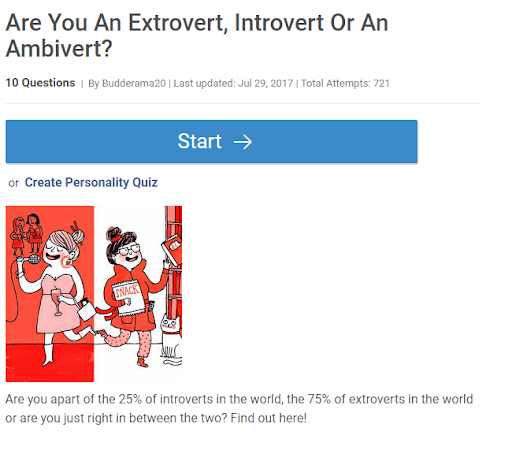 Questions That Reveal Demographic Information
For the process of lead segmentation and identification, it is important to know where your audiences come from. Depending on what your brand is about, this may include their ethnicity, race, income, education, employment.
In that case, you can use a quiz with questions that reveal the required demographic information of your audience.
Here's an example of such a quiz:
8- How Will You Look When You Get Old
Questions for Lead Qualification
By using lead qualification questions in your quizzes, you can very easily narrow down the prospects to potential customers.
It'll also keep you away from wasting your time on low-quality prospects. Instead, you can focus on the prospects that best fit your ideal customer profile based on the answers they provide.
Here's an example:
9- Find Out What Your Fashion Style is!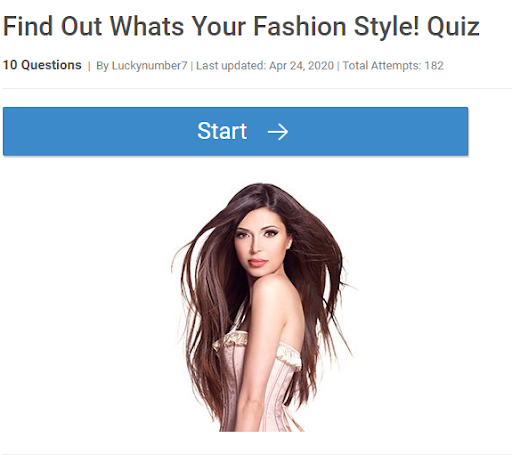 Questions That Define Problems
Quiz questions can help you accurately define the problems of your audience. Once you're familiar with their pain points, you'll be in a position to offer effective solutions to their problems through your products or services.
Look at the following example:
10- What's The Main Reason For Your Stress?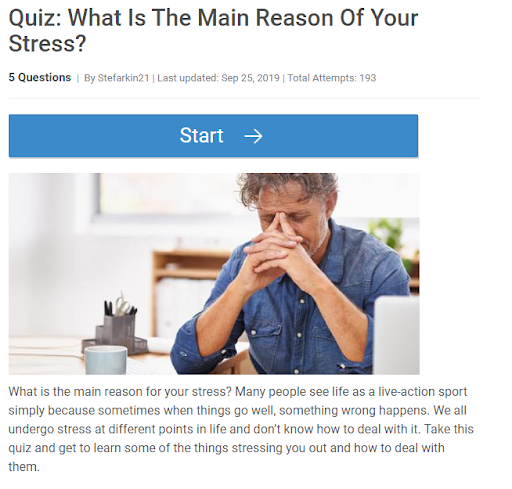 Which ones would you like to use? Let us know!
Get→ Set→ Quiz!
Food52 created a quiz and used it to successfully attract an audience of 20,000 in three days. You can do the same for your brand too!
Creating a perfect marketing quiz is no rocket science, just a matter of framing the right questions for the right audience. Consider the tips and examples we've shared in this article, and you'll have created a viral winner.
Do you want a free Quiz Software?
We have the #1 Online Quiz Maker Software for complete learning and assessment starting at $0