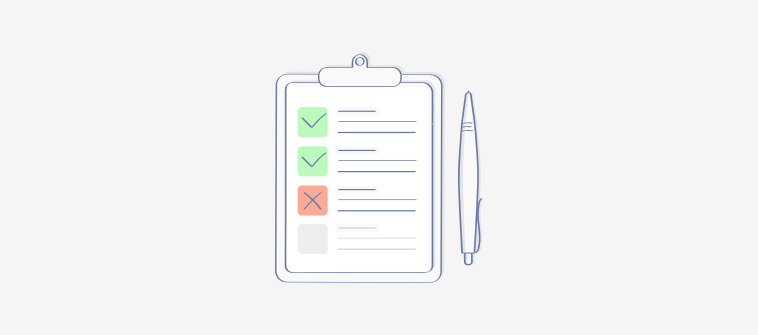 Student assessment is an important aspect of any educational landscape. At every point in a student's life, they face assessments for they're an inseparable part of every student's career trajectory. Not just students, it is an inseparable part of a teacher's life as well since it helps them identify the gaps between learning provided and learning retained.
In every sphere of knowledge, a teacher or an instructor sets some knowledge parameters. Hence, it becomes important for instructors to strategically evaluate the effectiveness of their teaching by measuring the extent to which students in the classroom are learning the course material.
Watch: How to Choose Best Assessment Software

What is Student Assessment?
Student assessment can be defined as the bridge between teaching and learning. It is the process of gathering and evaluating the gaps between knowledge rendered and knowledge retained.
It may sound fairly straightforward, but in reality, student assessment is a complex issue that has many facets. These days, schools, colleges, and other education bodies are making use of assessment tools to meet the requirements of student assessment tools.
Types of Student Assessments
Formative Assessments
Formative assessment is used in the first attempt of developing instruction. This assessment is carried out before the learning is provided to assess the level of existing knowledge based on which the learning to be provided takes shape. The goal is to monitor student performance to provide feedback.
Summative Assessments
Summative assessment is aimed at assessing the extent to which the most important outcomes at the end of the learning have been reached. It is carried out after the learning has been provided. It measures the effectiveness of learning, reactions to the learning provided and the benefits on long-term learning.
Student Assessment Tools
To simplify the student assessments process, education bodies make use of online assessment tools like quiz creator software, Online exam software, etc. as a part of their regular online exam system for schools. A student assessment tool is a software that does the entire work of grading, creating reports, providing feedback, and tracking progress. Encouraged by its ease-of-use, teachers and instructors these days are relying more on online assessment tools.
They are now able to create quizzes, test homework and can see how their students score all within a single assessment tool.
Watch this video to see how assessment tools help augment the process.
In this regard, an online quiz maker is a blessing for teachers since it simplifies the ways in which they test their students and analyze their teaching methods.
Teachers are always looking for ways to improve their teaching, integrating online quizzes is a good way to diversify their assessment tools, and also make knowledge transfer fun for their students.
Using assessment tools to bridge the gaps between teaching and learning is an important aspect of e-learning, which gives an edge to traditional learning models. It is a good idea to use different types of material and varying types of student assessment tests and quizzes to engage everyone in an online class.
How to Choose the Best Assessment Tool?
Michigan State University's Learning Design & Technology division has created a list of questions that can help instructors select the best assessment tools to use for each teaching course, and for each element within a course. Here is an abbreviated list adapted from MSU:
What do you want your students to learn? What do they already know?

Will the assessment be formative or summative? High stakes or low stakes (i.e., how much will they count toward the final grade)?

How many students do you have? How much time will you have to spend grading? Do you have grading support?

Will the students receive feedback? How will that feedback be used (i.e., as a learning tool)?
Answering these questions will help you decide how many and what types of assessment tools to select, as well as how to deliver them. For example, let's say your goal is to discover quickly whether your students are doing their assigned readings or not. Then your best bet would be a short quiz delivered via an online assessment tool that automatically grades and delivers feedback along with performance reports.
On the other hand, if your goal is to see how well students can apply theoretical knowledge to a new situation, then a problem-based assessment, such as a case study, would be more appropriate. The key is to spend some time upfront clearly defining what your students need to learn, and moving forward from there.
---
Read More:- Top Typeform Alternatives that You Need to Know About!
---
Watch How to Create an Assessment Online

A Quality Student Assessment Tool Should Be Able To:
1. Measure How Well Students Meet or Have Met Meaningful Learning Objectives
Note the emphasis is on the word 'meaningful'. Learning objectives can be defined in many different ways, but they must have meaning. For example, what is more, meaningful in a history class: whether learners know the date of a specific historical event happened or whether they can explain the importance of that event? If the meaning of the event is what is important than a multiple-choice test that focuses entirely on names and dates would not be the best choice.
2. Offer to Learn
Quality assessment tools aren't just tools for measurement of students' learning – they are learning tools themselves. This usually takes the form of feedback that instructors provide to students about their performance. This feedback tells students how they are doing and helps them identify their own strengths and weaknesses so that they know where to focus their efforts going forward.
3. Offer Easy Grading and Quick Results
If assessments are to be useful—both for measurement and to provide feedback—the results need to be straightforward and valid. For many types of questions, such as multiple choice, fill in the blank, and short answer, online grading tools, like those found in online assessment creators, can automatically grade assessments and provide learners with instant feedback. For subjective questions, such as essays, detailed grading rubrics can help instructors easily score assessments and interpret their results.
So, this was all about student assessment and tools to conduct the same. To have a more adept understanding of how these tools help teachers, read Here are 10 ways Teachers Can Benefit From Online Quiz Makers.
Do you want a free Quiz Software?
We have the #1 Online Quiz Maker Software for complete learning and assessment starting at $0