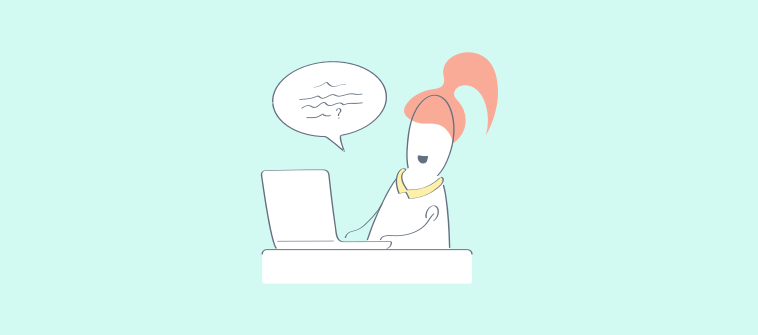 "Personality assessment."
You may have heard this term being thrown around whenever hiring discussions take place. But, what exactly is a personality assessment?
When broken down into two parts – personality + assessment – we learn it is a testing method that helps assess an individual's personality.
Personality assessment can play a critical role in assessing whether a candidate is the right fit for a job role. Recruiters need to know:
Whether the candidate is suitable for the job role?

What is their strength or weakness?

Are they more introverted or extroverted?

Are they more logical or more emotional?

Are they more easy-going or cautious?
In the past, recruiters used to assess candidates for a job role by going through many rounds of interviews.
For many organizations, this time consuming approach is still happening.
The good news is that organizations now have the option to do their assessments online. You can build these using online assessment software, which cuts down the number of interview rounds and helps with more data-driven decision making.
Personality assessments are perhaps the most popular of all of the tools used to aid in hiring decisions.
They provide companies with valuable information about job candidates, increasing their chances of hiring the right person for the job.
In this article, we're going to look at a few of the most important aspects of personality assessment, such as what is a personality assessment, what personality assessments are used for, various types of personality assessment, the methods of personality assessment, benefits, and more.
Let's quickly begin with the basics.
What Is a Personality Assessment?
Career personality assessments come in a variety of formats. Some ask candidates to rate themselves on various scales (such as an introversion versus extroversion scale). Some ask them to answer questions about their preferences, and some ask them to select from a list of adjectives that best describe their individual personality.
These tests are often based on uncovering an individual's personality type. The results are thought to be good predictors of how well an individual will fit in with a particular company and succeed in a particular job.
For example, an introvert may not fare well in a position that requires lots of networking and social interaction. At the same time, someone who is an extrovert might be miserable working alone. This may not be true of all individuals, but, in a majority of cases, it is applicable.
Why Do You Need Personality Assessments?
The most common use of personality assessments is in hiring new candidates or existing employees for a role in a company. It's useful for managers in companies when they're looking for a person to fit perfectly into a particular job slot.
It makes no sense to put someone who can't speak to people in a sales position or someone who thrives on social interaction in a place where they see no one for the entire day. Personality assessments help avoid such cases.
Personality tests are often referred to as "psychometrics," a branch of psychology focused on designing, conducting, and interpreting personality tests.
The data from these tests look at the subtle differences between people, such as their intelligence, personality traits and quirks, and how well they function in the workplace.
Using these assessments and their outcome, recruiters can correctly and efficiently place the ideal candidate for the job into the open position.
For example, an introverted person may thrive better in an office environment as an IT specialist or an analyst, whereas an extrovert may be an amazing salesperson.
Logical people are better accountants, whereas imaginative people make better artists and inventors.
So, a well-designed personality assessment tool is necessary for testing and guidance.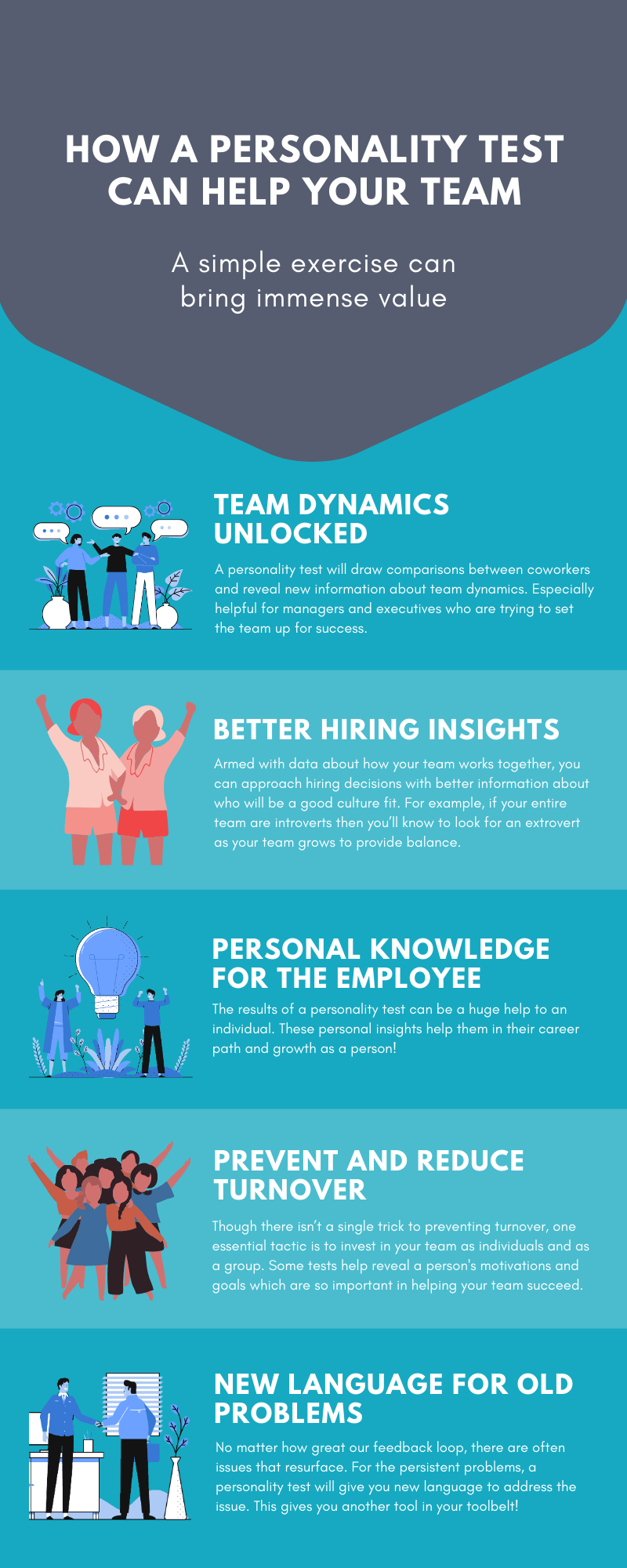 (Source)
In the next section, let's look at the different types of personality assessments available.
Types of Personality Assessments
There are many variants of personality assessments — over 100 at least, some more different than others. However, when you look closely, you will notice three main types of personality tests.
There are aptitude tests, trait-based assessments, and type-based assessments. As we look at these three main types, you'll soon see which type will suit you and your business the best.
✓ Aptitude Tests
Aptitude tests measure how well a person can complete a task, how vast their knowledge is in that particular field, and their potential in the workplace. In these tests, a person's skills and expertise are analyzed subjectively and often differ depending on the task at hand.
They're very straightforward, and usually conducted in a boolean format, with yes/no, or true/false questions and answers making up the body of the tests. These tests are popular when the role is a high-performance job that requires quick thinking and vast knowledge.
✓ Trait-Based Assessments
Traits make us unique. Trait-based tests look at a person's traits, and then the tester can use this data to find out how the person would behave in various situations.
These tests focus on traits such as "friendliness," "intelligence," and "honor," to name a few.
Trait-based tests are more suited for individuals, as every person's traits are unique.
However, because of all the facets of a person's traits, these tests tend to take longer than type-based tests. These assessments are helpful for the initial company hiring process. The five-factor test is an excellent example of this assessment type.
✓ Type-Based Assessments
On the other hand, type-based assessments are more helpful for uncovering a general picture of a person's personality and emotional groups. Therefore, these tests are based on psychological people groups, such as "introverts" and "extroverts."
These tests do not measure one's competence in a subject, how well one can do a task, or whether one has inherent skills. Instead, these tests focus on generally unquantifiable characteristics, such as whether a person has "intuition" or whether they can "sense" (such as a "gut feeling") the right thing to do.
These tests help streamline efficiency in the workplace by letting HR know which people should be placed together or separated. It's also useful for team building, as the person in charge will adjust the exercises to suit different personalities, rather than relying on a generic test that reveals little about individual preferences.
Now that we've covered the different types of assessments, let us look at the personality assessment methods in the next section.
Personality Assessment Methods
Here are two of the most significant methods of personality assessments:
1. Myers-Briggs
The most commonly used and preferred method of personality assessment is the system invented by Katharine Cook Briggs and her daughter Isabel Briggs Myers. They proposed four deciding factors about people, which in turn allowed for 16 different personality types.
The four factors were:
(I)Introversion/Extraversion(E)

(S)Sensing/Intuition(N)

(T)Thinking/Feeling(F)

(J)Judgement/Perception(P)
Only the two words in each section are assigned to a person, which creates a combination like ISTJ, INTP, ENFJ, and so forth.
Using this to define personalities proved far more effective than the original way of "People skills, or brains and logic" that people used to reference. It meant that they discovered that extroverts preferred knowing a little about many things, whereas introverts preferred to specialize in depth.
People with the "TJ" combination tended to make better lawyers and judges, whereas "FJ" types made better nurses, as they were more empathetic. The entire workforce was streamlined using this data, and businesses ran infinitely smoother.

Source: Adioma
2. Five-Factor
An outcome of the Myers-Briggs test is a test based on the "Big-Five Factors" of human personality, which are:
Openness:

The first factor looks at whether a person is willing to try new things or prefers tried and tested methods.

Contentiousness:

The second factor concerns whether a person is organized and rigid in their planning or more flexible.

Extraversion:

Factor number three (extraversion) is whether the person is an introvert or an extrovert.

Agreeableness:

The fourth factor concerns a person's capacity for empathy, compassion, suspiciousness, and logic. It looks at whether the person is warm, friendly, and sensitive.

Neuroticism:

The final factor deals with emotional stability; whether the person feels and shows emotions easily or hides everything as if life is a poker game.
However, this method of personality assessment didn't come with a "guide to life" once you found out what sort of person you were.
Luckily, many people have used this way of assessing a person's personality as a springboard to design their guides, which has been very successful.
---
Read More: Types of Career Assessments Recruiters Should Know About
---
So now that we have reviewed a selection of personality assessment examples, let's look at how to create one.
How to Create a Personality Assessment Online
To conduct a personality assessment online, you need to create a personality assessment using online assessment software and then share it with your candidates.
Here are two things you should know: how to choose the best personality assessment tool and the steps to create a personality assessment.
Knowing these two things is very important if you plan to conduct a personality assessment in the easiest way possible.
Here we've explained how to do both. Let's take a look:
How to Choose the Best Personality Assessment Tool
Businesses that use online assessment software are 36% more likely to be satisfied with their new hire and less likely to make a $25,000 hiring mistake.
Businesses prefer online assessments over paper-based ones because it's easy to create and share them, and you get instant results since the grading is taken care of by the software in real-time.
But, not all online assessment software are alike, and choosing a less-than-optimal tool can lead you to irreversible hiring mistakes or skill assessment gaps.
The video below will tell you the key features of the best online assessment software so you can pick the right one.
Watch: How to Choose the Best Assessment Software

Now let's look at the steps you need to take to build a personality assessment.
Steps to Create a Personality Assessment
There are three ways you can go about creating a personality assessment:
Choose from the assessment library

Pick a template

Create from scratch
Let's dive into how each of these methods works:
1. Creating a Personality Assessment by Choosing from the Assessment Library
Want to save time and effort? Gain access to a library of professionally designed, ready-to-use assessments!
It is the easiest way to get your assessments up and ready to share in minutes, as it offers a collection of 100+ ready-to-use skill assessments that recruiters can use to assess candidates appearing for a job role.
Here are all the steps you'll need to take:
Step-1: Click on Create a Quiz on your dashboard

Step-2: On the templates page, click on Create Personality Quiz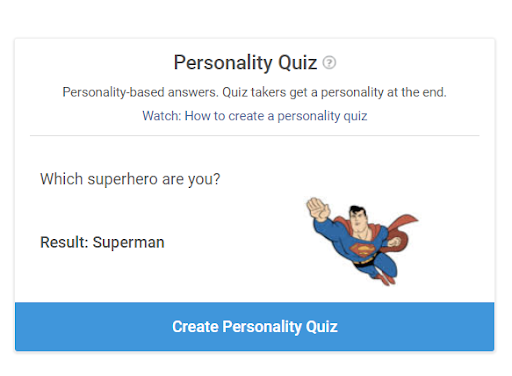 Step-3: On the next page, select the Question Bank


Step-4: Explore all the assessments available under the Assessments Library

Step-5: View the assessment you like by clicking on the View button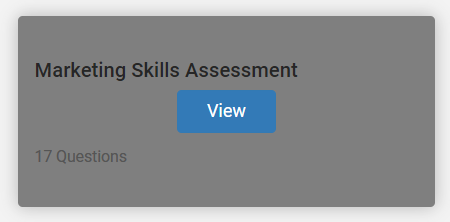 Step-6: Click on Use This Assessment to choose the assessment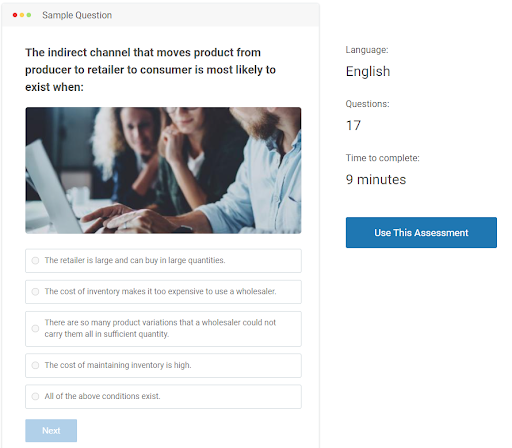 And there you go!
2. Creating a Personality Assessment by Picking a Template
Like the assessment library, templates also make it super simple and easy to create an assessment.
Here are the steps you need to take to create your personality assessment with templates:
Step-1: Click on Create a Quiz

Step-2: Click on Create Personality Quiz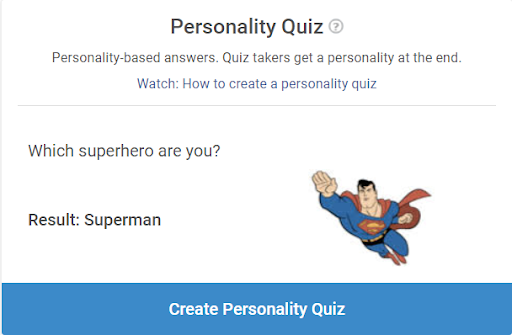 Step-3: Explore all the templates under the Personality Template section

Step-4: Click on the Preview button to see how the quiz would look like to the learner.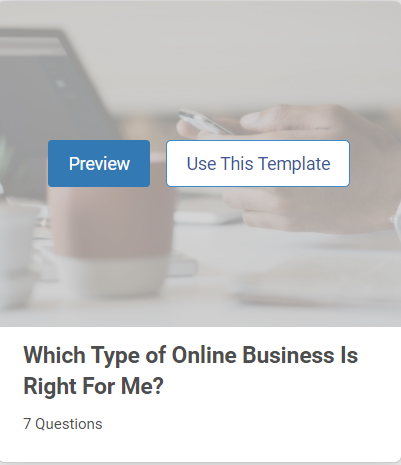 Step-5: After you've taken a preview, click on the Use This Template button on the top right corner to select the template.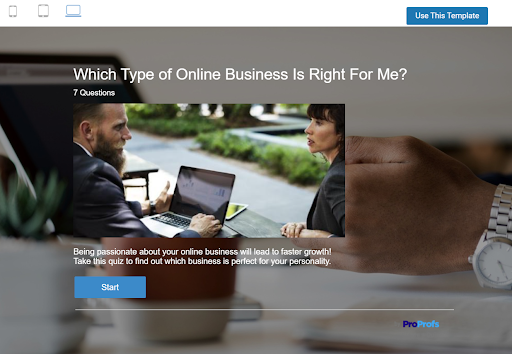 You can add, delete, or modify questions in the template and even play around with the colors, fonts, and background images.
3. Creating a Personality Assessment from Scratch
When you're creating a personality quiz from scratch, there's a little pre-work you need to do, and that is, creating the personalities to be shown as the outcome.
Once you've created your personalities, you can move ahead and start building your quiz by following these steps:
Step-1: Click on Create a Quiz and then click on the Create Personality Quiz button.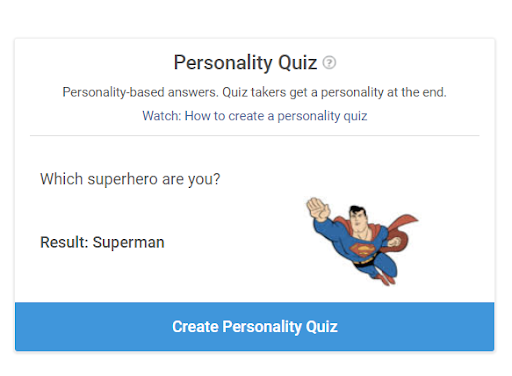 Step-2: Click on Create from Scratch.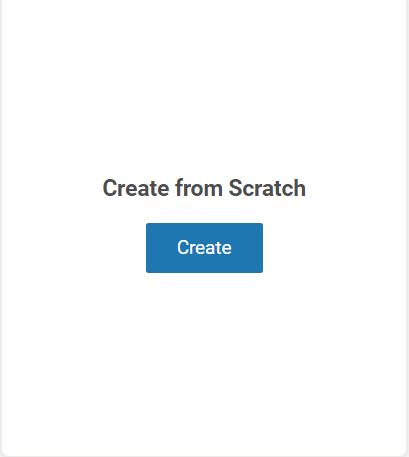 Step-3: Start building your quiz by adding a title, description, and image for your quiz in the quiz editor.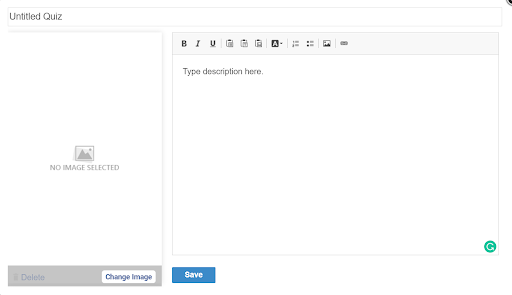 Add your title at the top, description in the box on the right, and image. You can either upload an image, choose from the image library, or search for an image on google.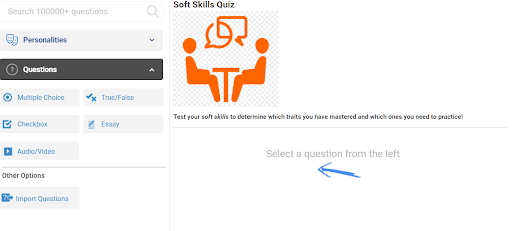 Step-4: Add questions to your quiz.
You can either create questions or import from the public library of 100,000+ ready-to-use questions.
To import questions from the library, go to the question bank, search for your assessment topic, and select questions that you want to add from the list of questions that appear.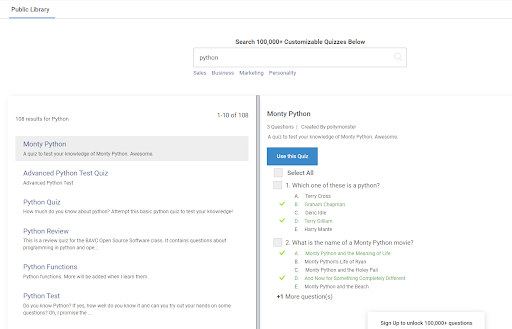 You can even modify these questions.
To create questions, choose a question type from the box appearing on the quiz editor's left side.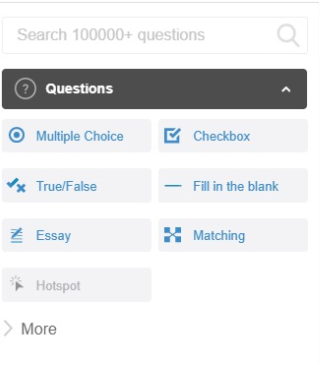 There are over 10 question types that you can choose from. You can either use a single question type or use a mix of different question types.
Since you're creating a personality assessment, you'll need to select the multiple-choice question type and add your questions with choices that co-relate to each personality type.
Enter question text, add answer options, mark the correct answer, and click "Save" or "Save & Add New."
Suppose you're creating an assessment for hiring. In that case, you can also use the Record Video question type that is especially useful in video interviews and allows the candidates to respond by uploading or recording a live video.
You can create questions like- Tell us something about yourself, or What excites you about this role?
The image below shows how a Record Video question type looks like: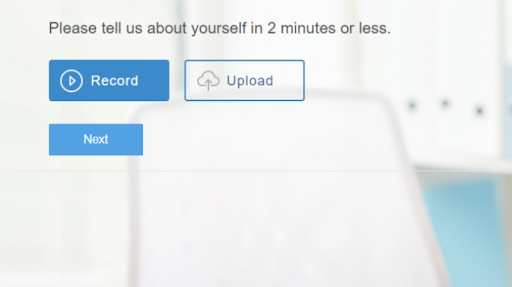 Step-5: Assign points to personalities
Allocate points to each result type associated with a question, as shown in the image below: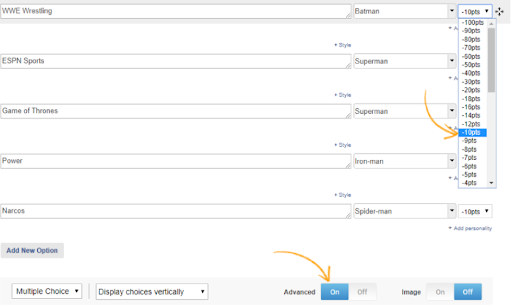 When you do that, the personality (or group of personalities) with the most points would be selected as the final result and the result type based on the points they have earned.
And that's it. That's all you have to do to create a personality assessment.
Once you've created it, you can configure the settings like security, availability, privacy, notifications, and more.
Also, do not forget to white-label your assessment to touch your branding with your logo and theme.
Then, you can share the assessment with anyone via email or by sharing the link. You can even embed it on your website.
Watch this video to learn more about creating your assessment online.
Watch: How to Create an Assessment Online

In the next segment, learn how you can benefit from personality assessment in different ways.
Benefits of Using Personality Assessment
One of the significant benefits of using a personality assessment for individuals and companies alike is to match people to their ideal jobs. Besides this, a few more reasons why companies value personality assessment are:
Suitable Roles Make Happy Employees
A successful personality assessment increases the chances that the individuals will succeed and be happy enough to stay in those positions, thus freeing the company from quickly hiring again. But the benefits don't stop there.
Helps Managers Deal With the Team Effectively
The results of personality tests can also help managers deal more effectively with their staff and communicate with people in the way that's likely to be most effective.
Explores Employees' Business Ethics
Personality assessments can also predict whether individuals will engage in undesirable job behaviors (like theft) and whether they are likely to be reliable and trustworthy in positions of responsibility and power.
Before discussing personality profiling tools, here's how you can use the data from the personality assessments to hire reliable and competent employees.
How to Use Personality Assessments to Create Your Dream-Team
You can leverage personality tests while reviewing new candidates for hire or after hiring them. So, here are some ways you can use the personality data to create a team you want.
Gauge Candidates' Personality at Onboarding Stage
Once you hire a candidate, a personality test can go a long way in exploring their strengths, weaknesses, passions, and interests.
With insightful data, you can assign tasks and roles individuals will excel at or even challenge them to overcome their weaknesses and develop relevant skills.
Create a Diverse Team for Successful Projects
Personality type assessments can help you add diversity to teams. For a successful and well-rounded team, you can put together different personalities that bring a range of qualities to the table.
A study exploring the personalities of different software development teams states that adding various personality types balances the team during team projects.
For instance, people with optimistic and social attitudes help avoid conflicts in stressful situations. On the other hand, people with perseverance and competitive spirits help the team achieve deadlines.
If you ask the right questions in your personality assessment, you'll quickly identify the common traits in people that will help you create great teams.
Assign Roles That Suit People
Creating a dream team is about bringing people together who excel at different things to lead projects toward success.
For instance, some people are good at planning and time management, while some excel at execution, buy-ins, and kicking off projects.
So, knowing the best qualities of your employees through personality assessments will help you assign roles suited to their personalities. This way, employees can channel their strengths and do justice to their tasks.
You can refer to the DiSC model (Dominance, Influence, Steadiness, and Conscientiousness) of personality profiles while assigning roles based on the personality assessment results.
For example,
People with a 'D' personality type thrive in management and leadership roles.

People with 'I' personality style are better at communicating and persuading others and thrive in roles like Sales,

People with 'C' personality traits are better at focusing on details.
It's best to experiment with different roles according to personalities and see how each team member performs and what they do best.
Train Employees Based on Personality Assessment
Insights from the personality assessment for existing employees can also provide you with important training needs analysis.
You can leverage tools like ProProfs Training Maker to create tailored courses for different personality types to educate them on their shortcomings and give them proper training.
By filling the knowledge gaps, you can improve their productivity, teamwork, and confidence to prepare a team you can rely on.
You will need the right tool to design an effective personality measurement test to create a successful team. For this, you can check out our list of best online assessment tools and start creating your personality tests right away.
With this covered, let's look at the list of personality tests you can conduct to gauge different aspects of people's personalities.
Top 5 Quizzes for Personality Assessment Test
These are the five top personality assessment quizzes and tests that can help you with analysis:
If you wish to create skill assessments like these and test personalities or other skills & abilities, you need to get your hands on good online assessment software. Let's talk about ProProfs Quiz Maker, a robust online software assessment tool that ticks all the boxes.
Watch: How to Choose the Best Assessment Software
Hire Right With ProProfs
The best part of conducting personality assessments, as discussed here, is that you can rely on insightful data to make informed decisions. Best of all, you can easily build a personality assessment with online assessment software to figure out anyone's natural traits.
Personality assessments can help HRs hire the best-fit talent while lowering employee turnover. As for individuals, personality assessments can help them choose the right career options by revealing more about their personality, as well as their strengths and weaknesses.
So, what's stopping you from creating your own personality assessment? Get your hands on the best assessment software out there and be one step closer to a hassle-free assessment process.
Do you want free Quiz Software?
We have the #1 Online Quiz Maker Software for complete learning & assessment