Did you know companies that use talent assessment tools are 36% more likely to be satisfied with their new hire?
And, that trainees and students assessed through online tests and quizzes tend to perform better in classrooms?
Until a few years ago, educators and trainers relied on the age-old methods of assessments, i.e., paper-based tests or quizzes. These methods would require them to navigate through a series of tasks:
Sift through a myriad of questions
Select the best ones
Set the order of the questions
Conduct the assessments in the presence of an invigilator
Not to forget the grading and feedback part that would take days. Even though the mode of assessment shifted from paper to computer, the menace remained. The questions had to be typed, proofread, and checked again for repetition.
Finding suitable invigilators and space for conducting exams was another hurdle.
Then Came The Era of Assessment Tools That Changed the Game!
While the offline modes of assessment seem to make the life of instructors and teachers pretty difficult, online assessment tools lifted the burden of mass customization and made their lives easier.
Check out how these online quiz maker tools simplify the grading of tests for teachers:
The use of assessment tools has increased exponentially, and the Global eLearning market for 2018-2023 is expected to reach $65.41 Billion.
This rapid growth has created numerous new needs for various eLearning tools – assessment tools being the topmost priority.
If you're a trainer, instructor, or teacher who regularly runs knowledge tests, then adopting an online assessment tool is now a must.
But before you do adopt it, educate yourself about what exactly it is, how it can be used & how to choose!
Learn what an assessment tool is, how to use an assessment tool, and how to create an online assessment. Easily filter candidates and make the best hiring decision.
So, What is an Assessment Tool?
In simple words, an assessment tool is a set of questions used to conduct tests or online exams on a cloud or web-based platform that includes the administration, recording, and reporting requirements.
Watch this video:

What's in It for Teachers?
Online tools are excellent for creating all kinds of assessments, including short quizzes, unit or chapter tests, and midterm and final exams. Teachers can use these tools to easily create online tests and quizzes to examine students' knowledge on any topic.
With the ability to write many types of questions, from objective questions like matching to subjective ones like essays, as well as the automatic grading functions, an online assessment creator is your one-stop-shop for developing all of the test-type evaluations you need for your course.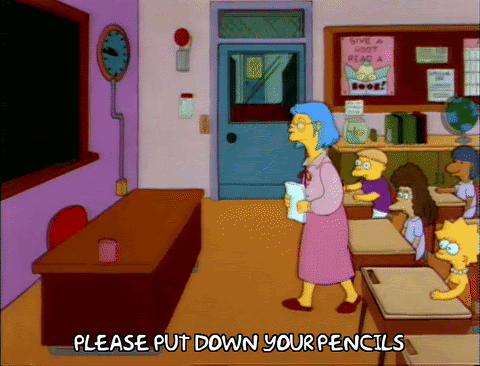 Typically, teachers can use assessment tools to create two types of assessment
These are used to monitor student learning and provide ongoing feedback that can be used by teachers to improve their teaching skills as well as by students to improve their learning.
These are used to evaluate student learning at the end of a course by comparing with some standard or benchmark.
No matter what type of assessment tools teachers go for, the features and functions remain the same. Visit this page to explore the important features of an assessment tool.
Online tests are automatically graded and completely paperless, saving teachers hours of time and effort. Moreover, the test software also helps instructors to:
View test reports
Manage learners via online classrooms
Award certificates to learners
Majorly, teachers who've used assessment tools have realized the following benefits:
1. More Room for More Experiment
⇒ Integrating online assessment tools is a good way to diversify the teaching methods and also make knowledge transfer fun for students.
⇒ Online assessment tools help teachers to experiment with different styles of teaching since they can deploy different forms of testing such as multiple-choice tests, fill-in-the-blanks, true/false, or essay-type questions.
2. Hassle-Free Grading & Feedback
⇒ The automated grading feature saves teachers from their most time-consuming tasks of visiting each question and grading the answer.
⇒ A test or an exam built with an online tool allows teachers to create dynamic feedback depending on the answer given to a specific question.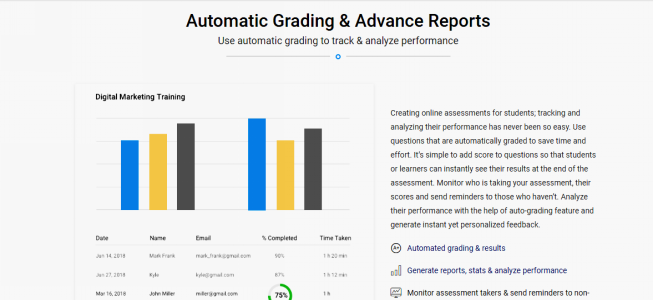 3. Anytime, Anywhere Assessment? Not a problem!
⇒ Various types of assessment tools provide teachers with a flexible distribution channel, which means that no matter where they or their students are, they can conduct a test anytime, anywhere.
⇒ Since there is no need for an invigilator, it can let as many students as possible take the online test. All that the teachers need to do is share the test/quiz with students on their respective email IDs. Once they've completed it, they'll get an instant updated about the results.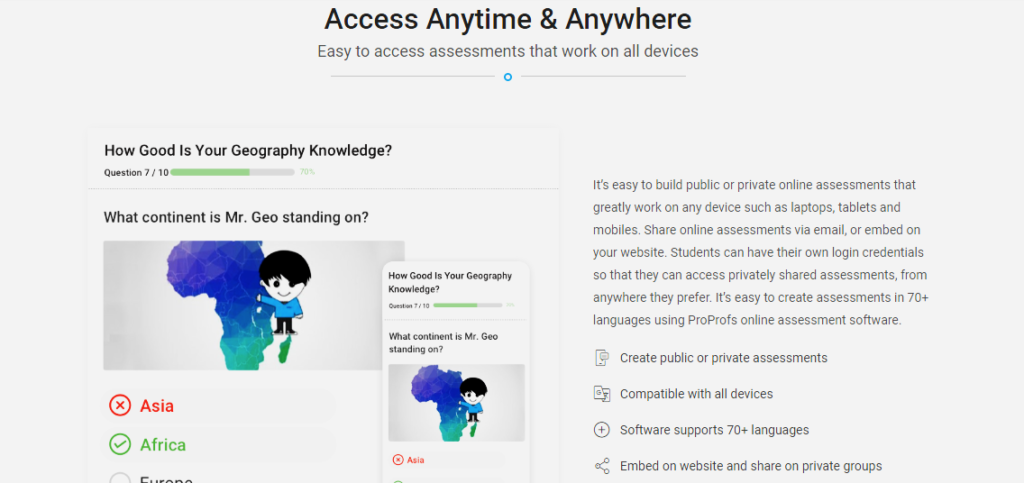 4. Easy to Keep a Tab on the Students' Progress
⇒ The online test software allows easy tracking of each student's performance at regular intervals, which is the most crucial benefit.
⇒ Since all online tests and their results are stored on a cloud-based system, it becomes easy for teachers to go back to older results and compare them with recent ones. This helps them in keeping track of a student's progress and provides for better performance analysis.
Here's What More Teachers Can Use the Online Assessment Tool For:
1. Curate and Create Study Material
Using the same methods to create real exams, you can create practice tests and other study materials for your students to use.
As an even bigger time saver, when you sign up for an account with an online assessment tool provider, you will also usually gain access to a database of existing quizzes, tests, and exams that other people have created. Many of these materials are either free to use or available for a very low price. So, rather than developing all of your materials from scratch, you can find content that has already been created for your students to use.
2. Increase Student Engagement
Student engagement is a key facet of effective learning, and you can use an online assessment creator to enhance engagement for all of your students.
For example, you can create short pop quizzes to assess comprehension and attention during an in-person class, or you can create single-item quizzes for students to answer even when they aren't in class.
It may be just one question per day, but it will increase the time your students spend actively thinking about and engaging with the material in your course.
3. Have Students Create Tests as a Learning Activity
As you know, one of the most powerful ways to learn new material is by teaching that material to others. Using an online assessment creator, you can have your students create their own tests and then distribute those tests to other students in the course.
By providing feedback for wrong answers, your students will solidify their learning as well as identify any gaps in their own understanding, which you can then address in class.
---
Read More:- Here Are 10 Ways Teachers Can Benefit From Online Quiz Maker
---
What's in It for Businesses?
"When used effectively, talent assessment tools can have a major impact on key performance indicators (KPIs), such as cost-to-and time per-hire, hiring managers' satisfaction, employee retention, performance, and engagement."– Aberdeen Group Study
Couldn't agree more!
Businesses can use such evaluation tools to screen potential candidates for a job and assess the skills of existing employees.
Likewise, Human Resource managers can create a pre-employment test to evaluate their potential candidates on a range of technical skills such as MS Office suite, IT, language, healthcare, and more.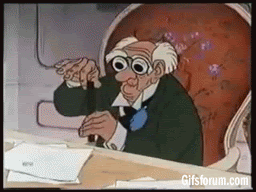 Now, let's look at some areas where these online tools really come in handy for businesses:
1. Faster and Smoother Recruitment
⇒ The decision-making process can be accelerated by using these tools to conduct pre-hiring assessments since they:
⇒ Provide HR professionals with objective data about candidates' skills, personalities, cognitive abilities, and work ethics
⇒ Cut down on hiring time and lowering the costs of hiring
---
Read More:- 3 Ways a Quiz Can Your Simplify Employee Recruitment Process
---
2. Improved Employee Productivity
⇒ The results of all online tests are saved automatically on the cloud, which can be viewed under reports whenever required.
⇒ The employees can view and compare test results of previous and recent assessments that help to improve their performances. This helps employees maximize their productivity levels.
⇒ Internal employee assessment results can be used as a guide in HR development planning, identify high potential talent for advancement, and help accelerate leadership development.
3. Knowledge Retention
⇒ Employers can conduct training on any new operation or concept launched by a business and then conduct a post-training assessment to evaluate how much knowledge the employees have grasped.
⇒ Conducting interesting post-training assessments results in improved employee performance. What's more, employees tend to perform better when results are shared.
---
Interesting Read: Best Riddle Alternatives
---
Online monitoring requires a webcam, microphone, reliable internet connection, and a computer that can use all of these devices but offers the convenience and comfort of being able to stay home.
Factors to Consider While Choosing an Assessment Tool
There are many types of assessment tools available today that you can choose from based on the characteristics of assessment tools. But, before you do that, make sure to consider the following factors to select the best one.
Watch: How to Choose Best Assessment Software

Let's take a look at some of them:
1. Easy to Understand Instructions
Instructions get the user acquainted with the basic content of the assessment system. This is one area that should be given close attention mainly because it is here that you will find all the answers you need on how you can make the online assessment system works the best way for you.
2. Accessibility
Online assessment systems have preset accounts and passwords that can be set to offer protection for the contents of the online examination you create. Participants then get to register themselves online in order to take the test. In this way, only those who are authorized can take the online assessment. Apart from that, the user can set domain hosting limitations as well.
3. Easy and Secure Login
Participants get to log into their online examinations by using their username and password in order to access the relevant pages for the completion of the test at the specified time. Once the test has begun, the user gets to complete it before the given time expires.
4. Time Reminder
As the time for submitting the exam grows near, the participants will be reminded by some alter audio that they need to submit the examination within the given period of time.
5. On-Line or Printed?
This is another area that is very important, especially when finding out a good online assessment system. You should always make sure that the assessments can be published online and shared via email or can be printed on paper as well, along with a realistic print preview option.
Participants then get a chance to access your tests from any platform, be it desktop or mobile. The participants can then further learn from their mistakes by custom feedback messages. Apart from that, the ability to be able to make those assessments public or keep them private should also be in your hands.
6. Result Release
The best online assessment systems are those which allow the user to set their own time frame regarding the results, as in, set them for immediate release or a timed release.
For instance, for those examinations and assessments that consist of objective questions, the total score can be automatically calculated when the test is over.
This enables the participants to view their results instantly. But for some reason, if you do not wish for the participants to be able to view the results when the assessment is over, or if there is a need for any manual grading, then you can always go with the other option.
7. Customization
A good assessment tool should allow for customizations as per the user's requirements. A highly customizable tool provides for the choice of templates, question types, background themes, logos, and multimedia add-ons that give assessments a personality.
8. Cost of Implementation
It is not really a factor to consider while choosing an assessment tool. But, it does bear some relevance. It is better to invest less and gain more, just like the ProProfs Quiz Maker that offers free creation and a lower cost of implementation after that.
9. Minimum Manpower Requirement
A good assessment tool shouldn't require manpower, except for the creation part. Once you've created your tests or assessments, you should be able to leave the rest of the job on the tool itself. It shouldn't require further supervision.
10. No Software Installation
Last but not the least, a crucial factor to consider is software installation. Go for a tool that doesn't require any software installation to function. Installing software would only make the task more complex.
Even though it can be argued that cloud-based systems and computer-based tests serve the same purpose and are not very different from each other in form or function, they do have one significant difference, which is software installation.
Now let's have a look at how you can prep for creating an online assessment.
Five Important Steps to Take Before Creating an Online Assessment
All assessments, whether online or in person, on a computer or on paper, must have high standards when it comes to generating accurate information in order to measure knowledge, learning, and learning methods.
Every online assessment should go through a standard creation process to ensure quality and consistency to achieve this goal.
Here is a basic outline of what that process should look like to serve as a basic starting point.
Step 1: Determine Criteria and Standards
Creating an effective assessment requires proper planning, and good planning is often the most difficult part of creating an assessment. For creating online assessments, planning activities make up several steps of the process.
The first step in planning is to ask and answer key questions:
What do students need to know?
What methods are appropriate for the subject matter?
How will assessment results be used?
Do any standards or regulations apply to the assessment?
Even if adherence to standards isn't required, reviewing and understanding established standards can help ensure best practices are consistently employed.
Like planning for any activity, this step probably requires brainstorming sessions, research, and note-taking, reviewing published/personal materials, and using graphical tools like mind maps. Once you have a good feel for what the assessment is about, you can start planning the assessment itself.
Step 2: Determine Times or Periods for Assessment
Following up on Step 1, once goals and criteria are established, the next step is to decide the best times to use an assessment or what an appropriate assessment period would be. Once they are placed online, it is easy to use an assessment, but there is a fine line to walk here.
The more data and measurements that are available, the clearer the assessment picture can be.
Step 3: Determine Assessment Methods
With goals and assessment periods in place, design the assessment by creating questions or inquiries that will assess knowledge and understanding. Try to use the simplest form appropriate to achieve the assessment goal.
Sometimes a true-false question fits perfectly to test knowledge, so don't automatically avoid the simple approach because it seems too easy.
Ask the kind of question that best meets the goals established in the plan, whether that requires a true-false question or a short description.
Step 4: Create a Criteria Rubric
Rubrics define what is expected from a student in the assessment, as well as establish performance levels (i.e., excellent, competent, needs improvement). The basic pattern of rubrics is to establish dimensions for tasks or criteria. These could include dimensions like knowledge or application, or it could assess various dimensions of the task like research and communication.
Then for every dimension, create a performance scale and associated criteria. For example, the scale for each dimension may be 1 through 5, with each level's standard clearly defined, such as a 5 for the research dimension defined as, "Demonstrates excellence at finding and integrating appropriate materials."
A clearly defined rubric makes evaluating results more consistent, and it is common that a necessary component of evaluation has automated elements that are common in computer-based assessments.
Step 5: Implement and Check
One critical part of implementing an online assessment, especially if it has significant stakes, is testing and verifying the assessment. This can involve things like test or pilot runs with staff or with third party subjects (like a different class).
Verify the user experience works as expected. Don't just assume everything works as it should from the user's perspective. Following this basic process will put you on the path to creating accurate and productive online assessments.
5 Ways to Make the Most of Online Assessment Tools
Online assessments have very similar goals to traditional pencil and paper assessments; to find out what learners know what they understand and how well knowledge and understanding have improved with instruction.
Here are some important considerations in taking full advantage of online assessments.
Use Assessments Before, During, and After Instruction
One of the biggest advantages of an online assessment tool is that, once created and deployed, they are much less time-consuming to use because they are evaluated and results calculated automatically.
That means an educator can give more assessments during a course period without taking time away from important duties like developing materials and activities.
Assess Multiple Levels of Learning
The first level of learning is subject knowledge, but real assessment goes beyond that.
Just because a student can give the right answer doesn't mean they really understand it, or that they are able to apply it in real life. Good assessment measures learning across dimensions beyond surface knowledge. A more in-depth assessment can be accomplished by asking questions in different ways, using examples or scenarios in questions, or by asking students to explain concepts using their own language and terms.
Take advantage of the ability to link to videos, Tumbler pages, and other online content that students might find engaging and relatable as well as informative.
Encourage Learning with Instant Feedback
While the ultimate goal of assessment is to measure learning, an important secondary goal is to encourage and motivate students to learn. That means asking questions in a way that not only measures knowledge and understanding but also makes students curious.
The ability of the online assessment tools to provide instant feedback to responses is a great asset in achieving this goal. Customize feedback and follow-up questions depending on responses, or give additional questions according to answers to see if the explanation was helpful.
Plus, simply getting immediate feedback to a wrong answer with an explanation can engage a student more than their having to wait days or even weeks to find out if they got the answer right.
Increasing Necessity of Assessment Tool
Creating and conducting assessments with the help of an assessment tool is the need of the hour.
The best part about using online assessment software is that the participants get to take their assessments, surveys, quizzes, and so on and get their results instantly while you get the advantage of the answers and statistics being automatically saved for review later on.
Online assessment tools have different options for Online testing. They make the entire assessment process smooth and easy with easy creation, distribution, and review. It has enough benefits for both businesses and teachers that they can pull off whenever they like.
Do you want free Quiz Software?
We have the #1 Online Quiz Maker Software for complete learning & assessment