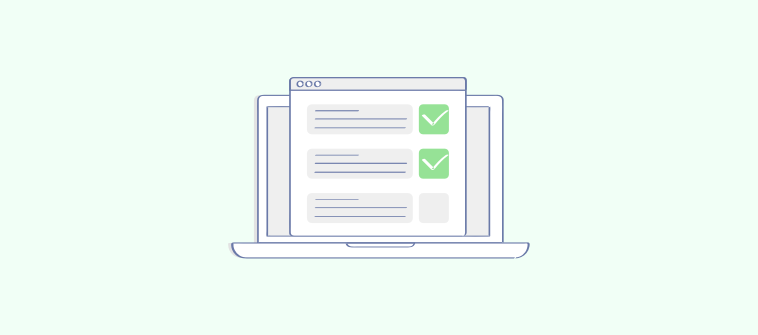 Recruitment can be a tiring process when you're drowning in a pool of resumes and going out of your way to find the best candidates.
Also, you can never be sure about the information provided in the resumes. Take a look at the percentage of applicants who lie on their resumes!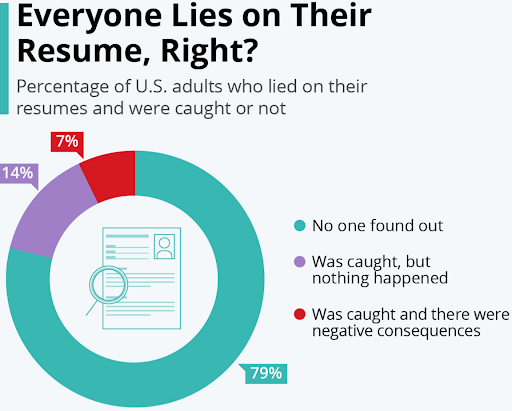 So naturally, you can't rely on them. What you need is a recruitment assessment tool to assess the skills and abilities of your applicants to find the right fit.
Did you know you could use a quiz at every stage of your recruiting process and make it as easy and hassle-free as posting a job?
Yes, you read that right! You can.
Using a pre-hire skill assessment quiz or a test can not only help you do that but also save you from sifting through all the CVs to find the right candidates to shortlist for interviews.
In this blog, we will talk about how you can optimize your entire process of recruitment with quizzes and use them to hire quickly, pool better talent to build productive teams, save money and enjoy the recruitment process.
To do so, let's begin with the basics.
What All Does a Recruitment Process Involve?
A recruitment process can be defined as a series of steps that involve finding and attracting potential candidates for vacant job positions and eventually hiring them once they prove their capability to perform on the job.
In other words, the recruitment process involves the identification of job vacancies, analyzing the job, reviewing applications, screening, shortlisting, and selecting.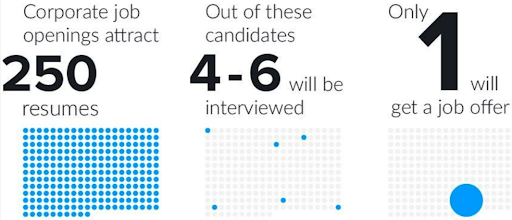 The recruitment process is something that cannot be negated or eliminated.
An organization cannot count on its human resource assets if it doesn't have a properly functioning, established process.
That's why upgrading and innovating the process is the only way to go.
Human resource managers are constantly on the lookout for best practices that can increase the effectiveness and efficiency of their sourcing model to always find the best fit for their organization.
As we discussed above, not every candidate will be the right fit for the job, and accurately figuring every candidate out is not easy by any means either.
This is why every organization needs foolproof processes to read between the lines in job applications and only hire candidates who are truly competent enough.
But that's just about the overview of the recruitment procedures; let's now move to the steps of the recruitment process to understand how to optimize it.
7 Important Steps of Recruitment Process
Here are the essential steps that hiring teams deploy to get the right candidate:
Step 1- Identifying Hiring Needs
It all starts with the realization that there is a need for human resources.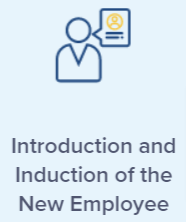 At this stage, the hiring needs and the specific requirements from the hiring manager are received to find out the nature and the size of the workforce required in the organization.
The HR teams can also conduct a gap analysis to highlight areas that are lacking in the manual workforce.
For this, you and your team will also have to settle on the education, experience, and skills that are needed for the vacant positions.
The focus points while understanding the workforce needs should be on:
Size of the organization

Salary range

Company culture

Nature of work

Number of requirements

The current state of employment
While these elements may seem quite simple, they all play an important role in mapping out the entire recruitment process steps for the future.
Step 2- Preparing Job Description
Once your requirements are in place, you can go ahead with creating the job description.
This is the part where you attract the job applications, so make sure your job description is engaging and accurate so that it appeals to the masses.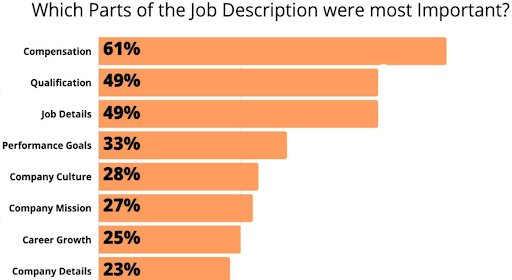 Your job description will also act as a legally binding contract, so all the information of the tasks, responsibilities, and other expectations should be mentioned clearly.
Your checklist for your job description should ideally include:
Company name and details

Job title and the nature of the job

Number of vacant positions

Location

Salary structure

Roles and responsibilities

Specific skill, experience, and knowledge required

Benefits
A carefully laid out job description with all the essential details will help you gather applications that are more suitable to the job role and candidates who are willing to comply with the terms and conditions.
Step 3- Searching for Candidates
Now the next step for you in the recruitment process is to source both active and passive candidates for your vacant job roles.
The candidates can come to you from anywhere, so make sure you cast a wide net to gather as many of them as possible.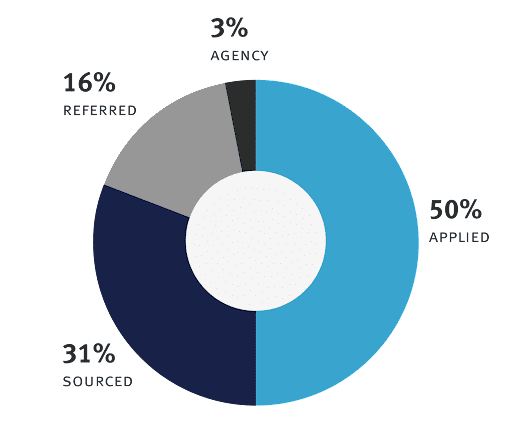 There are several ways and places to attract the right candidates. Here are some of the most popular ones:
1. Web search- The internet is full of talented candidates. Instead of waiting for them to come to you, you can just go to them and try and identify people who reflect a similar skill set needed for your organization. Many potential candidates will be happy to receive a random job offer so if you come across someone promising, shoot your shot.
2. Social media recruiting- Social media platforms are one of the most popular places for recruitment if you are looking to hire millennials and Gen Z candidates. Platforms like LinkedIn, Facebook, and even Instagram will do the job.

3. Job boards- The most traditional and safest way of recruitment is by posting your vacancy on job boards or career websites.
4. Referrals- Another very trusted method of hiring is by encouraging your current employees to provide referrals of people who can potentially work in your company.
5. In-house recruitment- This is probably the most efficient method of hiring, and it's done by evaluating your current employees and deciding which one should take the different roles. You are already aware of the status of your current employees, which is why this process will be more accurate.
Step 4- Screening and Shortlisting
The screening and shortlisting process will come right after you've got an ample number of applications for your vacant job positions.
This is one of the most challenging and time-consuming processes, which will also require significant effort from the HR teams.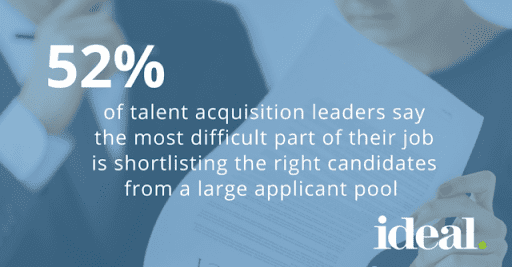 Even though this is challenging, it's also critical to carefully analyze each resume, cover letter, assessment test and pay attention to details to eliminate candidates who are not the right fit.
You can also conduct employee assessment tests using an online quiz maker, making your job much faster and easier as the assessment gets graded automatically, and it'll show the results instantly.
Once you're done with the screening process, you can finally start shortlisting by eliminating the candidates who are either incompatible or did not pass the assessments.
Step 5- Interviewing
The next step in the process is to conduct a final interview of the candidates who have been shortlisted after passing the assessment tests.
By this time, you should be fully aware of what you are looking for in a candidate, and once you are done with the interview, you should be aware of your ideal employee.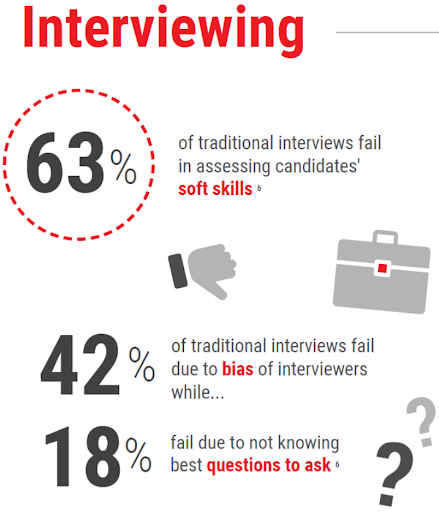 The interview will also let you ask your candidates a series of recruitment questions by testing their appearance, personality, and verbal skills for one final comparison. These interviews can be of several types, including:
One-on-one interview-

One person interviews one candidate at a time.

Panel interview-

A panel of multiple interviewers interviews one candidate at a time.

Telephonic interview-

Quite similar to a one-on-one interview, but it's taken over a telephone call instead of in person.
Interviews are quite beneficial because they are the most effective way of identifying personality. The discussion also lets candidates ask hiring managers questions about the role to understand it better.
Step 6- Evaluation and Final Offer
In the penultimate step of the process, you'll need to reflect on the remaining candidates and decide if you'd like to hire them or not.
It's always recommended to talk to your team members and members of other teams within the organization before making a final decision.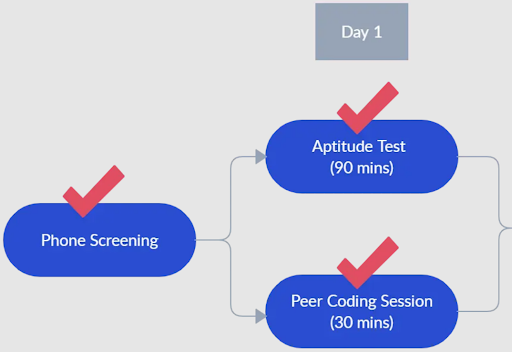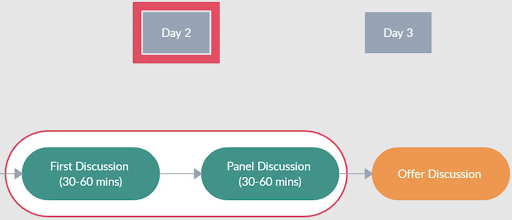 Once your evaluation has pointed you towards the right candidate, all you have to do is send them the final offer letter, which will act as a legal document of hiring.
Make sure you include all the terms and conditions, salary, working hours, expectations, potential deal-breakers in the offer letter. You may also have to negotiate on some of the terms and conditions, which is why it's always beneficial to decide beforehand what is negotiable.
Step 7- Induction of New Employees
Finally, you will have to onboard the employees and take them through the entire induction process.
Make sure you have a good onboarding strategy so that everything goes smoothly. It's extremely crucial for shaping an employee's first impression of the company.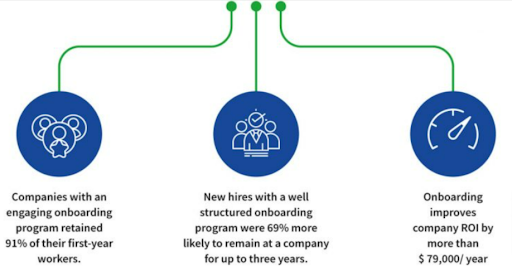 The onboarding may include everything from orientation, mandatory training, and organized lunch with the team members.
The outcome of your full recruitment life cycle should be an employee who has all the necessary information about the company and is ready to start working.
This brings us to the end of all recruitment process steps. Now let's understand what can help you get the right results.
Watch: How To Create Employee Training Course Online

Guide to an Effective Recruitment Process
You can easily practice effective recruitment and hire the best talent out there by doing some of the simplest yet impactful things.
Here are the things you should follow for effective recruitment:
1. Look at in-House Candidates
There are many choices to be made while hiring your next best employee.
This is where you can practice internal recruitment.
Giving priority to your existing employees is always recommended because it boosts the workforce's morale and motivates them to work for something bigger.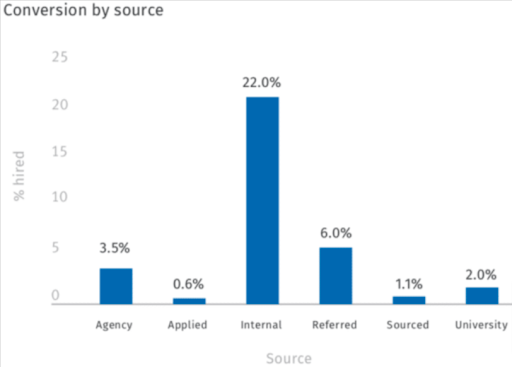 Even if you can't promote one of your existing employees, you should give them priority before you start searching for candidates outside.
Hiring in-house candidates can be beneficial for several reasons, including:
Reduces hiring time

Saves money

Shortens onboarding time

Strengthens employee engagement

Boosts employee morale
2. Involve Employees in the Recruitment Process
We're sure that you consider your employees to be one of the company's most valuable assets.
Then why not bestow some more powers to your employees and ask for their expertise during recruitment?
By involving your employees in the recruitment processes, you'll get a much better perspective of the potential candidates. It will also help your employees feel more empowered and have a better sense of involvement.
There are plenty of ways of involving your employees in the recruitment process, and it can include something as simple as an informal meeting or a panel discussion.
Working on collaborative tasks is also a great way of doing that, provided that you prepare for it in advance.
3. Use Automation
Just to be clear, there is no way of taking "human" out of "human resources."
However, there are plenty of ways to automate your recruiting process, including the interviews to speed up the process and focus on the other crucial details.
Using employee assessment quizzes is obviously one of the best ways to automate the assessment process as these recruiting quizzes can be circulated at once to everyone, are automatically graded, and display results right after the tests are over.

You can also use an applicant tracking system (ATS) to maximize your needs by automating where you're posting your job listing, filter resumes, tracking the number of applicants, and finding qualified candidates.
Automation will streamline the process of onboarding and recruitment, and recruiters can save a lot of time by getting rid of repetitive tasks.
Here are some more ways of automating your recruitment processes:
Pre-screening candidates using pre-recorded video interviews and assessing them at the end all at once

Simplify scheduling using interview scheduling tools and allot time slots based on the best opinions available

Recruit on-the-go using mobile recruiting applications and collect and analyze candidates' resumes and shortlist from anywhere in the world.

Implement automatic evaluation process using mobile-friendly employee assessment quizzes

Use a good candidate relationship management system to eliminate tedious tasks and make smart hiring decisions.
Watch: How to Create a Video Interview Question

4. Use Talent Assessment Tests
A talent assessment test is one of the most sophisticated ways of measuring a potential candidate's job-fitment level.
A pre-employment test will measure the candidate at every step of the interview process, and you can conduct multiple online assessment tests to get the best possible result.
For instance: using a quiz maker tool like ProProfs Quiz Maker, you can easily create a pre-employment test by picking up a test template or creating everything from scratch. The tests are also graded automatically, and you can send them via multiple channels to the candidates.
Also, as discussed earlier, these tests are mobile-friendly and can be accessed from any mobile device, anywhere in the world.
There are plenty of other benefits as well, including:
Perfect measure for performance

Makes hiring efficient

24×7 access

Eliminates human error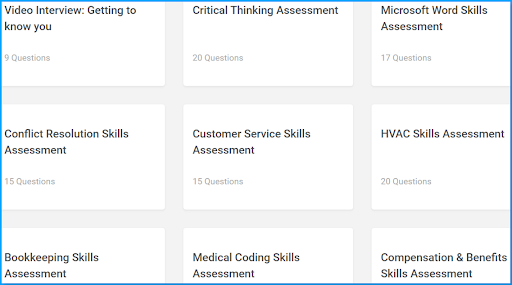 5. Make Data-Driven Decisions
Data analytics has a major involvement in making decisions in an organization.
For hiring and recruitment, decisions powered by intelligent AI-Driven analytics play a major role in defining how effective recruitment sources are, how many people were interviewed, interview cycle, success rate, and much more.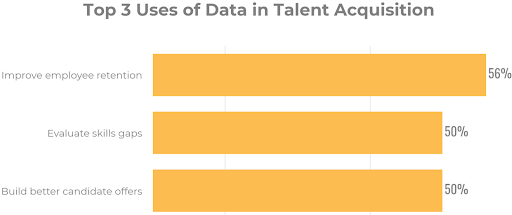 Reflecting back on the recruitment cycle will help recruiters understand where necessary changes can be made to improve the overall process.
Invest in a good data analytics system to get the best insights and make decisions that significantly impact your recruiting process.

We have briefly discussed above how assessment quizzes can play a big role in the recruitment process. To know how, let's look at some of the benefits.
Benefits of Using Quizzes in Recruitment
Skill assessments are some of the most highly regarded ways of testing potential candidates' skills and knowledge before they are recruited. They are also called pre-employment or pre-hiring assessment tests.
Here are some of the most common benefits of using recruiting quizzes:
1. Test Candidates' Claims
Criteria Pre-Employment Testing claims that up to 78% of the resumes contain misleading information, and 46% contain false information.
This is why pre-employment testing is conducted as they test the candidates on the claims made in their resumes based on their mentioned skills, education, and experience.
It's extremely important to test an employee on their claims to ensure that they haven't made their way through the hiring process with misleading or false information. The test will also help determine if the employee will be able to perform the job that they applied for.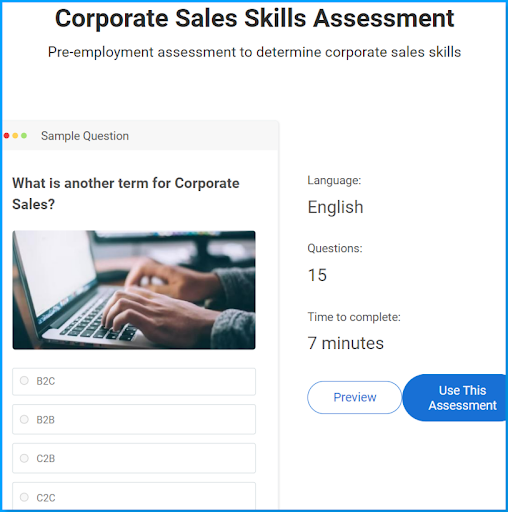 Employers can easily verify the information using skill-assessment tests. An online quiz maker like ProProfs Quiz Maker is the perfect recruitment assessment tool as it offers employee assessment tests that are automatically graded and display results instantly.
These tests are also beneficial as they automate the process and save a considerable amount of time and money that could potentially go into the process.
---
Related Read– To know more about the best quiz maker tools available in the market, take a look at The 10 Best Online Quiz Maker Software
---
2. Determine a Culture Fit
Skill assessment tests are also quite effective in finding out the cultural fit of the potential employees.
Determining culture fit is extremely important. These days every employee has to be a part of an organization's diverse work culture, and every employee has to work by communicating effectively with every person in the organization.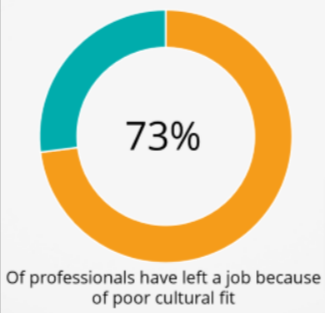 An employee can be extremely talented and have an unprecedented skill set, but if the employee can't communicate effectively, their skills are no good.
This is how skill assessment tests can determine how an employee will communicate and perform in the workplace.
3. Eliminate bias
Using a strong skill assessment test is a great way of removing any bias that may have made its way in during the initial hiring process.
Skill tests provide accurate, evidence-based, and numeric data of the potential employee's competency, based on their performance during the assessment.
Also, the tests given to every employee are of the same caliber, which ensures a level playing field for every candidate.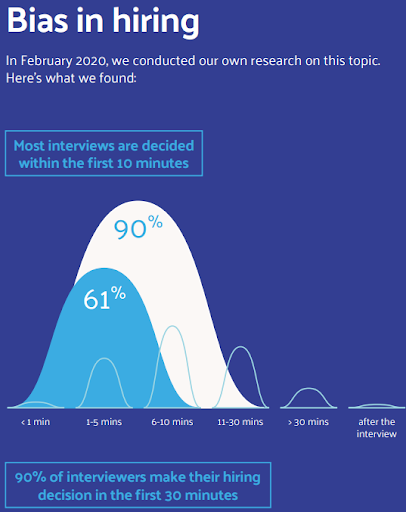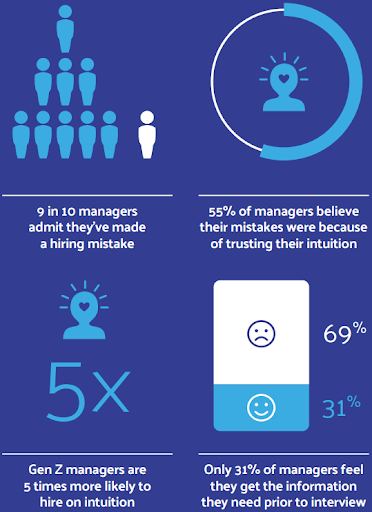 Unlike resumes and cover letters that are assessed by the recruiters manually and have a high chance of judgment bias, recruitment assessment tests are completely unbiased and get rid of those setbacks.
4. Improve Candidates' Experience
Now you might think about how an employee skill assessment test can improve a candidate's experience.
Let us assure you, it definitely does.
It's because candidates today seek a brief, informative and engaging hiring experience.
Candidates also prefer that they are given a fair chance to compete for the vacant position and also that the hiring process is transparent.
This is where skill assessment tests provide an evidence-based reason why some candidates were preferred over the other candidates, and the test scores are also transparent, ensuring fairness in the hiring process.
5. Save Time and Money
When you use skill assessment tests early in the hiring process, you can eliminate most candidates who are not fit for the job and only be left with the ones worth proceeding with.
This way, you will only be investing time into suitable candidates and can progress through the hiring process much quicker than before.
Skill assessment tests can also save your money in two different ways:
Firstly, when hiring managers spend less time in the hiring process, it becomes more cost-effective.
Secondly, skill assessment tests help organizations avoid bad hires, which may result in thousands of dollars trying to undo that mistake.

But there's a lot more to it because the benefits of employee assessment tests are endless. So now, let's move on to the guide to choosing how you can deploy them for the best results.
What Quizzes to Use for Recruitment?
There are plenty of quizzes you can use in the employee recruitment process. Here are some of the most effective ones:
1. Skill Assessment Test
These tests are some of the most common and effective ones for assessing candidates during the employee recruitment process.
These tests effectively assess an employee's skills, knowledge, and overall aptitude, indicating how well they are equipped with relevant skills to perform on the job.
HR managers consider it a quite common step and are also one of the best ways of hiring skilled candidates for the future.
You can share the test with the candidates right after receiving their application for the job and follow up with the standard screening and elimination procedure based on the test.
2. Personality Quizzes
Personality quizzes have started to gain a lot of prominence for the process of recruiting employees.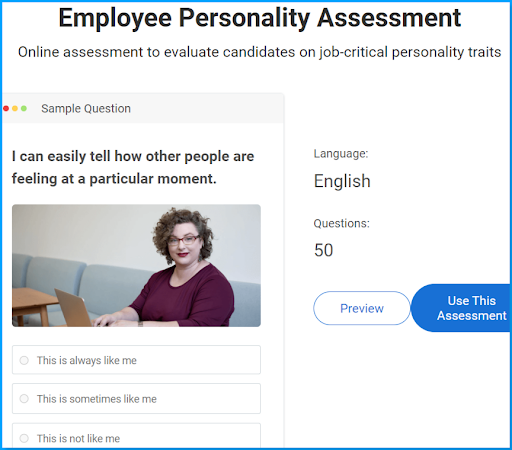 A personality assessment quiz effectively gathers data about a person's motivators, communication style, preference, and emotional attributes.
These qualities are extremely important to assess because employees work alongside other employees in the workplace; therefore, assessing an employee's mentality will depict how well they can coordinate with others in the same environment.
Many scientists believe that there are five fundamental dimensions of personality, these are:
Extraversion

Agreeableness

Openness

Conscientiousness

Neuroticism
These are the dimensions that you need to measure your employees on.
Personality assessment quizzes can be given to the employees right before their final interview, and once they pass, you can move on to the final step in the process of recruiting employees.
3. Video/Audio Interview Quizzes
Audio/video interviews have become very popular since the workspaces transitioned towards online platforms.
Video interviews are a great way of assessing the candidates in person as the recruiting managers can evaluate their communication skills, body language, thinking abilities, and many more.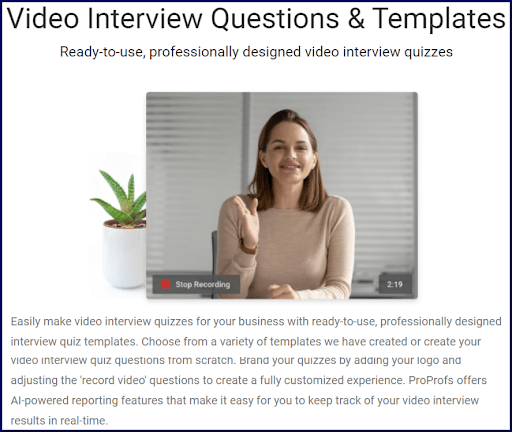 The best part about audio/video interviews is that they can be conducted even if the candidates are on the opposite side of the planet.
You can schedule these interviews right after your screening and shortlisting procedure and then follow them up with your standard evaluation procedure.
4. Training Assessment
Once you have finalized the candidates and sent them the offer letter, your onboarding and training modules should be in place and ready to be deployed.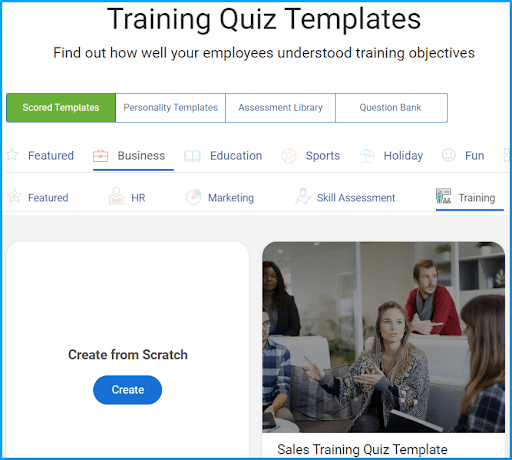 Every employee needs to go through a mandatory training procedure, and this is where training assessments can prove to be useful.
These assessments will clearly indicate the individual's level of competency, skill, and knowledge and how well they are learning about the tasks that they will have to perform.
HR managers can also conduct gap analysis based on this assessment to determine which candidates are ready to be put on the job.
Related Read– If you want a more detailed list of the different types of quizzes, take a look at What are the Different Types of Quizzes?
Reinvent Your Hiring Process
Quizzes can radically transform your hiring process, significantly decreasing your time to recruit and increasing the quality of your hires.
At the pre-employment stage of your recruiting process, skills assessment tests or quizzes can save you time sorting and interviewing candidates. You'll also get all the data you need to make objective and unbiased hiring decisions and retain better employees in the long term.
All you need to do is choose a tool that's easy to use, offers resources to create quizzes quickly, and has the right customizations & analytics to make hiring decisions accurate and easy.
Do you want free Quiz Software?
We have the #1 Online Quiz Maker Software for complete learning & assessment