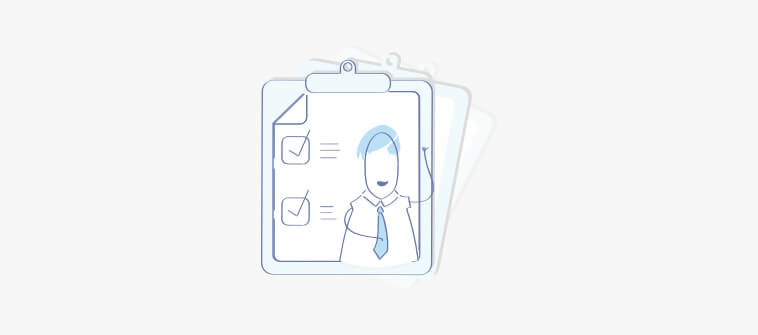 In recent Candidate Experience Research by Talent Board, it was found that 82% of companies use some form of candidate assessment testing.
Let's face it- hiring is one of the most difficult tasks for recruiters. It takes a lot of time, energy, and effort. Also, a wrong assessment can lead to the hiring of a not-so-suitable candidate, which can end up costing companies a huge amount of money in rehiring and retraining.
One way to make the hiring process easier and more efficient, and to help recruiters make better hiring decisions, is creating a free skill assessment test for employment using the skill assessment tools.
Personality skill assessment tests are basically a set of questions that test the level of required skills and competencies possessed by a candidate for a particular job role.
Online skill assessment tests work quite well for-
Standard Hiring Process

Telephonic Hiring Process

Skype Hiring Process

Campus Recruitments
These tests reveal data about candidates' skills, personalities, cognitive abilities, and workplace values. The results of the employment skills assessment tests define how likely the candidate is suitable for that job role.
And, with the availability of online assessment software like ProProfs, it is now quite convenient for recruiters to create and share online skill assessment tests with their candidates in no time.
Watch: How to Choose Best Assessment Software

---
Read More:- 10 Best Skill Assessment Tools
---
Benefits of online skill assessments tests created using online assessment software
One of the major benefits of using online skill assessment tests is that they rule out the possibility of personal bias from hiring, which allows for better decision-making. And, it also gives your candidates a fair shot to prove themselves beyond their resume with a standard test.
Read: A Detailed Guide to Using Online Assessment Tools which explains what are assessments, types of assessments, kinds of assessments, and how to create assessments.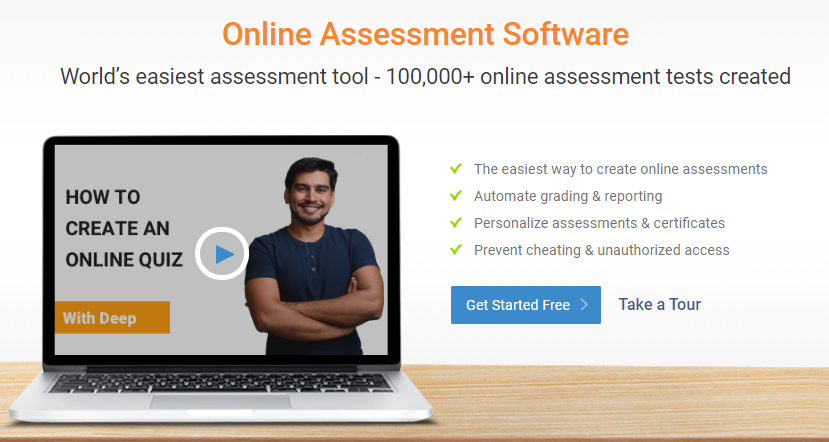 Here are some other significant benefits that you can realize upon using the online assessment software to create a free online skill assessment test-
Reduce the time spent on unnecessary elements- Use templates to create assessments, automate grading, download reports, and share results via email
Increase in on-the-job performance

– Predict high performers using customized reports

Cut in cost & time per hire-

Screen candidates anytime with remote proctoring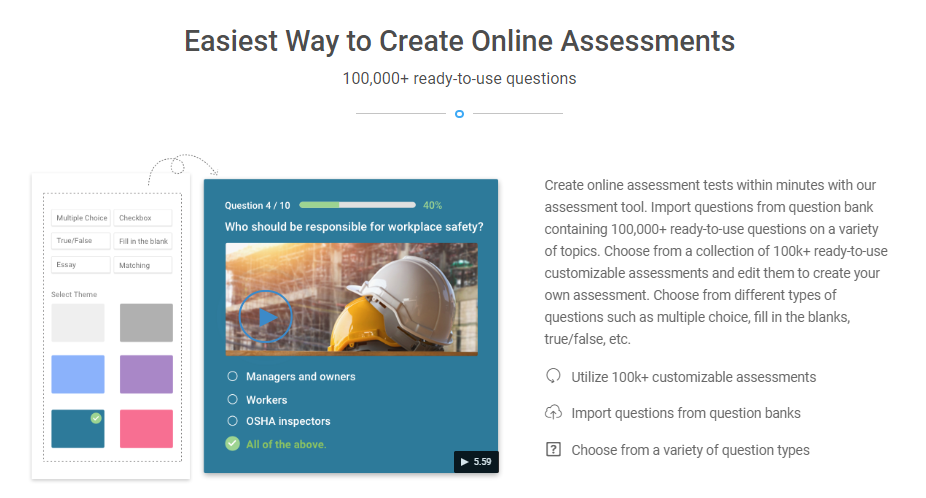 Hire employees that excel-

Make accurate judgments with test analytics

Reveal test results instantly-

Automate the grading process and display instant feedback for all answers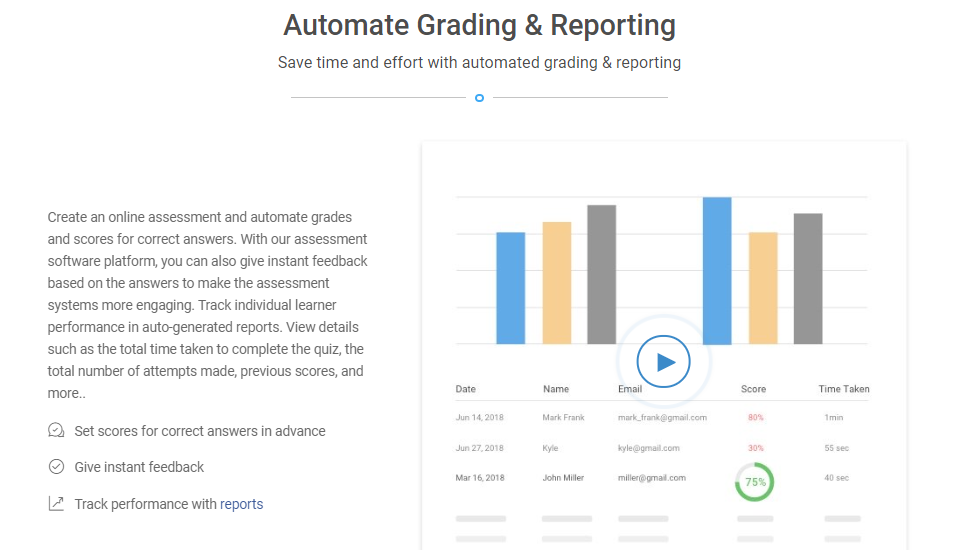 Decrease the possibility of a bad hire-

Eliminate unqualified applicants in the initial screening using the assessment results
But, the big question still remains- Can you find better candidates with skill assessment tests?
If you hired a candidate without testing him/her with a skill assessment test, who's to say they're not the best candidate? Also, who's to say the candidate you hire, after testing, is, in fact, the best one?
There are so many aspects to these questions.
But, what matters is- Skill assessment tests are a fantastic way to learn more about your candidates.
It lets you in on their applied skills, their communication skills, aptitude, or anything that you wish to know. It helps you in profiling. You can put more confidence in your employees if you hire them with the help of a skill assessment test.
It's not as if skipping a skill assessment test will have you make a wrong decision, but you'll know a lot less about the candidate. It'll be like taking a risk.
Watch: How to Create an Assessment Online

Tips to Create a Perfect Skill Assessment Test
Skill assessment tests can assist you in achieving the right balance between the applicant and the job you are hiring for.
Matching the right applicant to the right job leads to increased employee satisfaction, increased productivity, and reduced employee turnover, which can be costly for any company.
Here are ten secret tips for creating great employee skill assessment tests.
Test for skills you care about
The standard tests that are available make assumptions about what skills are important for various positions, but these assumptions may not match the skills you really care about. Just like when writing a job description, take some time to write down the skills that are most important to you and then test specifically for these skills.
Match the tests to the positions
Avoid using the same skill tests for every position in your company. You will learn much more valuable information if you narrow the focus of your assessments. For example, if you're hiring for a coder profile, you might wanna include questions that only test a candidate's knowledge of coding algorithms and not basic grammatical skills.
Keep tests short
Rather than writing one long test for each position, write short tests to examine individual skills. Then you can mix and match them depending on the job you are hiring for.
Make sure you are testing the right things
By the "right things," we mean making sure that the test you give is a good indicator of the actual skills of interest. This is called test validity, and if you are writing your own test, it is worth taking some time to learn more about this important issue.
Ask practical questions
Since your goal is to find out what the job applicants can do, not just what they know, use as many practice questions as possible. Some skills—like math and proofreading—can be tested directly. For others, construct case studies and scenarios and ask applicants what they would do in various situations.
Test soft skills as well
Don't forget about the soft skills. Problem-solving, critical thinking, communication—these are all essential for many positions.
Don't make it too difficult
This is especially important if you are hiring for lower-level positions. Your test should certainly assess basic knowledge and skills relevant to the field, but don't expect applicants to know everything (or approach all of the scenarios in the same way that you would) straight away.
In addition, give them the resources they would have access to on the job. For example, if the test is assessing their writing ability, let them have access to the Internet, or at least a dictionary, to check word spellings.
Do you care if they actually know how to spell a word or just that they get it right in the end? On the job, they would be able to look up words, so there is no reason they shouldn't be able to on the test.
Don't try to be tricky
The test should be a straightforward assessment, so stay away from trick questions. Your goal is to see what the applicants can do, not fluster them or put them in an uncomfortable situation.
Keep legal requirements in mind
Employee skill assessment tests are subject to the same rules and regulations as all other hiring processes in that there are certain types of questions you can't ask, and the tests can't be discriminatory in any way. Before you use your test, have someone review it from a legal perspective.
Use an online assessment creator
Finally, once you have your questions ready to go, use an online assessment creator to actually create the employee skill assessment.
By putting it online, you can easily distribute it to applicants, reuse and remix test questions as necessary, and take advantage of various features of the online test maker software, including automatic scoring.
---
Read More:- 6 Best Career Assessment and Personality Tests to Help You Find the Right Job

---
Conclusion
Skills or competencies vary from one job role to another, but abilities like time-management, cognitive thinking, learning agility, and problem-solving are common to every job role. In what degrees the candidates have such abilities will determine how well they will handle a job. So, conducting a skill assessment test before hiring is an absolute must and when you automated the process, it just makes the whole process give the best results in the end.
Do you want a free Quiz Software?
We have the #1 Online Quiz Maker Software for complete learning and assessment starting at $0