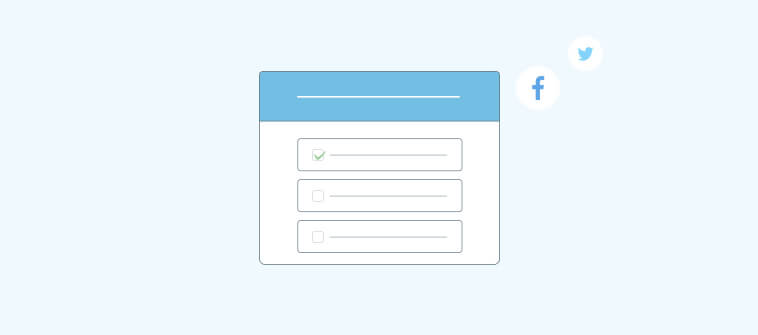 "What City Should You Actually Live In?"
The world of online entertainment has never been the same since BuzzFeed dropped this irresistible personality quiz in 2014. With over 20 million hits in a month, this simple piece of interactive content exhibited a wildfire virality, setting the stage for the quiz-binging trend of today.
Can you also make a personality quiz that has a revolutionary impact on your business' growth?
The answer, of course, is yes.
People love taking personality quizzes. They are loads of fun and let quiz takers discover new information about themselves. All of this is the perfect recipe for driving social media engagement and learning more about your audience.
Throw in the fact that quizzes also work great for lead generation, and you have a fantastic online marketing tool on your hands.
Once you reach the end of this blog, you'll know all about leveraging personality quizzes to achieve your business goals, including:
how to create a personality quiz online

the best practices to optimize it for shining results

how to use

online personality quizzes

as part of your marketing strategy.
But first, let's learn more about what personality quizzes are, how they work, and what benefits you can get from them.
What Is a Personality Quiz?
Personality quizzes are quizzes designed to assess and reveal the quiz takers' qualities or behavioral traits. These range from quick and whimsical BuzzFeed-style quizzes to insightful but lengthier pre-employment personality tests and career assessment questionnaires.
Personality quiz questions don't have any right or wrong answers since they don't check the quiz taker's knowledge or problem-solving skills. The quiz taker selects whichever option best matches their personality, as shown below.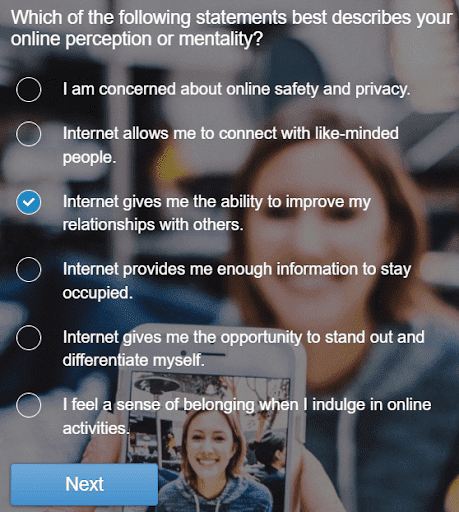 Online personality quizzes aim to provide the quiz taker with stimulating self-insights that serve as jumping-off points for exploring emotions, beliefs, and desires. They also help satisfy the need for instant gratification, making them wildly popular on social media and other online platforms.
How Do Personality Quizzes Work?
The simplest personality quizzes consist of 5-10 multiple-choice questions, all with the same number of answer options and each option mapped to a different possible personality-based outcome.
The quiz taker selects one option from each question as in a scored multiple-choice test. At the end of the quiz, the possible outcome that has the highest number of mapped options chosen is revealed as the quiz result.
Depending on your requirements, you can also create complex personality quizzes which can have one or more of the following:
A varied number of answer options per question

Single answer option mapped to multiple personalities

Weightage-based mapping as shown below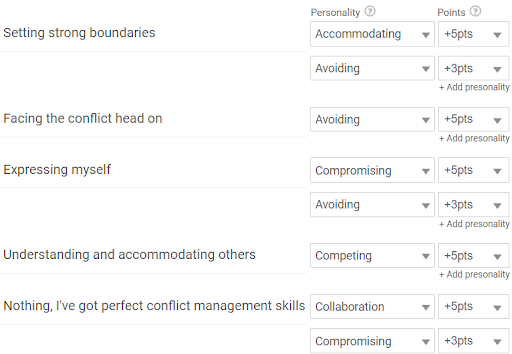 Why Create a Personality Quiz?
Personality quizzes are a highly engaging form of interactive content and work great for various marketing purposes. They also provide a simple and effective way to conduct psychographic assessments.
Let's look at the different ways in which you can benefit from online personality quizzes.
Social Engagement
You can never go wrong with entertaining and/or helping your visitors when trying to engage existing customers and prospects online.
Personality quizzes fit the bill for both. They offer lighthearted amusement while helping the quiz taker decide something or discover something new about themselves.
For example, here's a quiz that's perfect for a website meant for real estate business: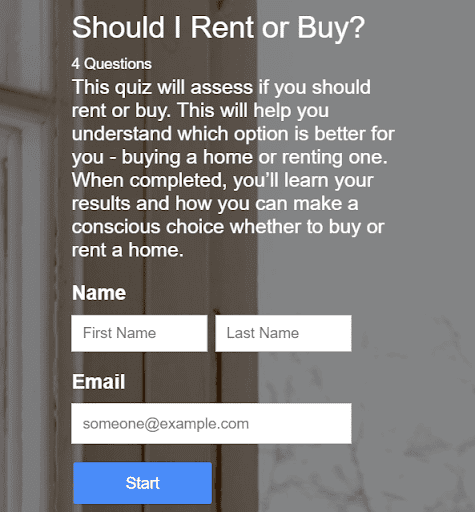 You can share personality quizzes on your social media pages or embed them on your website to instantly enhance the page's appeal. Regularly posting personality quizzes is a great way to keep your visitors coming back to your pages and improve brand recall.
Product Recommendation
Personality quizzes are ideal for giving personalized product or service recommendations. You can ask questions that collect information on the quiz takers' likes and dislikes and recommend your offerings in the quiz results. This is an especially effective sales growth strategy for the eCommerce sector.
You can create two types of product recommendation personality quizzes:
A

survey

-style quiz that helps potential customers choose the ideal product for them from your catalog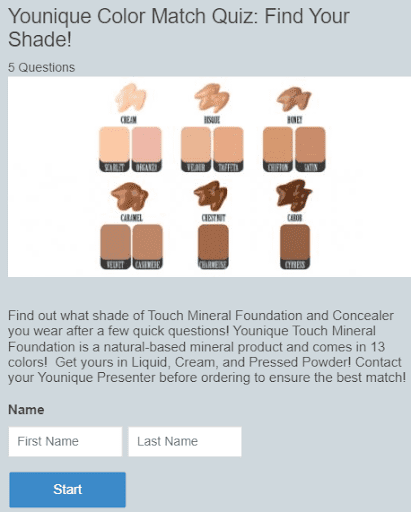 A

fun quiz

that assigns quiz takers a personality and recommends a product or service that best suits it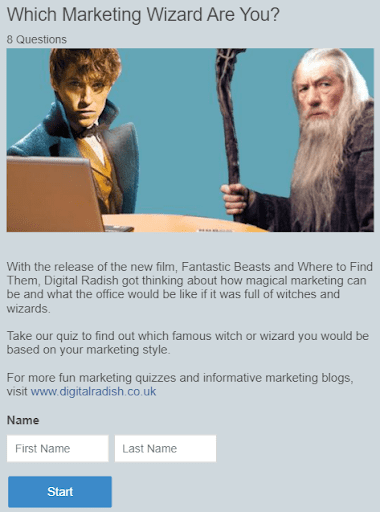 Besides recommending your bestsellers, you can also make personality quizzes to launch new products relevant to your quiz topic.
A well-crafted product recommendation quiz is always welcome in this era of choice overload, making it highly useful for creating a positive brand image. This is also evidenced by the fact that two-thirds of internet users in the US and UK shop using product recommendations.
Lead Generation
Personality quizzes can organically incorporate lead/opt-in forms, and their attention-grabbing power and high shareability make them the perfect lead magnet.
Lead generation quizzes that assign personalities provide a quick way to grow your email list and boost conversions, especially when combined with marketing automation tools.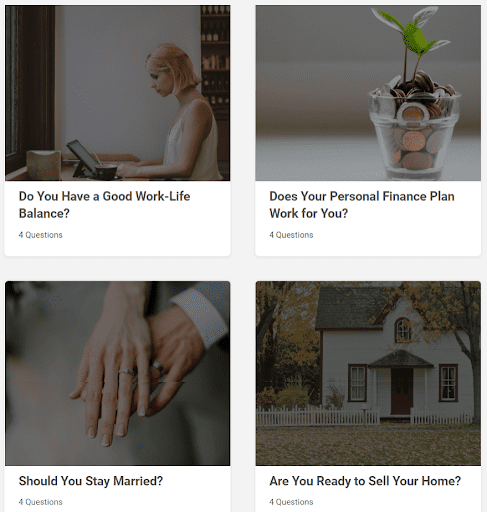 Market Research
Personality quizzes are uniquely effective for market research and complement user feedback tools when creating buyer personas. You can gain deep insights into your target audience's buying criteria and motivations by asking a few straightforward questions presented as a disarming personality quiz.
Besides creating customer personas, you can also use your market research quizzes to personalize your marketing efforts. Personalized marketing is of massive importance today, so much so that nearly half of internet users would be willing to switch brands just for better personalization.
Personality quizzes let you secure the information you need for personalization in a subtle, subliminal way, enabling you to create an immersive yet non-intrusive brand experience.
Tip – Apart from a quiz maker that can help you identify different personas, you can also use a customer feedback tool, such as Qualaroo to research the market and build buyer personas.
Pre-Employment Personality Assessment
Personality quizzes provide one of the best ways to assess job candidates' personality traits and ensure a good culture fit. Personality assessments conducted using quizzes are especially helpful when you're hiring remotely.
You can choose from one of the popular behavioral assessments used by HR professionals, such as Myers–Briggs Type Indicator (MBTI), Occupational Personality Questionnaires (OPQ32), etc., or create a custom pre-employment personality test using a personality test maker.
Besides helping you avoid bad hiring, pre-employment personality tests can also be used to improve onboarding. For example, you can personality-test candidates to determine their preferred communication or conflict management style. Doing so can help leaders better manage new team members.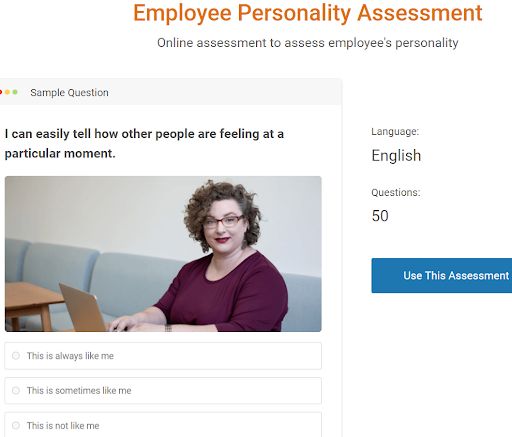 Career Assessment
Personality quizzes can also serve as an excellent career assessment tool. Teachers and career counselors can make personality quizzes to help students decide on a fulfilling career path and understand how personal characteristics, such as motivations, preferences, aptitudes, etc., contribute to job satisfaction and success.

How to Make a Personality Quiz
Creating a personality quiz with an online quiz maker is super easy. You can create online quiz in two ways:
Using pre-built templates or quizzes

Creating the quiz from scratch
In the first method, all you have to do is choose a template or ready-to-use quiz from the quiz library and customize it to suit your requirements.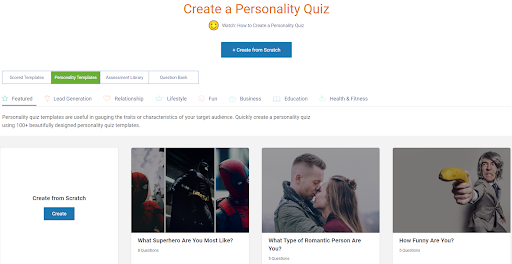 With the template method, you can make a personality quiz in a few minutes. But, if you'd like to explore your creativity, you can choose to create your personality quiz from scratch instead.
Here's the process in five quick steps.
Step 1 – Add questions from scratch or import from the question library.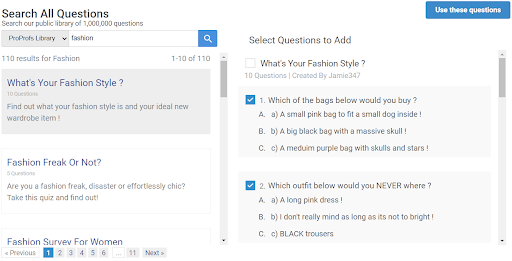 Step 2 – Set up different personality-based results.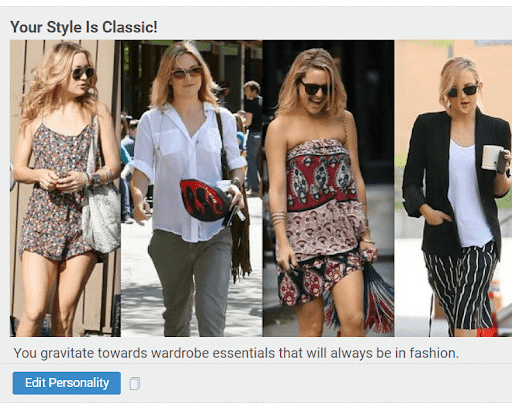 Step 3 – Map answer options with personalities.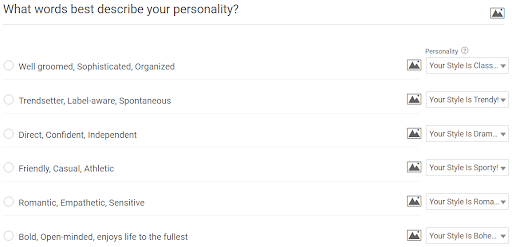 Step 4 – Work on the look and feel.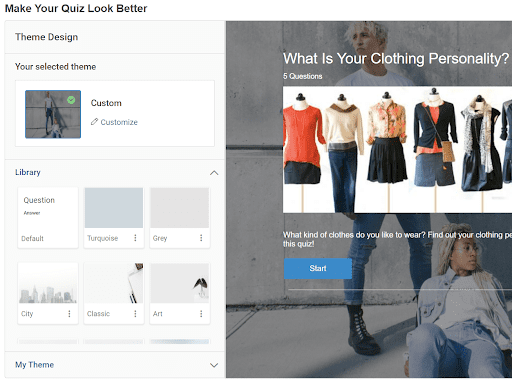 Step 5 – Share the quiz via a link, email, etc., or embed it on your website.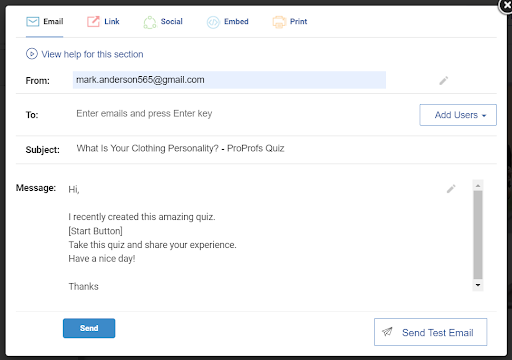 ---
If you wish to learn more about making personality quizzes, check out our quiz-making guide.
---
Watch: How to Make a Personality Quiz in Minutes

How to Use Personality Quizzes to Boost Your Marketing Efforts
Personality quizzes are a highly versatile type of marketing content. You can feature them almost anywhere online to complement your marketing campaigns. Here are some of the ways you can leverage personality quizzes.
Homepage –

Embedding a personality quiz on your homepage, preferably above the fold, is a great way to generate leads, segment your visitors, and drive conversions.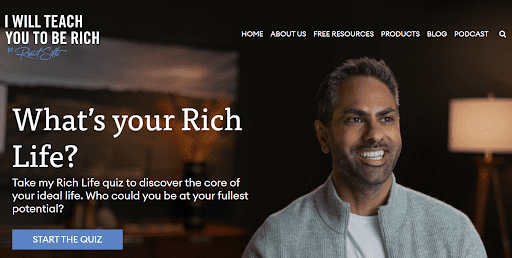 Product Page –

The product page is the perfect place to embed a product recommendation quiz. Your visitors are already browsing through your products. So, the quiz would serve as the logical next step.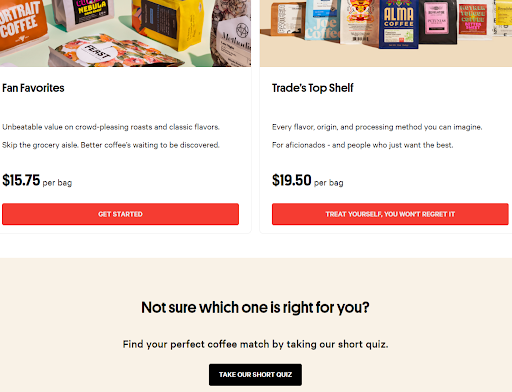 Social Media Handles – Social media is ideal for sharing all types of personality quizzes. You can share nonsensical BuzzFeed quizzes to engage with your audience in a fun way or present a lead generation/product recommendation quiz to help your potential customers as well as yourself by gaining more conversions.
Tip – When making a personality quiz for social media, ensure that you add the link to your homepage or any landing page, both in your post and quiz results page.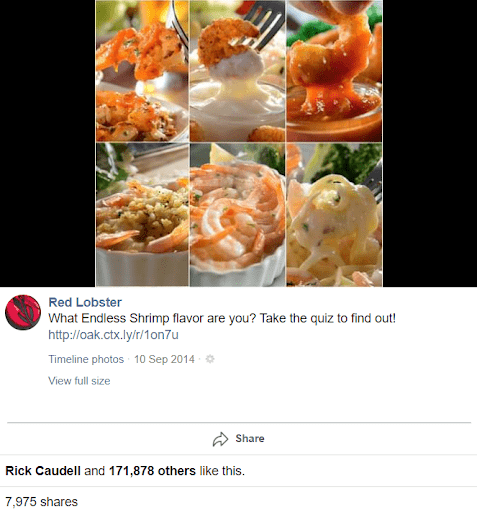 Blog Articles

– Adding personality quizzes to your top-ranking blog posts can be an excellent way to capture leads and generate conversions. You can also

make personality quizzes

to enhance your blog articles, increasing their share-worthiness and creating even more lead generation opportunities.
Watch: How to Embed Quizzes In Your WordPress Blog

As an Exit Popup –

While

personality quizzes are amazing for generating curiosity about your brand, they also work equally well for re-engaging leaving website visitors. All you need to do is add your quiz link accompanied by a call-to-action to your

exit intent overlays and popups

.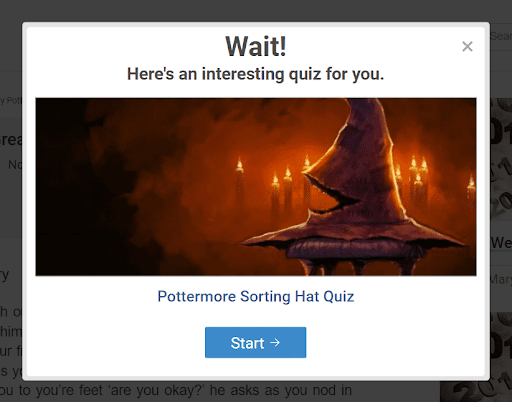 As a Chatbot Popup –

Your

chatbot

can present your product recommendation personality quiz when a website visitor asks it for a product recommendation.
In the FAQ Section –

Visitors on your FAQ page may be looking for answers to how they can select the best product for them. So, it makes sense to embed a helpful personality quiz that can guide them to the right product or service.
Marketing Emails –

Personality quizzes can make a wonderful addition to your email marketing campaigns. You can improve trust and engagement while driving sales through personalized recommendations.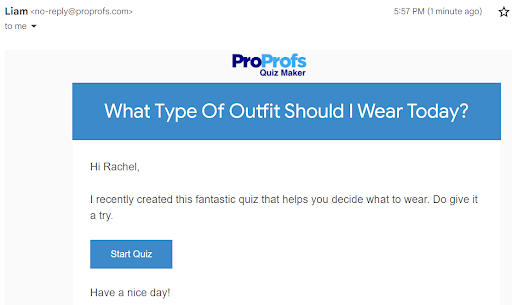 Including personality quizzes and other styles of quizzes in your online marketing is an excellent way to gain an edge over your competitors. All you need to do is come up with excellent quiz ideas relevant to your business and apply the quiz-making best practices you'll learn in the next section to make some perfect personality quizzes.
Top 10 Tips for Creating Amazing Personality Quizzes
Now that you know all about creating personality quizzes let's look at some tips to optimize your quizzes for maximum benefit.
1. Offer self-discovery
The most enticing feature of a personality quiz is that it helps people discover something about themselves, which may even help them grow. So, make sure you include this aspect in your quiz questions and results. Offering self-discovery in this unique way also helps in building trust.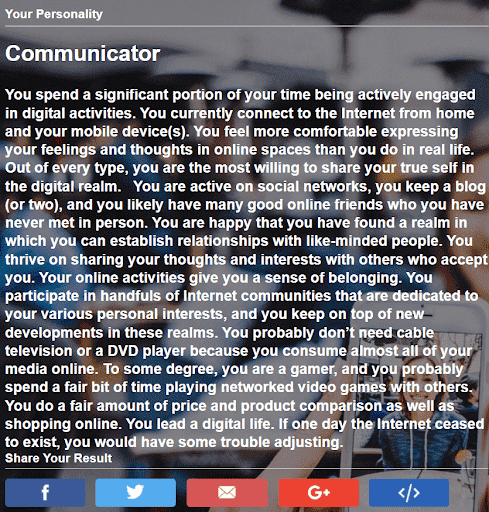 Further, the element of self-discovery in a product recommendation quiz helps quiz takers connect with the product or service you're showcasing in the quiz results, boosting conversions.
2. Craft an eye-catching title
One of the biggest challenges of making a personality quiz is naming it.
Knowledge quizzes are relatively easy to name. For example, if you're creating a physics quiz, you can simply name it 'Physics Quiz'. On the other hand, personality quiz titles can't be that straightforward. They need to be attention-grabbing and curiosity-generating.
For quizzes that assign a character, your title can be in this format:
"What <topic> character are you?"
This format works for almost every movie, game, or book character.
For quizzes that categorize the quiz taker into a group or personality trait, your titles would vary with the topic. For example:
An interesting thing about the first title among these two is that it questions the user without making them aware of it; plus, this question is presented in a slightly imperative manner, making the title highly engaging.
Similarly, titles that cast doubt are equally engaging.
Key Points for Creating Titles:
Titles should engage the user through doubt and/or mild command.

They shouldn't be more than one sentence.

They should be simple.
3. Add a wow cover image & description
While your title is the first thing most people will notice about your quiz, your cover image and description are just as important.
Once your title has drawn attention to your quiz, the cover image will pique curiosity. Meanwhile, the description will seal the deal by convincing the quiz taker that your quiz is worth their time.
Here's an example of an excellent title, image and description trifecta.
4. Create engaging questions
A well-designed welcome screen is enough to convince visitors to try your quiz. But, it's certainly not enough to take them to the end. For that, you'll need to ask super-interesting questions to let the quiz taker immerse themselves in the quiz.
So, how can you craft engaging and entertaining questions?
If you're making a BuzzFeed-style personality quiz, your questions can be as straightforward or complicated as you want. It's completely up to you.
New creators can keep their personality quiz questions simple. For example, you can ask questions, such as "What is your favorite color?" "Are you a music lover?" etc.
On the other hand, quizzes that assign characters or personalities based on pop culture need a bit more research.
Sure, you can pull off the questions mentioned above for your pop culture quizzes. But, questions that target the source material will always give a more personal feel to your quiz and let the quiz taker associate better with it.
For example, a Harry Potter quiz with questions about wizards or spells will always do better than one with questions about favorite colors or food items.
Key Points for Creating Questions:
Put in a few hours of research for better and more engaging questions

Try not to keep the options too obvious

Try to draft questions that are relevant to the quiz topic
5. Pay special attention to the results
The personalities in a personality quiz are what make it worth sharing. So, ensure you spend enough time creating the different possible outcomes. Getting your results screen right will take patience and a lot of research and practice, but it's well worth the effort in terms of the quiz's shareability… or virality!
Here are the things to keep in mind:
Make sure that the mapping between the options and the personalities makes logical sense.

Be as descriptive as you can be about each possible outcome.

Try to create descriptions that make the quiz taker feel like they are a particular character.

… But, avoid writing too much about the character. Focus on how the character or personality resonates with the quiz taker.

Add relevant and interesting images to the possible outcomes. Images help in making the results even more satisfying.
Here's an example of a great-looking personality quiz result.

6. Make everything visual
The welcome screen and the results screen aren't the only places where you can feature some intriguing images. You can include images throughout the quiz by adding them to your quiz questions and answer options. You can also add videos or GIFs wherever it makes sense.
Another thing you can do is add your company logo to the quiz along with a background image that showcases your brand identity. Doing so will make it easier for the quiz takers to connect with your brand.
7. Keep it short and simple
The shorter your quiz, the higher the chances of the quiz taker reaching the end of the quiz, where they can fill out your lead form to view their results. So, always go for a shorter quiz.
6-8 questions are the sweet spot, but anything between 5 and 10 quick questions will work.
Similarly, limit the answer options per question to 6.
Minding the length of the question and answer statements would also be a good idea. You don't want to confuse the quiz taker with an overly complicated question.
Pro Tip – If you have to include a lot of information in your question, you can add an audio or video clip to do so. This way, you avoid a lengthy question statement while enhancing the quiz takers' experience.
Watch: How to Create a Video Quiz

8. Optimize for shareability
Your personality quiz needs to be highly shareable if you want to engage a large proportion of your audience and grow your leads and conversions.
Here are some things you can do to make quiz takers want to share your quiz on social media and elsewhere:
Add easily visible social sharing buttons to your quiz results page. If you're embedding the quiz on a webpage, you should also add the buttons on the webpage.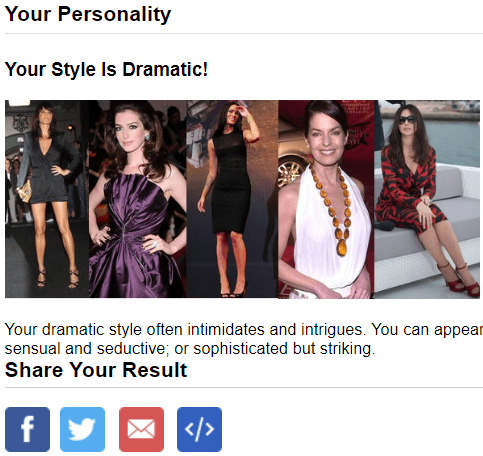 Add a theme to

make your personality quiz

visually appealing. You can use a pre-built theme or design your own.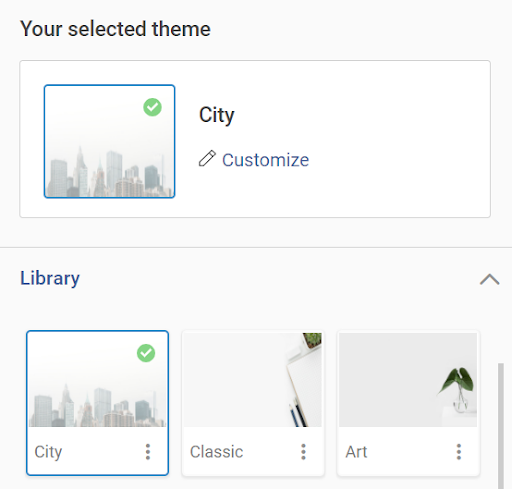 If you're featuring the quiz in a social media post, you can add a note to go with it, urging quiz takers to share their results.

Create upbeat, memorable personality outcomes that quiz takers would love to show their friends and family.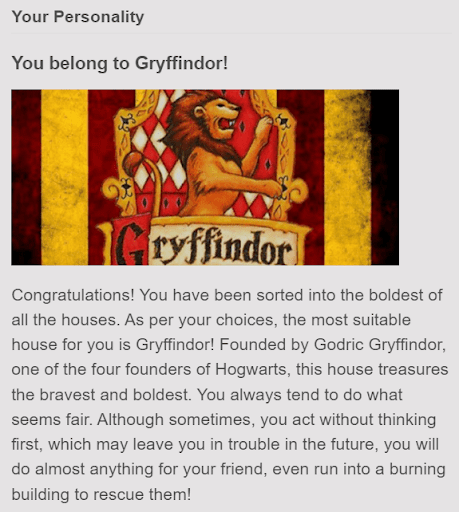 Watch: How to Design Beautiful Quizzes

9. Connect with goals & motivations
Being fun is undoubtedly the USP of a personality quiz. But, the most engaging quizzes also strike an emotional chord with the quiz taker.
Keep your audience's goals, motivations, and desires in the front of your mind when you're crafting your quiz content, whether it is the questions, outcomes, or welcome screen description.
For example, check out the welcome screen of the Assess Your Online Marketing Strategy quiz from ProProfs' quiz library.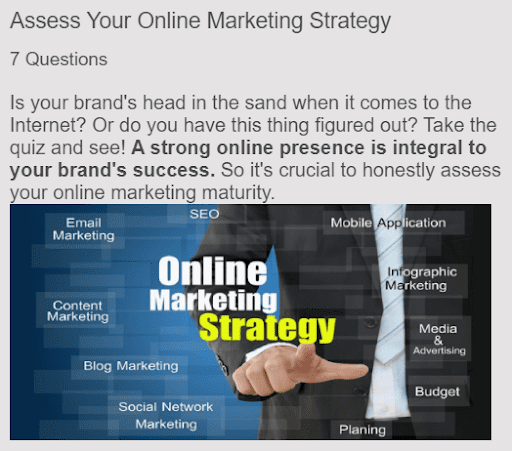 And here's one of the outcomes from the same personality quiz.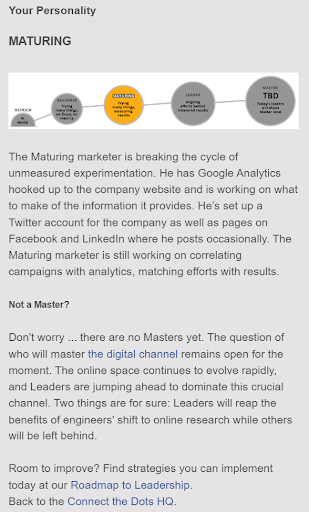 See how the "Not a Master?" part of this outcome description is solely dedicated to connecting with the quiz taker's hopes and goals?
You can also add a passage such as this to your outcome descriptions or go for a more subtle approach by referencing the quiz taker's goals when elaborating on the outcome – whatever works best for your audience.
10. Use a good personality quiz maker
A good personality quiz creator enables you to create and share amazing-looking quizzes quickly and easily. It also helps ensure that your personality quizzes meet all your requirements.
Here's what you should look out for in your online personality quiz maker:
User-friendly quiz-making experience

Pre-made questions to save time and effort

Comprehensive customization options

Easy mapping between personalities and answer options

Reporting functionalities for market research

Integrations for lead management, such as Mailchimp, Constant Contact, etc.
Watch: How to Choose the Best Personality Quiz Software

Bonus Tip: Remember these don'ts
So you've learned about everything you can do to turn your personality quiz into a powerful marketing tool. Now, here are the things you need to avoid.
Don't ask for too much or unneeded information in your quiz lead forms. Otherwise, the prospect may get annoyed and bounce.

Don't ask survey-like questions. Research your audience in a subtle way.

Don't openly advertise your brand in the questions or the quiz description. Keep advertising content and calls-to-action restricted to the results screen.
Add Personality to Your Marketing Campaigns
Thriving in today's insanely competitive business environment requires innovation at every stage of your marketing campaign. Personality quizzes provide a uniquely impactful marketing medium for brand awareness & consideration, as well as getting more leads and conversions.
But, to get all these benefits, you need to create amazing personality quizzes, which is only possible if you have the right quiz tool to bring your quiz ideas to life.
ProProfs offers a simple and intuitive online platform for creating and sharing personality quizzes and is equipped with all the features you'll need. This includes a massive quiz library with over a million ready-to-use questions, diverse question types, AI-powered reports, and 100+ settings to customize and configure your personality quizzes.
Do you want free Quiz Software?
We have the #1 Online Quiz Maker Software for complete learning & assessment