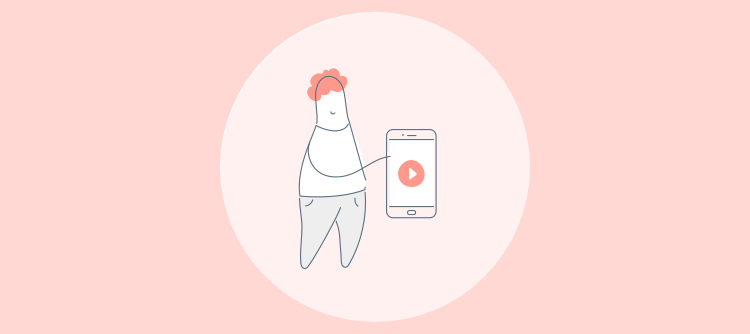 Did you know that workplace safety issues are among the biggest causes of premature death?
In fact, work-related accidents and diseases result in an estimated 2.78 million deaths yearly, far exceeding the combined toll of road accidents, war, and violence!
While organizations try to create the safest work environments, their efforts amount to nothing if the employees aren't aware of their part in creating a safe work culture.
The quality of your training programs is of paramount importance in this regard. You must ensure that your employees understand and remember all the safety practices and protocols and have a safety-oriented mindset.
That's where workplace safety quizzes and assessments can play a key role. Taking online safety quizzes helps reduce unsafe behavior in hazard-prone environments by letting employees refresh their safety knowledge on a regular basis.
In this blog, you'll learn all about workplace safety quizzes, including:
The benefits of creating a health and safety quiz

Things to keep in mind when creating one

Essential

safety quizzes for employees
Let's start with the benefits.
Why Do You Need to Create a Workplace Safety Quiz
Leveraging online quizzes is a great way to ensure a safe, healthy, happy, and highly productive workforce. This holds true whether you're a construction company with thousands of workers facing daily injury risk or a food joint looking to keep your establishment disease-free. Here's how.
Online quizzes provide a quick and straightforward way to find out whether your employees are up to speed on the best practices for health and safety. You can assess thousands of employees in a few simple steps, before and after training.
Deliver engaging training
Adding quizzes to your training programs and courses creates a visually interactive experience, helping employees understand and retain information better.
Ensure unhampered operations
Employee injuries and illnesses can put a major dent in your day-to-day operations, which can even have long-lasting effects on your business goals. Effective safety training powered by quizzes enables you to avoid this.
Employees harboring health and safety-related insecurities about their work environment are more likely to take unnecessary leaves. Workplace safety tests, especially those that provide certification, help employees feel confident about their safety knowledge.
Being saddled with bad managers isn't the only major reason people quit their job. In a poll conducted by Safety and Health magazine, nearly one in two participants reported having left jobs due to dissatisfaction with safety initiatives.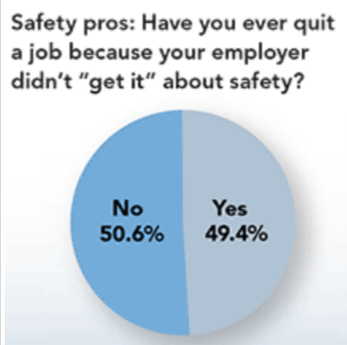 Conducting workplace safety quizzes gives you an easy way to show your understanding of employee well-being and maintain your workforce's trust in their organization.
Not adhering to safety compliance regulations can expose your company to huge business risks, including loss of revenue, business opportunities, reputation, and market value.
Workplace safety quizzes work great to keep your employees compliant with health and safety protocols mandated by federal agencies, such as the Occupational Safety and Health Administration (OSHA) and the Food and Drug Administration (FDA), to mitigate this potential misfortune.
Now that you know the benefits of creating workplace safety quizzes let's look at some tips to ensure that your quizzes help you achieve desired results.
Tips to Create an Effective Workplace Safety Quiz
Here's what you need to remember to create impactful workplace assessments to promote a safety-focused work culture.
Depending on your industry, some workplace safety quizzes may be more important than others. For instance, if you're in construction, making your employees aware of fall protection safety practices is critical. On the other hand, a topic such as bloodborne pathogens would fall in the "should know" category of your safety training program.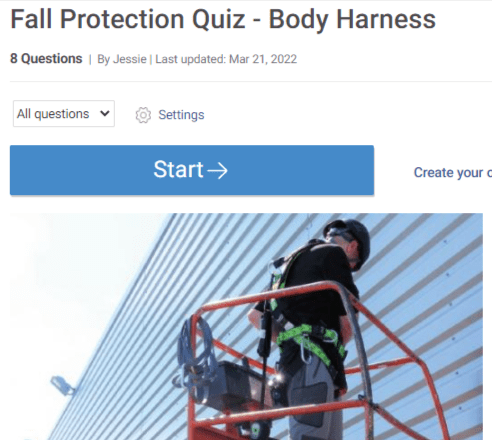 Ensure you're focusing on the right things by analyzing your workplace safety needs and dividing safety training topics by degree of importance and urgency.
Whether you're looking to assess or educate, trick questions don't belong in workplace safety quizzes. Trick questions only confuse the quiz taker, wasting their time and yours.
Instead, you should ask questions clearly while ensuring that the question is challenging enough. For instance, if you're making a multiple-choice question, your incorrect answer options need to be "plausible distractors".
Avoid dual-choice questions
Make sure that your multiple-choice questions have a good number of options. You don't want a situation where an employee gets a lot of questions correct by guessing, resulting in an incorrect evaluation of their safety knowledge.
Use dual-choice and true/false questions sparingly or restrict them to your non-evaluatory quizzes.
Watch: Types of Quiz Questions for Online Learning
Include situational judgment questions
Knowledge-check questions are essential for your workplace safety and health quizzes, but they don't assess an essential aspect of employee safety preparedness—judgment. So, ensure you include many situational judgment questions in your workplace safety assessments.
Studies show that situational safety quiz questions and answers work great for evaluating employees' personality and cognitive aptitude in relation to workplace safety, making them ideal for hiring for job roles demanding extra caution.
In such questions, you can present the quiz taker with a hypothetical situation that needs smart decision-making and ask them what they would do if put in a similar situation.
Awarding completion certificates to quiz takers such as the one shown below offers a two-fold benefit.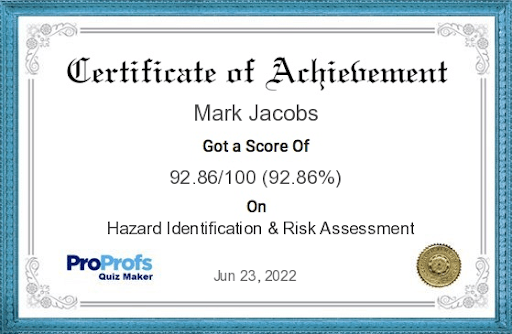 Watch: How to Create Custom Certificates With Your Own Logo and Branding
As this study concludes, adding the element of time pressure to your workplace safety quizzes can be an excellent way to discourage guesswork and make employees better prepared for safety hazard scenarios. You can set an overall time limit for your quiz or separate time limits for each question.
Pro Tip – Having separate time limits for each question can be a great idea if you have questions of varying difficulty and wish to allot time accordingly.
Write: How to Create a Timed Quiz
When it comes to workplace safety quizzes, selecting your quiz software carefully provides several benefits. Using a good quiz tool, you can:
make visual and engaging quizzes to train employees on safety practices

create interactive questions in various styles

accurately track and

analyze knowledge gaps

and learner progress

customize quizzes to suit your training,

hiring

, and onboarding needs

ensure employees take all assigned quizzes

easily schedule quizzes for weekly safety awareness sessions

promote and establish safety compliance

seamlessly assess and manage large and culturally-diverse learner groups
Watch: How to Choose the Best Assessment Software
If you're using workplace safety trivia quizzes to refresh and reinforce knowledge, one of the key things you need to get right is the feedback you give to your quiz takers. Ensure that you give clear, comprehensive, and engaging explanations for each question in your quiz.
You can give this feedback at the end of the quiz with the score or after each question.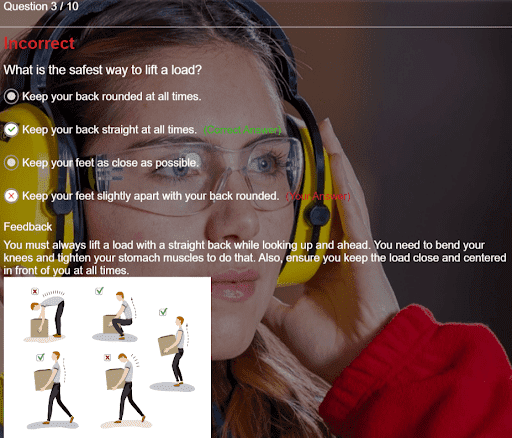 Shuffle questions & answers
Randomizing the order of your questions and answer options can be very helpful in ensuring an accurate assessment of your employees' safety knowledge.
For instance, let's say you need your employees to retake quizzes if they score low but also wish to reveal answers during the quiz for feedback-based learning.
In this case, shuffling your questions and answers will let you reassess employees with the same questions. Shuffling also helps ensure that employees don't copy each other's answers.
Pro Tip – To present a different quiz each time, you can also pool questions randomly from a question bank you've created. Some tools also offer a readymade question bank that can be useful for you.
Include statistics trivia questions
Besides questions that assess and educate employees, you can also include some statistics-based trivia questions in your workplace safety quizzes. Using such questions, you can make your employees aware of the ongoing workplace safety issues in your country and the rest of the world.
For example, let's say you're making a fire safety quiz. You can have questions such as:
How many people in the US died of fire-related accidents last year?

On average, how many surgical fires break out each year in the US?
So, these were our tips for getting the best results from your workplace safety quizzes. Now, let's look at some quizzes conducted by organizations worldwide as part of their employee safety and health improvement initiatives.
---
Also Read: Best iSpring Alternatives
---
15+ Essential Workplace Safety Quizzes
The following are the common topics for workplace safety quizzes. Depending on your industry, some may be critical for your organization while others are of lower importance.
1. Hazard Identification and Risk Assessment
Key Industries: All
Failure to identify hazards is among the biggest root causes of occupational accidents and diseases. Implementing an ongoing and proactive process for Hazard Identification, Risk Assessment, and Control Measures (HIRAC) brings hazard-associated risk to a reasonably low level.
Employees and workers need to be fully aware of how they can pinpoint hazards and assess the risk level. A workplace safety quiz is an excellent tool to ensure that workers and managers are well-updated on workplace hazard assessment methods and best practices.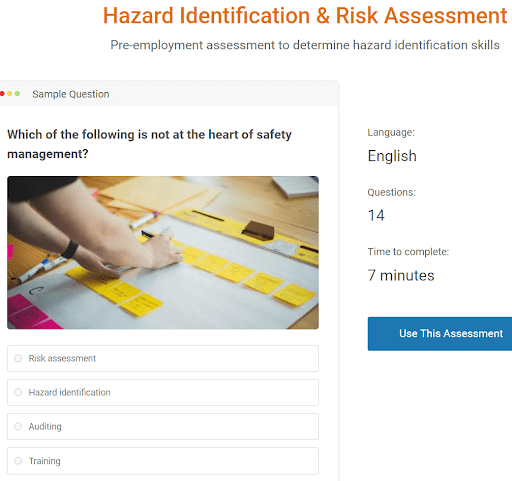 2. Fall Protection
Key Industries: Construction, transport & storage, manufacturing, retail
Falling from a height is the second biggest cause of work-related accidental deaths, only behind highway crashes. In construction, fatal falls account for around one-third of on-the-job deaths.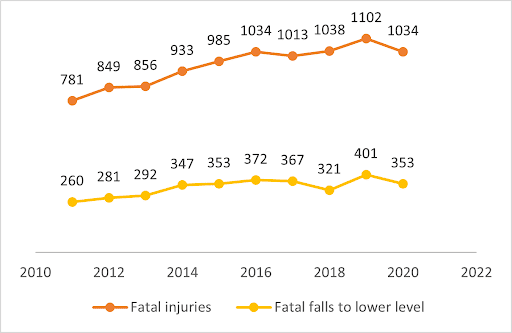 A workplace safety quiz on fall protection educates workers and their supervisors on Occupational Safety and Health Administration (OSHA) safety protocols and best practices for working on ladders, scaffolding, and other forms of elevation. For instance, OSHA recommends implementing robust fall protection measures for work at these heights:
Six feet in the construction industry

Five feet in shipyards

Eight feet in longshoring operations

If working above dangerous equipment or machinery, fall protection is needed, no matter the elevation
3. Slips, Trips, and Falls
Key Industries: Retail, manufacturing, construction, transportation & storage
While falling to a lower level can be disastrous, even a fall on the same level is a serious safety concern. Same-level falls along with slips & trips without falls resulted in over 200,000 injuries in 2019.
You can have questions such as these in your workplace safety quiz on slips, trips, and falls:
What can you do to minimize slips and trips in the workplace?

What precautions should you take to ensure safety on a flight of stairs?

What can you do to ensure cleaning doesn't compromise workplace safety
4. Bloodborne Pathogens
Key Industries: Healthcare, education, firefighting, law enforcement
A bloodborne pathogens workplace quiz educates employees on universal and standard precautions they must take to protect themselves from bloodborne diseases, such as HIV/AIDS, hepatitis, etc.
While the risk for contracting bloodborne diseases is mostly associated with the healthcare industry, teachers, firefighters, police officers, prison staff, and janitors may also be highly vulnerable.

5. Fire Safety
Key Industries: Chemical, manufacturing, hospitality, education, healthcare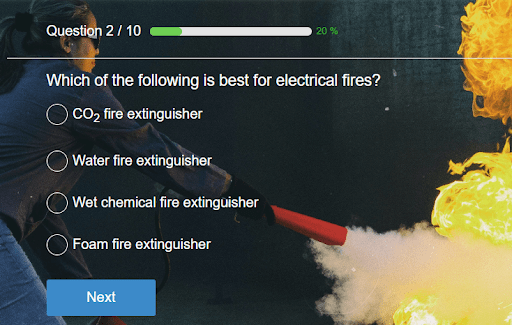 Fire safety quizzes for workplaces ensure employees are aware of all the essential information related to fire safety, including:
How to identify fire hazards

Fire prevention best practices

How to respond if there's a fire

Common causes of workplace fires
Important – When drafting your fire safety quiz, make sure you also account for the less obvious fire hazards. For example, did you know that iron and aluminum are explosible in dust form ?
6. Hazard Communication (HazCom)
Key Industries: Chemical, healthcare, labs, cleaning services, construction, manufacturing
The Hazard Communication (HazCom) workplace safety quiz lets you train employees on what to do and who to tell when they encounter a hazard at the workplace. Armed with the knowledge of hazard communication protocols and regulations, your employees can communicate the presence of workplace hazards efficiently and prevent many accidents.
You can have questions such as these in your HazCom workplace safety quiz.
What does the acronym SDS stand for?

What is the best way to learn about the hazards of specific chemicals?

Match each color to what it represents in terms of hazard communication.
Red

A. Health hazard

Blue

B. Fire hazard

Yellow

C. Special hazard

White

D. Instability
7. Forklift Safety
Key Industries: Service, transportation & warehousing, manufacturing, production, construction
Forklifts can be highly dangerous. In 2020, these industrial motor vehicles were responsible for 78 deaths in the US. They also caused over 7,000 non-fatal injuries involving multiple days away from work.
You need to properly train employees on how to operate these machines and stay safe when working near them. Here are the kind of questions you can include in your forklift workplace safety quiz.
When does a forklift need to be inspected?

What precautions should forklift operators take when moving through pedestrian traffic?

What is the correct procedure for loading two objects with different weights on the same forklift?

What information is provided by a forklift nameplate?
What should you do when approaching a blind corner on a forklift?
8. Hand and Power Tool Safety
Key Industries: Construction, automotive, healthcare, gardening
What to do before, after, and during the use of hand and power tools

Common hand and power tool hazards

Tool inspection and maintenance best practices

Proper use of personal protective equipment (PPE) while operating power tools

How to use electric power tools safely

How to prevent "kickbacks" when using power tools
Here are the types of questions you can include in your hand and power tools quiz.
What do jackhammer operators need to wear to ensure safety?

What injury hazards are associated with wedges, chisels, and draft pins?

How frequently must jacks be inspected if used continuously at a site?

Which tools require eye, head, and face protection for safe operation?
9. Hazardous Materials (Hazmat) General Awareness
Key Industries: Chemical
Exposure to hazardous materials, such as acids, disinfectants, caustic substances, etc., can cause various side effects, including poisoning, nausea & vomiting, headache, skin rashes, burns, etc. It can even lead to major health issues, such as lung, kidney, liver, and nervous disorders.
Hazmat quizzes and training courses create awareness of the following:
The types of hazardous materials

The potential for exposure in different settings

Safe handling procedures

Exposure prevention practices

How to control hazmat physical & health hazards
Hazmat training is a must for anyone working where hazardous materials are stored, used, or transported.
10. OSHA Injury & Illness Recordkeeping
Key Industries: All except certain low-risk industries
Except for a few low-risk industries, OSHA requires all organizations with more than ten employees to record every serious work-related injury and illness. This record enables OSHA, workers, and employers to accurately assess workplace safety.
It also helps everyone better understand the hazards associated with their industry and implement preventative measures to reduce or eliminate future health and safety issues. The OSHA Injury & Illness Recordkeeping quiz lets you assess injury and illness recordkeeping skills to ensure you remain compliant with OSHA guidelines.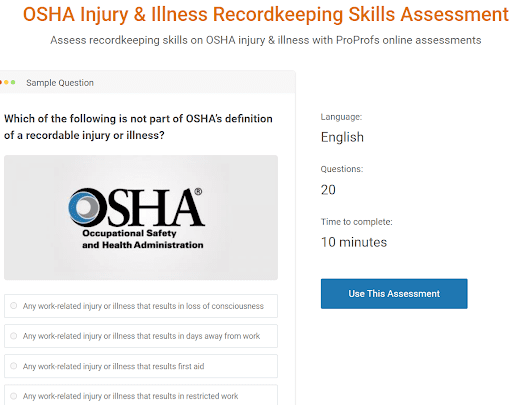 11. First Aid Knowledge
Key Industries: Healthcare, childcare, gym, construction, firefighting, airline, law enforcement, correctional facilities, nursing home, educational institutions
According to the American Heart Association (AHA), there are around 10,000 cardiac arrests in workplaces. Still, 55 percent of employees aren't trained in first aid, Cardiopulmonary Resuscitation (CPR), or Automated External Defibrillator (AED).
This is a massive cause for concern as first aid can save a lot of lives. For instance, AHA estimates survival chances from an out-of-hospital cardiac arrest double or triple with a correctly performed CPR!
When creating your first aid quiz, make sure you cover all the important first aid topics, both life-threatening ones and non-life-threatening emergencies, such as cuts & scrapes, burns, musculoskeletal injuries, bites & stings, etc.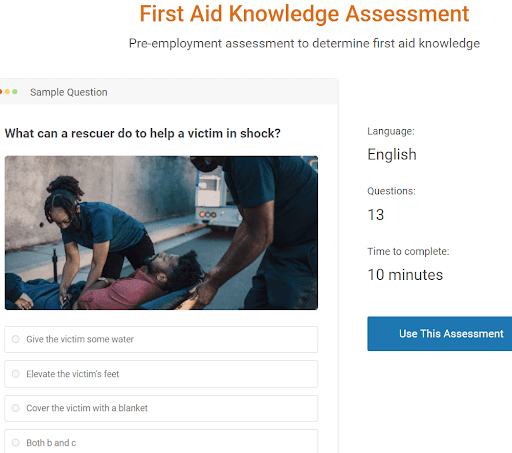 12. Accident Investigation Skills
Key Industries: All
Accident/incident investigation involves investigating all incidents in which an employee was hurt, came very close to being hurt or could have been hurt if the circumstances were somewhat different.
Conducting a thorough analysis of the causes of workplace safety incidents can help prevent the majority of worksite fatalities, injuries, and illnesses. You can have questions such as these in your accident investigation skills quiz:
What should be included in a safety incident record?
What is the correct procedure for performing an accident investigation?
What are the crucial follow-up actions for safety incident investigation?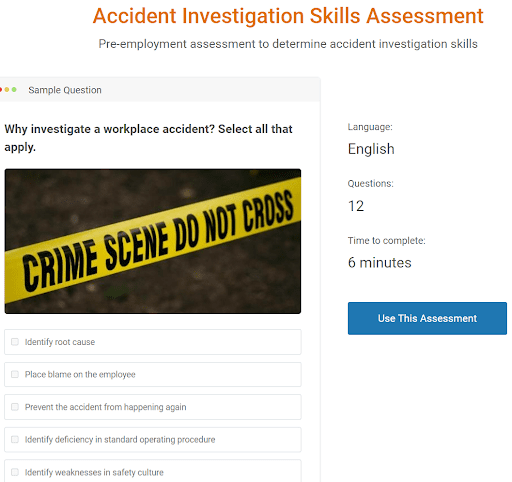 13. COVID Safety
Key Industries: All
COVID safety training educates employees on the importance of COVID safety, the various ways in which COVID can spread, and how they can protect themselves and others from this deadly disease by following safety practices and protocols.
OSHA also recommends training workers on its Bloodborne Pathogens (BBP) standard and the proper use of personal protective equipment (PPE) in relation to COVID safety.
Employers must also consider the COVID pandemic's evolving nature when designing their COVID prevention training programs. Conducting regular workplace safety quizzes can be a great way to keep employees updated on the latest COVID prevention guidelines.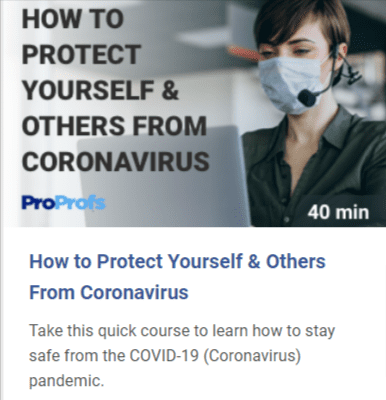 14. Sexual Harassment
Key Industries: All
While OSHA doesn't regulate sexual harassment in the workplace, sexual harassment can directly or indirectly cause various health and safety issues for the victim.
Stress caused by sexual harassment can affect a person's mental and physical health.

It can also affect an employee's ability to perform their job safely.

Unchecked sexual harassment can lead to sexual assault.

Victims may start to avoid reporting other safety issues, especially if the harasser is among those in charge of workplace safety.
All of this makes it crucial to promote and mandate a harassment-free work culture. You can use workplace safety quizzes on sexual harassment as part of your candidate screening process, new employee orientation program, and work culture awareness initiatives.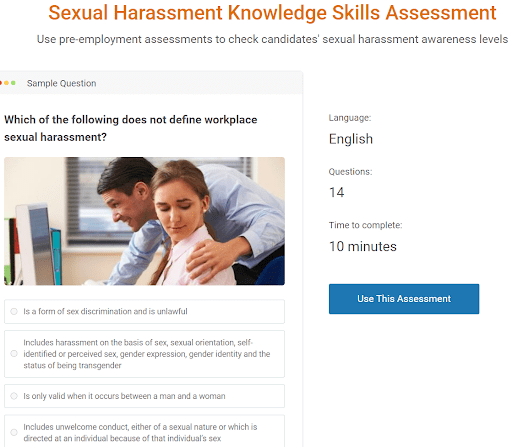 15. Workplace Active Shooter
Key Industries: All
Workplace shooting incidents are on the rise! No matter your industry, you must train employees effectively on how to be prepared for and respond to active shooter incidents. Here are the questions you need to ask in your workplace safety quiz:
What is the first thing you must do in an active shooter situation?

When evacuating the active shooter area, what do you need to remember?

What should you do once you're out of the line of fire?

How should you respond when law enforcement arrives?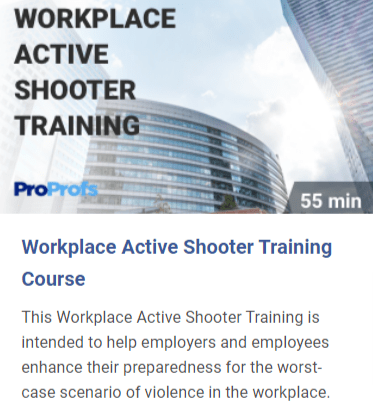 16. Emergency Action Plan (EAP)
Key Industries: Depends on vulnerability to different emergency situations
Emergency Action Plan training enables employees to handle workplace emergency situations in the best possible way. Depending upon the number of different emergency situations you may be vulnerable to, you can either create a single workplace safety quiz for all of them or separate ones for each kind of emergency.
Some of the common emergency situations include:
Pandemic flu or similar viral illnesses

Fire

Flood

Hurricane/cyclone

Earthquake

Power outages

Large chemical spill

Explosions

Workplace violence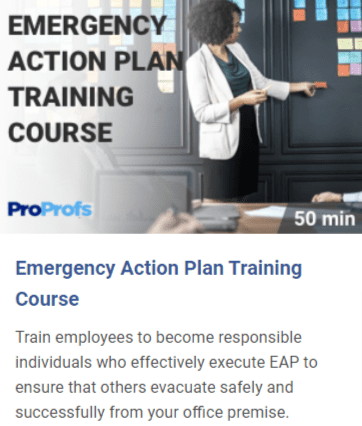 Other Critical Workplace Safety & Health Quiz Topics
Overtime and fatigue

Arc flash safety

Equipment safety

Janitorial safety

Latex allergies

Safety signage

Cold stress hazard

Machine guards

Vehicle safety
How to Create and Conduct a Workplace Safety Quiz Online
You can make a workplace safety quiz and use it to assess your workforce with these six simple steps:
Step 1 – Import questions or create your own.
Step 2 – Configure security, compliance, and other settings.
Step 3 – Set up a certification program and passing score.
Step 4 – Customize the look and add your logo.
Step 5 – Assign your quiz to individuals, groups, or teams.
Step 6 – Analyze individual/group reports and statistics.
Check out our quiz-making guide for a more detailed look at how you can build and conduct a quiz online for any purpose. Here's what your workplace safety quiz will look like.

Make Workplace Safety Your #1 Priority
Workplace safety is one of the biggest moral and legal responsibilities for any organization, demanding careful thought and immediate attention. So, start refining your employee safety programs today by adding workplace safety quizzes to the mix. You can also employ online safety training software to streamline your safety training processes further.
When it comes to employee safety, you can't compromise on your safety tools. Create your workplace safety quizzes with powerful quiz software that lets you accurately assess employees' safety knowledge and boost hazard-prevention awareness through engaging content.
Intuitive and feature-rich, ProProfs Quiz Maker lets you do this and more. Our quiz tool offers 15+ question types, 100+ smart settings, a quiz library with over a million questions on various topics, and delightful, AI-powered reporting and analytics.
Do you want free Quiz Software?
We have the #1 Online Quiz Maker Software for complete learning & assessment