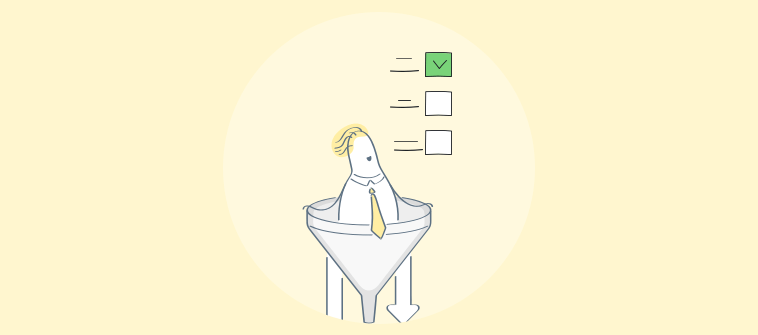 You wouldn't be surprised if I told you that quizzes are a great way to generate leads, would you?
But, did you know the "You've Been Framed" quiz by optical company Zenni Optical generated over $1 million in revenue and 29,410 lead conversions with a 9,655% ROI in 6 months?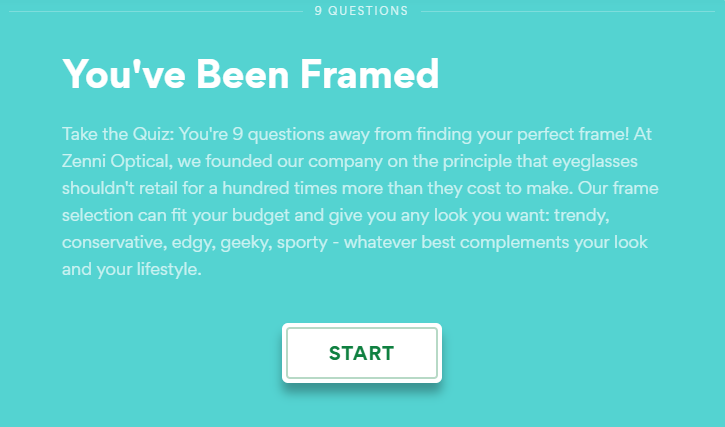 Whenever it came to deciding on a method of lead generation, there used to be a constant battle between traditional techniques and advanced ones.
But, there's one method that has picked up the pace in recent times. It's using lead generation quizzes.
Wonder why is that?
Well, lead generation quizzes are not only fun and interesting, but they offer the most effective way of capturing leads with the help of a lead form.
Companies use various popups, live chat, and other elements to boost visitors' excitement, engage them, and capture their personal information. What combines all of these as a package is a quiz.
Customizing a lead form and adding it to your can average up to 55% opt-in rates. That's 25X better than other online lead forms like pop-ups (1.95% average).
With an over 30% lead capture rate, quizzes have an interactive component and enable visitors to get something in return for their time spent.
Today, businesses experiment with lead quizzes to generate leads by building interactive quizzes and sharing them on social media.
Since in this blog, we wish to discuss the best practices associated with lead generation quizzes, here's what all we are going to talk about:
How to use quizzes for lead generation

Steps to create an effective lead generation quiz

How to make a lead quiz marketing funnel

Why use ProProfs for building lead generation quizzes
Let's begin with our first segment.
What is a Lead Generation Quiz?
A quiz created and shared with the purpose of gathering the quiz-takers' information with the help of a lead capture form is typically called a lead generation quiz.
The information captured in the lead form may vary depending upon the creator's requirement and can be sent to different mailing lists by enabling integration between the quiz and marketing automation tools like MailChimp, ActiveCampiagn, Constant Contact, and more.
Want to know what the experts have to say about lead quizzes and their benefits? Slide into the next section.
Importance of Lead Quizzes- Expert Speak
Let us now dig further to learn how experts feel about lead generation quizzes. We have 10 experts onboard to pen down their views on how businesses can grow and generate more leads by creating lead quizzes.
FREEDOM AHN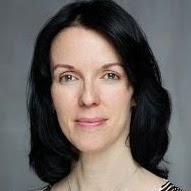 Digital Marketing Specialist
Quizzes and surveys allow brands to engage with their ideal target audience actively; organically generating leads, and planting potential customers in your pipeline.
They can play an instrumental role in your lead generation strategy by naturally sparking interest and curiosity among the target audience, increasing website traffic, qualifying leads, and providing personalized feedback.
Engaging highly-targeted leads has never been easier. Create a short,

fun quiz

or survey and put it on your homepage replacing the typical 'subscribe to my newsletter' feature.
It isn't enough for your website visitors to subscribe to your newsletter. You need to know what interests them online and quizzes help you find that out. Your target audience becomes more curious when you "let them know themselves". You get personalized feedback in return.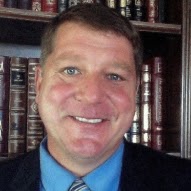 CEO, Lead Analyst at Talented Learning
Progressive organizations are using a test question of the day, week, or month to drive continuous, lifelong learning with corporate learners. "Test questions can be pushed out via text or email, and learners can receive instant or delayed instructor feedback." Successful completion of test questions over time can count for compliance training or professional development credit.
As corporate trainers, you need to know if learners of a business or corporate program are learning and moving ahead in the right direction. Test questions help to assess the knowledge and the retention rate of corporate learners. Tests bring seriousness to the course.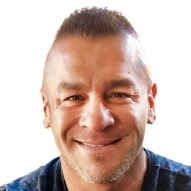 President, CEO at Business Credit Insider Circle
When it comes to generating leads, asking questions is always the best strategy. It helps an individual discover what they need. Once they complete a quiz, you could provide a solution, which results in them becoming a pre-qualified lead.
At the same time, this type of approach shows potential customers that you want to understand their needs, irrespective of whether or not you have the solution. Using a tool such as Quiz Maker helps to easily and effectively create a quiz for lead generation.
Quizzes not only help businesses but also customers to comprehend what they need out of your products and services. Quizzing has erupted to become a major lead generation activity. Understand your customers' problems and offer them the right solution.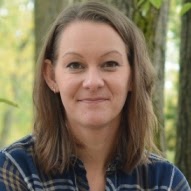 Content Marketing Writer and Small Business Marketing at The Well Balanced Writer
Adding quizzes to your lead generation strategy is an ideal way to learn about customer pain points. Doing so puts you in a perfect position to step in and resolve issues without feeling salesy or pushy.
Quizzes add an element of gamification too, which makes them fun. Quizzes make lead generation easy and fun. When you learn about your customer pain points by using quizzes, resolving them becomes fast.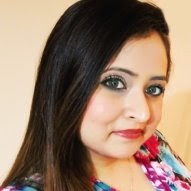 Product Analyst
Conducting a personality quiz helps a business to learn about the persona of its customers. Businesses better comprehend their buying behavior and patterns over time. When you learn who is your target audience and how to appeal to consumer buying behavior, sales figures go high. Customers take interest in participating in these quizzes, as they learn about themselves.
After all, everybody wants to figure out what kind of person they are. A plethora of quiz software is available to create amazing, engaging, and interactive quizzes. Building quizzes are fun and taking them is all the way more. Get ready to know your customers better!
Your customers like to know themselves and personality quizzes help them to do so. As a business, you can better judge the personality of your buyers. Sales increase only when you are well aware of their buying patterns.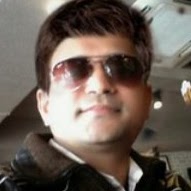 Market Researcher
Quizzes enable a business to learn how much their customers know about their brand. Brands test their customers' knowledge of their products and services. They do so by organizing quizzes on social media handles.
As a business, you need to know how much your brand recalls and what customers like or dislike about your brand. You may improve on the aspects that make your customers unhappy. You may even figure out where your competitors fare better than you and how you can outshine their offerings. Surveys and quizzes are the best tools to gather primary customer data. This type of market research, ultimately, helps in lead generation.
Gathering primary data is not an easy task but quizzes make this job easy. Find out where your products and services lack when compared to those of your competitors. Improve them and generate better leads than others in the business.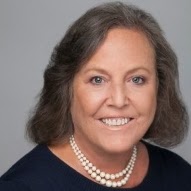 CEO & B2B Marketing Strategist at Marketing Interactions
Lead generation is about exchanging valuable information. You want to learn more about your buyers and how to contact them. Your buyers want information that helps them learn or solve a problem. A quiz is a great tool to achieve both goals. Quizzes build curiosity and motivate participation because they are usually based on answering a question.
Examples can include:
What kind of (blank) are you?

How does your cybersecurity maturity rank against your peers?

Do you have the skills to apply AI to drive marketing performance?
Once the quiz has been taken, your prospective buyer enters simple contact information to view the results and show their consent to receive additional related information.
If your quiz is constructed thoughtfully, you learn more about the prospect than just their contact information. Quizzes help you establish your authority on a specific topic.
You also glean insights that will help you to:
Segment prospects based on their answers to improve personalization

Send relevant and personalized follow-up information to build engagement and momentum
Quizzes outrank normal subscription forms because they help you understand how you can best engage each prospect.
Way better than subscription forms, quizzes help you and your buyers. You can learn more about them and they can resolve their problems. You can even segment prospects and send personalized and relevant information. Tweet this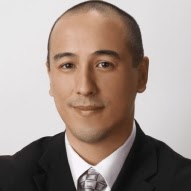 Founder, Internet Income Coach
Quizzes are one of the most powerful ways to generate online leads.
The reason they work so well is that, depending on the type of quiz being used, people are drawn to the curiosity of testing their own intellect. They want to find out where they stand compared to others.
For example, a quiz titled "What kind of manager are you?" naturally makes the visitor want to know what are the different types of managers. Also, they are able to figure out the type of manager who appeals to their curiosity. Another example is a quiz titled "Do you know the 10 most important aspects of managing a team?" This appeals to the visitor's desire to demonstrate their knowledge and expertise.
Leveraging these psychological principles can greatly increase the opt-in rate as compared to the more traditional lead capture device such as a white paper, ebook, or special report.
Another benefit of using quizzes for lead generation is that they can be shared. Sharing quizzes on social media platforms helps to drive even more traffic and leads to the quiz. BuzzSumo reported that their average quizzes were shared 1,900 times.
Quizzes are a powerful tool to drive more traffic, get qualified leads, and ultimately increase revenue.
When quizzes appeal to the psychology of your website visitors or target audience, their participation and engagement get increased. With more web traffic, lead generation becomes quick and revenues go higher.

Business Communication Expert, Author
Savvy business owners can use quizzes to generate leads by crafting questions that allow participants to identify their own needs. If you ask the right questions, participants will be in the state of mind where they reflect on their own strengths and weaknesses, while identifying the knowledge gaps.
When your business helps fill those gaps, you create a solid lead. Offer follow-up resources, such as videos, white papers, etc., for each question and content as a means to enable participants to engage better with your brand.
Quizzes help your customers to better engage and understand your brand. If your customers get access to resources, such as videos, ebooks, and white papers, after taking a quiz, they tend to participate more, engage and share.
Along with the above tips, there are various other ways you can use quizzes lead generation. We talk about them in brief below.
How to Use Quizzes for Lead Generation
Even though the primary reason you use a lead generation quiz is to generate qualified leads, there are other ways you can use it. Here we have listed down a few of them:
Get attention:

Quizzes are a rage on Facebook. If your quiz appears attractive enough, the chances are that a lot of people are going to take it.

Get information:

You can always customize your own lead form and use it to gather quiz-takers' information. It is advisable to place your lead form (with a skip button) before you reveal the quiz results.

Get people to sign-up: Since a quiz forms only the top of your marketing funnel, it does the job of convincing people to sign up for your email list for more information.
Streamline your email marketing:

You can integrate your lead quizzes with major marketing automation tools and automate the email marketing process.
The information you capture in the lead quizzes will be automatically segmented into different mailing lists. This will help you to turn your quiz takers into subscribers to paying customers very easily.
Now that you know the best ways to use a lead generation quiz, you must be curious to know how to create one.
Jump to the next section to know how to create a lead quiz – the easy way!
Steps to Create an Effective Lead Quiz
If you're wondering how to build an effective lead quiz, here are all the steps:
Step-1: Segment Your Quiz Takers Into Groups
You can build an effective lead quiz only when you have your end goals in mind.
Defining your end goals involves segmenting your quiz takers into different groups.
Then, you can send personalized email marketing content catering to the needs of each group.
For this, you have to be clear about your customer personas and the problem that they're facing. Then, you need to decide what product or service you can offer to the group.
Step-2: Choose a Quiz Type
The real purpose of creating a lead quiz is to generate qualified leads because better lead generation ends in better conversion rates.
This is why you should always keep the purpose in mind when creating online quizzes for lead generation.
For example, if you're creating a quiz with ProProfs Quiz Maker, you have the option to make your own quiz with either a personality quiz template or a scored quiz template.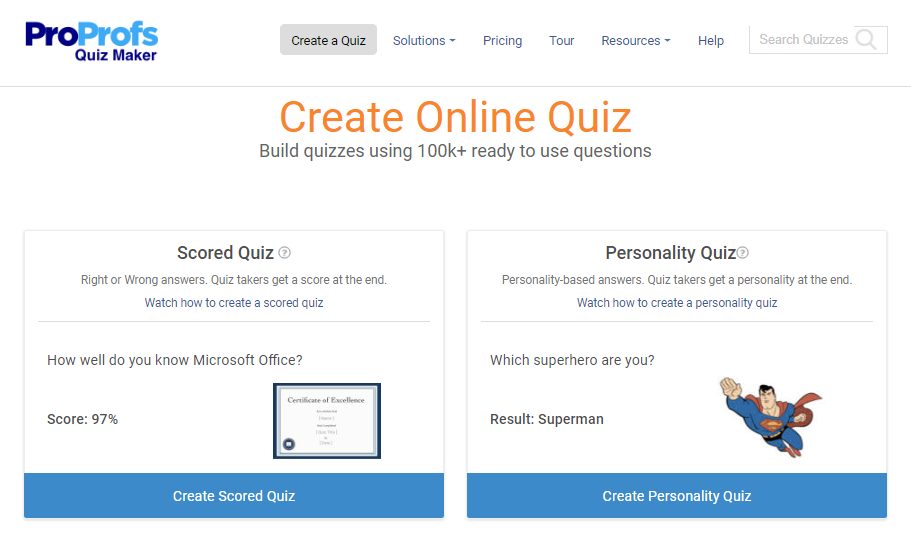 Personality Quizzes: These are the most popular type of lead quizzes and are often used as a lead magnet. Creating online personality quizzes helps your audience better understand themselves by taking them on a journey of self-discovery. The result is often a revelation about certain aspects of their personality.
No matter what your niche is, you can always make your own personality quizzes and use them to keep your audience engaged.
Pro tip: Use templates to create the best personality quizzes.
Scored Quizzes: Unlike personality quizzes, scored quizzes don't offer any self-discovery. But, they are a good way to test your audiences' knowledge about your brand or your products and services. But, make sure you create upbeat and positive results even for those who score the lowest. After all, you don't want anyone to feel mediocre and miss out on any prospect.
Watch: How to Create a Quiz Online with ProProfs

Step-3: Work on Its Appearance- Quiz Image, Title and, Description
When your quiz appears on a social media platform, here's what your audience will notice right away- the quiz cover image, the title, and the quiz description.
These three elements are enough to decide whether your audience clicks on your quiz or scrolls right past it.
That's why, it is very important that your quiz image, title, and description must appear interesting enough to evoke curiosity.
For example, look at the following quiz: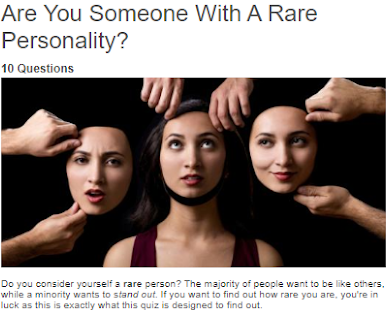 In the above example, you can see that the quiz image, which is very gripping, relates to the title very well.
The title, on the other hand, questions the audience without even making them aware of it.
The quiz description is compelling enough to make people give in to the curiosity of finding out what kind of personality they have.
When you create a lead quiz, work on its appearance to ensure a large number of clicks.
Step-4: Choose Questions for Your Quiz Funnel
Even though there are many factors that contribute to the success of a lead quiz, the type of questions you choose to add to your quiz needs special attention.
After all, it is the questions that carry the quiz-taker to the end of the quiz.
If the questions are boring or do not appeal to the quiz takers' interest, chances are they will skip it. Questions are your way to create a conversation and build a rapport with your quiz takers.
Creating a set of engaging questions can be difficult, but with a good quiz maker tool, you can get access to many ready-made questions.

For example, ProProfs Quiz Maker lets you import questions from a question library that has over 100,000 ready-to-use questions across thousands of topics, as shown in the image below: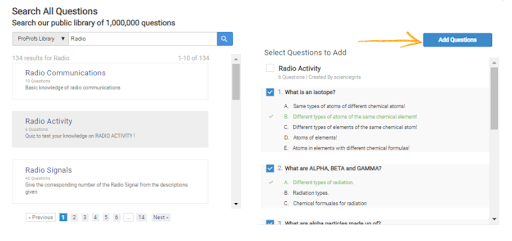 ---
Interesting Read:- How to Build Engaging Questions for a Marketing Quiz – 5 Best Tips

---
Step-5: Customize Your Lead Form
You can't create a lead quiz without customizing a lead form. That's a rule. After you've worked on the appearance of your quiz and added all the questions, customize your own lead-quiz form.
Include fields only that need to be filled, like your quiz takers' names, email addresses, mobile numbers, or anything that you may require to move ahead in the funnel.
Below is an example of a typical lead form.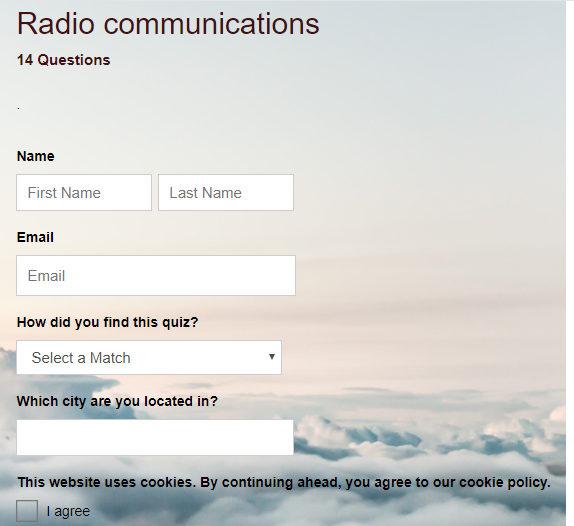 One important thing about lead forms is their place in the quiz. You can place your lead form right before you reveal the quiz results so that the quiz takers' won't refrain from giving in their information because they want to view their results. Or, you may place it at the end of your quiz and tempt your quiz takers to fill it with an exciting offer or a giveaway.
However, you may not make it look deliberate. Also, enable an option to "skip the form" button. This way, only those who are the most engaged will sign-up for your list.
Well, that's all the steps required to build a lead generation quiz.
After you've created one, you can share your lead quiz via email, embed it on your website, or simply copy the link and paste it on social media platforms like Facebook and Twitter.
Out of these, Facebook has emerged as the best place to host your quiz since it has 2.80 billion monthly active users.
In the next section, learn how you can take the effectiveness of your quiz a notch higher with the best practices.
8 Best Practices for Creating a Lead Generation Quiz
Following the steps mentioned above will help you create a quiz but following these practices will ensure your quiz is loved by your quiz-takers.
Give Your Quiz an Attractive Appearance
The first thing that your quiz takers will notice about your quiz is its title, cover image, and description. If your quiz's outlook isn't interesting enough, there are chances that the quiz takers might not find it interesting enough to take it.
So, put in a little effort and give a catchy title to your quiz, add an attractive cover image and an even more interesting quiz description that clearly describes what the quiz is about. It must be able to tell the audience what they're going to achieve at the end of the quiz.
Include a Mix of Question Types
Why stick to just one type of question when you can use a variety to make the quiz takers stay engaged till the end? Quiz maker tools like ProProfs allow you to add a mix of question types like- multiple choice questions, fill-in-the-blanks, true or false, hotspot, and more.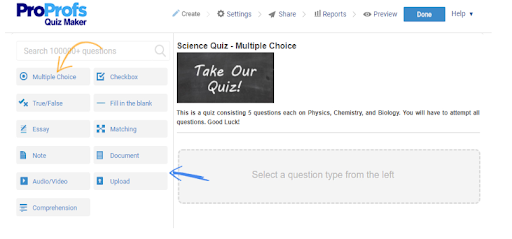 Use Images, Videos, and Audios
Using more multimedia translates into more engagement. Try to add images, videos, and audio to your questions and answers when possible. Get creative and create "guess this audio" or "guess this video" kind of questions. You can even add images in the answer options for multiple-choice questions.
Make your quiz interesting by adding a background image that relates to the topic of your quiz.
For example, if your quiz is about superheroes, try changing the background to a picture with a superhero in action. This will certainly pique the participants' interest, and they'll relate more to the quiz.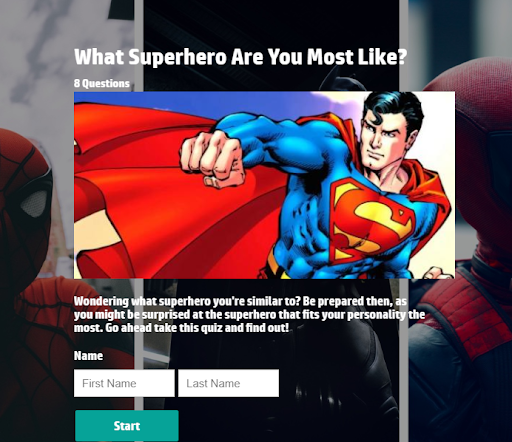 Remember, you're creating the quiz to engage your audience and then convert them into leads so they can later become your customers.
Keep your quiz short and ask only the questions that are relevant to the quiz topic. Keeping the quiz length between 6-10 questions is good enough for a lead generation quiz.
Don't drag the length to a point where the quiz-takers are fed-up with answering the questions and leave it without completing it.
This isn't a necessary step, but you can always add your own logo and a theme to your quiz that resonates with your brand.
Adding your logo to your quiz will help the audience associate the quiz with your brand.
Here's how the quiz with a logo looks like: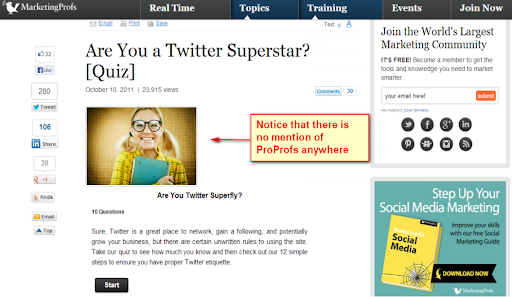 Creating upbeat and positive results is very important. Simply because your quiz takers should feel they made an effort by answering all the questions, and they deserve a rewarding conclusion.
If you create satisfying results, they'd like to share the results with their peers, which in turn, may turn in more quiz takers.
Integrate With Marketing Automation Tools
There is a way by which you can augment your lead generation process by 10x. You can easily integrate your lead quizzes with marketing automation tools. Tools like ActiveCampaign, ConstantContact, Mailchimp can help you create different mailing lists.
When you enable integration between your lead quiz and these tools, the information captured in the lead forms can be automatically sent to different mailing lists that you can use for email marketing.
Hop on to the next section to see how you can set up your marketing funnel with the help of a lead generation quiz.
How to Create a Lead Quiz Marketing Funnel
Ideally, in a marketing funnel, a lead quiz only forms the top of the funnel, i.e. Stage 1.
A marketing funnel, also called a sales funnel or purchasing funnel, is a sequence of steps a prospect will take from the first interaction to actually converting on your sales offer.
A typical marketing funnel would have three filters:
1- Lead Generation
2- Lead Nurture
3- Conversion
Each filter has a stage associated with it. Let's take a look at all of them.
Stage 1- Awareness
At the first stage of your quiz funnel, your audience needs to become aware of your brand.
While your existing customers may be well aware of your brand, it is important to create awareness to attract new prospects to take your quiz at this stage.
Here's where the lead quiz can work its magic.
You can create an engaging lead quiz and upload it on your social media platforms or website.
E-commerce website Amazon is also using quizzes to create awareness about products through quizzes.
Every day, they post quizzes created by brands and offer them to their customers as a chance to win free products.
Here are a few snapshots from those quizzes: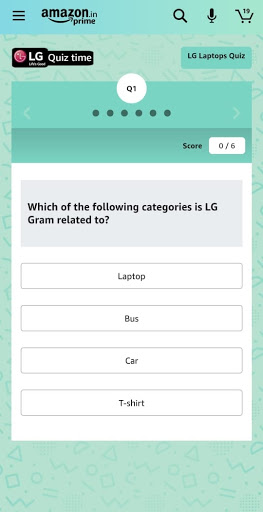 Also, don't forget to attach a lead capture form within your quiz so that it becomes easy to get quiz-takers' information.
Stage 2- Interest, Consideration, Intent
By the time you reach the second stage, you'll have all the data that you need to nurture your leads. You will need to create a highly engaging email marketing strategy catering to each of your mailing lists.
Why?
Simply because email marketing lets you nurture your leads in a relatively hands-off way, and only then can your marketing funnel earn more conversions.
This process becomes even easier if you integrate your lead quiz with a marketing automation tool.
That's why integrating your lead quiz with a marketing automation tool is a must at this stage.
Check out these popular integrations offered by lead quiz generation software.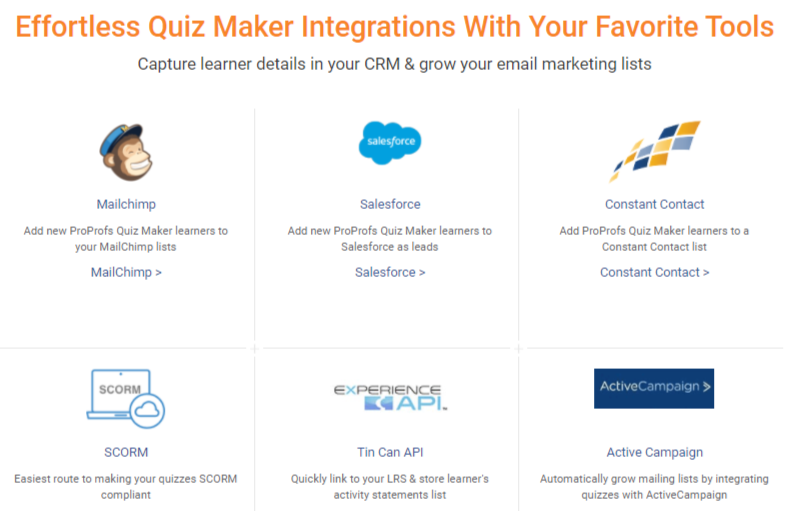 Integrating lead quizzes with automation tools puts a stop to most repetitive tasks such as manually building mailing lists, sending bulk emails, and keeping track of your potential leads.
Stage 3- Evaluation, Purchase
In the third and final stage of your marketing funnel, you convert your subscriber into a paying customer.
After your leads are through with their research is the time when you need to shoot your sales pitch in the email. This is the final step in the funnel.
All the information you share with leads in this email must be directed at persuading your audience to make a purchase.
That's the journey your customer will go through before they actually become your customer.
Having said that, I'd also like to point out that the process of generating leads is seamless only when you have a good online quiz maker. It offers everything you need to generate leads in one place, such as lead forms, ready-to-use questions, integrations, and more.
This is why I'd like to suggest to you the ProProfs Quiz Maker Software. In the next section, you'll learn the reason.
Why Choose ProProfs Quiz Maker to Build Your Lead Generation Quiz
Here are a few simple reasons why you should choose the ProProfs online quiz maker software to build your lead generation quiz:
Easy-to-Use:

ProProfs offers what we call hands down the easiest way to build quizzes. You're not required to do any installations. Simply go to the website, sign-up, and get started.
100+ Professionally Designed Templates:

You get access to more than a hundred scored quiz and personality quiz templates designed by industry experts. Templates make it easier to build quizzes in minutes.
100,000+ Ready-to-Use Questions:

If you wish to show some creativity and build your quizzes from scratch, the question library can be a great resource to do so. You can find questions on thousands of topics and import them into your quiz.
10+ Question Types:

Get creative with different types of questions and make your quizzes engaging for the quiz takers. Play around with video questions, add images, and more.
White-Label:

Power your quizzes with your brand's name. Use the white-labeling feature to give your quizzes a touch of your branding. Add your logo and themes to your quiz.
100+ Settings & Configurations:

Configure more than a hundred quiz settings to suit your requirements. Randomize questions, shuffle answer options, customize quiz results, time your quizzes, and more.
Multiple Integrations:

Choose from over ten marketing automation tools and CRM tools to integrate your lead quizzes with and improve your lead generation process by 10x.
Not just these, there are many other reasons why ProProfs could be the best online quiz software out there. We suggest you take a tour and decide for yourself.
Ready to Generate Leads With Quizzes?
The best part about using a quiz for lead generation is that you begin segmentation from the beginning. With a regular opt-in strategy, you can only do this after your audience has signed up.
Also, a lead quiz will help you drive significant improvements in your efficiency and effectiveness when pursuing leads.
What's best is that you can do all of this for free using a tool like ProProfs Online Quiz Maker Software.
Do you want free Quiz Software?
We have the #1 Online Quiz Maker Software for complete learning & assessment