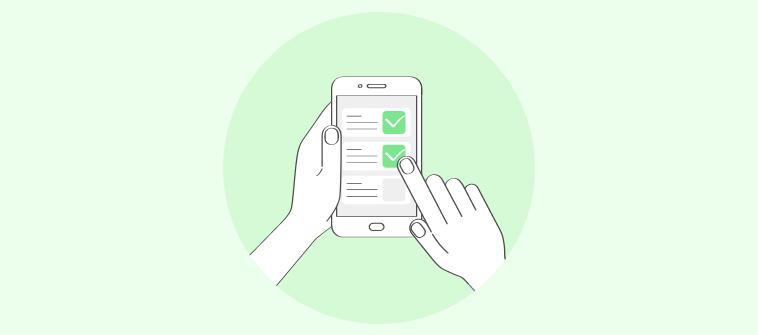 Choosing the right online quiz software isn't as easy as going to a restaurant and placing your order.
With the latter, you know what you want to eat, the quantity you can consume, your spice tolerance level, and the money you're willing to spend on your order. In short, the factors that contribute to your decision-making process are quite clear.
The same applies when you are choosing the best online quiz maker. There are certain factors that you must take into account before you choose one.
However, even when you're aware of the factors, narrowing down the best tools to choose from can seem a little complicated.
But we hear you!
We researched on your behalf and put together a list of the 15 best online quiz tools for 2023 and beyond to help you make your choice confidently.
Go through each and weigh the options to find out which best meets your needs. But before that, let's quickly understand the meaning, benefits, and key features of an online quiz maker.
What Is an Online Quiz Maker?
An online quiz maker is a tool that lets you create different types of tests, assessments, and quizzes, such as personality, graded, and trivia quizzes. It helps in measuring a learner's knowledge, skills, and personality. For instance, teachers may use an interactive quiz maker to identify knowledge gaps, while HRs may use it to assess their employees. A quiz maker does more than just quiz creation. The best online quiz tools let you automate grades and scores for correct answers, record video responses, choose from multiple question types, and more.
Watch: How to Create an Online Quiz in Under 5 Mins
Benefits of Having Software for Quizzes
To know the real value of the best quiz software, you need to understand what it enables you to do. A superior online quiz maker software offers numerous benefits, including:
✅
An integrated platform for learning, training, and assessing a huge number of learners.
✅
A better way to interact with your audience.
✅
An easy way to grow website traffic.
✅
A faster way to generate leads.
✅
An easy way to identify knowledge gaps.
✅
A means to create, share, track, and analyze quizzes anytime, anywhere.
Key Features of the Best Quiz Maker Software
By understanding some of the key features of a robust online quiz maker, you'll get an idea of how to get the benefits discussed above and what to look out for when choosing the best quiz builder software:
✅
Quiz templates to help users launch
personality quizzes
,
scored quizzes
, and online tests within minutes.
✅
A pool of well-researched,
ready-to-use questions
to add quality questions to quizzes.
✅
An
automated grading
& feedback system to help users avoid manual grading and save their time & effort.
✅
A variety of questions, including video questions, multiple-choice, hotspot, matching, and more.
✅
Customization for quizzes, tests, and assessments depending upon the needs of the users.
✅
Configurable settings to prevent false practices like cheating and unauthorized access.
✅
Compatibility with mobile devices so users can quiz anytime, anywhere.
Let's now get back to the top 15 online quiz makers and elaborate on each to know them better.
Top 15 Online Quiz Software to Consider
Here's a roundup of the 15 best interactive quiz makers for 2023 that will cater to all your quiz-making needs. Let's take a close look at all of them:
1. ProProfs Quiz Maker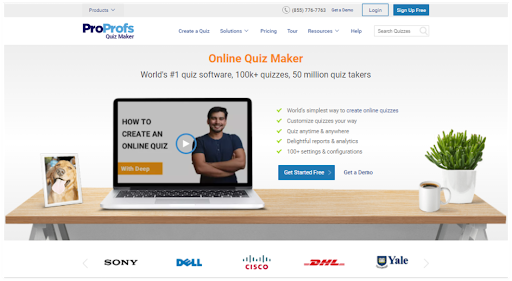 ProProfs Quiz Maker software is one of the top-rated online quiz platforms to make online quizzes. The ease of creating and sharing quizzes has earned it the tag of the world's most delightfully easy online quiz software.
Based on your requirements, you may use it as a math quiz creator, a Facebook quiz creator, or a personality quiz creator. It comes with anti-cheating prevention features and enables learners to record video responses. It supports 15+ question types and has 10,00,000 readymade questions to speed up your quiz creation process.
ProProfs is also counted among the top 10 quiz sites as it hosts some of the most popular online quizzes. Branding, automatic scoring, multilingual support, and AI reports are some of the major USPs of this tool.
Features
100+ Ready-to-Use Templates
100+ professionally built quiz templates – both scored & personality to create quizzes in under five minutes.
ProProfs hosts a collection of 100+ ready-to-use skill assessment tests for hiring managers and recruiters looking to assess their candidates before hiring them.
A pool of 100,000+ ready-to-use questions on different topics. This feature has earned it the tag of best online quiz maker for teachers.
ProProfs offers you the ability to pre-assign grades to correct answers. This saves a significant amount of time and effort!
100+ Settings & Configurations
Choose from more than 100 settings for quiz availability, notifications, privacy, security, and to prevent cheating.
Give your quizzes a look you want with your logo, background, color schemes, etc.
Customize certificates with your company logo and issue them to quiz takers automatically.
Capture quiz-takers' information, including name, mobile number, email, etc., using a customizable lead form with its lead generation quizzes.
Pros
+ Easy-to-use for non-techies
+ Offers well-designed quiz templates
+ Automated grading ensures users don't spend hours in grading
+ Lets users add media to questions and answer options
+ 24×7 customer support
Cons
– Could add more templates
– Fewer options for ensuring data privacy
Pricing:
Starts from $0. K12 Plans – $200/month (Only for K12 teachers)
2. PointerPro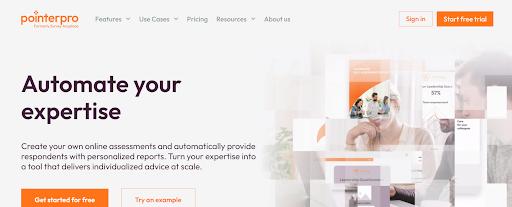 Pointerpro (formerly Survey Anyplace) is one of the best quiz platforms to create assessments and download personalized reports. Whether you are a coach, consultant, or HR professional, you will find this tool helpful.
With Pointerpro, you can create questions in multiple formats – from maturity assessments and quote calculators to self-assessments and competence evaluations. You can also customize your quizzes with your brand logo, theme, layout, and font. This quiz software has an intuitive UI and robust formula abilities for calculating quiz scores.
Features
Let your respondents download their own reports right after completing the tests. Deliver a branded report with immediate feedback to your respondents.
Create branded assessments and change the question URL to your own domain. Provide your clients with customized assessments to collect data and offer advice.
Assign points to all or some of your questions and show your respondents the scores they have earned.
Create online quiz programs and leverage important features like formulas, scoring, and personalized outcomes to give relevant feedback to your respondents.
Seamlessly transfer your data to the tools and apps you use daily. Pointerpro gels well with Webhooks, Zapier, Cloud SQL, Tealium, and more.
Pros
+ Downloadable branded PDF reports
+ Lots of solutions for quizzes, gamification, trade shows, or exhibitions
+ Customer support surpasses expectations
Cons
– Less informative help pages
– Customizing the front cover image of a PDF template is a bit annoying unless you're a CSS wizard.
– You can't drag questions in order
Pricing:
Get in touch with the company for a quote
3. Woorise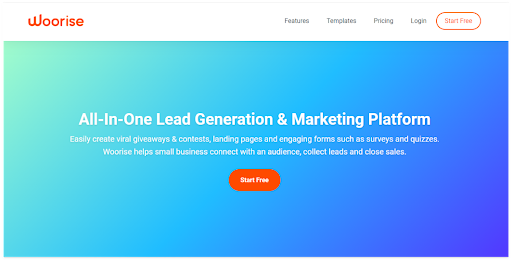 Woorise allows you to create a wide variety of promotional and marketing campaigns, including online quizzes, viral giveaways & contests, forms, surveys, or order forms to collect payments.
You can easily make online quizzes including personality quizzes, scored quizzes, or assessment quizzes from a drag-and-drop interface. It's flexible, full of customizations, and comes with a lot of templates and real-time reports.
Features
Get a quick start with Email Marketing, Geography, and Trivia quiz templates.
Choose a grading method that suits your quizzing needs.
Make your quizzes available to specific countries.
Present different questions to participants based on their cumulative scores.
Show questions based on participants' previous responses.
Pros
+ A no-brainer tool for lead generation
+ The drag-and-drop features are quite helpful
+ The VIRAL SHARE option is included in all plans
+ Great for sending promotional emails, contests, and giveaways
Cons
– Confusing interface
– Expensive
– Allows a limited number of entries
– Limited number of templates available
Pricing
Starts from $0/month
4. Outgrow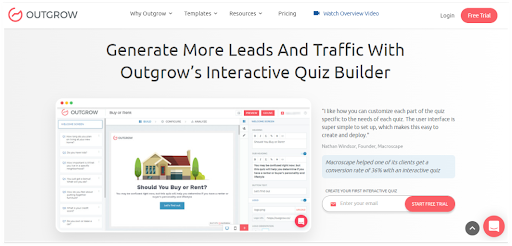 Outgrow quiz maker solution strives to reinvent marketing by offering outcome quizzes as a tool for lead generation.
The solution is focused on helping its users engage with their target audience through quizzes. The quizzes built with Outgrow help users track and collect a wide range of identifiable data from the quiz takers.
Features
Use A/B tested layouts optimized for conversion, engagement, different browsers, and share rates.
Customize the look and feel of quizzes to showcase your brand. Add logos, colors, fonts, etc.
Powerful Funnel Analytics
Identify patterns and drop-off points to increase your conversion rates.
Show question paths to quiz takers based on their responses.
Display result-specific messages to make your quizzes more personalized.
Pros
+ Customizable quiz templates
+ How to' videos
Cons
– Confusing layout
– Lacks scoring flexibility
– CSS and HTML editing confined to business plans
Pricing
Starts from $14/month
5. brandquiz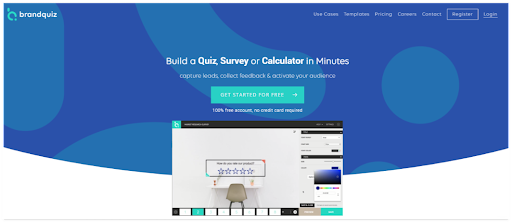 brandquiz is another leading platform for creating branded quizzes. This free quiz creator offers a range of fun quiz templates that you can use to create quizzes in minutes. This platform enables you to embed personality tests and pop quizzes into your website.
The quizzes created on this platform are fully responsive and work seamlessly on all content management platforms like WordPress, Drupal, Wix & Weebly. Being one of the best quiz websites, brandquiz offers a drag-and-drop quiz builder with timers, tools for social sharing, and powerful integrations with most marketing tools.
Features
Throw in a mix of multiple-choice, image answers, rating items, scoring items, video embeds, signup forms, etc.
Work with over 60 templates, change page backgrounds, upload images, choose from more than 35 fonts, and more.
Configure multiple layouts, multiple outcomes, numeric calculators, page navigation, notification emails, custom end date, and much more.
Integrate your favorite tools without leaving this website. brandquiz plays well with major marketing tools to make the most of the data collected.
Download participant response data and get a view of the progress made so far.
Pros
+ Easy-to-use
+ The templates are well-designed
+ Gives complete creative freedom to users when building quizzes
Cons
– Less coding features
– Less pricing plans
Pricing
Starts from $0
6. Wufoo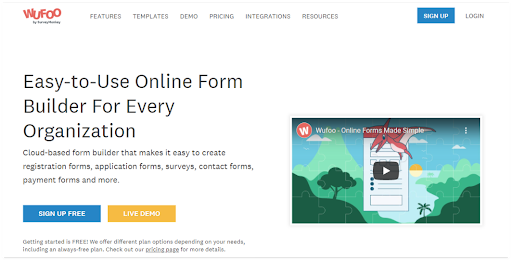 Wufoo is a cloud-based form builder that lets you create quizzes, surveys, and forms. One of the best online quiz creators in the market, this tool is trusted by brands like Amazon and Disney and has an award-winning interface, easy customization, 400+ templates, & reporting features.
It's flexible and the number of quiz responses is limited in the free version. However, several other price points make it a good fit for growing businesses.
Features
The form builder enabled with the drag & drop feature makes it easy to create forms.
Decide the look of your form. Use ready-to-go themes as-is or design your own.
Add your brand's logo and other unique identifying elements to your forms.
Upload the files that you might already have right in your account and access them anytime you want.
Get notified via text or email anytime whenever someone completes a form.
Pros
+ Easy to customize templates and set up forms
+ Packs more features in a plan
+ Very intuitive
Cons
– Does not integrate with existing frameworks
– Outdated functionality and interface
Pricing
Starts from $14.08/month
7. SurveyMonkey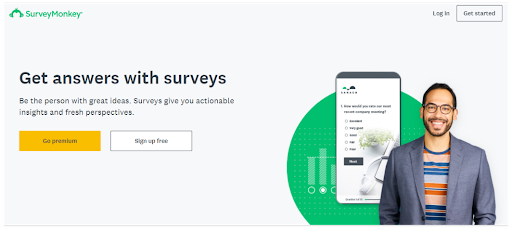 SurveyMonkey is primarily a survey builder, as is obvious from its name, but you can also use it to create engaging quizzes to measure knowledge.
You can easily turn SurveyMonkey surveys into quizzes by adding quiz questions to them. With SurveyMonkey, it is easy to create high-quality, professional quizzes with tools for scoring. Also, it provides easy quiz analysis, overall score statistics, and individual quiz scores.
Features
Auto Reminder & Thank You Emails
Add a personal touch to your mails and fetch more responses.
Collect responses on the go with a mobile app even without internet connectivity. Use it at conferences, trade shows, or on the streets.
Use the dashboard to display your data to your stakeholders.
Chart Color Customization
Enjoy more color options for your data charts to make it more engaging.
Filters for Custom Data & Variables
Explore more ways to analyze data without exporting.
Pros
+ Effortless customizations
+ Friendly reminders to help target audiences complete their survey
+ Wide variety of survey types
+ Unique pricing plans for individuals and businesses
Cons
– Poor customer support
– The free version of the tool is quite dysfunctional
Pricing
Starts from $18/user/month , billed annually
8. Qzzr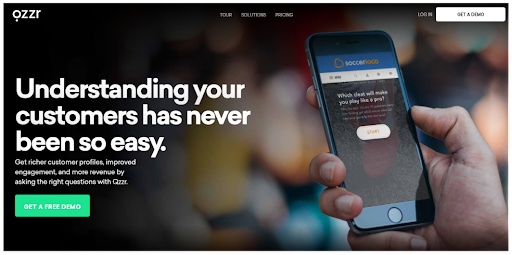 Qzzr has been designed to make it easy for marketers to create quizzes for online marketing, such as lead generation and website engagement. It is now a part of Riddle Quiz Maker. Qzzr used a range of other content tools (such as lists and polls) which were moved to its sister site Boombox.com.
Qzzr is one of the best online quiz software offering impressive quiz solutions for acquisition marketing, personalized remarketing, customer onboarding, audience profiling, and engagement.
Features
You don't have to spend too much time learning the software.
Add custom elements, images, and rich media to your quizzes.
Discover quiz responses to personalize your content and messaging.
Quizzes created on Qzzr look great on all mobile devices.
Use forms to convert quiz participants into leads.
Pros
+ Easy to use
+ Easily embeddable on a website
Cons
– Limited features and functionality
– High price point
– Rigid outcome options
Pricing
Starts from $24.99/month
9. Typeform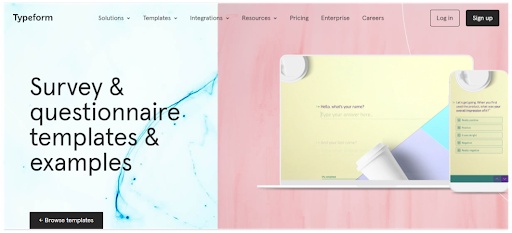 Typeform is one of the most engaging quiz builder tools you can find. It is a versatile data collection tool for professional marketers. Typeform is a kind of online quiz generator that makes asking questions easy and answering them refreshing.
Using it, you can create quizzes that are intuitive for both the creators and takers. Its attractive quizzes and responsive interface make it a leader in the world of online quizzes and surveys.
Features
Beautiful ready-to-use templates for creating quizzes quickly and easily. Make your quizzes engaging with images, GIFs, and videos.
Set up automated scoring for questions and avoid hours of manual scoring.
Create customized messages for different responses and quiz results.
Typeform quizzes look great on laptops, mobile phones, and tablets alike.
See how your quiz performs by pasting the Google Analytics code into Typeform builder.
Pros
+ The beautiful presentation of the forms is second to none
+ Very customizable with logic features
+ Incredibly intuitive, beautiful design
+ Simple to build and deploy
+ Easy to find previous typeforms
Cons
– Exporting and viewing data collected through forms is a little difficult.
– Limited in functionality beyond questions requiring multiple answers.
– No announcements are made before changing pricing models.
Pricing
Starts from $25/month, billed annually
10. Quizlet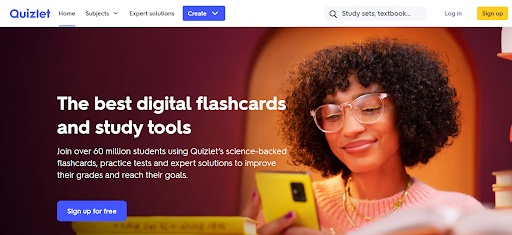 Quizlet is an online learning tool with a flashcard solution and a range of study materials, study sets, and classroom games. It provides native apps for Android and iOS, enabling learners to study from anywhere, anytime.
This web-based platform enables teachers to keep their learners engaged through different learning activities and games. Plus, you can create engaging quizzes to track learner progress, which helps you identify knowledge gaps and areas requiring additional teaching time.
Features
Know the accurate terms and memorize anything with Quizlet's digital flashcards.
Challenge yourself with different question types like true and false, MCQ, written questions, etc.
Homework Help with Expert Solutions
Get access to thousands of textbooks and expert-written solutions to solve the toughest questions with ease.
This feature ensures you aren't marked incorrectly for small mistakes.
Track learner progress with ease and identity knowledge gaps.
Pros
+ Digital flashcards
+ Expert solutions
+ Highly customizable
+ Collaboration and teamwork
Cons
– No anti-cheating feature
– Contains ads in between lessons
Pricing
Starts from $0
11. ClassMarker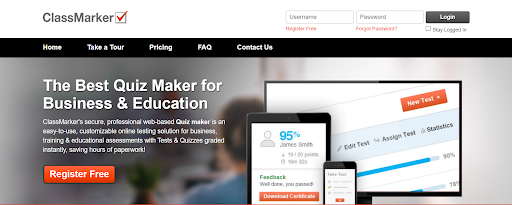 ClassMarker is an online quiz creator software enabling users to create custom online tests and quizzes for educational, business, and training purposes. This platform comes with a set of tools for creating assignments, automatic grading, reporting, and certification.
This platform offers two options for test delivery – test links and registered groups. It also comes with a range of settings and configurations that lets you control the number of attempts for each test, add time limits, randomize questions, and password-protect the tests.
Features
Automated Results & Grading
Say goodbye to manual scoring and set up scores for each question in advance and view results in real-time.
Feature all your quizzes under your brand name, logo, theme, color, and layouts.
Deliver Your Tests, Your Way
Save individual details at the beginning of the quiz or register user groups with individual login credentials.
Charge users to take your online tests, sell quizzes online, and receive payments instantly.
Allow quiz takers to download their completion certificates, including their names, scores, and feedback.
Pros
+ High security
+ Easy to set up scoring system
+ Question library
+ Exam branding and custom certificates
Cons
– Group testing option is not flexible
– Difficult to integrate with other tools
– UI needs improvement
Pricing
For Business – Starts from $39.95/month
For Education – Starts from $19.95/month
12. LeadQuizzes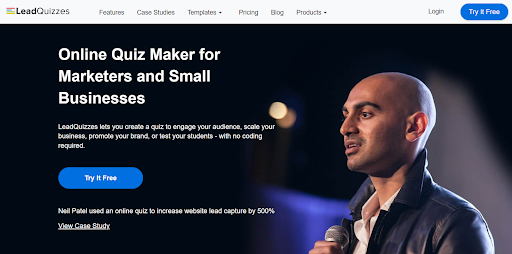 LeadQuizzes is a versatile quiz-making software for small to mid-sized companies. It enables you to create engaging quizzes to promote your brand, scale your business, and measure knowledge. This quiz maker lets you capture 500% more leads from your ads and website.
This online quiz software integrates well with other marketing tools like Facebook, HubSpot, Zapier, MailChimp, and more. You can create a range of quizzes such as scored, trivia, personality, diagnostic, and lead generation. It comes with a full feature 14-day trial, so you can explore how the software works.
Features
Drag and Drop Quiz Builder
Create a striking first impression by creating your own quizzes. Add a compelling title and introduction, import your questions, and more!
Seamlessly export your respondents' data as a CSV file just with a few clicks for easy analysis in Excel and Google Sheets.
Choose from 75+ quiz templates to build your quizzes quickly. Use them as-is or modify them to suit your needs.
Get actionable insights into how your quiz is performing and make necessary adjustments to increase responses.
The auto-generated URLs are hosted on your servers and let you promote a quiz on Facebook from your website.
Pros
+ Easy lead capturing
+ Different types of templates
+ Customizations
Cons
– Analytics can be improved
– Does not have a segmentation feature
Pricing
Starts from $74/month billed annually
13. Opinion Stage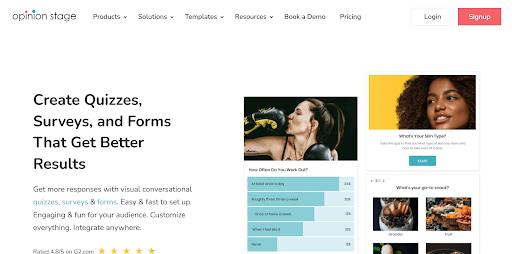 Opinion Stage is a popular quiz, survey, form, slide, and poll maker trusted by 1,00,000 customers across 190+ countries. The platform lets you build engaging quizzes optimized for all platforms. It's an interactive quiz maker that guarantees 500% more lead generation than a standard lead form.
With this quiz software, you can quickly build tests and assessments and distribute them through the web or email. Respondents can take quizzes from any device, and you can analyze results from the dashboard. The best part? You can add your brand elements for more engagement and brand awareness.
Features
Choose from over 100 templates for every assessment scenario. Use them as-is or modify them to align with your needs.
Build engaging quizzes to generate leads and gather valuable information to optimize your product/service recommendations and email marketing.
Create Assessments and Tests
Build a quiz from scratch and make them effective and accessible with this quiz builder. Share them with your participants and track progress via the dashboard.
All the quizzes you build on this platform are compatible with all devices and look great on smartphone and desktop screens.
Make the quizzes feel like your own and deliver a personalized experience to your learners. Add a custom logo, theme, layout, color, and other design aspects so that it resonates with your brand.
Pros
+ Excellent collection of customizable templates
+ Seamless data collection
+ User-friendly and highly flexible
+ Easy to gather information about leads
Cons
– Free version has fewer features
– White label doesn't work unless you are paying around $100/month
– Not 100% functional with WordPress dashboard
Pricing
Starts from $0/month
14. AhaSlides

AhaSlides is one of the best free quiz makers and a live quiz software to create quizzes anytime, anywhere. You can choose your questions, choose the right settings, and then host them for your learners. This interactive software gamifies your learning experience and brings high engagement to any lesson.
Besides quiz making, it enables you to create custom presentations for meetings, events, conferences, and more. You can make engaging presentations with live charts, Q&A sessions, polls, and quizzes. AhaSlides comprises features like customizable themes and templates, multi-lingual support, voice support, etc.
Features
Make your players work together for effective collaboration. Choose from three different scoring modes to find the winner.
Spin the wheel for your audience and watch the magic unfold live! It's a great choice for icebreakers and bonus rounds.
Embed audio clips to your trivia or simply make a song quiz to boost engagement.
View correct answers, engagement rates, and difficult questions of your quizzes from one dashboard.
Create a unique code for your quizzes and make it feel like your own.
Pros
+ Interactive templates
+ Ability to host games with a large number of players
+ Flexibility in terms of customization
Cons
– Issues with hardware compatibility
– No option to undo any changes
– UI needs improvement
Pricing
Starts from $0
15. QuizCat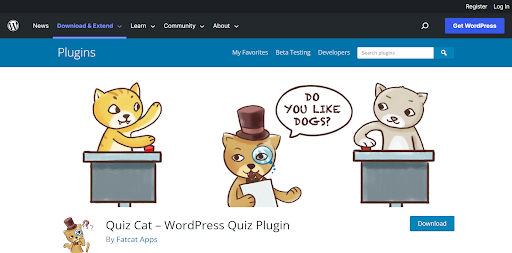 QuizCat is an interactive online quiz software that lets you build incredible quizzes for your WordPress site. It takes a few minutes to create various quiz types, such as viral personality quizzes, trivia quizzes, and knowledge tests. These quizzes generate more leads, higher engagement, and more social shares.
The best part is that you do not require technical or coding experience. If you want more leads, traffic, and revenue, this plugin is the right choice. So, entertain your audience with fun and interactive quizzes they would love to fill out and share. The software integrates seamlessly with 500+ web apps through Zapier.
Features
Build different kinds of quizzes for every situation. The premium version lets you create personality, viral Buzzfeed, and weighted quizzes.
Create as many quizzes as you want with QuizCat. There's no limit to how many you can build.
The quizzes you create look great and function smoothly across all devices – be they smartphones, tablets or desktops.
Drill down deeper into the quiz responses by exporting all the data to a spreadsheet just with a single click.
Know how people interact with your quizzes and what they answer with QuizCat's analytics feature.
Pros
+ Gutenburg compatible
+ Fully translatable
+ Zapier integration
+ Huge support articles
Cons
– HTML support is not available
Pricing
Starts from $59
So, these are the top 15 online quiz software that you can try for your business. But, if you've questions like- 'Which is the best one for me?' 'Which one is the 'ideal quiz maker' for my enterprise? in your mind, check our next section.
How to Choose the Best Online Quiz Software
How you choose the right online quiz maker depends on several factors, including the type of business you are in, your goals, and of course, your audience.
Even though that is the case, there are certain mandatory features that all great quiz makers ought to have. We've covered them when we discussed the tools above.
But, if that still doesn't help out, here's what you can do:
Have a Clear Understanding of the Goals You Want to Achieve
Do you want to generate leads, train your employees, create pre-hire skill assessment tests or educate your learners?
Having a clear understanding of the goals you want to achieve will help you pick the right software. Once you know your goals, list the features you'd require to achieve them. Then, choose the quiz maker that supports all those features.
This is another important consideration you must make to find the right quiz maker for you. You first need to review your budget and decide how much you are willing to spend. Then, look for a quiz maker that, along with the features you require, also offers pricing plans that fit your budget.
Once you've got the features that you need and a pricing plan that doesn't burn a hole in your pocket, you'll end up with the quiz maker that's right for you.
Watch: How to Choose the Best Quiz Software
Ready to Choose the Right Online Quiz Software?
We're sure this list of the top online quiz software will help you choose the best one for your needs.
While some of these share some common features, each has its USP. So, identify your requirements carefully, and choose an online quiz maker that's cut out to meet your needs perfectly.
To make sure you land the best one, go for a free trial with as many of them as possible or request a demo.
Do you want free Quiz Software?
We have the #1 Online Quiz Maker Software for complete learning & assessment