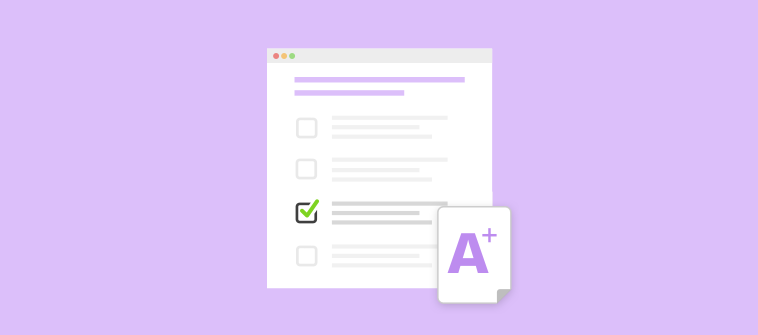 In times when consumers are rapidly assimilating the latest digital trends, conventional evaluation techniques are proving to be highly inefficient. Educational institutions need to realize students are losing confidence in the traditional pen-and-paper assessments, which no longer appear to be fit.
The Inadequacies Are Many, Following Being the Top Ones:
» The logistics of conducting written entrance tests have become quite difficult to manage.
» Tasks like deciding physical test centres and arranging for invigilators to oversee them involve time, effort, and money that can be channelled elsewhere.
» Over and above these factors, the disruption caused to students during their academic pursuits, when they have to travel to far-off locations to appear for tests, is another problem altogether.
According to a report published in 2018 by Inside Higher Ed, the proportion of all enrolled students who are studying online has risen steadily at US educational institutions.
The proportion of undergraduate students at education institutions who are enrolled in at least one distance education course has risen from 27.1% in 2014 to 30% in 2016, and the proportion of graduate students enrolled at least partially online has grown from 32.5% in 2014 to 36.6% in 2016. This percentage has been observed to rise every year and continues to do so.
This rise ultimately creates the need for a well-established online examination system.
The concept of conducting online exams for students using an online exam software has been wholeheartedly accepted by universities that leverage technology to advance their curriculum, thereby giving flexibility to students in taking exams.
Watch:How to Choose the Best Exam Software

The Need for a Test Maker Software for Teachers
The availability of test maker software for teachers with credible outcomes along with various factors such as ease of use, on-the-go access to resources, exposure to social media platforms is giving a major boost to online education.
---
The increasing number of students enrolled in online courses is pushing the demand to run quality online exams for students. The use of test maker software for teachers to conduct exams online not only helps reduce the human burden but also eliminate the error.
Educators can easily provide students with blended learning for gaining knowledge as well as evaluating them. The test making tools for teachers help them in checking how well students retain and apply their knowledge as they are transforming the way examinations are being conducted.
Major Reasons to Shift from Offline to Online Examination System:
#1. Offers An Adaptive Pattern of Examining
When teachers create an exam is created using the test maker software for teachers, each question paper can be made unique by ensuring that no questions are repeated. They can test the candidates without having to manually monitor which candidate got which set. The same tests when conducted using the pen and paper format can be too complicated.
#2. Offers Greater Flexibility
Online examination system allows educators for greater flexibility in timing and scheduling. For example, GMAT aspirants are allowed to take an exam at the time of their choice as well as the place of their convenience. This means enhanced reach and more participation from students. Students would not have to travel to different cities to appear for the tests.
#3. Saves Cost
When an exam is conducted online, it results in significant cost savings as the cost of paper, copying, and distribution expenses are all reduced or eliminated. Administrators anxious to reduce expenditures very strongly favor the transition from paper assignments examinations to using online assessment software.
---
Read More:- Online Test Making Software Buyers Guide
---
#4. Ensures Security & Confidentiality
Paper-based exams need to be securely kept. Any leakage will definitely compromise the standard of the exam and may result in a cancellation or a retake. All these concerns are well addressed while creating an online exam for students because not only is the content of the exam safely locked away in a database, access to the database is only possible with authorized personnel.
#5. Saves Time
Test maker software for teachers makes use of computers that helps in saving time by creating online exams for students. The lengthy formalities and processes involved in creating question papers, registering candidates for exams, answer sheet evaluation and declaration of results are completely eradicated in the online examination system.
---
Read More:- How Bloggers Can Create a Blogging Quiz
---
#6. Makes Knowledge Transfer More Interesting
Since teachers are always looking for ways to improve their teaching, universities are more inclined towards adopting the software for online teaching like test makers for teachers to diversify their teaching tools, and also make knowledge transfer fun for the students.
Who Are at the Benefiting End?
The steep surge in the adoption of test maker software for teachers has led universities and schools to scale online examination system as it serves at multiple levels:
✓ Exam Conductors- One Who Create, Conduct and Evaluate
Assessing student performance at regular intervals is crucial in any educational environment. Using an online test maker software enables teachers to create tests, ask questions, and see how their students score – all within a single tool.
✓ Exam Supervisors- Ones Who Manage the System Users, the Tests, System Back-Up, and Recovery
Examining an online exam is way simpler that examining an offline exam. The supervisors can simply relax and worry less as the online exams created with exam software need not be invigilated. All the answers are stored in auto-generated reports that can be viewed anytime. Results are calculated automatically too.
✓ Exam Takers- Ones Who Sit for the Assessment to Get Evaluated
Exam takers can take the online exams from any time, anywhere irrespective of the time and place. They can receive instant feedback on answers or scores. Also, they can be rewarded with completion certificates at the end of the exams.
Here's a Video That Demonstrates How to Create Online Tests

Know the Assistant- Test Maker for Software for Teachers
Planning efficient assessment techniques that can cater to the rapid increase in student count is becoming a matter of concern, for which universities and educational institutions are utilizing test maker software to take the charge.
---
Read More:- The Five Steps to Creating an Online Assessment
---
The assistance of an exam software in the online examination system simply can't be ignored. Right from the ease of creating to sharing, grading, and reporting, it does all of it. Here's what you can do with the tool
✓ Easy Test Creation:
An online exam software can make the process of creating online exams a breeze.
⇒ Templates & Questions– To create an online exam, you can simply choose from more than 15 ready to use templates. Pick any template of your concern and edit it as per your requirement.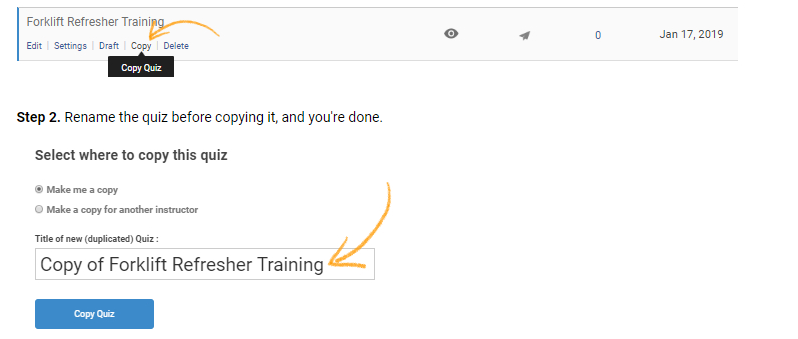 To add questions, you can make use of the world's largest question library that pools 10,000+ questions on various topics. You can even choose from the types of questions you want to add like multiple choice, fill-in-the-blanks, true/false, etc.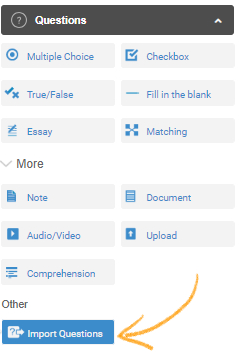 ⇒ Multimedia- Adding images to the questions is also possible with an online exam software. This makes the exams even more interesting.
⇒ Automated Grading & Scoring- While creating an online exam, you can assign grades and scores to the correct answers in advance. Doing so will prevent you from visiting each answer to grade and score. The final scores of all answers will be automatically graded.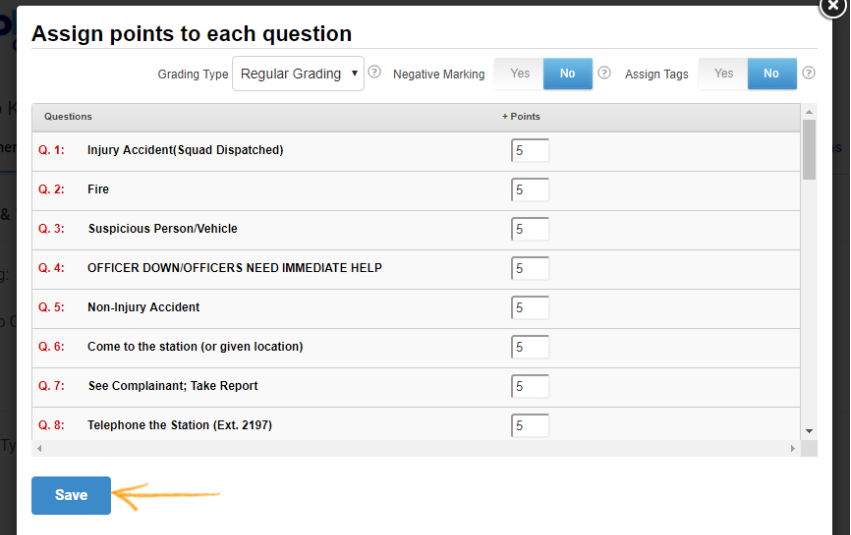 ⇒ Instant Feedback- Just like grades and scores, you can choose to provide instant feedback to the exam takers based on their answer selected.
---
Read More:- Best Way to Create Online Tests For Students
---
So, they get customized feedback on why the particular answer they chose was incorrect.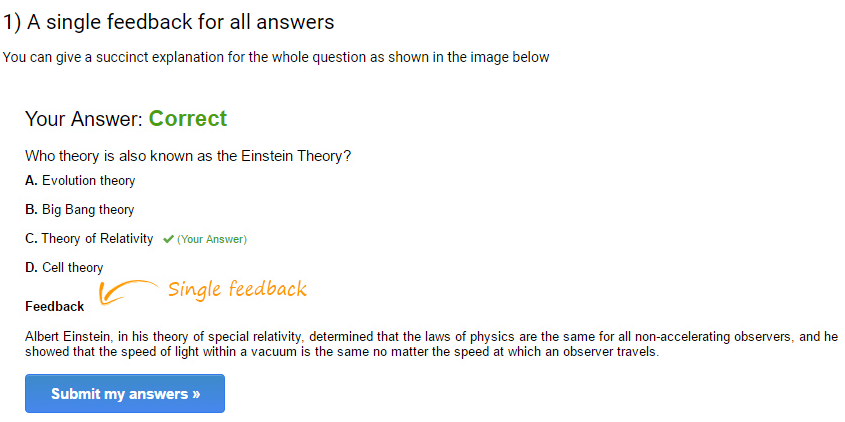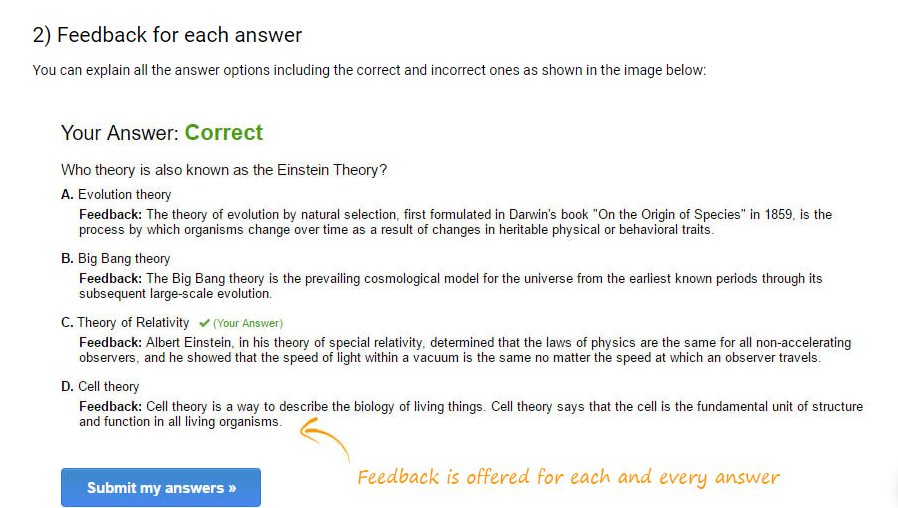 ✓ Personalization:
You can personalize the exams created with an online exam software with your own logos, themes, backgrounds, and fonts. It is very easy and quick.
For Example, to add your own logo, simply navigate to the "logo" tab and click on "Browse" to upload your logo. You may also adjust the height and width of your logo, if need be. Personalize the appearance of your exam by adding your own themes, fonts, backgrounds and more by clicking on the 'Themes' tab in Settings.
Watch: How to Use Online Quiz Maker for Teachers

✓ Distribution:
Distributing online exams is rather easy and quick. You can directly share the exams with students on their individual email IDs.
Another way of sharing exams is by embedding it on your website by copy-pasting the embed code. You can then limit the access to authorized personnel only.
✓ Security:
You can make your exams secure and private by making your exam link private. Doing so will allow your students to access the exam, but only with the unique URL. You can share the quiz link with students to allow them access to the exam.
✓ Prevent Cheating:
While creating a question paper using online exam software, you can randomize questions or change the order of the questions which is usually not possible in paper-based exams. Every student gets a random selection from that question bank which reduces the chances of cheating in the online exam for students. Paper-based exams are easier to cheat at and a complete waste of time.
✓ Reports & Stats:
Creating online exams on an exam software gives you the benefit of accessing auto-generated reports that you can access anytime for a detailed analysis of the information of students who took your exam like their names, email addresses, time spent on each question, time taken to complete the quiz, etc.
---
Read More:- How to View, Download and Share Reports & Stats
---
There are different kinds of downloadable reports that you can access:
Score Summary Report – This is an overall quiz report which gives you details such as the names and email addresses of learners who took your quiz when they took your quiz, their 'total scores' and 'time taken' to complete the quiz. This report helps you quickly view which of your learners have taken the quiz and their scores.
Quiz Takers' Answers Report – This report shows you your learners' answers for each of your quiz questions. It helps you identify knowledge gaps among your learners. For instance, when you see that most learners in your class have chosen the same wrong answer for a particular question, this means that they are facing difficulty grasping the topic. Once you have this insight, you can create a course on the topic and assign it to your class to help them understand the topic better.
Time Taken Per Question Report – You can dig deeper by viewing how much time each of your learners spent on answering a particular quiz question. For instance, if one of your learners, let's say Brian has spent an inordinate amount of time on a relatively easy question, then Brian most probably hasn't understood the topic. This report is immensely useful for understanding exactly which areas a particular learner or a group of learners are struggling in.
---
Read More:- Top Features of Online Assessment Systems
---
Here's a Video That Demonstrates How You Can Use the Reports & Stats.

In a Nutshell….
Test maker software for teachers acts as an asset in the online examination system as it overcomes the shortcomings of a traditional examination system. When exams are created and conducted with online exam software, they eradicate the chances of cheating, save time, and make evaluation easier.
Do you want free Quiz Software?
We have the #1 Online Quiz Maker Software for complete learning & assessment