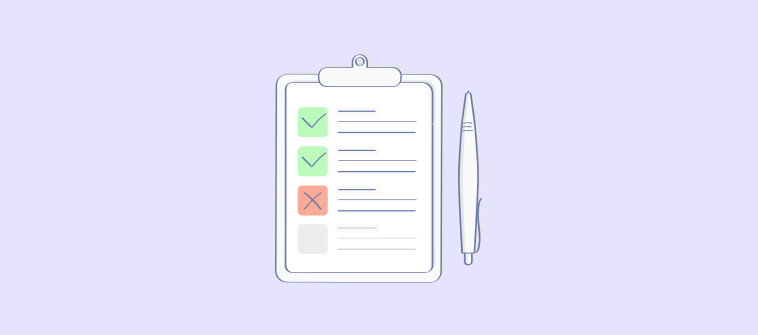 Online tests offer a number of benefits from saving time to saving money and are an integral part of many courses. Despite the numerous benefits, teachers must face the fact that online tests are not immune from cheating.
Students have always, and will always, attempt to cheat. With online tests the ways students find to cheat may be different than on traditional exams. It's up to teachers to anticipate these new ways of cheating.
Using the simple methods below, teachers can effectively prevent students from cheating while still offering quality assessments online. These important options are all available in ProProfs Quiz Maker, the online assessment software used by thousands of teachers worldwide.
Watch: How to Choose the Best Exam Software

1. Question Pooling
The instructor determines how many questions are used in a test for the final grade and creates, at minimum, twice that number of questions. The more questions included in the bank, the better pooling will work. Each student that takes the test will receive a different set of questions.
For example: a teacher wants to create a test containing twenty questions. The teacher has created a bank of 100 questions, from which twenty will be used. When the quiz is taken, each student receives twenty questions, but not the same twenty. The questions are "pooled" randomly from test to test, making it impossible for students to copy one another's answers.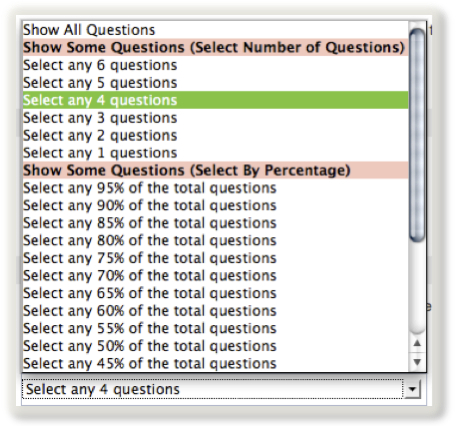 See Help article with step-by-step instructions:
2. Randomize Question Order
Online tests are often used in a classroom setting. Because of this, students may sit close to one another, making it possible to see the screen of a nearby student. Randomizing the order questions are displayed in a test can reduce copying answers.
Random order ensures that two test takers sitting side by side would not get the same order of questions. Online tools such as ProProfs Quiz Maker lets teachers utilize this setting by a simple radio-button option.

See Help article with step-by-step instructions: How to randomize questions
3. Shuffle the answers options within a question
When creating questions that offer multiple choice, true/false, or check box options, shuffling the answer options within a question can keep students from copying answers — especially in classrooms where students can see one another's screen. When using shuffling, answer options will appear in different positions every time the quiz is presented to another student.

In addition to copying, students may attempt to create an answer key to pass on to other students. Using shuffling, since the answers would be different each time, an answer key would not be useful. This is also a good feature to enable if you allow more than one attempt at taking a quiz since students will have to look carefully at the options each time.
See Help article with step-by-step instructions:
---
Read More:- A Guide to Using Online Assessment Tools
---
4. Add a Time limit
Although setting a time limit can introduce a level of stress for students, it can also keep students on task. If students know they have a limited amount of time, the likelihood of students trying to find the answers using external methods is reduced. Set time limits for the entire test, not for individual questions.

Even open book tests can be timed. If a student knows the material in their book well enough, finding information in the text within a time limit is a reasonable task.
5. Limit Quiz or Test Availability
Keep students from viewing an assessment too early by defining available times. For example, you want students to take a mid-term on a specific date. Set the calendar of that specific quiz to the data and time you want the test to be available. You can also specify a time available. If students must take the test between 3 PM and 6 PM for example, define those times. Students not taking the test within defined times will receive a message that the assessment has expired.

See Help article with step-by-step instructions: What is an expired quiz?
6. Use Privacy controls
Teachers have the option of keeping test listings private. This setting can reduce the number of unauthorized users since it keeps the test from being listed publicly on the web.

Teachers can also require a password to keep students from logging in without teacher permission. This can reduce the possibility of unauthorized test-takers who may trying to collect answers for fellow students.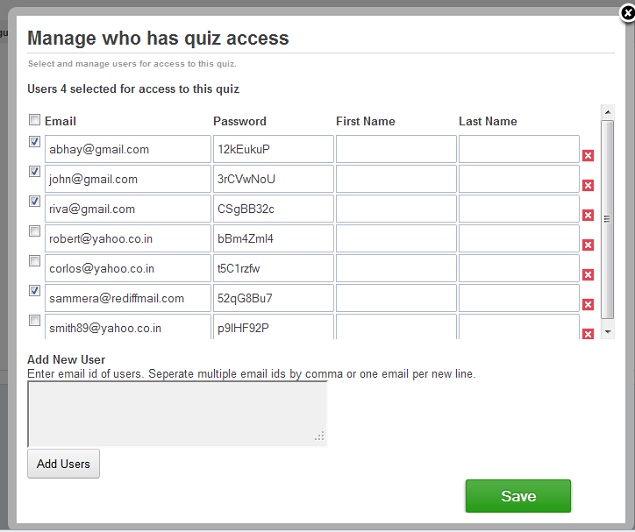 Require a password that is unique. Instruct students that passwords should not be shared, then change the password again once the test is complete. To reduce the possibility of someone guessing the password include at least one number and an uppercase letter, especially if you use a common word.
See Help article with step-by-step instructions: How to set a password
See help article with step-by-step instruction: How do I make my quizzes private?
Watch How to Create an Assessment Online
7. Be Careful When Deciding To Reveal Answers At The End Of Quiz

Many instructors provide answers to questions at the end of the test, or even after each question. If you want students to learn the answers through studying course material, only display whether an answer is right or wrong. If an answer is marked incorrect but no answer is revealed, students may be more motivated to study course materials to find the right answer and eliminate their error.


Always assume students will either copy or print the answers. It might sound cynical, but if you are realistic about cheating you will have better success at thwarting it.
8. Employ Mixed Question Styles
Choose to ask questions using different formats such as multiple choice, check boxes, true/false, fill in the blank, and essay. Mixed question styles work best when coupled with randomized question order so that if a student peeks at a neighbor's screen, it will look completely different than his own.
9. Disable the Back Button
This is essential in order to keep students from selecting an answer, checking to see if the answer is correct (if answers are shown), then clicking the Back button to select a different answer.

10. Disable the Print Button
To prevent students from printing the test, you can disable the print feature. In addition to this option, when you choose "one question per page" format instead of "all questions on one page", it gets harder for students to print the entire quiz.

11. Ask For Quiz Taker Specific Information That You Can Verify
Ask quiz takers to provide one or more of the following bits of information about themselves: name, email, address, or telephone number (or any combination of these).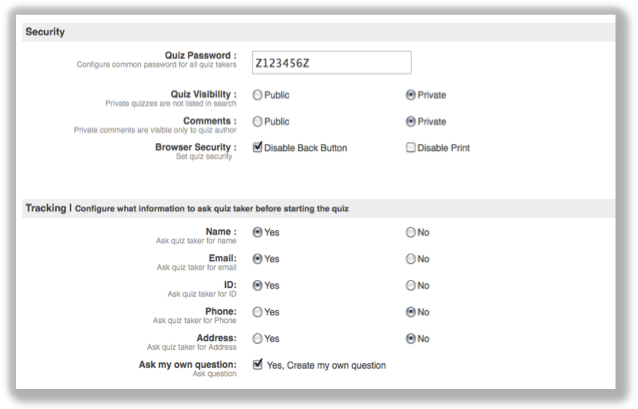 12. Require a Student or Employee ID Number
Since student or employee ID numbers are unique, this is another means of identification. No two students have the same student ID number. Based on whom you are testing you can also use license ID or any other ID number here.
13. Ask for the seat number
Many classrooms or corporate training rooms have seat numbers assigned to each workstation. Ask the student to identify their seat number so you can compare results of two people who sat next to each other. Though by using question pooling and randomization you can minimize such cheating as no two students would see the same questions or questions in the same order.
---
Interesting Read:- Best Classmarker Alternatives
---
Conclusion
Each of these settings offers a level of security that can individually reduce cheating in online tests. Using all five techniques in a single test is best and will reduce the chances of cheating even further. Each setting is simple to use and helps in gathering more accurate assessment information about your students.
Do you want free Quiz Software?
We have the #1 Online Quiz Maker Software for complete learning & assessment