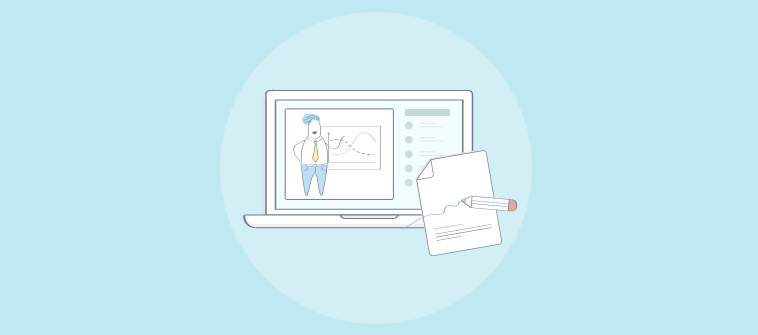 For educational or business purposes, conducting effective exams can be a pain. From ensuring your assessments are cheating-free to delivering them in a streamlined way, there's a lot that goes into a successful examination.
But with the excellent exam maker software available today, it's no longer a hassle. Online exam tools let you conduct exams and tests in a secure, flexible, and time-efficient way, making them highly preferred over traditional, pen-and-paper-based assessments.
In this blog post, we'll take you through the best exam software in 2023, so you can make an informed decision when looking for the right tool for your requirements. But before we dive into our list, let's quickly learn a bit more about online exam-conducting software.
What Is Exam Software?
Exam software are cloud-based tools that let you conduct computer-based assessments for educational or business purposes. Using an online exam platform, you can easily and quickly assign exams to thousands of learners, automate the grading process, and ask questions in various visual and interactive formats.
The flexibility and automation provided by exam software make them the preferred mode of conducting exams and tests.
Watch: How to Create Online Tests or Exams

What Makes Good Exam Maker Software?
As with any other online software tool, an exam maker must be intuitive. But besides ease of use, there are several other features that exam builder software must have to qualify as "good" or "the best". Here they are:
Automated Grading:

The exam tool should let you automate grading by pre-scoring questions and answer options.

Diverse Question Types:

It should let you ask questions in various formats, such as multiple-choice, checkbox, true-false, etc.

Robust Security:

It should let you make your exams private and password-protected and ensure data security.

Anti-Cheating Settings:

It should let you prevent cheating using settings, such as question shuffling, tab switching prevention, etc.

Ready-to-Use Resources:

It should offer ready-to-use questions and templates so you can create your exams quickly and easily.

Insightful Reporting:

It should provide detailed reports to easily analyze and compare learners' performance.
Besides these essential features in exam-making tools, there are many other features that you can find in the best online exam software, such as automated certification, white labeling, and more.
Watch: How to Choose the Best Exam Software

Now that we've gotten some basic information about exam software out of the way, let's jump into our list of best online exam tools.
12 Best Exam Software in 2023
Each of the tools in this list has proven to be a vastly superior alternative to pen-and-paper assessments and offers a good set of features for conducting exams conveniently. Let's take a look.
1. ProProfs Exam Software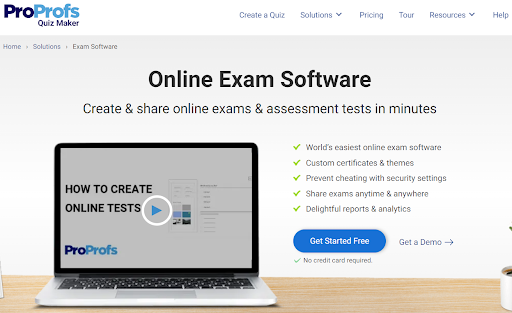 ProProfs Online Exam Software offers unmatched ease in creating and sharing online exams, tests, and assessments. It lets you ask questions in 15+ engaging ways and offers a huge resource library you can use to build your exams in minutes. ProProfs' library contains 100+ professionally designed scored quiz templates, 1,000,000+ ready-to-use-questions and 100+ skill assessments.
Equipped with robust security and proctoring settings, ProProfs' exam maker software lets you conduct credible exams for any requirement. It also offers best-in-class reporting and analytics featuring visual statistics that make it easy to analyze performance and identify learning challenges. You can also create virtual classrooms for easy learner management and test assignments.
Let's take a look at some more of its amazing features:
Top Features:
Templates & Question Bank:

100+ professionally built

quiz templates

and a library of 1,000,000+ ready-to-use questions covering numerous topics

15+ Question Types:

Ask questions in various formats, such as multiple-choice, checkbox, video-response, hotspot, and more. Add media to questions and answers.

Automated Grading:

Pre-assign scores to questions & answer options to automate grading and save time and effort.

Security & Anti-Cheating Settings: Make your exams private and password-protected and prevent cheating using smart settings, such as shuffling, proctoring, question pooling, tab switching prevention, printing/copying prevention, and more.
White-Labeling:

Give your online exams the look and feel you want by adding your logo, background, color schemes, etc.

Completion Certificates:

Create custom certificates featuring your company logo and award them to exam-takers automatically. Set certification criteria and expiry date.

Tracking:

Use a customizable tracking form to

capture exam-takers' information, such as name, mobile number, email, or any other information by asking custom questions.

Delightful Reporting:

Access advanced reports to easily analyze learners' performance. Export reports in popular formats.

Anytime, Anywhere:

Let learners take exams on any device, such as smartphones, tablets, etc. and enjoy self-paced learning experiences.
Pros & Cons
+ Easy to use
+ Extensive question library
+ Robust anti-cheating settings
– More educational templates can be added
Pricing: Starts at $20/month (billed annually). Special pricing for K-12 teachers: $3.99/instructor/month (billed annually).

2. Test Invite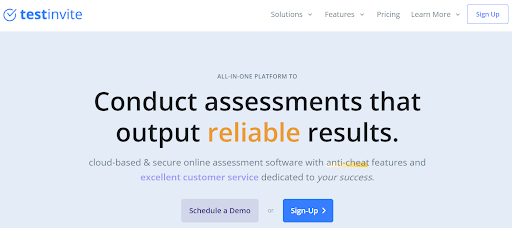 Test Invite is online exam maker software that lets you create your own online exams, send email invitations, and conduct webcam-proctored online exams on a secure and monitored platform.
Using Test Invite, you can create multi-stage exam assessments where candidates can progress from one exam to another as long as they keep passing. It's GDPR-compliant so you can be assured of your data security.
Top Features:
Advanced Exam Settings:

Create custom exams with advanced settings, such as multiple sections, time limitations, shuffling, and more.

Question Bank:

Centrally store all questions in folders. Assign multiple tags to your questions to retrieve a specific set of questions whenever you need.

Question Editor:

Create both multiple-choice and open-ended questions. Enrich the questions by adding audio, video, images and other files.

Question Bank & Exam Editor Integration:

Instead of creating the same questions repeatedly, store your questions in a question bank and use them in multiple exams. Lower the rate of error and save time.

Auto evaluation:

Define an auto evaluation rule so that when a user responds by writing a text, the answer is automatically evaluated by comparing it with the regular expression.

Responsive Exam Client:

Exams created on Test Invite can be easily taken on mobile phones, tablets, laptops, or desktop computers.

Google Cloud Architecture:

Conduct millions of online exams simultaneously. Store all tests and reports securely on the Google Cloud.

Real-time tracking:

Monitor your examinees' progress while they take the exam.

Detailed Exam Reports:

Get details like the number of questions answered, the number of correct answers, points collected in each section, and more.
Pros & Cons
+ User-friendly
+ Detailed reporting
+ Advanced security settings
– Reports can be more customizable
– There is a bit of a learning curve
Pricing: You can buy credits to use the tool. The more credits you buy in a single go, the lower the cost per credit.
3. Pesofts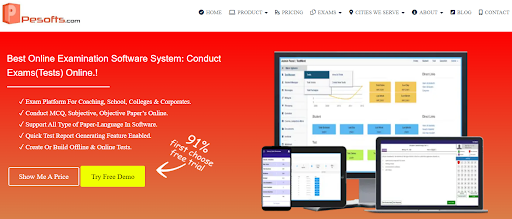 Pesofts is a reliable online examination platform that lets you conduct exams online and also offline on a social system. It offers top features, such as multiple question types, proctoring & security settings, and quick test reports, and is also pretty cost-effective, earning it a spot on our best exam software list.
Pesofts is easy to use, and you can use it to conduct assessments for education, recruiting, coaching, training, and more. It's also quite scalable, and the company offers 24/7 support via phone.
Top Features:
Concurrent Live Tests:

Create exams online anytime and from anywhere with mobile app or web panel software.

Proctoring:

Enable the proctoring setting to discourage cheating and improve exam security.

Instant Reports:

Get instant reports, quick analysis, and marks comparison.

Multi-Language Support:

Conduct exams by uploading objective and subjective papers in any language.

Import/Export Learners' Data

: Import or export learners' data from the software at any time with their performance reports.

Low Cost:

Avail top features, such as speed examination and smart online exam, at a low budget.

Themes & White Labeling:

Choose from free customizable web/app responsive themes. White label your exams with your branding.

Sell Tests Online:

Use debit/credit cards or token systems to sell your test package online.
Pros & Cons
+ Easy to use
+ Good value for money
+ Quick reports
– Lacks advanced features
– A limited number of question types
Pricing: Starts at $50/year/50 students
4. Conduct Exam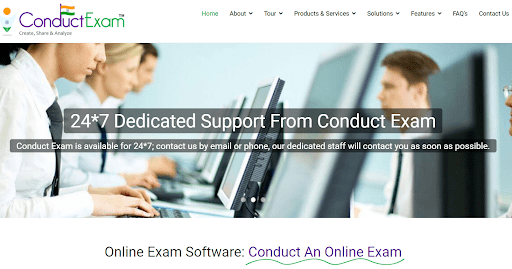 Conduct Exam is a robust platform for creating exams online and one of the best online exam sites. It's highly efficient in terms of reliability and speed, making it suitable for all types of organizations looking for an effective way to assess learning and provide certification.
This exam maker software packs a good set of exam functionalities without under-delivering on the user experience. A highly convenient option, Conduct Exam works great on mobile devices and lets you import questions from a Word or Excel file.
Top Features:
Easy to Use:

Easily add/import questions from a Word or Excel file based on topic & subject.

Multimedia:

Add different multimedia files to your questions, including images and videos.

Random Questions:

Create a question bank and use it to present different questions to different exam takers to reduce cheating.

Proctoring:

Monitor learners as they take exams via screenshots at regular intervals.

Exam Availability:

Assign a date & time to tests to set a limit to their availability.

Compatible With Mobile Devices:

Send emails and notifications and share news, documents, and videos on the web or mobile around the clock.

Automatic Results:

Analyze performance with auto-generated results and reports.

Monetize:

Sell your online test series and get monetary benefits.

Roles & Permissions:

Create sub-admins under your supervision and assign different roles and responsibilities.
Pros & Cons
+ User-friendly
+ Online/offline options
+ Multiple question formats, including audio/video
– Doesn't offer any ready-to-use questions or tests
Pricing: Available on request
5. Online Exam Builder by EasyLMS

Online Exam Builder is EasyLMS's exam platform that lets you create beautiful and insightful exams. You can combine text, video, images, and practice questions in your exams to tailor them to your requirements.
It offers many question types, including multiple-choice, fill-in-the-blanks, free text, and image, video & audio questions. With this exam maker software, you can create question banks, assign tags to questions, set pass & fail rules, and do much more.
Top Features:
Intuitive Interface:

User-friendly exam builder interface that lets you create online exams quickly and painlessly

Many Question Types:

Choose from

multiple-choice test questions

, multiple-choice image questions, fill-in-the-blanks, free text, video questions, and audio questions. You can also create questions with multiple correct answers.

Question Bank:

Create exams using ready-to-use questions from the question bank. You can even create your own question bank.

Tag Questions:

Assign tags to each question to analyze your question bank.

Set the Rules:

Set rules, such as pass & fail rules, the number of attempts allowed, and whether there will be feedback after each question, at the end of the exam, or no feedback at all.

White Labeling & Branding:

White label your exams, embed them on your own site, and create custom styling to reflect your brand.

Certification:

Automate the exam certification process.

Tracking & Reporting:

Track performance and progress with detailed reports and stats.
Pros & Cons
+ Easy to create and assign exams
+ Flexible scoring functionality
+ Good options for customization
– The UI looks a bit dated
Pricing: Starts at $50/month
6. Think Exam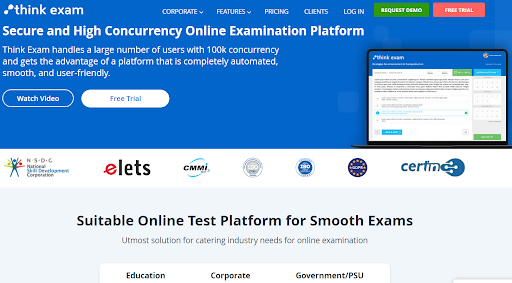 Think Exam is a highly scalable and feature-rich exam maker software. It lets you play with many possibilities, such as deputing timelines, transparency of the text, shuffling & randomizing, defining guidelines, using tags to assure smoother search, allocating penalties on incorrect attempts, and more.
Think Exam offers excellent anti-cheating functionalities that include live, recorded & AI proctoring, browser security, and more, making it a suitable option for conducting high-stakes assessments.
Top Features:
Question Bank:

Create question banks featuring nine types of questions; add images and complex mathematical equations to the questions.

Candidate Management:

Import candidates, create groups, export candidate data, and track & monitor performance.

Monetize:

Sell your test series easily with a streamlined allocation of tests and multiple payment options.

Advanced Reporting:

Get an in-depth understanding of each exam taker's performance using advanced reporting and analysis tools.

Remote Proctoring:

Prevent cheating and unauthorized access with candidate ID verification, AI-based automated proctoring, and human-based live proctoring.
Pros & Cons:
+ Simple to use
+ A good set of features
+ AI-based proctoring
– The interface can be buggy
Pricing: Starts at $36.81/month
7. Exam Professor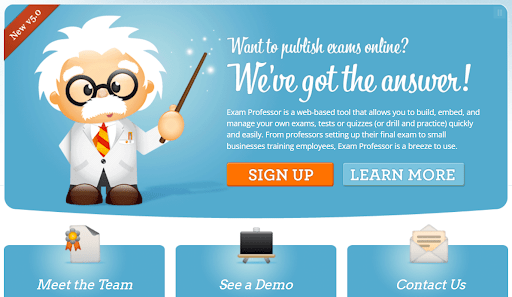 Exam Professor is a simple yet powerful online examination software suitable for teachers as well as small businesses who need to train their employees. With an amazing set of features, it lets you seamlessly build engaging exams and embed them on your website.
You can even sell access to your exams and make some money. Exam Professor has an HTML question editor and provides excellent options for customization.
Top Features:
Private & public exams:

Make your exams private with a private login, or make them public and let students take the assessments anonymously. Track all student activity and view, print, or export the information later.

Timed Exams:

Specify the time allowed for students to complete an exam.

Cheating Prevention:

Randomize questions & answer options and create a question pool to present a different set of questions to each exam taker.

Auto-Notifications:

Receive email notifications the moment a student completes their exam. Students will receive email confirmation displaying scores, time stamps, and if a passing score was reached.

Unique Interface:

Type your question, tab to the next field, type an answer, enter to save, and repeat. Once you have entered your data, you can drag your questions and answers in any order and organize them to your liking.

Get the Stats:

Get insightful statistics so you can adjust your teaching practices according to learning challenges.

Self-Registration:

Learners can self-register at the exam engine, or you can do it for them through the teacher portal.
Pros & Cons:
+ Simple and user-friendly interface
+ Feature-rich
+ Good reporting
– Proctoring functionality not available
Pricing: Starts at $10/month/100 students (billed annually)
8. QuestBase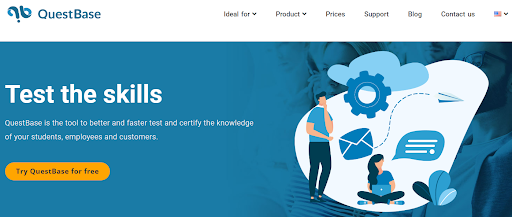 QuestBase is the ideal exam maker software for teachers, schools, HR managers, and companies to conduct secure exams online. Its safe exam browser helps prevent cheating in various ways, such as by blocking multiple screens, preventing switching applications via keyboard shortcuts, disabling the right-click button and trackpad, and more.
QuestBase also lets you award custom certificates to exam-takers. You can easily create a certificate by uploading a template and adding dynamic fields.
Top Features:
One Solution for All Assessments:

QuestBase is the ideal solution for

web-based training

, distance learning, learning needs assessments, CBT, course evaluations, sales, product training,

online quizzes

, product certifications, placement tests, knowledge & academic assessments, and more.

Flexible for Adding Questions: You can add questions manually or import them from an external file. You can even use the built-in web editor to create your tests easily. You can mix different question types, add images, and use special characters for math equations.
Easy-to-Share:

Once you've created your assessments, you can publish them on your website, share them via email, or print them on paper. Tests created with

QuestBase

are highly compatible with phones and tablets too.

Public or Private

: You can make your exams public or keep them private, depending on your requirements.

Real-Time Reports

: Get real-time reports about your test-takers. You can display, print, or export test responses to other programs for analysis.

Import/Export:

Import students and questions from or export them to external files.

Branding:

Insert your logo in the exams and the personal login page to showcase your branding.
Pros & Cons:
+ Good import/export functionality
+ Intuitive question editor
+ Powerful, real-time reporting with advanced statistics
– Proctoring functionality not available
Pricing: Starts at €21.95
9. ClassMarker
ClassMarker is widely used by enterprises to create training tests, pre-employment assessments, practice tests, lead generation quizzes, and more. This exam tool offers an impressive list of features that includes robust security, privacy & anti-cheating settings, the ability to create question banks, certification, white-labeling, API, and much more.
ClassMarker also lets you change your interface language to conduct exams in any of the popular languages. You can create learner groups to easily assign the same exam to several learners.
Top Features:
Secure & Private

: Create secure online exams & assessments with advanced quiz settings, such as time limits, public & private test access, randomized questions, and more.

Question Bank:

Create a database of questions by category and import from it whenever needed.

Branding

: Add your brand's logo and colors to your test to showcase your brand identity.

Custom Certificates

: Let test takers download their completion certificates that include fields like their names, scores, and custom feedback.

Automated Results & Grading

: Enable automated grading to get instant results and save time.

API/Integrate:

Automatically extract learners' results with API or webhooks. Integrate with a third-party LMS and services, such as a CRM or your recruiting portal.

Multi-Language Support:

Conduct exams in several popular languages.

Groups:

Assign exams to groups to save time. Let users easily set up their login credentials.

Sell & Earn

: You can charge users to take your online tests and receive payments instantly.
Pros & Cons:
+ Excellent set of features
+ You can set up a question bank easily
+ User-friendly
– You can't add PowerPoint presentations to your exams
– No proctoring
Pricing: Starts at $39.95/month for business and $19.95 for education
---
Read more: Best Classmarker Alternatives
---
10. ExamSoft

ExamSoft offers an exam maker software tool that focuses equally on conducting credible assessments and collecting valuable data for improving teaching methodologies and learning outcomes.
With this online exam maker software, you can collect and organize all your assessment data in one place, analyze exam results, and generate valuable reports on students that highlight individual strengths and opportunities. You can also provide students with detailed feedback to improve their performance
Top Features:
Ready-to-Use Assessment Data:

Create assessments

with ready-to-use data to improve the course and learner performance.

Automated Grading:

Automate scoring for objective questions to save time and effort.

Expedite Exam Creation:

Import questions in bulk from various types of files to create your exams quickly and easily.

Controlled Testing Environment:

Disable browsers, internet access, applications, and more on exam takers' devices to prevent cheating. You can also randomize the question order and get in-depth insights on exam-taker activities.

Deeper Insights:

Provide more targeted remediation, identify gaps in the curriculum, and help close the loop on accreditation with powerful reporting and analytics.

Robust Exam Security: ExamSoft provides a highly secure testing platform to protect the integrity of your exams and assessment data.
Targeted Remediation:

Use category-based data reporting to focus on areas that need the most improvement.

Accreditation Standards:

Easily match student performance to required learning objectives.

Proctoring:

Verify exam takers' identities and monitor them with advanced proctoring functionalities.
Pros & Cons:
+ You get detailed insights on exam takers' activities
+ Live and AI proctoring
+ Excellent reporting and statistics
– ExamSoft's security features can cause temporary issues in learners' devices and even brick them
Pricing: Available on request
11. ExamOnline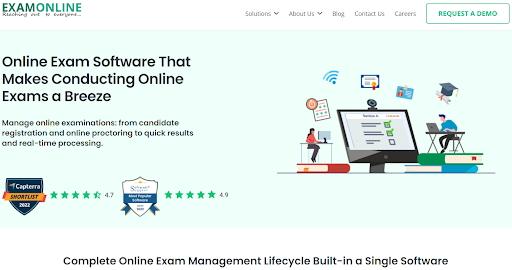 Whether you're conducting hiring, training, or educational assessments, ExamOnline offers robust functionalities for every stage of the exam lifecycle. You can create and assign exams easily, effectively manage all learners, and prevent cheating with top-of-the-line security and proctoring settings.
ExamOnline also serves as a certification platform. You can select a professionally designed certificate template from its library and customize it to suit your requirements. Certificates are automatically awarded to candidates on passing an exam.
Top Features:
Exam Configuring Tools:

Upload questions in bulk, randomize question order and set up the result publishing date.

Manage Registrations:

Manage all exam takers and information related to them from a single dashboard.

Remote Proctor:

Prevent cheating with face detection, automated remote monitoring, and a secure exam browser.

Automated Certification:

Create custom certificates using templates and issue them automatically based on your passing criteria.

Advanced Exam Reporting System:

Get highly insightful exam reports featuring scorecards, computational analysis, and detailed analytics.

Exam Day Notifications:

Automatically notify examinees via email and SMS regarding exam date and time and other key updates.

Data Security:

ExamOnline uses data encryption and secure data hosting to protect user and exam data.
Pros & Cons:
+ Proctoring/anti-cheating settings
+ Easy to create and assign tests
+ Fast interface
– Limited language support
Pricing: Available on request
12. SpeedExam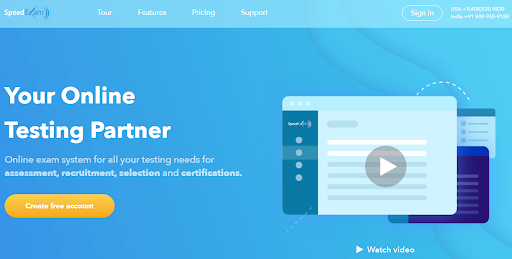 As the name suggests, SpeedExam lets you create exams quickly and conduct them efficiently for a large number of learners. It also offers several functionalities to prevent unauthorized exam access and cheating, making it one of the best exam software for high-stakes requirements.
These include live and AI-based proctoring and real-time delivery of key exam taker information, such as the number of attempts, browser, device name, operating system, location details, IP address, and more.
Top Features:
Exam & Data Security:

Get notified via email or SMS whenever someone tries to copy or paste, use print screen or attempt multiple logins.

Smart Proctoring:

Leverage AI-based cheating prevention features to conduct credible exams.

Question Types:

Ask questions in 10 different ways to deliver engaging and insightful exams.

Import/Export:

Export questions, test results, and performance reports to Excel. Import questions from Excel or Word.

Certificate Maker:

Create professional certificates featuring your company's branding elements.

Instructor Accounts:

Create multiple instructor accounts and assign other roles to streamline learner management.

Detailed Analysis:

Get in-depth reports to accurately assess performance and learning challenges.

Self-Registration:

Let candidates register to your exam portal themselves. Create a custom registration page with a form builder.
Pros & Cons:
+ Great set of exam-specific settings and features
+ Easy to create any type of exam
+ Useful performance reports that help identify strengths and weaknesses
– It's not easy to locate your previously created questions
Pricing: Starts at $20/month (billed annually)
Ready to Create Exams With the Best Exam Maker Software?
So, that was a list of the best exam software with detailed features. It'll surely help you in making your decision on an assessment tool.
Most of them share a few common features, such as templates, data security, and anti-cheating settings, but each is unique in terms of core functionalities and user experience. No wonder all of them are top-rated. Choose the exam-maker software that suits you and your learners best!
If you're having trouble deciding on an exam tool, we're here to help. Give us a call at (855) 776-7763 (Toll-Free), and our customer success team will help you zero in on one.
Do you want free Quiz Software?
We have the #1 Online Quiz Maker Software for complete learning & assessment