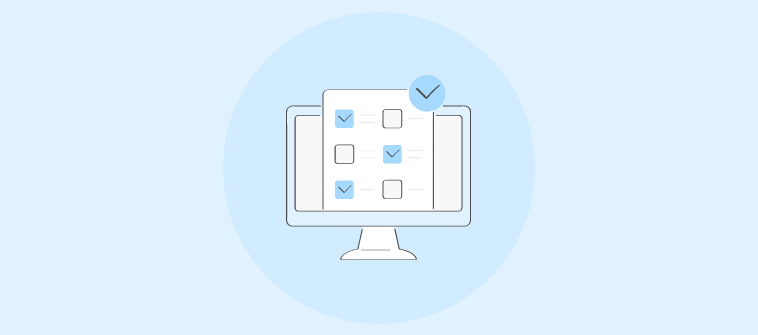 Using unfair practices in exams is an age-old problem. But with the advancement of technology, cheating has taken a new form. Instances of students using their cell phones or other devices to cheat in schools have been documented.
According to the computer security company, McAfee, 1 in 3 kids in the U.S. use cellphones or other devices to cheat.
That's why proctoring is a key element in all educational programs. Teachers use this method to supervise students during their assessments.
With many instructions taking place online nowadays, the need for proctoring a test is assuming significance in the form of remote proctored exams.
Since you can't see learners face-to-face in a remote setting, the exam proctoring system must be stricter and foolproof.
Why You Should Keep Reading
In addition to asking the right questions and grading, preventing cheating in tests and exams is one of the biggest challenges teachers face in schools and higher education.
We understand this, and so in this post, you'll learn all about remote proctored assessments – what they are, how they work, the types, who can use online proctoring, and why.
This will enable you to make your remote assessments more secure.
Let's dive right in.
What Are Remote Proctored Exams?
Remote proctored exams are exams where you proctor students remotely. It's similar to how you monitor examinees on-site physically.
In a remote online proctored exam, the observation is done virtually and in real-time. This type of proctoring is used for students in remote locations to ensure the integrity of a test or exam.
Live and recorded proctoring through audiovisuals are examples of remote proctoring.
Why Remote Proctoring?
For one reason or another, cheating in exams is a common phenomenon. But when you conduct such exams online, the chances of students using unfair means increase manifold.
That's why remote proctoring is essential, whether you're assessing students in a music class, driving skills, language proficiency, or math knowledge.
Some of the primary reasons to use remote proctoring are:
Integrity of a test that checks cheating and negative influence on peers

Discourages academic dishonesty, such as impersonation, through ID verification

Fair & equitable environment so that no learner gets the upper hand unfairly

Proctors' support to students via conversations before and after an assessment to reduce anxieties related to exams

Remotely proctored exams give authentic test results as students are evaluated for only what they know

Overcoming the challenge of providing a proctored exam center where a test taker is located
Read: How to Prevent Cheating in Online Exams & Tests: 20 Incredible Hacks
How Does Remote Exam Proctoring Work?
Online exam proctoring relies on robust software applications to ensure transparency and fair practices in assessments. Generally, you can take screenshots or screen recordings of the participants. This proctoring system runs on learners' desktops or other devices they use and allows you to supervise a test or exam in real-time.
Also, some of the leading quiz and assessment tools on the market provide several software settings to prevent cheating.
Watch: How to Choose the Best Exam Software
For example, the cloud-based quiz-making tool ProProfs Quiz Maker allows users to configure several anti-cheating settings. They include: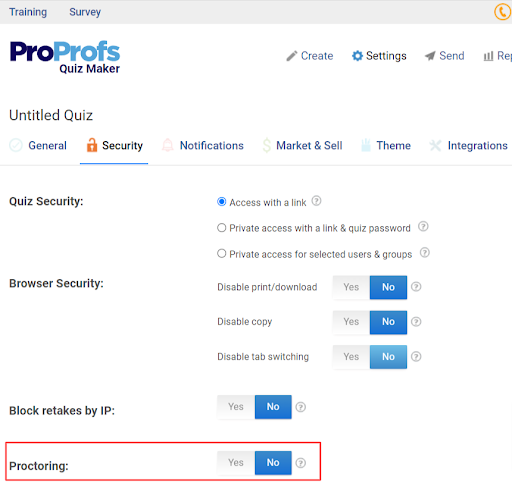 This setting lets you monitor learners during an exam via screen sharing. They can take the exam only if they grant screen-sharing permission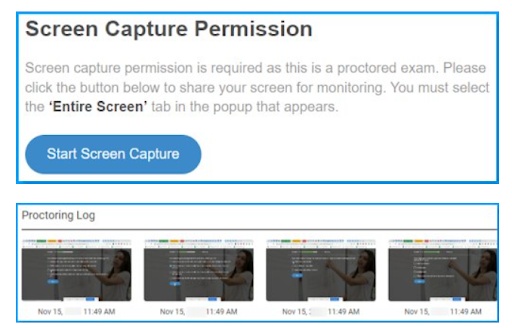 Related Post: How to Enable Proctoring to Monitor Quiz Takers
Disabling Tab/Browser Switching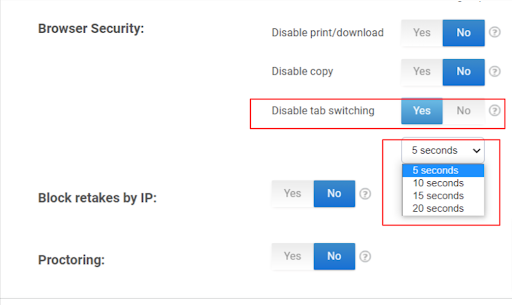 When you disable tab or browser switching, you prevent students from looking up answers by switching their tabs or browsers. Any attempt to switch tabs triggers a countdown that learners must stop to return to the exam tab. If they don't return to the exam tab before the timer runs out, the exam gets auto-submitted.
Randomizing Question Order

Randomized question order ensures that no two test-takers get the same order of questions. This reduces the chances of copying answers.
Shuffling Answers Options
Similarly, shuffling the answer options within a question can prevent cheating. This setting works well for multiple-choice, true/false, and checkbox questions. This renders taking answer keys from another learner useless.
Disabling Copying/Printing

When you disable copying, printing, and downloading of exam content, learners can't leak questions to those who haven't taken the same exam yet.
Asking Video-Response Questions
This type of question requires respondents to record a video of themselves giving answers to open-ended questions in real-time, making it hard to cheat.
Even if they get the answers from somewhere else, it's unlikely that they'll be able to memorize the answers quickly and reply credibly, especially if you set a time limit.
Watch: How to Create a Video Interview Question
That was a quick look at how remote proctoring works. Now let's turn our attention to another aspect of proctoring.
5 Types of Online Proctoring
Basically, there are five different types of proctoring exams online or remotely. They are:
Live Proctoring
As the name suggests, live proctoring is where a proctor supervises examinees live or in real-time the entire time they take an exam. Usually, a qualified proctor will be sitting in a different location and monitoring the students. The greatest advantage of this method is that it removes geographical constraints in proctoring.
Automated Proctoring
Automated or AI proctoring relies on AI proctoring software to monitor online tests and exams. The system analyzes audio and video feeds to detect any suspicious activities. It doesn't require much human intervention except at the later decision-making stage. This advanced proctoring system is cost-effective and scalable.
Browser Locking
A browser lockdown proctoring disables opening other browsers and applications that students can misuse. This prevents them from searching for information on the internet by switching tabs or using a keyboard function for printing. Here's a quick guide on How to Disable Tab Switching for Quiz Takers.
Recorded Proctoring
Unlike live proctoring, recorded proctoring is based on recorded videos and audio. Examiners ask the examinees to provide webcam and microphone access so that the latter can be monitored via recorded audio video. No human intervention takes place in real-time.
Proctors visit the data recorded during a test and play them back to check for any unwanted activities. This method mitigates location and scheduling constraints.
Blended Proctoring
In this type of proctoring, live remote proctoring is combined with AI proctoring. A piece of proctoring software will monitor student activities and alert a proctor in case of any red flags. The proctor then steps in to review the situation. This method provides proctors with the benefits of process automation and verifying false or misleading information.
Who Can Use an Online Proctoring System?
Customers in the education and business sectors can use online proctoring to conduct safe and secure assessments.
Educators such as teachers and tutors can use it to ensure the integrity of tests while assessing students. They can keep track of learners' activities remotely and establish the procedures for proper assessments.

It can help colleges and universities make sure students meet the requisite parameters for passing annual exams. In other words, these institutions can see to it that their students obtain passing grades the right way.

Certifying bodies can use it while offering certification programs for various courses and ensure only worthy students earn the certification. Remote proctoring can also help them reduce the number of proctored exam centers, promote anytime, anywhere learning, including from home, and maintain assessment records for audit purposes.

Educational assessment providers can leverage online proctoring to make assessments more secure, not just inexpensive and fast. They can also widen their audience base worldwide by adding a remote proctoring feature to their

ready-to-use assessments

.

Businesses have an ongoing need for both pre- and post-training assessments of their employees. Those with a sizable remote workforce can take advantage of online proctoring to build a cheating-free assessment system and save time, cost, and effort. Using the right assessment and proctoring software, they can teach learners at scale in one go.
Read: How to Enable Cheating Prevention Features in a Quiz
Start Proctoring Online Exams for a More Secure Assessment
Proctoring is an inevitable offshoot of the need for securing exams to ensure academic best practices. You can maintain the integrity of remote proctored exams through live or recorded proctoring, browser locking, disabling printing and downloading test materials, shuffling question & answer options, and using video responses.
An online quiz maker with proctoring functionality can be an excellent choice of software solution to achieve this goal. Whether you're an educator or a business entity, such tools can help you create quizzes for any type of assessment, share them with anyone, anytime, anywhere, and build a cheat-proof remote proctoring system.
The way learners cheat in online exams may take a different form than traditional exams.
But you can prevent it with various security settings that online exam proctoring systems provide.
Do you want free Quiz Software?
We have the #1 Online Quiz Maker Software for complete learning & assessment