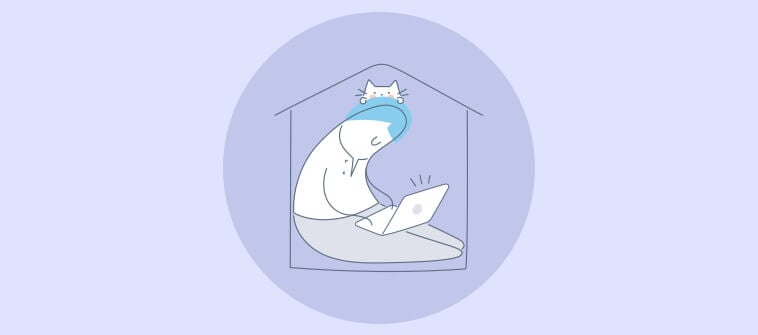 Ever since the COVID-19 started rapidly spreading across countries, the entire world has been on lockdown.
According to UNESCO, nationwide closures are impacting over 91% of the world's student population.
While it is a tough time for many, there's a silver lining on this dark cloud.
Several people have been taking to social media to express their assumption that the current changes in the learning pattern could actually pave the way for a better learning strategy for future generations.
"Every faculty member is going to be delivering education online. Every student is going to be receiving an education online. And the resistance to online education is going to go away as a practical matter," James N. Bradley, chief information officer at Texas's Trinity University, wrote in a LinkedIn post.
Indeed, educators are leveraging online teaching tools to ensure uninterrupted learning. Aside from teaching, they are also looking for resources to assess their students' performance as smoothly as they would in a school setting.
But many educators who are teaching outside the physical classroom for the first time are resorting to just video conference lectures supplemented by emailed assessments.
That raises tons of issues – from evaluating students' performances accurately to keeping them engaged in the virtual setting.
Watch: How to Choose Best Assessment Software

---
Read More:- A Guide to Using Online Assessment Tools
---
A Guide to Using Online Assessment Tools
This article will help you understand how using online assessments can help you augment and enhance the online educational experience in an easy and reliable way.
Choosing Online Assessment Tools-Factors to Consider
Features enabling a distance learning system

Free trial option

Multiple device support

Strong offline functionality

Self-directed learning content

Multiple language support

Tools for digital learning content

Collaborative platforms that support live video communication
One such solution is the ProProfs online assessment software that has a wide reach, is supported by a strong user-base, and offers evidence of impact.
It's ease of use and availability of various features to make the process secure & more personalized makes it the right choice as an online assessment tool to ensure a smooth learning experience.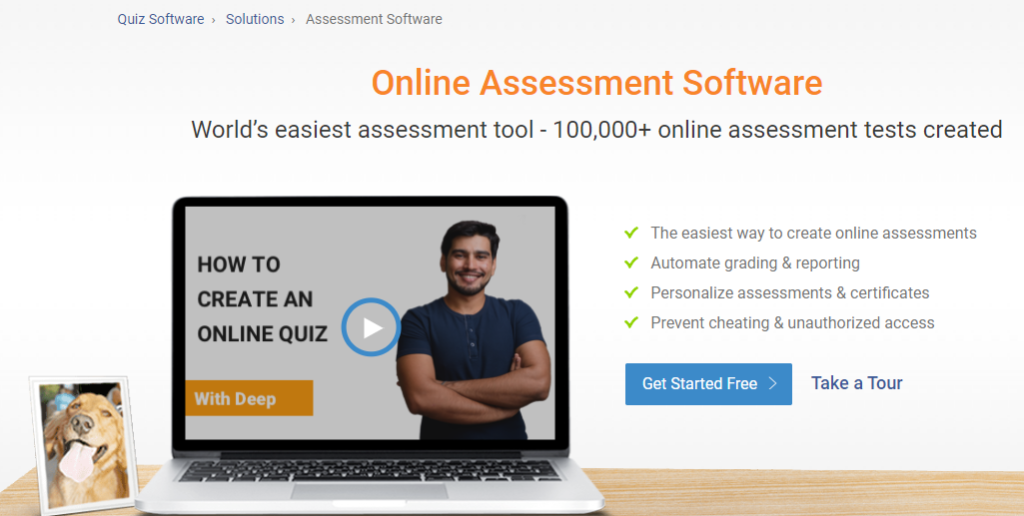 How Online Assessments Make Online Education Better
Assessments are an important tool for checking knowledge retention and can be very useful in an online education system. When using an online assessment software, you can configure the assessment settings according to your needs and ensure smooth learning and assessing experience.
Not just that, the advanced features of an online assessment software make sure there is no glitch in learning. Here's how:
Watch: How to Create Online Assessments

Flexible Access – Assess Anytime, Anywhere
This is the foremost reason why using online assessments is great for learning in times of lockdown. They can be accessed anytime, anywhere.
Also, an online assessment adds flexibility to the students' busy schedules. They can then take tests at the time of their choice, and the results will be automatically communicated to the teachers.
It makes students assess their own performance and work on their learning patterns.
Worried about how you would grade so many assessments? Well, you don't have to.
The software does it for you.
All you have to do is, assign grades to the correct answers while adding the questions. So, when students attempt a question, grading takes place automatically.
Also, these assessments are designed using advanced algorithms to eliminate human error, so you can rest assured of the accuracy.
Watch: How to Automate Grading of Quizzes

Waiting for the feedback is probably the most annoying thing for students. However, in online assessments, just like grades, you can even automate the task of giving feedback to students.
With online assessments, students can get instant feedback right after they've answered a question. This could be an explanation for the correct answer or a link to the relevant course material.
Instant feedback helps students to quickly make revisions, prepare for the next assessment and improve learning.
With an online assessment tool, you can easily create online classrooms. In an online classroom, you create learner groups and centrally assign them courses and quizzes. This helps students pick tests whenever they want and discuss their scores with fellow learners in their group.
Owing to its SCORM compliance, you can create tests and assessments and then integrate with Training Maker.
It will let you access detailed reports (such as who took your quiz, what was their score, what content they viewed in your quiz, etc.) and learners' interactions as well without even logging into a training maker like ProProfs LMS.
Promote Self-Assessment With Instant Results
Since online assessments created with online assessment software are automatically graded, results are revealed in real-time just as the assessment is complete.
Real-time results help reduce stress in learners, and they tend to enjoy it more. It is also a good way to promote self-assessment among students and make learning engaging.
In a gloomy time like a lockdown, learning can be a little boring. Despite using online quizzes for learning, students can get strayed away from all the learning and assessment activities. To counter this, you can create positive, motivating quiz results.
Make these results shareable so that when students get them, they can share it on their social media handles and show off their knowledge.
It's not really a necessary step to take, but adding a little element of motivation is always good, right?
Imagine being presented with a token of appreciation for your effort- doesn't it just lift up your spirits and let you perform better?
That's how certificates work.
You can easily issue quiz completion certificates to your learners after they've completed the quiz. Quiz completion certificates are completely customizable, and you can add any field of your choice.
A typical quiz certificate looks something like this: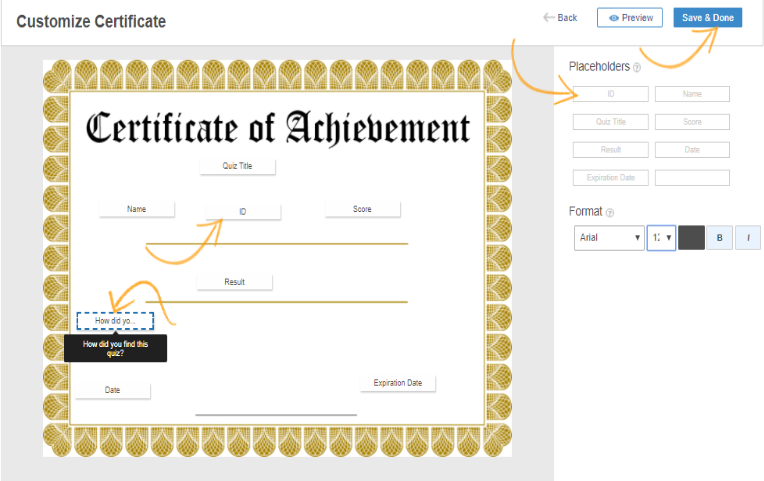 You can customize or add fields as per your liking.
Watch: How to Customize a Quiz Certificate in ProProfs

The best part of learning with online assessments is that it saves a lot of time. Online assessments are short, crisp, and engaging, as compared to paper-based tests, which makes complex subjects easy to understand for students.
---
Read More:- 6 Best Career Assessment and Tests to Help You Find the Right Job
---
More often, training courses are followed by online quizzes for fun whose answers are readily available, which helps students save their time and invest it in doing something productive.
Just because you've opted for an online mode of learning, doesn't mean you have to be bothered about the learners cheating when you make them take a quiz online. You can configure settings like question randomization and shuffle answer options to rule out the possibility of cheating.
Just like that, you can even protect your quiz with a password to avoid unauthorized access. It'll make sure that only learners with authorized credentials can access the quiz.
Online Assessments Are the Way to Go
In pursuit of online education during the times of COVID-19 breakout, online assessments are your best bet to check if the learning that you're delivering is making any progress. Real-time results, instant feedback, and automated grading are some features that'll give you enough time to prepare more training material while your learners are already attempting one.
Do you want free Quiz Software?
We have the #1 Online Quiz Maker Software for complete learning & assessment