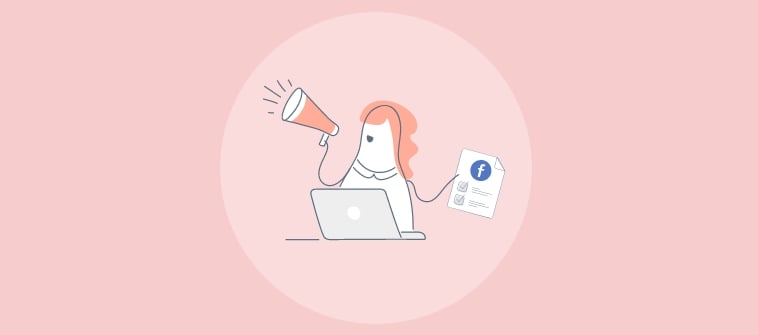 Making your brand stand out has never been more important than it is in today's hyper-competitive business environment. But, with everyone using all the top business strategies and best practices out there, standing out can be super tough.
What you need are some powerful yet relatively underutilized branding and marketing techniques.
Enter Facebook quizzes.
Even with tons of social media platforms available today, Facebook is still the proverbial king of the jungle when it comes to their number of monthly active users – a whopping 2.90 billion!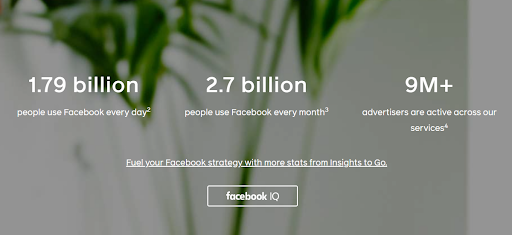 But, why quizzes?
The short answer: quizzes are incredibly fun and popular, which makes them great for brand engagement and visibility.
A staple of entertainment magazines for decades, they have only grown in popularity in the internet age, with Buzzfeed spearheading the revolution.
But, that's not all.
As you'll find when you read ahead, quizzes have a whole lot more to offer with their untapped marketing potential.
In this blog post, you'll find everything you need to know about Facebook marketing quizzes, including—
what they are

how they can help your business grow

how to create a quiz on Facebook using an online quiz tool

how you can optimize your quizzes for your brand-building efforts
We'll also have a look at some simple yet effective examples of Facebook quizzes.
Let's begin.
What are Facebook Quizzes?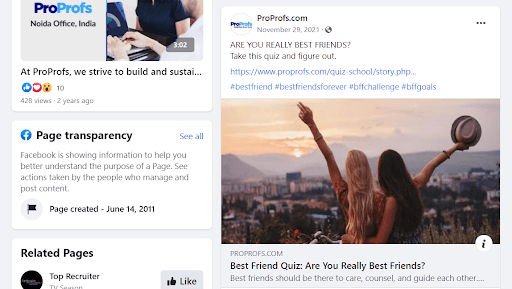 Facebook quizzes are online quizzes shared on Facebook feeds. The quizzes are typically embedded on a webpage, with the URL shared in a Facebook post.
They come in a variety of styles and formats, including—
Trivia quiz

Multiple choice quiz

True/False quiz
The results of a Facebook post quiz can be a score, a product recommendation, or, as is the case with personality quizzes, a personality type or pop culture character.
Why Does Facebook Quiz Marketing Work?
Even though it's being used for many things today, Facebook is still primarily a place for socializing and amusement. Quizzes score high on both counts. People love to take quizzes and then share and compare the results with friends & family.
And, when you optimize them for marketing purposes, Facebook tests and quizzes can give a tremendous boost to your top and mid-funnel efforts. Let's see how.
1. Interactive Engagement with Followers
With the increasingly short attention span that social media users have today, interactive content is the way ahead.
Quizzes, polls, and other such content have the power to not only stop someone from scrolling past but also engage them long enough to help you with your marketing needs. That's because, unlike an article or a video, they offer something in return for the time invested in them — the results/outcome.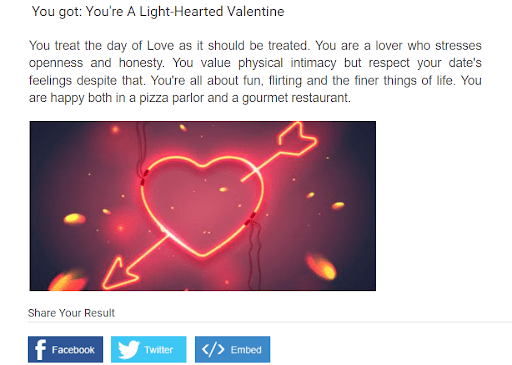 The highly accessible nature of Facebook quizzes makes for excellent social engagement with customers, prospects, and other members of your target audience.
2. Great for Boosting Brand Awareness and Recall
The best quiz software for business lets you brand your quizzes with your company logo and colors. Combined with the high shareability factor, this makes Facebook quizzes an amazing tool for quickly bringing people closer to your brand.
The more people like and share your quiz, the more eyeballs your brand will gather, which brings us to our next point.
3. Potential for Virality
Quizzes are right there at the top when it comes to viral Facebook posts.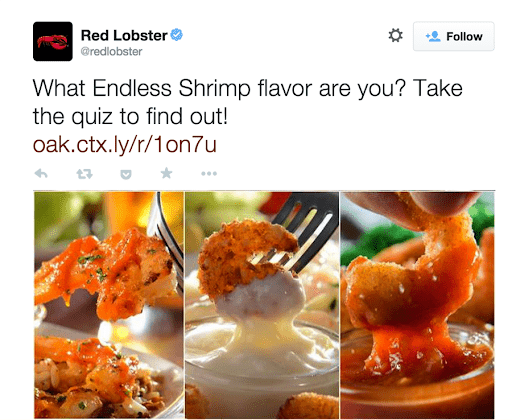 Take the example of Red Lobster's "What Endless Shrimp Flavor Are You?" which has over 171,000 likes and 8,000 shares on Facebook. You'll be surprised to know that 80,000 of the likes on this post are from the very first day.
Yep, you heard that right. 80,000 Facebook likes in a single day from a simple quiz!
While going viral on Facebook certainly isn't a cakewalk, the potential reward in terms of marketing is well worth the effort.
Watch: How to Easily Create a viral Facebook Quiz
4. Excellent Lead Generation and Nurturing Strategy
Remember those pop quizzes in school? What was the first (or maybe last) thing you did when you took one?
Well, you wrote your name on them of course.
People are in the habit of writing their names on quizzes, which means a Facebook quiz naturally acts as an organic lead form.
Keep your lead form to the bare minimum details (name and e-mail address), and people will happily oblige to be able to take a quiz they find interesting or view their results after having taken one.
Don't believe me? Then, check out this short questionnaire used by Bremerton Wellness for their Facebook lead campaign.
With three simple Facebook quiz questions, this startup chiropractic clinic gained as many as 312 leads in 3.5 months.
70% of the leads went for their offer for an initial exam and consultation, which resulted in a 55% rise in new patients per week.

Other than being a simple and effective way to capture leads, Facebook quizzes also work great for lead nurturing since you can easily integrate them with top e-mail marketing automation tools.
5. A Unique Way to Better Know Your Audience
Online surveys are the go-to method for market research worldwide. So, they obviously work well.
But, what if you took your surveys up a notch by offering a fun outcome or actionable feedback instead of the traditional "Thank you for taking the time to complete this survey"?
By disguising your survey as a hip and cool quiz, you can significantly boost response rates. This is particularly true for Facebook, where people are always looking for something intriguing.
Using a quiz instead of a survey may also yield higher quality data since a participant would generally be more interested in learning something new about themselves versus simply sharing what they already know.
Here's an example.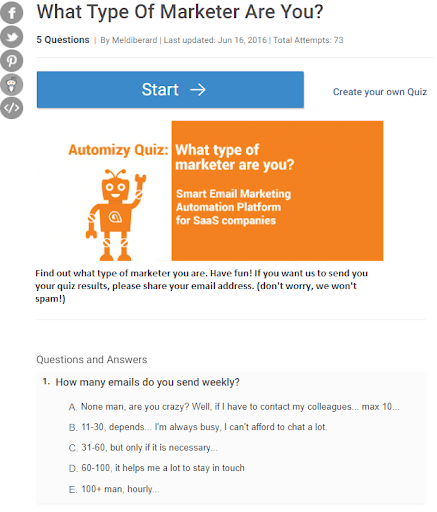 6. Product Recommendations and New Product Launches
As can be seen from Adobe's recent announcement, product/service recommendations are more important than ever for both B2C and B2B brands.
Quizzes for Facebook posts can work wonders for your product recommendation strategy by letting you seamlessly personalize your recommendations.
Not only that, but they are also great for effectively launching new products and services. You can place adverts for your new offerings in the results of relevant quizzes.
7. Subliminal Advertising
By including in-depth personal questions related to your business in your quiz, you can also subliminally advertise your brand and products.
This is an especially effective tactic when you're targeting a marketing-averse audience who don't respond to upfront product promotions.
Another way to do this is by strategically inserting your brand's logo in some of the question/answer images.
Read More: 5 Quick Reasons Why Online Quizzes Are Crucial for Your Business
10 Awesome Facebook Marketing Quiz Examples
Here are some examples of engaging and high-converting quizzes to get you started on your Facebook quiz marketing journey.
1. Business Quiz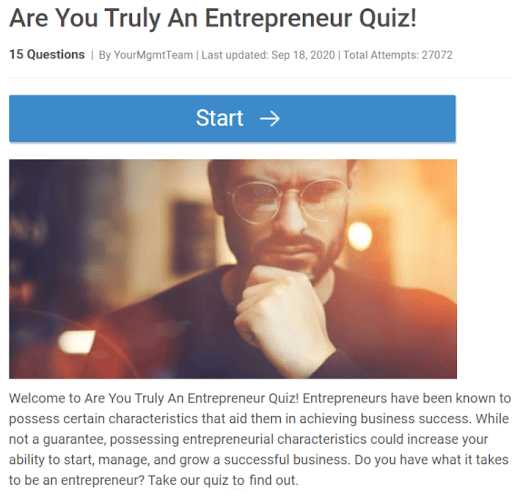 This simple quiz is designed to test a person's understanding of what it takes to embark on successful entrepreneurship. While especially suited for attracting budding entrepreneurs who are still debating with themselves on the decision, it is also great for challenging the highly enthusiastic go getters.
This quiz can be amazing for lead generation and service recommendations if you're marketing an online course that teaches entrepreneurial skills. But, it can also be very helpful if you're a company that provides online software solutions and/or marketing outsourcing services and targets small to medium-sized businesses.
2. Food Quiz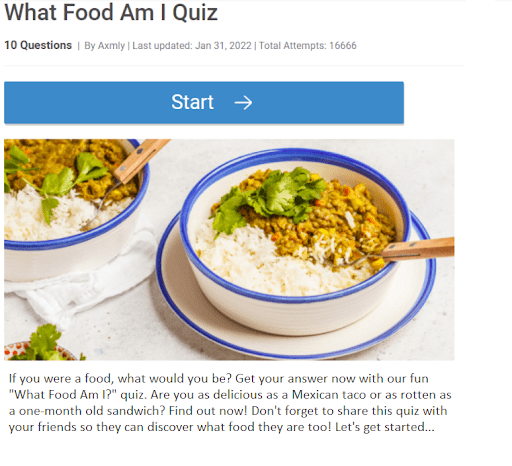 This is a fun quiz with a high potential for virality. The title of this quiz could have easily been "What food best matches your personality?" or something else generic. But, the quirky personification featured in the title is what makes this an excellent Facebook quiz.
Depending on your business, you can also use this quiz for a specific food category. For example, if you're an ice-cream brand, your quiz can be "Which ice-cream flavor are you?". As seen above, this quiz idea brought amazing results for Red Lobster's Endless Shrimps.
3. Real Estate Quiz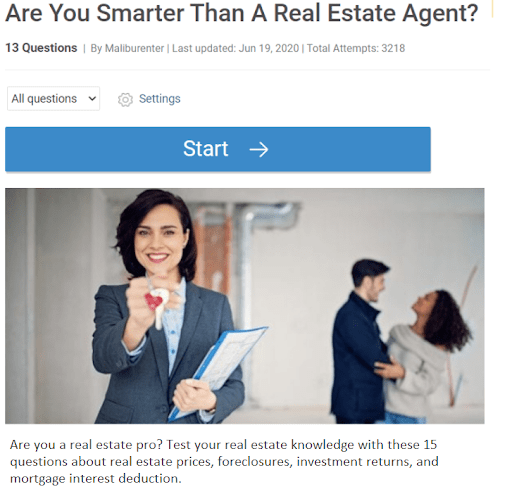 Here's another quiz that challenges the potential quiz taker's knowledge about a particular subject. This one is great for targeting people who have grown disenchanted with real estate services (for instance, people who may have read this Forbes article).
But, if you wish to go for a gentler approach with your marketing tactics, your quiz title can be something like, "Am I Ready to Buy a House?"
Explore More Real Estate Quizzes
4. Fitness Quiz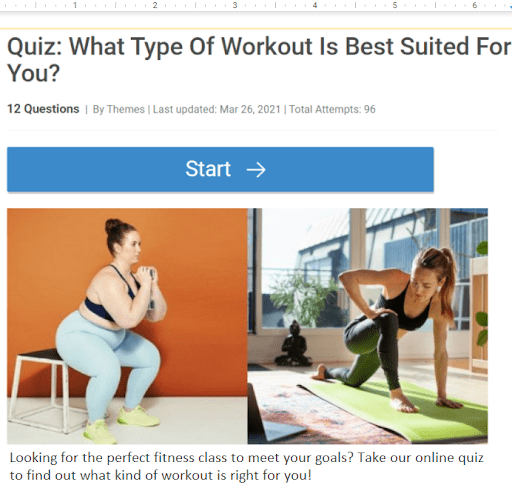 If you're a fitness and/or health club, you can't go wrong with this one. This quiz asks some basic questions about fitness goals, preferences, and history and then tells the quiz taker the type of workout routine that will work best for them.
Aside from plugging recommendations for your fitness classes in the results, you can also use this quiz to ask for personal details in return for some free health advice.
5. Medical Quiz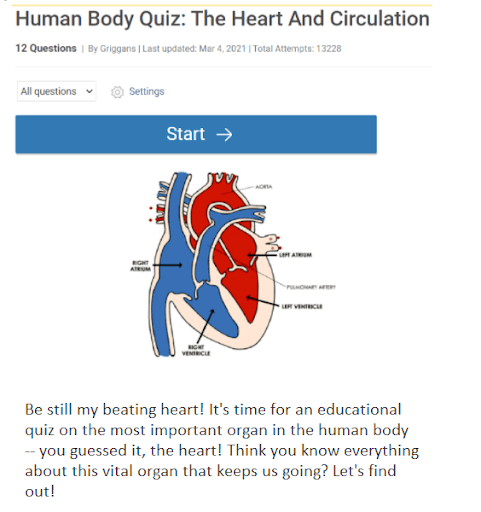 Take a look at the number of "Facts About the Human Body" articles available online and you'll know that people are very interested in knowing more about their body functions.
If you're running a medical practice, an educational-style Facebook quiz like this one can be amazing for engaging Facebook users and gaining new patients. The trick is to steer clear of the pop quiz territory by having an upbeat description like the one above.
6. Entertainment Quiz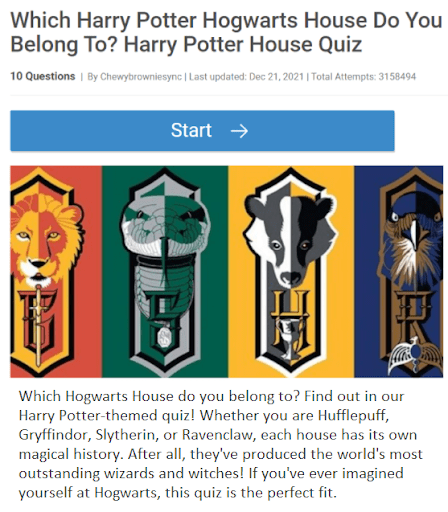 Facebook, like most other social platforms, is heavily geared towards entertainment. So, if you're a lifestyle and entertainment magazine, making Facebook quizzes a part of your "going viral" efforts is pretty much a no-brainer.
You can go for a personality-style quiz like the one above, which sorts quiz takers into one of the 4 Hogwarts houses. Or, make a trivia quiz to test your audience's knowledge about pop culture, like this one.
Explore More Entertainment Quizzes
7. Relationship Quiz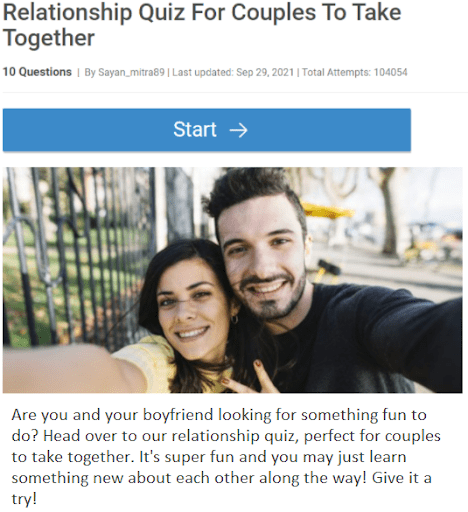 This relationship quiz makes for a fun and unique couple activity, but it also serves as a way for couples to analyze the strength of their bond.
If you're a relationship/marriage advice website or have a relationship counseling practice, this Facebook quiz can help you build your online presence. You can add some basic relationship advice in the results, along with a link to your blog or services page.
Explore More Relationship Quizzes
8. Sports Quiz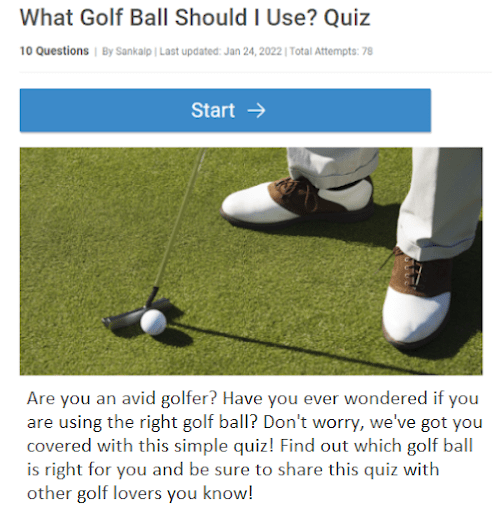 This helpful quiz gives the quiz taker a fun and easy way to figure out the golf ball they should get to maximize their golfing experience. Solving your target audience's confusion is excellent for creating a positive relationship with them.
Like many of the other quizzes you've seen so far, this one is also well-suited for product recommendations and driving website traffic.
9. Fashion Quiz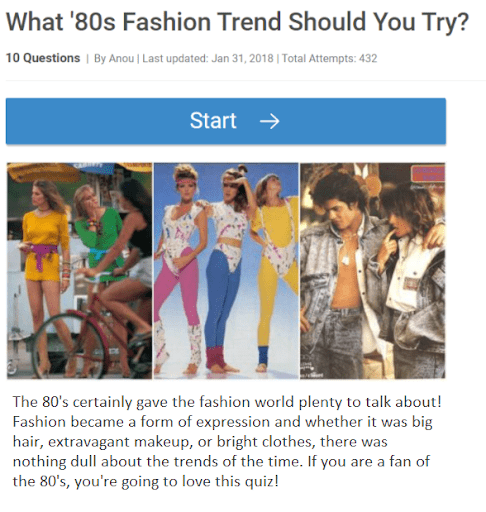 This quiz can do a lot for your social media marketing, even if you don't feature any 80s-style clothing in your fashion catalog.
An era popular for its extravagant hair and clothing styles, the 80s is the perfect topic for Buzzfeed-style Facebook content. Fashion quizzes like these can be amazing for brand engagement and even have the potential to go viral.
10. Marketing Quiz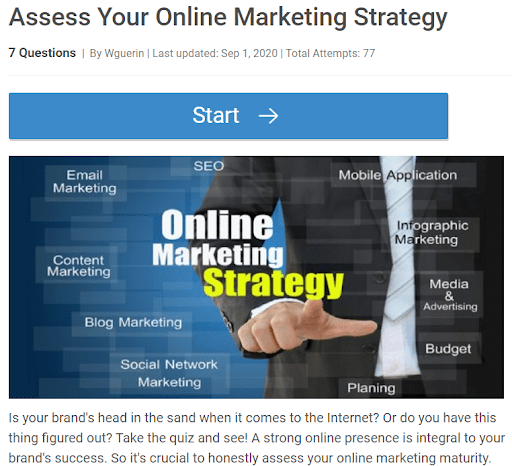 The last entry on our list, this short quiz is the perfect choice as a market research tool for digital marketing agencies. It features an equal mix of basic and in-depth questions to assess the quiz taker's knowledge about developing an effective and comprehensive online marketing strategy.
But, there's no need to limit this quiz's usage to market research. Add in your lead form and service recommendations, and you have a powerful, all-round tool for B2B brand growth.
Explore More Marketing Quizzes
Also, check out: 25 Most Popular Quiz Categories and Quizzes
Tips to Create Amazing Facebook Quizzes
Next up on this blog entry are some tips you can use to ensure that you create the best quizzes for Facebook and fully leverage their marketing potential.
1. Have a Killer Quiz Title and Cover Image
The very first thing your quiz needs to do on its journey towards successful completion is stopping Facebook users from scrolling past your content. For that, your quiz title needs to be concise and eye-catching while clearly stating the kind of outcome the quiz taker can expect and your cover image needs to be memorable.
Here are some examples of excellent quiz titles:-
Pro Tip – For knowledge-test-style quizzes, adding the word "actually" to the title is a brilliant way to turn your quiz into a challenge and instantly enhance its appeal. Try removing this word from the above title, and you'll know what I mean.
2. …and an Amazing Quiz Description
Once you've caught the attention of a Facebook user, the next step is to get them to click on the "Start the Quiz" button. Craft a stellar description that will jump in to capitalize on the curiosity built by the title and convince the user that your quiz is well-worth their time.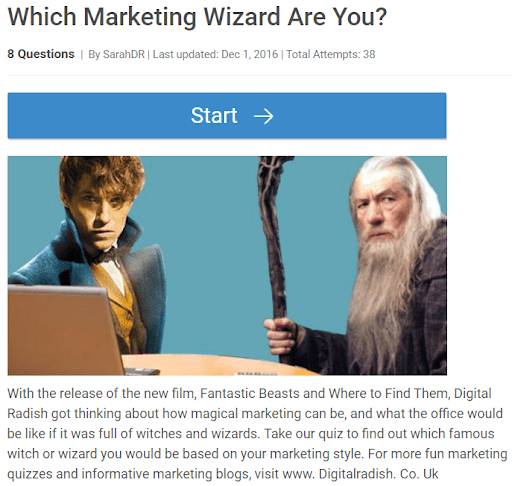 For instance, check out the description of the "Which Marketing Wizard Are You?" quiz. It provides you a nice explanation for the title, makes you visualize a fun, fantasy scenario, and also ties the quiz to a new and popular movie—all in a couple of sentences.
3. Research Your Quiz Topic
Whether you're creating Facebook content on a fun topic, say the Star Wars franchise, or something serious, like health awareness, you'll have to present yourself as someone who knows everything about it.
For instance, if you're going to make a Facebook quiz on Star Wars, you must avoid the common mistake of referring to the Millenium Falcon as "it" instead of "she". Otherwise, you'll lose Star Wars fans in a heartbeat.
4. Short and Sweet is the Way to Go
If you want your Facebook audience to complete your quiz, you've got to make it concise. Social media users have a limited attention span and are always on the lookout for some quick amusement.
Keep the number of questions between 6 and 10 to see the best completion rates. In a similar vein, you should also avoid creating overly long questions or answer options.
5. Make Your Facebook Quizzes Super Visual
Facebook is a highly visual platform where the users expect a lot of imagery in their content. So, make sure all the questions in your quiz are accompanied by an image, video, GIF, or illustration. To make your quiz even more visual, you can add media to your answer options too.
6. Optimize for Mobile Devices
Over 80% of Facebook users use Facebook only from their mobile phones. So, if you don't make your Facebook quizzes mobile and touch-friendly, you are pretty much guaranteed to fail with your quiz marketing.
Each quiz that you create should not only work fine but also look great on all kinds of mobile devices. Aside from the responsiveness of your quiz, the length of your question and answer options also plays into this. Shorter questions and answers look better on mobile phone screens.
Thoroughly test your quizzes on mobile phones and tablets before you share them on your Facebook feed. Keep an eye out for any oddity that can be a turn-off for the quiz taker.
7. Be Upfront in Your Marketing
If you're going to offer quiz takers a product or service recommendation in the results, mention that in your description. Many quiz takers may not appreciate being surprised with an advertisement when all they were looking for was some quick amusement.
On the flip side, some Facebook users may actually be interested in a recommendation and may decide to give your quiz a go on seeing that they'll get personalized recommendations through it.
8. Research and Qualify Each Lead
Among the leads that you'll get from your Facebook quiz, there may be many that won't have the potential for conversion. So, it's important that you qualify your leads before you start investing time and effort in the follow-up.
Also, some of the leads that you get may already be your customer, making the follow-up unnecessary.
9. Share Your Quizzes Everywhere
Facebook quizzes work best as part of a comprehensive quiz marketing campaign that targets every possible venue for quizzing. Here's what you need to do—
Embed them on your landing and blog pages

E-mail them to potential and existing customers

Add a link to your latest quiz on your e-mail pop-up and smart bar
10. Use a Good Online Quiz Tool
An online quiz-making tool or Facebook quiz app can let you easily create beautiful, highly visual, and engaging quizzes. Look for these key features in your quiz maker—
Intuitive UI

Wide variety of question formats

Option to add media to questions as well as answer options

Comprehensive list of settings for high configurability

Customizable themes and results
Read More: How to Choose the Right Quiz Software Tool for Your Business
Creating quizzes using an online Facebook quiz maker also offers some unique advantages. Firstly, you can get detailed, real-time reporting and analytics to measure your quiz's performance over time. This makes it very easy to figure out what needs to change.
Secondly, you can integrate your quizzes with e-mail marketing software to automate follow-ups for the leads captured from your quiz. Streamlining the lead nurturing process in this way saves valuable time and effort.
Read More: How to Create a Facebook Quiz with ProProfs Quiz Maker
Join the Facebook Quiz Revolution!
By now, it must be clear to you that including Facebook quizzes in your growth strategy is a wonderful idea. You have the chance to offer something fresh and fun to your audience while organically promoting your brand in an effective yet underutilized way.
As you've seen in this blog post, creating engaging and high-converting quizzes can be very easy with an online quiz tool. ProProfs Quiz Maker offers you an intuitive and feature-rich quiz platform backed by a massive library of quiz resources, robust customer support, and a comprehensive quiz help center.
Do you want free Quiz Software?
We have the #1 Online Quiz Maker Software for complete learning & assessment