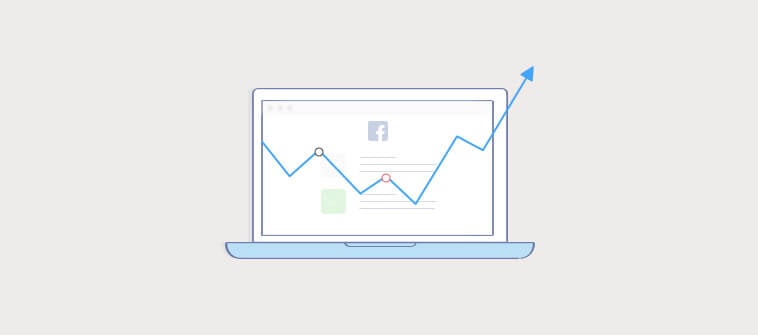 "People have always been taking quizzes, but before social media you were doing it for yourself, but now they are specifically for performance. Here, part of the point is to share it, to feel 'who you are' by how you share who you are." ~ Sherry Turkle, MIT Psychologist and cultural analyst
No wonder then that Facebook has emerged as the most pervasive social media platform for getting quizzes in front of as many eyes as possible.
Most of us love to answer questions (especially about ourselves) and give our opinions.
Even though marketers have started capitalizing on these seemingly basic human qualities by using quizzes for Facebook, increasing website traffic still remains a question.
Directing people from Facebook to your sites where they can be turned into subscribers or buyers doesn't happen overnight and you know that. That's why you are here to read this article.
To know how to get more traffic with Facebook quizzes, there are a few questions you need to ask yourself first:
Is your quiz engaging enough?

Are you getting people to submit their email info?

Are you creating quiz results that the quiz takers will love to share?

Are you redirecting the audience to your website?
Only when you have the right answers to these questions is when you'll be able to successfully increase more traffic with Facebook quizzes.
On July 5th 2014, a food blog called Food52.com posted a quiz titled- Which Cake Are You? on Twitter.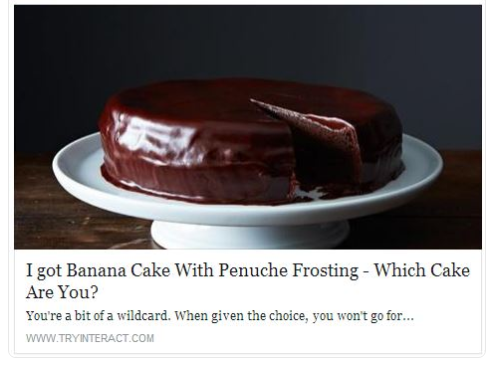 By July 7th, 20,000 people had taken the quiz, which helped the website drive loads of people back to their website and create hundreds of dollars in ad revenue.
If you wish your quiz to succeed in the same way and get more traffic on your website with Facebook quizzes, here are a few strategies that are perfect for you:
Build an Engaging Quiz
If your quiz isn't engaging, then none of the other strategies will even come into play. So, you've got to work on these first to make sure your quiz comes out perfect-
A catchy title

- An engaging quiz has a catchy title. The title of your quiz should be snappy enough to get clicked. Your title is the first thing to make an impression on your audience with. How engaging your title is translates directly into the number of clicks your quiz gets.
Quizzes with titles that make one curious to find out something new about themselves are more attractive. For example, take a look at the following titles:
"Which Ariana Grande Facial Expression Are You?"
"What Do Other People Find Attractive About You?"
"Can You Match the Cereal to Its Box Color?"
All of the above titles are snappy and they ask readers a direct question about themselves.
So, keep in mind when you create a title that no matter what your quiz is about, its title should make you curious enough to get a click. Draw on the human tendency to always find something new about themselves and seek external validation.
An appealing quiz image

- Images and videos translate into better engagement than text, especially on Facebook, where people frequently share and view media. And, this is why your quiz must have an interesting image. The more visual appeal your quiz has, the more traction it gets.
When choosing an image for your quiz description, try using images that convey the same mood you are trying to convey with your quiz.
For example, let's say you own a teen magazine and you are building a quiz where you're asking people to find out which of Ariana Grande's expressions match theirs, you can use a collage of Ariana Grande's expressions to resonate with your title. It would draw more people than the title alone.
And an even better description

- Although a catchy quiz title suffices, a great quiz description, however, adds to the engagement. When you

create your own Facebook quiz

, think about your audience and write the quiz description that'd appeal to the audience to take your quiz.
Your quiz needs to create a value for your audience in the end. So, maybe you can start writing your description with the end in mind.
Your quiz description must be able to tell the audience what they're going to achieve at the end of the quiz.
You can even mention some value addition like- a coupon, a discount, or a give-away.
For example, if you're a furniture seller, you can create a quiz titled "Which piece of furniture is the star of your living room".
For such a quiz, your description can be something like- "You're just 9 questions away from finding out the most attractive furniture for your living room. Take this quiz and you may take away a coupon or a limited-period discount".
This description clearly tells your audience what's in the quiz for them. They can determine which furniture suits their living room and how the quiz will help them narrow down their choices and make them feel confident about their selection.
---
Read More:- Tips to Build a Successful Quiz for Facebook
---
Make the Questions Fun and the Results Entertaining
Remember, this isn't a formal research survey, and you probably aren't offering anything in the way of compensation—so taking the quiz needs to be something that people actually want to do.
For example, you can:
Add questions with images

Create video questions

Create audio questions

Create answer options with images

Throw-in a mix of questions like multiple-choice, hotspot, fill-in-the-blanks, and more

Create interesting results like- "Good Job", "Well played! Let your friends know your score", "The world needs to know what you got", and more.
Create Quizzes on Facebook About Popular Posts on Your Page
Identify top posts on your Facebook page using Google Analytics and create a quiz for Facebook in which the results lead to your popular content. Creating such a quiz will resonate with your page's posts and the audience might find it interesting enough to take.
For example, if your popular posts are about animals, you can create a quiz on Facebook called "Which animal are you", or "Which computer are you" if your popular posts are computer reviews.
Keep the Results a Mystery
Have users take the quiz on Facebook, but then redirect them to your website to learn more about the results. This marketing trick is commonly used with online personality quizzes—users can take the personality quiz on Facebook and get a limited set of results, but complete personality profiles are only available on the company's website (sometimes in exchange for an email address).
Watch How to Create a Personality Quiz - 5 Steps to Make a Personality Test

Use a Call to Action
At the end of the quiz, incorporate a call to action, like having users visit your site to download an e-book or sign up for your newsletter. Even a simple lead-in like "Still have questions about [quiz topic]? Find out more here" can be highly effective at driving quality traffic back to you.
Craft Shareable Results
Whether or not your audience shares your quiz depends on how much the quiz flattered them. Quiz results play a vital role here.
After the users complete your quiz, offer them the opportunity to share their results on their own Facebook feeds. This will often result in even more people taking your quiz and visiting your site.
An emotional or a rather flattery quiz result is way better and share-worthy than a shrewd, sad result which one would like to keep to themselves.
Some online quiz platforms give you the option to customize quiz results. So, you can use this feature to create results that invoke a positive emotional response.
Use a Lead Capture Form
Facebook quizzes for fun can also drive traffic indirectly by providing you with contact information for potential new customers. You can use the incoming Facebook traffic and convert it effectively into leads.
Rather than having people click on your site directly from the quiz, collect their email addresses and possibly other information with a lead-capture form, and then use email marketing or other tactics to direct them to your website.
---
Read More:- How can Businesses Benefit From Facebook Quizzes?
---
Provide New Quiz Content Often
A single quiz, even one with plenty of backlinks and social shares, may cause a spike in traffic for a short time, but presumably, your goal is to generate more overall engagement. So the trick is to create a new Facebook quiz every week or two to keep people coming back for more.
Online quizzes are a simple, low-cost way to engage audiences with your organization and your brand.
And, with the availability of online quiz maker software, it gets pretty easier.
For example, ProProfs is an online quiz maker software that lets you create online quizzes with the help of templates. You can choose from a variety of over 100,000 ready-to-use templates. Even if you decide to create your quiz from scratch, you can access the question bank to add readymade questions to save your time.
Watch: How to Create a Quiz Online

You don't always have to create a new quiz. Quite often, you may run out of quizzes to post on Facebook.
In such a situation, it is easier and better to just improvise on a quiz that has already been used. This saves you from taking a big risk with a new quiz.
For example, if you used a quiz called "Which Meme Are You" in the past, and it gave you good results, you can reuse the quiz by changing its title to "Which Meme Are You Most Likely to Be" or "Which Meme Suits Your Personality' while keeping the same questions but changing the order of those questions.
Many online quiz generators like ProProfs quiz builder give you the option to reuse an existing quiz.
Use News to Create Quizzes
You can't deny this - shit happens, and there will always be some news for you to cash on. So, instead of sharing the standard news as a post on your Facebook page, create a quiz around it and share it on your Facebook page.
This quiz will test how much your audience really knows about the hot buzz.
Such quizzes that turn press updates into personalized, share-able content tend to perform quite well on Facebook in terms of engagement.
For example, you can create a quiz titled "Which Song Matches Your Personality" about a new music album that's making news with its amazing soundtracks.
It's obvious that when someone takes a quiz, they'll either be glad or disappointed with their quiz outcome. In both cases, they are prone to express their opinions by sharing their results on Facebook, ultimately sparking an interaction and initiating sharing of the quiz.
You can cash on all the comments or shares and direct the quiz takers to your website.
Publish→ Engage→ Create the Flow
Creating a quiz on Facebook and getting likes and comments on it is great, but it's no use if you can't build a path to revenue generation.
It is important that you get quiz-takers' info to market to them. So, you need to lure them in such a way with your quiz that they willingly submit their info and visit your website.
Hopefully, one of the strategies mentioned above will resonate with your business and ignite a mind-blowing idea to create an even amazing quiz that gets you an unstoppable flow of website traffic.
Do you want a free Quiz Software?
We have the #1 Online Quiz Maker Software for complete learning and assessment starting at $0