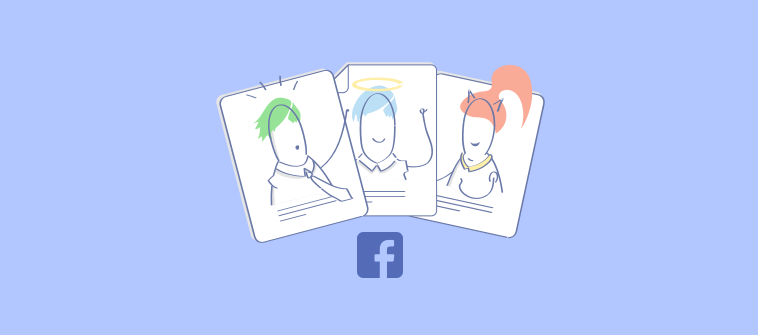 Quizzes have been a popular marketing tactic companies have used to engage audiences for a long time. Remember when you used to complete quizzes in your favorite magazine and then make your friends take them as well?
Oh, how fun it was!
Well, quizzes are still very popular.
The only difference now is that those quizzes have gone online, which means not only that people can take them and share them easily, but also that companies can collect the data generated from them.
Surprisingly, Facebook has become one of the best sites for brands to distribute their quizzes and the reasons are many. But, here are some of the major reasons brands are creating and sharing Facebook quizzes:
Facebook is a highly populated social network.

More than 70% of adults use Facebook

when they are online, so this platform makes it very easy for brands to get their quizzes in front of many, many sets of eyes.
People already use Facebook for a variety of interactive activities, like taking quizzes, completing

personality tests

, and playing games.
As a social network, Facebook makes it easy for people to

share quizzes

.
It is the right place to bring people together as a tribe.
Watch This Video To Know How to Create a Viral Facebook Quiz Easily

There are many articles that'll teach you how to create a quiz on facebook but very few of them will tell you how to create a quiz on Facebook that is share-worthy and loved by people.
Making quizzes for Facebook is easy, but if you want your quiz to be taken and shared, it needs to be engaging.
---
Read More:- How to Create a Facebook Personality Quiz
---
Below are nine tips to make an amazing Facebook quiz.
Watch This Video to Know How to Create a Quiz - Make Your Own Quiz In Seconds
1. Make It Fun
The first rule of creating Facebook quizzes is that they need to be fun. While Facebook is a powerful platform for marketing, customers don't want to feel like they are being marketed to.
They also don't want to be bored. What they do want is a quiz that is fun. So, as you begin to create a Facebook quiz write the questions, approach it from the perspective of what your audience finds engaging, rather than being overly advertise-y or market research-y.
Of course, you can advertise and perform market research using quizzes for Facebook! Just make sure they're fun.
---
Read More:- How to Make a Fun Quiz That Your Audience Will Love
---
2. Write an Amazing Title
Ever wondered why BuzzFeed quizzes do so well? Just look at their titles:
"Which Ariana Grande Facial Expression Are You?"
"What Do Other People Find Attractive About You?"
"Can You Match the Cereal to Its Box Color?"
What all of these titles have in common is that they are snappy and that they ask readers a direct question about themselves.
Your quiz title is the main chance you have to make an impression with your audience, and how engaging your title translates directly into the number of people who will click on and take your quiz.
So, when you create a quiz for Facebook, write a title that will attract the most clicks possible.
3. Use Images and Videos When Possible
On virtually all platforms, images and videos translate into more engagement and more shares. This is especially true of Facebook, which people use frequently as a way to view and share media.
Using images and videos to create a Facebook quiz can greatly increase the traction it will get.
4. Keep It Short
A Facebook quiz is not the place to ask 25 questions assessing what people think about your products. In fact, it isn't the place to ask 25 questions about anything at all.
Keeping your quiz short, as in five or six questions (10 tops), will increase the percentage of people who stay around long enough to finish it. This is a must-follow rule while building funny quizzes for Facebook.
5. Make Sure It Is Compatible with Mobile Devices
The world is running and people have no time to surf the internet on laptops. They're always on the go!
Today, people are more likely to use smartphones and tablets to access Facebook as compared to desktop computers or laptops, so it is absolutely necessary that your quiz works perfectly on mobile devices.
There are many online quiz creation software packages available, and they all have different features. As you evaluate different types of software to make your quiz, the first thing you should check is whether or not the application supports the major mobile operating systems. If it doesn't, keep looking.
6. Check for Authenticity
According to the Journal of Consumer Psychology, "brand authenticity is the extent to which customers perceive a brand to be faithful toward itself, true to its customers, motivated by caring and responsibility, and able to support customers in being true to themselves."
So, it is very important that your quizzes for Facebook come off as authentic to people as does your brand.
---
Read More:- How to Create a Facebook Personality Quiz
---
For this, you can:
Add your logo to your quiz
Share a brief case study with the audiences
Engage in a two-way conversation- Don't make the quiz too robotic, keep the tone interactive
Include Facebook quiz questions only relevant to your brand
Avoid copying questions from other quizzes for Facebook
Create realistic results
Remember customers want to engage with honest, genuine brands that aren't afraid to be human. Your followers are well informed to spot a fake brand from a mile away. They connect most with content that is real.
So, check off these points before you create a Facebook quiz and share it on Facebook.
7. Don't Make the Lead Capture Look Deliberate
A few people from your audience might know the real purpose behind your Facebook quiz which is - capturing leads.
But, even if they don't, they'd be reluctant to fill-in your lead capture form if it looks deliberate.
But you can't skip it, as it would totally defeat the purpose of your quiz. So, a better way is to add it to your quiz in a way that it doesn't appear to have been shoved in their face.
Have a built-in form to capture data like name, email, contact number of the quiz takers which can generate an excellent lead database for you but make sure to add it somewhere along with the exciting questions of your quiz before you reveal the results of the quizzes on Facebook!
Also, avoid cramming your lead form. Do not go overboard with the amount of information that you request. An email address and quiz takers' names are usually the bare minimum. Keep it simple yet effective.
8. Craft Quiz Results Worth Sharing
The success of a Facebook quiz is measured by the number of times that it has been shared by the quiz takers. So, when you create your own quiz for Facebook, it is very important to craft results that are worth sharing.
For this, decide the topic of your quiz and quickly create the result after this for the quizzes on Facebook pages.
Working backward helps in creating the right questions later, and also makes the quiz worth sharing.
Craft results that talk about your audiences' personalities, their challenges, their association with your brand to genuinely strike a chord. Make sure that when a quiz taker reaches the point where they are expecting a kick-ass result, you give them that!
Try to tone down your results to appreciative notes that the quiz taker will be proud to boast about on Facebook!
The most successful quizzes are built in a way that the results feel personal and people can relate to them.
How to Create a Viral Facebook Quiz

---
Read More:- How to Embed Your Quiz on Facebook
---
9. Create More & More Personality Quizzes
There are different ways we describe ourselves.
"I'm a Cancerian, so I'm sensitive".
"If I went to Hogwarts, I'd be in Gryffindor".
"I always choose Mario when I play " Super Smash Brothers".
"I'm an extrovert and love to keep a busy social calendar".
"I couldn't be any more like Chandler from "Friends."
"According to this quiz, if I were a sandwich, I would be a Coleslaw".
Let's face it! Somewhere deep down in our hearts, we are longing for a personality that we can boast about. No, it's not weird! It is just human instinct to know more about ourselves.
And, this is why personality quizzes are the most popular quizzes on Facebook.
Watch This Video know How to Create a Personality Quiz

For your audience, taking personality quizzes and sharing results is also just a fun thing to do with friends. So, it is better if you create and share more personality quizzes that reveal some underlying personality traits.
You'll be surprised to see how much people love it!
Facebook quizzes and tests are a fun and effective way to encourage customers to engage with your organization.
Follow the above tips to create your own facebook quiz or just use a readily available quiz after checking off these points. On ProProfs, you can find ready-made quizzes to post on facebook. Now, take these tips and go build the greatest Facebook quiz ever.
Do you want a free Quiz Software?
We have the #1 Online Quiz Maker Software for complete learning and assessment starting at $0