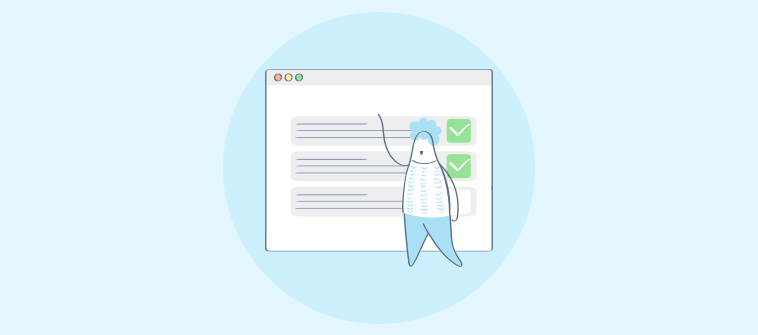 Teachers are always on the lookout for different ways to improve teaching and learning. With the changing face of education, changing dynamics in education continuity in the aftermath of the COVID-19 pandemic, and the increasing use of technology for effective learning, getting hands-on with an online quiz maker can work wonders for you.
In this article, we'll explore the different ways in which an online quiz maker can help you make learning fun and valuable for every type of student while tracking learner progress with minimal effort no matter where you are.

But first, let's understand what it actually does.
What Is an Online Quiz Maker for Teachers?
An online quiz maker for teachers is a tool that helps create online quizzes and tests for your students with the help of some amazing features to make learning more engaging and offers automation to help you save time & effort.
Adopting an online quiz maker is a good way to diversify teaching tools and give an edge to traditional learning models. You can create quizzes that make knowledge transfer a fun exercise for students while you get a clear picture of how much they've actually learned.
We can talk for a long time about how awesome it can be to incorporate quiz software into your teaching methods, but it's better to hear it from the users themselves. So, at ProProfs, we asked teachers who had used our online quiz maker software to share their experience with us. Let's see what they had to say: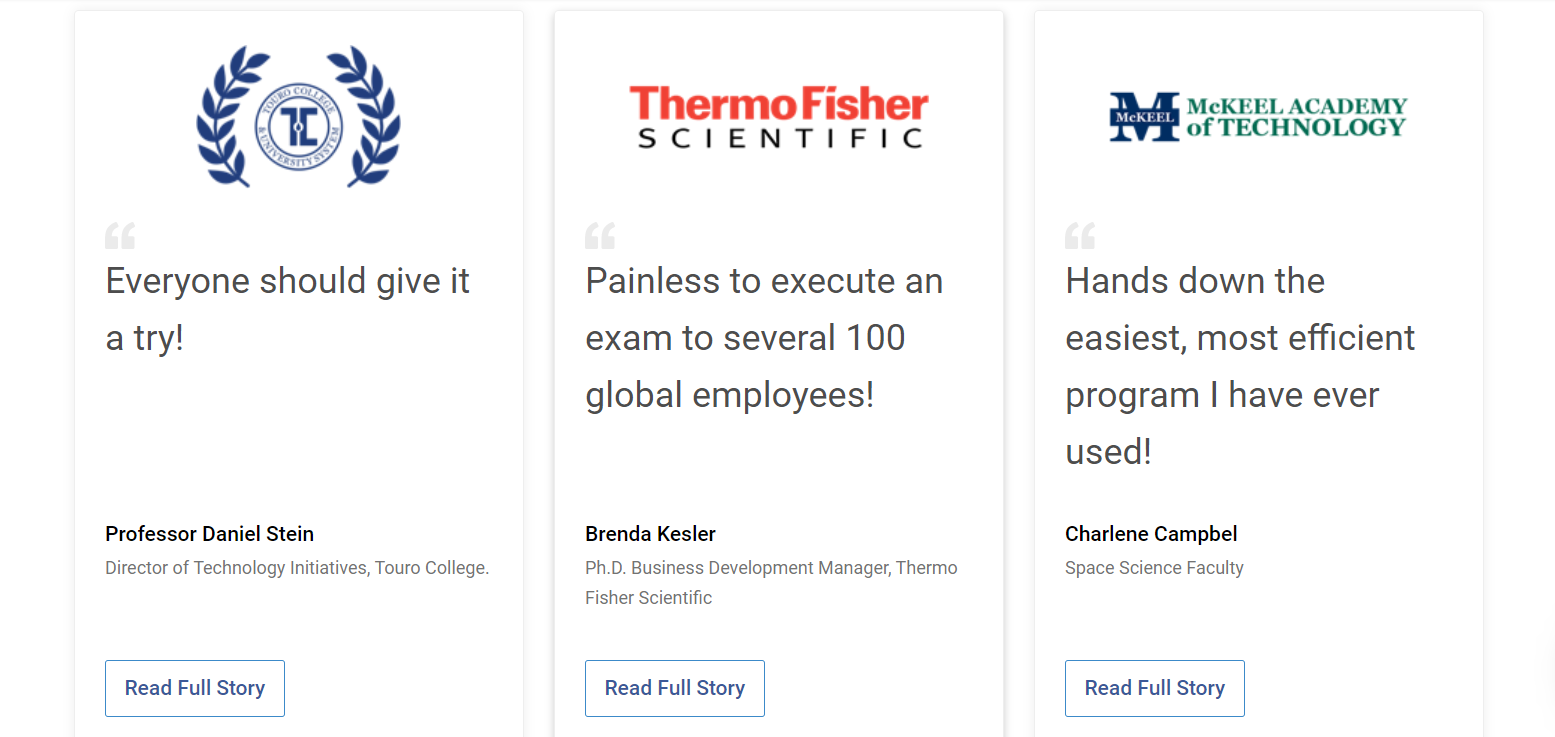 Read more about the impact that online quiz makers have created in education.
Quizzes can help trigger interactive learning, test knowledge, and help in the intellectual growth of students. In this article, we're going to talk about different ways in which teachers can use online quiz makers and share useful tips for using online quiz makers.
---
Interesting Read:- 10 Best Tools for Teachers
---
Steps for Teachers to Create an Online Quiz
In just five easy steps, you can create a quiz that can be an engaging way to teach any topic. Here's how:
Step 1: Choose a readymade template or create a quiz from scratch
This depends on your quiz topic. Templates can be edited to include what you like but if your quiz topic is complex, starting from scratch makes sense.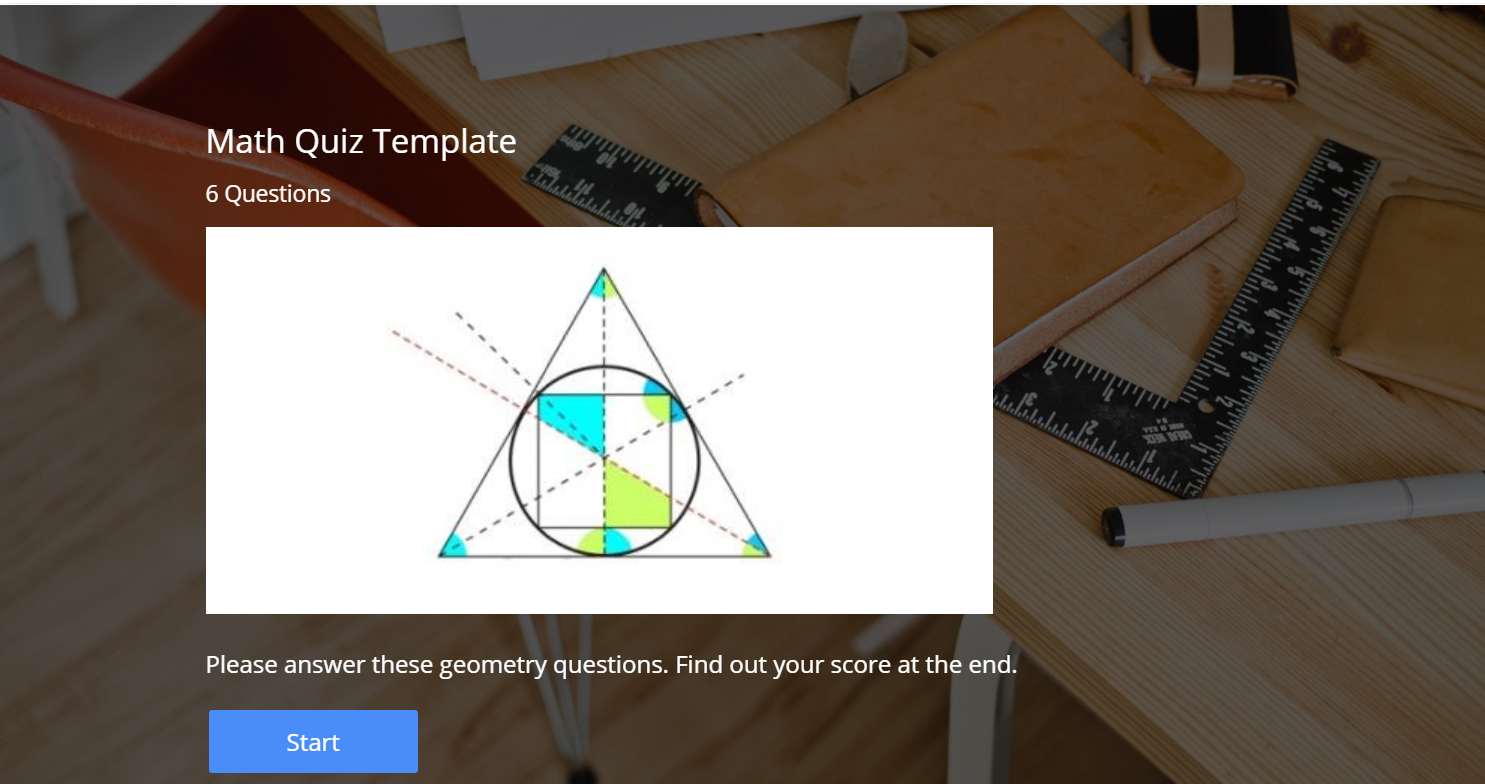 Step 2: Add questions
Create your own questions or import ready-to-use questions from the question library of the tool you're using. Some quiz makers also let you use questions used in previous quizzes.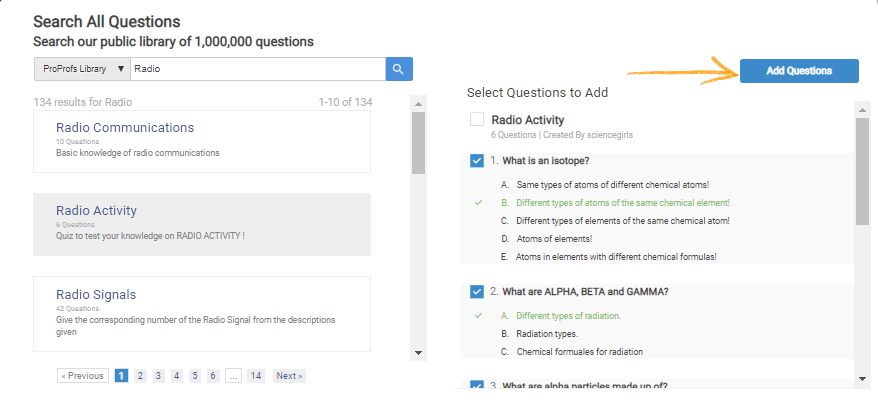 Step 3: Assign Scores and feedback
While adding questions and answers, assign grades to the correct answers so that they'll be automatically graded when answered.
Watch: How to Automate Quiz Scoring & Grading

Also, add feedback for all incorrect and incorrect answers that'll be displayed instantly after a question is attempted.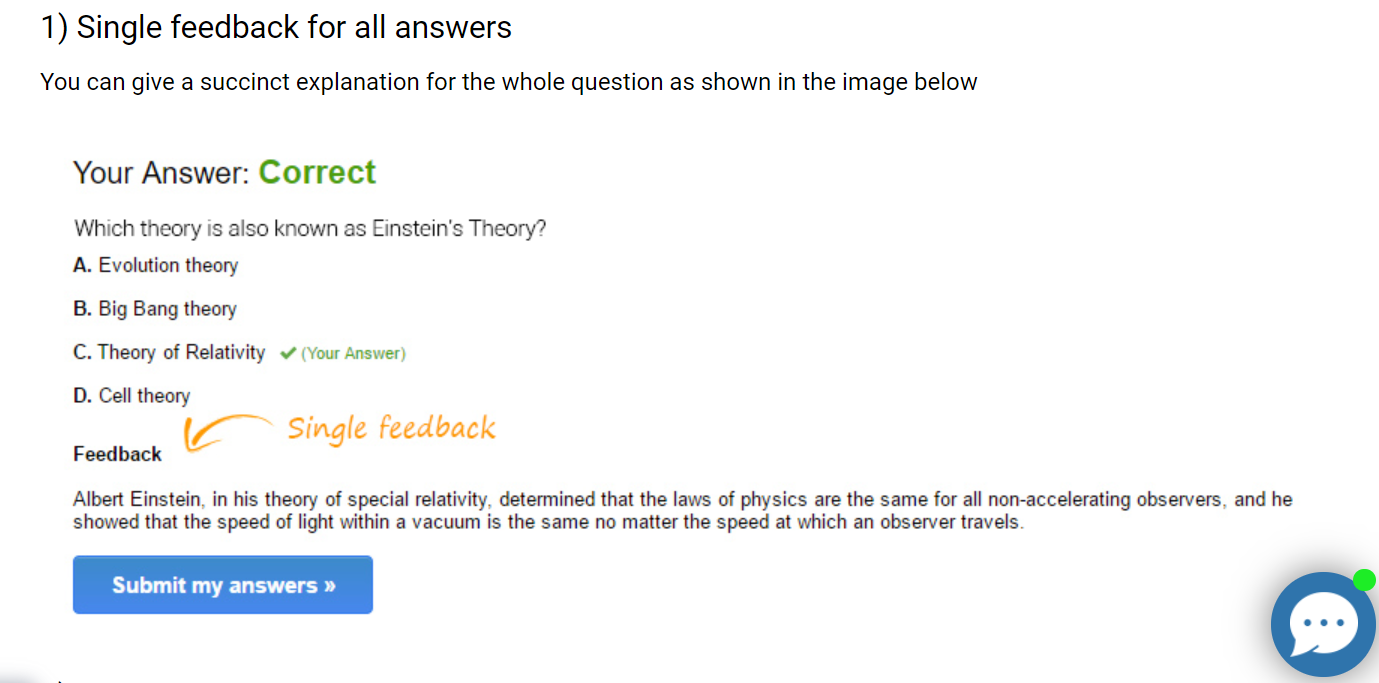 Learn more about adding feedback here.
Step 4: Customize the look
After you've added questions and answer options and automated the grading process, you can give your quiz the look and feel of your choice. Give it a title, add a description or quiz instructions, and a cover image that resonates with the title.
You can also add a desired logo, apply your themes, and change the fonts & background.
Step 5: Configure settings to prevent cheating
You can configure the following settings to ensure this:
Randomize the order of questions

Shuffle answer options

Disable tab switching

Create a password for your quiz to avoid unauthorized access
And that's it! That's all it takes to create a quiz.
Now let's look at the different ways in which you can use an online quiz maker.
Watch: How to Use Online Quiz Maker for Teachers

Let's begin with learning about different ways in which teachers can use an online quiz maker:
1- To Make Learning Fun
Have you ever wondered or still wonder how to come up with new ways to make learning fun for your students? You may have already tried all the options available at your disposal but, have you given an online quiz maker a shot?
If not, then here's why you should.
The idea of a quiz is fun! Also, quizzes, when created with interesting elements like images, videos, different types of questions, instant scores, and grading, can drive learner engagement and make learning fun for students.
So, even if the students do not know the topic well, they don't shy away from taking the quiz and improving their learning.
Creating engaging and exciting quizzes helps motivate students to study harder. Also, creating quizzes and asking questions about a subject just covered can help reinforce what they have learned in a more enjoyable way.
Watch: How to Create a Scored Quiz
2- To Identify Knowledge Gaps
An online quiz makes it the ideal tool when you wish to identify knowledge gaps. Imparting learning is only effective when it is tailored according to the knowledge levels of learners.
For instance, if you're planning to teach a lesson about Tropical Forests and students are already well-read about the topic, then it's no use repeating it. Instead, you can create a short assessment quiz on 'Tropical Rainforests' and assign it to your learners to assess how much they already know about the topic.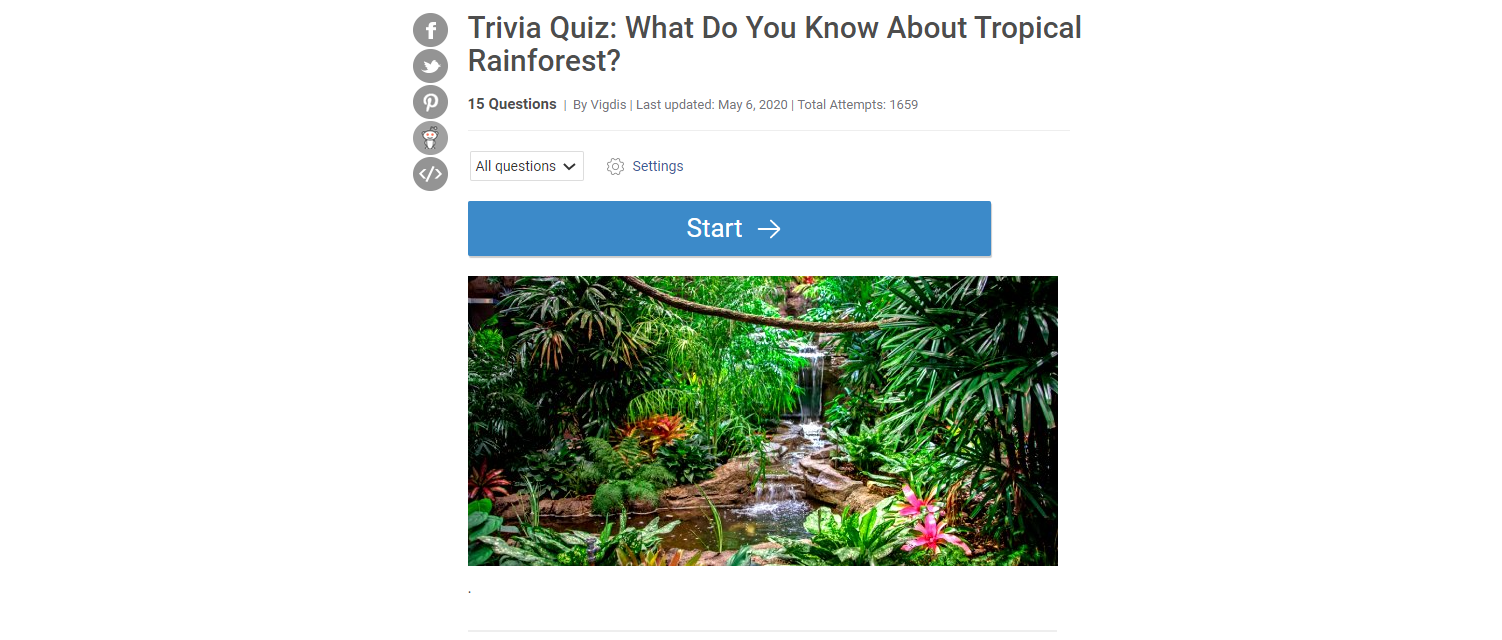 If the learners' overall scores are above average – You may consider changing the topic to be taught or make some adjustments to the study material.
If the overall scores are below average – You'll know exactly where the students are lacking and modify the study material according to the knowledge gaps.
Creating such quizzes will help you gain useful learner insights on what topics need to be revisited. You can then base your instructions on the current knowledge levels of students.
How many times does it happen that you've taught a lesson or a topic, yet you could not know how much of it was actually retained by your learners? It can be so difficult! But possibly when you're doing it manually.
However, tracking learner progress is quite effortless with an online quiz maker. That's because all the quizzes and their results are stored on a cloud-based system. So, you can go back to the previous results anytime and compare them with the later ones. This helps you keep track of your student's progress and provides better performance analysis.
For instance, ProProfs quiz maker allows teachers to track individual learner's progress at any time during and after the assessment process.
Watch: How to Analyze Quiz Results & Reports

4- To Reach Every Type of Learner
Every student has a unique learning style. Some learn better with images, some with text, some are auditory learners, and many others have a different learning style of their own.
Online quiz makers, offering the flexibility of creating learning style quizzes with a mix of different question types, can be very helpful in gauging different learning styles.
For instance, you can create a quiz with plenty of pictures, videos, and audio. You can create image, audio, or video-based identification questions and answers or multiple-choice questions with images, videos, and audio as the answer options.
Create questions like:
"Guess the singer in this audio"

"Identify the person in this picture"

"Which dance form is shown in this video?"
Such questions with visual and auditory components will help you appeal to multiple learners.
Then, you can analyze the quiz reports to check the number of correct and incorrect answers and identify different types of learners.
Now that you've learned about the different ways of using an online quiz maker, move to the next section to learn some of the ways in which online quiz makers for teachers are useful.
Learn: How to Add a Video Question to Your Quiz
Benefits of Using an Online Quiz Maker for Teachers
Here are the top benefits of using an online quiz maker for teachers:
1- Saves Time and Effort
When results are automatically calculated and communicated to both teachers and students, teachers can review results in real-time for meaningful analysis. Also, grading each quiz is probably the most time-consuming task. So, with automated grading, you can save a lot of your time and effort.
Here's how it works:
When adding questions to the quiz, pre-assign scores or grades to the correct answers and automate the entire grading process.

The scores keep adding up automatically as the students progress through the quiz

The final scores are displayed right after the students complete the quiz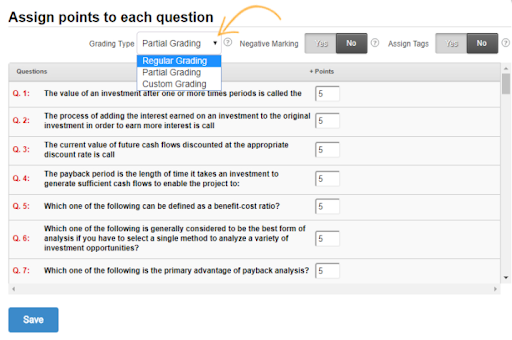 Watch: How to Automate Quiz Scoring & Grading
2- Helps Turn Mistakes Into Learning Opportunities
Online quiz makers can help you show your students that you care about them by giving them an opportunity to learn from their mistakes. Add feedback or explanations for correct or incorrect answers that will be displayed instantly after a question has been answered.
This will help create a learning opportunity for students at each step of the quizzing process. If the answer is correct, they'll get to know more information related to it. But, even if their answer is incorrect, they'll know why it is incorrect and what's the correct answer.
Read: How to Add Feedback to Answers
3- Adds Value to Learning
Students love to know that their teachers care about their progress. Just like you give them a learning opportunity by giving them instant feedback for incorrect answers, you can issue them quiz completion certificates. It certainly helps encourage students each time they complete a quiz and adds value to their learning.
You can customize quiz completion certificates with fields of your choice, and they'll be automatically assigned to the students after they've completed the quiz.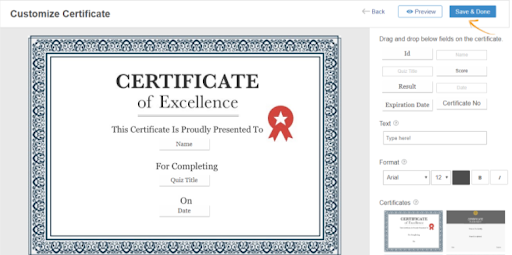 4- Helps Encourage Students to Perform Better
"Teachers cannot control student motivation, but they certainly do influence it." – John M Keller, Motivational design for learning and performance
Grading is not the only factor that can influence student motivation; regular feedback plays an important role as well, research has shown.
If students only receive a final score or a result such as 'Pass' or 'Fail,' chances are that they may not know what direction they need to take next. But, an online quiz maker can help you create a customized quiz result talking about the final quiz results.
You can customize the quiz results to be displayed and add remarks such as –
"Good job," "Looks like you've prepared well," and more, to appreciate their performance.
But, even if the quiz result is below average, you can customize the result into a positive and motivating message like-
"Not bad. You did your best. Study harder and take the quiz again".
Given below is an image showing how you can customize quiz results: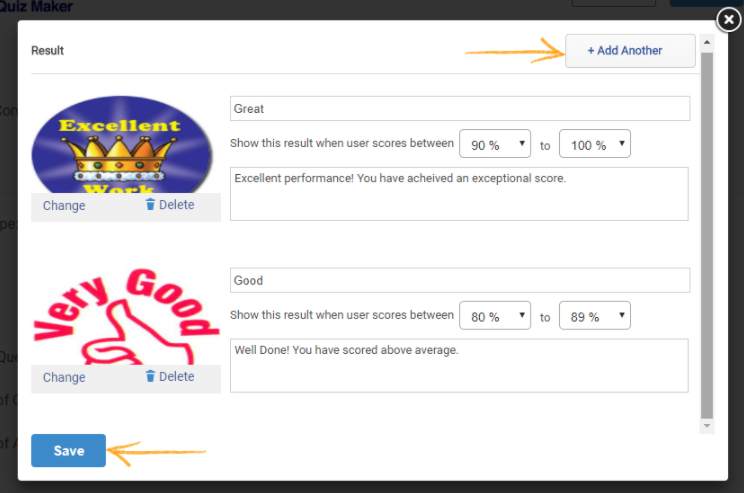 Tip: You can add a link to a relevant topic or tell students what they need to do to improve their understanding of the topic. This will allow them to apply to learn immediately and give them a valuable study guide.
Interesting Read: How to Create an Online Quiz Easily with ProProfs Quiz Maker
5- Tracks Learner Progress Anytime, Anywhere
Creating reports manually to track learner progress can take weeks. It may not be so accurate and difficult too. But, with an online quiz maker, you're just a few clicks away from accessing auto-generated reports and statistics.
If it is cloud-based software, all the reports are stored in your account. You can download the reports, print them, or simply view them any time, anywhere. You even get real-time reports while the quiz is being conducted or retrieve them anytime you want.
There are three types of reports that you can review:
Recent Activity Report

: Helps you track a learner across all quizzes.

Advanced Progress Report

: Helps you get detailed and comprehensive summaries related to your quiz.

Grade Book Report

: Helps you understand the overall performance and progress of learners in a group by viewing the total points and average score of learners in that group.
Just like the reports, the data for a quiz built with an online quiz maker is auto-generated too.
You can access aggregate data for all quizzes attempted by quiz takers like-
The total number of attempts made on the quiz, the average percentage score, and the minimum score needed to pass.
The difficulty level of each quiz question to identify the areas where the knowledge gap exists so that you can revise your training material to fill those knowledge gaps in the future.
The trending score data across all quiz takers shows you what number of quiz takers scored in which score bracket.
Viewing such stats is a great way to track your learning and training investment by seeing how well quiz takers understand the material as a whole.
Watch this video to learn how to review quiz reports & statistics:
Go Ahead and Make the Most of Online Quiz Maker
As you apply these tips to your quizzes and follow the different ways to use online quiz makers, as mentioned in this article, remember that variety is crucial.
Don't stick to just one type of quiz. Explore ProProfs' different quiz solutions and learn to create quizzes using templates. Dive-into our public library of 100,000+ ready-to-use questions and easily create a quiz from scratch.
No matter how you create your quiz, keep in mind that the point is that your students should have fun while learning while you enjoy teaching them.
Do you want free Quiz Software?
We have the #1 Online Quiz Maker Software for complete learning & assessment