Did you know that businesses that use assessment software are 36% more likely to be satisfied with their new hire?
For a business to be successful, it needs to be able to accurately assess the skills of new hires, as well as existing employees. A skill assessment test can help you assess the skills, personalities & abilities of your employees to make sure that they are the right fit for the role.
In this blog, I am going to introduce you to all the aspects of a skill assessment test, such as-
What is a skill assessment test?

How does a skill assessment test benefit employers?

How to create a skill assessment test
What Is a Skill Assessment Test?
Well, to define skill assessment in simple terms, "it is a method of testing that helps in assessing an individual's set of skills that are required for a particular job role."
There can be two cases when a business might consider creating a skill assessment test:
1- While hiring new employees
2- When training existing employees
In this article, we'll see how a skill assessment test created with an online assessment software can be helpful to the employers while hiring
Read this Detailed Guide to Using Online Assessment Tools that talks about different types of assessments, how to use assessment tools, and more.
How Does a Skill Assessment Test Benefit Employers?
Without a doubt, a skill assessment test can help you achieve the right balance between the applicants and the job that you are hiring for. Let's have a look at how a skill assessment test majorly benefits employers while hiring a new employee.
1- Test Candidate's Claims
In a research by Inc., it was found that 85% of job applicants lie on their resumes. These lies can include anything - from the skills listed to the diplomas secured.
Which is why, a skill assessment test is the right tool to measure if the candidates really possess the skills mentioned by them on their resumes. Online assessment tools these days have settings to prevent cheating so you can be rest assured that they aren't lying on the assessments as well!
2- Save Time
It happens so frequently that a candidate appears for an interview and it is found later that they are not as technically adept as the role requires. All the time spent in lining up the candidate to the actual interview being taken goes to waste!
Using a skill assessment test in the early stages of the hiring process can help you filter out unqualified candidates quickly without having to spend more time on them.
This way, you can rest assured that only those candidates who have the right skills for the job role progress further through the selection stages. This, in turn, helps the recruiters focus their time only on the best candidates. For example, psychometric tests, cognitive tests, tests to check emotional intelligence or sample job tasks tests can be conducted beforehand to know better.
---
Read More:- How to Create a Skill Assessment Test for Hiring: A Complete Guide
---
3- Improve Efficiency
When you create a skill assessment test, it not only helps you pick the right candidate but also reinvents the recruitment process. A traditional recruitment process would have the following stages where you:
Call the candidates

Hand them a paper-based test

Grade their tests

Call the candidates again to discuss the results

Conduct a personal interview
You see, since most of the online assessments can be created and shared online via email, graded automatically, and detailed reports can be downloaded, you can simply cut stages 1-4, and based on the results, may or may not conduct a personal interview.
What's more, a detailed report will help you filter the highest performing candidates.
4- Hire Employees That Excel
The skills that one job requires may differ from the skills required for another job. So, there is no standard format of how skill assessment tests should be drafted.
But there are a few abilities required for every job role like time-management, learning-ability, decision making, and cognitive thinking.
A skill assessment test made using the right tool can help you screen candidates for all of these abilities and more to help you select the right fit. For this, you can create timed tests, assessments that have interactive scenarios requiring complex decision-making, mix and match question sets to judge specific skills, and more.
Watch: How to Analyze Quiz Results & Reports

5- Remove Personal Bias
Since a skill assessment test helps you make judgments with robust test analytics, the possibility of personal bias is eliminated to a great extent. The results that a skill assessment test provides are accurate and evidence-based. It is an actual analysis of candidates' skills and knowledge.
Unlike resumes and interviews, a skill assessment test provides a more objective evaluation of a candidate's skills. Many skill test creators offer detailed test reports and robust analytics to offer tangible insights into the strengths and weaknesses of the candidates which can come handy in accepting or rejecting them.
Now you've landed here because you want to avoid this risk, so let's quickly learn about the easy steps for creating the perfect skill assessment test.
Watch: How to Create an Assessment Online

How to Create a Skill Assessment Test
I am now going to walk you through the creation of an example Skill Assessment test using ProProfs quiz and skill assessment maker.
Let us quickly look at all the steps required to create a skill assessment test:
With a skill assessment platform like ProProfs, it is super easy to create an online assessment, whether it is a technical skill assessment, computer skill assessment test, marketing, and sales skill assessment or performance skill assessment.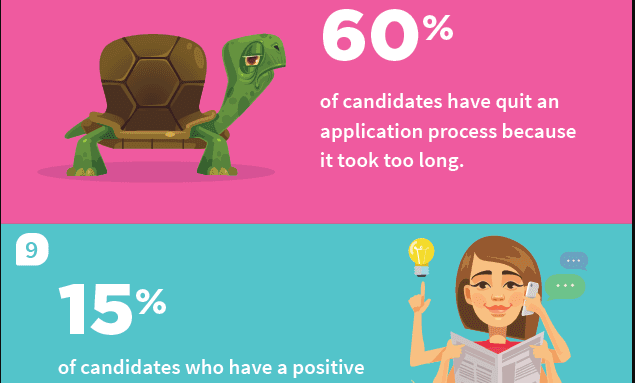 Sometimes, it's important to start with the end in mind. So, real quick - let me show you how it works.
Let's begin by selecting an assessment or quiz type.
You can choose from a scored quiz, personality quiz, or scored survey. Let's proceed with the example of a scored quiz.
In the next step, you can either:
choose a preset template from a library of 100+ professionally-designed templates, or try to create your assessment from scratch
If you choose the latter, just click on 'create from scratch,' and you're immediately taken to the editing window.

The first thing you have to do is

add information about your assessment.
Give your assessment a name in the top right column, and then you can either:
upload an image

use our library of images

search for an image, or

embed a link

Now give your assessment a title and description.
After saving it, you'll land on a page displaying your assessment title, image, and description.
Add the questions.

On the left side, you'll see a question box to do so.
We have more than 10 question types that you can choose from. You can also access more question types like multiple choice questions, fill-in-the-blanks, true or false questions, matching questions, hotspot questions, and more.
---
Read More:- 6 Best Career Assessment and Tests to Help You Find the Right Job
---
You can also import questions from any other assessment you've created or even a spreadsheet.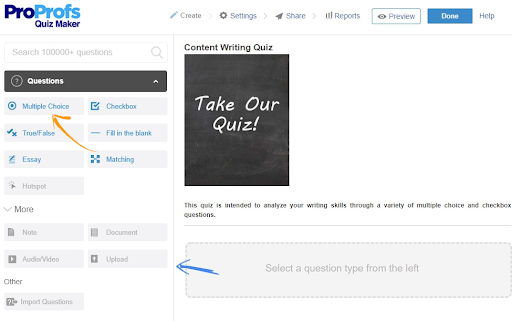 Choose any question type, add an image and type in your question.
Then add your answer options.

You will have options to select an image for each answer. You can also add an explanation at the bottom of the question and, you're good to go!
Similarly, you can add more and more questions or simply pick questions from the ProProfs question bank that has more than 100,000 ready-to-use questions.
Just go to the question bank, choose one assessment topic, and select questions that you want to add. You can easily edit these questions later if you want to.
Create branding for your quiz or assessment.

Change themes, colors, background, fonts, and the buttons of your quiz. Add your brand's logo.

After this,

you'll find a final preview of how your assessment looks.
The next step is very important.
We understand how difficult it is to physically oversee each participant and prevent cheating.
So you have to

configure smart security settings that'll help you prevent cheating.

For this, you can do the following:

Randomize questions so that everyone gets questions in a new order every time.

Shuffling answer options is another way to prevent cheating.

Pool questions at random - so each person gets a different set.

Give your assessment a password to avoid unauthorized access.

Once you've created and saved your assessment, you can easily

share it via email, links, social media, or embed it on your website or blog.
Now the best part about online assessments is - all the reports are AI-generated.
The reports make it easier to review individual and group performances such as the number of attempts, total time spent to complete the assessment, number of right or wrong answers, and more.
You can view these reports anytime, anywhere, and even download these reports in CSV/Excel formats, or share via email.
Check out our video guide on How to Create An Assessment Online for further details.
Assessment Made Easy!
Skill assessment tests are very easy to create and provide the most accurate results. Also, it is better to create a skill assessment test and use it to simplify the hiring process and save time than following the traditional process. It is quick, simple, and fun.
Now, if you're looking for the perfect tool to easily create the right skill assessment tests, you're at the right place.
Take a tour or schedule a demo. Call us at (855) 776-7763 (toll-free).
Do you want a free Quiz Software?
We have the #1 Online Quiz Maker Software for complete learning and assessment starting at $0