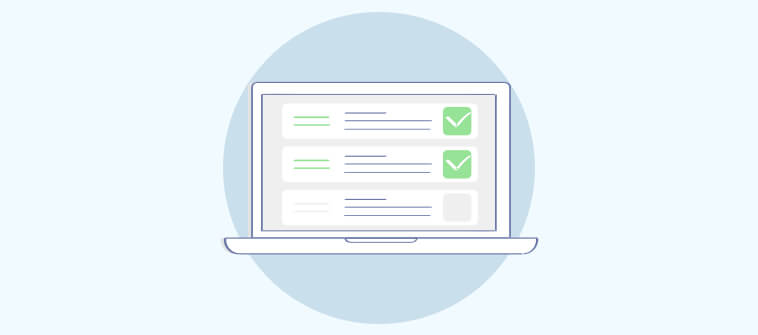 Online quizzes are interesting, informative, and engaging. Everyone loves taking quizzes! And marketers know that they are a reliable way to drive sales and revenue.
Although there are various forms of content, most business owners prefer quizzes to engage their audience and generate leads. It is because quizzes perform incredibly well when it comes to interactivity, engagement, and driving the revenue alongside lead generation.
Creating a quiz that looks appealing to your audience is a daunting task and needs a lot of creativity and planning. That's why, it's important to focus on designing an appropriate quiz framework initially that covers three major steps create, distribute and follow-up. Let's discuss it in detail.
To develop an innovative piece of content you need to follow strategic approaches. Before you directly jump into the quiz creation process, craft a title around which your quiz will rotate. Make sure you create a quiz on a topic of which you have a considerable amount of knowledge. For instance, if you are creating a quiz that is event or product based, you need to know its every minute detail to form unique questions that people would like to take.
Once you have figured out, you can move on to crafting quizzes. All you need to do is follow some simple steps:
Put emphasis on your products majorly so that your quiz becomes a representation of your brand.

To make it look more appealing, incorporate images, media, and GIFs.

Try to make your quiz as short and crisp as possible to gain more attention.
Next, you would require a capture form for your quiz to generate leads and to drive future sales. It not only helps to increase your email subscriber list but also forms a group of potential customers for easy communication. To make an effective capture form, you need to:
Provide valuable promises or incentives like free stuff, ebook or e-magazine

Be honest with your marketing strategy
Lastly, getting your quiz shared is the most important step. It can be done by giving positive comments to the quiz takers as they would more likely be happy to share something good about them. Also, use captivating images to share the results as it attracts more to others who see it. Do not forget to integrate a punchline that directs the user to your website, quiz or any personalized link related to your product or service.
Watch How to Generate Leads With Lead Quizzes Easily

Distribute your Quiz
Once you are done creating your quiz, the next step is to distribute it to your target audience. As we know, people love to use social media platforms not just to entertain themselves but also to learn and collaborate. You can distribute your quiz easily by sharing it on social media platforms such as Facebook, Linkedin, and Twitter. All you can do is:
Share your quiz link on social media platforms with a captivating image and an attention-grabbing headline.

You can also promote your quiz through paid advertising. You just need to play smart. Select your target audience based on location, demographics, behaviors, connections, and interests.

Approach

custom audiences

to enlarge your customer database. This helps to save your money as you are not going to invest in searching for people who already exist in your database.
---
Read More: Best quiz maker software
---
Follow-Up to Drive Sales
Now that you have generated leads, the next step is to follow-up to drive sales. Make sure that you maintain the interest of your quiz takers by sending them a series of marketing automation emails. There should be a proper follow-up sequence to remind your customers about the quiz:
As soon as an individual signs up for your quiz, you need to send a welcome email. It reminds them that they have opted for your quiz every time whenever they log in to their email. It also helps you assert your brand up to a great extent. If you forgot to send the same, your leads wouldn't remember you for longer, and there are chances that they mark your quiz as spam.
Enhance their Interest through Curiosity
As you have sent a welcome email, don't think your responsibilities are over and you have successfully generated leads. You need a second follow-up in which you'll be providing lists of possible results to increase the curiosity of the quiz takers. This way, you can encourage them to retake the quiz to see whether they get different results or not.
Gain Trust by Sharing Experiences
Gaining trust is one of the major steps while following up on your existing as well as newly-generated leads. Share the experiences of other customers, their stories based on similar results as they've got after taking your quiz. These stories build up trust and convince your leads to become paying customers.
Finally, it's time to convert your leads into paying customers. All you can do is offer incentives such as webinar sign up, discounts, coupons to close the deal successfully. Your audience needs to have a reason to make a transaction into your brand.
Go Ahead!
Creating a quiz framework is of extreme importance as you don't miss out on the crucial steps. Research your audience well and their needs so that you minimize the risk of failure. Make sure you create a quiz in a way that builds interest and people find it engaging. Once you are all set to go ahead, generate leads and drive revenue!
Do you want a free Quiz Software?
We have the #1 Online Quiz Maker Software for complete learning and assessment starting at $0