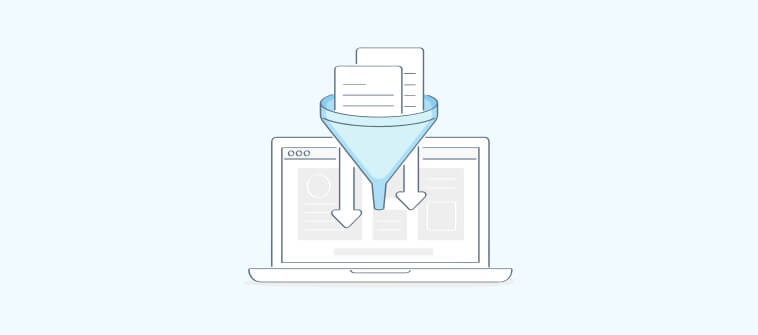 When we meet a new person, we don't really make a split-second decision whether we would want to see them again. We do rounds judging them on their appearance, their interests, the way they speak, or the occupation they hold and then make our decision.
Oftentimes, we would not want to see them again while sometimes, we would take interest and build a relationship with the person.
Something similar happens, when you run a business and are looking to acquire customers to offer them your products or services.
You want to study a lead first before you finally begin to nurture them.
You do not just want to spend your time and effort on nurturing a lead that won't end up being a buyer.
Doing it online is a different ball game altogether, but it's still possible.
All that matters is how accurately you segment your audience online into different groups.
When you are coming up with a data-capture strategy, you may consider using Pay per Click on Facebook certainly because it has thousands of data points on people because admit it- it's the fastest way to gather data about your website's visitors. Google Analytics might help you with some data but not much.
Facebook does enable you to target people of particular interest. In fact, 92% of marketers advertise on Facebook.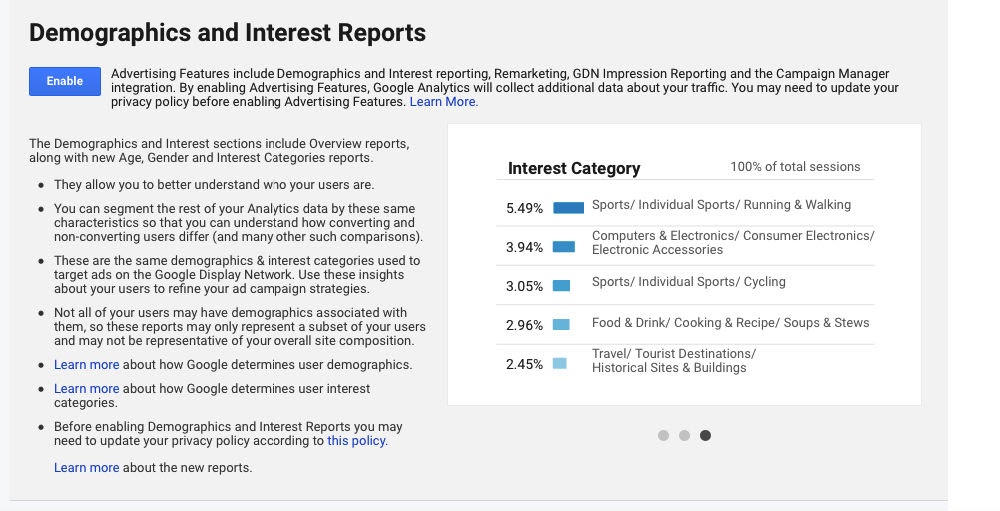 The only downside is that you have to pay quite a hefty price for the opportunity to target these people.
So, the big question here is-
How to Reach Your Audience More Accurately by Spending Less Money?
In simple words- how can you create a marketing funnel without emptying your pockets?
You wouldn't be surprised if I told you that quizzes are a great way to generate leads, would you?
But, did you know the "You've Been Framed" quiz by optical company Zenni Optical generated over $1 million in revenue and 29,410 lead conversions with a 9,655% ROI in 6 months?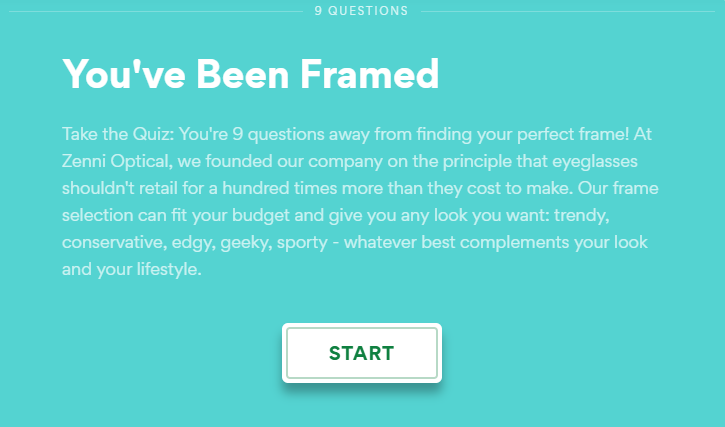 Now you won't completely trust me because you're reading this on ProProfs, which is a leading quiz maker software company. You obviously need reasons. So, hope onto the next section.
How Does a Lead Quiz Help Your Marketing Funnel
Let's begin by understanding what a marketing funnel is.
A marketing funnel, also called a sales funnel or purchasing funnel, is a sequence of steps a prospect will take from the first interaction to actually converting on your sales offer.
A typical marketing funnel would have three filters-
1- Lead Generation- Awareness
2- Lead Nurture- Interest, Consideration, Intent
3- Conversion- Evaluation, Purchase

Each filter has a stage. Let's take a look at all three:
Stage 1- Awareness:
At the first stage of your quiz funnel, your audience needs to become aware of your brand. Awareness here means-
Understanding who you are as a brand, or a company

What products or services you offer

What niche do you serve
While your existing customers may be well aware of your brand, it is important to create awareness to attract new prospects to take your quiz at this stage.
You can create an engaging lead quiz and upload it on your social media platforms or website. Don't forget to attach a lead form within your quiz so that it becomes easy to get quiz-takers' information.
Stage 2- Interest, Consideration, Intent:
At this stage, you'll have all the data that you need to nurture your leads.
You will need to create a highly engaging email marketing strategy catering to each of your mailing lists.
Why? Simply because email marketing lets you nurture your leads in a relatively hands-off way. So, your new leads will go on a strategic journey through each of these core lead nurturing stages: interest→ consideration→ intent→ evaluation.
Only then can your marketing funnel earn more conversions.
This process becomes even easier if you integrate your lead quiz with a marketing automation tool.
Stage 3- Evaluation, Purchase:
This is the final step of your quiz marketing funnel where you convert your subscriber into a paying customer.
In the second stage, you have clearly made your leads well aware of your intent and offers.
Now, that the leads are well aware of your offers, they might have a few questions in their minds about making the investment in your offer.
So, the leads might want to reach out to your customer care service to get such questions answered.
After your leads are through with their research, is the time when you need to shoot your sales pitch in the email. This is the final step in the funnel.
All the information you share with leads in this email must be directed at persuading your audience to make a purchase.
So, that's the journey your customer will go through before they actually become your customer.
Reasons to Use Quizzes in Your Marketing Funnel
A lead quiz funnel works in much the same way as a regular funnel and here are some of the major benefits:
It's easier to get attention: Quizzes are a rage on Facebook. If your quiz appears attractive enough, chances are that a lot of people are going to take it.
It's easier to get information: You can always customize your own lead form and use it to gather quiz-takers information. It is advisable to place your lead form (with a skip button) before you reveal the quiz results.
It's easier to get people to sign-up: Even though a quiz forms only the top of your marketing funnel, it does the job of convincing people to sign up for your email list for more information.
Integration with Marketing Automation Tools: This is probably the best reason why you should use lead quizzes. You can integrate your lead quizzes with major marketing automation tools and automate the email marketing process. The information you capture in the lead quizzes will be automatically segmented into different mailing lists. This will help you to turn your quiz takers to subscribers to paying customers very easily.
Now that you know why you should use quizzes to create your marketing funnel, let's learn how you can do it.
In the rest of this in-depth guide, I am going to walk you through each step of creating a marketing funnel easily using lead quizzes.
---
Read More:- How to Create a Quiz that Generates Leads and Sales
---
Steps to Create an Effective Lead Quiz
If you're wondering how to build a marketing funnel with a quiz, here are all the steps:
Start with the end in mind
You can build an effective quiz funnel only when you have your end goals in mind. Defining your end goals involves segmenting your quiz takers into different groups.
Then, you can send personalised email marketing content catering to the needs of each group.
But, for this, you have to be clear about your customer personas and the problem that they're facing. Then, you need to decide what product or service you can offer to the group.
Choose a Quiz Type
The real purpose of creating a lead quiz is to generate qualified leads because better lead generation ends in better conversion rates.
Which is why, you should always keep the purpose in mind when creating online quizzes for lead generation.
For example, if you're creating a quiz with ProProfs Quiz Maker, you have the option to make your own quiz with either a personality quiz template or a scored quiz template.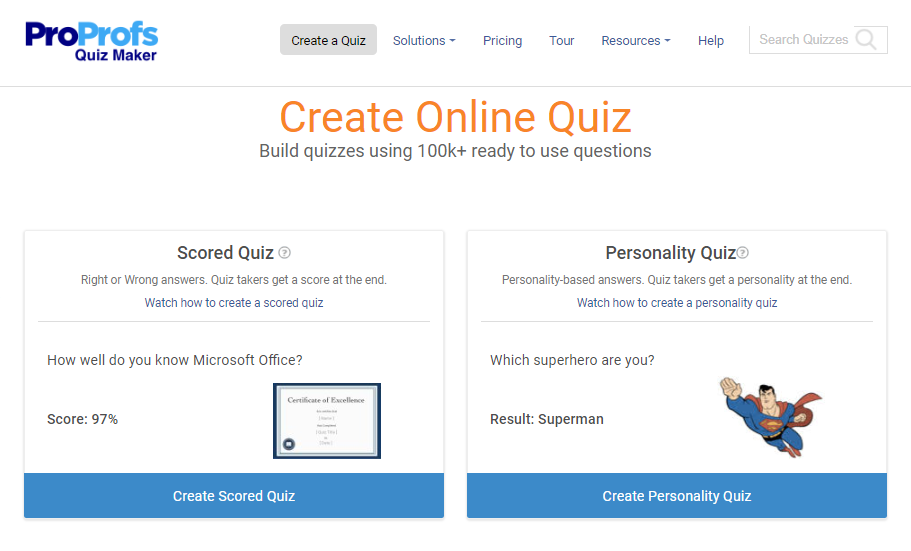 Personality Quizzes: These are the most popular type of lead quizzes and often used as lead magnet. Creating online personality quizzes helps your audience better understand themselves by taking them on a journey of self-discovery. The result is often a revelation about certain aspects of their personality.
No matter what your niche is, you can always make your own personality quizzes and use them to keep your audience engaged.
Pro tip: Use templates to create the best personality quizzes.
Scored Quizzes: Unlike personality quizzes, scored quizzes don't offer any self-discovery. But, they are a good way to test your audiences' knowledge about your brand or your products and services. But, make sure you create upbeat and positive results even for those who score the lowest. Afterall, you don't want anyone to feel mediocre and miss out on any prospect.
Watch: How to Create a Quiz Online with ProProfs

Work on Its Appearance- Quiz Image, Title and, Description
When your quiz appears on a social media platform, your audience will first notice- the quiz cover image, the title, and the quiz description.
These three elements are enough to decide whether your audience clicks on your quiz or scrolls right past it.
So, it is very important that your quiz image, title, and description must appear interesting enough to evoke curiosity.
For example, look at the following quiz: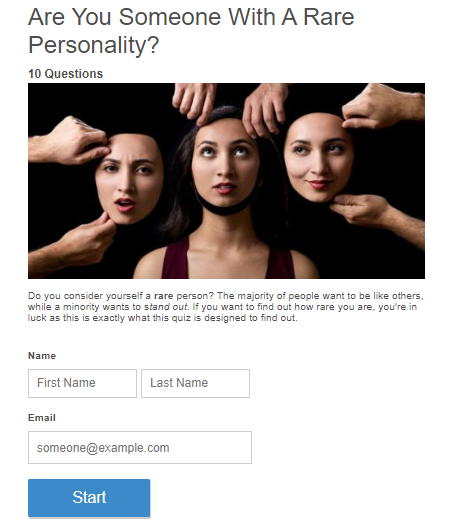 In the above example, you can see that the quiz image, which is very gripping, relates to the title very well.
The title, on the other hand, questions the audience without even making them aware of it.
The quiz description is compelling enough to make people give in to the curiosity of finding out what kind of personality they have.
So, when you create a lead quiz, work on its appearance to attract the most clicks possible.
Choose Questions for Your Quiz Funnel
Even though there are many factors that contribute to the success of a lead quiz, the type of questions you choose to add in your quiz need special attention.
Afterall, it is the questions that carry the quiz-taker to the end of the quiz.
If the questions are boring, or escape the quiz takers' interest, chances are they will skip it. Questions are your way to create a conversation and build a rapport with your quiz takers.
Creating a set of engaging questions can be difficult but with a good quiz maker tool, you can get access to many readymade questions.
For example, ProProfs Quiz Maker lets you import questions from a question library that has over 100,000 ready-to-use questions across thousands of topics.
Here's how: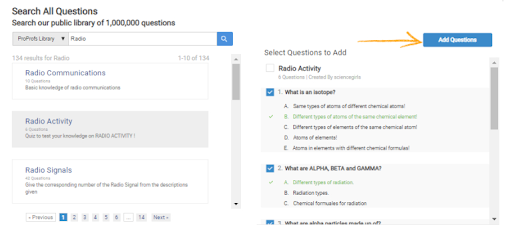 ---
Read More:- How to Build Engaging Questions for a Marketing Quiz: 5 Best Tips
---
Make Your Quiz Visually Appealing-
Another thing that keeps the quiz takers hooked to the quiz is how much they enjoy answering the questions. It would appear to be a foul-play if your quiz is interesting on the outside but boring on the inside. Quiz-takers can simply choose to walk-out of the quiz at any stage then.
Here's what you can do to make them stay:
Include a mix of question types- Why stick to just one type of question when you can use a variety to make the quiz takers stay engaged till the end? . Quiz maker tools like ProProfs allow you to add a mix of question types like- multiple choice questions, fill-in-the-blanks, true or false, hotspot, and more.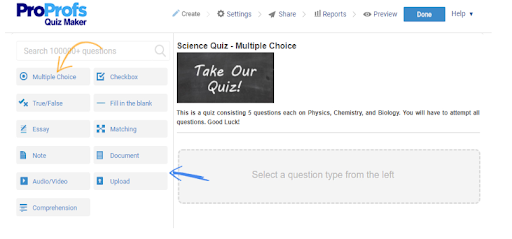 Use images, videos, and audios- Using more and more multimedia translates into more engagement. So, try to add images, videos, and audios to your questions and answers when possible. Get creative and create "guess this audio" or "guess this video" kind of questions. You can even add images as multiple choice questions' answer options.
Add a background image- It is advisable to add Make things interesting by adding a background image which relates to the topic of your quiz. For example, if your quiz is about superheroes, try changing the background to a picture with a superhero in action. This will certainly pique the participants' interest and they'll relate more to the quiz.
White-Label Your Quiz- This isn't a necessary step but you can always add your own logo and a theme to your quiz that resonates with your brand.
Customize Your Lead Form
You can't create a lead quiz without customizing a lead form. That's a rule. So, after you've worked on the appearance of your quiz and added all the questions, customize your own lead-quiz form.
Include fields only that need to be filled like your quiz takers' names, email addresses, mobile numbers, or anything that you may require to move ahead in the funnel.
Below, is an example of a typical lead form.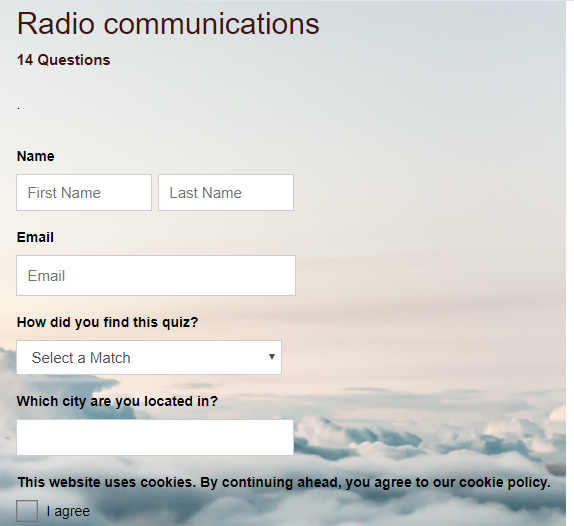 One important thing about lead is their place in the quiz. You can place your lead form right before you reveal the quiz results so that the quiz takers' won't refrain from giving in their information because they want to view their results. Or, you may place it at the end of your quiz with and tempt your quiz takers to fill it with an exciting offer or a giveaway.
However, you may not make it look deliberate. So, also enable an option to "skip the form" button. This way, only those who are most engaged people will sign-up for your list.
Craft Upbeat Results
Creating upbeat and positive results is very important. Simply because your quiz takers should feel they made an effort by answering all the questions and they deserve a rewarding conclusion.
So, if you create satisfying results, they'd like to share the results with their peers, which in turn, might turn in more quiz takers.
You can even drop a link in the results section that'll lead your quiz takers to your website or include incentives like a free ebook, a free giveaway, or even personalized emails with marketing advice.
Be honest about your marketing strategy. Let your quiz takers know what you'll be doing with their information, especially if you'll be contacting them anytime soon.
Integrate Your Lead Quiz With Marketing Automation Tools
Even though you may have a well-crafted email marketing strategy, you'll still need to filter the leads you've collected and segment them into different mailing lists. This requires a lot of time and effort.
An easier way to do this is integrating your lead quiz with a marketing automation tool like MailChimp, Salesforce, CampaignMonitor, etc.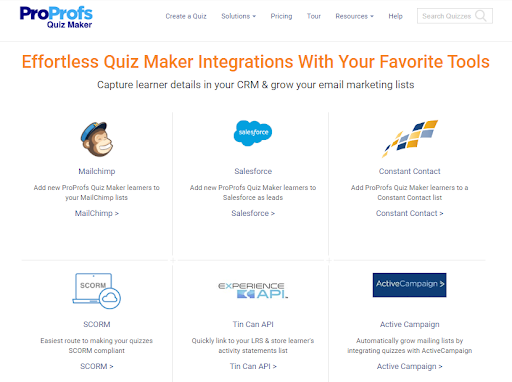 Integrating lead quizzes with automation tools puts a stop to most repetitive tasks such as manually building mailing lists, sending bulk emails, and keeping track of your potential leads.
Share Your Quiz
The last step is sharing your quiz. Share your lead quiz via email, embed it on your website, or simply copy the link and paste it on social media platforms like Facebook and Twitter.
Facebook, apparently, is the best place to host your quiz since most of the users are always online.
Well, that's all the steps you need to take to build a marketing funnel with a quiz.
---
Read More:- Top Typeform Alternatives that You Need to Know About!
---
Wrapping Up
The best part about using a quiz to create your marketing funnel is that you begin segmentation from the beginning. With a regular opt-in strategy, you can only do this, after your audience has signed-up.
Also, a lead quiz will help you drive significant improvements in your efficiency and effectiveness when pursuing leads.
What's best, is that you can do all of this for free using a tool like ProProfs Online Quiz Maker Software.
Do you want a free Quiz Software?
We have the #1 Online Quiz Maker Software for complete learning and assessment starting at $0